For many of us, the concept of a clutter-free closet, without a bundle of unfolded clothes and wayward hangers is unknown. A quintessential wardrobe with enough space to store all your shoes and clothes is completely within reach with any Livspace wardrobe design. Irrespective of how cramped your bedroom is, you can make the most of this space with these designs.
From pull-out drawers to trouser hangers, these customised units can hold a world of things while making a striking organisational impact in your life. Here, we make your Marie Kondo-inspired lifestyle come true. Hence, we scoured Livspace archives for the most popular wardrobe designs of 2019 for your next storage upgrade.
Livspace Wardrobe Design #1: Wooden Wardrobes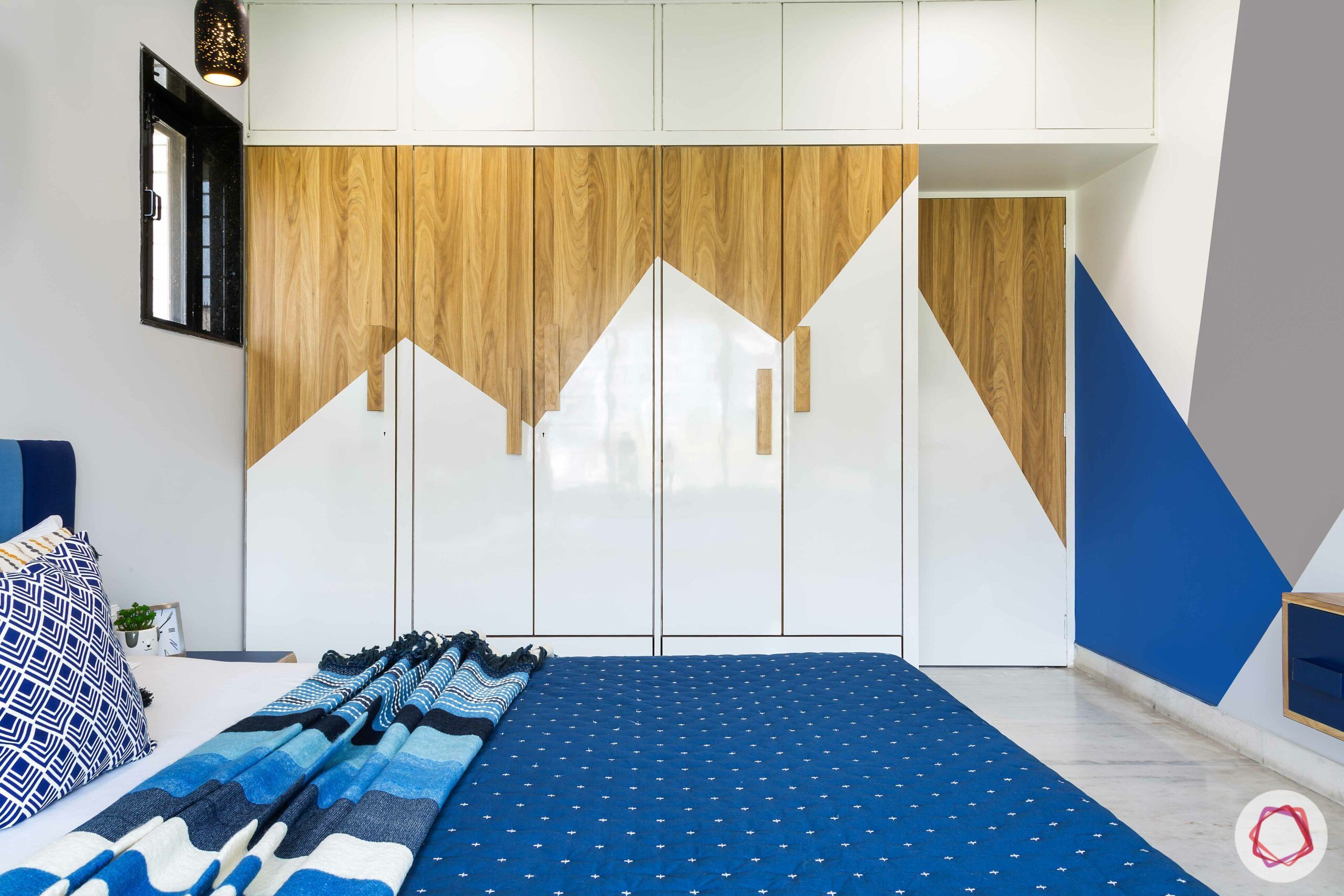 Starting with a bang, this Budget Revamp for a Kid's Bedroom saw a major facelift in terms of colour scheme and storage. What is the smartest idea that was executed in this bedroom makeover? It is the wardrobe shutters, if you ask us. Although these wardrobes look brand new, there's a small secret behind them.
Since the wood used for the older wardrobes was of excellent quality, Livspace designer, Sakshi decided to retain it. But, we simply love her idea of changing just the shutters for these. There's a slight reference to the mountains in the way the laminates are placed on these wardrobe shutters. Also, they are perfectly aligned and extended to the room door. She has also provided extra storage by adding lofts atop them.
Livspace Wardrobe Design #2: Sleek Wardrobe Designs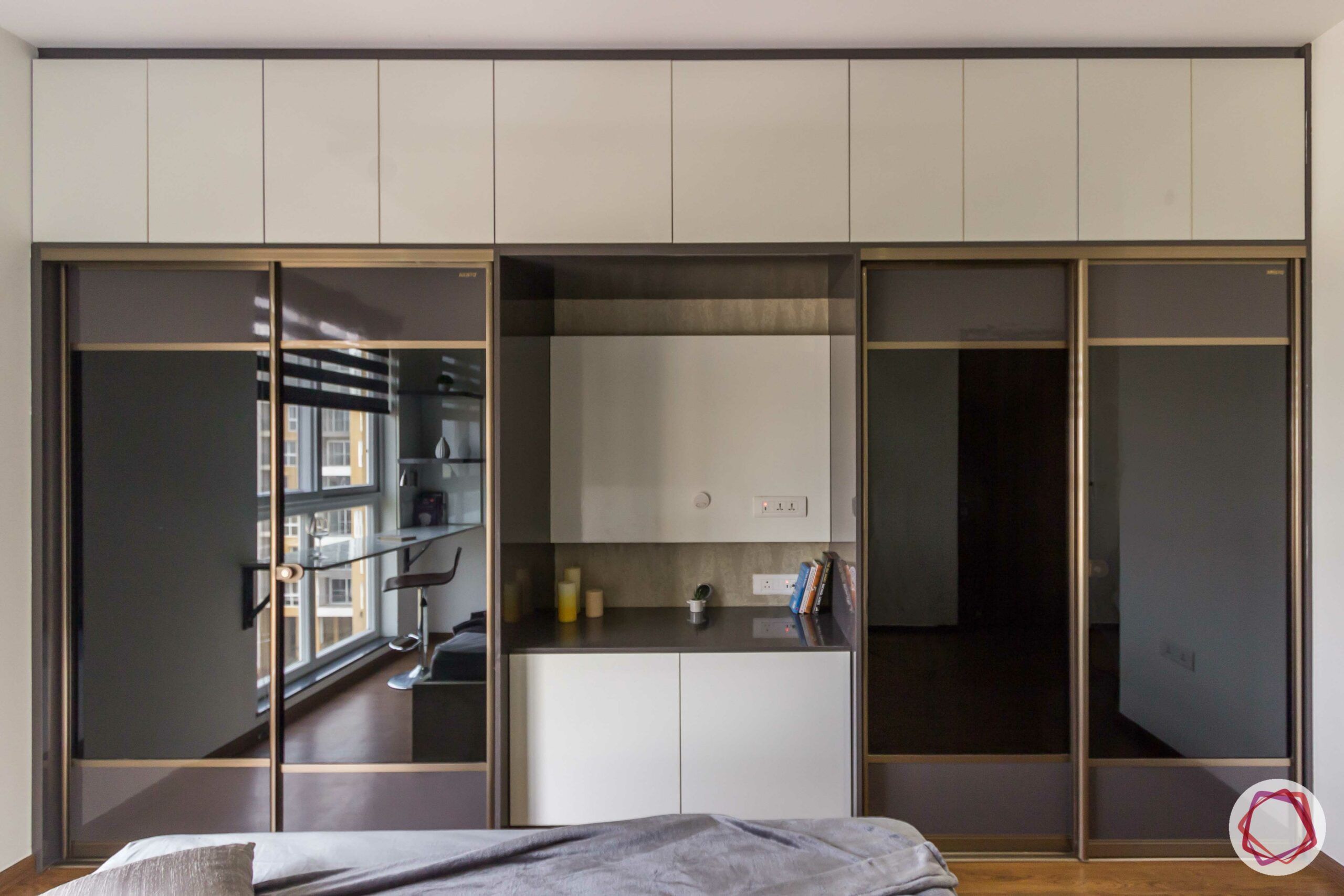 When A Swanky and Sleek Bachelor Pad Comes to Electronic City, we have to place it's stylish storage design on the top. You just can't ignore the massive floor-to-ceiling wardrobe in the bedroom. Subsequently, the beautiful sliding door wardrobe features grey tinted mirror and rose gold frames. In between the wardrobe, designer, Sushritha crafted a nook for the TV unit. Sporting a frosty white laminate, the unit also has separate storage for books, music and other essentials. It's a complete package.
Livspace Wardrobe Design #3: Blue and Gold Wardrobe Designs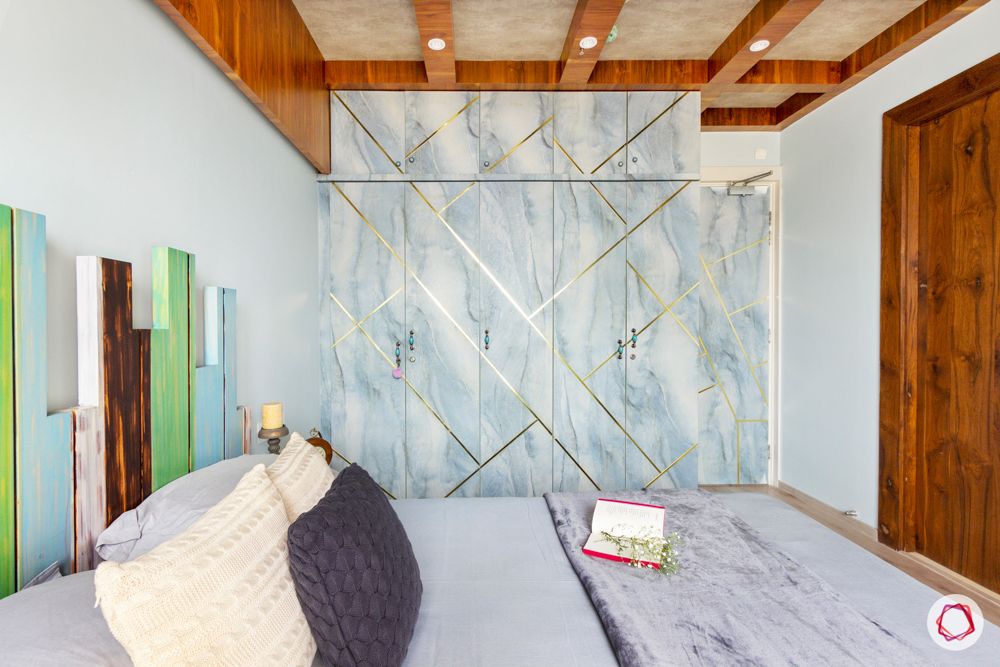 When a wardrobe takes up an entire wall, aesthetics take the forefront. Designed by Srushti Angolkar, this sizable unit was made to accommodate plenty of clothing items while blending in seamlessly with the sky blue theme of the bedroom. The wardrobe has an edgy blue laminate finish and stunning gold detailing. Take a look at this 2,500 Sq Ft of Fine Custom Wood Work for more storage inspiration.
Livspace Wardrobe Design #4: Classic White Wardrobes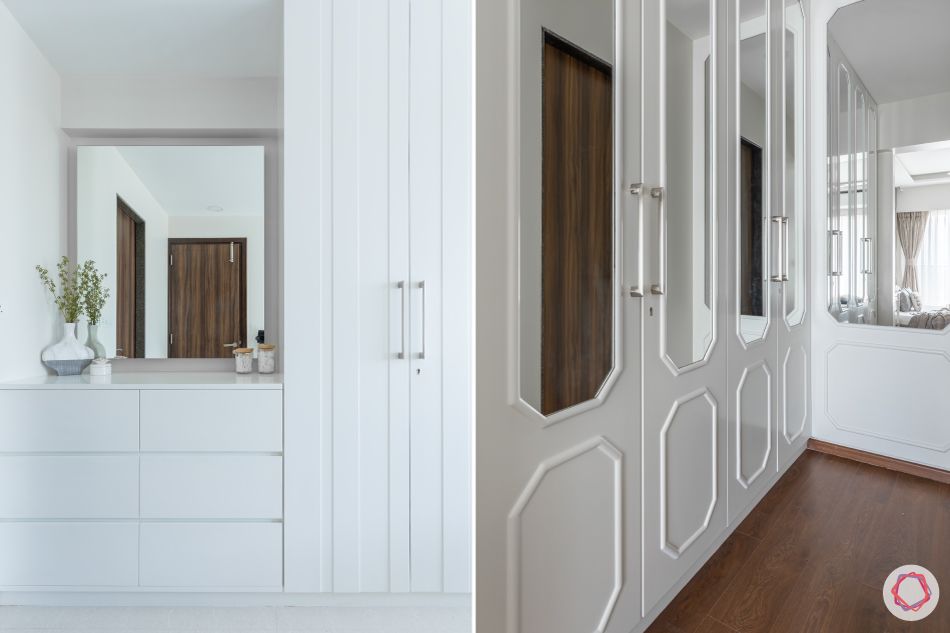 In 2019, homeowners took to classic white interiors for a timeless look. The most interesting element in this Kid-friendly 3BHK Dressed in Neutrals designed by Pallavi Goel, is the wall-to-wall wardrobe and the walk-in wardrobe that stands out for its pristine white PU finish. Consequently, it has an interesting textured detail for the shutters that gives it a quirky look.
Livspace Wardrobe Design #5: Glossy Sliding Wardrobes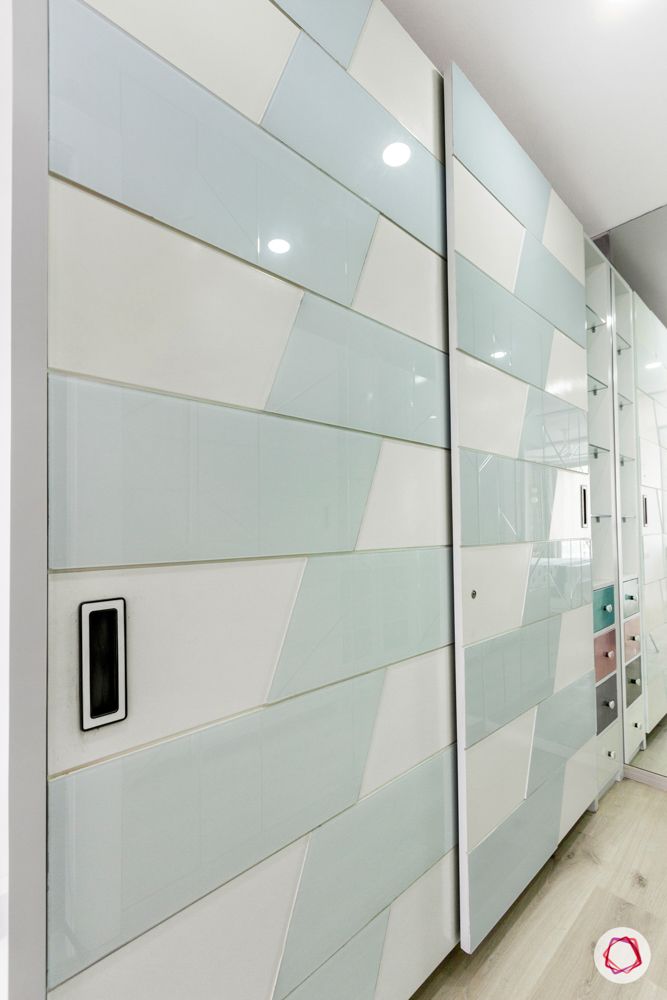 Making it to the top 10 Livspace wardrobe designs is another space-saving storage unit from this 2,500 Sq Ft of Fine Custom Wood Work home. With MDF shutter wardrobes that are painted with duco paint, this white wardrobe has open boxes in pastel shades for display. However, the dressing area is in a niche with another set of sliding wardrobes with MDF finish.
Livspace Wardrobe Design #6: Rustic Wardrobe Design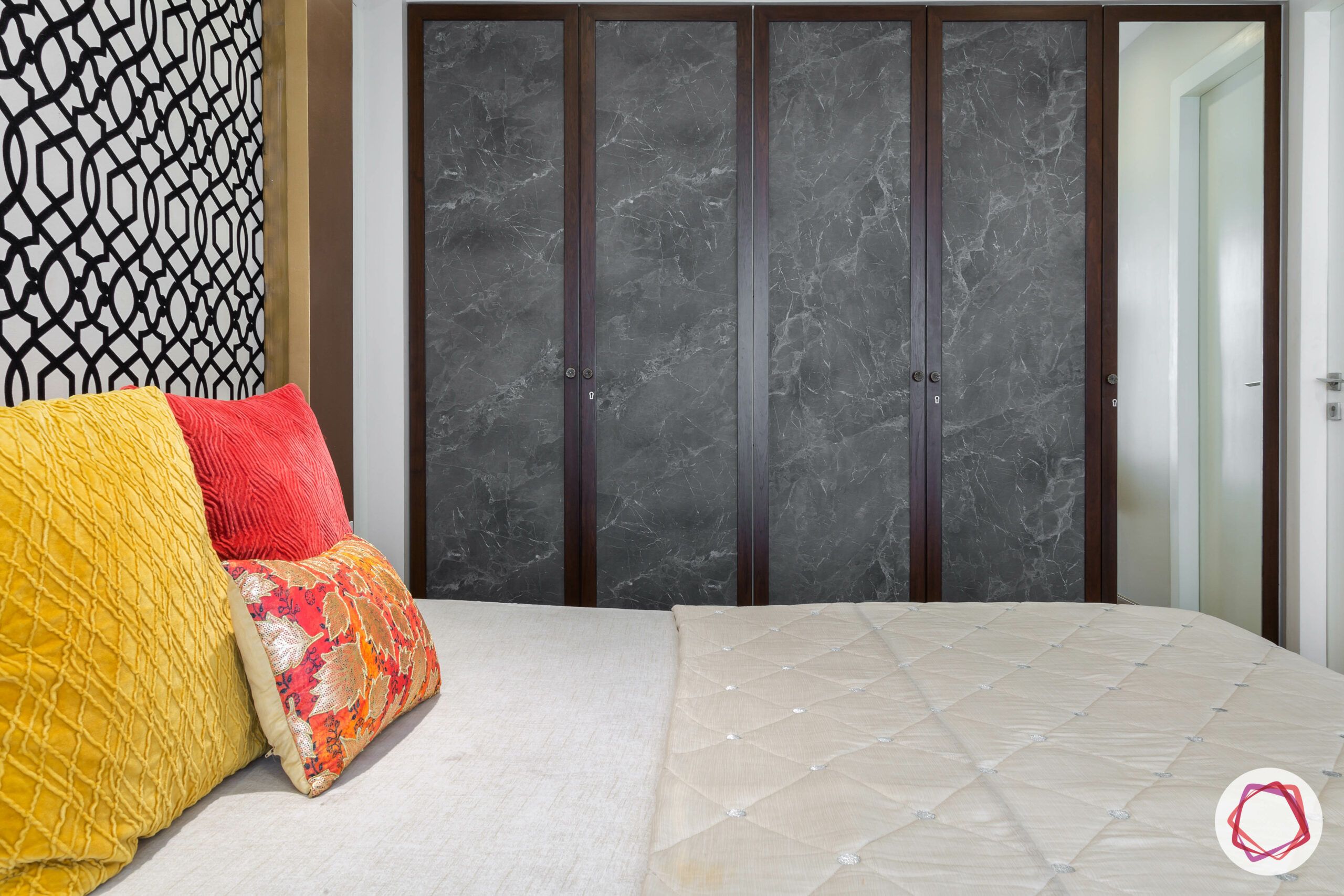 The family residing in this Plush 3BHK That Exudes Warmth told their designer Pallavi Goel that they would like to retain as much floor space as possible. So she skipped bulky storage items and heavy furnishings in the favour of sleek furniture and clean cuts, typical of contemporary design. Therefore, the wall-to-wall wardrobe has a rustic laminate finish that mimics marble, giving it a rather antique look. The wardrobe has a lone glass shutter that functions as a dresser.
Livspace Wardrobe Design #7: Morrocan Pattern Wardrobe Design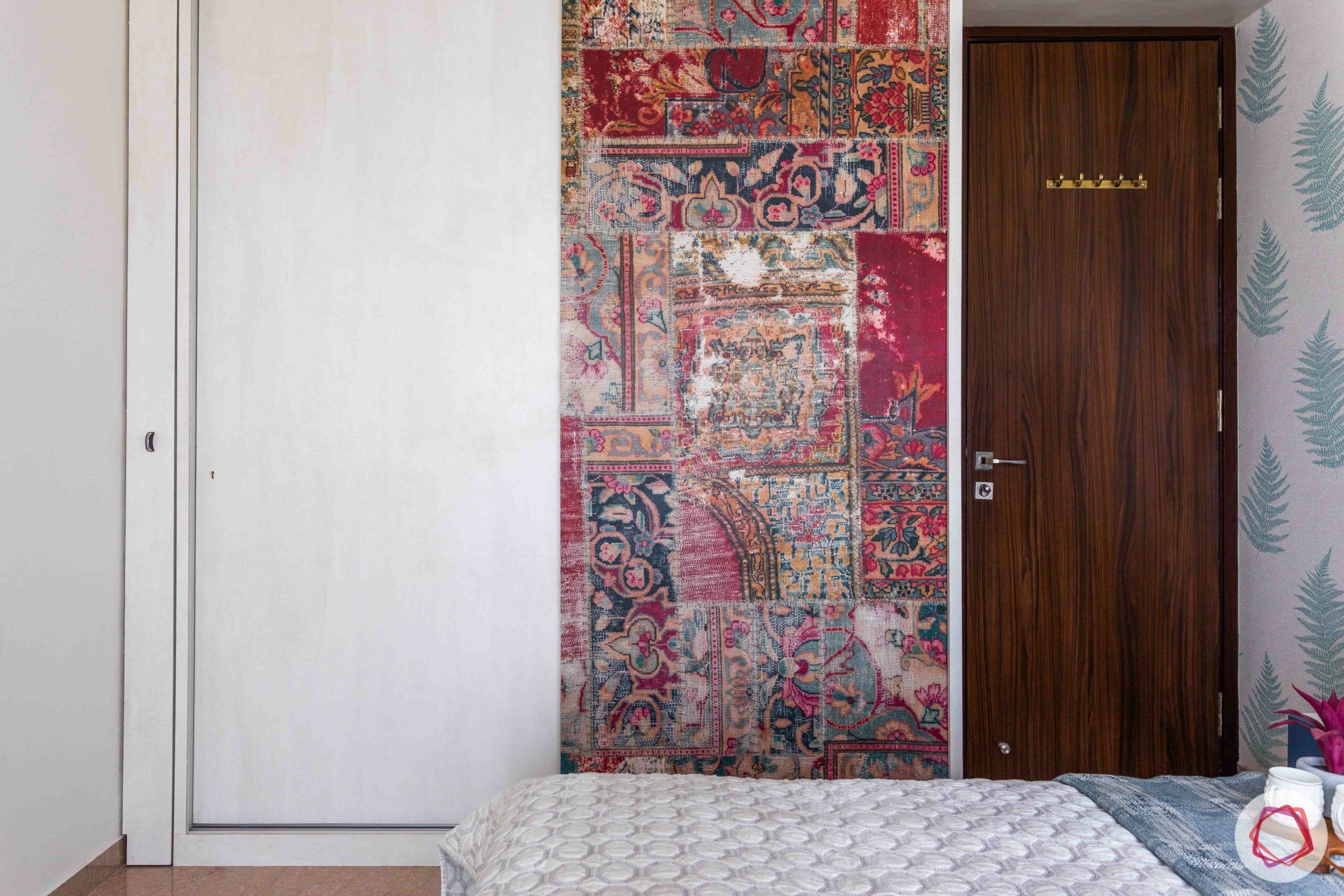 Most Mumbai homes have a common streak; all of them try to use space in the best possible way. This home is no exception. Designer, Sagar has utilised the limited space in this Trendy & Compact 2BHK at JP Decks by installing customised sliding wardrobes. But what's stunning about this unit is the unique morrocan pattern laminate used to design the doors.
Livspace Wardrobe Design #8: Reflective Mirror Wardrobes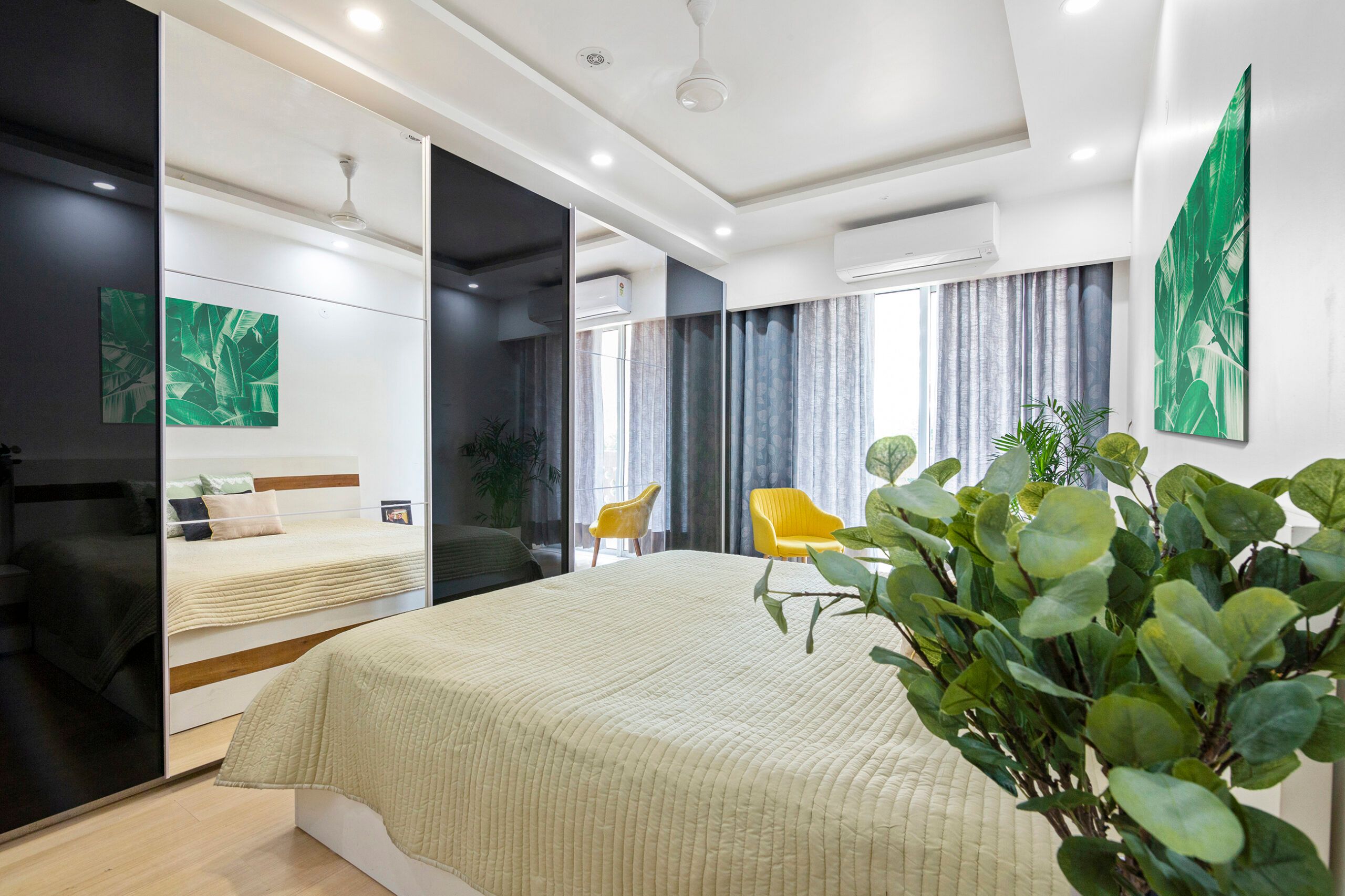 Designed by Sushant Jain for a couple residing in Gurgaon, This Cool 3BHK has a Riot of Textures. Nitin and Ankita's bedroom, like the rest of the home, is replete with a plethora of different finishes. The most striking being the wall-to-wall sliding wardrobe with seven doors. It is not just the scale of this wardrobe but its unusual finish that makes it the undeniable accent piece for this bedroom. Furthermore, mirror shutters interspersed with glossy black acrylic shutters give a much needed illusion of space to this room.
Livspace Wardrobe Design #9: Hinged-door Tall Unit
Cosy 2BHK Goes Big on Style with dreamy bedrooms! This master bedroom is an ode to the homeowner's artistic inclination. The highlight is of course the tall unit with four cabinets in yellow and grey. The intriguing style has definitely won us over!
Livspace Wardrobe Design #10: Frosted Glass Wardrobes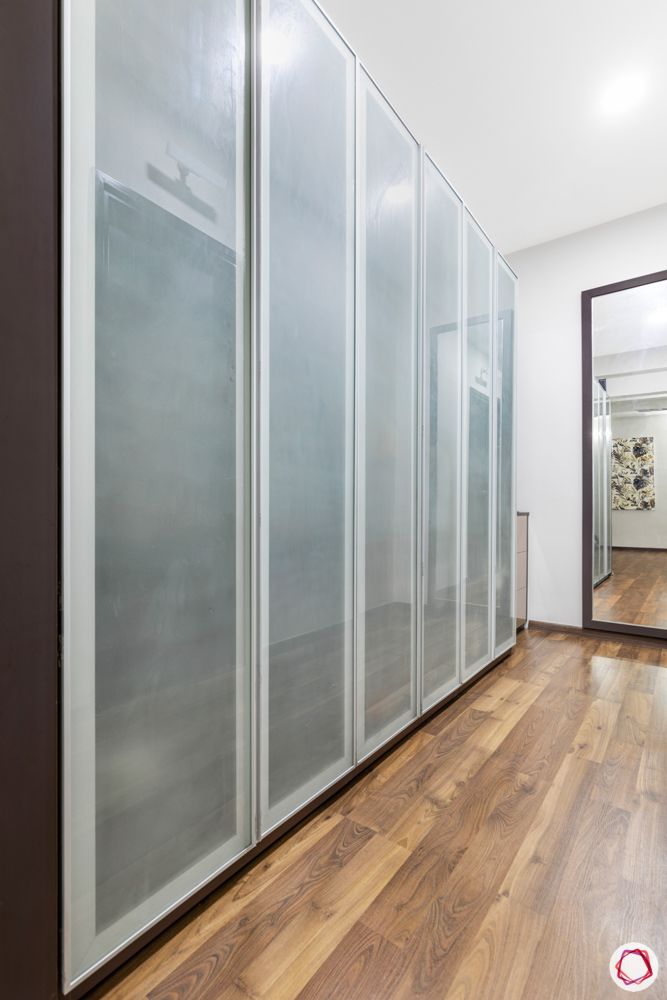 Designed for first time homeowners, Livspace designer, Monica Reddy has installed a full-fledged walk-in wardrobe with frosted glass shutters which is not a very common sight in Indian homes! Moreover, the glass shutters add depth to the dressing area and the floor-to-ceiling wardrobes make the best possible use of space.
A closet doesn't have to be just a storage space. Now you can customise this space to organise your clothes and shoes while keeping it stylish. Subsequently, if you have the room, consider adding tasteful ottomans or a bench, or just sit back and admire your new and upgraded closet.
If you enjoyed reading this top 10 list, take a look at You Chose the Best #LivspaceHomes of 2019.
Send in your comments and suggestions.