This JP Decks home is a perfect blend of trendy designs!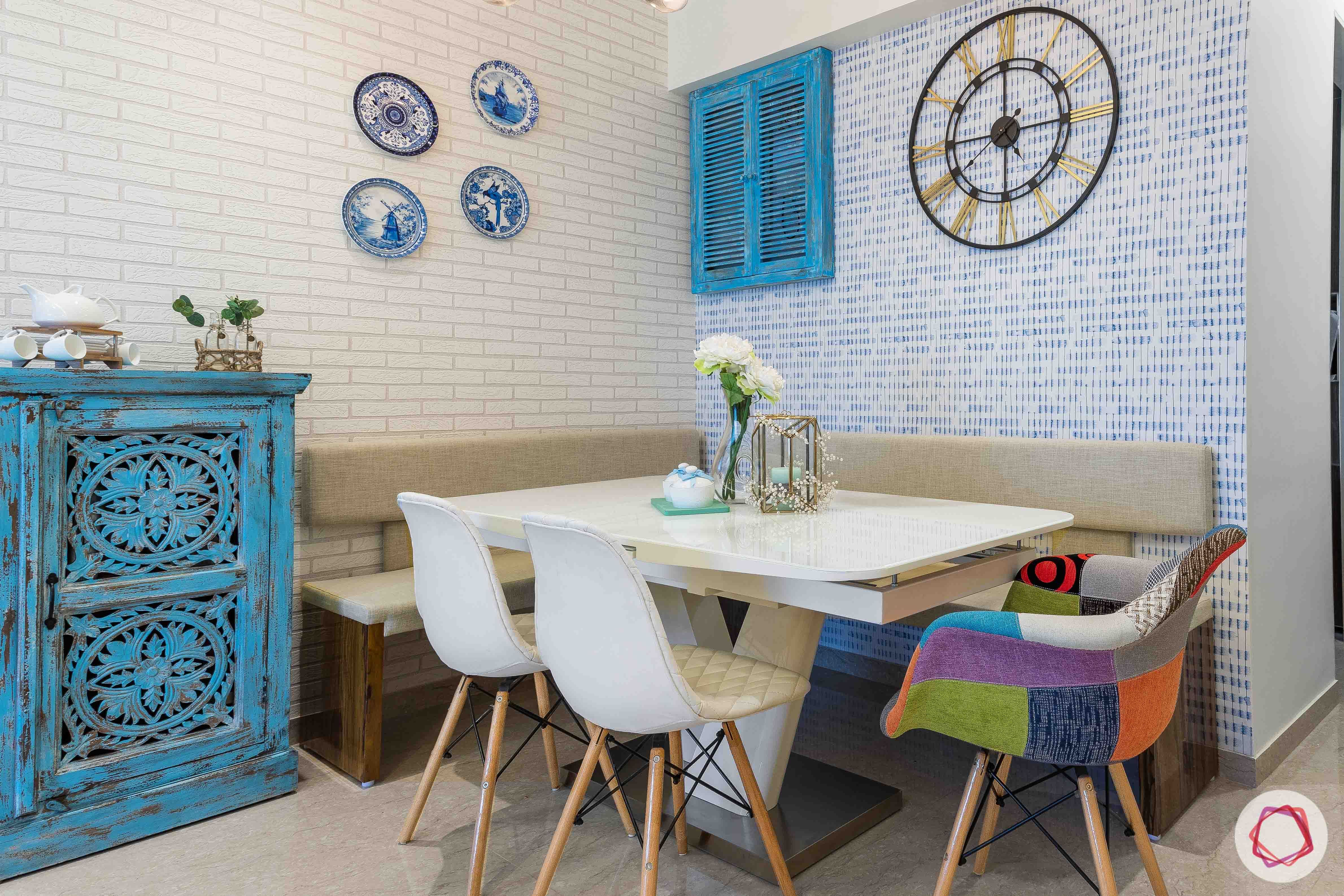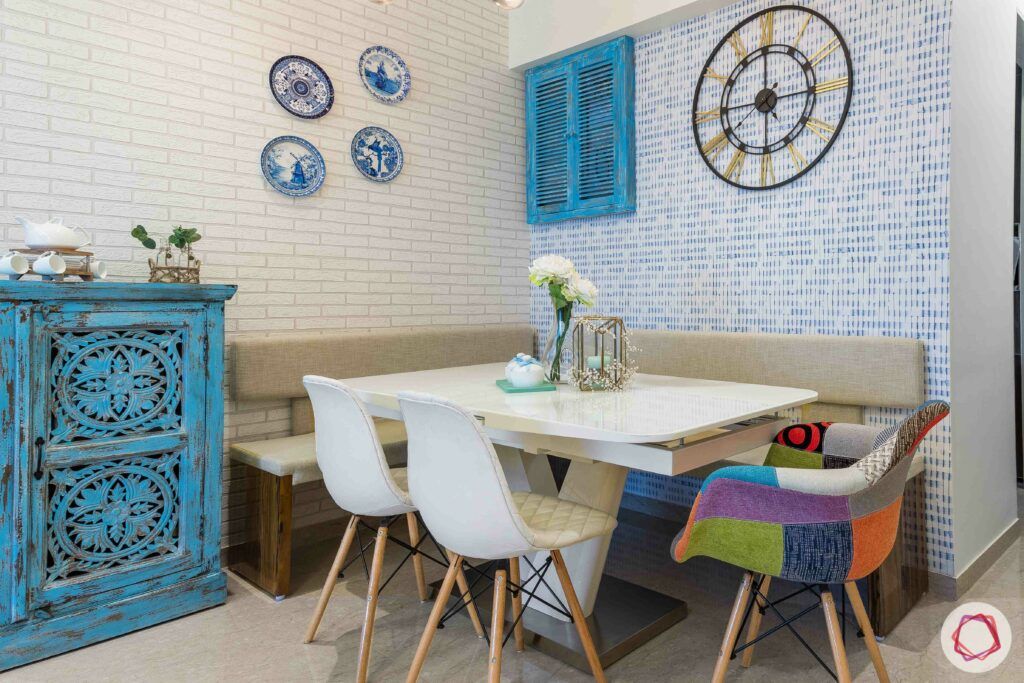 ---
Who livs here: Swadeep Mahajan and his family
Location: JP Decks, Goregaon
Size of home: 2BHK spanning 750 sq ft approx.
Design team: Interior Designer Sagar Sawant & Project Manager Suresh Rajbhar
Livspace service: Living room, bedrooms and balcony
Budget: ₹₹₹₹₹
---
"In this busy world, your home should be a happy place where you can relax and spend time with your family," says Swadeep Mahajan. Our thoughts resonate with our new Livspace homeowner, and Livspace designer, Sagar Sawant designed this 2BHK in Goregaon to suit that very need.
Swadeep, his wife and his parents moved into a high-rise building with an amazing view of the Indian city that never sleeps. For him, the move to a 2BHK in Goregaon was an exciting change. Not only does this home have stunning interiors but also, a heart-warming story behind the designing process. Read on to get a glimpse of this delightful home.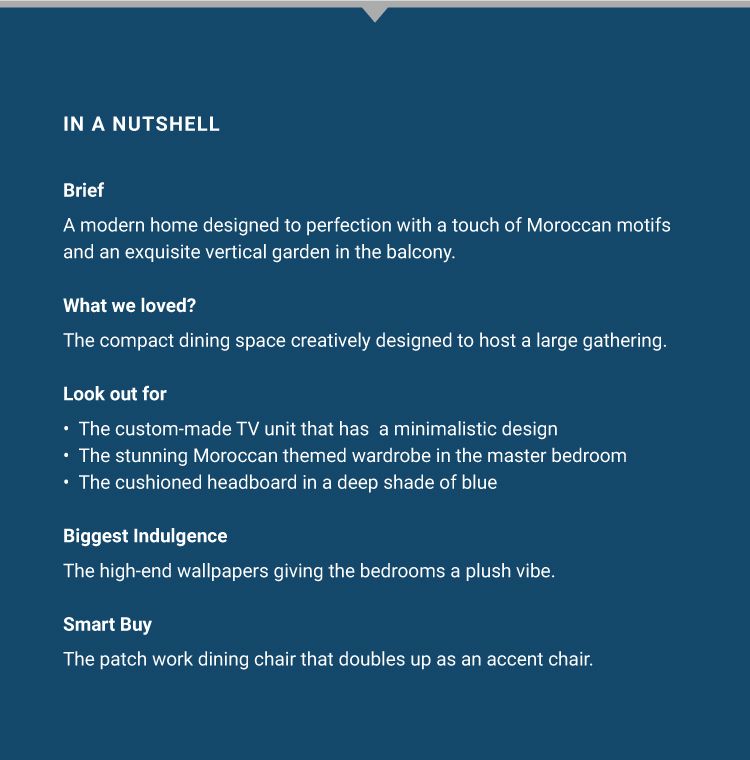 Vibrant Living Room at JP Decks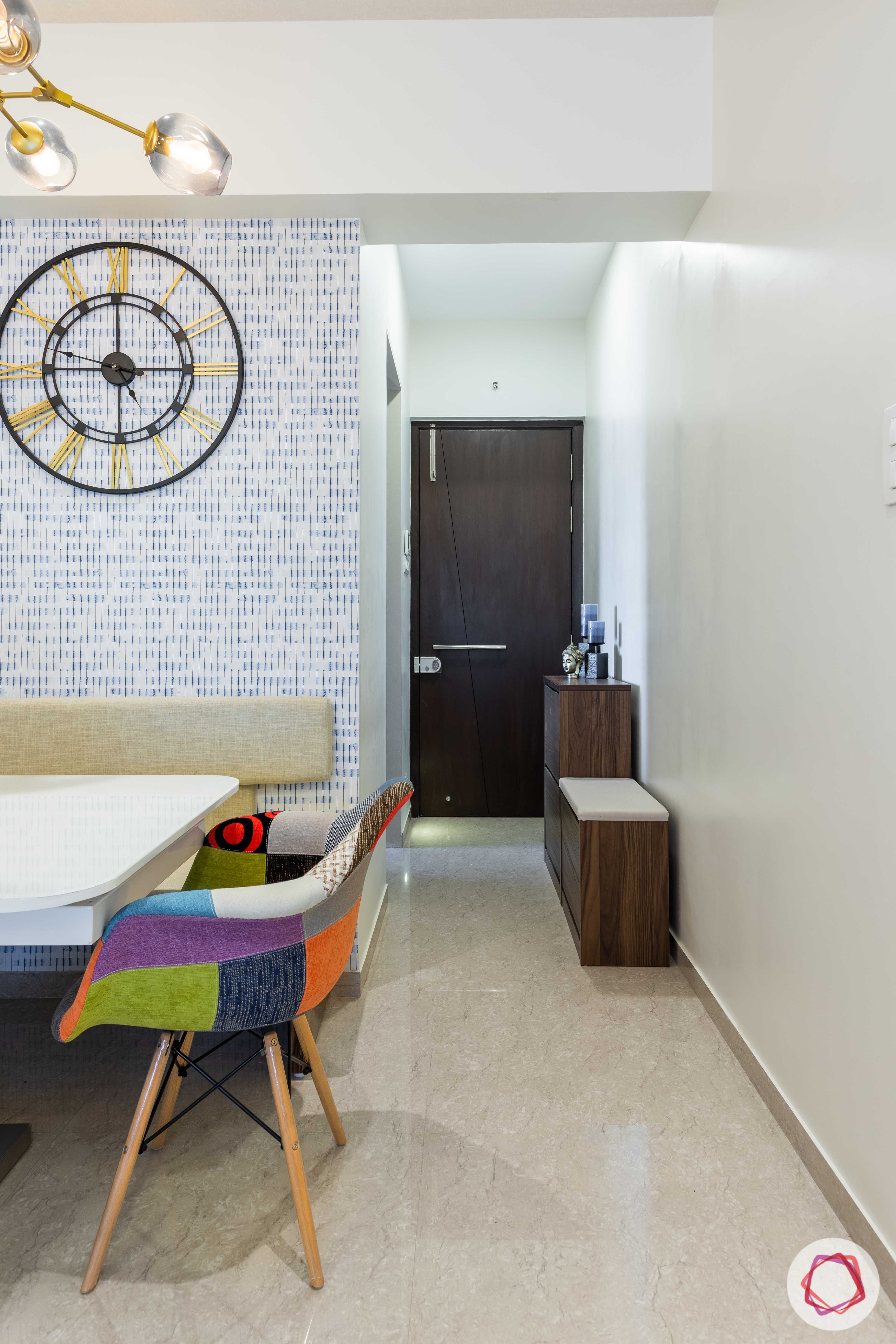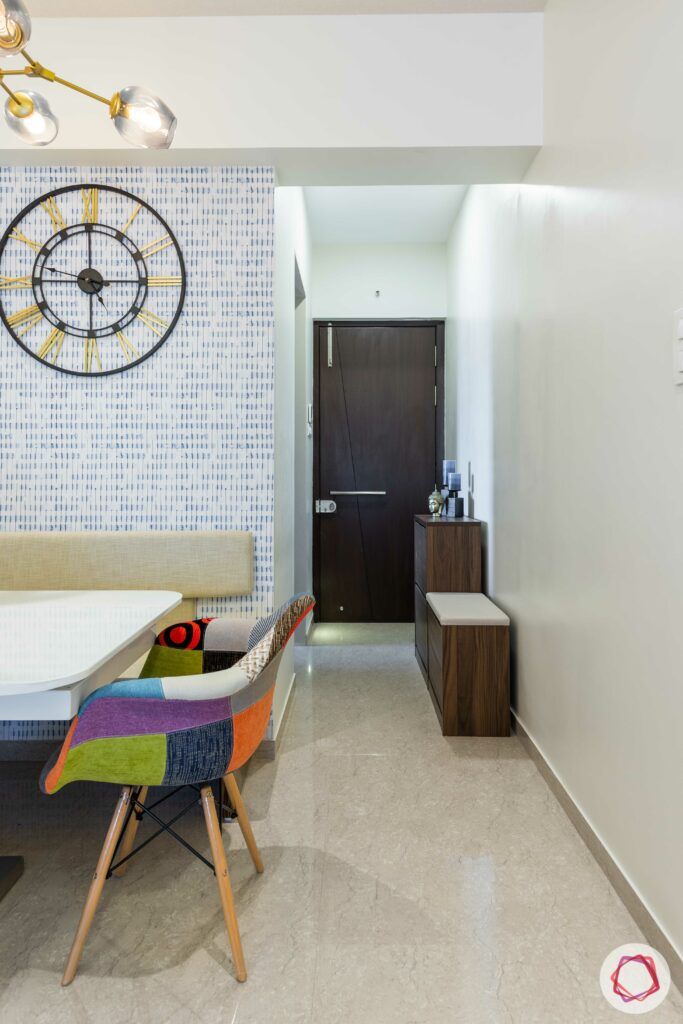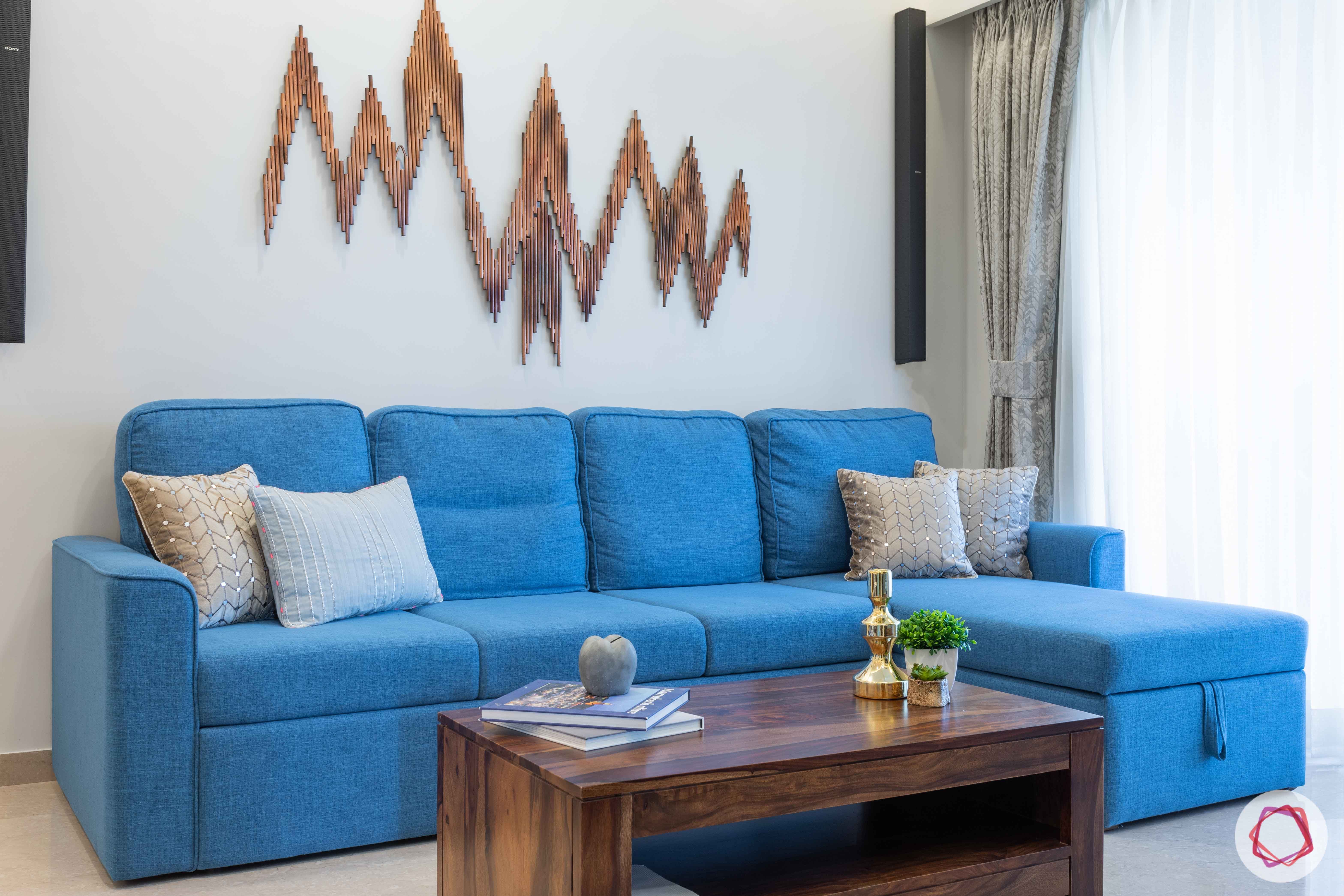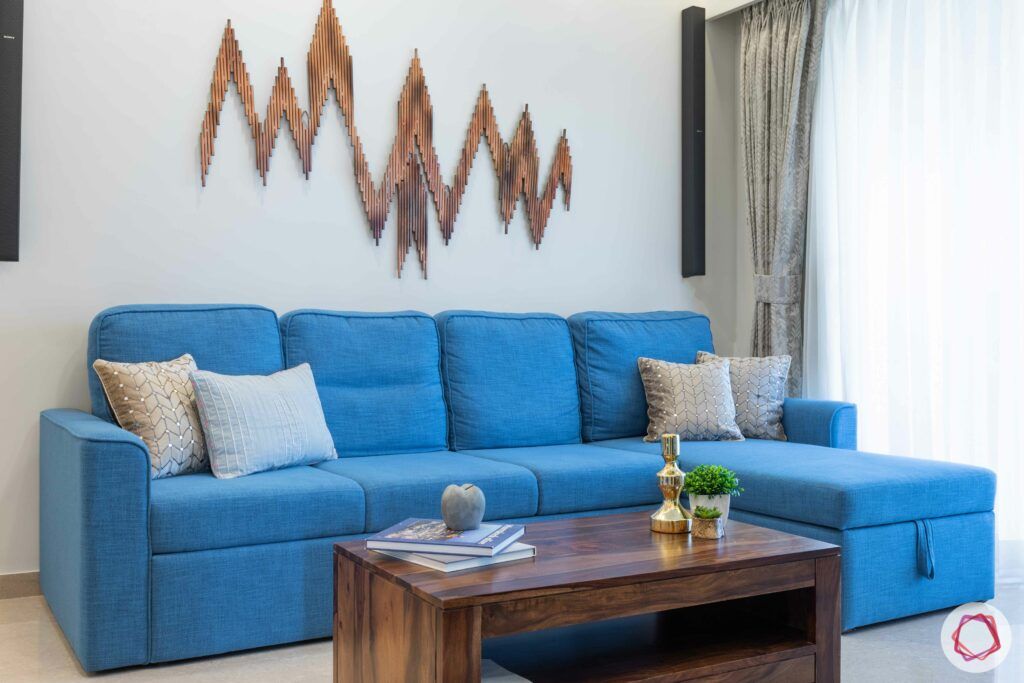 There is an evident blue and white colour palette used to design this 2BHK in Goregaon and the living room is no exception. Sagar suggested a combination of textures to liven up the living room hence, you see blue and brown in many elements like the popping blue sofa, the faux brick wall wallpaper in classic white and the laminate finish coffee table.
In addition to this, there are custom-made elements like the wall-mounted TV unit to add a personal touch to the home. The minimalistic TV unit has an eye-catching platform with a stone texture laminate, giving it a plush look.
Cool Blue Dining Room at JP Decks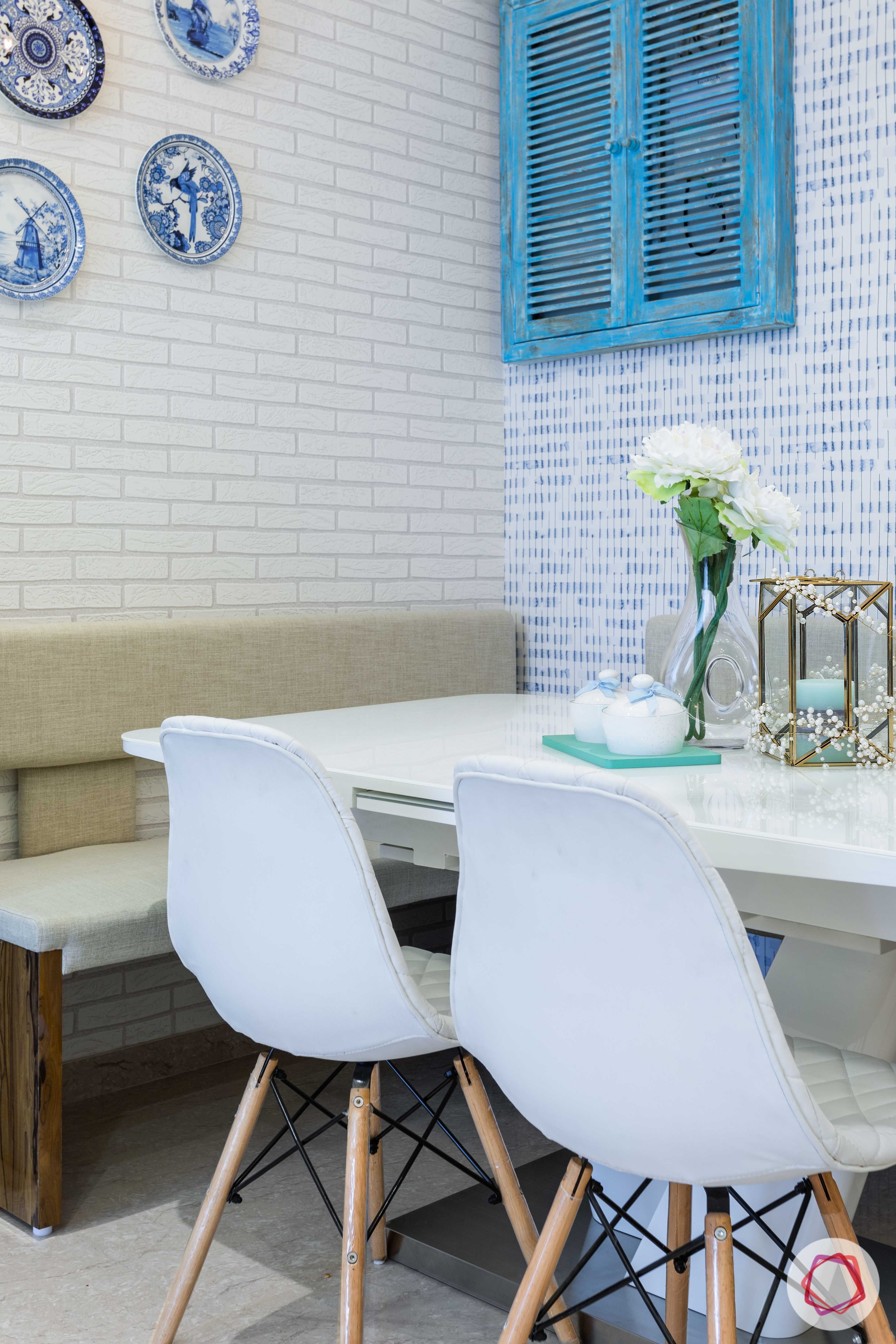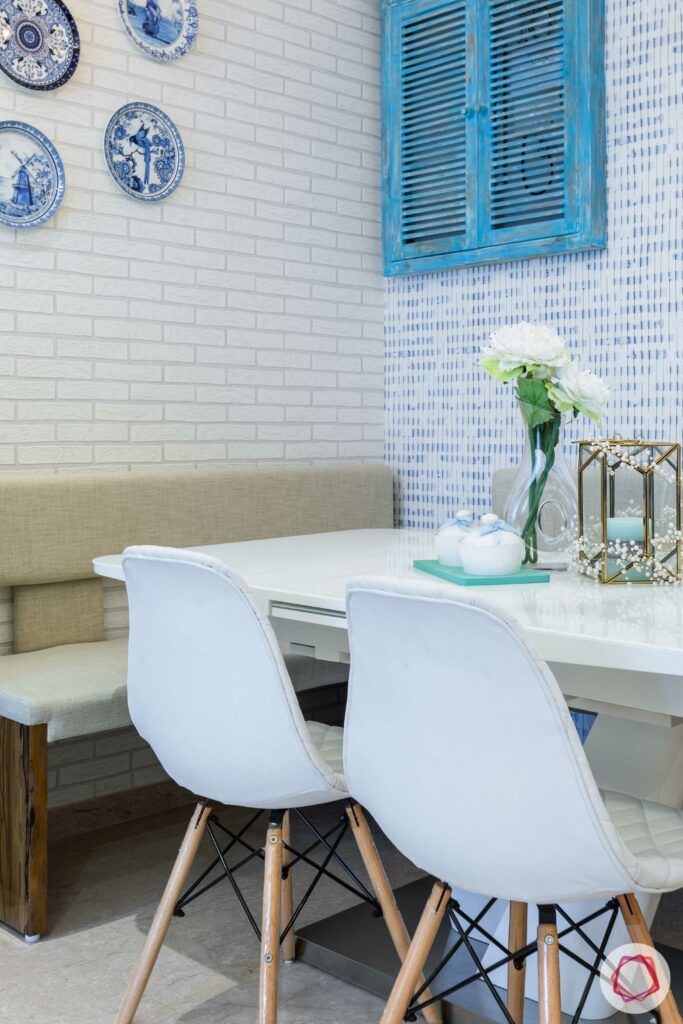 There is a beautiful dining space in a cosy corner of the home. It has a unique Moroccan feel to it with its aesthetic patterns and soothing colours on the walls. On the other hand, hanging above this space is a lavish contemporary-style pendant light. Consequently, blue being the focus of the theme, it is incorporated in the rustic crockery cabinet and Turkish decorative plates placed on the wall. In addition to this, the blue window shutters have been used quite innovatively to tuck away the circuit box.
However, the dining table is the cherry on the top. A great find from our catalogue, it is an extendable table that goes from seating six people to ten people when opened up. This unique table is ideal for compact dining rooms.

Beautifully Blended Master Bedroom at JP Decks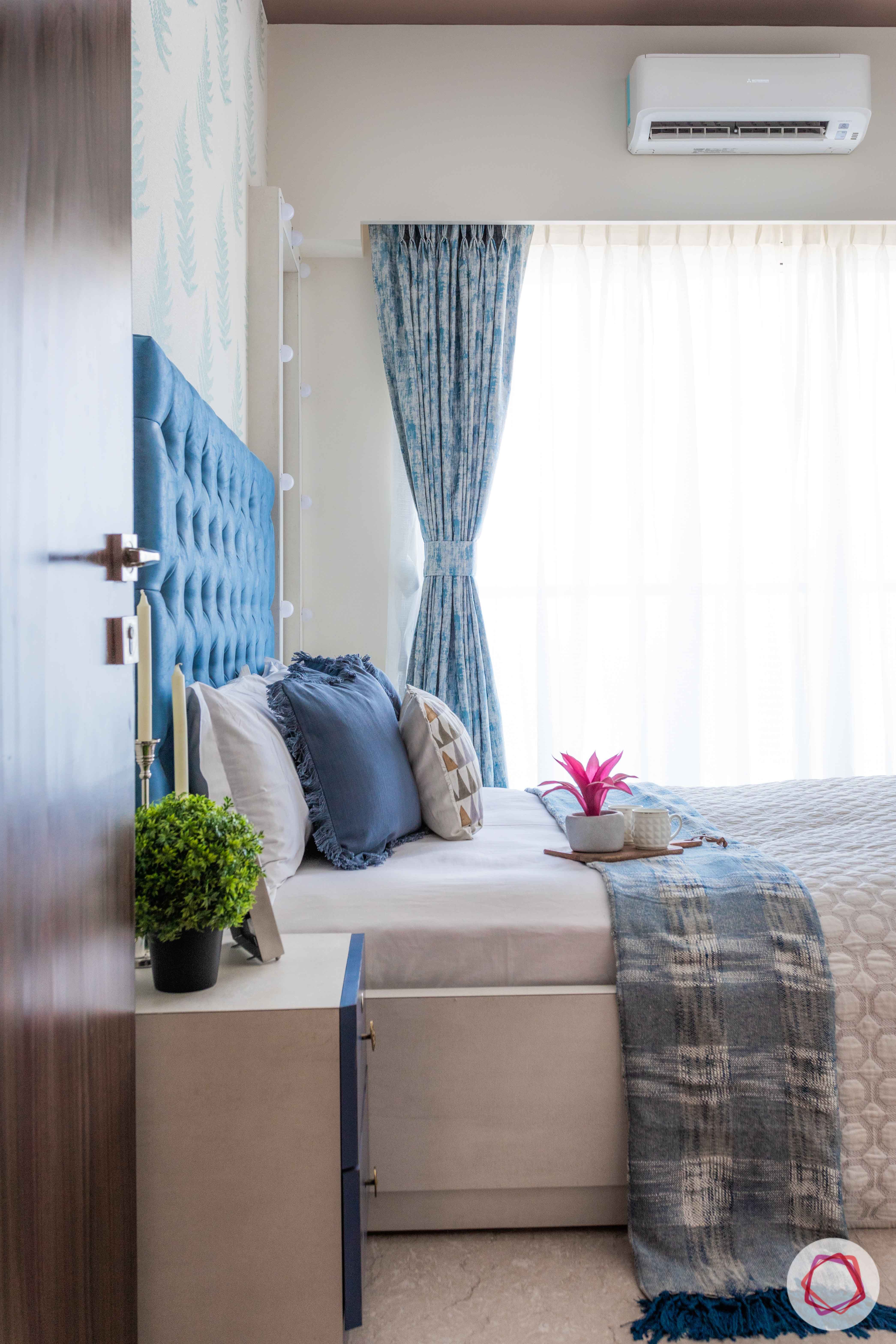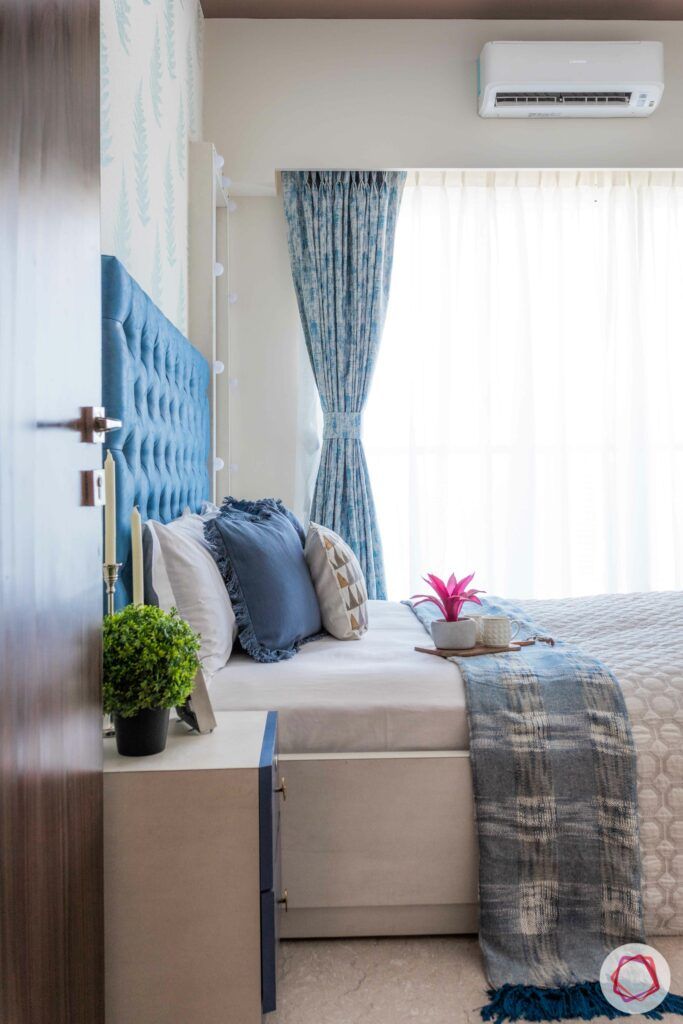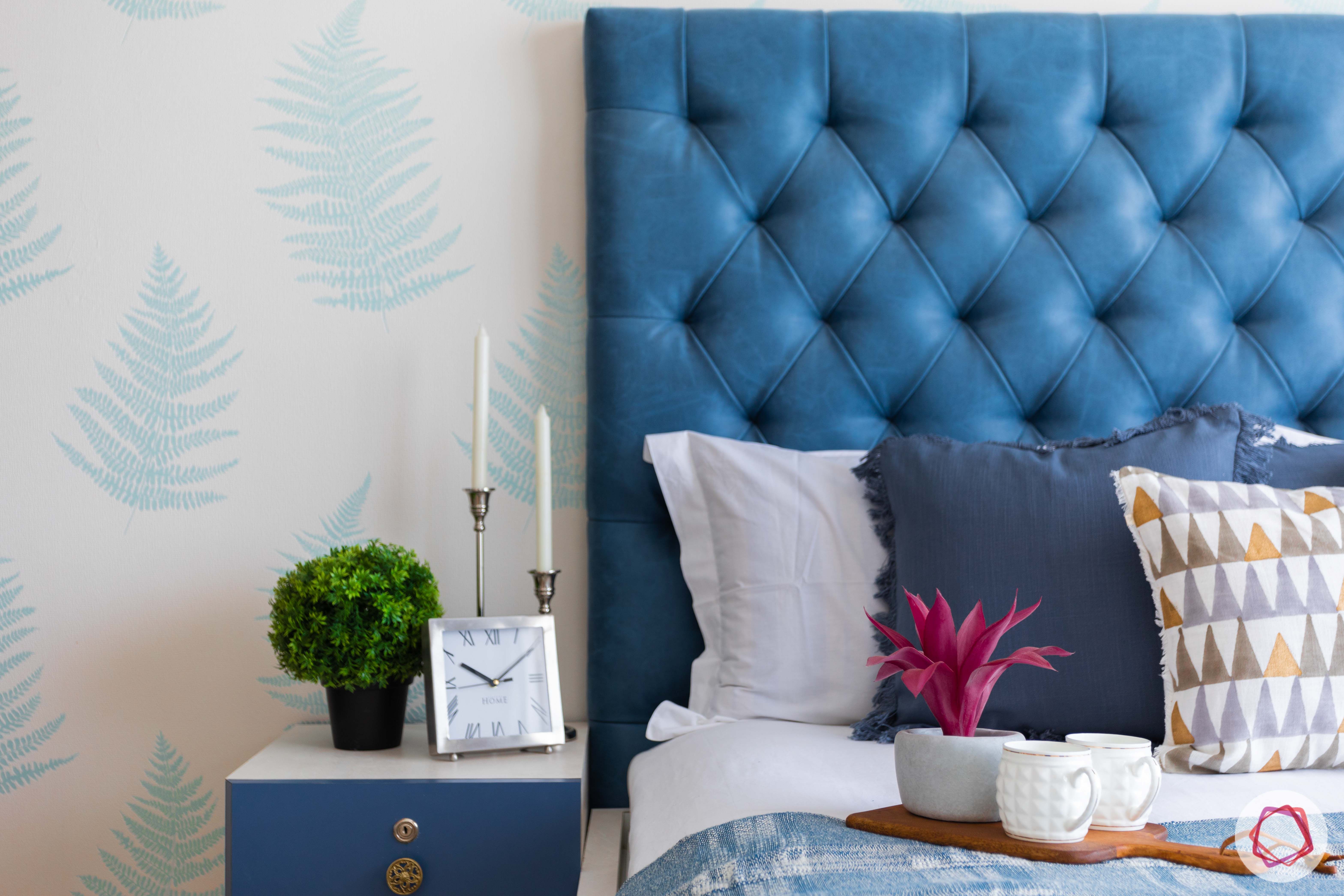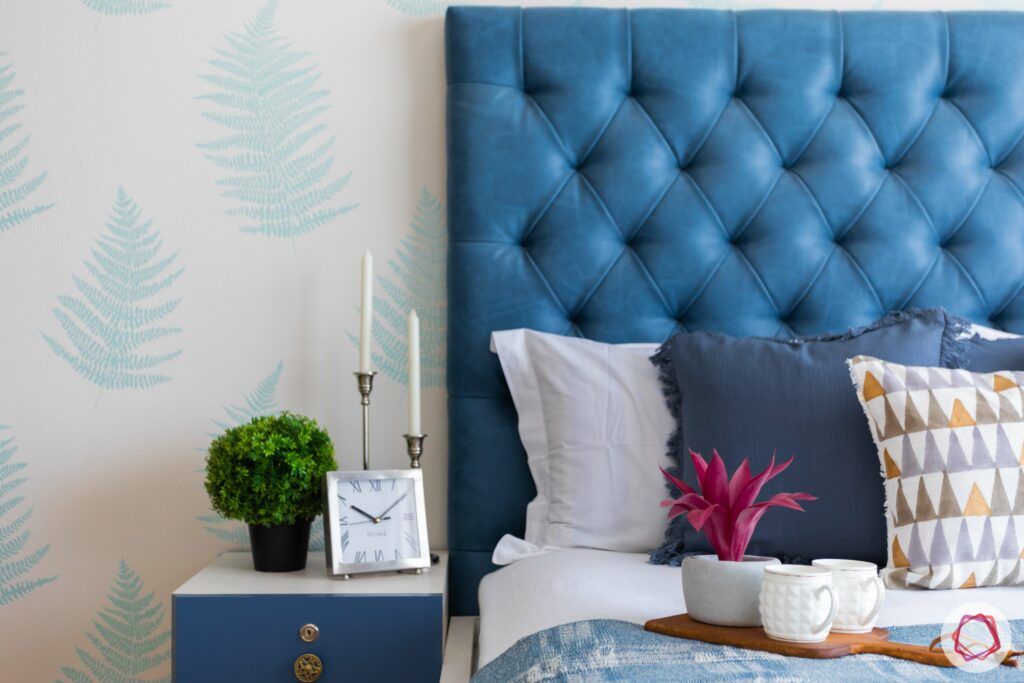 The master bedroom is a feast for the eyes. Not being crowded with unnecessary furniture makes it the ideal room for the newly married couple. Swadeep's wife wanted a pop of design and a mix of themes to give it a fun vibe. Subsequently, Sagar was sure that adding Moroccan elements would be an exciting way to do it. He included a blend of plush Indian elements and Moroccan designs to balance out this Indi-Moroccan themed room.
A rich shade of blue was used in the headboard and the bedside table whereas, a contrasting Moroccan pattern laminate was used to customise the wardrobe. Another custom-made feature is the fabulous vanity mirror set against a white and blue motif wallpaper. Therefore, the wallpaper was an irresistible buy from the Asian Paints Good Earth collection.
Evergreen Bedroom at JP Decks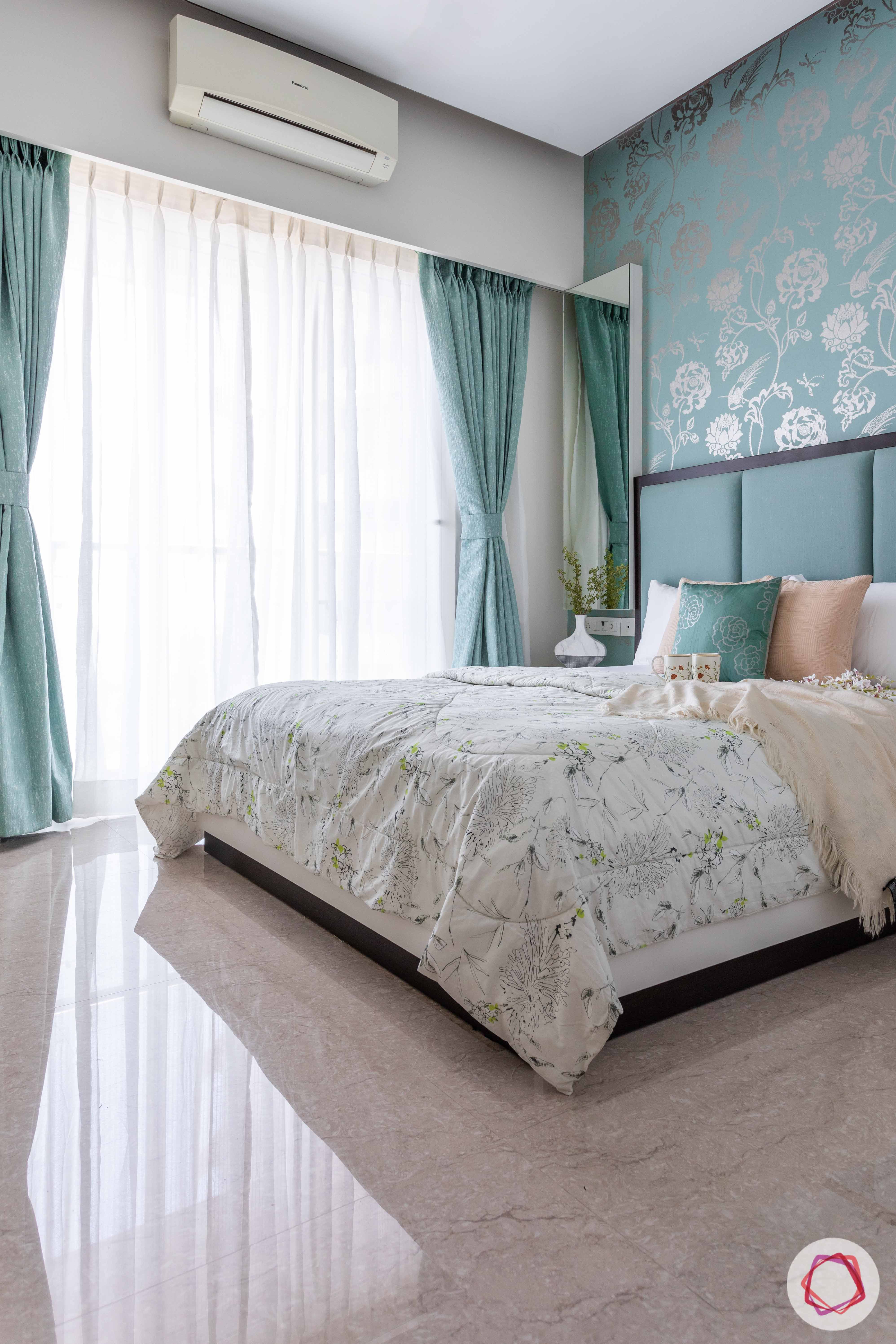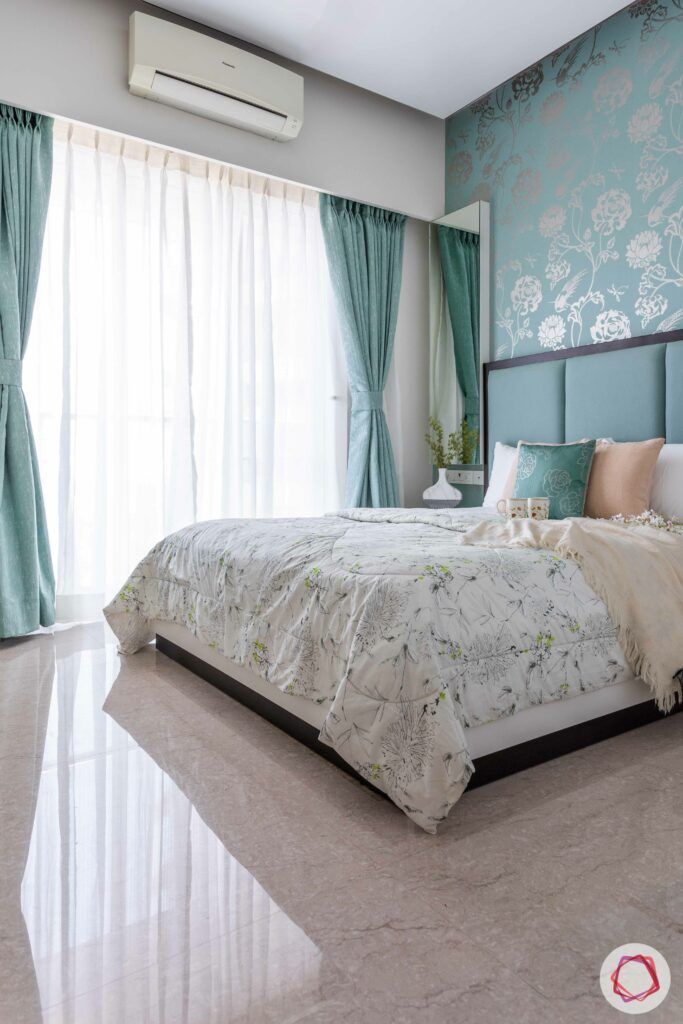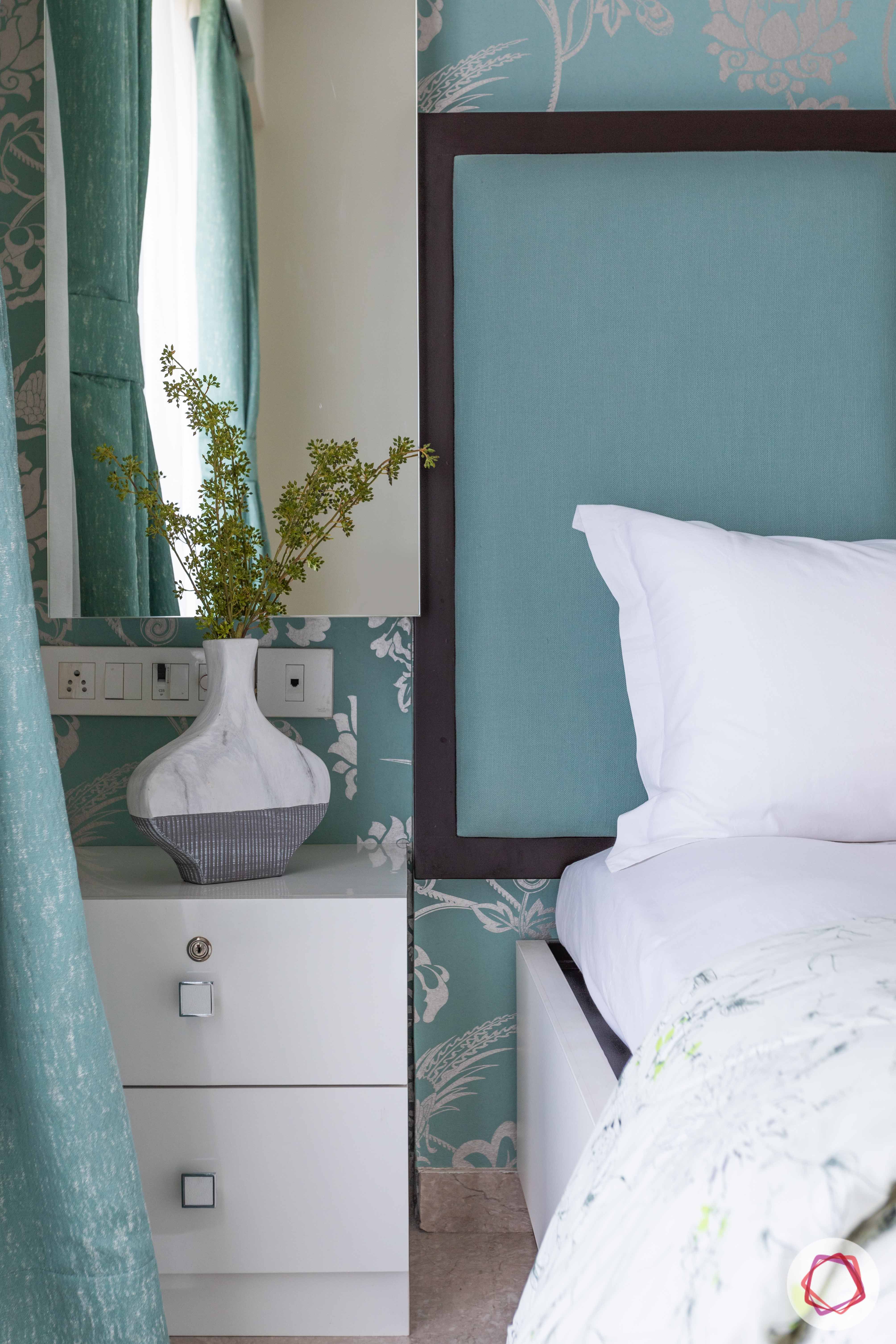 Swadeep decided to surprise his parents with a room that portrays their evergreen personality and what better way to do it than to go with a graceful green theme. Consequently, the cyan and silver wallpaper is an elegant inclusion that matches the cyan headboard and curtains. The laminated wardrobes are in a crisp white and silver design.
Spacious Balcony at JP Decks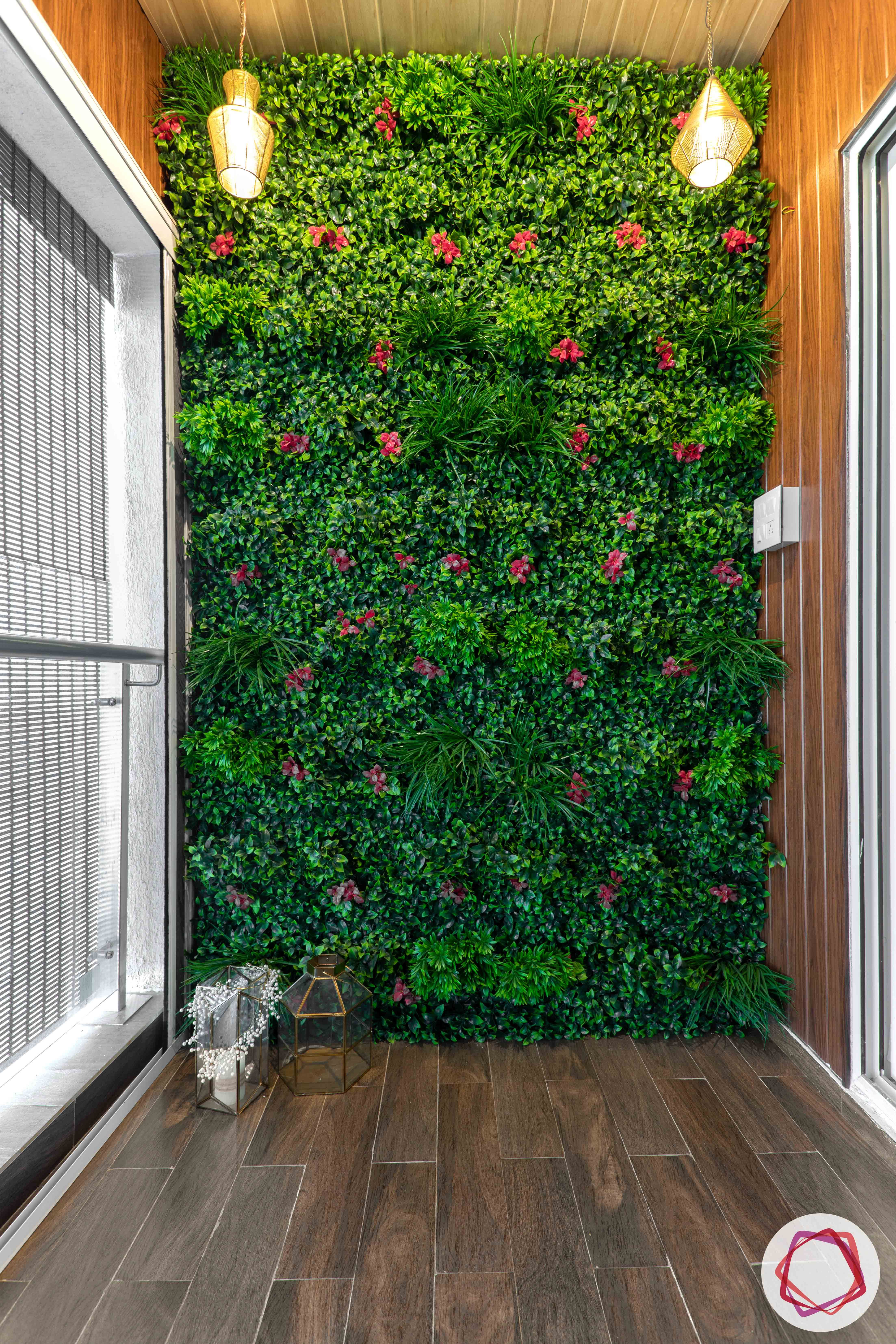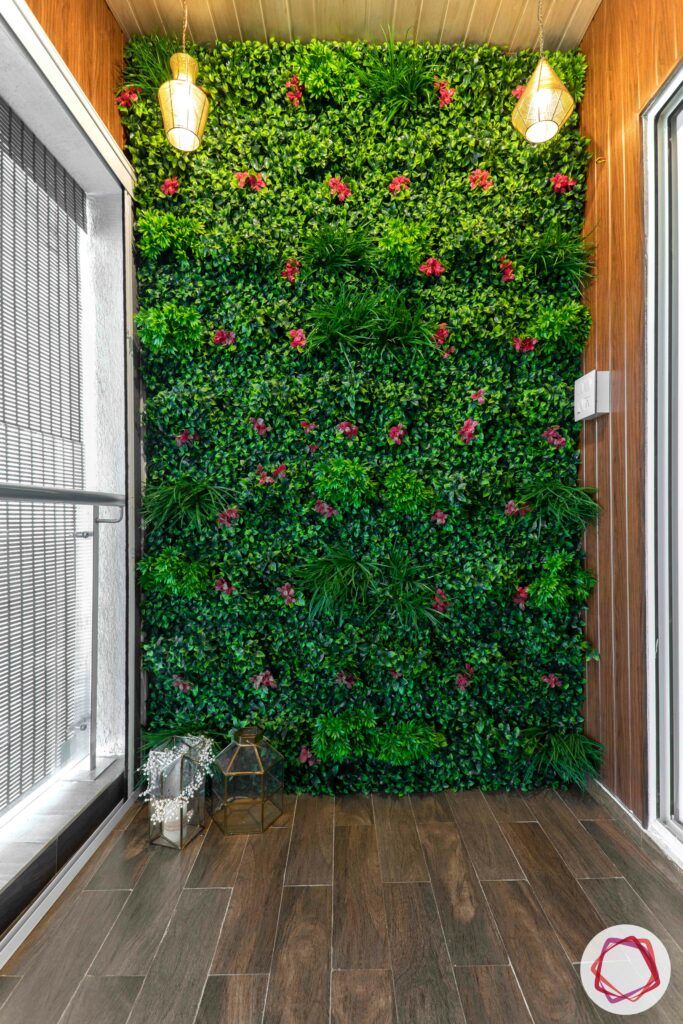 Moreover, this 2BHK in Goregaon should be noted for its spacious balconies. It is the ideal spot for Swadeep to start his day with a meditation session or to end a long day while catching up with his friends. Being an involved client, Sagar has looked into every aspect of an open balcony. Besides including a refurbished sofa that is waterproof , the balcony has warm wooden panelling on all over. Furthermore, illuminated by hanging pendant lights, the balcony has a remarkable vertical garden, giving it plenty of life.
"Designing a home for Swadeep was a simple and fuss-free process. Without a specific theme in mind, he gave me all the freedom and creative space to design a home that is be beautiful and functional."
– Sagar Sawant, Interior Designer, Livspace
Take a look at this video and get the full home tour here.
If you liked reading this take a look at Cosy 2BHK Goes Big on Style
Send in your comments & suggestions.