This Pioneer Presidia home is all things luxurious!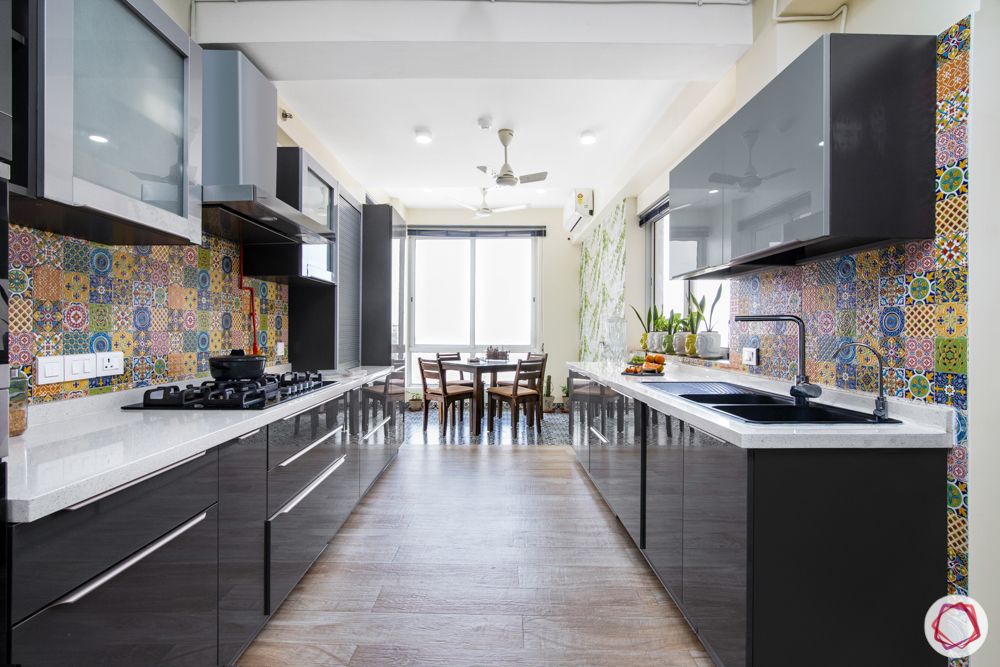 ---
Who livs here: Sarita Chand with her husband and their daughters
Location: Pioneer Presidia, Gurgaon
Size of home: 4BHK spanning 3,600 sq ft
Design team: Interior designer Urvija Kotak with Project Manager Arti Arora
Livspace service: Full home design
Budget: ₹₹₹₹₹
---
Luxury and class are always the go-to style when it comes to timeless interior design. Decked in warm gold and plenty of bright colours, this 4BHK at Pioneer Presidia, Gurgaon is simply beautiful. This palatial home is owned by Sarita Chand and her husband and they have two adorable daughters.
Sarita was sure that every nook and corner of the home had to have character and class. It's safe to say, Livspace designer, Urvija Kotak designed this home with impeccable taste that definitely lives up to the hype. Above all, she made sure to fulfill all their aesthetic and functional requirements to-a-t. Read on to find out how.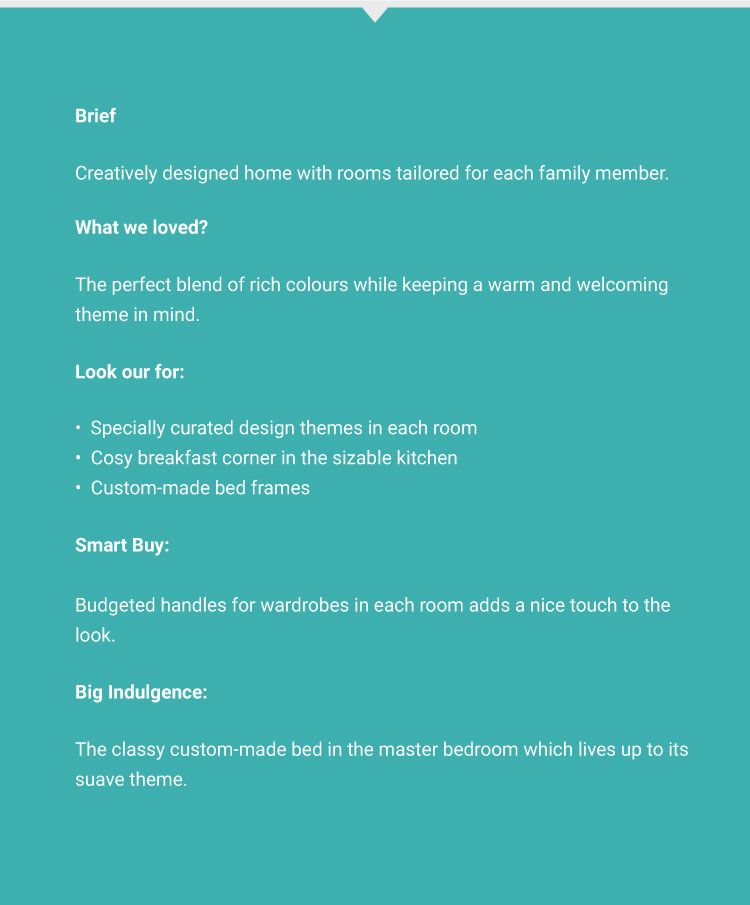 Pioneer Presidia: A Grand Welcome
Dripping in grandeur

Stunning wooden partition

Royal blues
Entering this home, you are welcomed by a grand entryway. At first glance, you can see the elegant couple's personality extends to their home decor choices. The entryway walls are dressed in metallic gold textured wallpaper with plenty of scope for the clients to adorn the walls with paintings and console tables. Finally, your attention is immediately drawn to the eye-catching jaali panel. This is used innovatively to tuck away the circuit box, adding to the foyer's allure.
The foyer opens up to a bright living room with a rich blue sofa set and a floral accent chair from the Livspace catalogue. In addition to this space being illuminated with natural sunlight, it is accentuated with the two mirror panels. Besides, the treatment used in the living room walls goes with the warm gold theme of the entryway. However, unlike the wallpaper in the foyer, the living room has textured paint for a dash of grandeur.
Pioneer Presidia: Dine Like Royalty
Classic neutrals

Touch of toasty wood
The foyer is separated from the dining room by a Livspace catalogue find. The wooden separator acts as a partition as well as a display unit. We love how the nook looks like an epitome of class!
Subseqently, the marble top table and winged-back chairs only add to the essence, not to mention the classic egg shell white colour theme. Adding a slightest bit of colour here is the beige-toned wallpaper.
Pioneer Presidia: Kitchen of your dreams
Spacious spaces

Unique tiles

As colourful as it can get
Start your day the right way
The kitchen has a stunning combination of dark colours and bright patterns. The wall and base cabinets are in a sleek and glossy acrylic finish. Therefore, the grey metallic colour of the cabinets go perfectly with the quirky Moroccan tiles for the backsplash. Consequently, Urvija suggested that the long and sizable kitchen can accommodate a delightful breakfast table.
With the black and white Moroccan tiles, the wallpaper is in a fun brick wall design. This corner is the best way to start your day. Furthermore, a noteworthy mention is the kitchen flooring. The unique tiles used here give the appearance of wooden flooring.
Pioneer Presidia: Cosy entertainment room
Bright & colourful

Warm combinations
Urvija redesigned the original 5BHK into four bedrooms and an entertainment room. In addition to the floral wallpaper, there is a beaming mustard yellow ceiling making this room cosy and bright. However, the couple made good use of their sofa set from their previous home by placing it here. Moreover, making this room warmer are two classic pendant lights and wall sconces.

Pioneer Presidia: King-size master bedroom
Greys & whites

Ideal headboard designs

Can't go wrong with white

Classy white wardrobes
With a great deal of insights from Sarita's husband, the master bedroom was designed in an elegant grey and white theme. The couple specifically wanted a custom-made bed with a full height headboard. Furthermore, adding to its lavish style are two mirror panels on either side of the bed.
The sliding laminate wardrobes are in a stunning champagne colour and can be found in the catalogue. Besides, the bedroom lives up to its sophisticated theme, making it the ideal room for a good night's sleep.
Pioneer Presidia: Colourful kid's room
Every girl's dream

Scattered teal

Rich shades of pink

Pop of pink

Fun study corners

Creative storage

Coral shades
Sarita and Urvija agreed that the kid's room should be as lively as them. With the pink and floral designs taking the forefront, the storage cabinets are in white whereas, the wardrobe is in a coral pink. Consequently, the rich pink headboard matches the floral wallpaper and the side tables are converted to study tables for the girls to catch up on their school work.
Pioneer Presidia: Restful Guest Room
Multipurpose TV unit

Comfort above all

Salmon pink with gold
This contemporary bedroom is designed specially for Sarita's visiting parents. Subsequently, what pulls this room together is the plush headboard in a beautiful shade of pink that matches the pink and white motif wallpaper perfectly. Moreover, the storage bed is custom made to satisfy a certain height requirement for their parents. However, Urvija made great use of the space below the TV by creating a multipurpose dresser and TV unit. Using cabinets in a subtle rose gold shade and budgeted pull out handles.
Pioneer Presidia: Plush guest room
Cool blue hues

Uncommon combination

All things plush
The guest room is definitely styled to lift spirits. The couple retained their old bed and the rest of the room is designed around it. The bright blue wall paint is in contrast with the brown bed, yet it makes a striking colour combination.
"Working with Sarita and her husband was delightful. We discussed various design ideas and kept the dialogue open for more innovative ideas. What made the design process easier was that everyone was on the same page and had the same vision."
-Urvija Kotak, Interior Designer, Livspace
Also, if you enjoyed reading about this home, check out 3BHK Gets Plush & Glossy Interiors
Send in your comments and suggestions.