Since wardrobes are a long-term purchase, it makes sense to weigh every aspect and make a wise decision. Various factors go into purchasing a wardrobe—colour, style, material and also, the type of door.
Here, hinged doors or sliding doors for wardrobes have been explained in detail, so you can make the smart choice according to the space requirements, usage, maintenance and convenience.
What are Swing Wardrobes?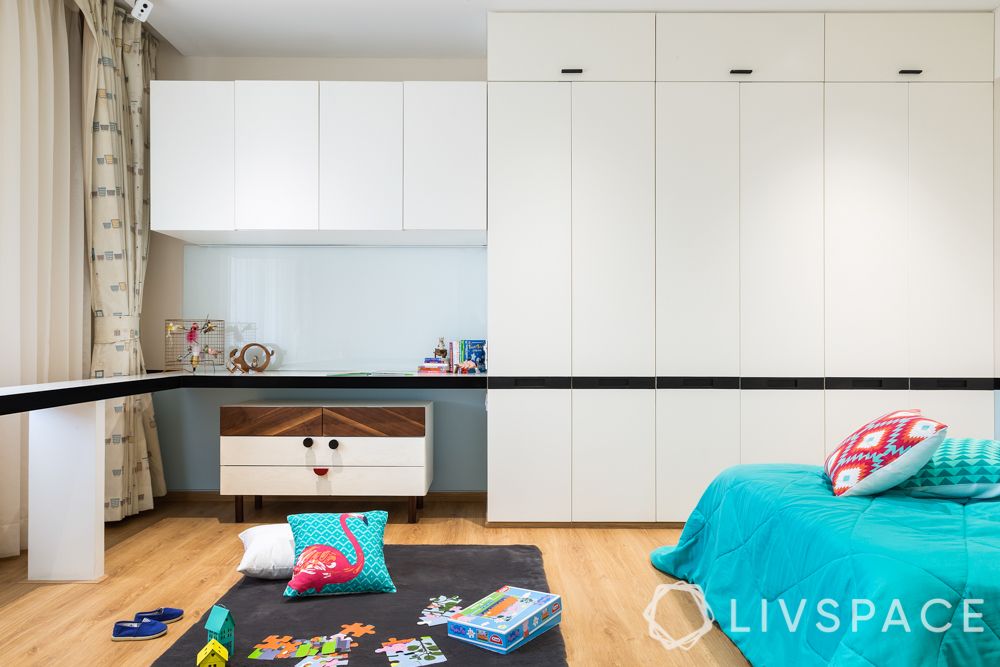 The most common type of door where the shutter is attached to the closet with hinges is called swing doors. These are the conventional choice for wardrobes. Hinged doors can work with wardrobes designed in any shape. This includes L-shaped, triangular and pentagonal corner wardrobes. While choosing hinged doors or sliding doors, the former has been the traditional choice. The interiors of your hinged wardrobe design can be customised to suit specific requirements too.
What are Sliding Wardrobes?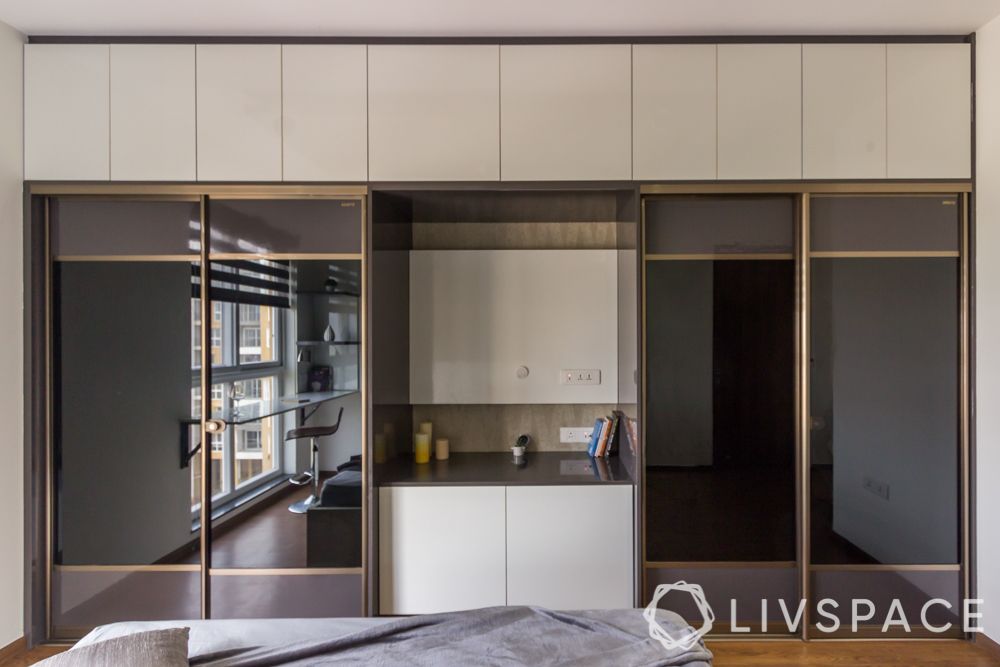 Sliding doors, as their name implies, are movable doors that glide horizontally along metal channels fixed to the top and bottom of the wardrobe. Given their sleek, contemporary look sliding doors make a style statement. This type of door doesn't require lots of room since it slides to the left or right. If you wish to choose a sliding wardrobe, do keep in mind that sliding doors work and look best when they're you have at least three or more doors.
Why Choose Swing Wardrobes?
#1: Improved Visibility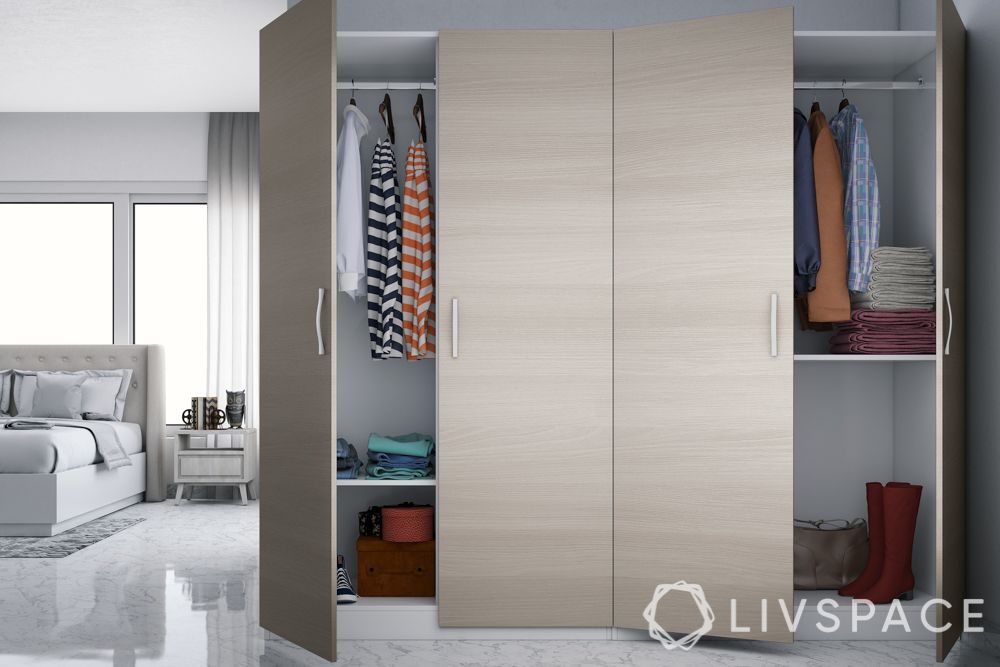 It is easier to spot things when you open the doors as you get the entire view of the wardrobe. Unlike sliding doors, hinged doors do not conceal one side of the wardrobe
#2: More Hanging Space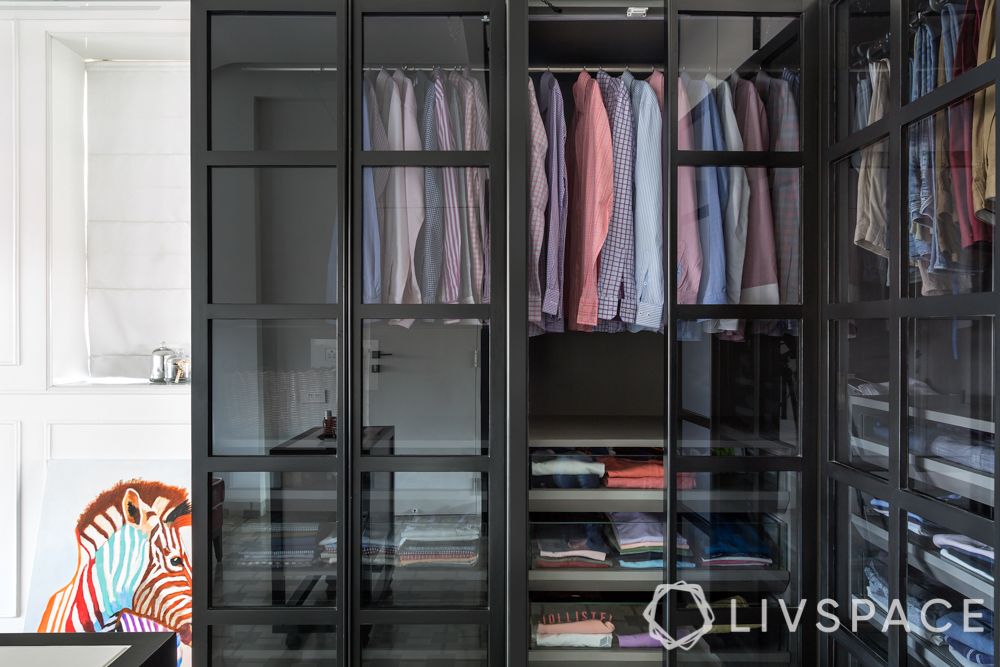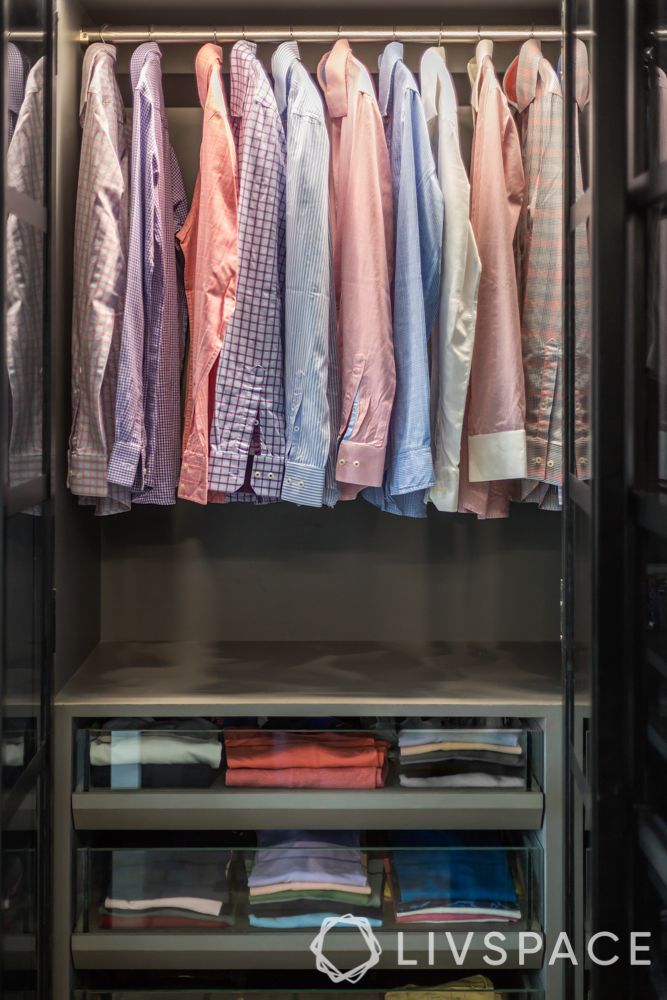 With hinged doors, you can hang your accessories like sling bags, scarves or belts on the back of the doors
#3: Color & Finish Options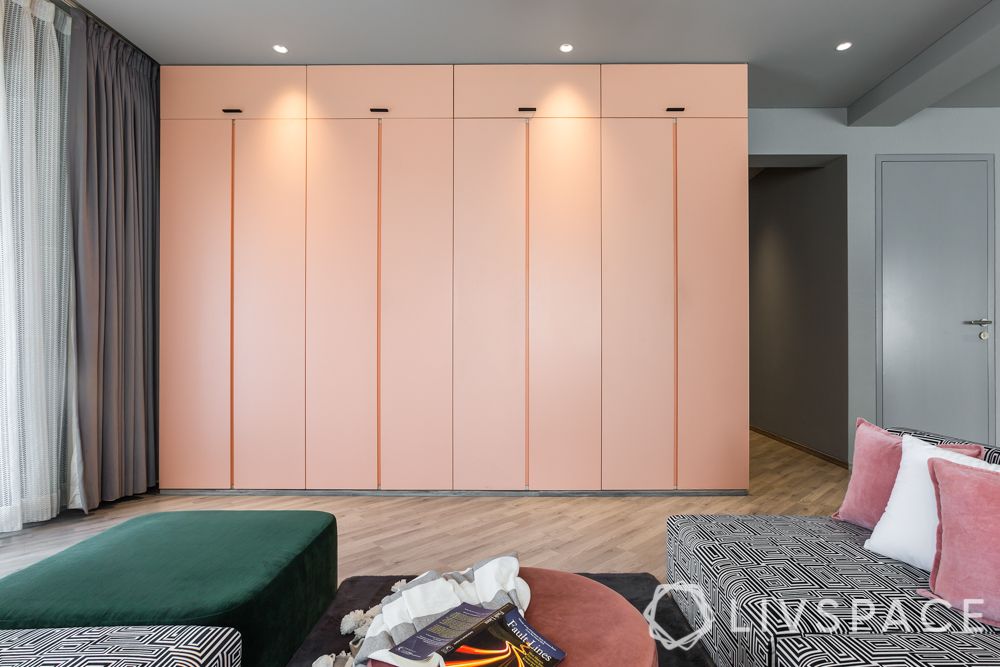 Since swing doors have been in the market for a long time, these wardrobes come in various styles and colors. Depending on your preferences, you can get any wardrobe door design or color. Opt for mirrored, laminated or routed shutters. If you prefer a more contemporary look, you can choose metal framed shutters with glass panels. You can even customise the type of handle – from sleek stainless steel handles, classic door knobs or even luxe leather finished handles.
#4: Minimal Maintenance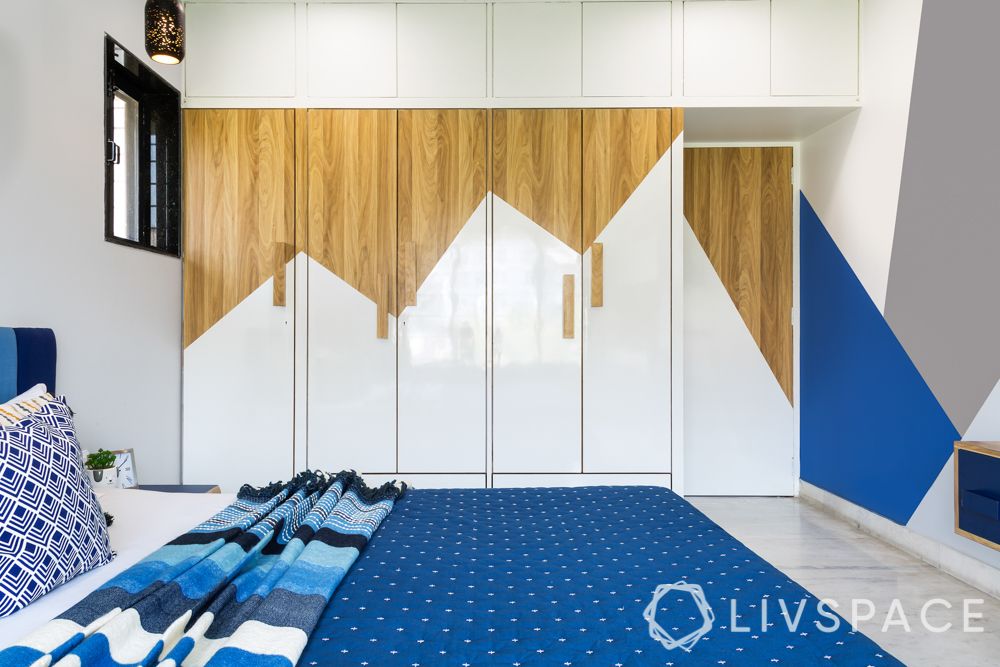 Your hinged wardrobes need minimal maintenance. All you need to do is ensure that your hinges stay in top shape. If you start hearing a creaking sound, they might need oiling.
Disadvantages of Swing Wardrobes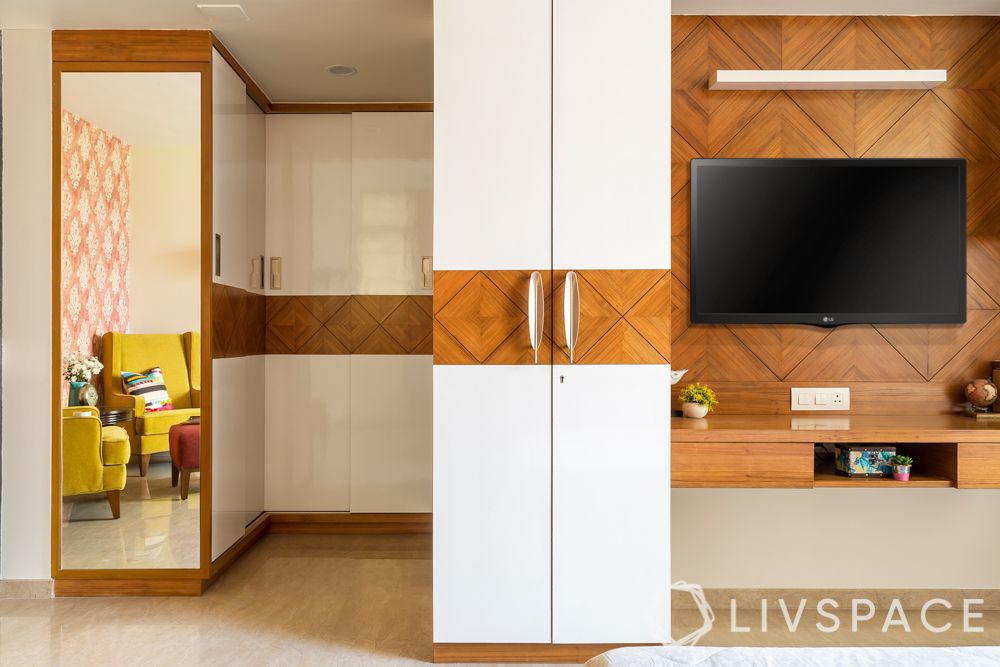 Hinged doors usually take up some room, since they swing outwards. If you have a small bedroom, you will need to plan the position of your wardrobe such that the doors do not obstruct movement and stay out of the range of furniture.
Why Opt for Sliding Wardrobes?
#1: Extensive Length of Sliding Doors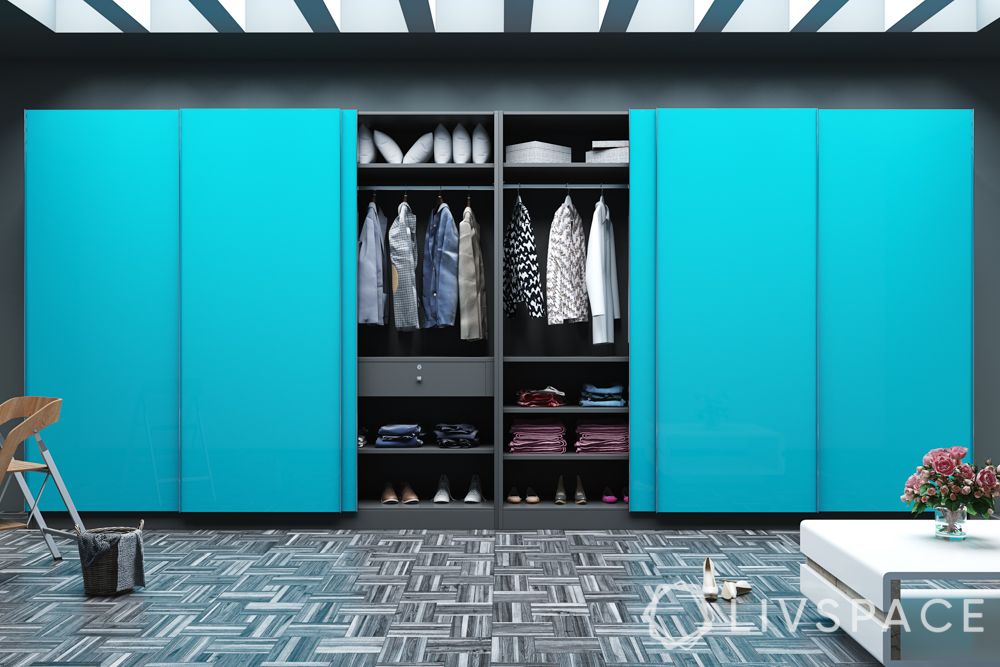 Sliding door wardrobes favour expansive spaces that can house a lengthy wardrobe. The appeal of these wardrobes lies in having room for plenty of things like clothes, accessories, cosmetics and hideaway luggage. With a wardrobe as accommodating as this, the need for additional storage is minimal. Moreover, they save space as sliding doors don't hinder the traffic flow in the room.
#2: Sleek Design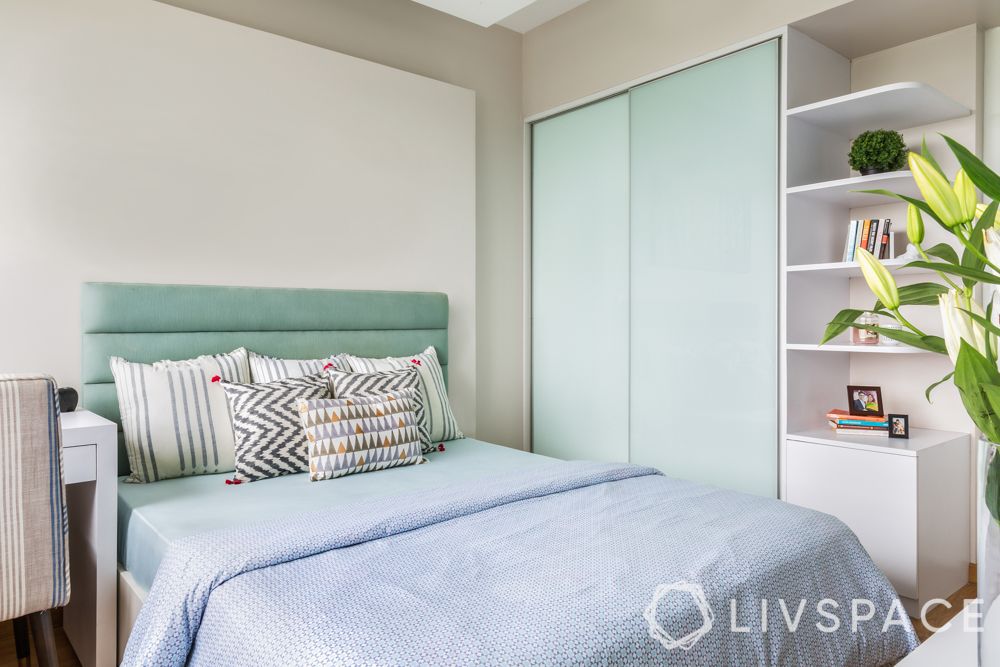 One will have to agree that sliding door wardrobes add an air of panache to any room. You have the luxury of designing your wardrobe any way you wish depending on the texture or color. Mirrored sliding doors can give you both style and functionality in one very easy-to-maintain package.
#3: Variety of Styles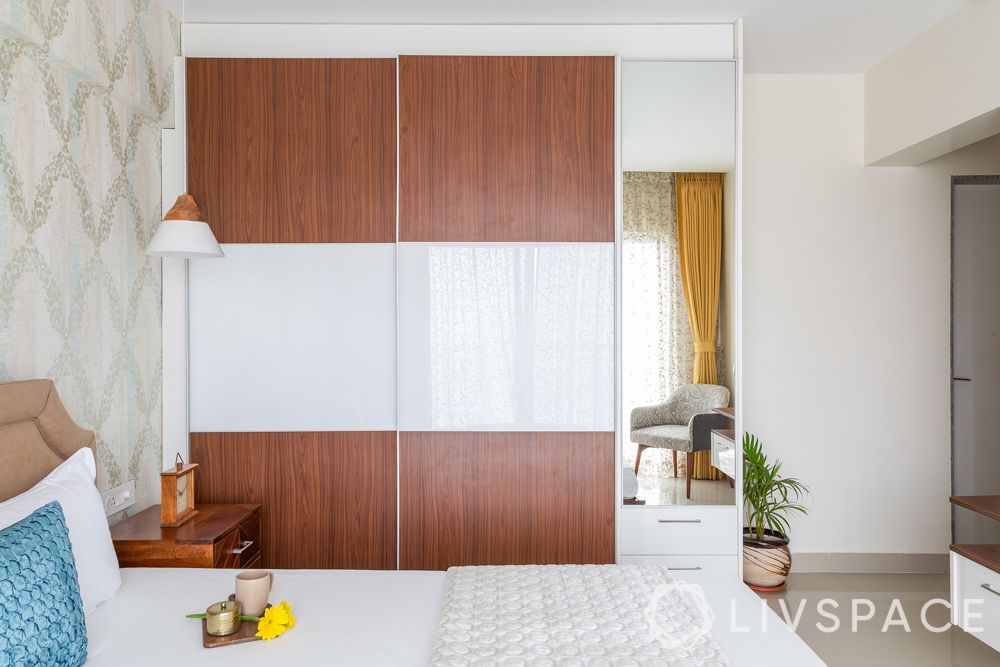 You can install sliding wardrobes that tie in perfectly with the decor of any room. Such wardrobes usually add a contemporary touch to your bedroom. However, you can opt for distinct materials and finishes, ranging from veneer to mirrors, to add a unique touch to your room,
#4: Optimising Space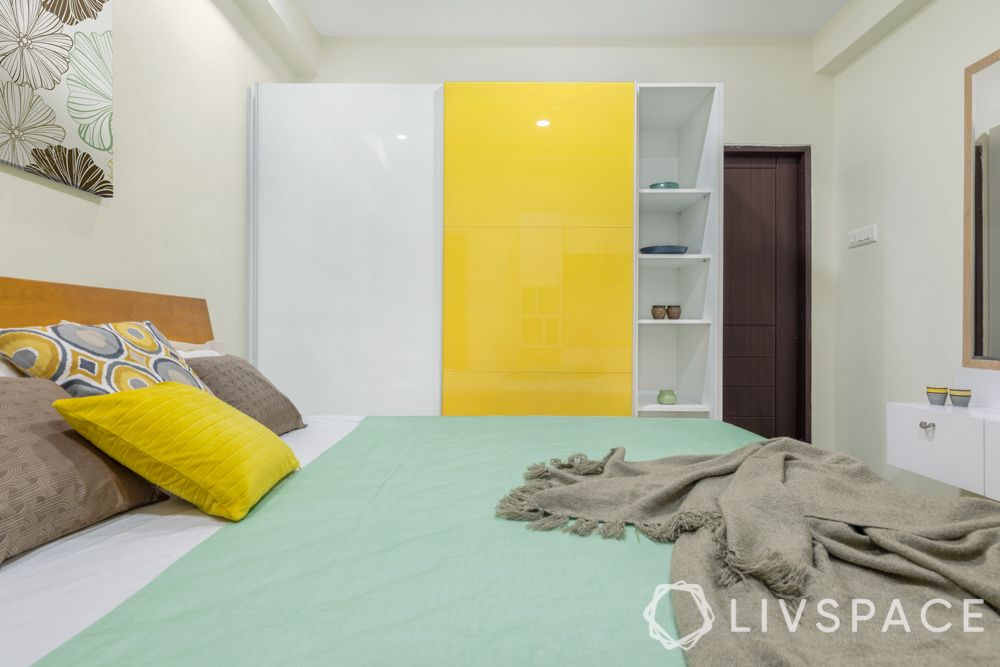 Sliding wardrobes are ideal for compact rooms because they are essentially space-saving. Unlike hinged wardrobes, sliding wardrobes ensure that you don't need to leave any space swinging open the door of the wardrobe. While this does restrict the view of the clothes in the wardrobe, it also streamlines space for small rooms.
Disadvantages of Sliding Wardrobes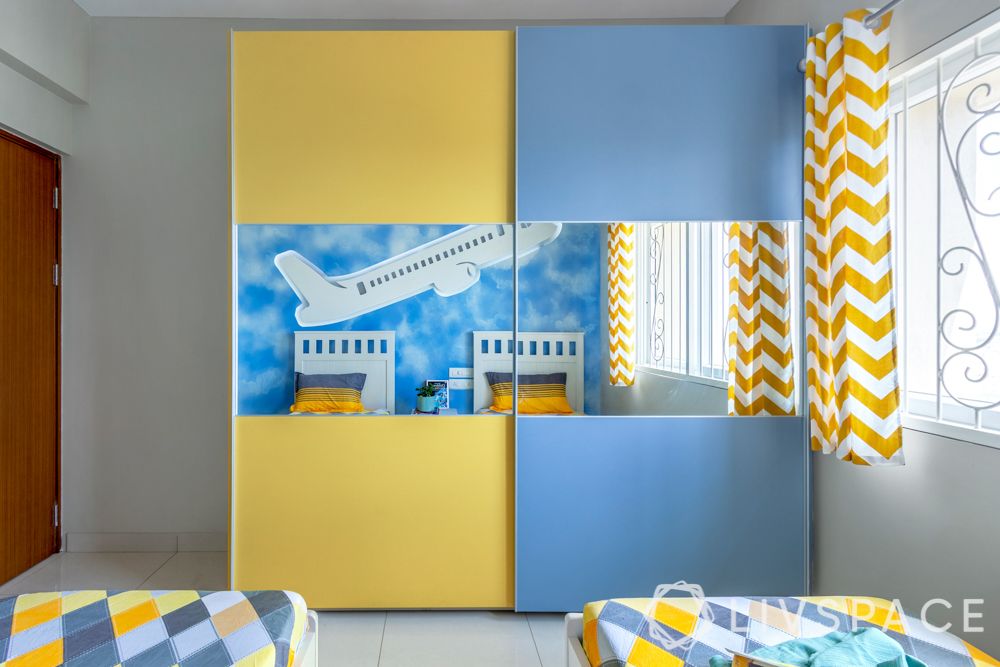 Do bear in mind however that sliding doors will block the view of one part of the wardrobe when you slide them open. Moreover, these doors might come off track over time. The weight of the doors might also cause them to sag. So, check the panels of your wardrobe door from time to time to avoid potential issues.
Want a quick summary of everything? Here's a round up of all you need to know about hinged doors or sliding doors for your wardrobe.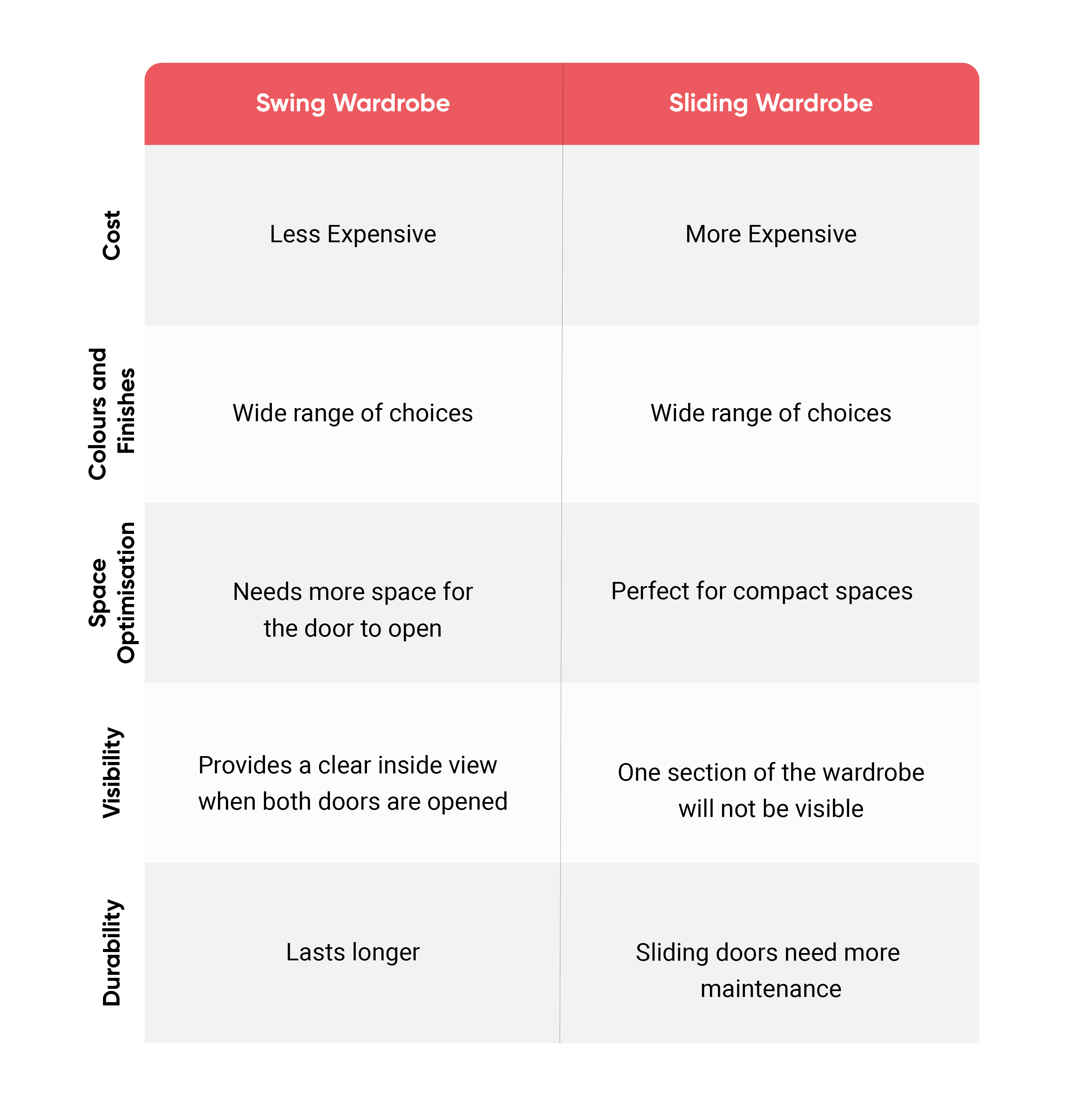 Looking for a wardrobe custom-made to your requirements? Check out custom wardrobes by Livspace.
Send in your comments and suggestions to editor@livspace.com