As you know, a hinged wardrobe has been the go-to option for decades now! However, at Livspace, we've managed to give the swing-open design a twist with our beautiful colours, finishes and storage options. Moreover, If you have a room that gives you the luxury of ample space to open these doors, we'd recommend one of these designs we've created in-house! Here, take a look.
Hinged Wardrobe Designs We Love!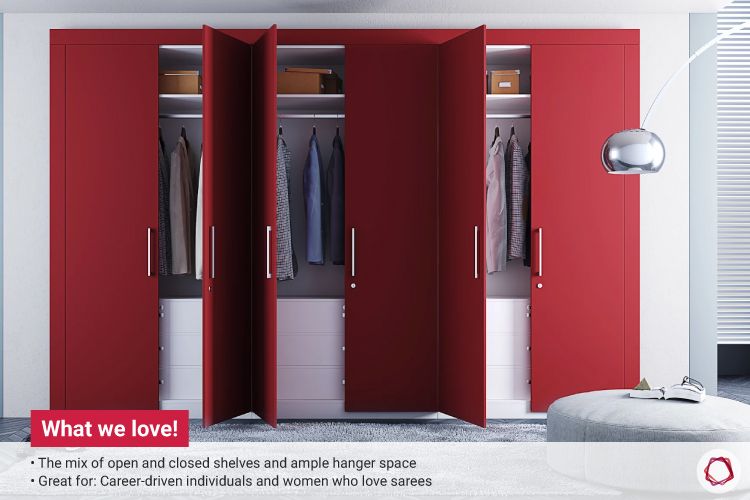 If you're looking for a contemporary solution for your storage woes, this one's it! While it comes packed with storage options including internal drawers and hanger space, the red will be turn out to be the highlight of your room!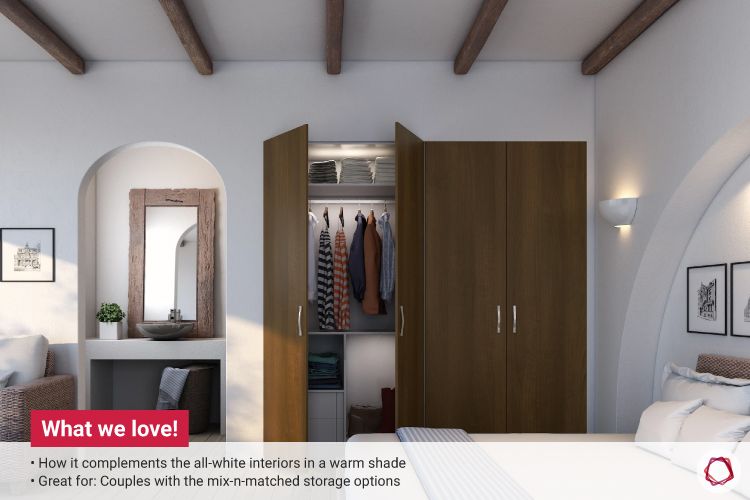 This hinged wardrobe design is basic and traditional, and will suit any room. However, you can pack it with internal accessories to make organisation a dream!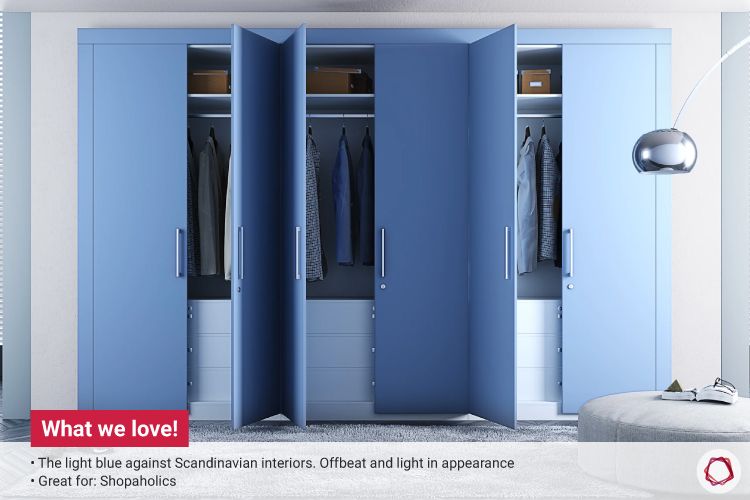 Take a breather from the conventional choices and settle on this cool blue. Also, you can do up your room in white, blue or grey to complement this design.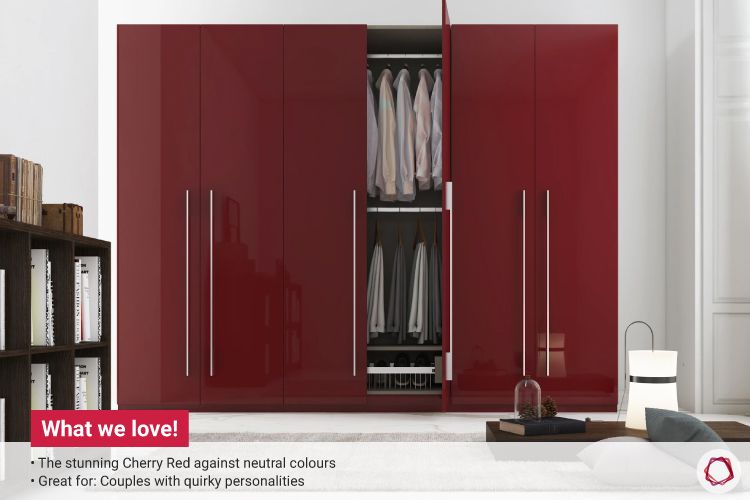 This 6-door wardrobe isn't just beautiful to look at; it comes packed with storage space too. Additionally, Speak to our designers on how you can customise the interior with accessories!
*Laminate colours are subject to availability. Skirting may be different for some models.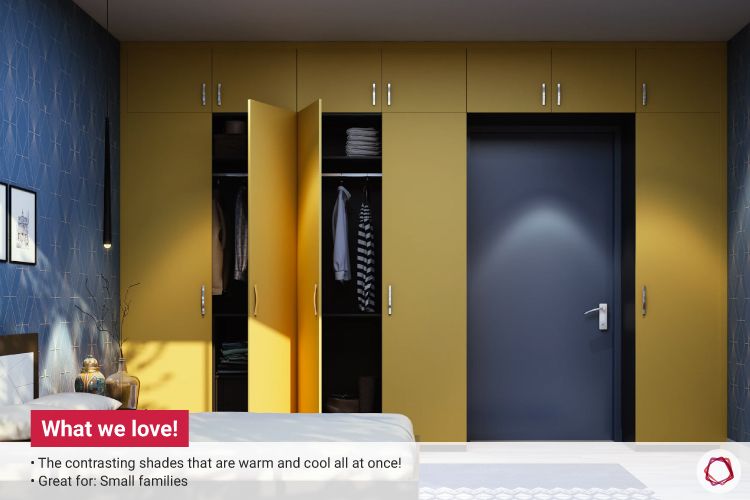 With this fun design, you get wardrobe space, but also loft space for your suitcases. Thus, this one's meant for urban homes and ensures not an inch of space goes to waste!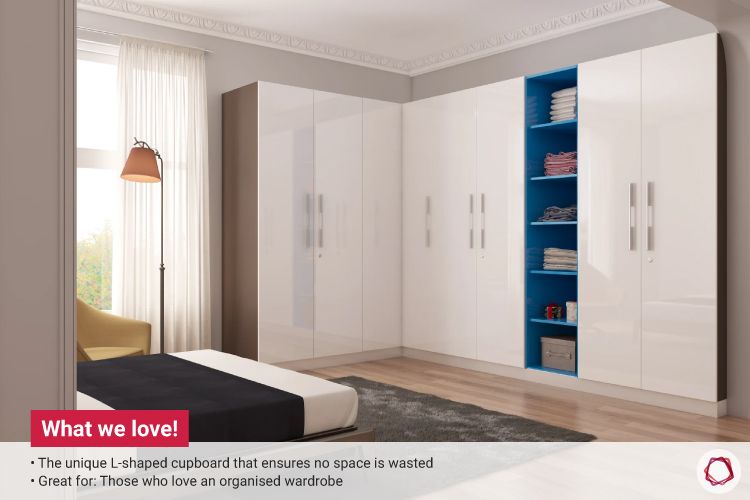 If you're into minimalist or Scandinavian interiors, we'd recommend this design in frosty white. To shake things up a bit, it has been given blue open shelves for your essentials. Also, the L-shape is unconventional and the right choice if you need added storage space.
*Laminate colours are subject to availability. Skirting may be different for some models.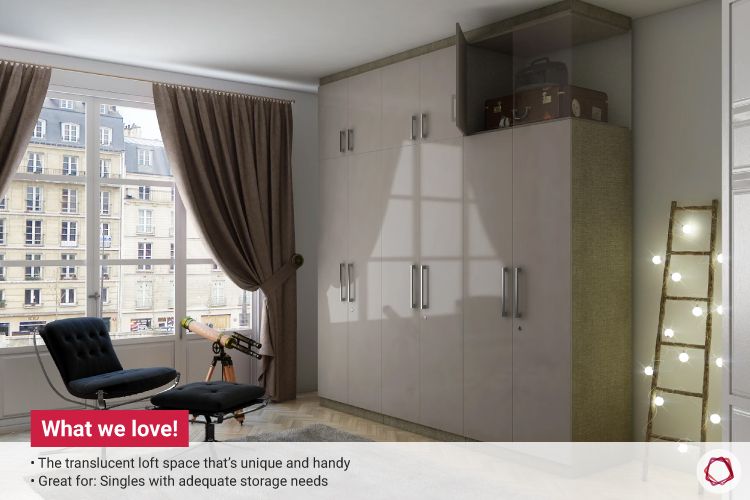 The muted shades will suit any personality while being light on the eyes. Also, The glossy finish is easy to clean and maintain too!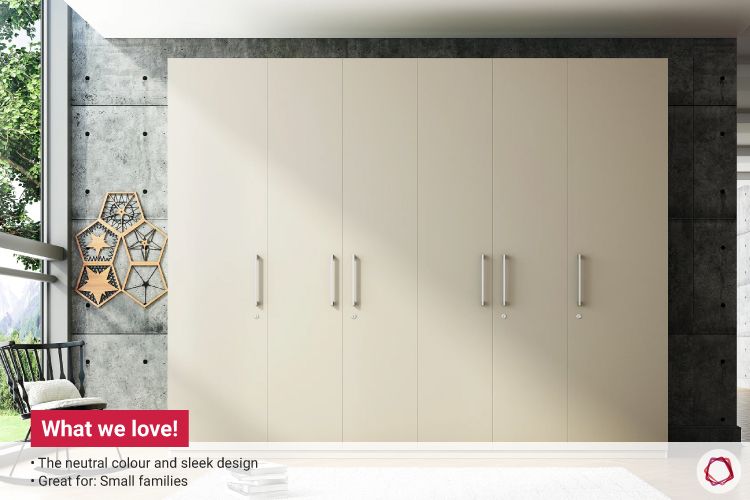 This 6-door wardrobe is sleek in design and subtle in presence. Since it is neutral in colour, it will match any kind of interior, contemporary or traditional, while giving you plenty of space to organise your garments and accessories.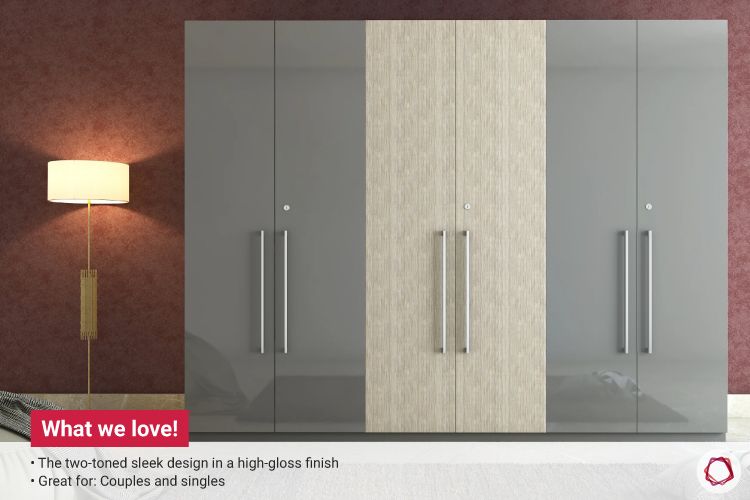 Basic but beautiful, this 6-shutter wardrobe is a combination of two sober shades. It's bound to make your neighbours jealous, especially with that glossy finish!
*Laminate colours are subject to availability. Skirting may be different for some models.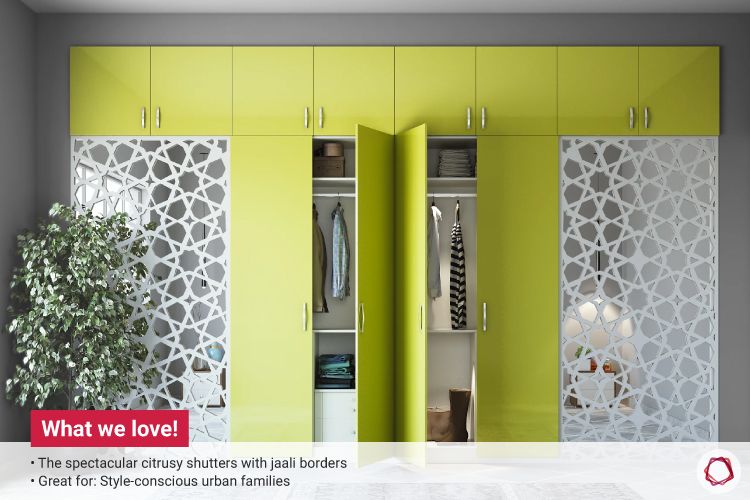 This 4-door wardrobe is high on style and space! Additionally, it comes with lofts for your suitcases and trunks and the jaali design is simply stunning!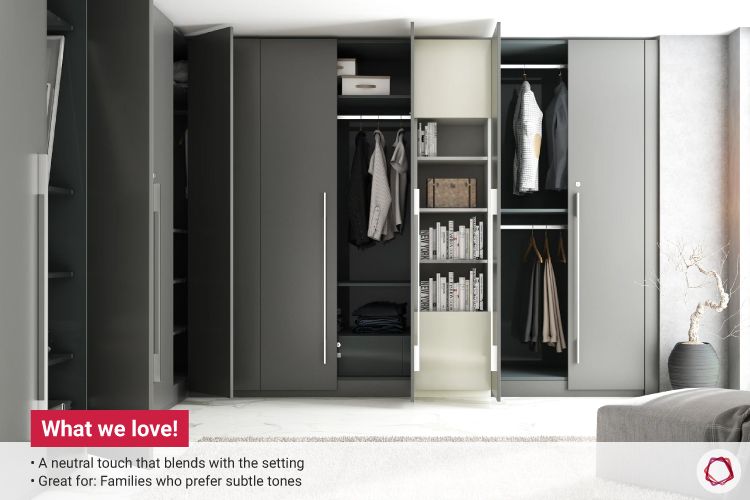 Stylish and sleek, this grey wardrobe design is subtle and a mix of all the elements you've seen so far. From closed sections to frosted glass shutters, this one's a must-have if you have two walls to spare!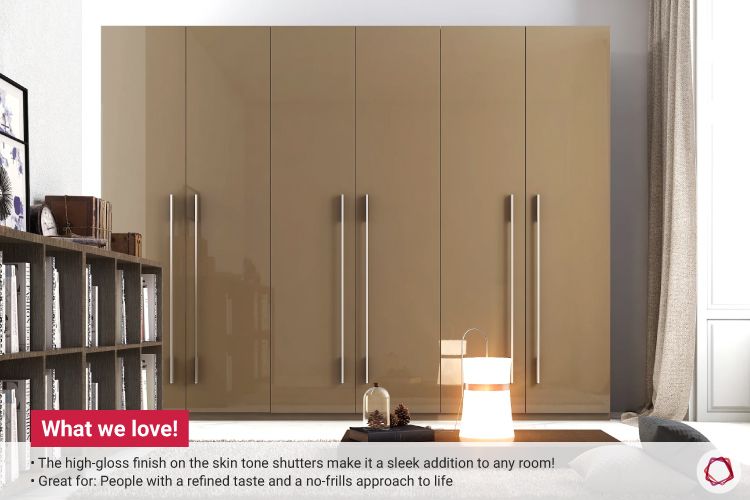 We love nude tones and this 6-shutter wardrobe is another fitting example of why! It doesn't impose, but it also catches your eye for being subtly splendid in high gloss.
For tips on choosing the right wardrobe, go here! Let us know if you liked our designs!
— editor@livspace.com
How Can Livspace Help You?
We hope you found our ideas useful! If you want beautiful interiors for your home, then look no further. Book an online consultation with Livspace today.