Traditionally loved and millennial-approved, wooden wardrobes never fail to create a statement. While these can fit comfortably into any available space and be as eye-catching or toned down as you'd like, you don't have to settle with the typical choices. There's plenty of new designs for you to explore. Let's check out some designs together!
Wooden Wardrobe Designs #1: Dark Wood Grain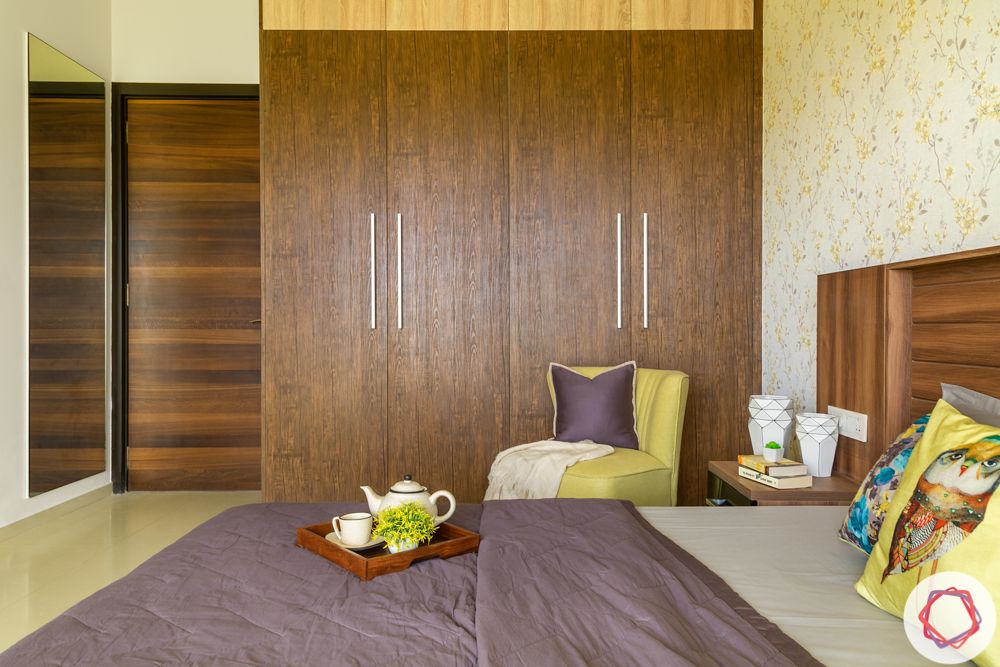 This wardrobe has its own charm. With a texture that highlights the dark grains of wood, this wardrobe can stand tall in your bedroom. Classic clean lines and T-bar handles complete the look for this wardrobe. Simple yet sophisticated, this is a timeless piece that will fit perfectly into your home!
Wooden Wardrobe Designs #2: Fit it in the Corner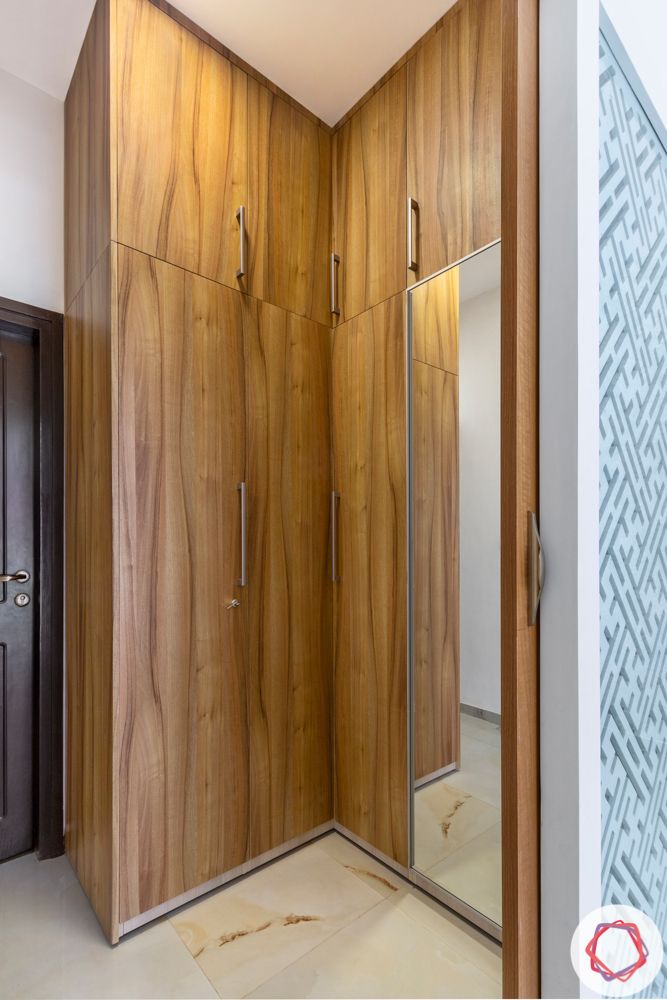 Shortage of space causing you to worry? Yes, we know you need the space to store your essentials, so we've found something you can fit into a corner and forget about. Check out this compact wardrobe that comes complete with lofts to store your suitcases in! As it has a mirror too, you can save space on a seperate dresser unit as well!
Wooden Wardrobe Designs #3: Sliding Doors to Save Space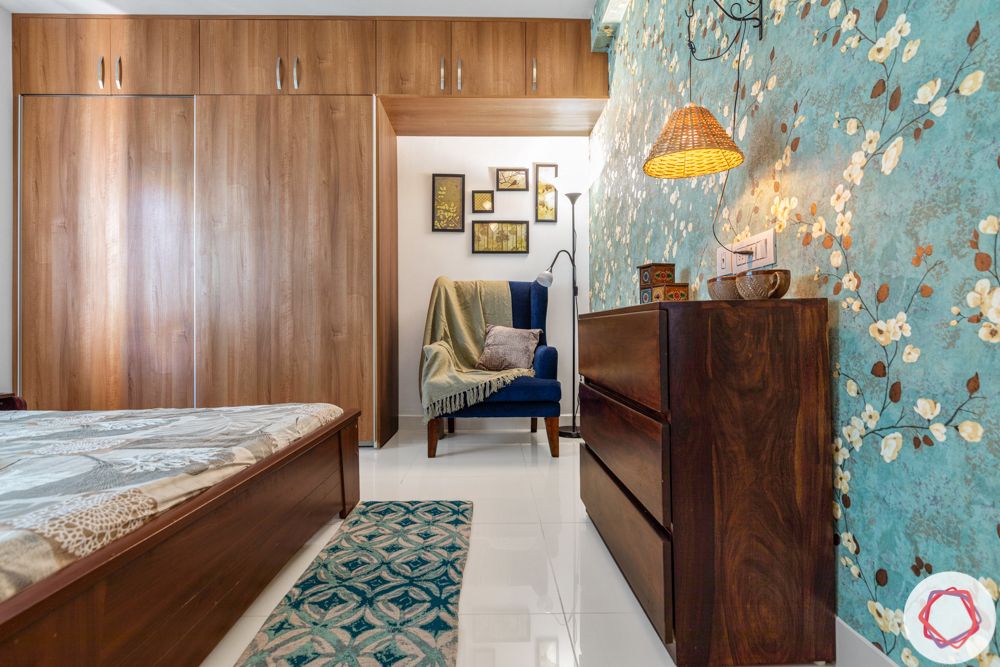 If you don't want your bedroom crowded by wardrobes with swing shutters, pick one with sliding doors! Check out this simple but elegant design, where one door blends seamlessly into the other.
Wooden Wardrobe Designs #4: Complete With Mirrors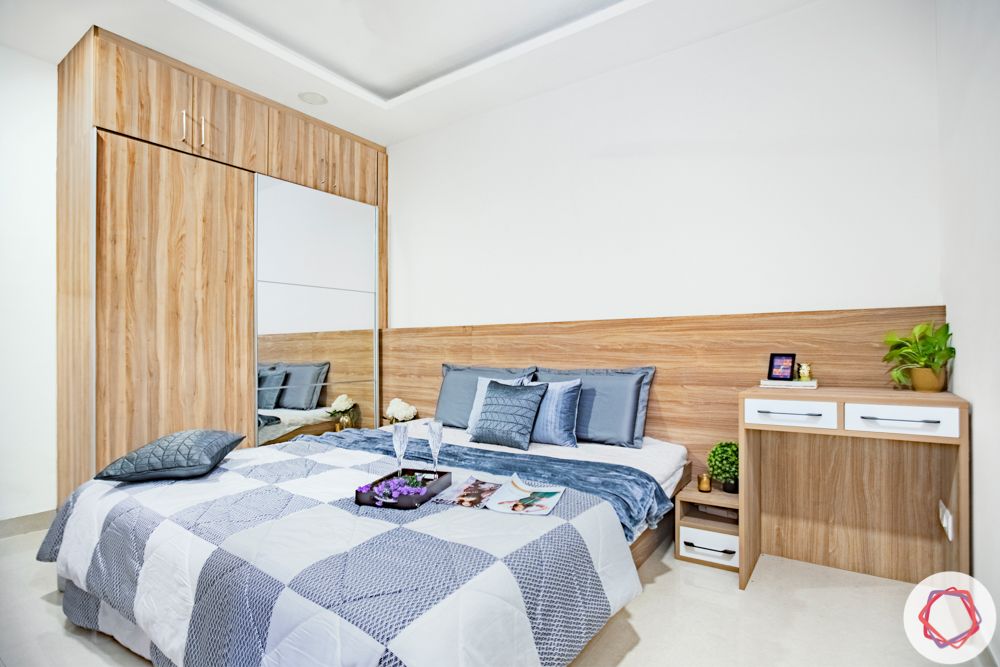 Don't have space for a separate dresser unit? We've got you covered! Check out wooden wardrobes with mirrors, where you can prep for the day in style.
Wooden Wardrobe Designs #5: Mirror Panelling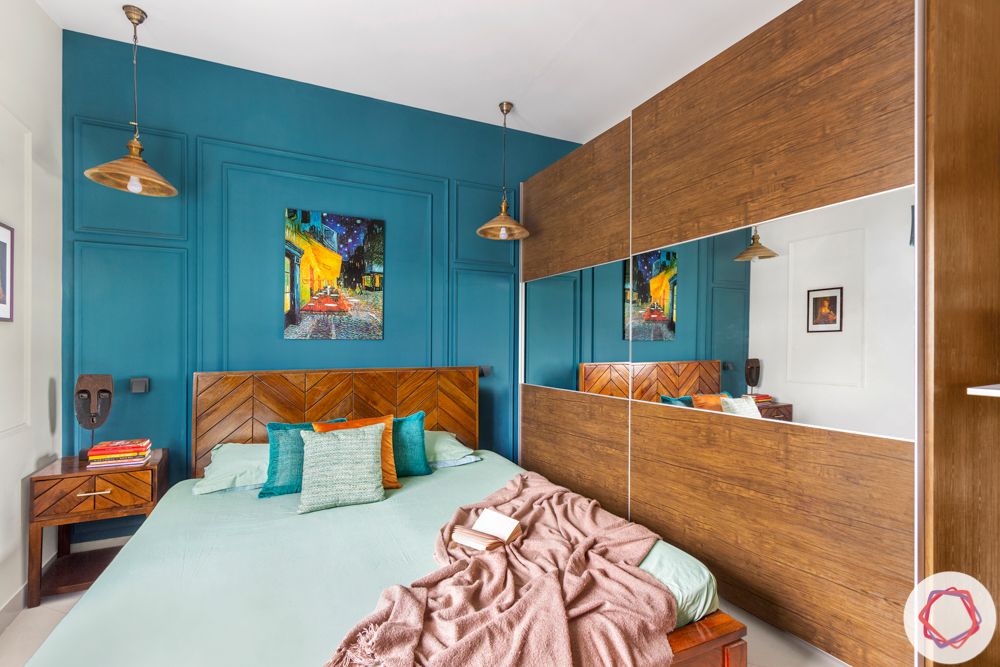 If you're looking for ways to make your compact room appear bigger, your best bet is a mirror panelled wardrobe. Combine that with sliding doors, and bingo! You save on floor space, and your room opens up effortlessly.
Wooden Wardrobe Designs #6: Walk-in Wardrobe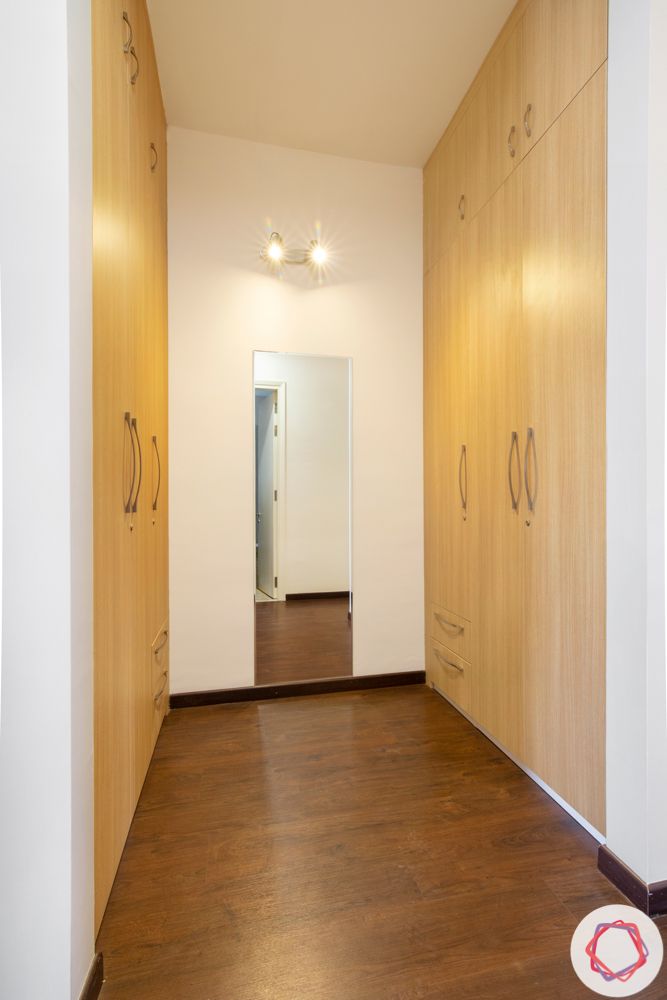 Always dreamt of a classy walk-in wardrobe, but need to fit it all in your dressing nook? Worry not. Pick a light-coloured wood for your wardrobes, and fill the nook with them. Add a mirror on the opposite wall, and you've turned your dreams to reality!

Wooden Wardrobe Designs #7: Complete With TV Unit and Study Table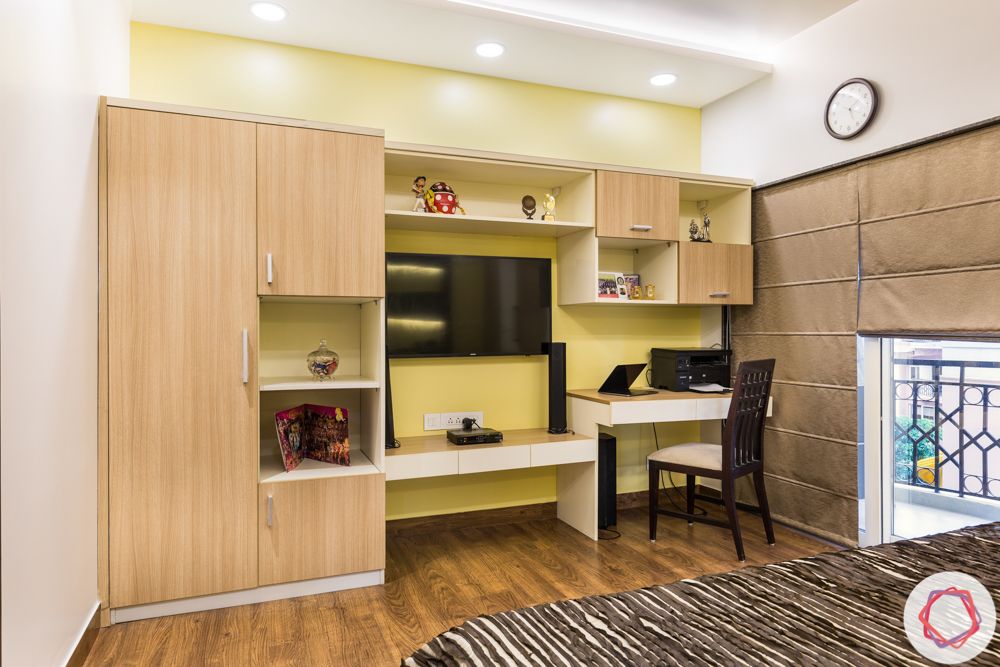 Want a wardrobe in light wooden hues, but need a variety of other furniture in the room as well? If you're skeptical about having multiple bulky pieces of furniture in your bedroom, take a cue from this design and get a multifunctional piece of furniture. So in one piece, you can combine your study table and TV unit with your wardrobe, and add a couple of cabinets and open shelves for good measure!
Wooden Wardrobe Designs #8: Attached TV Unit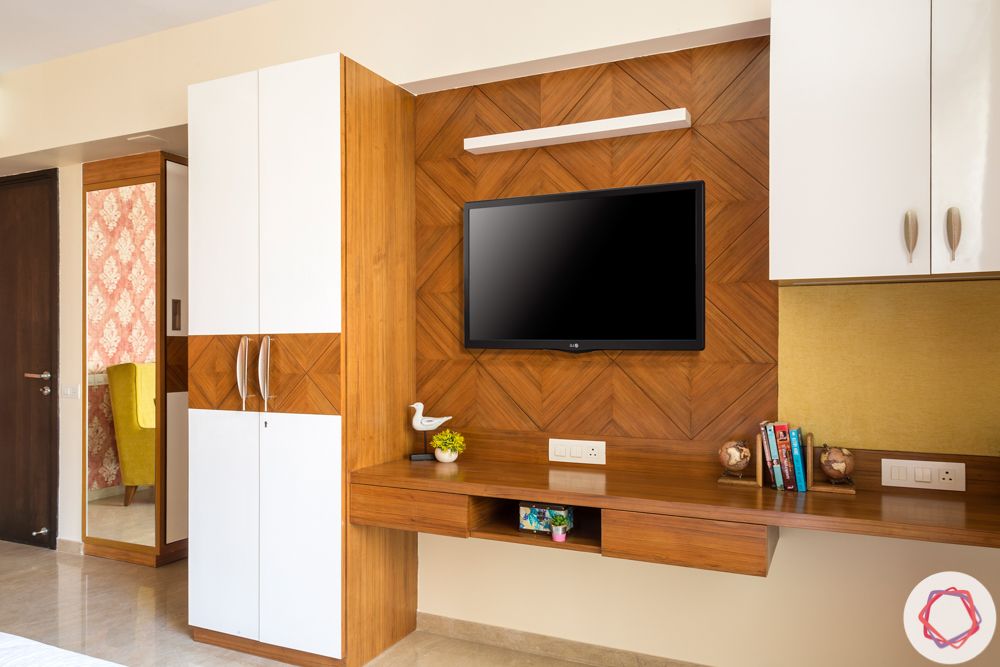 Want wooden elements in your bedroom? Check out this gorgeous design that combines a wardrobe elements with a TV unit and an attached table. You can add a quirky touch with interesting handles, like this one!
Wooden Wardrobe Designs #9: Use Two Different Colours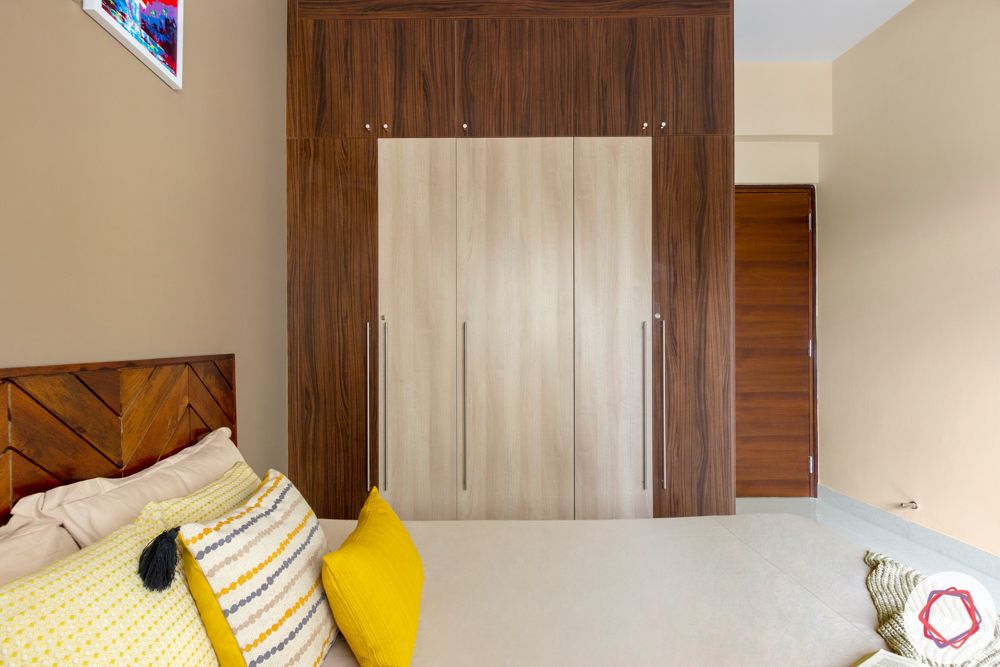 You don't have to stick to one single shade of wood for your wardrobe! Play around with colours, textures and finishes until you find the ones you like, and incorporate them into your wardrobe like this.
Wooden Wardrobe Designs #10: Display Shelf Included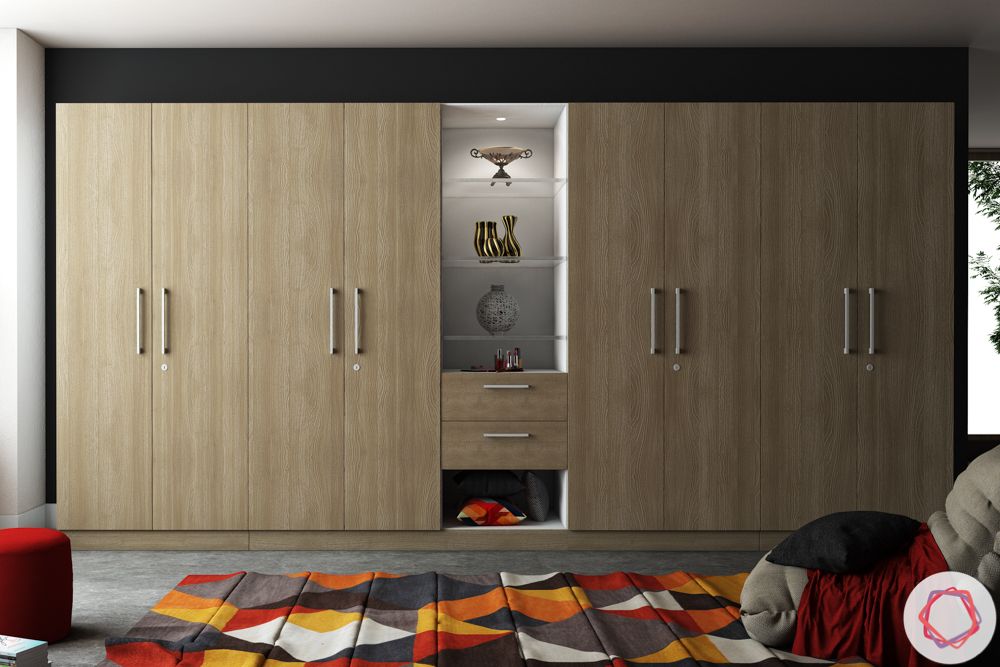 Did you always think how cool it would be if you could show off a few choice accessories alongside your wardrobe? If you're thinking of your favourite watch or a pair of earrings, you're sure to love this wardrobe design with open shelves in between. Also, bonus points for the handy drawers!
Wooden Wardrobe Designs #11: Refurbished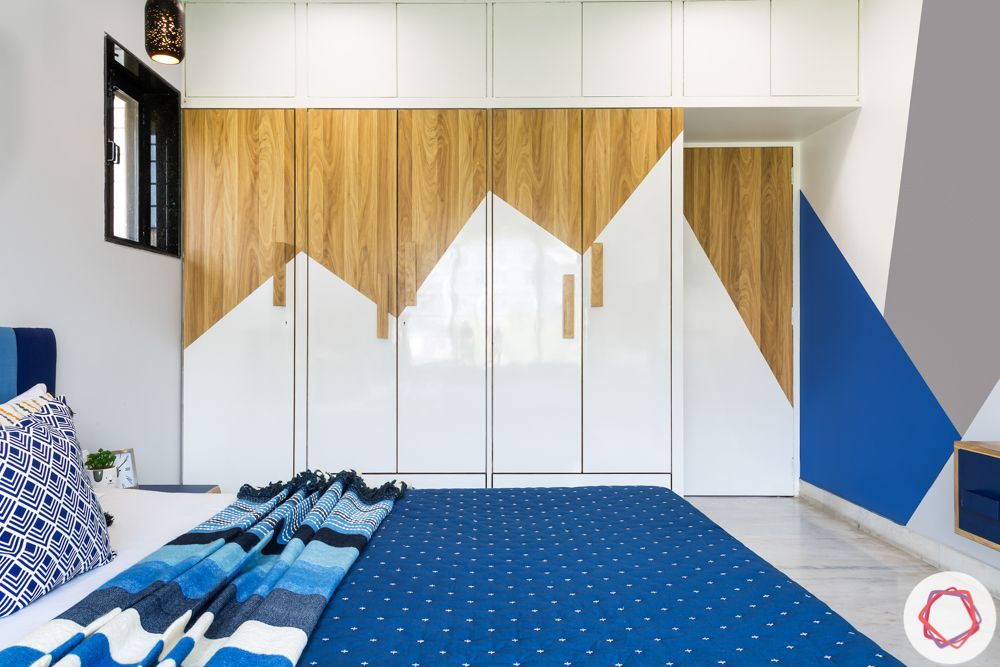 If you have an old wardrobe in excellent condition, this one's for you. Of course we're not going to ask you to ditch your old wardrobe to make place for a new one. However, are you bored of the old wardrobe? Then we've got an idea for you! Simply change the wardrobe shutters, and you have a storage unit that looks brand new! What's more, you can suit the shutters to match the theme and colour scheme of your bedroom!
Wooden Wardrobe Designs #12: A Splash of Colour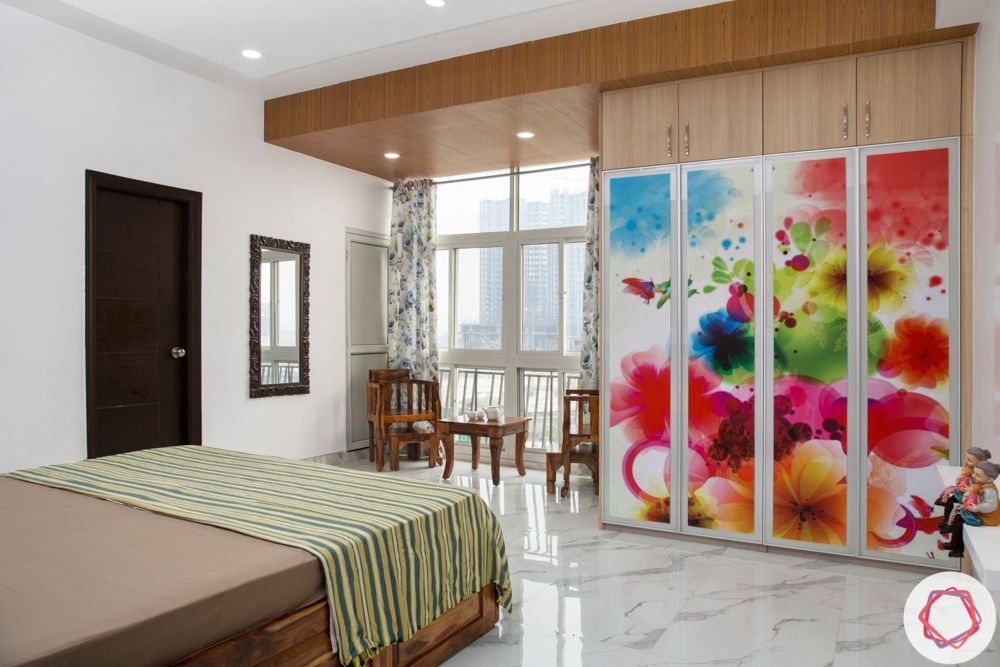 If you're looking for something a tad bit more colourful than wooden wardrobes, this one's especially for you! Just because you want a wooden wardrobe does not mean it needs to be brown and boring! Amp it up with a pop of colour or more. Take your cues from these abstract floral sheets, and see how your bedroom is transformed, instantly!
If you're confused about the kind of wardrobe you need, check out Which is a Better Wardrobe for You?
Send in your comments and suggestions.