What's that one thing that you can never have enough of? You guessed it right – storage! No wonder wardrobes are such a vital part of our bedroom design – after all, they solve all your storage woes! But a wardrobe is more than just a storage option. Cupboard design can make or break the look of your bedroom! Read on.
Why is the perfect wardrobe design important?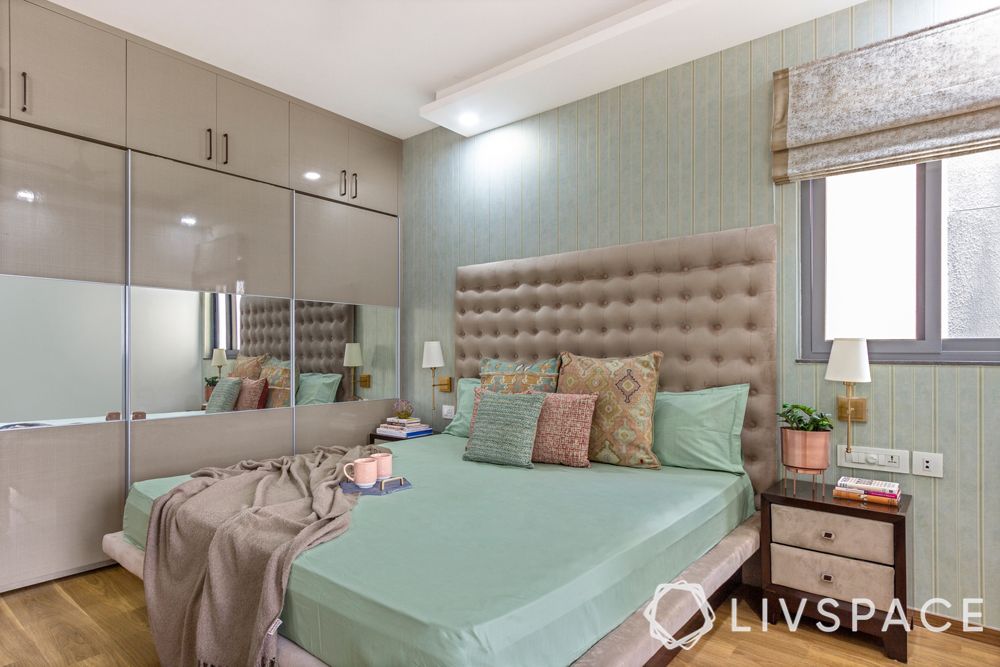 The cupboard and your bed – these are the two principal components of your bedroom. So, it goes without saying that choosing these furniture pieces require careful consideration. Apart from providing storage, your cupboard also defines the look of your bedroom. In this article, we help you select the perfect cupboard for your bedroom.
#1: What is the size of the wardrobe?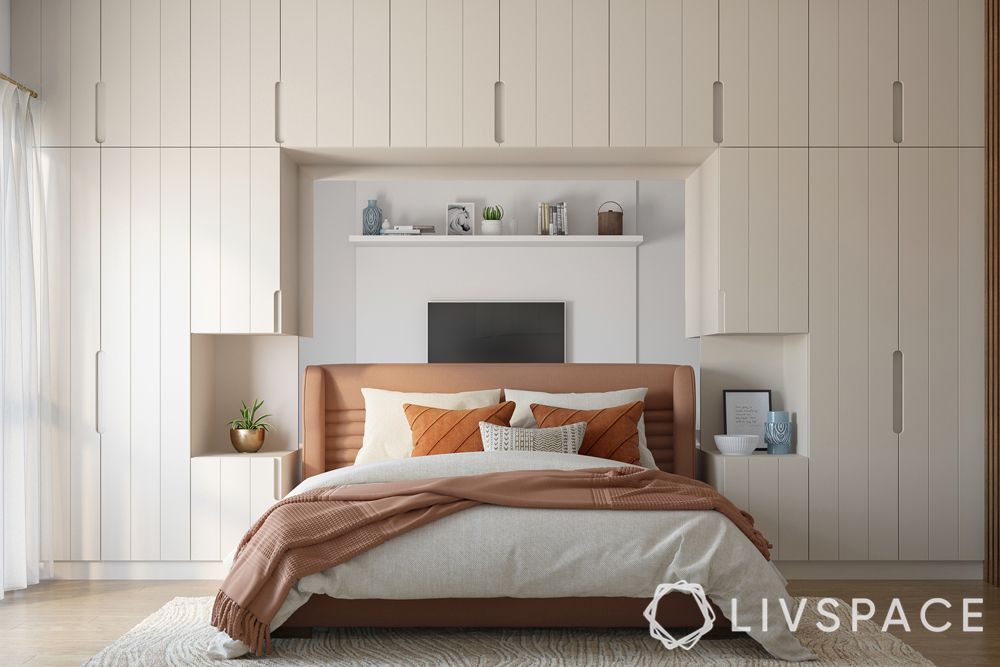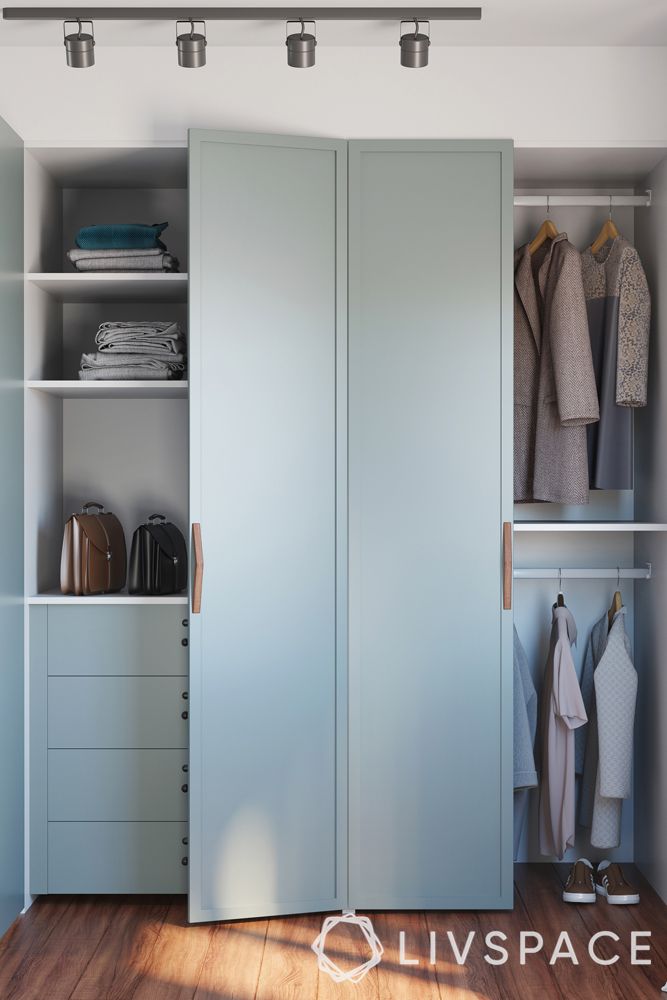 Size matters! The first thing that you must ask yourself is what the size of your wardrobe should be? The size mainly depends on two things – utility and space available. First, you need to allocate a part of your bedroom for your cupboard. Once done, measure the dimensions of that area. Finally, choose your wardrobe based on the amount of storage you need. Do you live alone? Do you have kids? Don't forget to weigh in all these factors, too!
#2: Does the size match the dimensions of the room?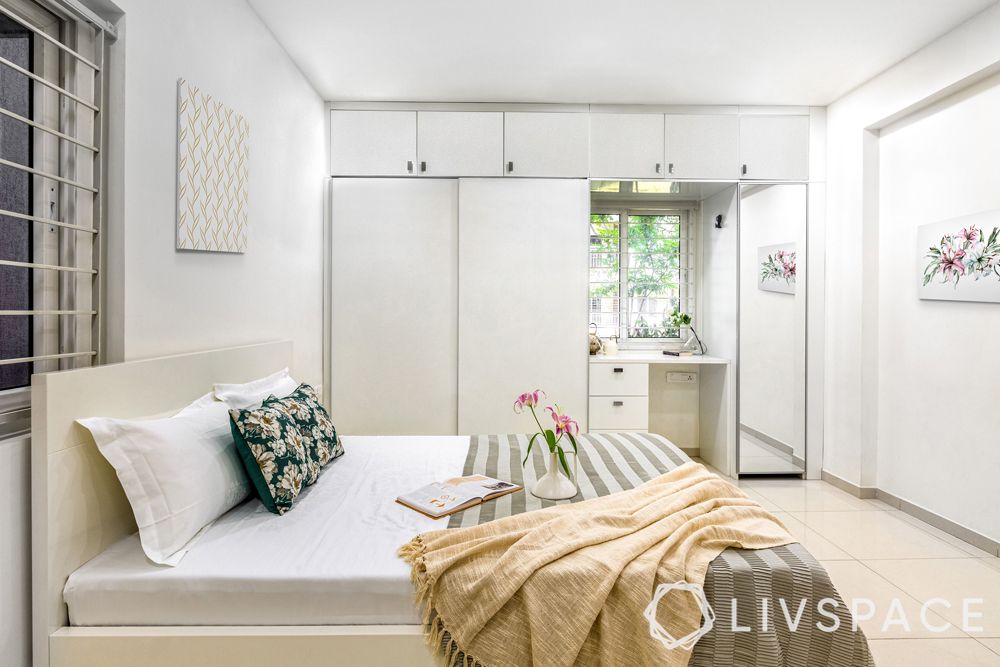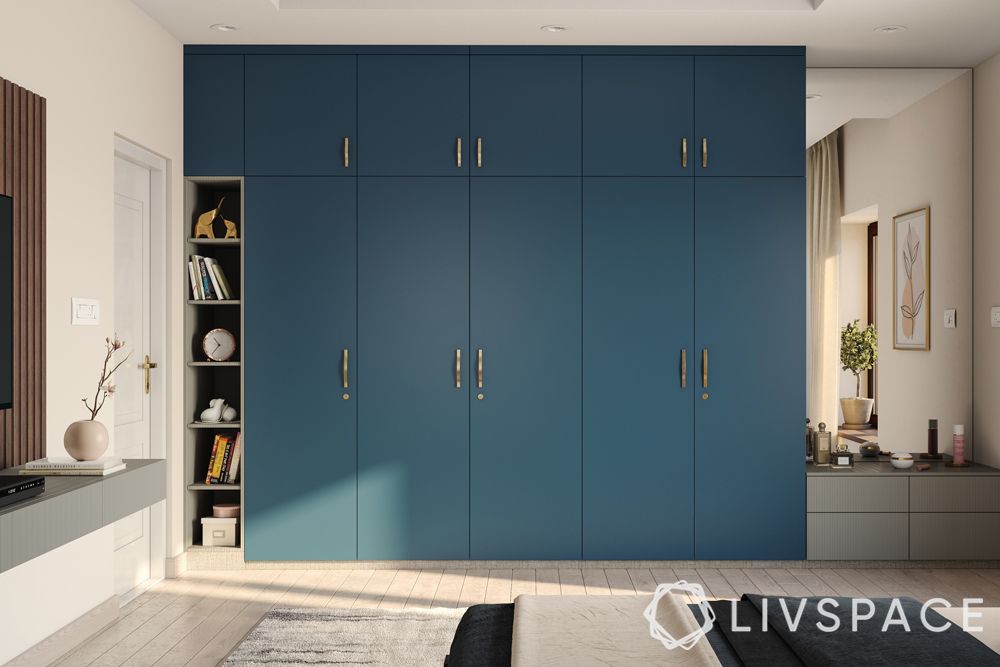 Wardrobes that are the wrong size for your bedroom look unattractive.. So, before you buy a wardrobe, you need to first measure your bedroom. Do not make any estimates here, as that can adversely affect the dimensions of your wardrobe. Measure the room from one corner to the other. Ideally, keep the longest wall in your bedroom for your almirah. This will ensure that the cupboard design fits in with the look of your bedroom without dominating the space.
#3: How much storage will you need?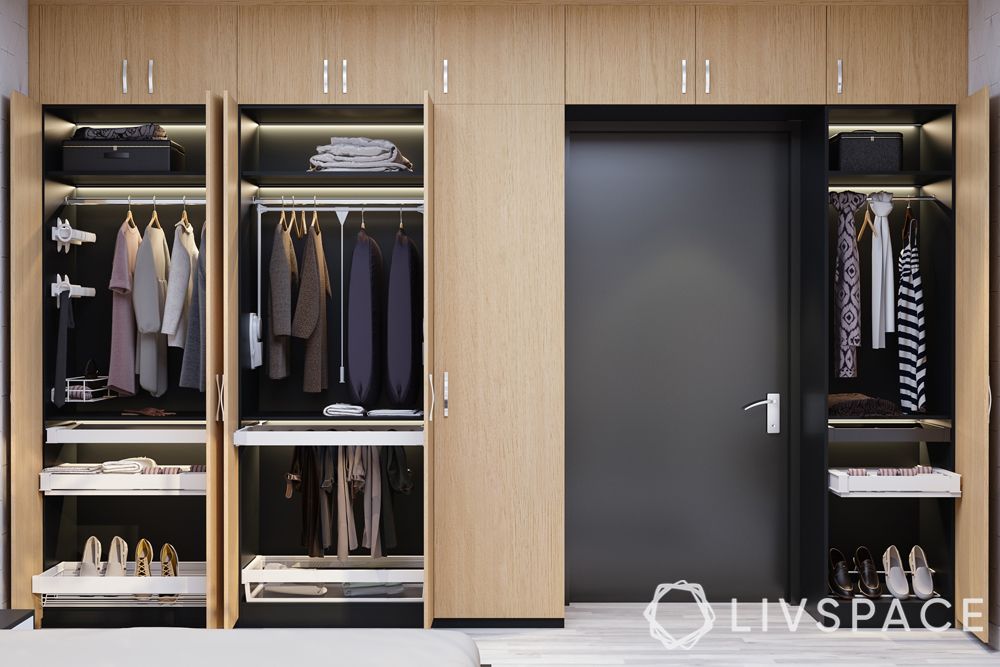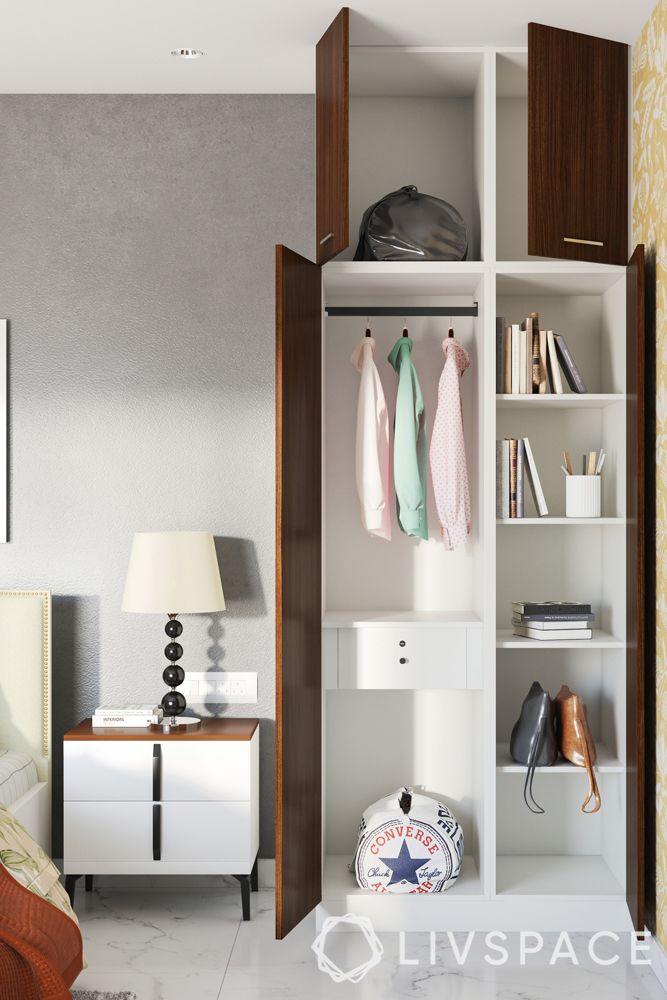 Storage is unique to every person. Ask yourself how much storage you need – if you are a shopaholic, chances are that you will need ample storage space. Also, if you plan to share your cupboard with your partner and/or children, you need to consider their needs as well. For instance, if you have growing kids, keep extra space in your closet. More on this below.

#4: What material is it made of?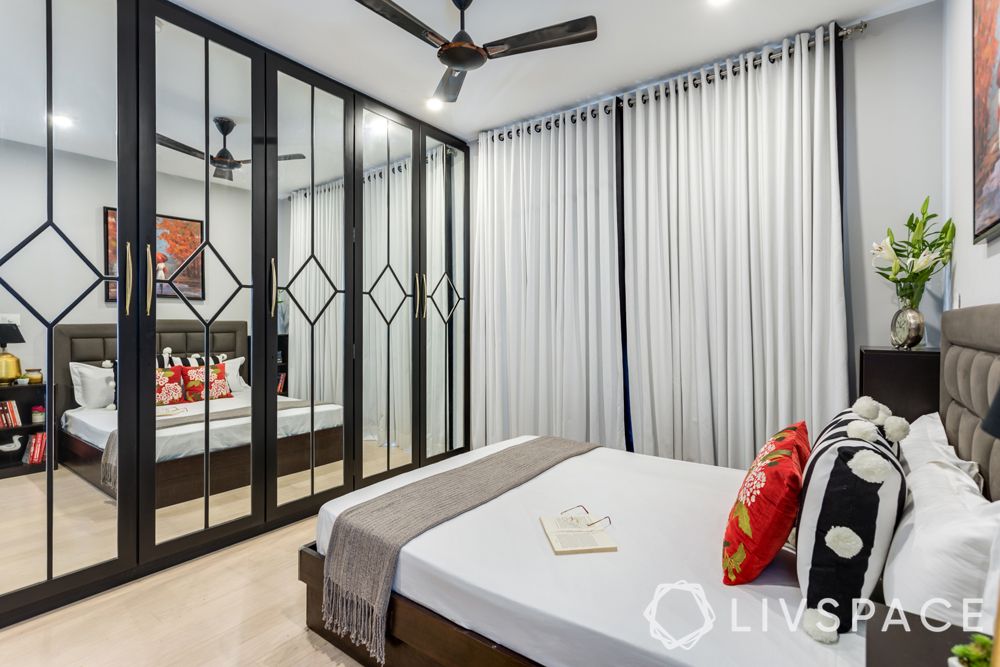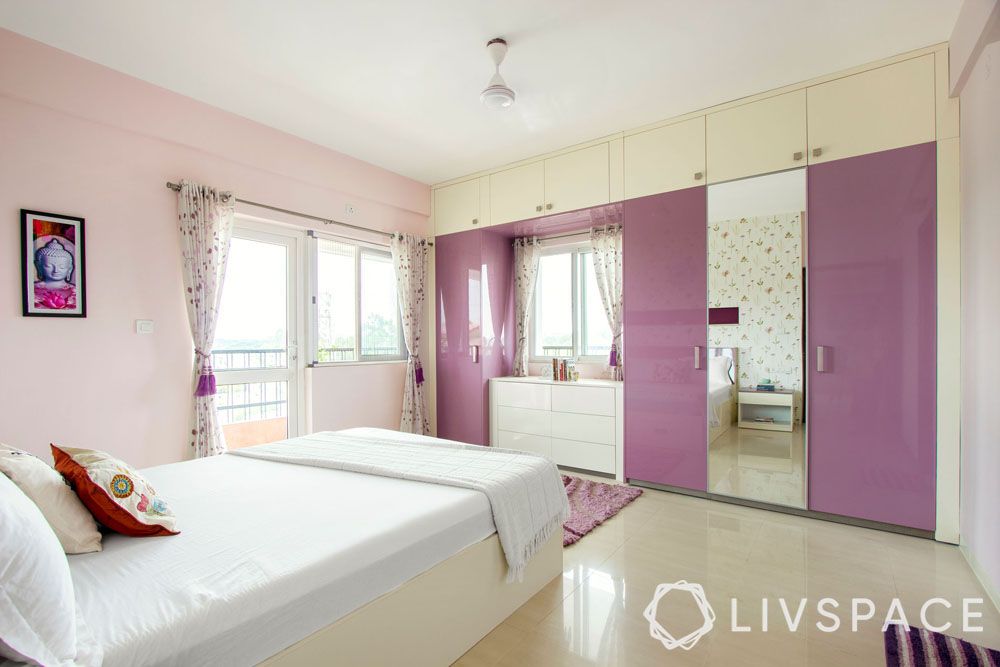 The material of your almirah will not only affect its look but also determines the level of maintenance it requires. Looks, budget, durability, protection – all these factors need to be considered while choosing the finish of your wardrobe. For instance, if you're looking for budget options, go for a laminate finish closet. Laminate is also super low-maintenance, making it perfect for people with a busy lifestyle. You can choose a closet with mirror panels in case your bedroom is small and you want to make it look spacious. For a more high-end and durable option, choose acrylic.
#5: Does it match the decor of your home?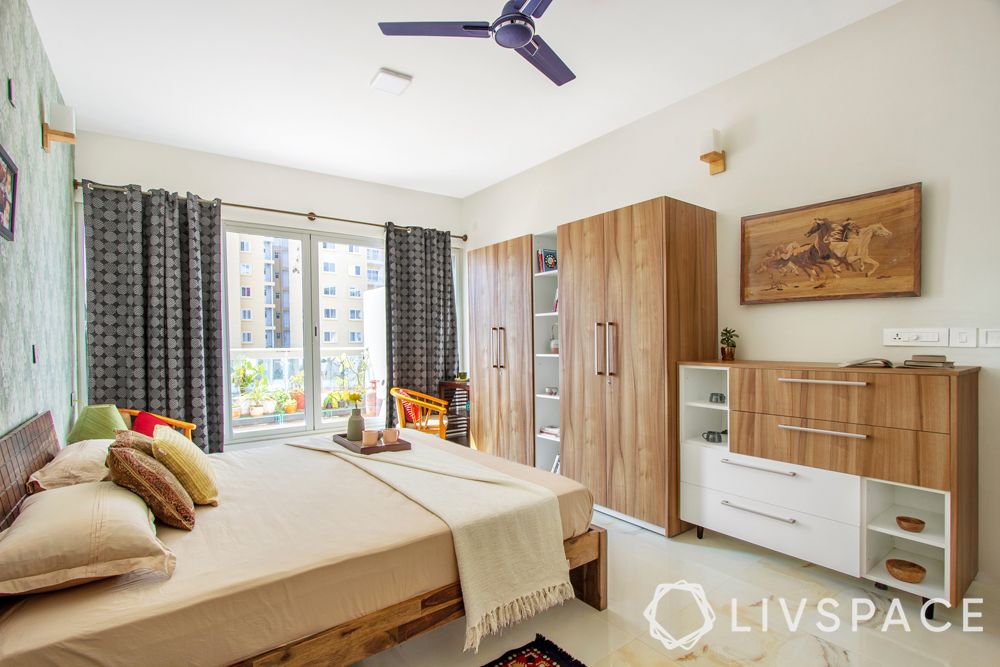 Imagine this – a stunning white bedroom with soft, neutral accents and a bulky, steel almirah. Don't go well together, do they? Your cupboard should complement your bedroom design. While buying an almirah, keep your bedroom decor in mind. For instance, if your bedroom has a woody theme, opt for wooden wardrobes. Don't have the budget for wood? Just get a laminate wardrobe that has a wood-like look!
#6: How many people will be using the same wardrobe?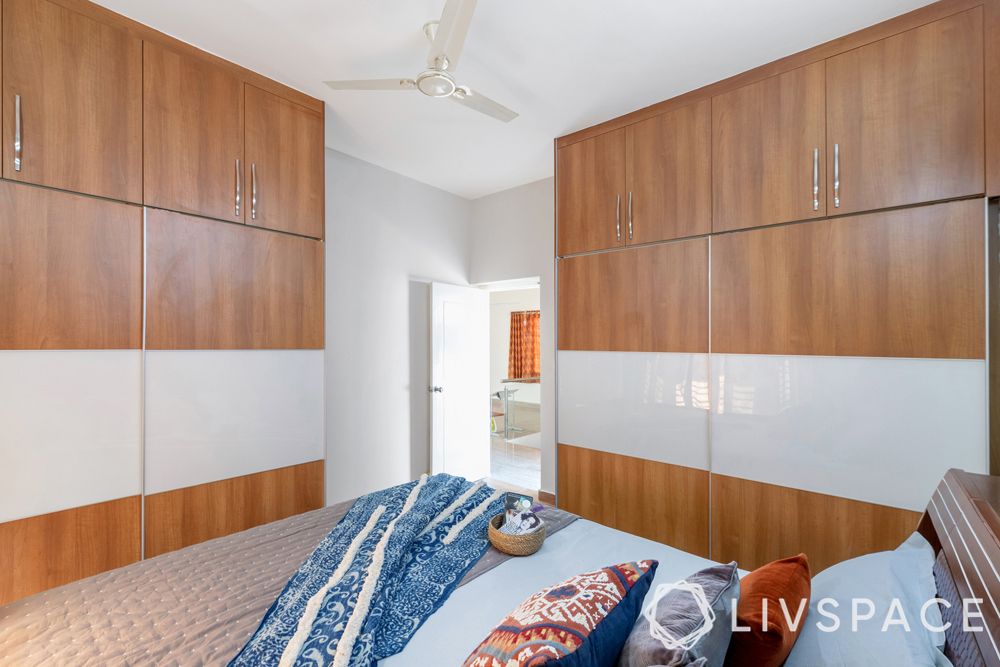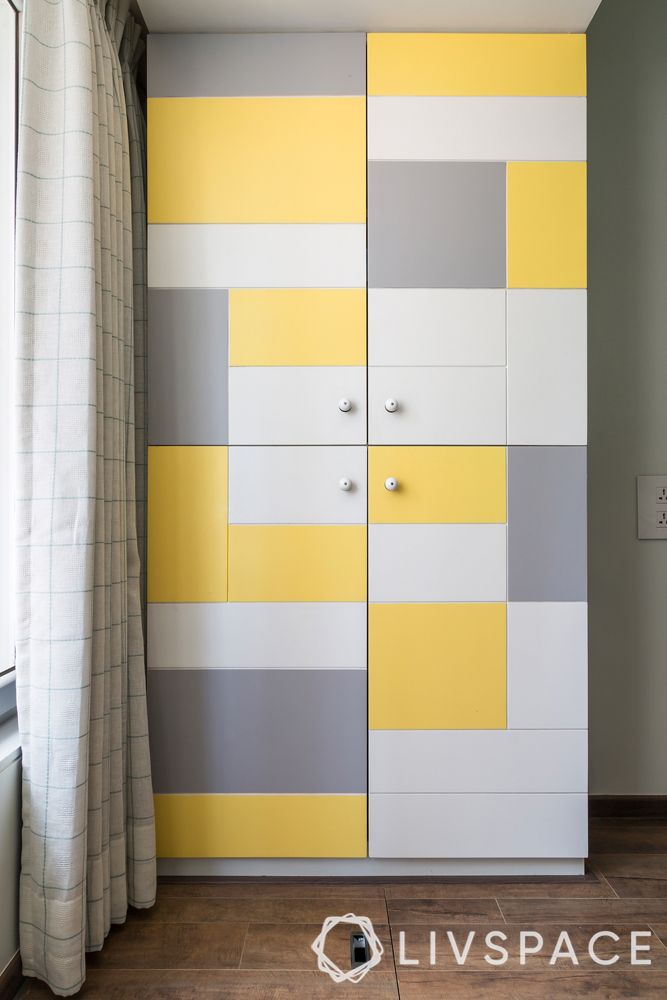 If you live alone, then problem solved! Analyse your storage needs and buy your almirah. But if more than one person is using the same cupboard, then your wardrobe design will change. If you and your partner share a closet, consider how much space both of you will need. Moreover, if for busy working people, a single cupboard can be a hindrance on hectic mornings. So, the best option would be to buy matching his and her wardrobes. Similarly, if you share a cupboard with children, customise your almirah to have multiple drawers and racks for their infinite clothes and toys.
#7: What is your budget?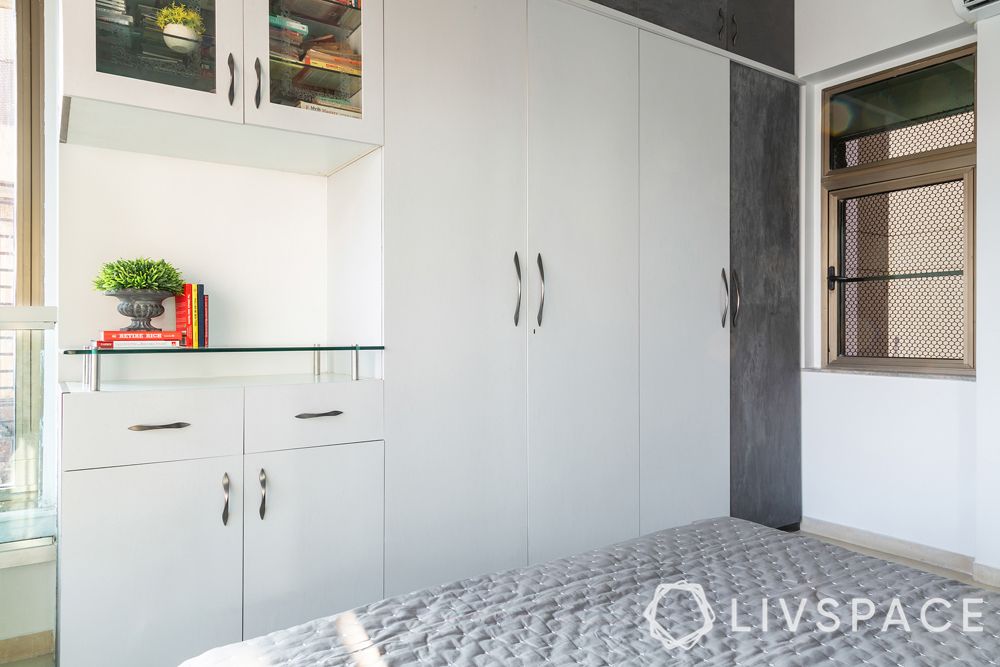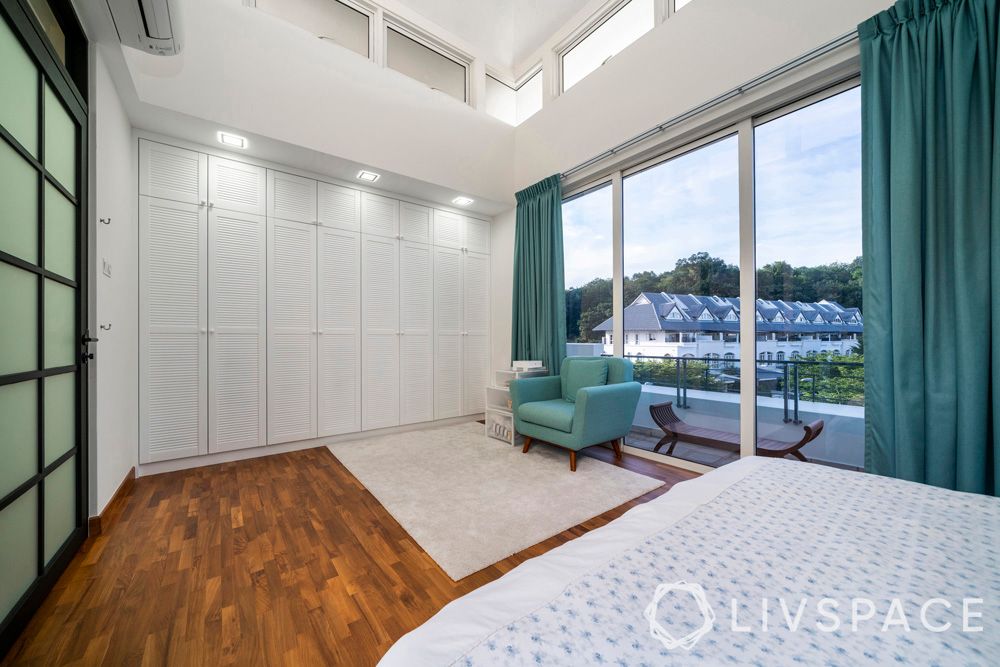 Your budget – the design of your almirah will ultimately depend upon this. The prices of wardrobes will widely vary based on the size, material, style and finish. So, you'll have to decide on a budget and stick to it. Remember, an almirah is a long-term investment. Don't be hesitant to adjust your budget as long as it meets all your needs.
#8: What type of wardrobe do you want?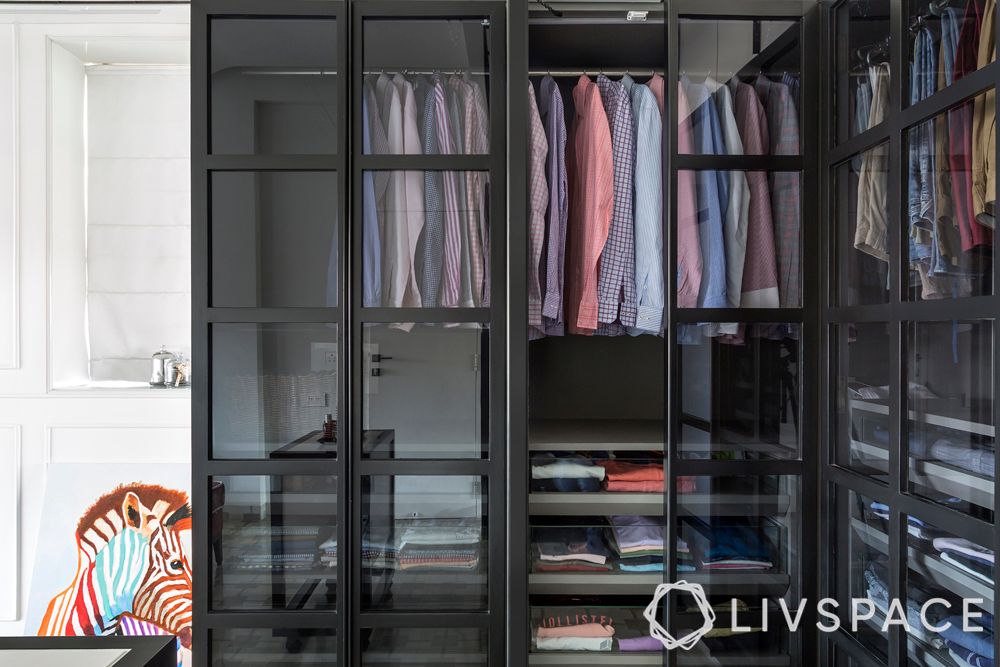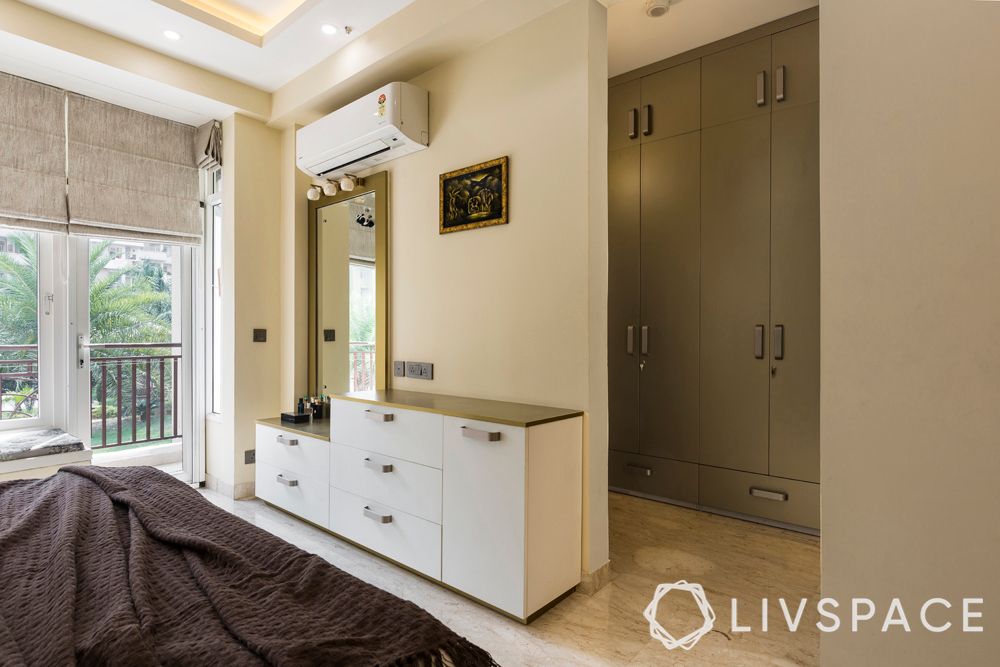 Sliding, standalone, built-in, walk-in – there are so many types of wardrobes available! Each option has its own pros and cons, which you must carefully weigh before deciding. For instance, if you have a small bedroom, choose a sliding almirah to save on space. For swing door wardrobes, remember to keep 36-48 inches of space in front of the closet.
#9: Do you want accessories?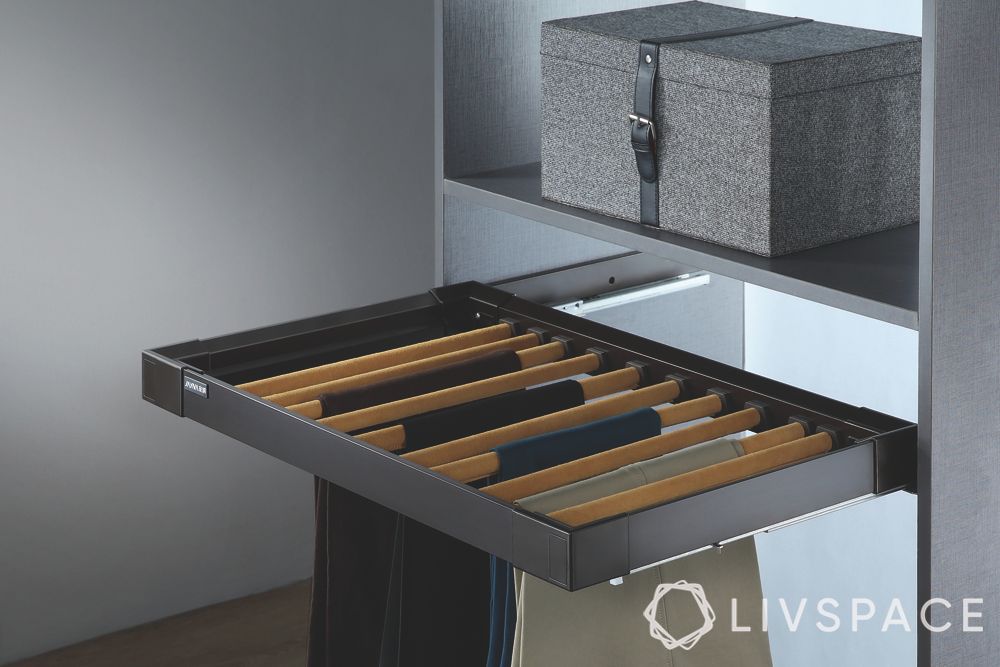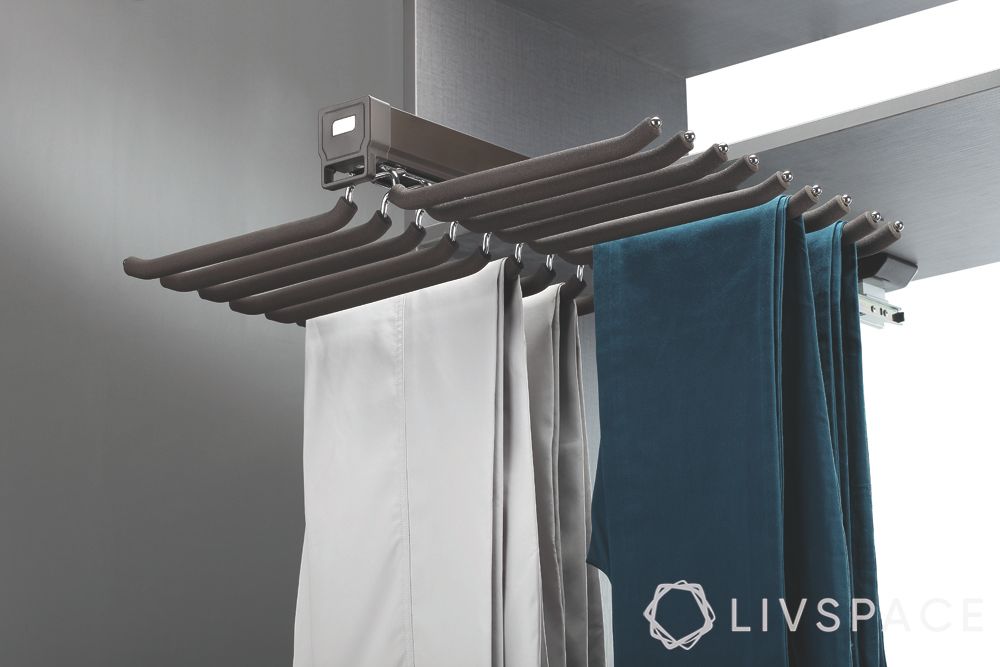 An ideal wardrobe will have separate sections for clothes and accessories. An almirah with only hanging space will look cluttered after some time. So, when you buy an almirah, remember to check for accessory spaces. Apart from the hanging space, your closet should have drawers for your socks and lingerie, saree/trouser pull-out hanger racks, shoe drawers, horizontal hanger rails and a secure safe.
#10: Should you get a customised design?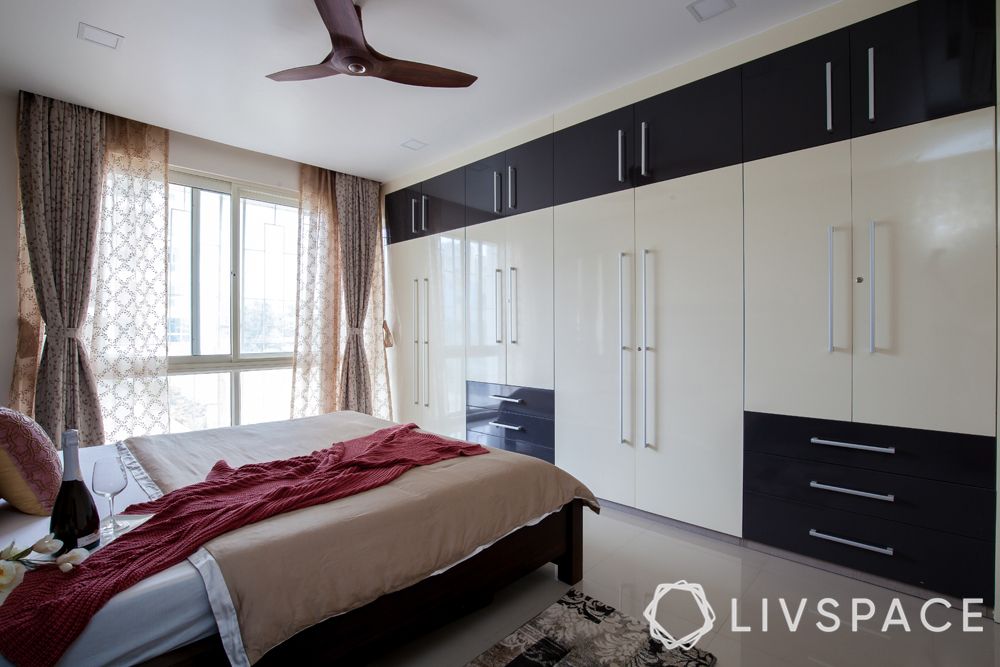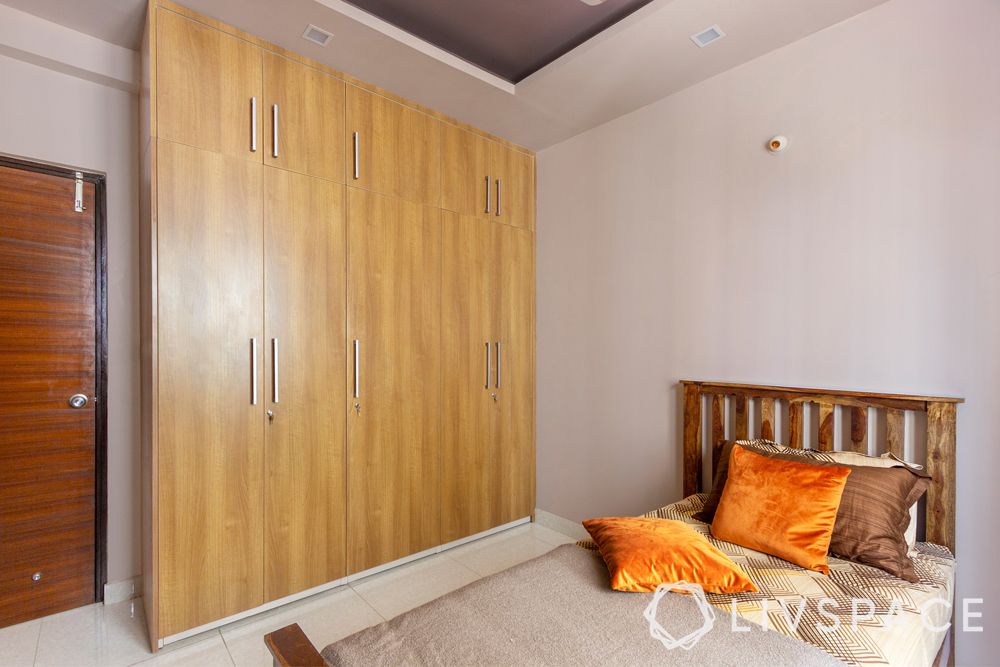 Modular wardrobes look stunning, don't they? But if you want something unique,a customised cupboard is the perfect option. Whether it's a combination of materials for the carcass and the shutter, mirror panes or jaali work, customisation can make all this possible!
Once you answer these questions, we promise that you will find the perfect wardrobe to suit all your needs! Also, check out these stunning almirah design ideas for some inspiration.
We love to hear from you! Write to us with your comments and suggestions at editor@livspace.com