Every Indian family will have at least a couple of crockery sets which they safely store to use on special occasions or when guests come over. For this, the one thing you definitely need is a sturdy crockery unit to protect and store your precious ware. Crockery unit design ideas have long transitioned from being mere storage space to functioning as decor or display for quirky tableware or antique crockery. However, they do eat up a lot of space, making owners of compact homes baulk at the prospect of adding one to their home.
If you own a compact home and have a few concerns about how to pick the right crockery unit designs, we're here to guide you. Whatever the query, we have answered them all here. In addition, we also have stunning 15+ stunning crockery cabinet designs to inspire you. Read on and find out all that you need to know!
#1: Why Do You Need a Crockery Unit?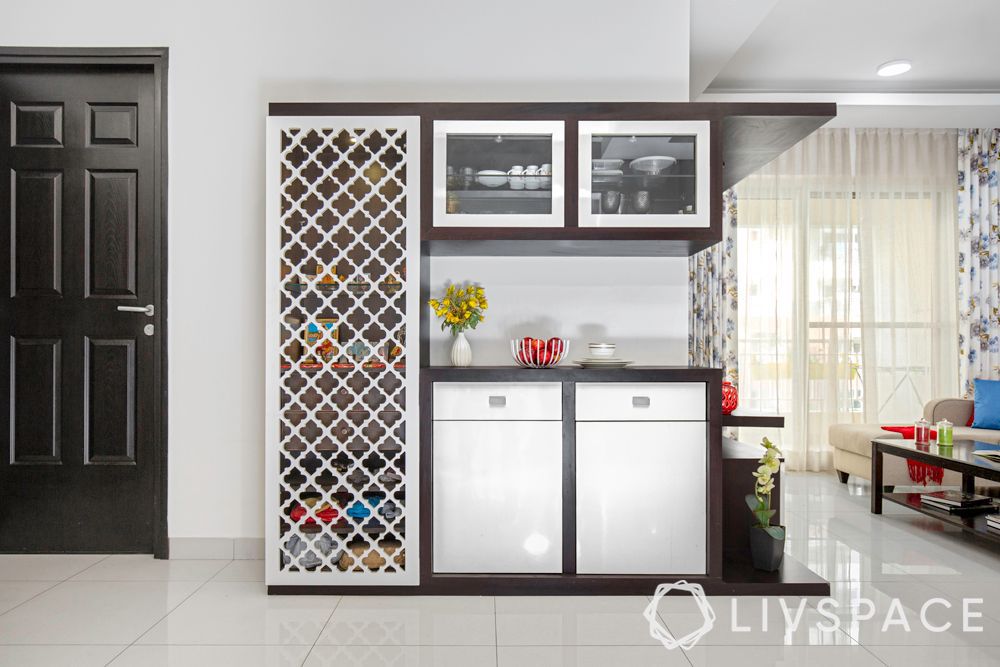 For homeowners with plenty of fancy cutlery and crockery, a crockery unit is quite the blessing. For starters, a crockery cabinet design provides easy access to special crockery that you might use when you're entertaining guests. When not in use, crockery unit designs in the living room can act as display units, lending them an additional function. 
For people with no more than just the basic tableware, a heavy crockery unit design may be a waste of wall and floor space. These units are geared towards people who have a lot; if your crockery is durable and can fit into kitchen drawers, chances are you won't get much use out of a unit.  
However, if you are specifically looking for a dining room crockery unit design, a bit more thought would have to go into it. The final decision on whether you need crockery unit design for the dining area depends on how much use you can get out of it.
#2: What Unique Crockery Unit Designs Can You Choose From?
Though most crockery cabinet designs offer the same function, there are multiple options you can choose from. Here are a few modern crockery unit design ideas you can explore for your space:
A Wall-Mounted Crockery Unit Design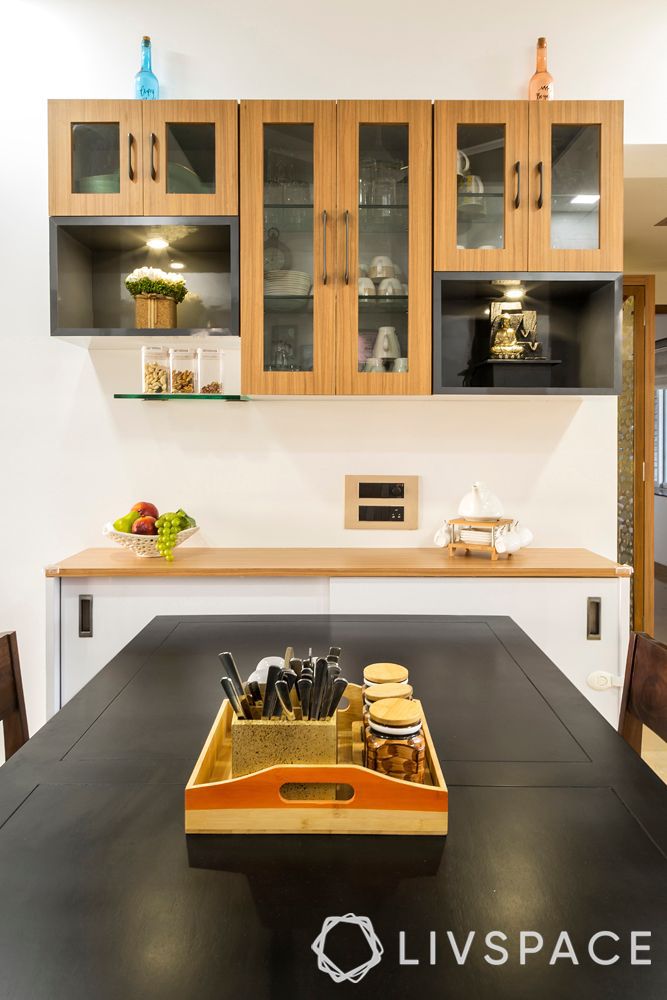 As the name suggests, a wall-mounted crockery cabinet in the dining room is typically fixed to a wall, keeping the floor free. This modern crockery cabinet design is a winner for compact homes because it creates the illusion of a bigger space without compromising on storage.
Also Read: 60+ Elegant TV Unit Design Ideas: Trendy Options for TV Unit Design 2023
Sideboard-Style Crockery Unit Designs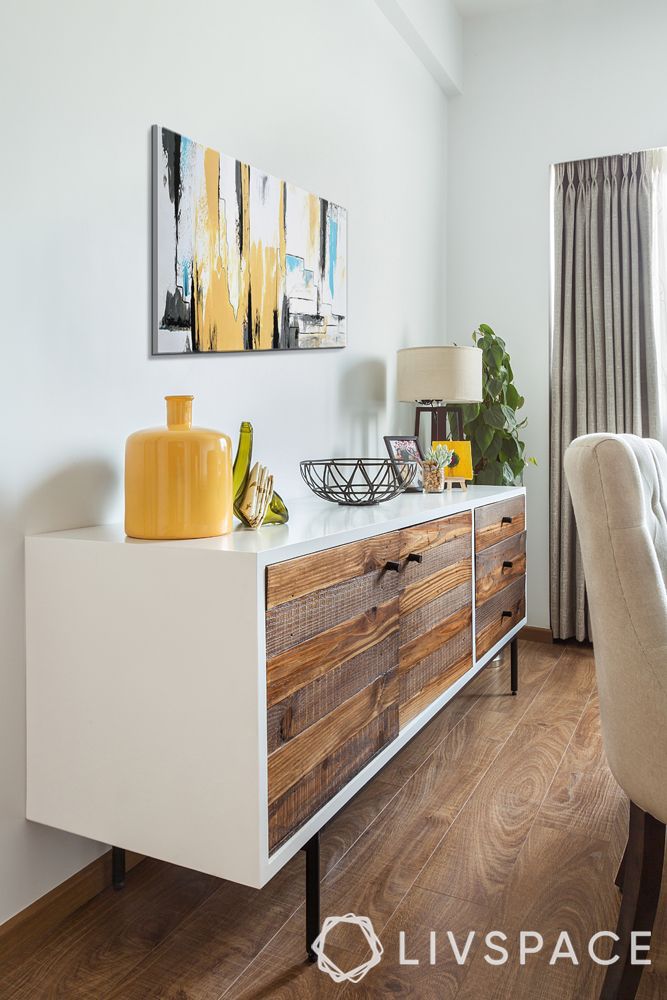 These are all the rage primarily because they provide an additional surface that can be put to good use. This type of crockery unit design for the living room serves as a display for your decor. Sideboard-style crockery unit designs generally consist of drawers and hinged cabinets and could be glass-fronted or crafted from simple wood.
Modular Crockery Cabinet Designs
Looking for trendy and modern crockery cabinet designs for the dining room? Perhaps modular crockery cabinet designs might be more your speed. These units can be customised to fit the available space in the dining room. Moreover, you can craft these to match the room's overall design and colour scheme. Such modern crockery unit design ideas work especially well in contemporary homes.
Open and Closed Crockery Cupboard Design in the Dining Room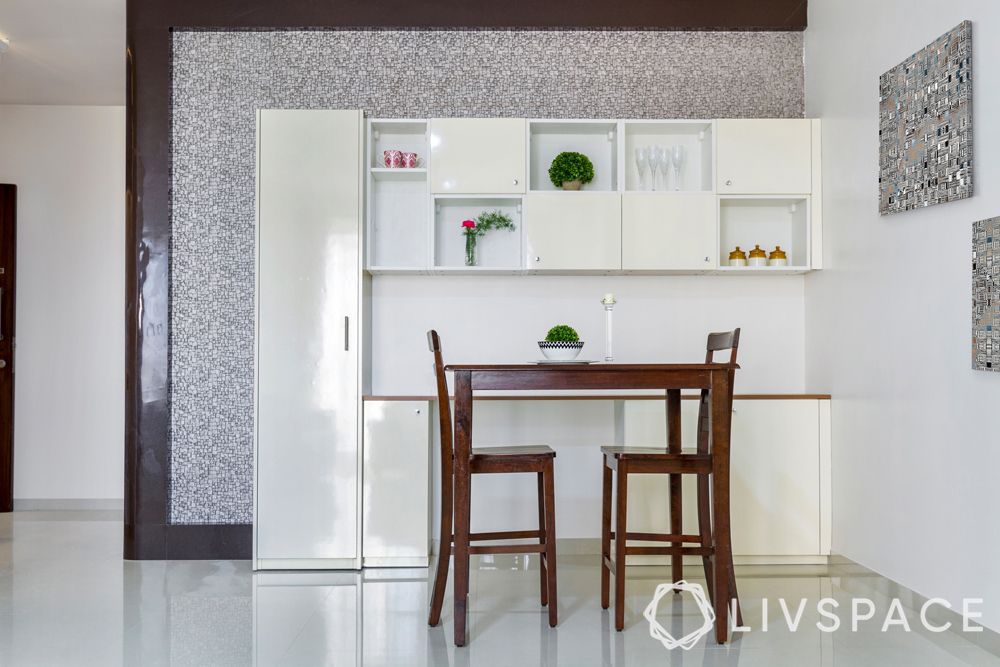 Want something functional yet stylish? Go for an open-and-close crockery shelf design. As the description suggests, these crockery unit designs come with a combination of closed cabinets and open shelves. As a result, these modern crockery unit design ideas look stunning, make a space look bigger (due to the open shelves) and help in storing crockery. This crockery cabinet in the dining room is a perfect example!
The Multifunctional Crockery Cupboard Design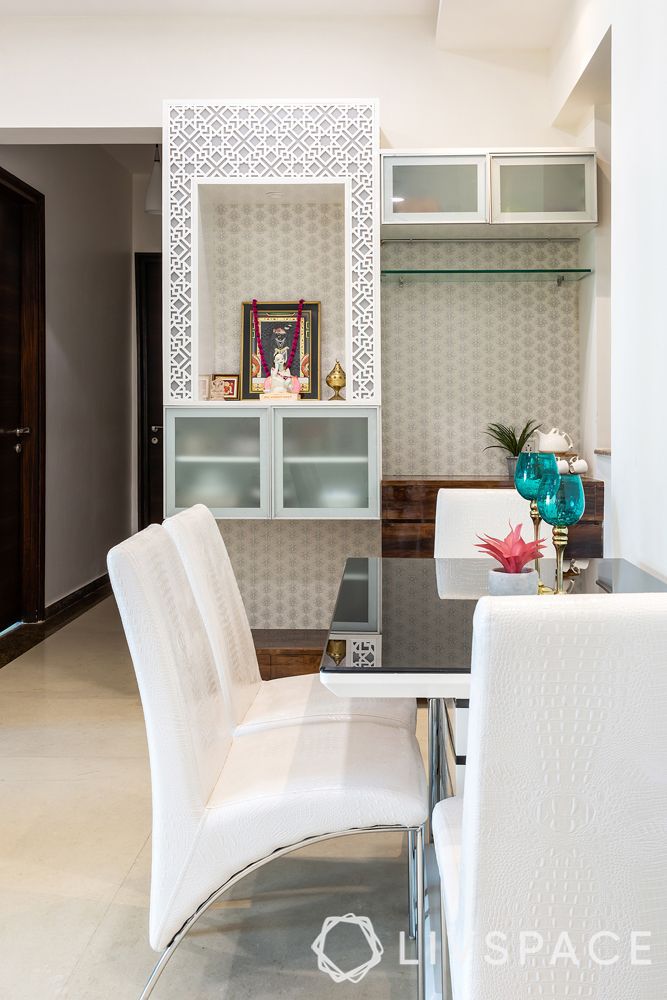 Many of us have to make do with compact spaces. Does that mean that you have to go without a crockery unit? Not at all! Go for a multifunctional crockery almirah design that saves space and serves several purposes. This crockery-cum-buffet-cum-mandir-unit is perfect for small homes! In addition to being multifunctional, this small crockery unit design fits into a niche and occupies very little space.
An Open Storage Crockery Unit Design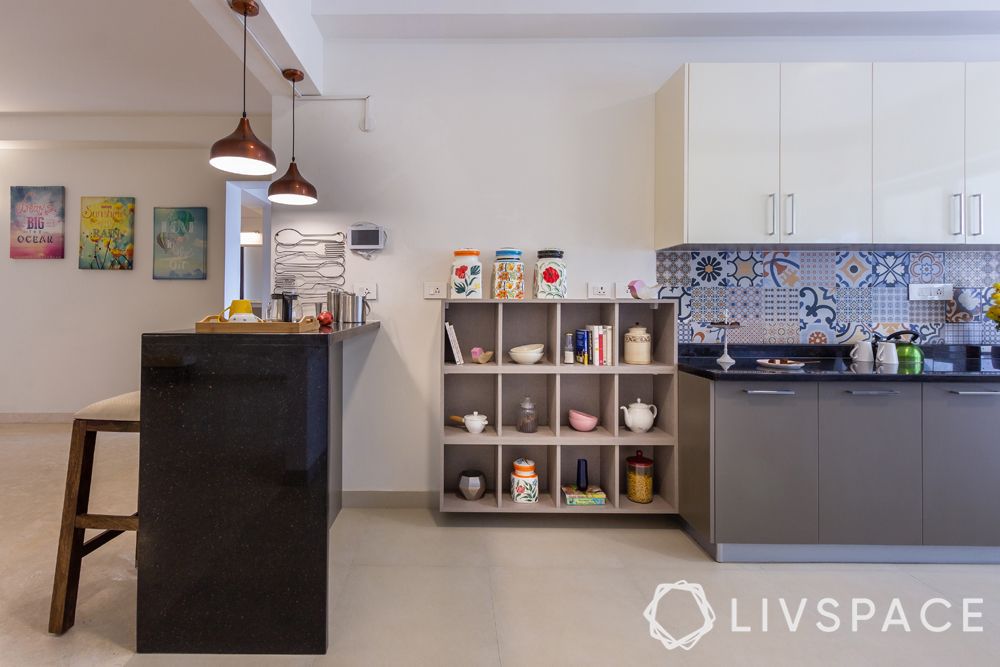 Have stunning crockery sets? Why not put them on display? Opt for fully open wooden crockery cabinet designs where you can display your crockery sets in style. This type of kitchen crockery unit is also a feasible option when you have less space in your home. It doesn't take up too much room and the open shelving can make a small room look more spacious.
Modern Crockery Unit Design Ideas in Glass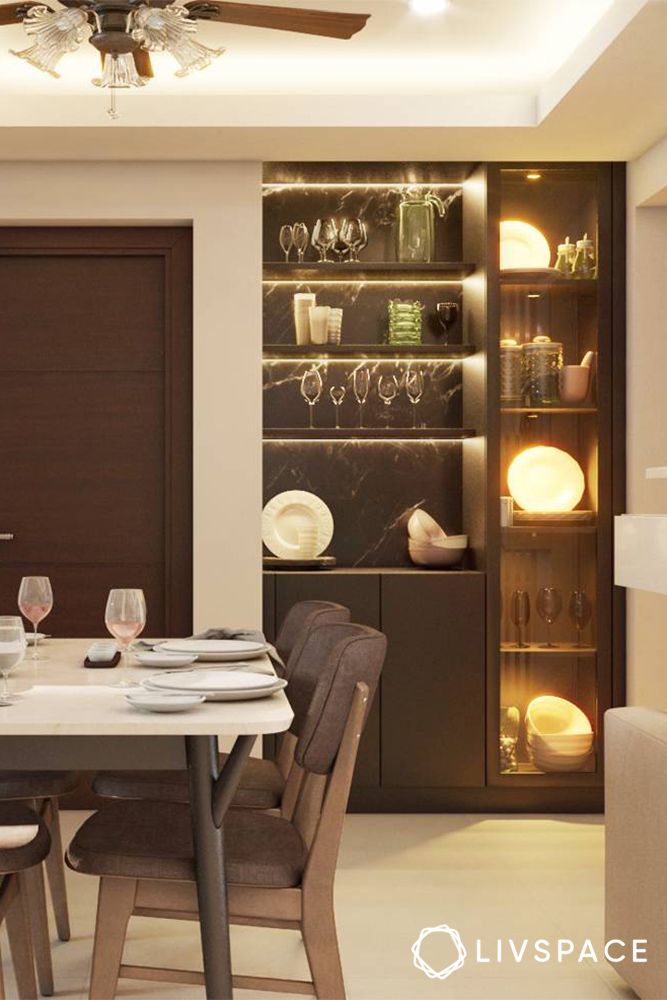 Another great way to display your cutlery is to invest in a glass crockery unit design. This type of a modern crockery unit design is a great idea when you want to display your fine china and wine glasses without having to clean them everyday.
Corner Crockery Unit Designs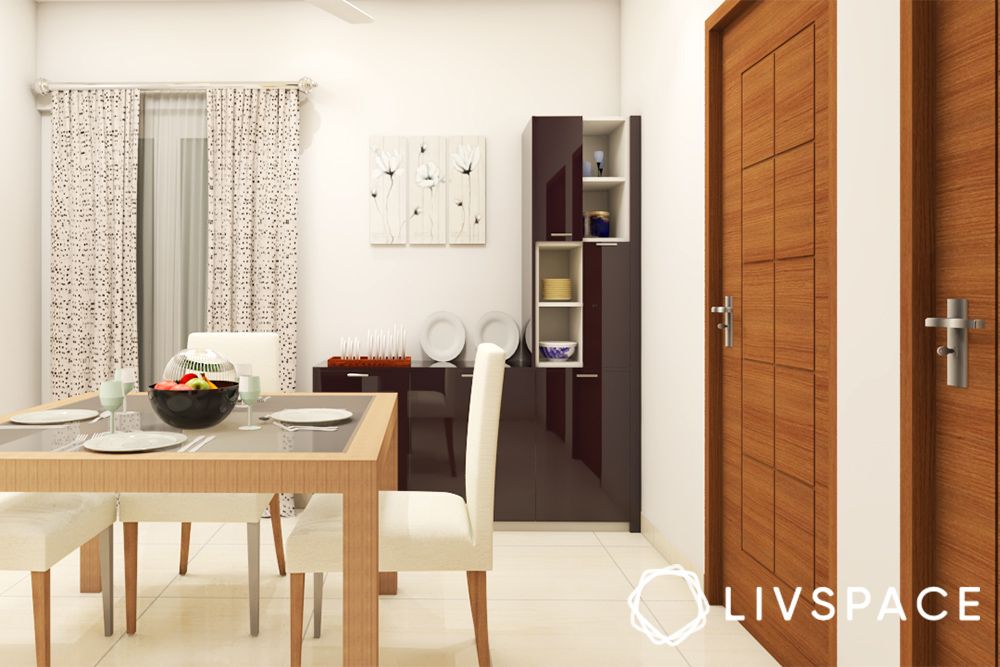 Considering space (or the lack of it) is becoming a big concern in most Indian cities, design hacks that can give you the maximum with the minimum amount of space is essential. This type of a modern crockery cabinet that fits into a niche or corner is a great option to help you save some space.
A Crockery Cabinet With a Bar Unit Design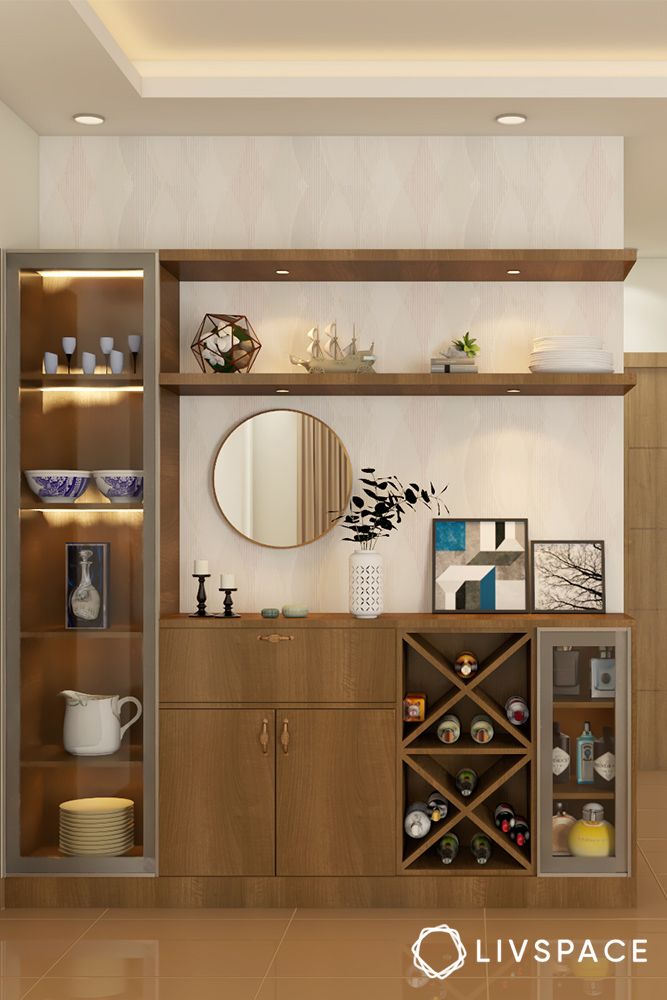 Multifunctional crockery unit designs not only help you in saving space but also look amazing aesthetically. For instance, we love how this unique crockery unit design comes with in-cabinet lighting, shelves for displaying decor, and glass shutters that provide a glimpse into your fine china and wine collection.
A Contemporary Crockery Unit Design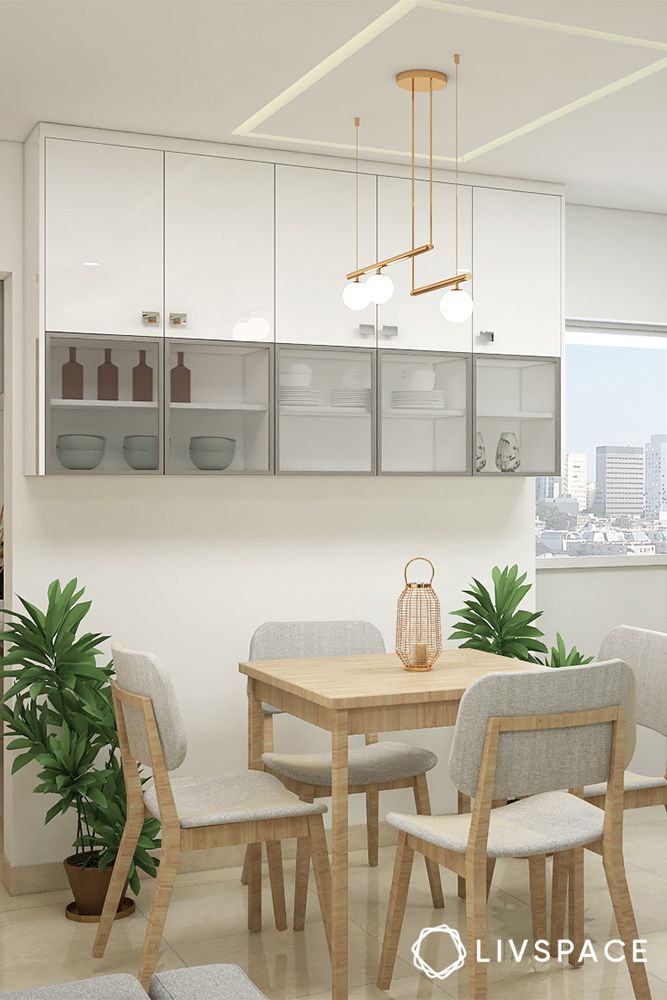 Just like the rest of your interior design, your crockery cabinet design should also match the decor of your home. This crockery unit is the perfect example of a contemporary design, something that will look good in most modern flats. In addition, it shows you how to save some space without looking bulky—wall-mounted, a white and glossy finish and mix of open and closed cabinets.
Crockery Shelf Designs in Engineered Wood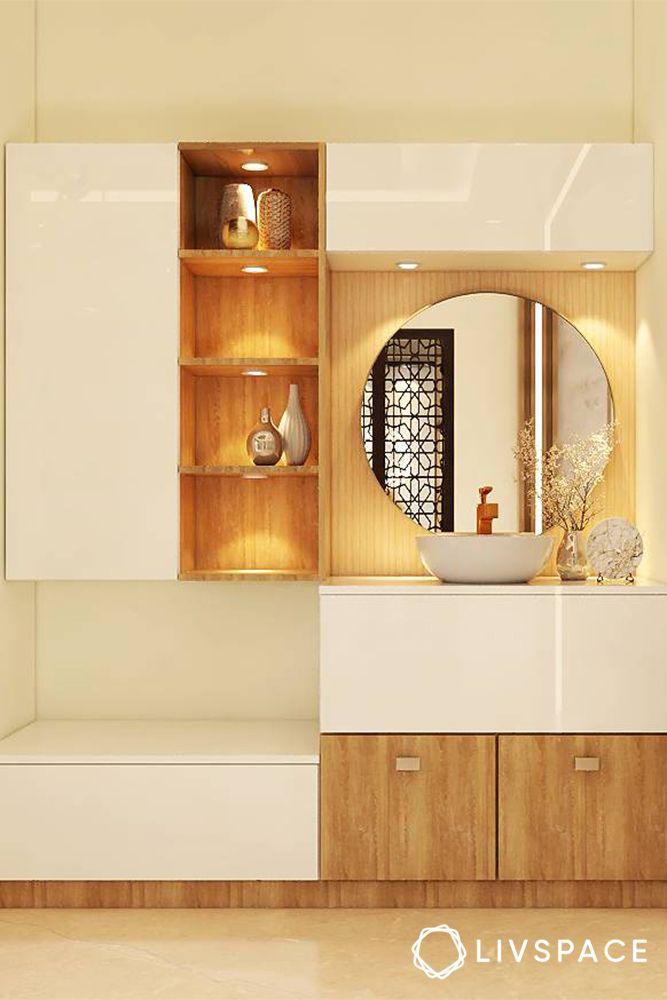 While solid wood crockery unit designs are very popular among homeowners, they can be quite expensive. A cost-effective alternative to this is engineered wood. Due to its wood-like appearance, more and more people are choosing this option. Moreover, an engineered wood crockery unit design is also easy to maintain.
A Crockery Unit That Serves as a Room Partition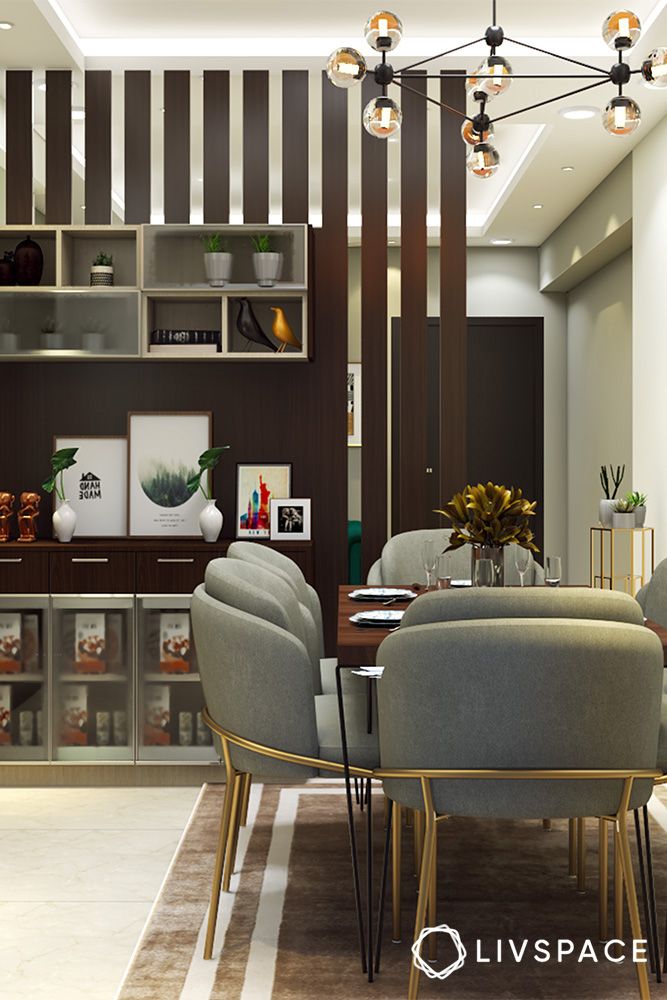 Apart from storing cutlery, a crockery unit design has many other uses. For example, you can use your crockery unit to act as a partition between the living room and the dining room. If there is space, don't forget to add some decor!
A Full-Wall Crockery Cabinet Design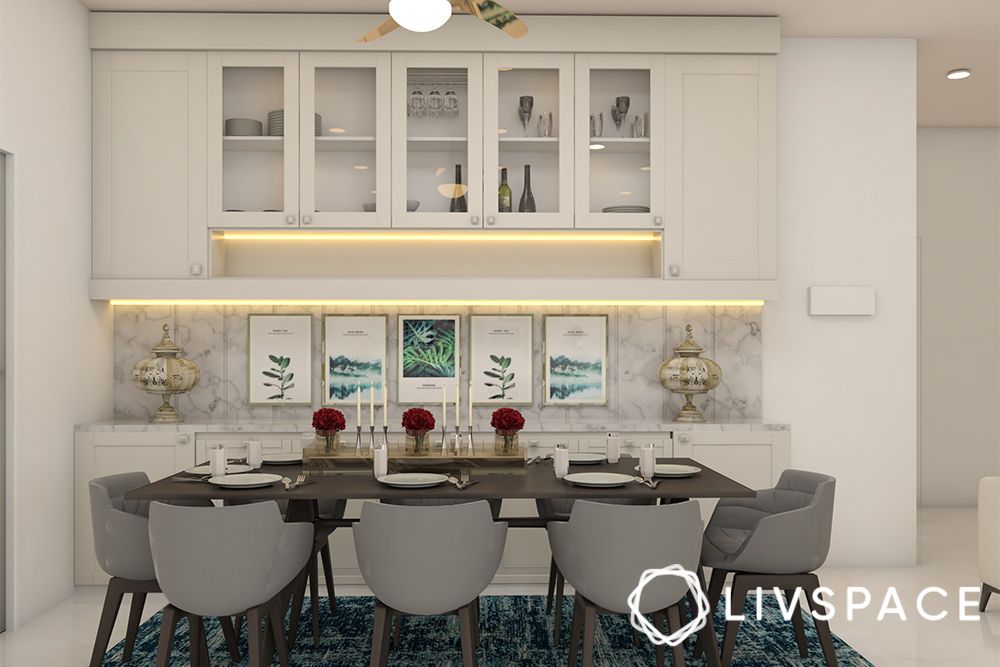 Love to collect pretty cutlery but no place to store them? In such a case, opt for a customised, full-wall crockery cabinet design. This will ensure that you never run out of space to story your crockery!
A Kitchen Crockery Unit to Display Your Fine China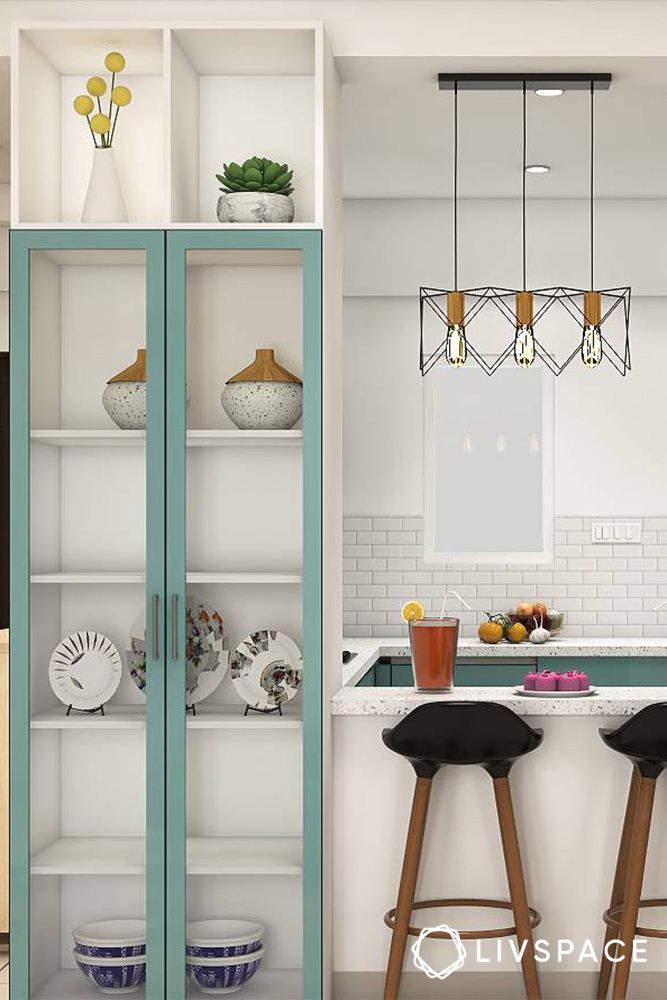 Why buy fine china if you can't show them off! A crockery unit in a modular kitchen with glass shutters can not only help you display your fine china but also ensure you don't waste time searching for utensils.
Crockery Unit Designs That Act as a Showpiece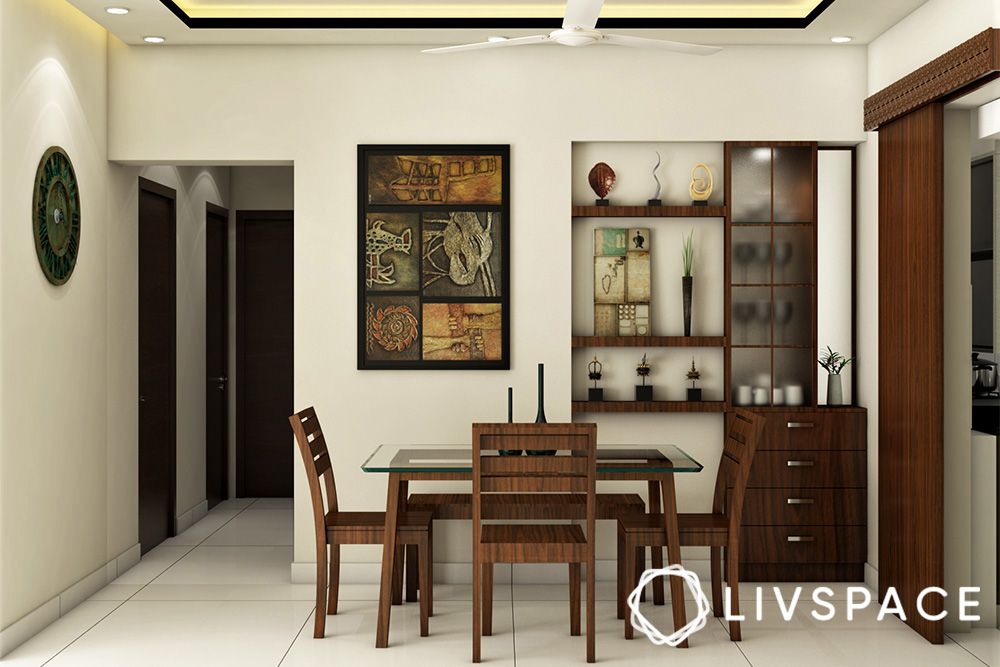 Another great alternative to a glass crockery unit is a frosted glass one. We love how this frosted glass cutlery cabinet provides storage while the shelves help in displaying pretty decor items.
A Crockery Unit Design With a Mandir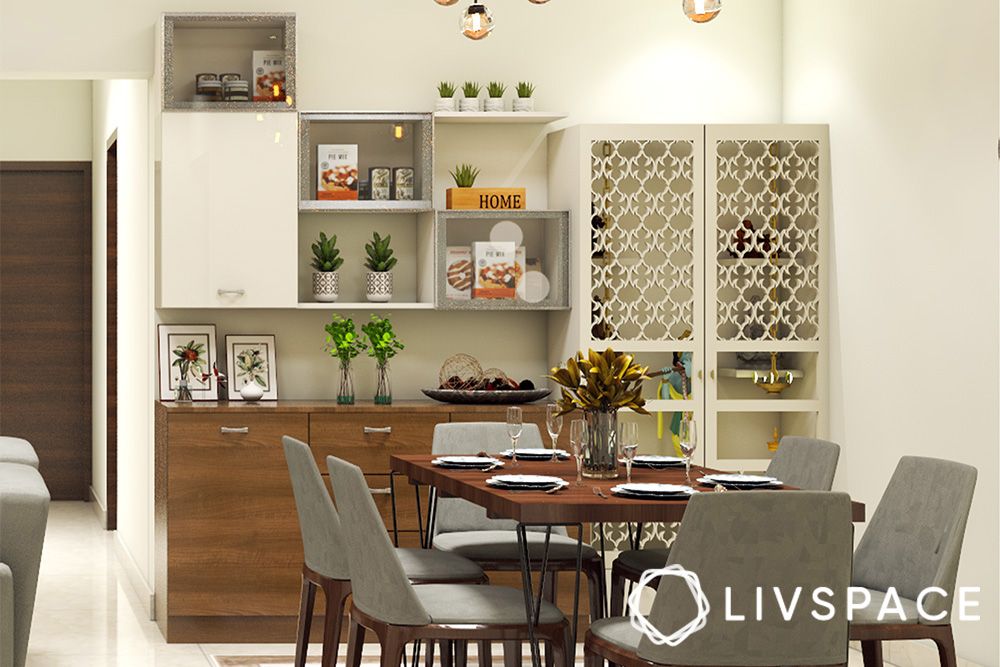 While designing your home, one of the smartest things you can do is to invest in furniture that serves more than one purpose. And this crockery unit design, with an attached mandir, is the perfect example of this! While the mandir with the jaali shutters emits divine vibes, the crockery unit, with cabinets and shelves, is packed with storage.
A Crockery Cabinet for Your Curios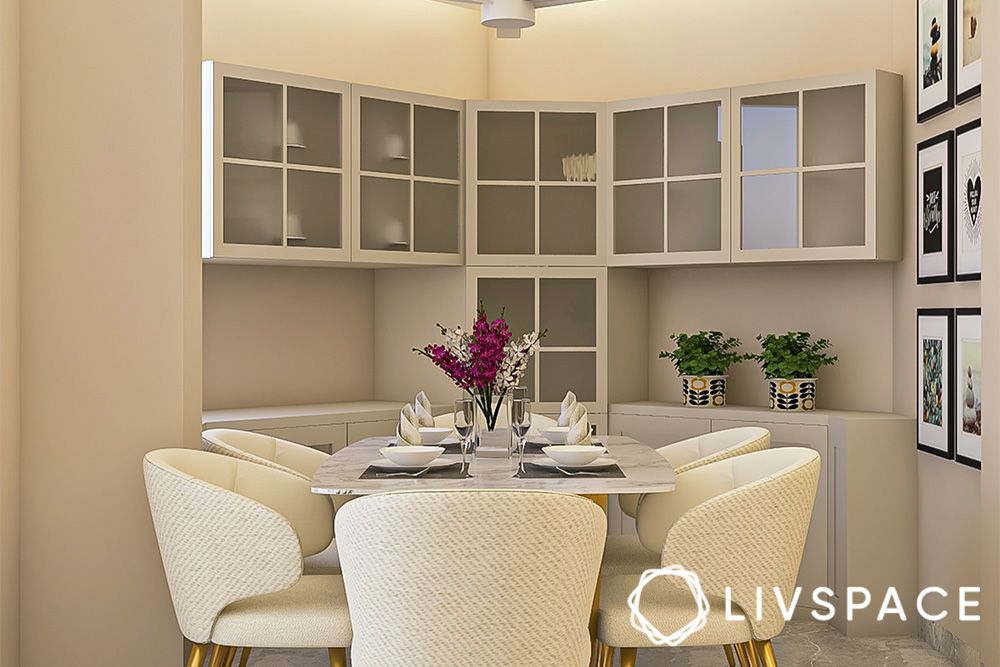 Not enough space in your home for a separate cabinet to display your curios and knick-knacks? A crockery cabinet is the solution! This crockery unit comes with closed lower cabinets, to store your cutlery, while the upper glass units can be used to display curios.
#3: Do You Need to Customise Your Crockery Unit?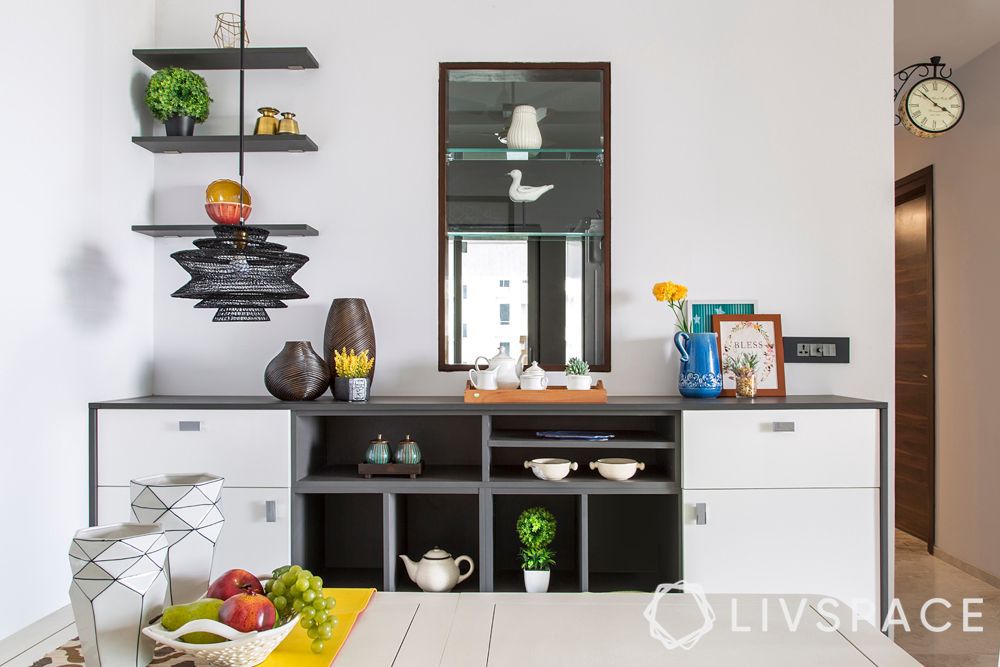 A customised piece is a great way to seamlessly blend storage space into an existing design scheme. Taking this route also allows you to call the shots on the number and style of divisions, shelving and drawers. Additionally, it also opens up a lot of options in designing the exterior. You can select your choice of material, colour, finish, handles and extra fittings for your crockery almirah design.
However, if you're on a budget and are willing to compromise on certain perks of customisation, then buying a ready-made unit is your best bet.
#4: Should You Choose a Freestanding or a Wall-Mounted Crockery Cabinet?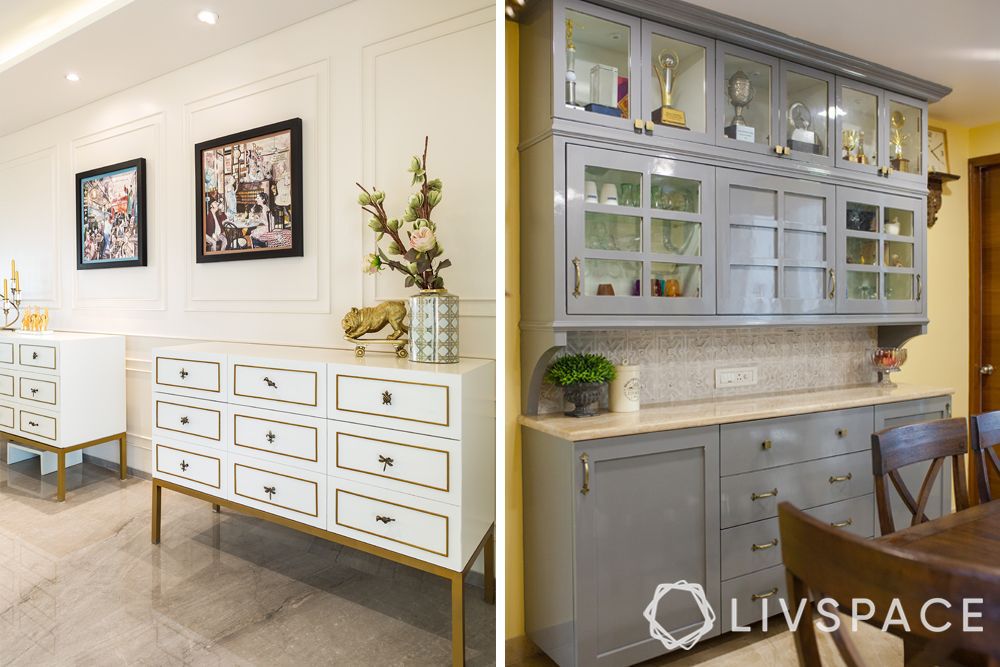 Freestanding units run the risk of toppling over if they're not sturdy. This can be dangerous in any house, but especially so in homes with children and pets. By contrast, a wall-mounted crockery almirah design keeps the floor clear and is less likely to fall down. This fulfils basic safety requirements but also keeps your precious crockery from harm!
Pro Tip: A crockery unit is ideal for the dining room, where it's easily accessible but away from heavy footfall areas like the kitchen. This also allows you to position your unit as the design centrepiece if you're on a budget or prefer a minimalist design approach.
#5: Which Crockery Unit Would Suit You?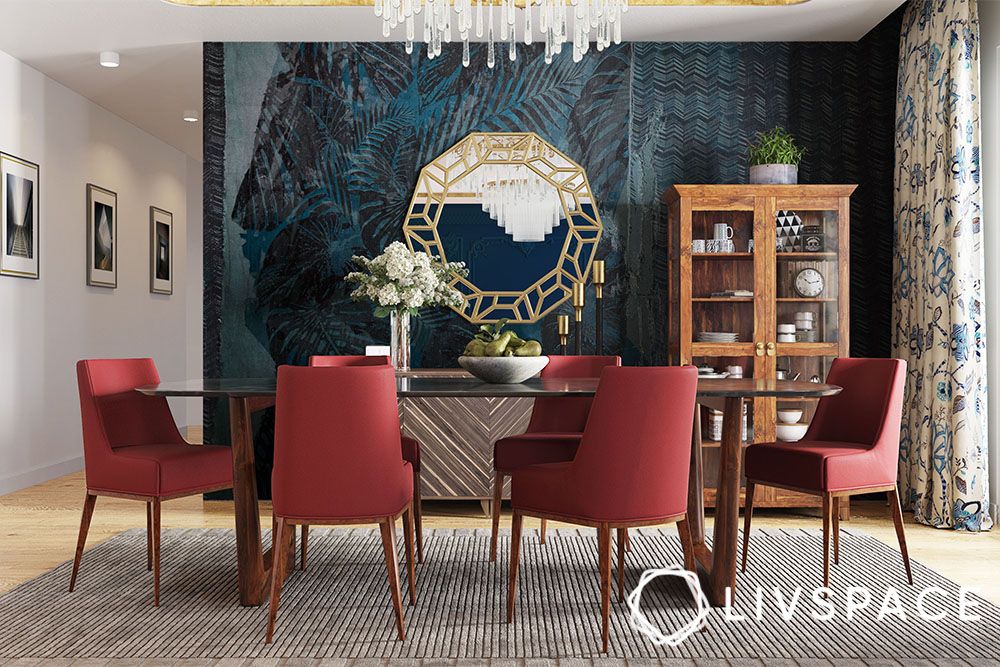 Buying a crockery cabinet is a very personal choice and will depend upon several factors like your budget, requirements, lifestyle, the size of your home and family members. For instance, if you have a busy lifestyle with very less time for regular cleaning, or children at home, opt for a floating crockery unit design as it is low-maintenance. Similarly, if you have a compact home, choose a multifunctional cutlery cabinet design.
Also Read: How Much Will These Smart Modular Unit Designs Used in Sobha Silicon Cost You?
#6: What Are the Things to Consider Before Buying a Crockery Unit?
Here's everything you should consider before you invest in a crockery unit:
Your budget
Available space
The type of unit that you want
Amount of storage that you require
Material and finish
#7: How Are Materials and Finishes Important for Your Crockery Cabinet?
Once you decide to buy a crockery cabinet, you need to zero in on the material and finish. There are a variety of materials and finishes to choose from like plywood, MDF, laminate, glass etc. The reason why this is important is due to the fact that this choice will not only affect your budget but also determine how much time you need to spend on maintenance of your cabinet.
#8: What Is the Cost of a Crockery Unit?
The cost range of a crockery unit is ₹30K to ₹80K. The actual cost will depend upon the design, size, materials, finishes etc.
How Can Livspace Help You?
We hope you found our ideas useful! If you want beautiful interiors for your home, then look no further. Book an online consultation with Livspace today. To know how our customers feel about working with us, check out these Livspace reviews for more details!
Have any thoughts or suggestions you'd like to share with us? We're all ears! Drop us a line at editor@livspace.com.
Disclaimer: All contents of the story are specific to the time of publication. Mentions of costs, budget, materials, finishes, and products from the Livspace catalogue can vary with reference to current rates. Talk to our designer for more details on pricing and availability. 
Please note that the designs showcased within the story are subject to availability and will vary based on the year the homes were designed in. Consult our designers for more details on the latest designs.
FAQs
1. What Is the Purpose of a Crockery Unit?
The purpose of a crockery unit is to store all your cutlery in an organised manner.
2. What Is the Standard Size of a Crockery Unit?
The standard size of a crockery unit is 5 to 6.5 ft. height, 2 to 4 ft. length and 1 to 1.25 ft. width.
3. What Colour Options Are Available for Crockery Units?
Crockery units are available in a variety of colours. From neutrals like cream to bolder options, you can choose what suits you.
4. How Do You Organise a Crockery Unit?
To organise your crockery unit, first identify zones for different types of cutlery like plates, spoons etc. Stack utensils like plates and bowls. Use containers to store small items like spoons and forks.
---
Popular Services:
Modular Kitchen Designs | Wardrobe Designs | Bathroom Designs | Master Bedroom Designs | Living Room Designs | Pooja Room Designs | TV Unit Designs | False Ceiling Designs | Kids Bedroom Designs | Balcony Designs | Dining Room Designs | Foyer Designs | Guest Bedroom Designs | Window Designs | Flooring Designs | Wall Decor Designs | Wall Paint Designs | Home Wallpaper Designs | Tile Designs | Kitchen Cabinet | Home Office & Study Room | Home Interior Designs
Popular Locations:
Interior Designer Bangalore | Interior Designer Mumbai | Interior Designer Pune | Interior Designer Chennai | Interior Designer Hyderabad | Interior Designer Gurgaon | Interior Designer Delhi | Interior Designer Ahmedabad | Interior Designer Vadodara | Interior Designer Kolkata | Interior Designer Thane | Interior Designer Navi Mumbai | Interior Designer Coimbatore | Interior Designer Lucknow | Interior Designer Patna | Interior Designer Nagpur | Interior Designer Chandigarh
Popular Stories:
2 BHK Interior Design | 3 BHK Interior Design | 1 BHK Interior Design | Interior Design Cost In India | Painting Cost Per Square Foot | False Ceiling Cost | Bathroom Renovation | Sofa Design Ideas | POP Design for Hall | House Paint Colours | Main Door Design | Granite Countertops | Vastu For Home | Cool Wallpapers | Types of Kitchen Layout | Types of Flooring | What Is Plywood | Pooja Room Vastu | South Facing House Vastu | Which Plants Are Good for Home Vastu | Vastu Tips for Home