Every Indian family will have at least a couple of crockery sets which they safely store to use on special occasions or when guests come over. For this, you would surely need a sturdy crockery unit to protect and store your precious ware. Crockery unit designs have long transitioned from being mere storage space to functioning as decor or display for quirky tableware or antique crockery. However, they do eat up a lot of space, making owners of compact homes baulk at the prospect.
If you own a compact home and have a few concerns about how to pick the right crockery unit designs, we're here to guide you. Whatever the query, we have answered them all here. Read on for more details!
#1: Do You Need a Crockery Unit?
For homeowners with plenty of fancy cutlery and crockery, a crockery unit is quite a blessing. For starters, it provides easy access to special crockery that you might use when you're entertaining guests. When not in use, crockery unit designs in the living room can act as display units, lending them an additional function. 
For people with no more than the basics, a heavier crockery unit may be a waste of wall and floor space. These units are geared towards people who have a lot; if your crockery is durable and can fit into kitchen drawers, chances are you won't get much use out of a unit. 
However, if you are specifically looking for a dining room crockery unit design, a bit more thought would have to go into it. The final decision on whether you need crockery unit design for the dining area depends on how much use you can get out of it.
#2: What Crockery Unit Designs Can You Choose From?
Though most crockery cabinet designs offer the same function, there are multiple options you can choose from. Here are a few modern crockery unit design ideas you can explore for your space:
Wall-Mounted Crockery Unit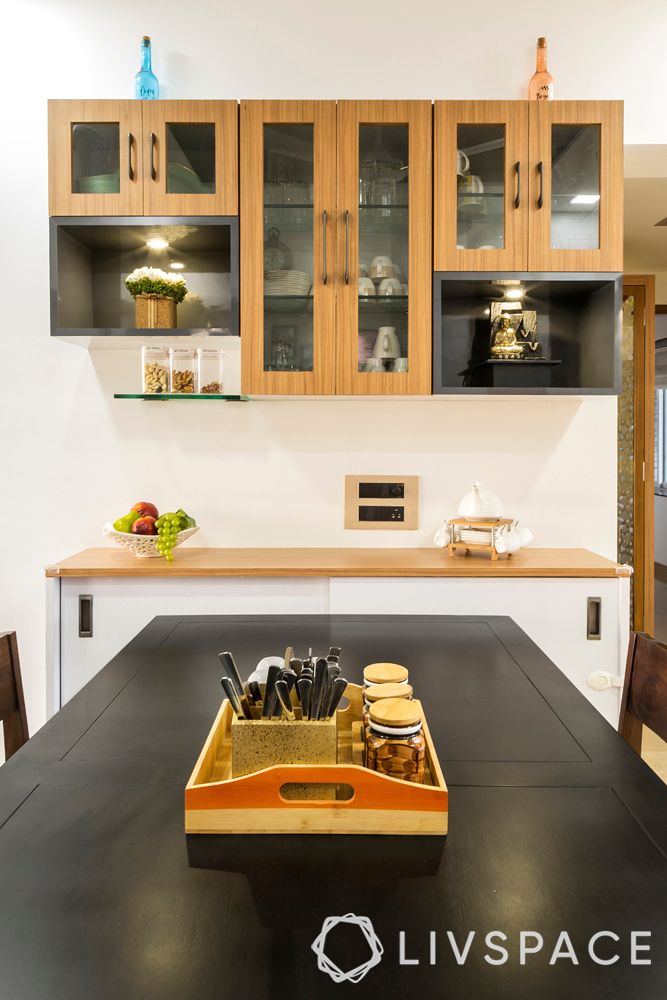 As the name suggests, a wall-mounted crockery cabinet in the dining room is typically fixed to a wall, keeping the floor free. This style is a winner for compact homes because it creates the illusion of a bigger space without compromising on storage.
Sideboard-Style Crockery Unit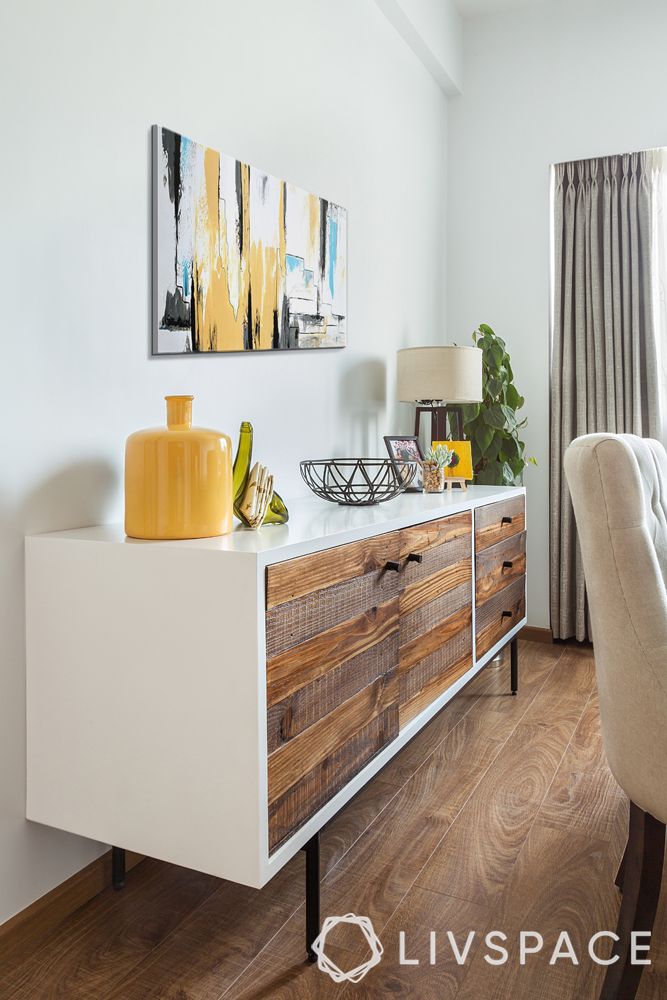 These are all the rage primarily because they provide an additional surface. This type of crockery unit design for the dining area serves as a display or an extension of the dining table. Sideboard-style crockery unit designs generally consist of drawers and hinged cabinets and could be glass-fronted or crafted from simple wood.
Modular Cabinet Design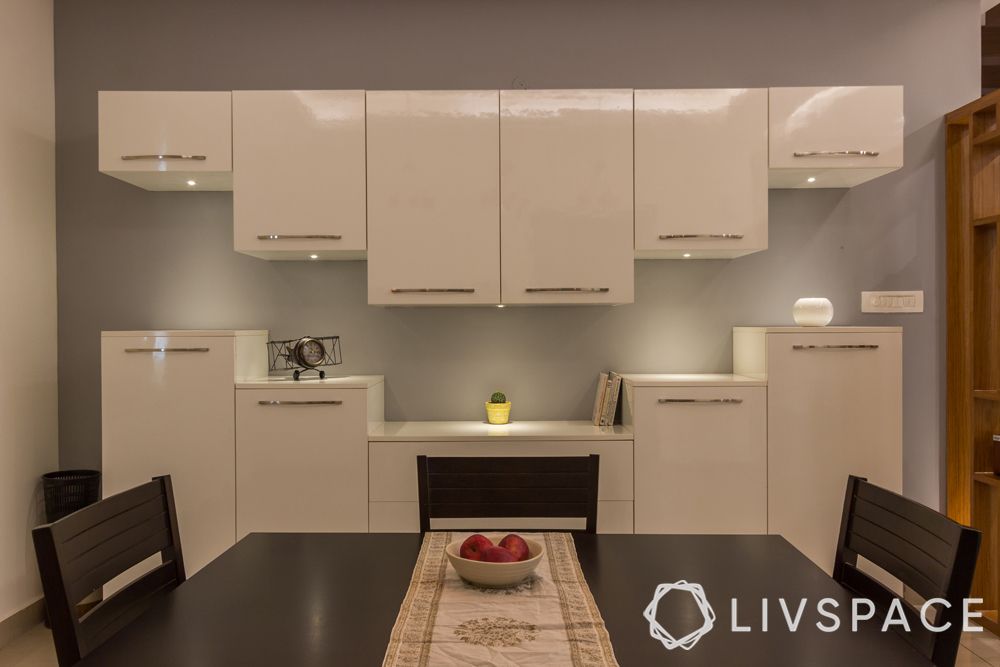 Looking for trendy modern crockery cabinet designs for the dining room? Perhaps modular crockery cabinet designs might be more your speed. These units can be customised to fit the available space in the dining room. You can craft these to match the room's overall design and colour scheme. Such modern crockery unit design ideas work especially well in contemporary homes.
Open and Close Cabinet Design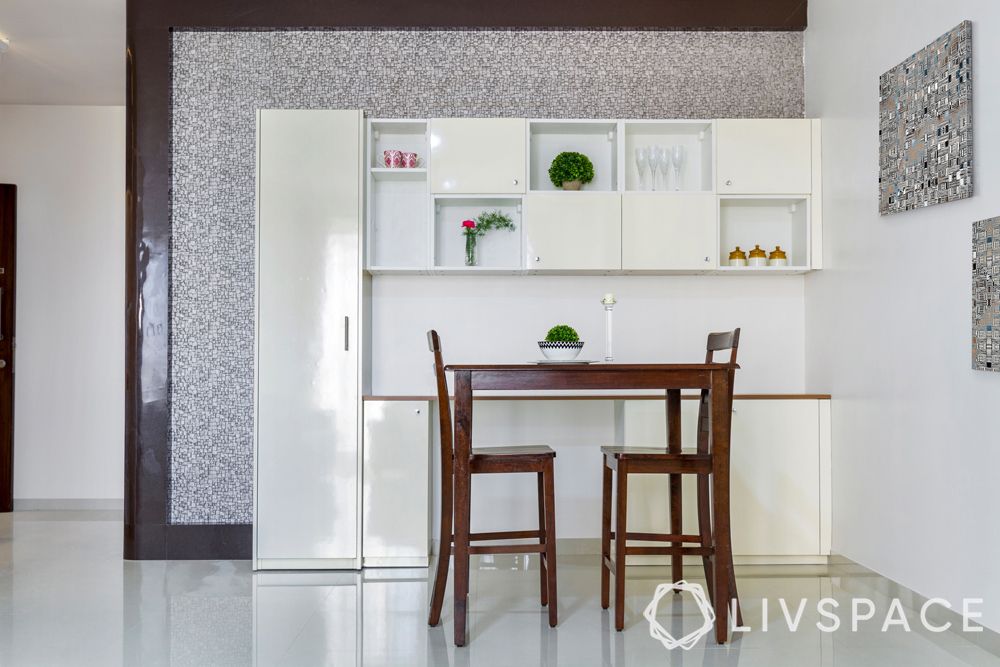 Want something functional yet stylish? Go for an open-and-close crockery shelf design. As the description suggests, these crockery units come with a combination of closed cabinets and open shelves. As a result, these are not only effective in storing crockery but also serve as trendy modern crockery cabinet designs for the dining room.
The Multifunctional Crockery Almirah Design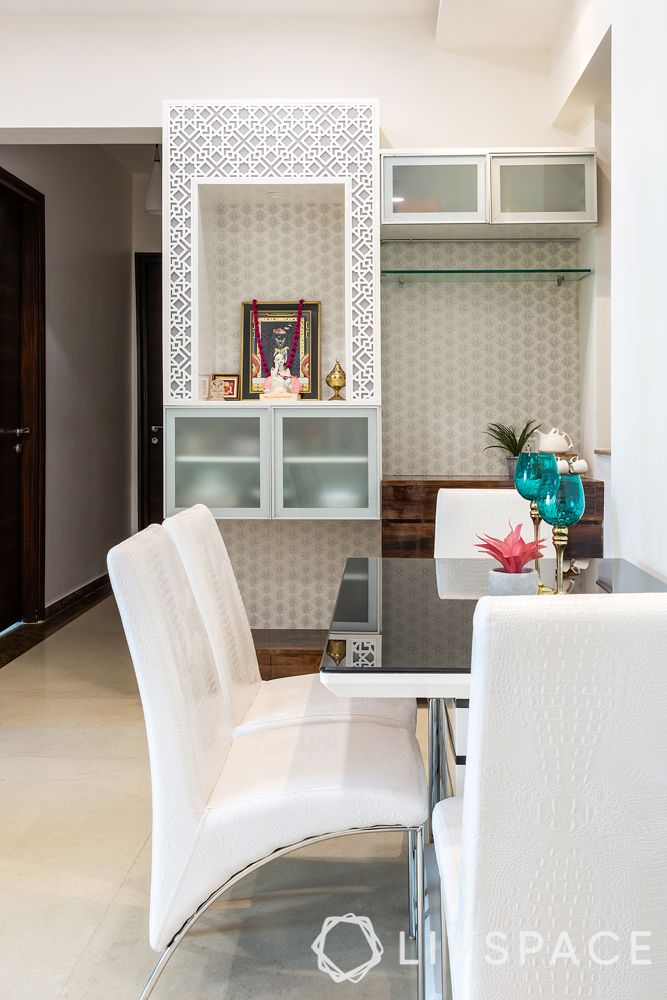 Not everyone has a massive home. Many of us have to make do with compact spaces. Does that mean that you have to go without a crockery unit? Not at all! Go for a multifunctional crockery almirah design that saves space and serves several purposes. This crockery-cum-buffet-cum-mandir-unit is perfect for small homes!
An Open Storage Cabinet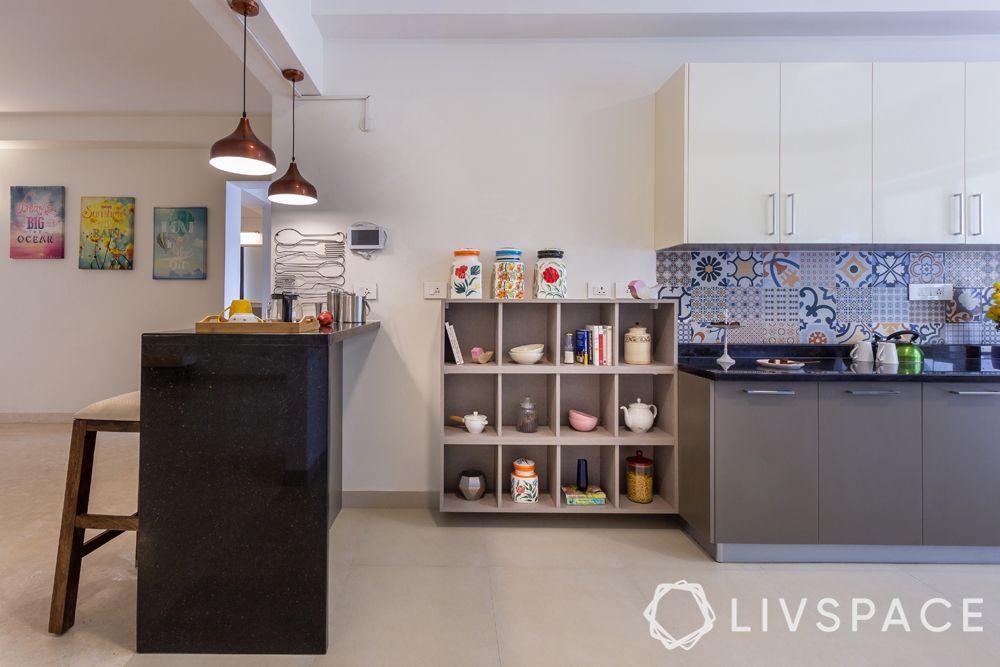 Have stunning crockery sets? Why not put them on display? Opt for fully open wooden crockery cabinet designs where you can display your crockery sets in style.
#3: Do You Need To Customise Your Crockery Unit?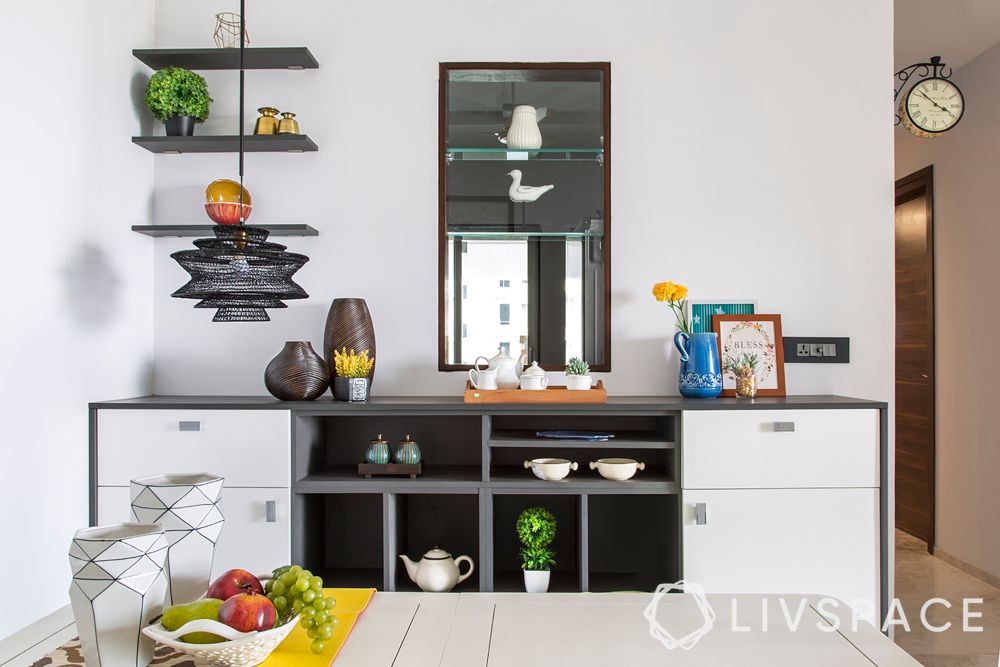 A customised piece is a great way to seamlessly blend storage space into an existing design scheme. Taking this route also allows you to call the shots on the number and style of divisions, shelving and drawers. It also opens up a lot of options in designing the exterior. You can select your choice of material, colour, finish, handles and extra fittings for your crockery almirah design.
However, if you're on a budget and are willing to compromise on certain perks of customisation, then buying a ready-made unit is your best bet.
#4: Should You Choose a Freestanding or Wall-Mounted Crockery Almirah Design?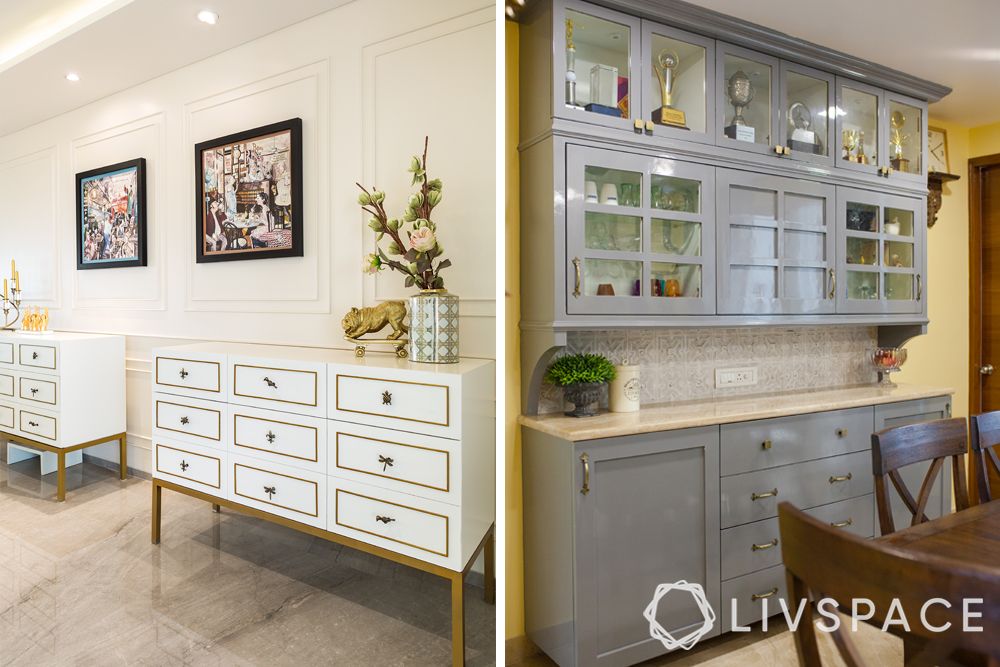 Freestanding units run the risk of toppling over if they're not sturdy. This can be dangerous in any house, but especially so in homes with children and pets. By contrast, a wall-mounted crockery almirah design keeps the floor clear and is less likely to fall down. This fulfils basic safety requirements but also keeps your precious crockery from harm!
Pro Tip: A crockery unit is ideal for the dining room, where it's easily accessible but away from heavy footfall areas like the kitchen. This also allows you to position your unit as the design centrepiece if you're on a budget or prefer a minimalist design approach.
This is a smart solution to storage woes yet has much to contribute to design-centric homes!
How Can Livspace Help You?
We hope you found our ideas useful! Want to look at some dining rooms to accompany your crockery units? Check this out: Dine in Style: Stylish Designs To Inspire You. If you too want beautiful interiors for your home, then look no further. Book an online consultation with Livspace today. 
If you have any thoughts and suggestions you'd like to share with us, we're all ears! Drop us a line at editor@livspace.com.