Your crockery unit has, for ages, been a permanent fixture in your home, hiding away those cups and plates you use regularly. While most of us picture a standard crockery unit design, there are several things you can do to amp it up. We scoured multi-functional designs from Livspace homes and picked some of the most functional ones for you.
Design #1: Crockery unit with display shelves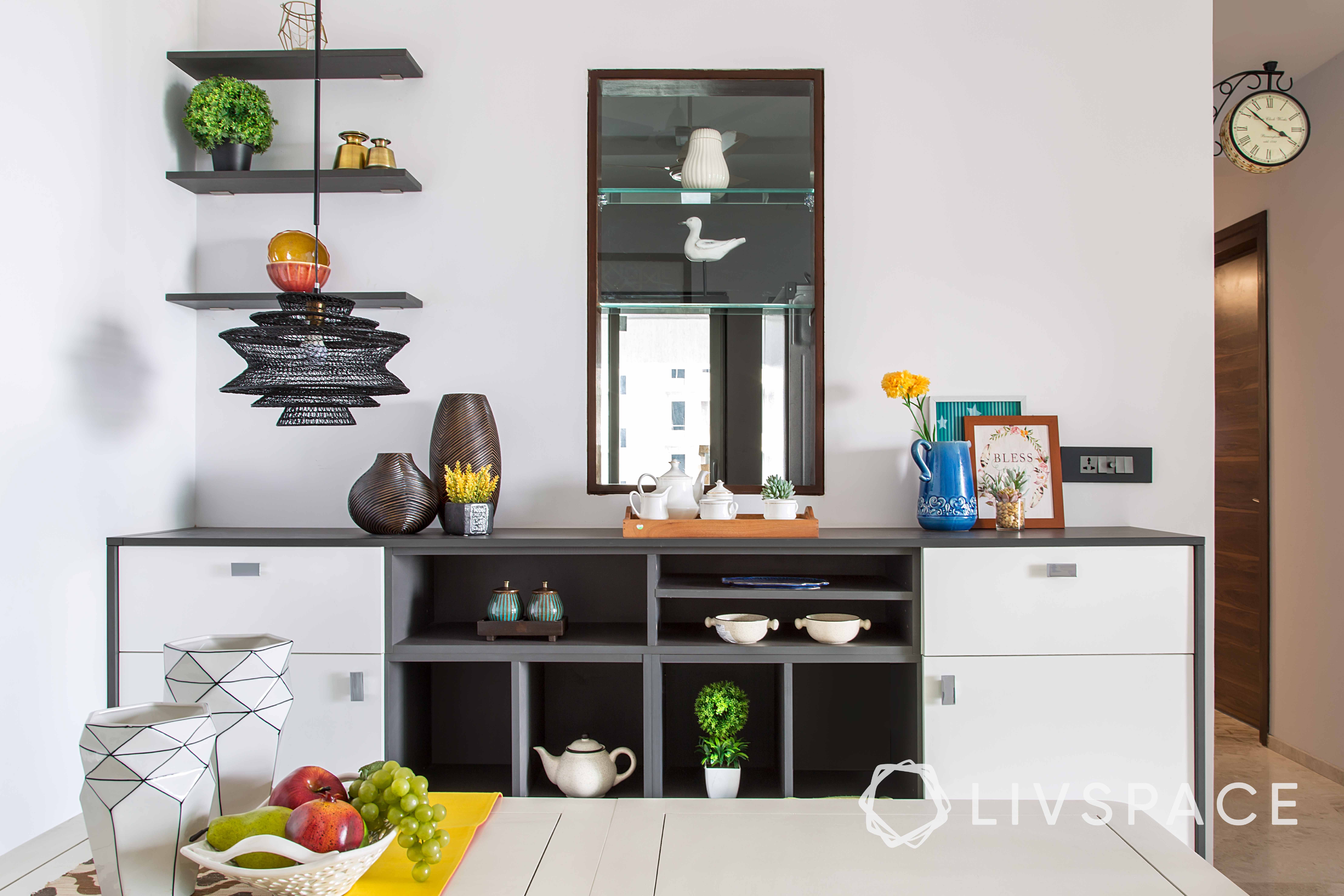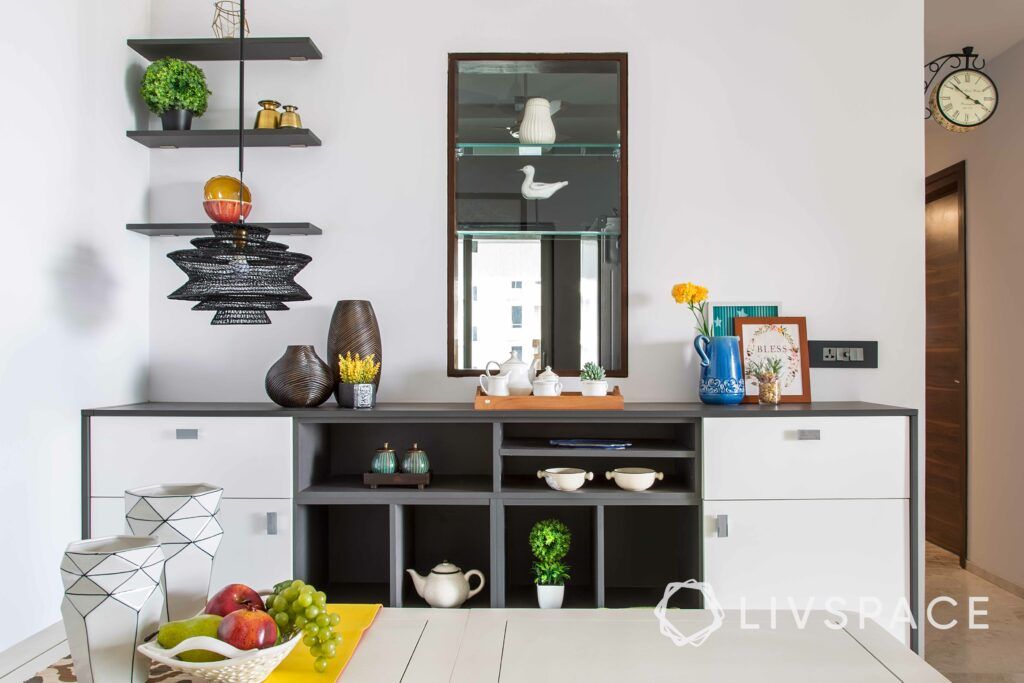 Who said you had to hide your crockery out of sight? If you have some pieces you'd be proud to display, pick out crockery unit designs with some open shelves or glass doors. You can also show off other accessories in these shelves!
Design #2: Crockery unit cum bar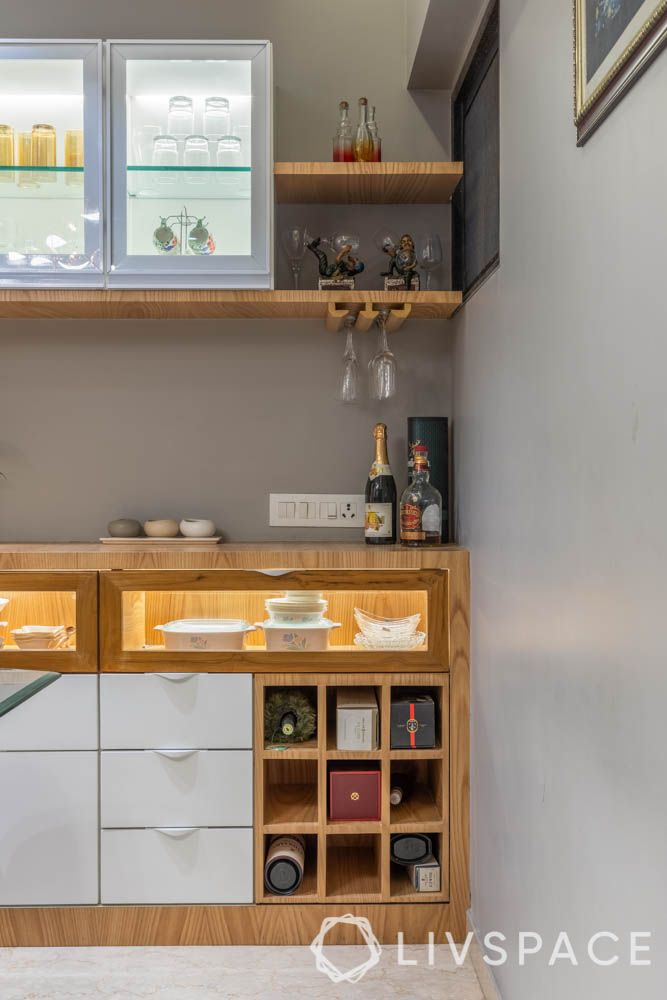 If you have thought of this combination of crockery unit designs and a bar, we're not surprised. This combination is one of our favourites. While you stow your crockery out of sight, you can display your collection of exquisite liqueurs and that set of wine glasses your friends covet. Bonus points for backlit shelves for ambience!
Design #3: Throw in a bookshelf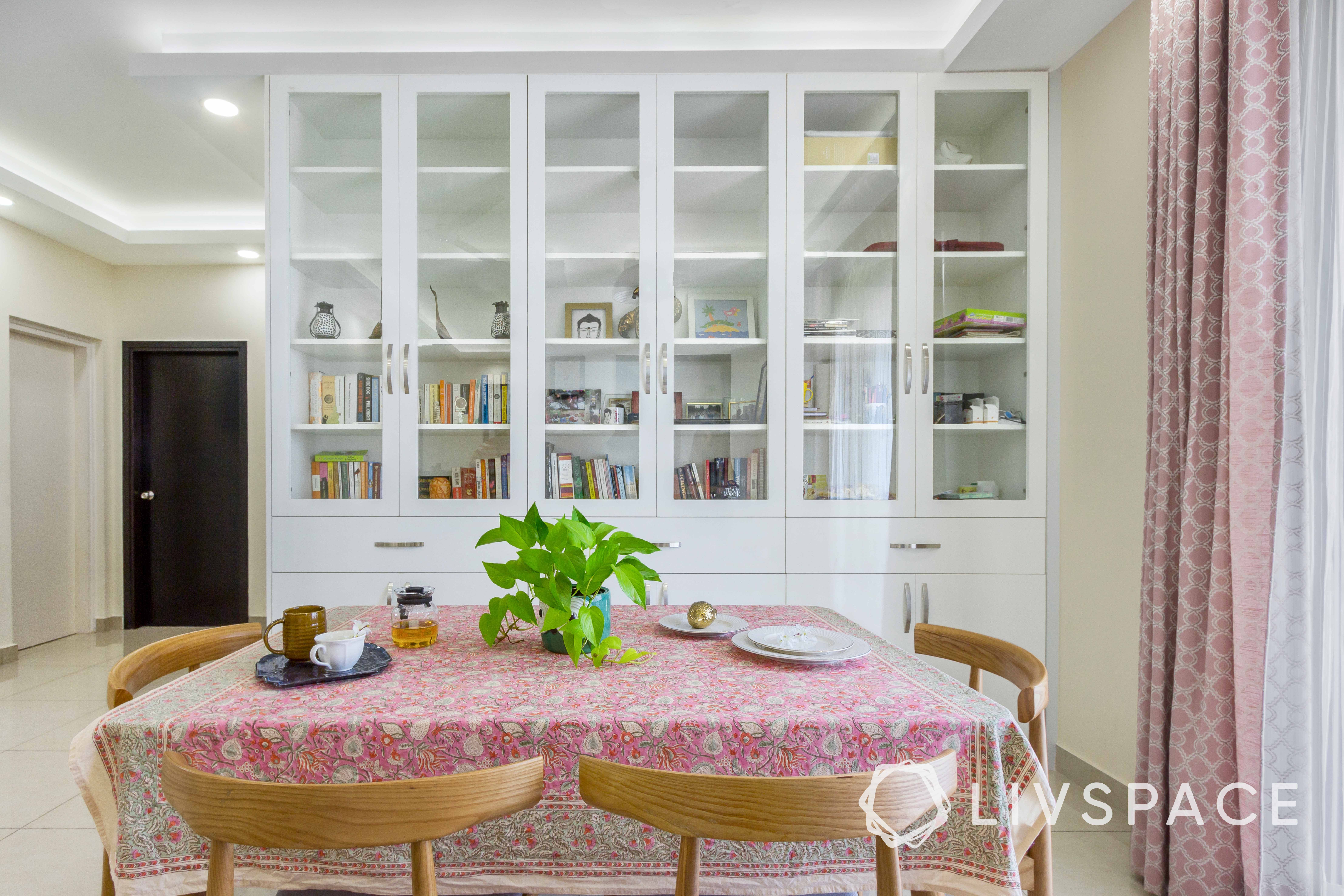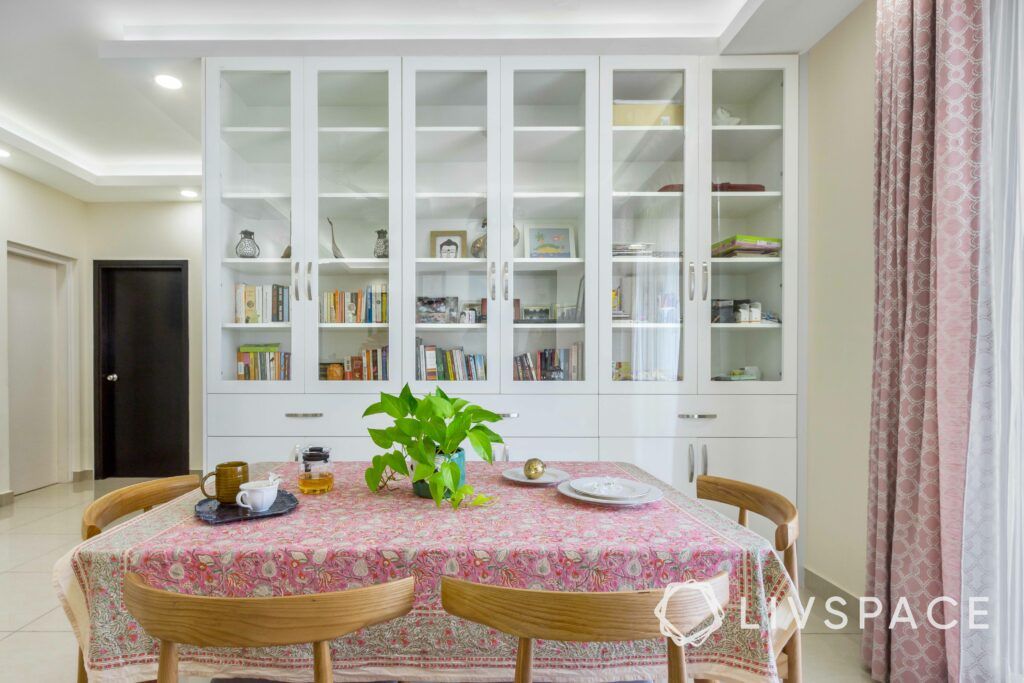 You have only so much place at home, and a lot of books. What do you do then? Club your bookshelves and crockery cupboard together, and presto! You have an artistic cabinet that lets you keep both!
Design #4: Add a TV unit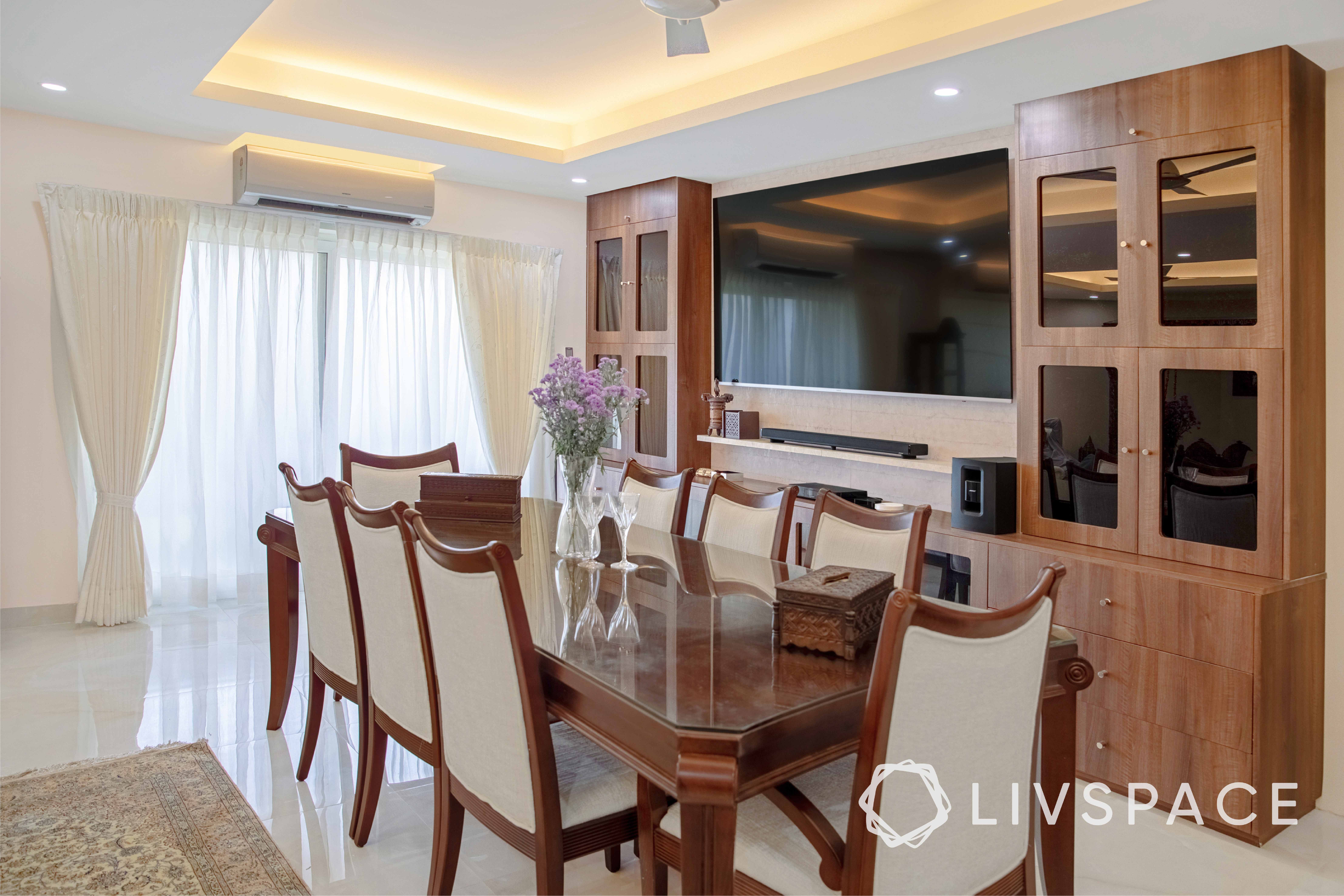 If you're one of those people who does not want to have a TV unit in the living room, but enjoy watching the television while eating, this one's for you! Check out this TV unit nestled between two tall crockery units, tied together by drawers at the base. If you're fond of entertaining often, you can make use of this crockery cupboard!
Design #5: Crockery unit as a partition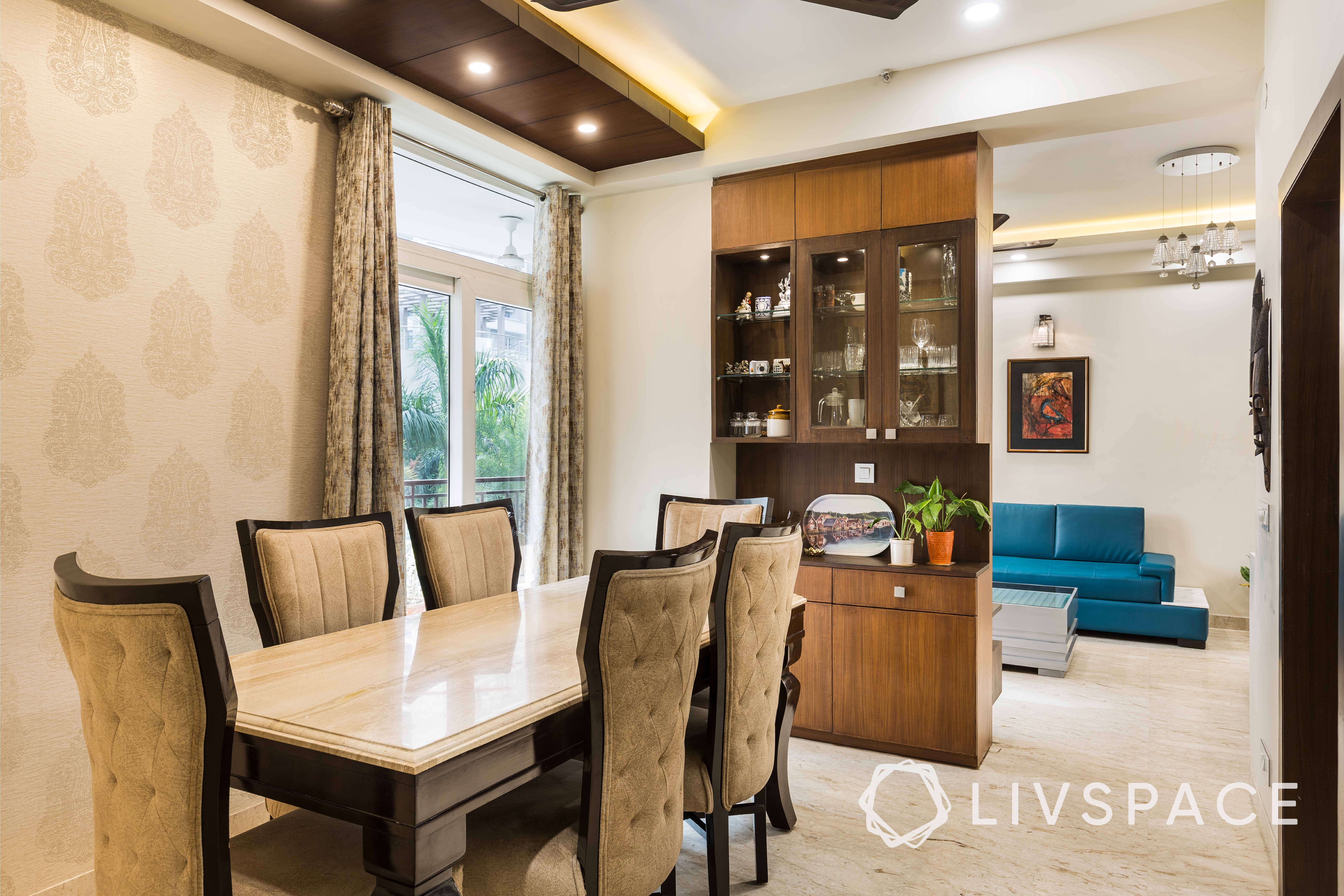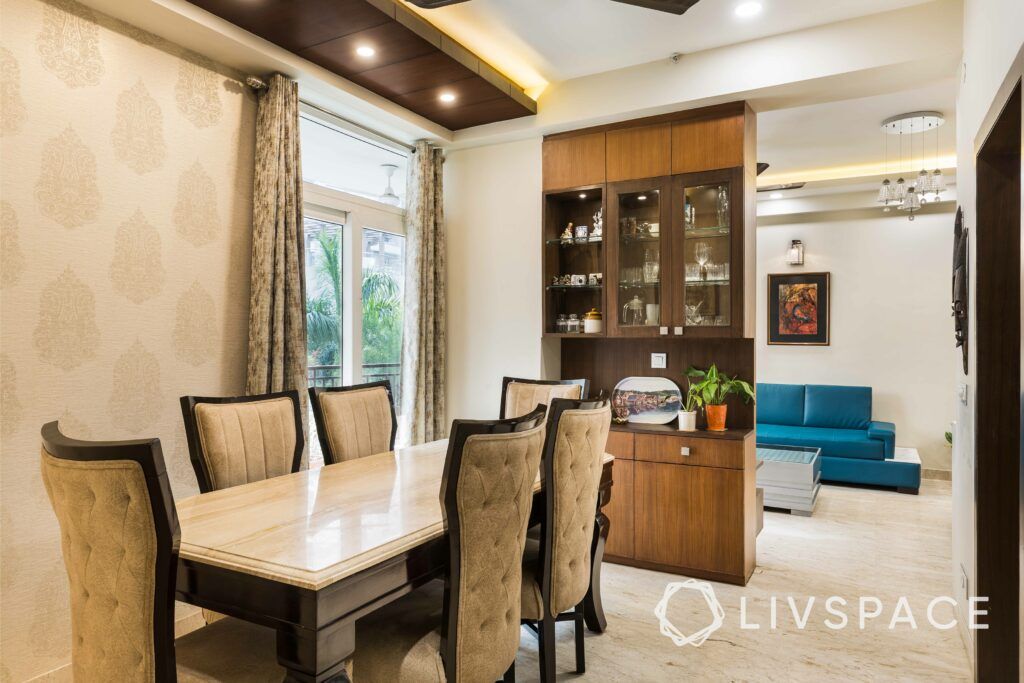 When you want to divide your open living-cum-dining space into two, but without using a wall or a permanent unit, what's the best option? We suggest floor-to-ceiling crockery unit designs, backed by veneer panelling. While we love it as it is, you can take a step further and convert the panel into your TV unit. Catch a glimpse of how gorgeous it will make your living room!

Design #6: Works as a showpiece
While we discuss how you can increase the functionality of your crockery unit, what's stopping you from turning this everyday essential into an eye-catching piece? Take inspiration from this electric blue and white unit with glass shutters, that comes with two drawers at the base. Doesn't it make the room look brighter?
Design #7: Under the breakfast counter
If you have always wanted a chic breakfast counter in your dining room but rethought your decisions because of the lack of space, this one's for you! Why not have crockery unit designs that fit snugly under the breakfast counter, so that you can have the best of both worlds?
Design #8: Combined with a pooja unit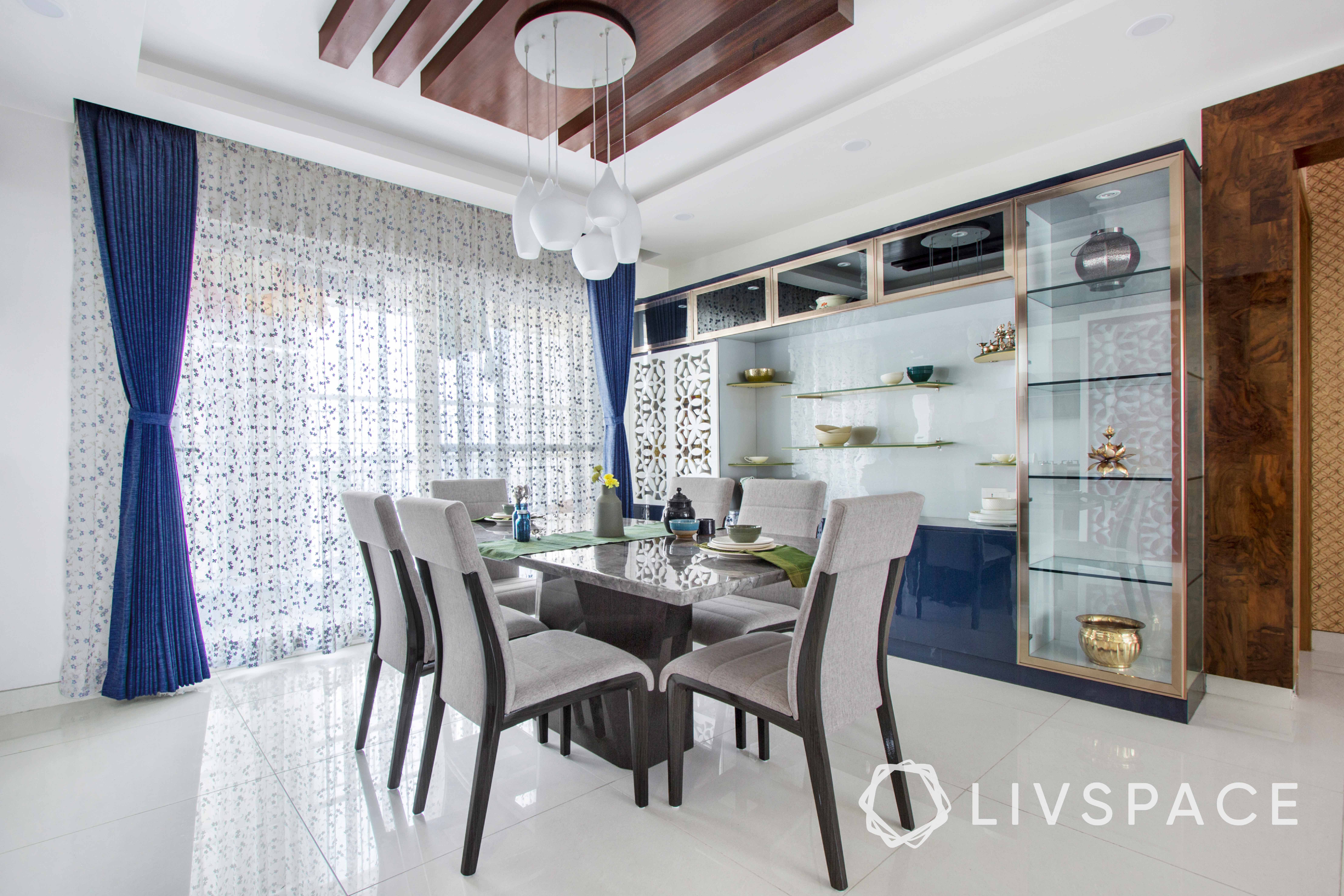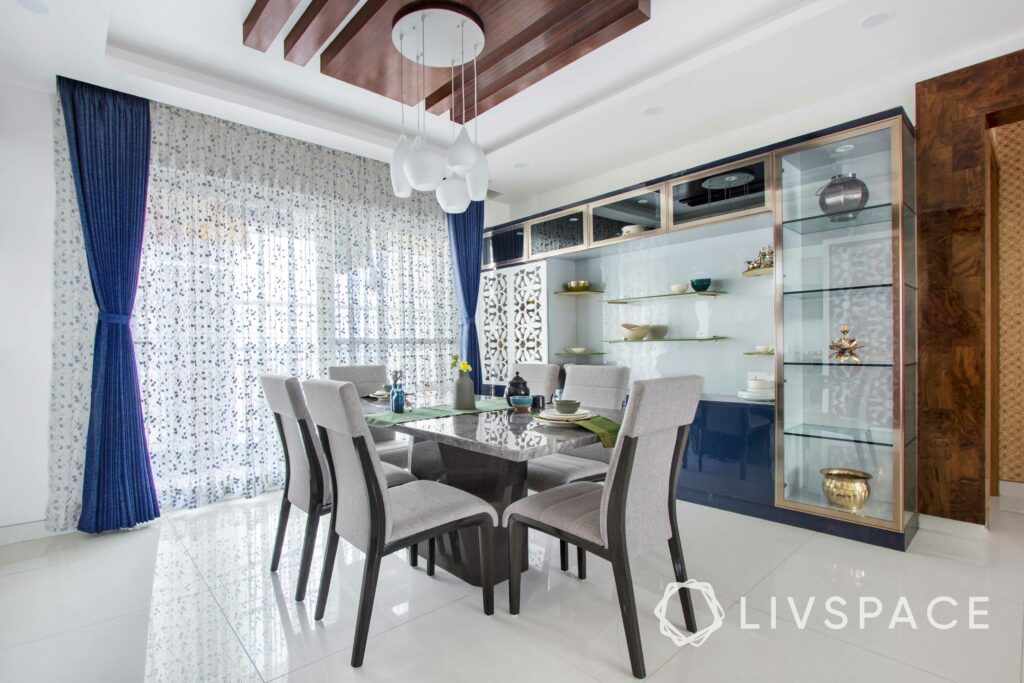 If you were wondering where to place the pooja unit at home, you are sure to love this design. Consider a crockery cupboard that comes with an additional section that can be turned into your pooja space. If you want to make it stand out, you can even get jaali doors for this prayer nook!
Design #9: Works as a serving counter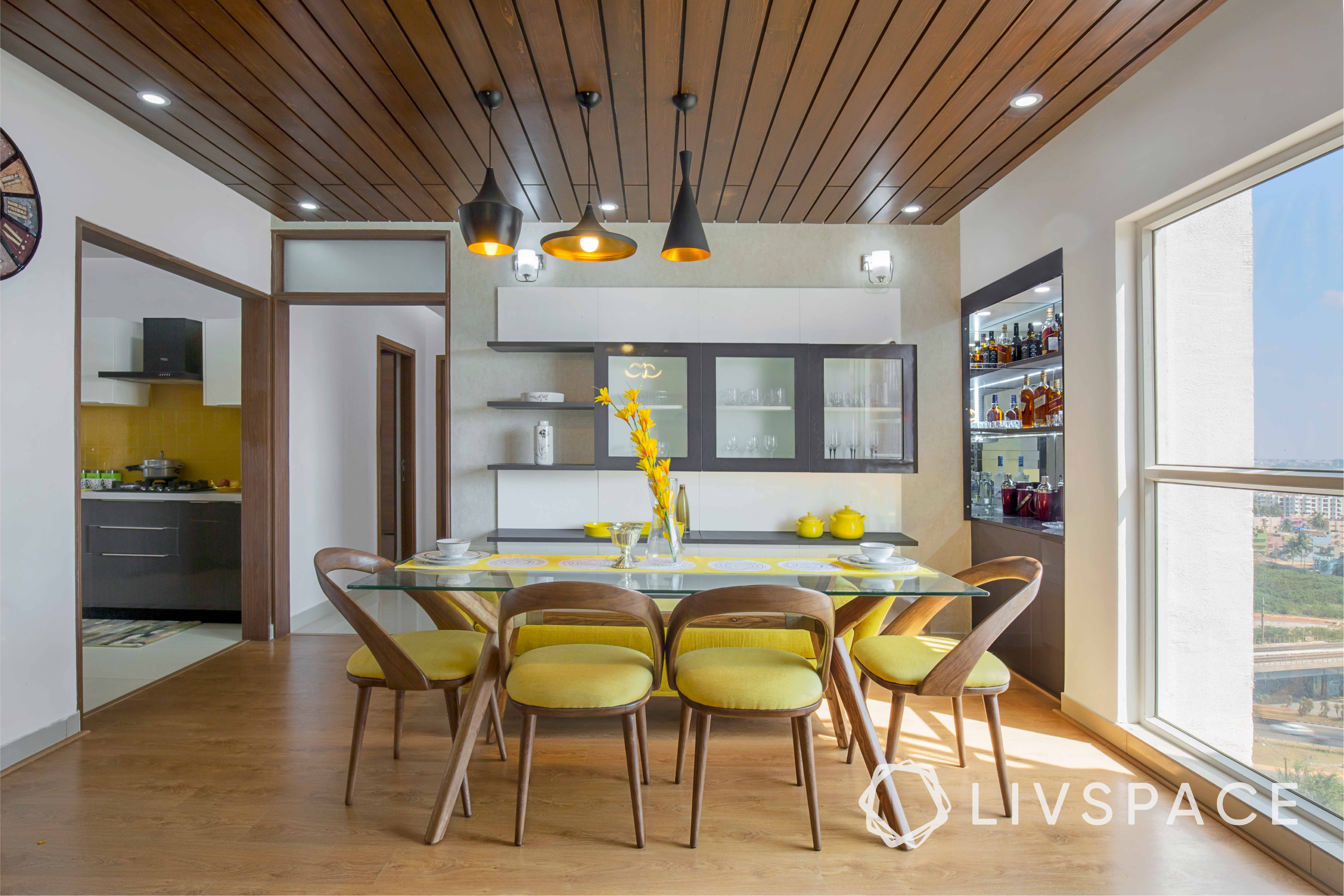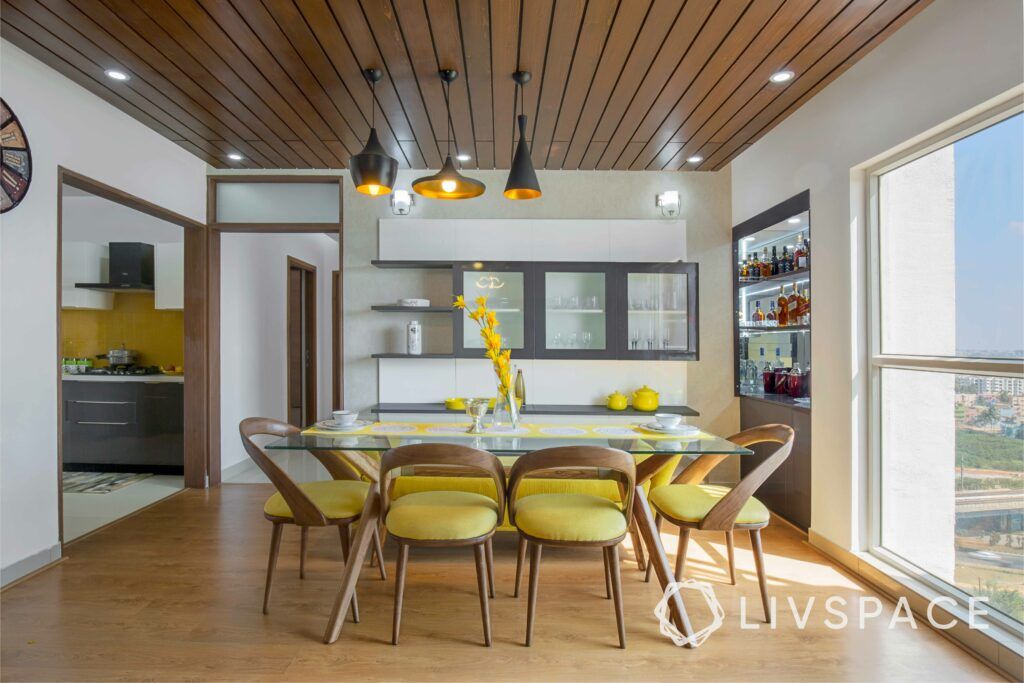 We're sure you have already done this, or at least thought about it. Why not design the crockery cupboard as a unit that has a separate section that you can use to lay out the food? This clears up space on the dining table, so more people can sit and eat together, with minimal clutter!
Design #10: Crockery units that mimics accent decor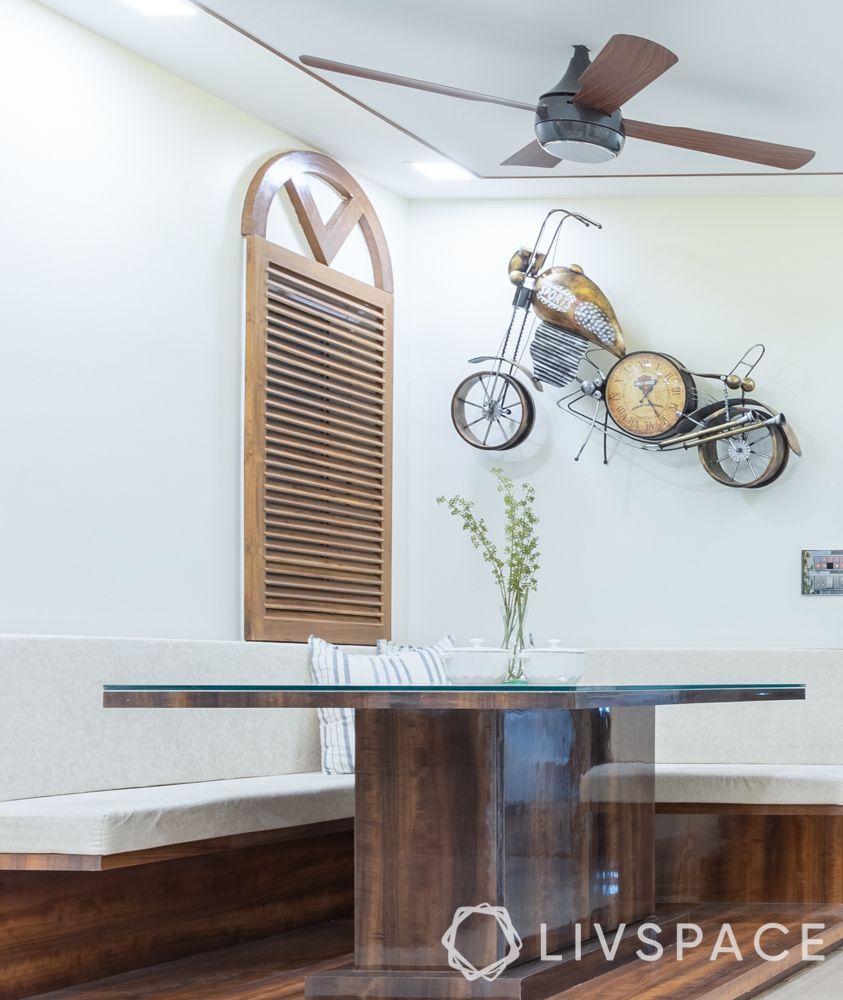 If you're wondering about the placement of the crockery cupboard on this unit, we have news for you. It's behind the slatted louvre door! Such units are a boon to dining rooms with an acute shortage of space, as they fit conveniently into a niche on the wall, thereby cutting down on the need for additional bulky fixtures.
Looking for more information on crockery units? The Tell-all About Crockery Units has all you need to know!
Send in your comments and suggestions.