For hearty and comfortable mealtimes, a clutter-free dining room is a must. It should have the right mix of seating and plenty of space to keep food items, crockery etc. In fact, you dining room could also be used to stock up some extra storage for miscellaneous items. So what kind of dining room storage ideas appeal to you?
If you are not decided, we have put together a whole of bunch of workable dining room storage ideas for you to try.
#1: Floating Shelves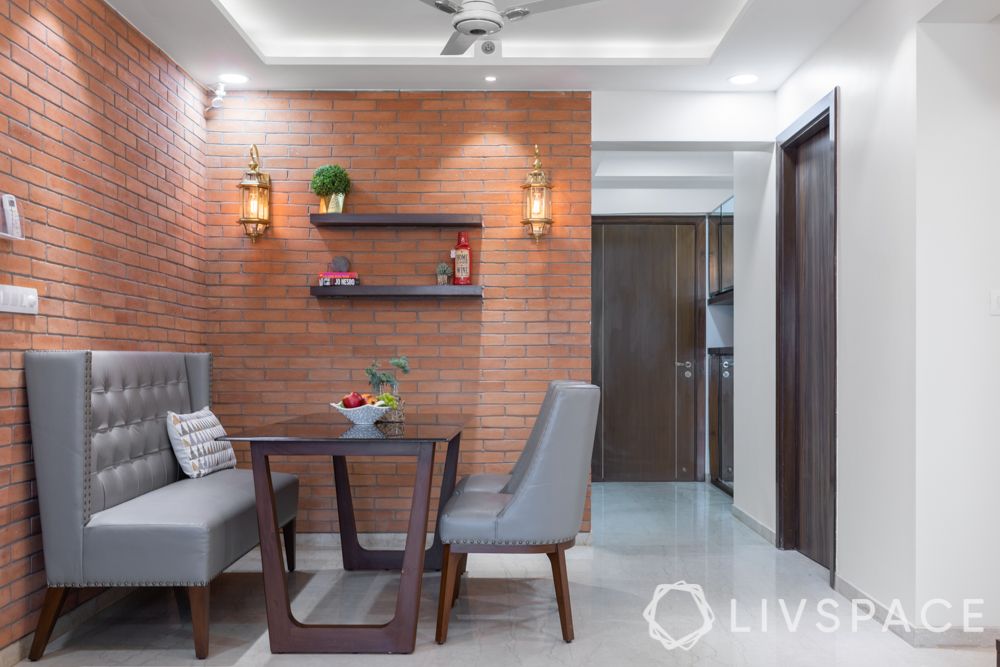 Floating shelves can be very efficient in terms of looks and functionality. Mounted on the wall, they take up minimal space, look neat and provide necessary storage for cutlery, pots and pans. Precious stemware is carefully stored and proudly displayed in this floating shelf-cum-cabinet arrangement.
But floating shelves are not just a dining room storage idea. Do check out more creative ways to use floating shelves.
#2: Sideboard and Cabinets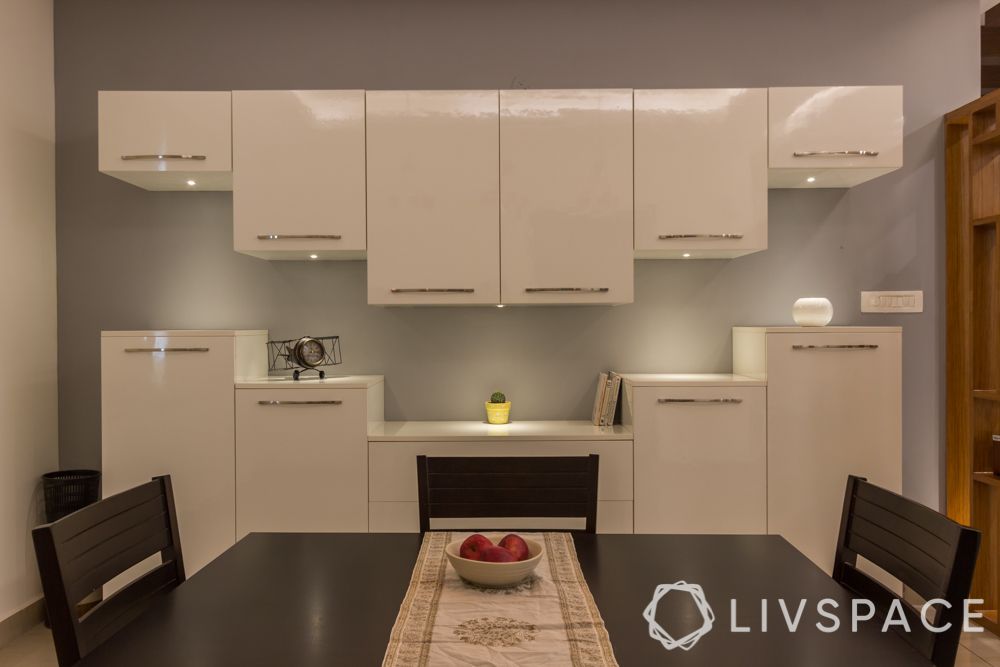 Whether you go for a cabinet or sideboard depends upon the orientation of your dining room. Sideboards are great because they use up the dead space next to the dining area. Available in a variety of designs, they are used for keeping cutlery and crockery close at hand. Also, the table top works as the perfect perch for accent pieces.
The beauty of closed cabinets is that they are easy to maintain. Your things are not collecting dust any you don't have to keep cleaning them. Moreover, you can use closed cabinets to store literally anything under the sun because its not visible. Like the idea? Check out some the coolest crockery units in #LivspaceHomes.
#3: Free-standing Open shelves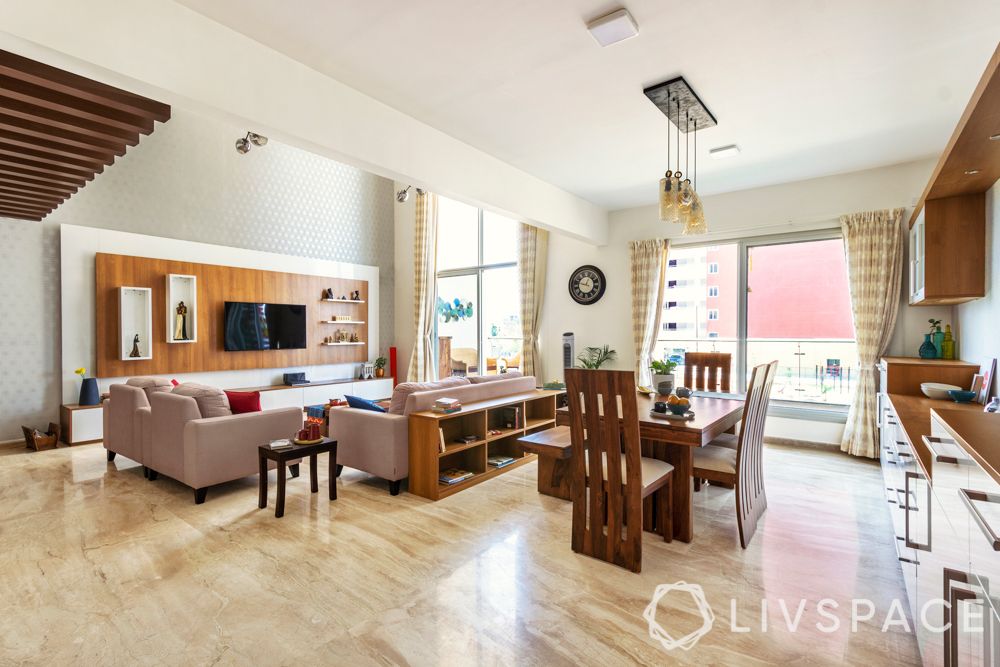 Another great way of upping the style quotient of your dining area is by using open shelves. This gives plenty of scope to display favourite books, crockery, potted indoor plants and more. And the most important benefit of this dining room storage idea is its ease of use. Open shelves are always more accessible.
If not as a dining room storage idea, you can use free-standing shelves for all these other purposes.
PRO TIP
#4: Under the Stairs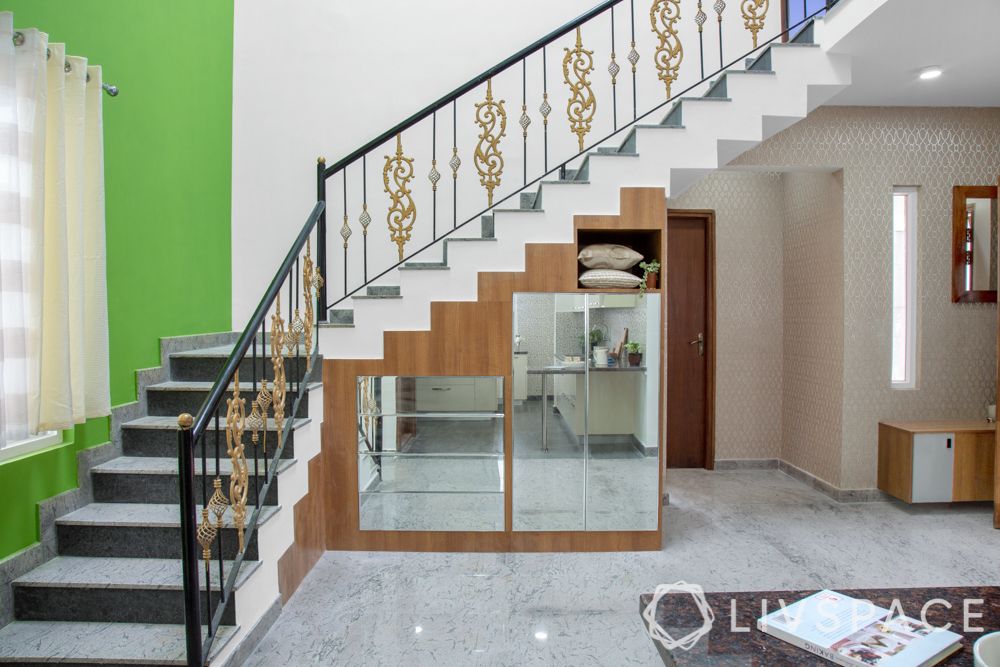 A penny saved is a penny earned. Did you know that this principle applies to space too? In case you are one of those lucky people whose dining area is next to the staircase, then you can easily make use of the space underneath and turn it into a storage area. You can have closed cupboards or open shelves, according to your taste.
While you pick an appropriate dining room storage idea, don't you wanna check out these stairway designs that will give you renovation goals?
#5: Floor-to-ceiling Storage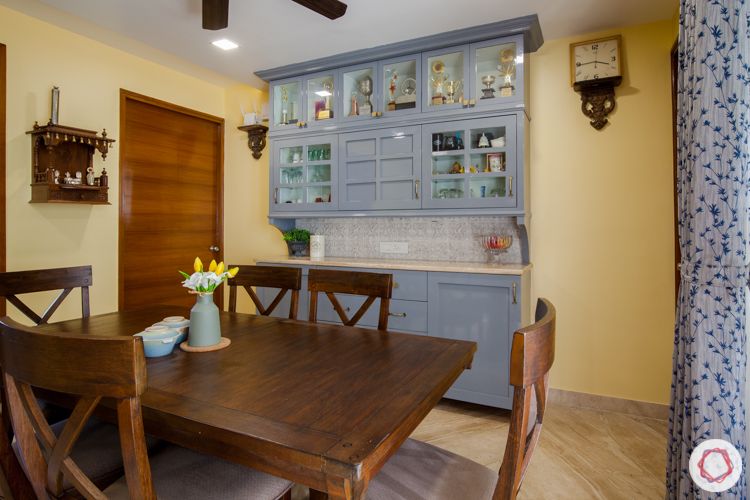 If the dining area is spacious enough, a floor-to-ceiling storage solution works effectively. You can have open shelves along a wall, right up to the ceiling, supported by cupboards or drawers beneath. You can also design the space with a beautiful see-through cabinet that spreads across the length of the wall to display your immaculate cutlery. This lends a subtle tone of grandeur to the setting.
PRO TIP
#6: Shelves Within Partition
If you are building your home from scratch, you can opt for niches or create open shelves within wall partitions like above. This eliminates the need for investing in furniture later on. This is a classic case of fitting in a dining room storage idea into the very shell of your home!
And if you need inspiration, we have plenty to offer. So check out some of the best multi-functional partitions from #LivspaceHomes.
#7: The Jugaads or DIY Solutions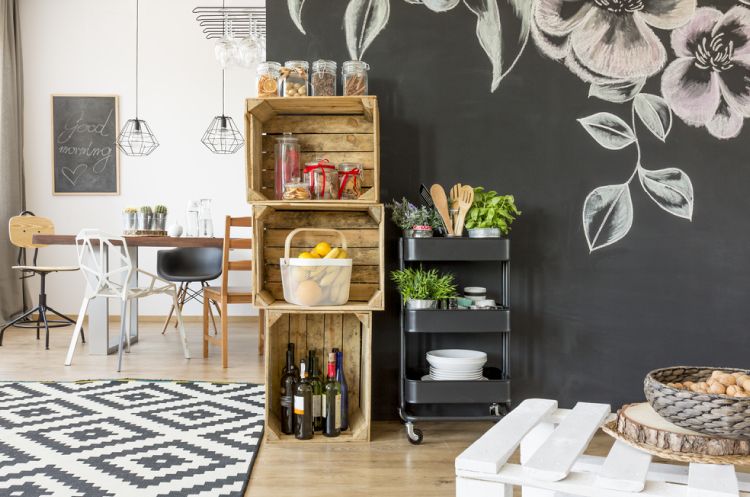 A cost-effective but stylish idea is to make use of old cartons and baskets. You can also just stack the cartons on top of each other to create a quick, DIY storage solution. Alternatively, you can use a rack or trolley to store items. With just a fresh coat of paint, they will look good as new.
With these stylish dining room storage ideas, you can boast a tastefully designed space during gatherings with friends and family!