It's no surprise that a lot of thought goes into planning a home. Whether it's a full home design or a simple renovation, there are always a few areas that need special attention. Storage is undoubtedly one such aspect that needs due consideration. Especially for Indian homes, because storage is something we just can't get enough of! The Shahs' home is one such great example of using small house design ideas to boost storage space during a home renovation. Designed by interior designer Nishi Jain, there's a lot to unpack in this stunning 1,100 sqft. home.
So let's take a page out of this small house design to see the best way to renovate a storage-intensive home. Read on to know more about what works best when it comes to interior design ideas for a small house!
#1: Customised Storage Units Work Great for a Small House Design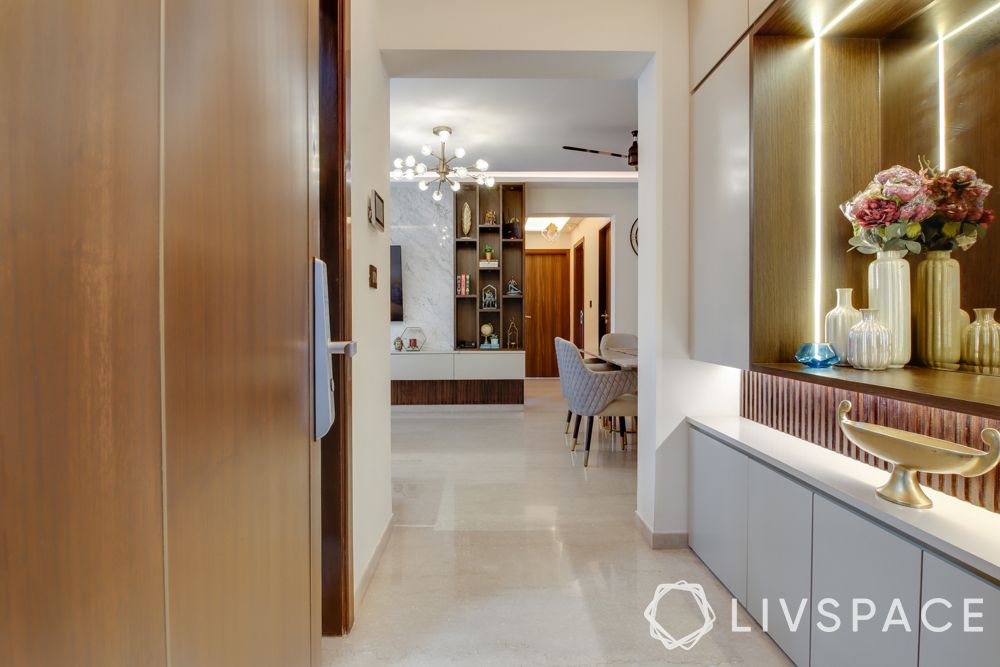 When you have a small house, it's important to make your interiors work for you. And when it comes to optimising your compact foyer for storage, it can get messy. This is where making use of effective small house design ideas becomes imperative. So what can be done to create a neat storage-intensive foyer, you might ask? The answer is simple — just customise your storage units!
The Shahs were keen on keeping things simple for the foyer. However, they didn't want to compromise on valuable storage space either. To make this happen, Nishi decided to go with customised seamless open and closed cabinets to prevent cluttering the area. What's more, one of the cabinets also hosts a simple pull-out drawer to store crockery!
#2: A Small House Interior Design is Incomplete Without a Floor-to-Ceiling Wardrobe Unit
Nobody likes bulky bedroom furniture that swallows up floor space in a compact home. So when you have limited space to work with, being creative is your only option. If you're confused about choosing the right furniture when it comes to small house design ideas, go vertical.
The Shahs' bedroom features both modular and custom-made wardrobes, perfect for small house interior design styles. Including a floor-to-ceiling wardrobe unit is the best way to plan storage in a small room. By making use of the wall space, the Shahs were able to get both storage and open floor space in the most convenient way.
#3: Multipurpose Furniture is Essential for Small Homes
Multipurpose furniture is and always will be a game changer when it comes to compact homes. With just a few simple units, you can easily boost storage capabilities regardless of the constraints imposed by your small house design. This is especially important if you have an open-concept floor plan and lesser space for storage units.
Oftentimes, the best small house design ideas are the simplest. The reason the Shahs' home looks spacious despite being compact is due to their selection of furniture. Try to opt for simple furniture that can be both decorative and storage-efficient.
Notice the closed wooden unit by the window? You'd be surprised to know that's actually the family's mandir unit! The entire TV wall has been used to the best of its ability. From the enclosed mandir unit to the tall open shelving unit, there's plenty of storage space to go around in this small home.
#4: Use Mirrors in Common Areas to Create the Illusion of Space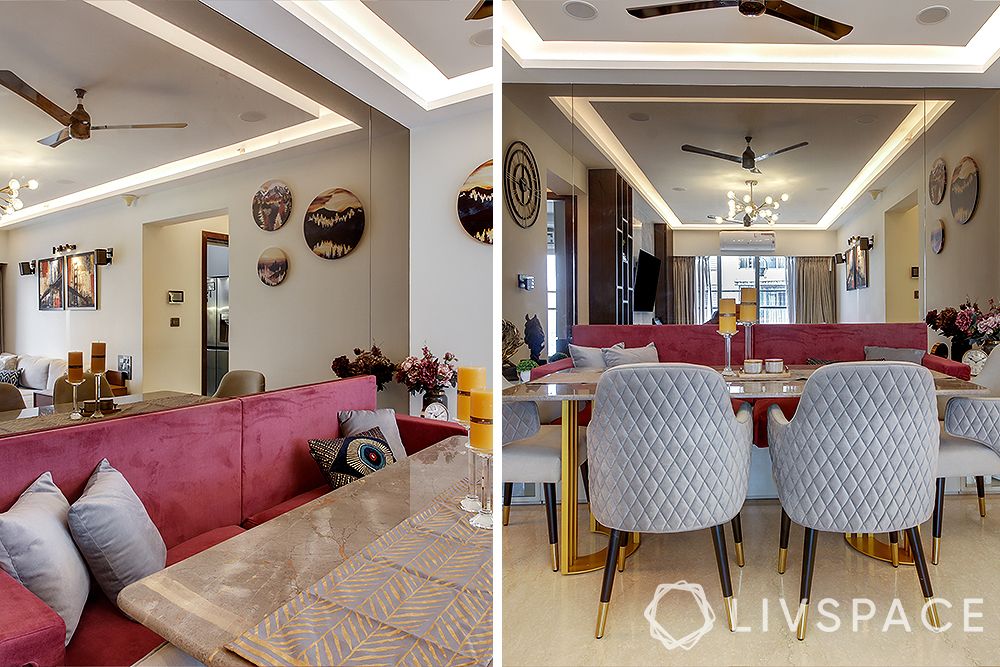 Aside from selecting the right furniture, you can also rely on fun illusions to give your compact home a roomy vibe. And what better way to do this than to use mirrors as one of your small house design ideas! Mirrors create the illusion of space, making your compact home seem far bigger than it actually is.
Not only are they a great style statement but they also work wonders when it comes to lighting effects. If you use a mirror wall in a room that also receives natural light, it's sure to immediately brighten up your space twofold!
The Shahs' especially made best use of this given that their living and dining rooms share the same floor space. What's more, their pink dining room couch also doubles as an extra storage unit. Nishi specifically planned this to improve movement and make this small house interior design less cluttered.
For more information on creating a storage-intensive dining room, check out: 7 Clever Ways to Add Storage To Your Dining Space.
#5: Small House Design Ideas Featuring Modular Cabinetry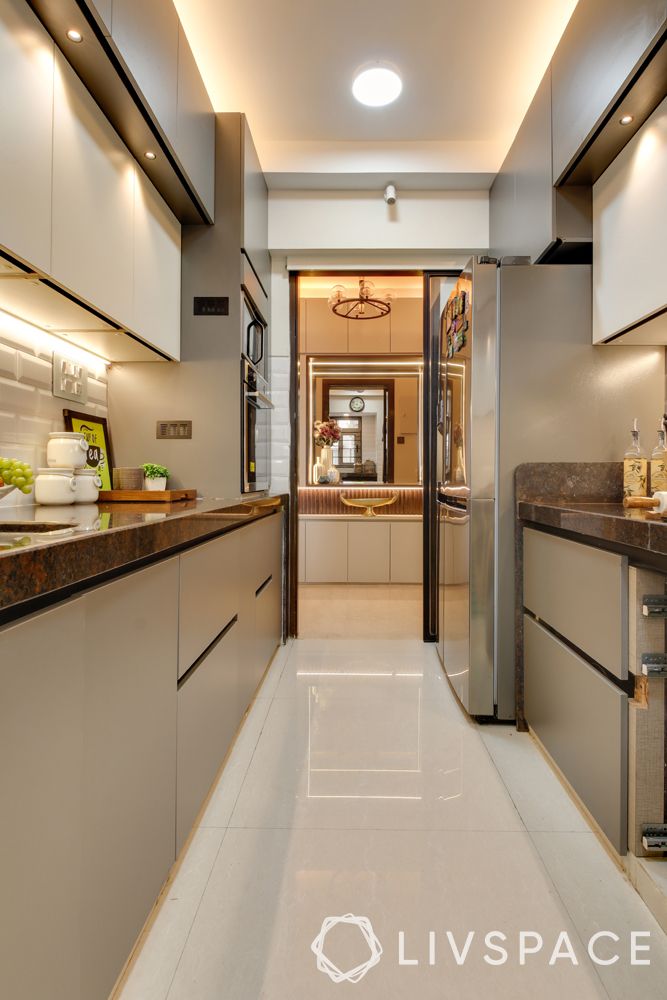 It's no secret that modular cabinets are great for space management. What's even better is the fact that they can easily be customised based on your needs and requirements. You can also specify the style you'd like to go for based on your interior design ideas for your small house. This makes them the perfect investment for smaller homes that might have certain space restrictions.
In the case of the Shahs', Nishi had to work with a narrow parallel kitchen layout and ensure it delivered on storage. This was made possible with high-storage modular cabinets customised as per the family's needs.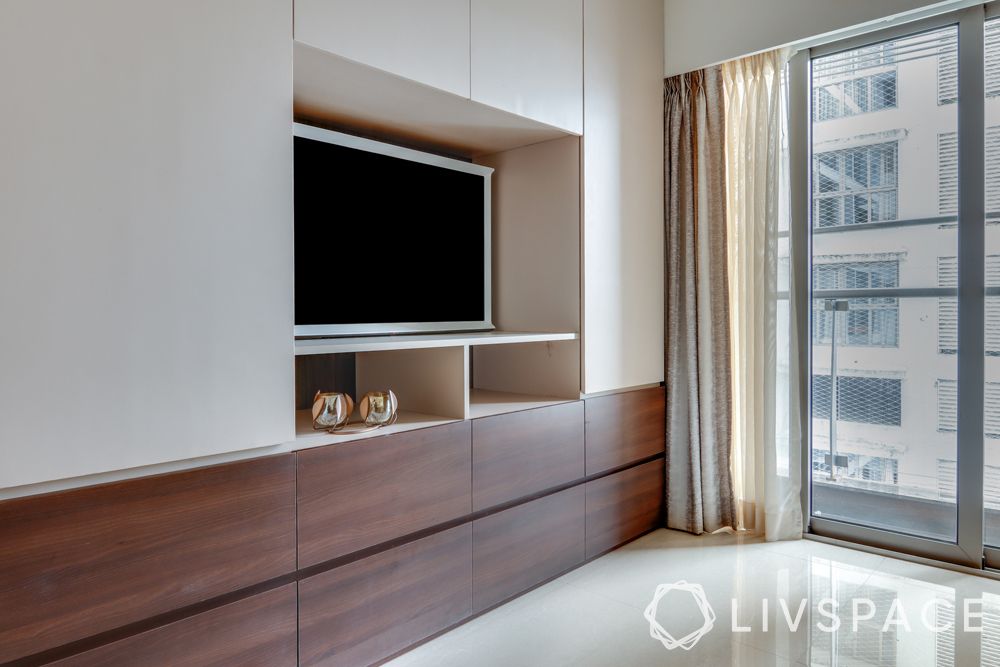 Another great use of modular storage is in your TV unit. Nothing looks better than seamless, storage-intensive furniture that melds with the rest of your home's interiors. Similarly, the Shahs' study room has also approached small house design by embracing modular furniture. This simple TV unit looks basic on the outside but has plenty of hidden room to store books and other items.
#6: Concealed Storage Units Can Help Prevent Cluttering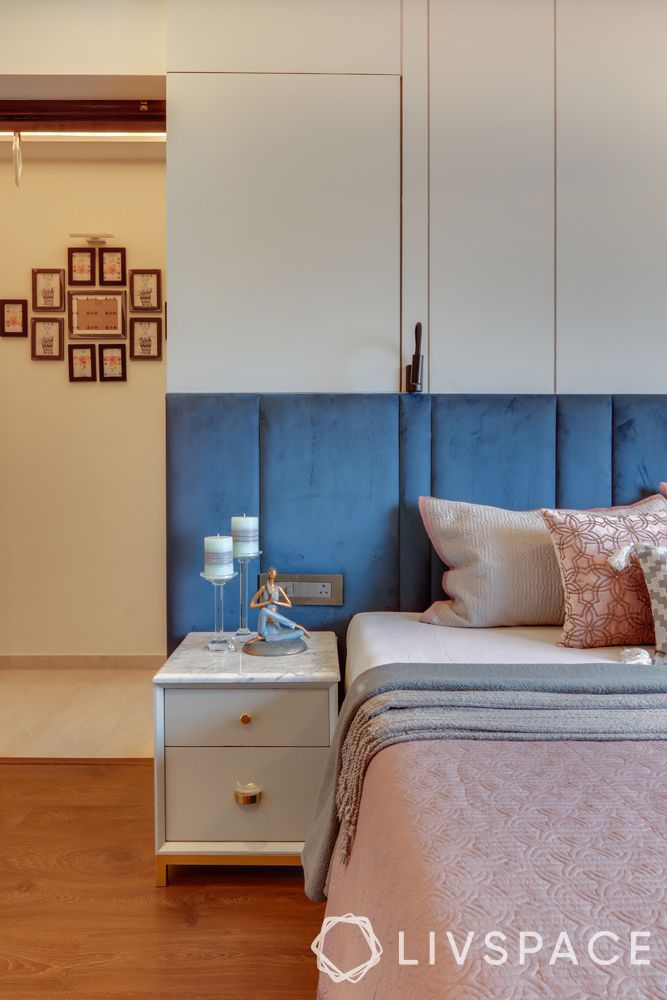 A great way to keep your interiors minimal is by opting for concealed storage units. The more things you can store away without cluttering your living space, the better! This is something Nishi has executed perfectly in the Shahs' bedroom. It's been done so well you might just need to take a second glance to take it all in.
Notice the outline of a door above the nightstand? It's a concealed storage unit for the bedroom. Such units work especially well for minimal interiors that like to keep storage discreet.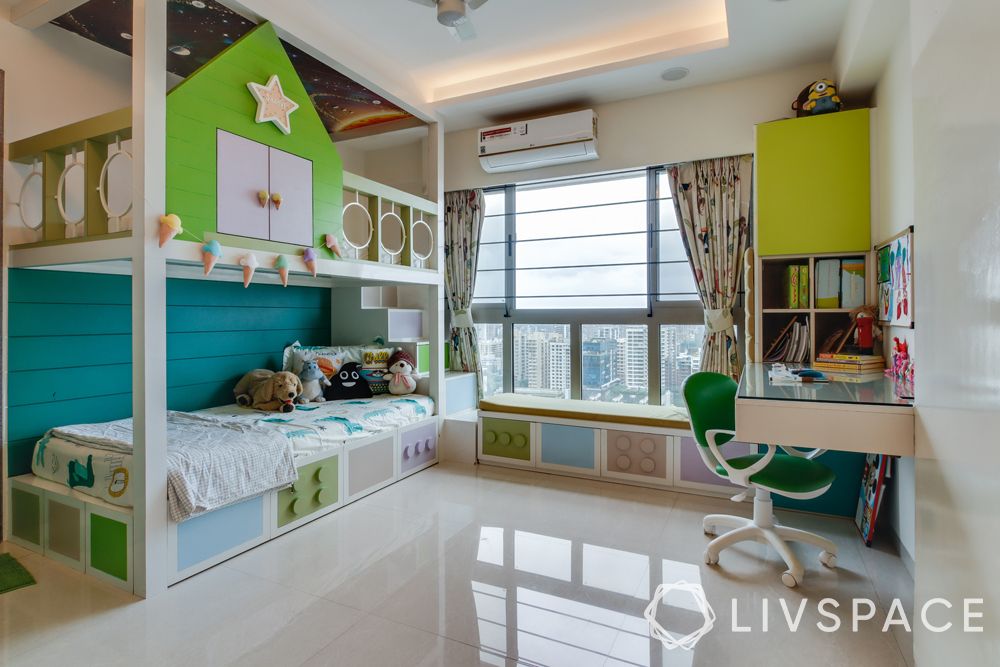 So far, we've covered why modular cabinets and concealed storage units are amazing small house design ideas. But we'd also like to take a minute to highlight multifunctional furniture that doubles as concealed storage units. Take a look at the Shahs' daughter's room for instance. The design seems pretty simple but the entire room is brimming with extra storage space ideal for a growing child.
The seating area by the window doubles as a concealed storage unit perfect for stowing away toys. What's more, the stairs that lead up to the loft are additional concealed units! These simple yet effective solutions are great interior design ideas for a small house.
#7: Pull-Out Furniture is a Great Space-Saver in Compact Homes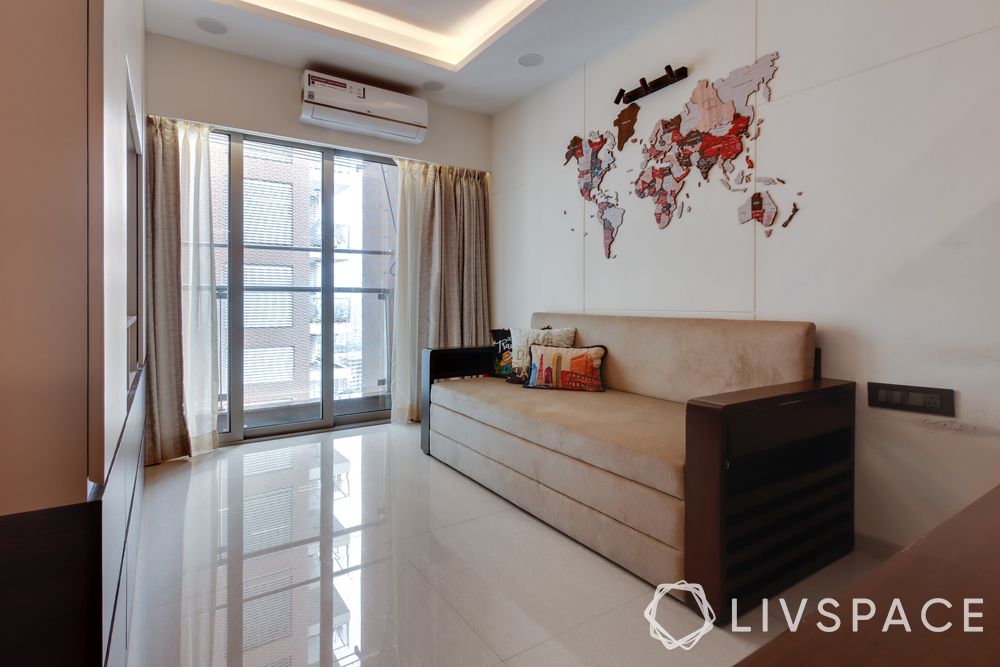 A full bed might not be the best idea for a smaller room with limited floor space. Especially if this is a multipurpose room that requires flexible furniture based on the occasion. With such constraints, pull-out furniture is a great investment that's sure to suit every need.
Since the Shahs' study room also doubles as a guest bedroom, they needed versatile furniture that adapted to their needs. A pull-out bed was selected to make the best use of this space as and when needed. This not only opens up the rest of the floor for movement but is also a cost-effective way to create a makeshift guest bedroom.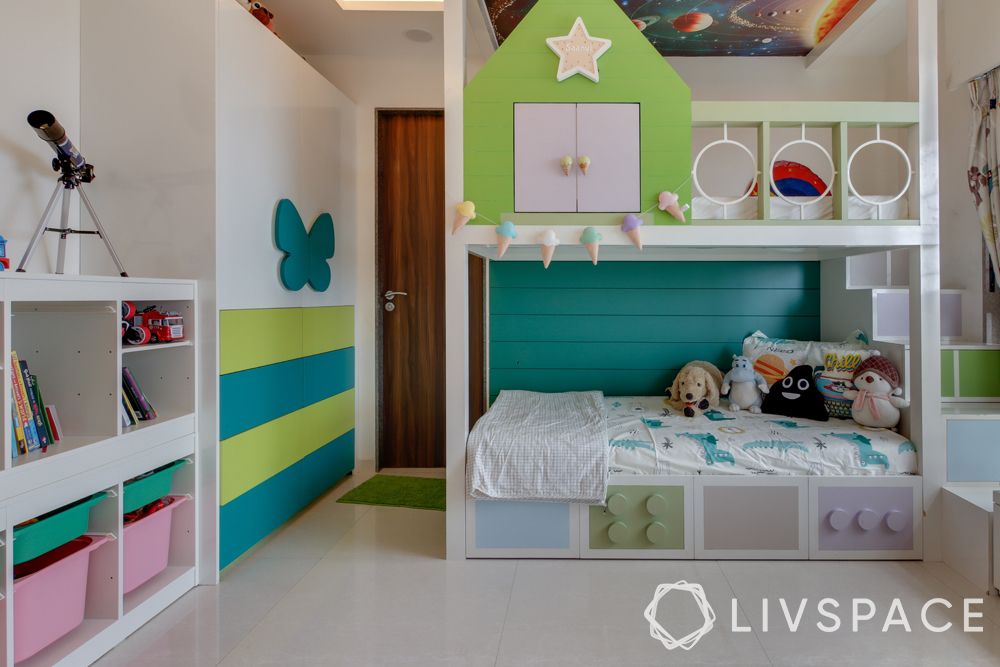 Our little list of small house design ideas wouldn't be complete without featuring a trundle bed. Similar to a pull-out bed, the trundle bed is another brilliant space-saving unit meant for compact homes. Whether you have guests or just like the extra bed space, a trundle bed is sure to accommodate all your needs.
If you're low on space and need the extra room, you can always go in for a trundle bed like the Shahs' did. Whether it's a pull-out or a trundle bed, it's sure to benefit your compact home.
Also read: 5 Simple Things to Keep in Mind While Designing a Small House
How Can Livspace Help You?
We hope you found our ideas useful! If you want beautiful interiors for your home, then look no further. Book an online consultation with Livspace today. Delivering safe home interiors has been our No. 1 priority. Click here to find out how interiors are being delivered following all safety protocols.