On the hunt for a new TV unit to house all your entertainment needs? Here are 7 crucial questions to help you make the right purchase.
Today, a TV unit is an essential piece of furniture in any home. Available in various styles ranging from elegant and classic to minimal, TV units today serve a bigger purpose than just housing your TV. It can also be used to store/display other items like books, CDs, game consoles and decor articles. The sheer variety of TV stands available commercially can prove confusing for the first-time buyer. You should first think about why you need a TV unit. Is it to help hide those unsightly wires and ensure everything has a designated space? Or is it too add some storage and display to your room? These questions will help you make the right decision.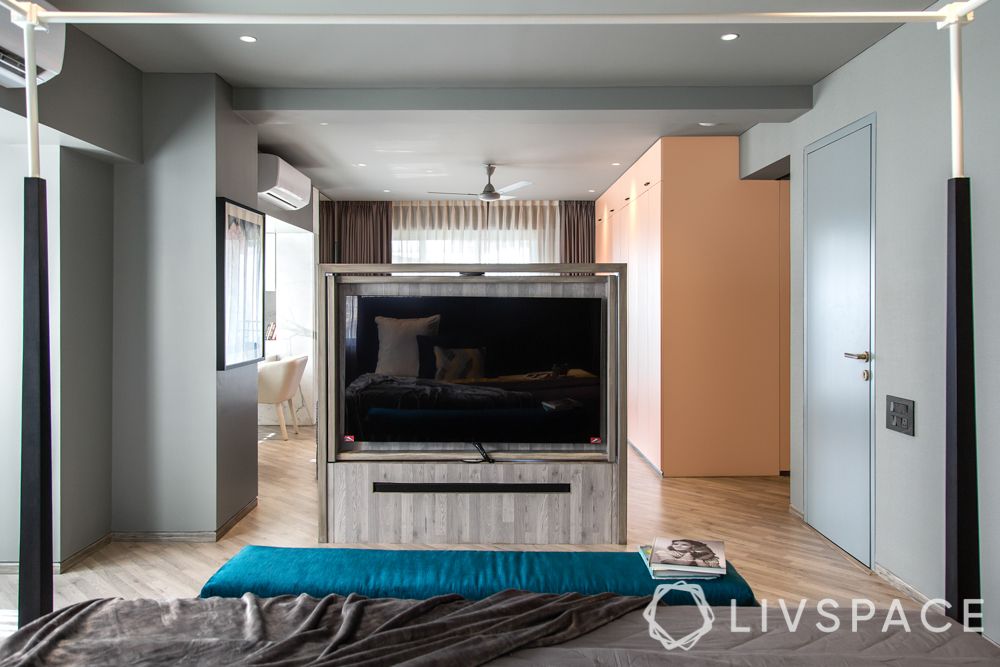 1. What type of TV do you have?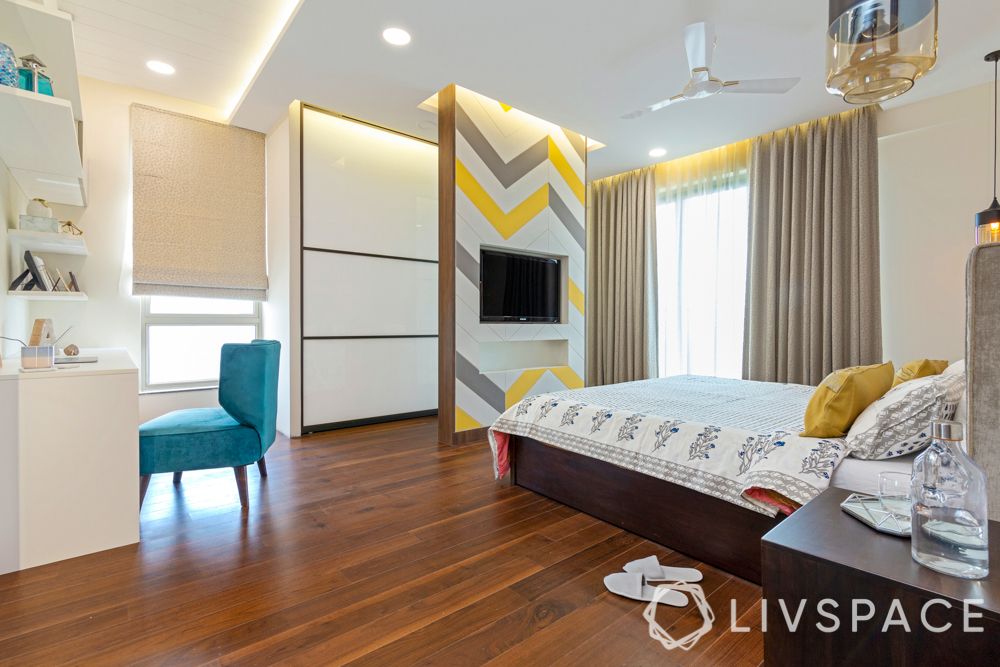 The type of TV you have will determine the size and measurements of your TV unit. If you have a flat screen TV, the depth measurement won't matter much. However, if you have a traditional CRT TV with a large back panel, make sure to measure the depth of both the TV and the stand, so there's no overhang. For large TV units, which have shelves stacked on all sides with space for the TV in between, you will also need to measure the screen dimensions for a proper fit.
2. How big is your room?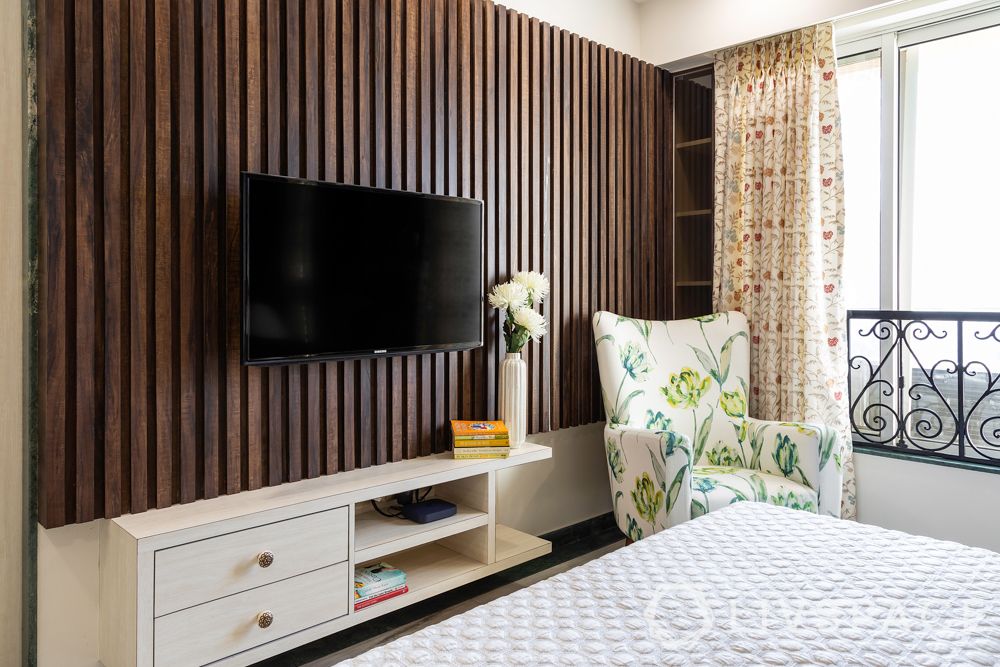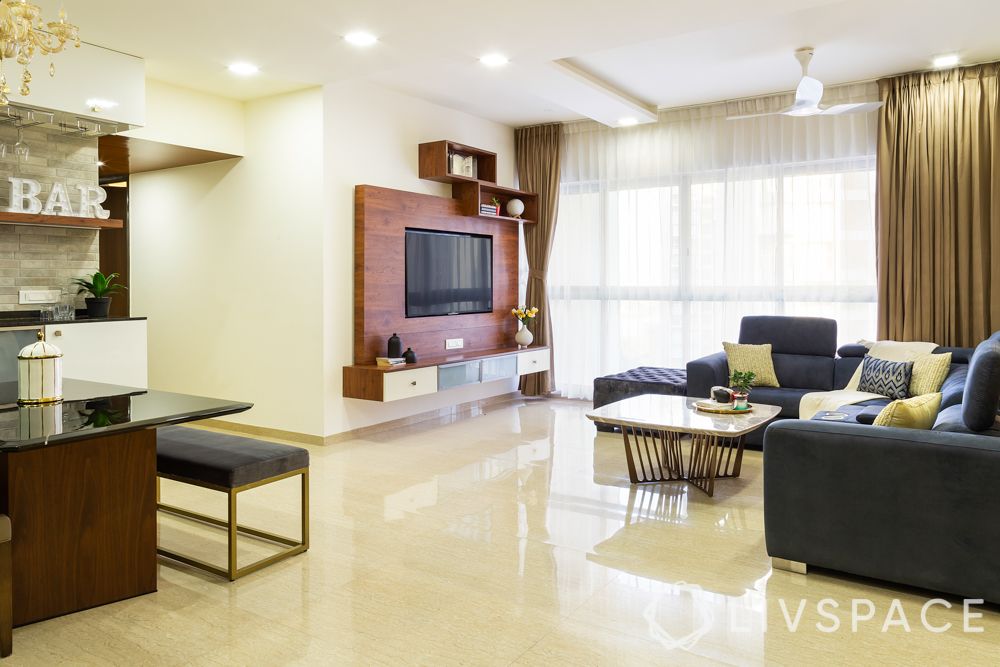 The size of your TV unit should ideally complement the size of your room . Pick striking, imposing pieces for larger rooms and more minimalistic designs for smaller rooms. However, if your TV unit is meant to fit against a particular wall or niche, be sure to take accurate measurements before you make a purchase.
3. How high is your seating?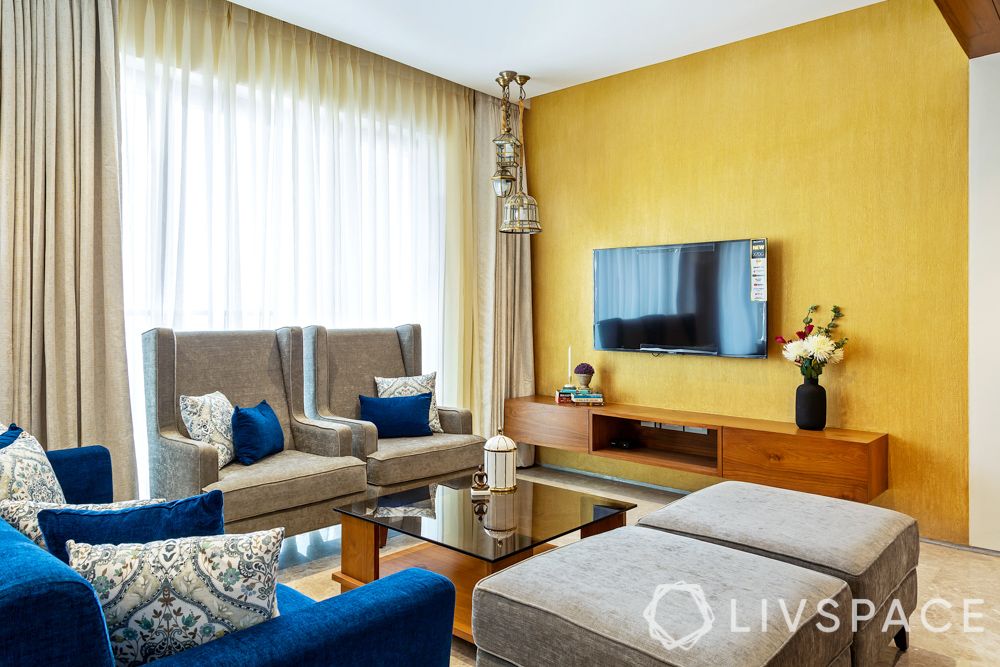 For comfortable viewing, your TV should be positioned such that the lower half of the screen is in level with your sight line when you are seated. So if you have tall chairs, consider getting a tall TV stand; if you prefer a low couch, then a short TV unit would be a better choice.
4. What's your design style?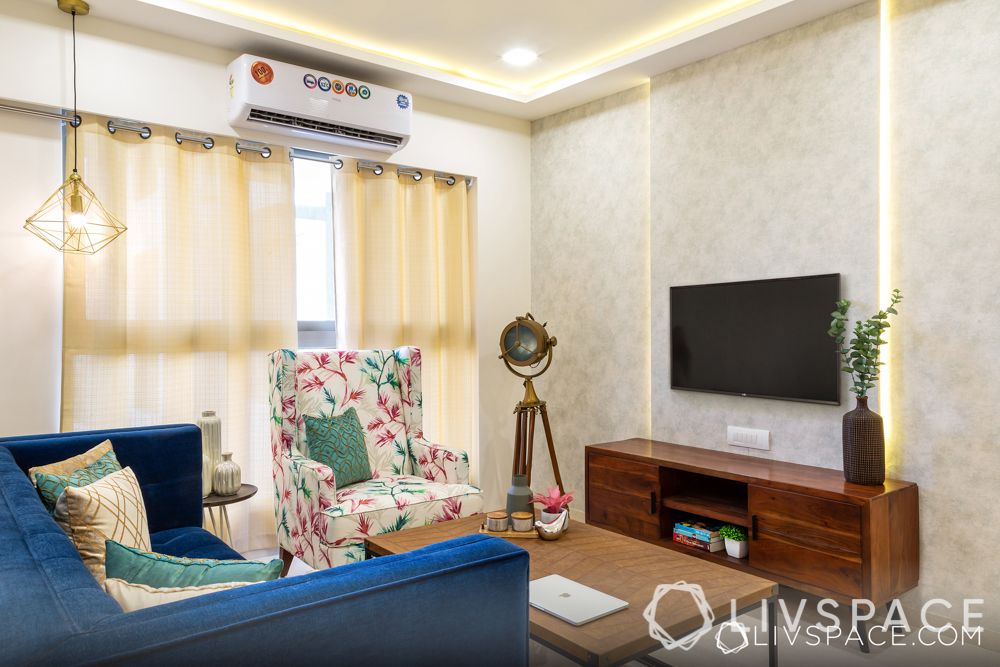 Since your TV unit is likely to be the focal piece in your living or family room, pick one that complements your interiors. If you wish to opt for something minimal, then go with wall-mounted units or metal and glass TV stands. If you prefer a more classic style, there are TV units with marble tops, routed shutters, decorative veneer fronts, turned legs, ornate handles and other embellishments that work as elegant centrepieces.
5. What kind of material should you pick?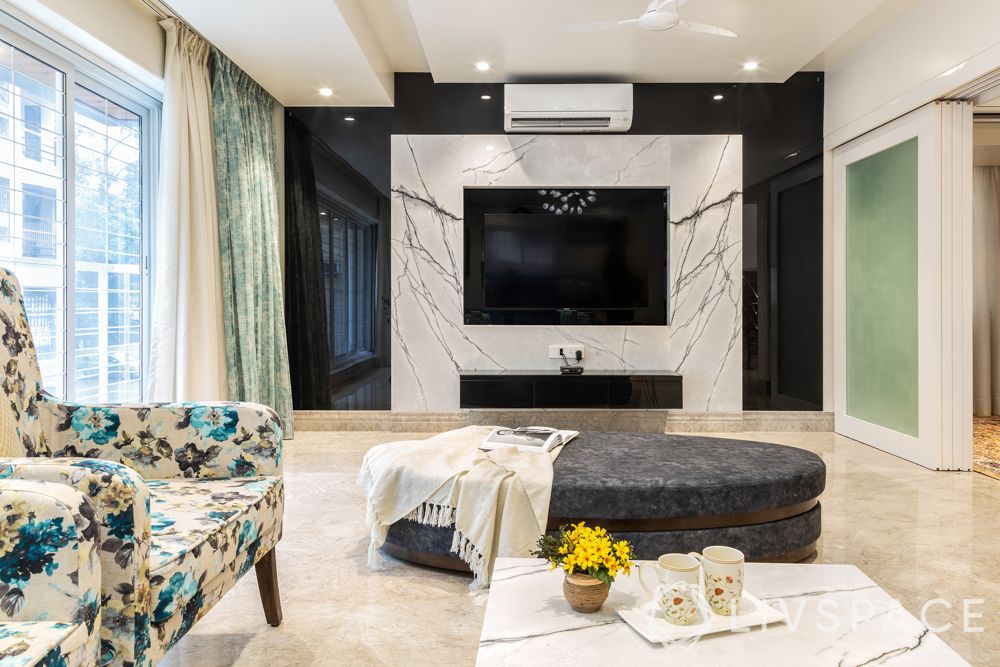 TV units are meant to be sturdy and durable to withstand the weight of your TV. Refrain from compromising on the quality and choose materials like hardwood or engineered wood that are eco-friendly as well. A majority of traditional units are made of wood, and are popular for its class and durability. If you want ornate options, marble is also an excellent choice!
6. What are your storage needs?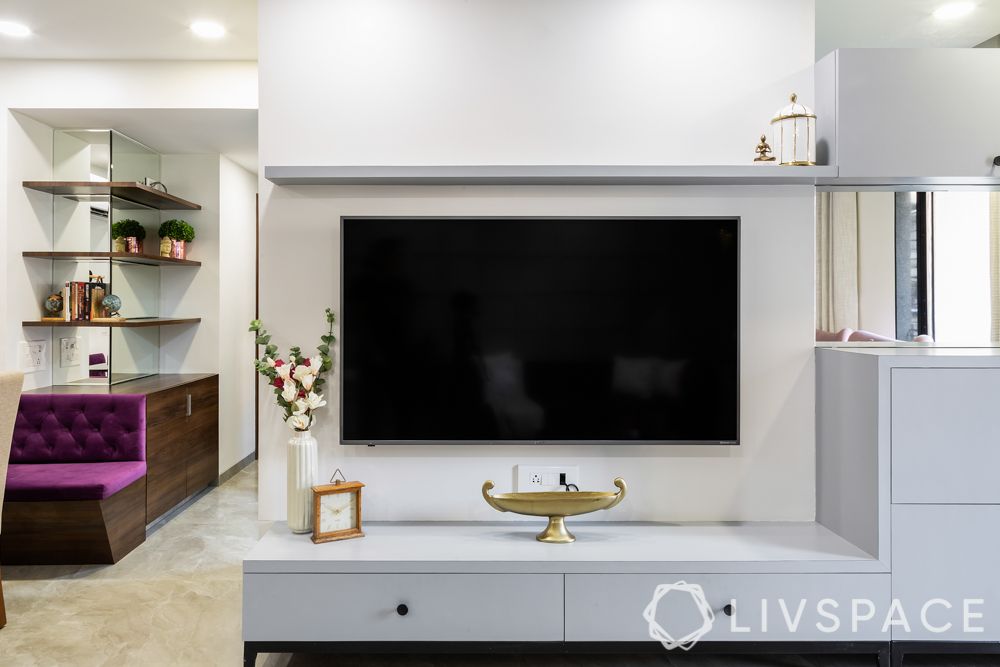 What kind of storage do you prefer – open shelving, drawers or closed cabinets? Open shelves are great for storing frequently used items like DVDs and magazines. Opt for closed compartments and drawers if you prefer to hide the clutter or if you have young children. Additionally, modern TV units come with cut outs at the back for wires, to help you keep things tidy.
The most important decision about the TV unit will be the design that works for you and your home. These are some of the different types of TV units, listed in order of size and storage capacity.
7. Need something customised?
Sometimes, you may not find the right wall space or corner for your TV unit. Chances are also that you won't find something you absolutely love or that fits all your requirements. In those cases, we recommend you customise it according to your needs and tastes. Speak to a Livspace designer for ideas!
Corner units
Cleverly designed to fit into corners, this type of TV stand suits smaller homes or studio apartments. Also, corner units can incorporate only a limited amount of storage space.
Floating or wall-mounted TV units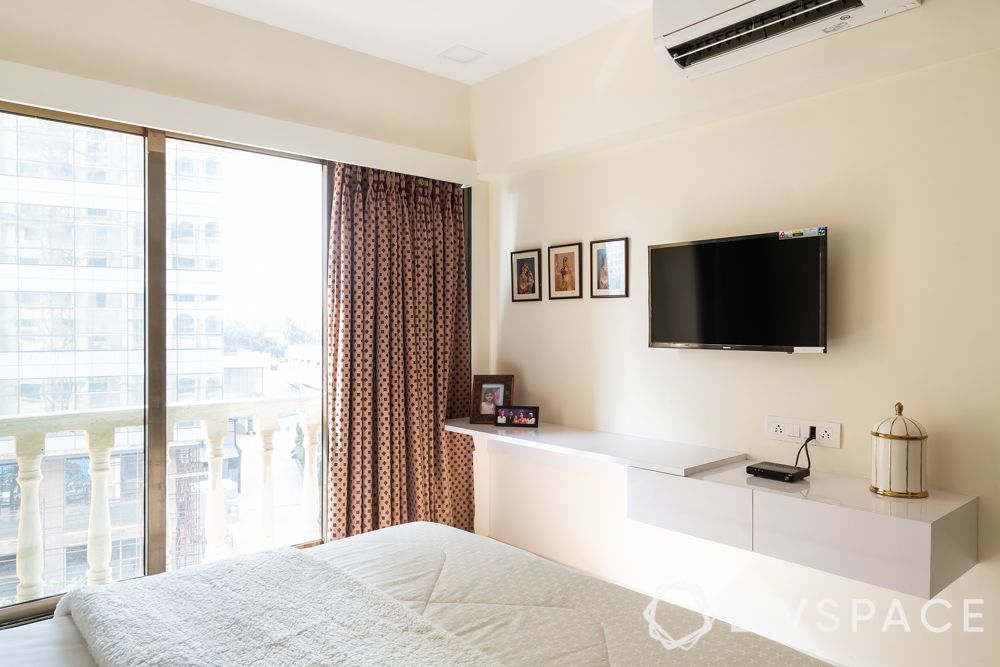 Another option for living rooms with limited space, wall-mounted TV units are a great fit for sleek, minimal interiors. Increasingly popular today in many homes, these are usually designed with open shelves or drawers for storage.
Consoles
Also known as credenzas, consoles are compact, elegant with just enough space for basics. Available in a number of styles, consoles are equipped with drawers and shelves with the back and sides neatly finished.
Hutch
A hutch has an open case above a base cabinet, usually flanked by shelves on the top and the sides. The TV can be mounted to the back of the hutch. The the shelves can house books, additional cords, remotes and DVD player.
Entertainment Centre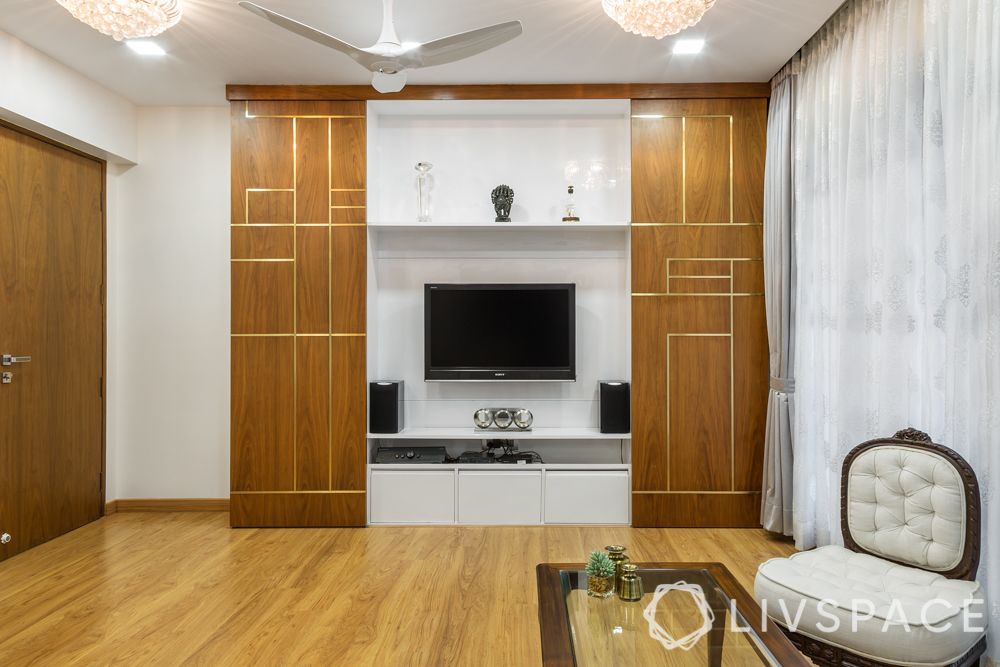 Large storage pieces can be custom designed for your home. The entertainment centre will have a combination of open shelves, drawers and closed compartments to store your essentials.
By making a conscious decision, you can get a TV unit that is perfect for your needs, while being practical and stylish. A little bit of planning and experimentation with design will open up a world of possibilities and creativity.
Check out TV unit designs:
Here are 35+ Modern TV Unit Designs you'll want to check out for your home. If you have any queries or comments, write to editor@livspace.com