A movie buff or not, everyone loves to lounge at home and watch their favourite shows. So, to make this experience theatre-like since a lot of us are opting for a home theatre design. If you can enjoy a movie marathon at home — with the same ambience — why would you need to go out? Here are some home theatre designs to inspire you to get started on setting up the perfect media room.
Home Theatre Design Tip #1: The Ideal Space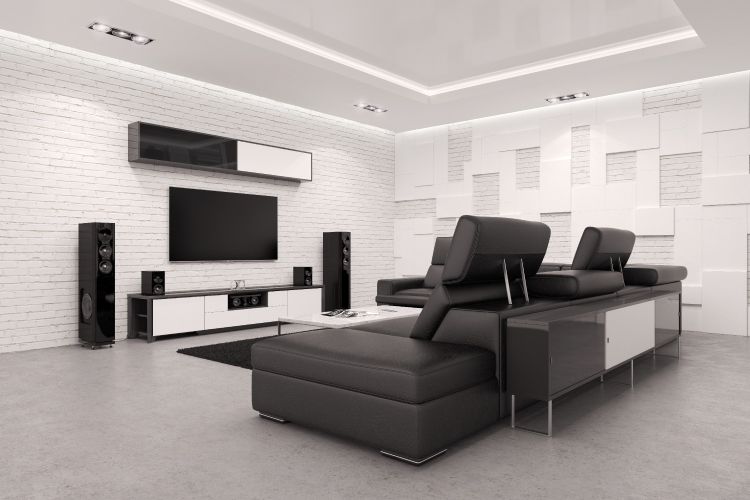 The first move in this effort is to find a proper room with minimal disturbance. So that strikes out the living room. A spare bedroom or a room that is isolated from other common/noisy rooms are your best options. In addition, a rectangular room with less or no windows can work well. You can use the short wall in a rectangular room to set up the screen or television.
Home Theatre Design Tip #2: A Neat Setting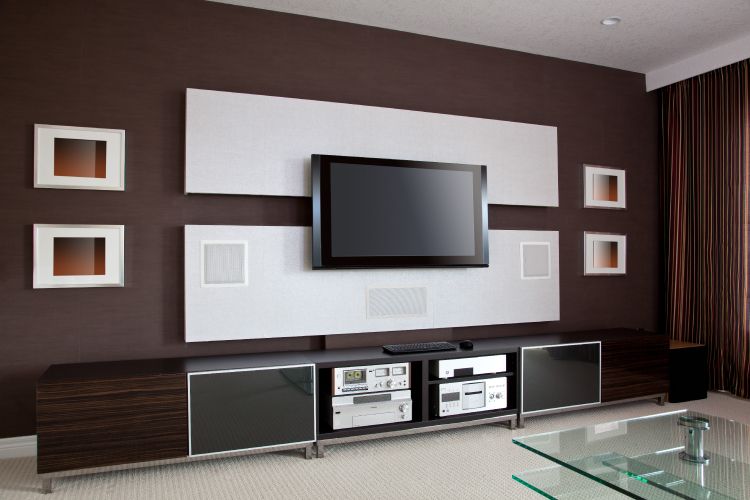 Now that you know the perfect spot for your entertainment, decide on what home theatre system and equipment you want in the room. Accordingly, plan out the electrical configurations and storage needs so that it doesn't seem out of place. Visual equipment usually takes the centre stage so that everyone gets to enjoy the show. A symmetric arrangement of speakers around the room can bring out the best audio experience.
Home Theatre Design Tip #3: Bare Walls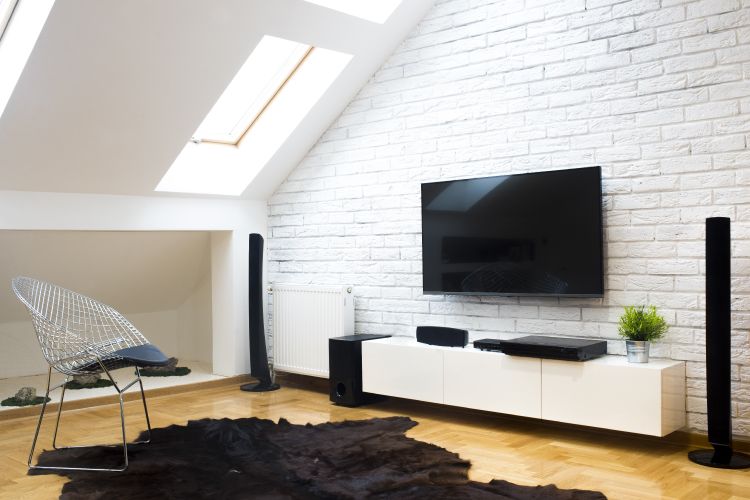 A bare wall is best suited for a peaceful movie experience. However, if you can't resist the urge to enhance the aesthetics, you can also opt for a simple exposed brick wall. Maintain a neutral colour scheme throughout the room for a distraction-free affair.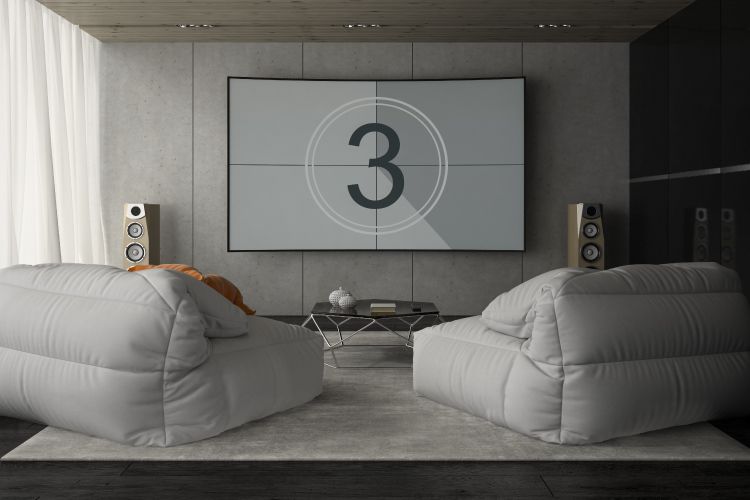 If you want to create a theatre-like ambience, remember that dark rooms provide the best experience. This is because there is no reflection of light and your eyes stay focused on the screen. So go for dark or neutral hues for the walls and avoid bright blues and reds as it can interfere with the light you see on TV. A drywall does good work in shutting out noise from the other rooms so you won't have to invest much on sound-proofing the room.
Home Theatre Design Tip #4: Comfy Furniture & Furnishings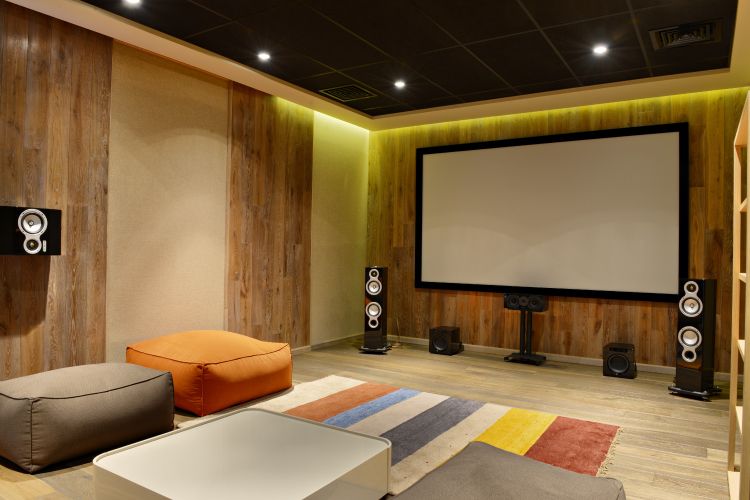 Choose furniture that you are most comfortable in as you might stay glued to your seat for a long time. For a bachelor's abode La-Z-Boy recliners will work well. but for a family home, you can go for sectional sofas. Add some wall-to-wall carpets so that kids can sit down comfortably.
Plush cushions and drink holders can be handy for a comfortable time. Also if you want some storage units, use matte finish to avoid a glare.
Home Theatre Design Tip #5: Mood Lighting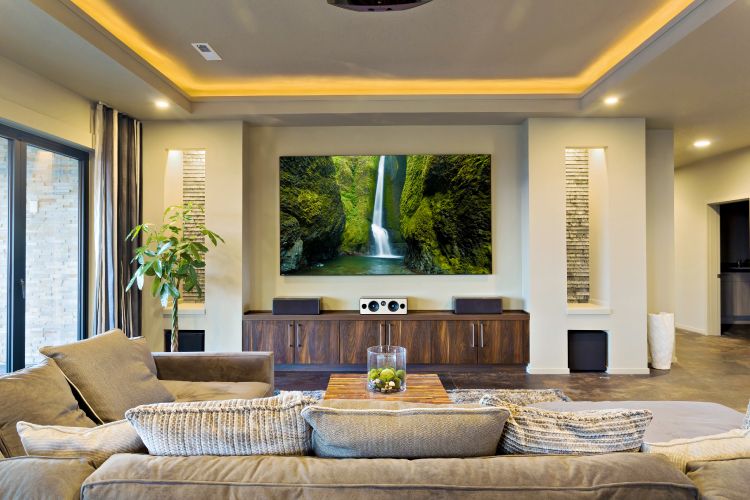 Only minimal lighting options are suitable for the media room. Choose some mood lighting with a control on intensity for the best effect. Wall sconces with a dimming function work well or if you want more light then add track lights or ceiling lights. If there is a lot of light emitted through the windows then opt for heavy drapes to make it cosy and dark.
Home Theatre Design Tip #6: Dreamy Decor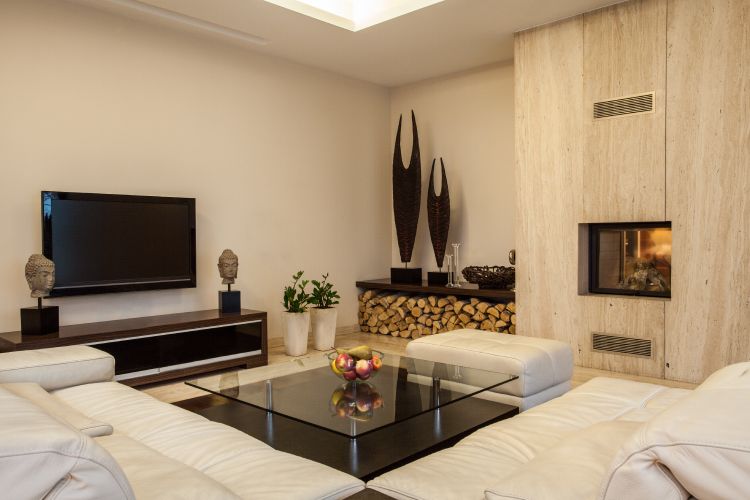 Minimalism is the key to a good home theatre design. Don't try to overdo the decor as it might disrupt the focus or reflect light on the screen. If you have to decorate the room, then go for simple paintings without a frame and avoid anything that is glossy. Keep everything inside a closed storage unit for minimal interruption. Conceal wires behind a TV panel or plastic tubes to give it a clean look.
Enjoy time with your friends and family with a stunning entertainment room. Let us know how this worked out for you! For TV units that double up well as display cabinets, go here!
— editor@livspace.com