Everyone knows that wardrobes are an integral part of any bedroom. But even in a bedroom cupboard, there are many different elements. A typical closet is made of its carcass or body, shutters, finish, handles and accessories. Apart from these, the mechanism for opening the doors of the wardrobe or its shape also play a role in it's design.
Each of the wardrobes in our curated list from #LivspaceHomes stands out for one element or the other. So if you are looking for inspiration, you have come to the right destination. Here we go!
#1: Long integrated wardrobe for large bedrooms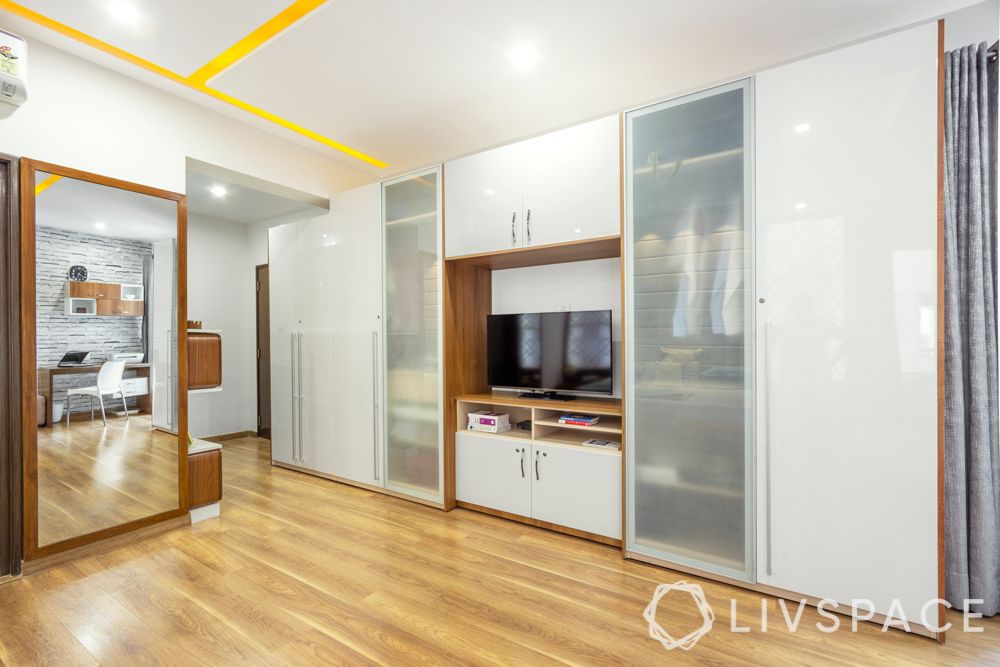 What we love?
Notice how this wardrobe integrated with a TV unit covers the entire length of the room? And the sheer length of the wardrobe will make you stop and take notice! Despite being so long, the wardrobe is not boring to look at because of alternate frosted glass doors.
#2: We have small wardrobes for compact rooms too!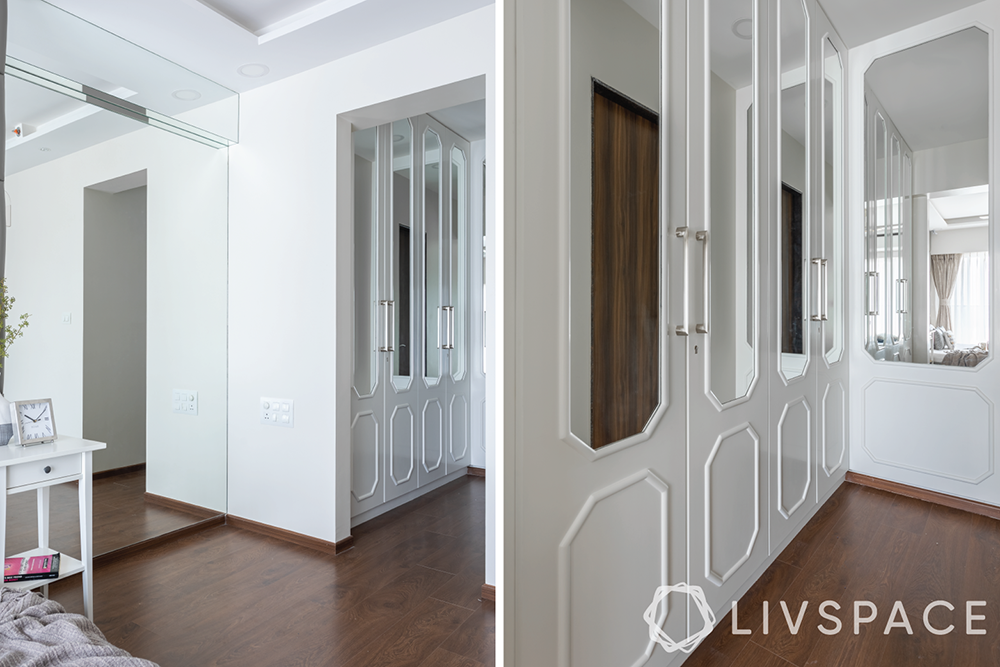 What we love?
Not all our designs are for big bedrooms. Some of our L-shaped wardrobes fit into snug little corners too! This particular one is made special with vintage victorian grooves and mirrors. It's just stunning in white!
#3: Simply seamless
What we love?
Wall-to-wall wardrobes don't get better than this! The reflective surface of back painted glass ensures that the seamless finish of this sliding bedroom cupboard is not interrupted.
Check out the rest of this swanky bachelor pad here.
#4: Comfy & colour blocked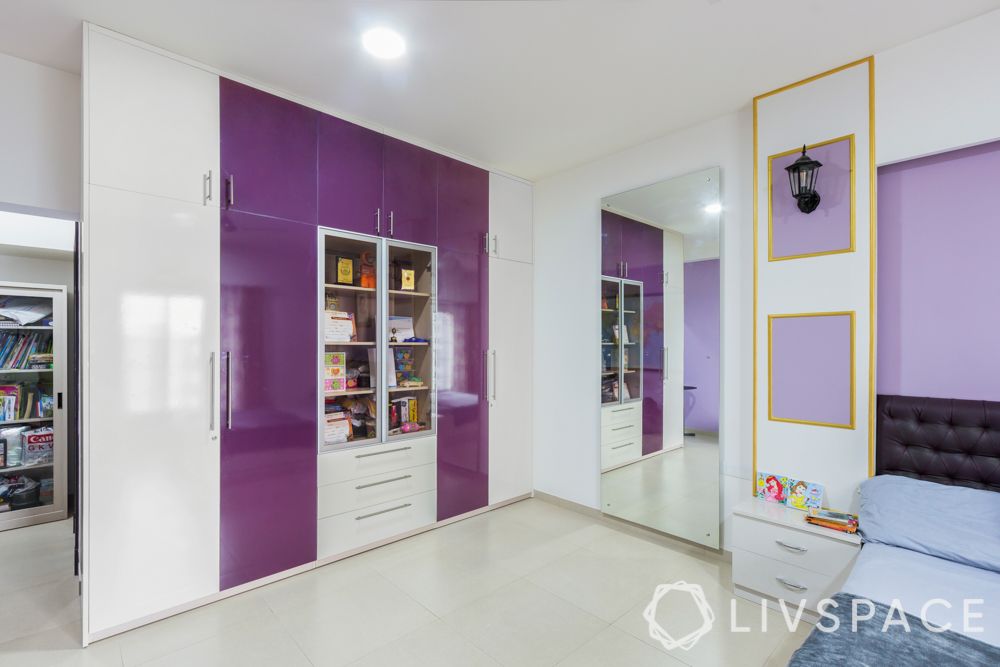 What we love?
There are many ways to add colour to a space. Brightly coloured finishes for wardrobes are one. We love how the dash of purple frames the display shelf embedded within this wardrobe while addressing all the storage needs.
#5: His & Hers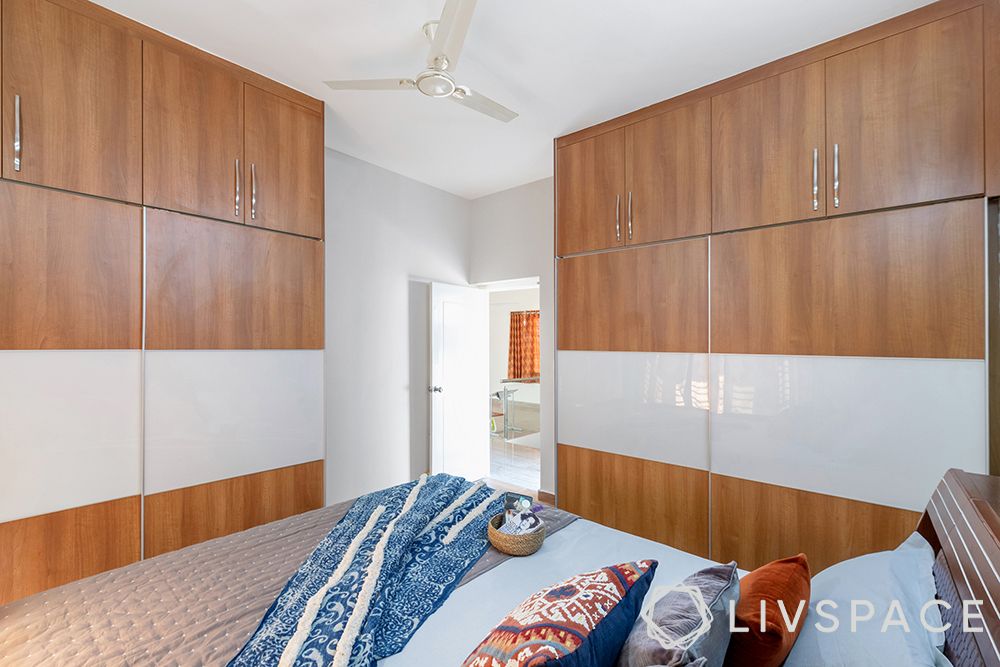 What we love?
According to our survey, more than 50% of couples fight over wardrobe space! We recommend segregating wardrobe space for 'him' and 'her' to tackle this problem. In fact, in this home, we have two separate wardrobes for the couple. As they are both sliding, the space optimisation is also optimum.
Here how you can design a wardrobe for him and her.
#6: Compact & Colourful Wardrobe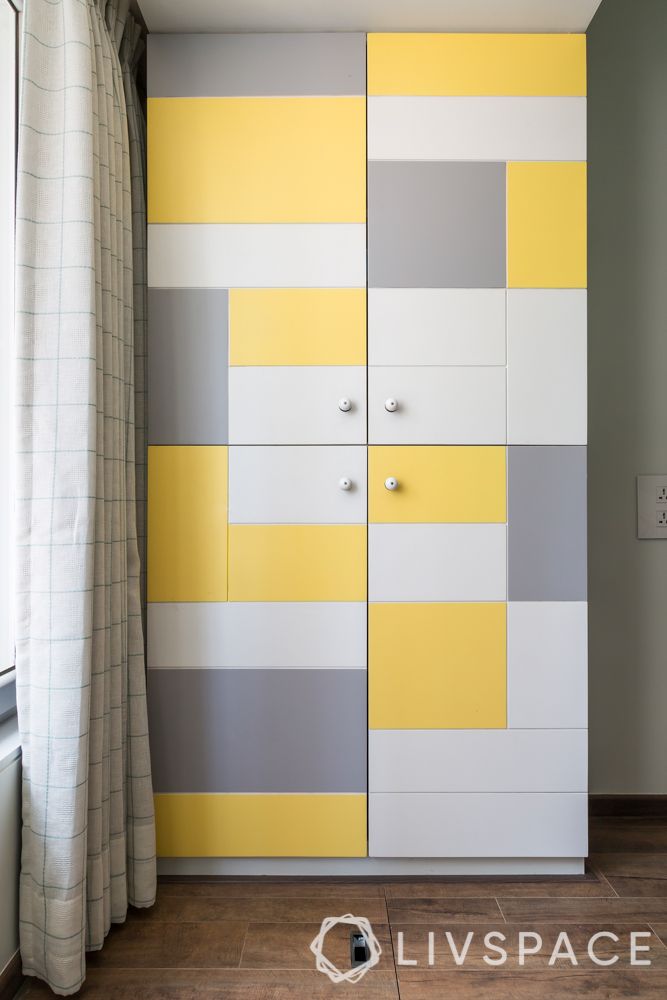 What we love?
If you look closely you can see that this wardrobe actually has four doors with all four handles at the centre. Not only is it perfectly symmetrical but the pops of colour help brighten up the space as well!
To take a tour of the rest of this artsy home that belongs to a commercial artist, click here.
#7: Sliding away to glory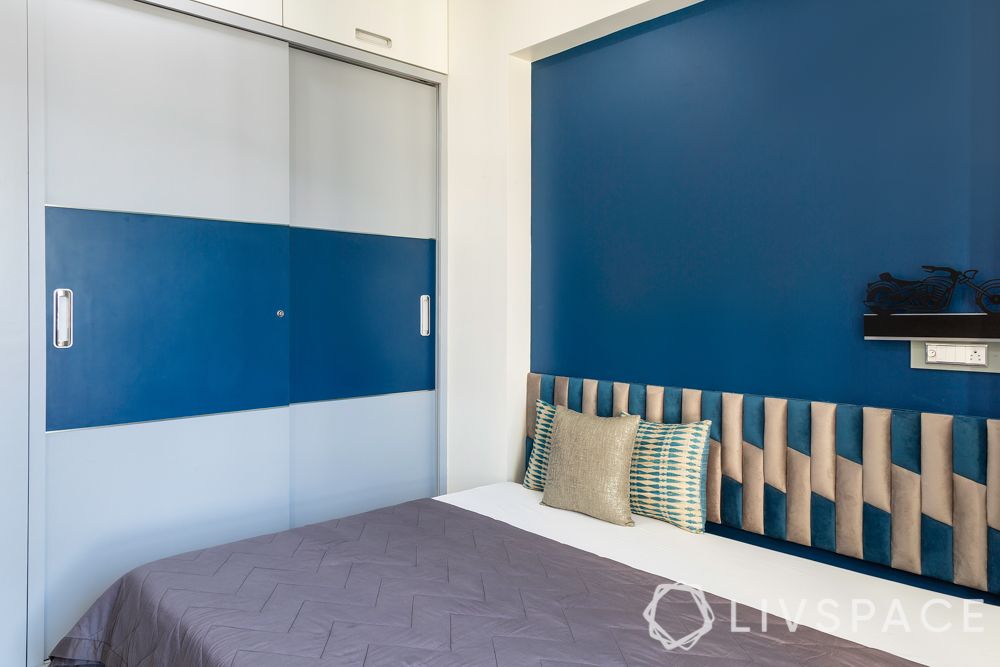 What we love?
This bedroom cupboard provides the perfect example to illustrate the real purpose of sliding wardrobes. If you notice, the bedroom is a very compact one. And a hinged wardrobe would not do the job here since there is no space to swing open the doors. Hence, in comes a sliding cupboard to do the job!
#8: U-shaped Semi Walk-in Closet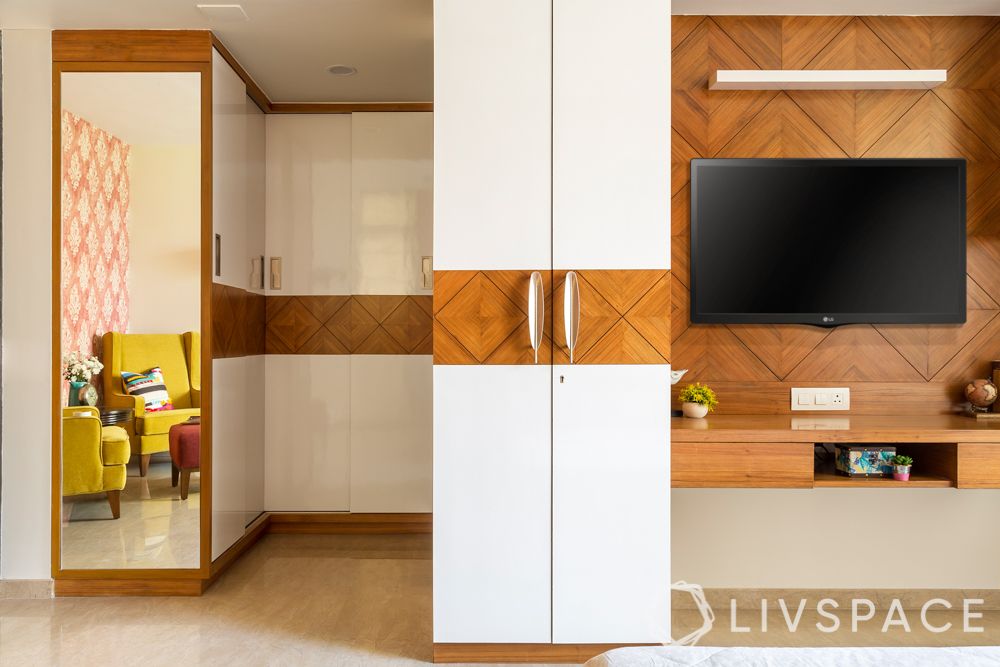 What we love?
As unique as it sounds, it's design is unique too! The bedroom cupboard in this Mumbai home covers the entire length of niche to perfection. Space optimisation does not get better than this. Also, don't miss the full-length mirror installed on the side of the wardrobe turning this into a dressing zone.
#9: The real meaning of full-length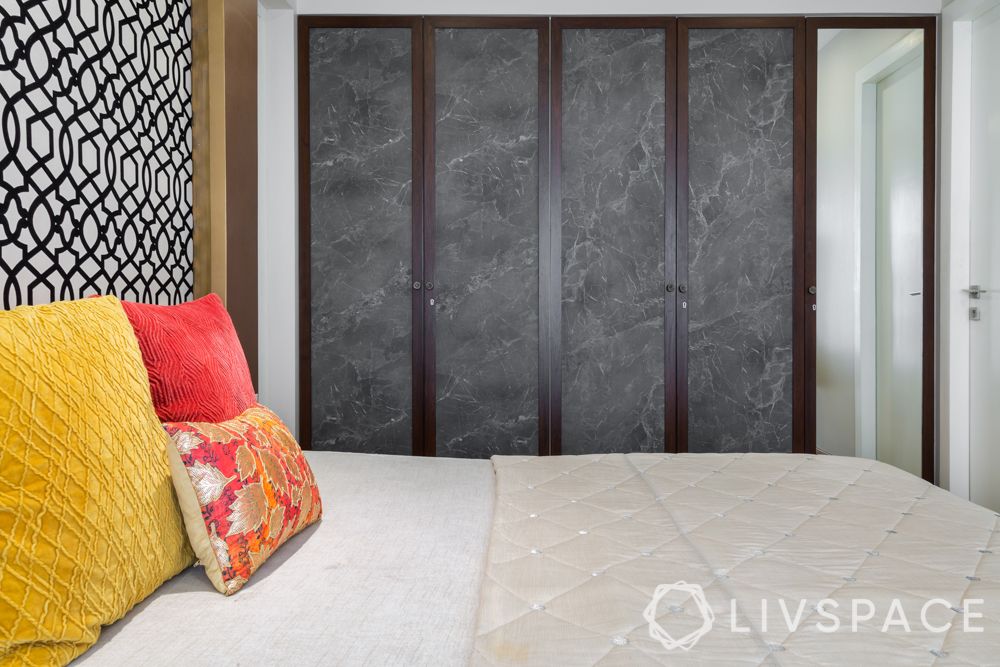 What we love?
Typically, we envision a full-length wardrobe as one that has lofts. But many Livspace homeowners and designers don't approve of lofts. For them, we have wardrobes that cover the entire height of the wall from floor to ceiling. Don't miss the stone like texture of the laminate here.
#10: All that's white is not plain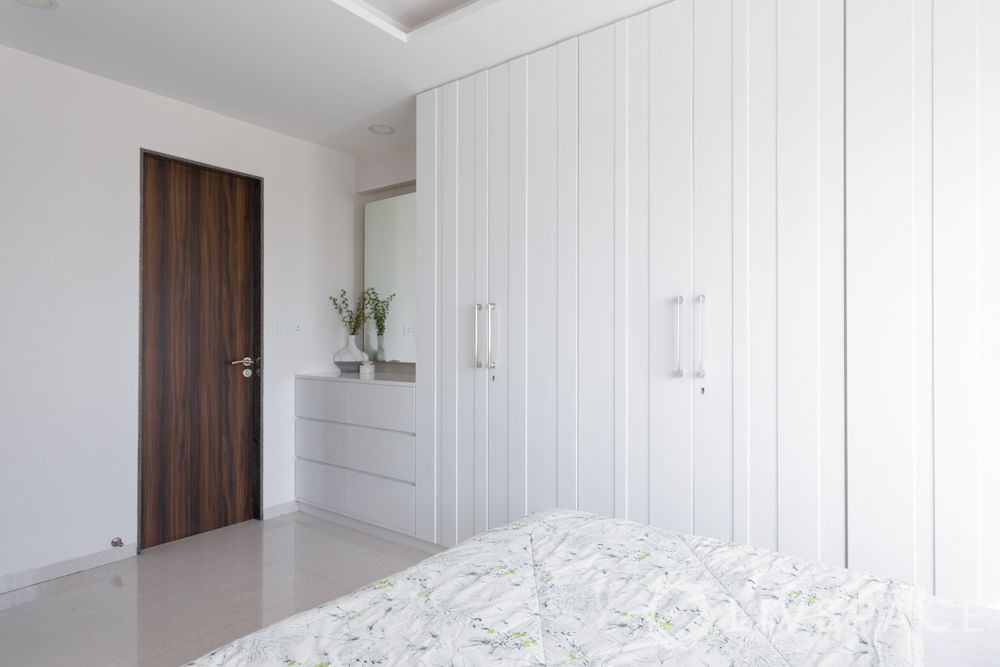 What we love?
Did you think all-white wardrobes are boring? You need to take a look at this one for sure with its textured PU finish that adds plenty of character to the space. We also love how it culminated in a dresser with a stack of drawers.

#11: A lacy affair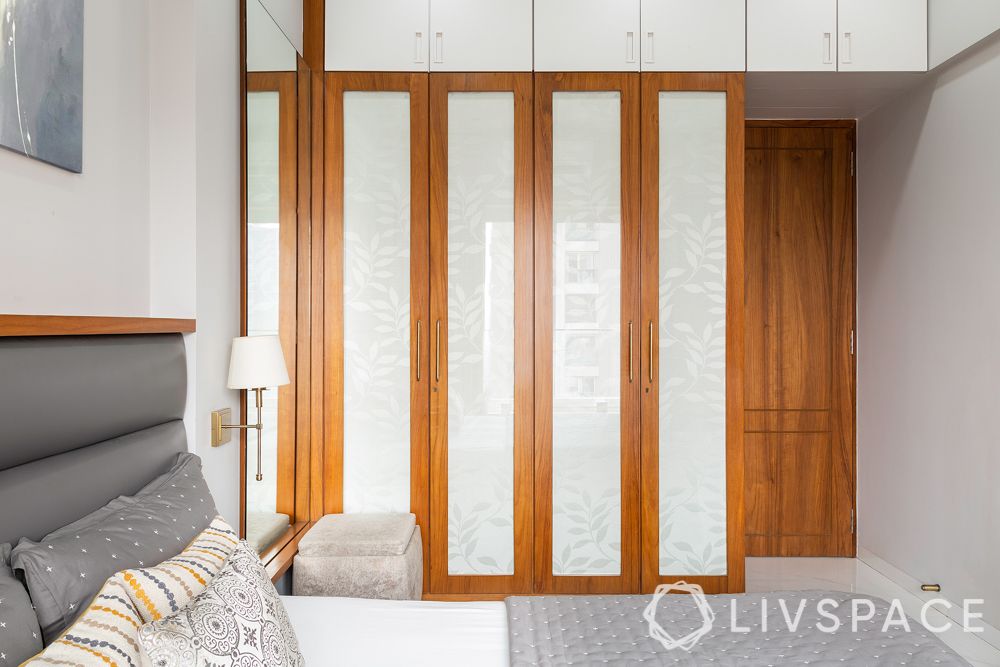 What we love?
This wardrobe stands out just for its amazing aesthetic. The doors of this bedroom cupboard are made of lace sandwiched between two panes of glass!
This Mumbai home has many such wow elements and you can check them all out here.
#12: Terrifically two-toned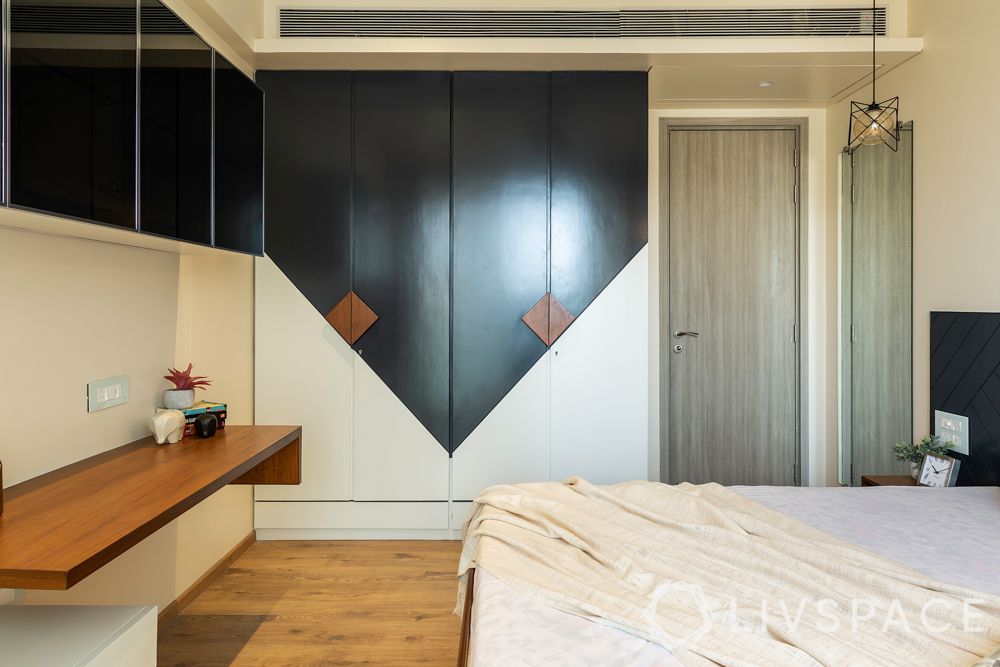 What we love?
The design of this wardrobe is the perfect example of two-toned designs. The deep black is a continuation from the wall cabinets while the white below provides the perfect balance. Also, don't miss the block wooden handles.
#13: When space is scarce…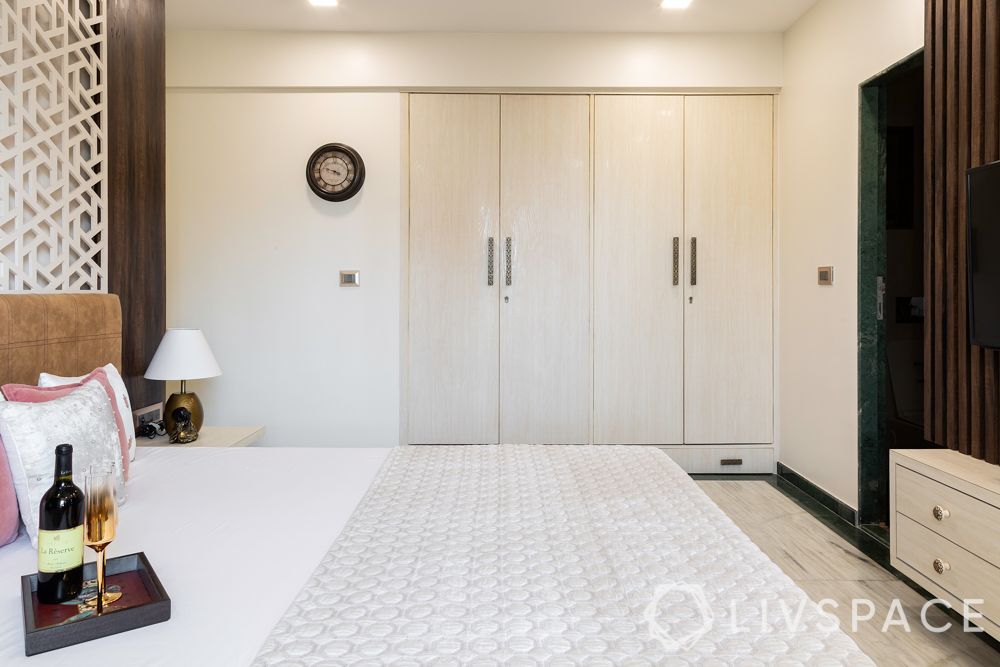 What we love?
When a bedroom is compact, every inch of space counts. So for the wardrobe, we must look for space behind the walls! Just like this one where the wardrobe has been cast into the space for a vent within the wall.
#14: Open and closed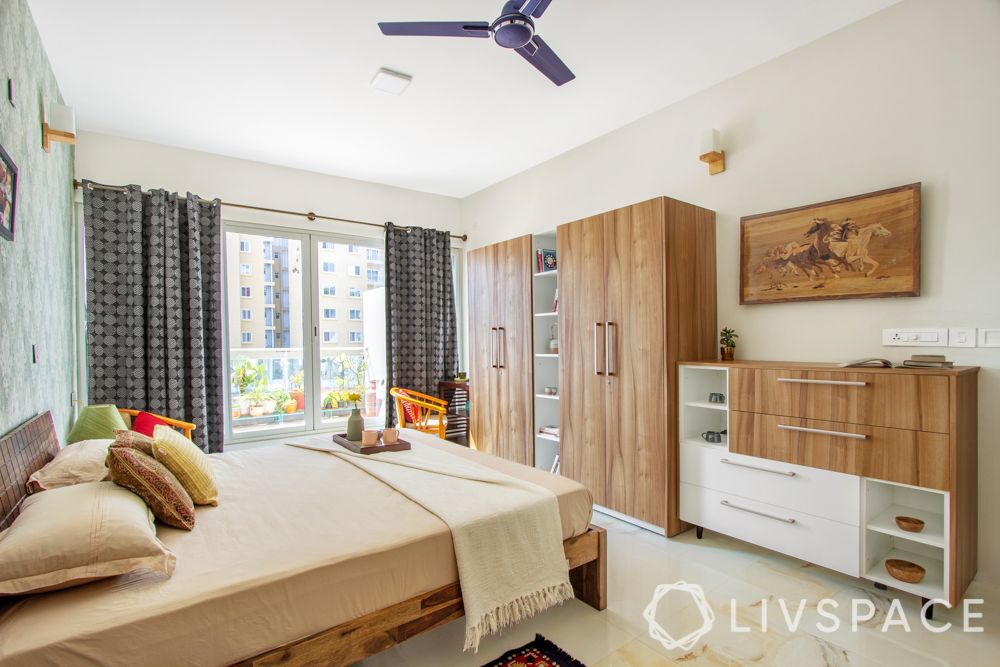 What we love?
We need different kinds of storage options for various kinds of needs. So it's always best to mix it up like this wardrobe that also has open shelves for display or to keep items like books.
#15: For the minimalist in you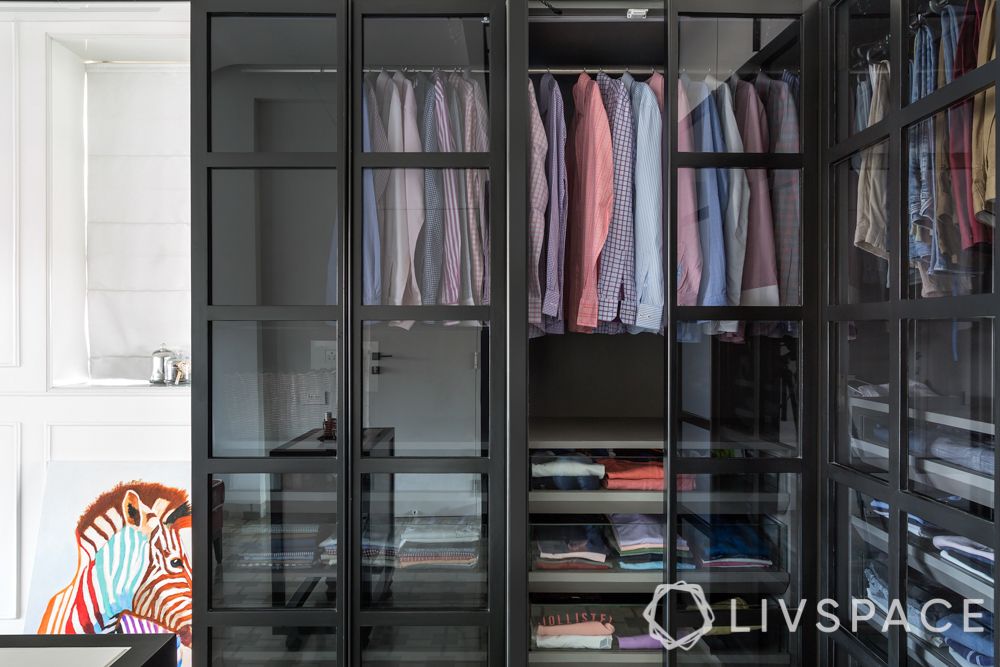 What we love?
Aren't we always complaining about how we can't find our clothes inside the wardrobe? Well Livspace is listening and our designers have created a wardrobe with glass shutters so that you can see your clothes even if the doors are shut! Now you need to do your bit and keep your clothes in order. Or else, the mess will show.
#16: The Indian take on walk-in closets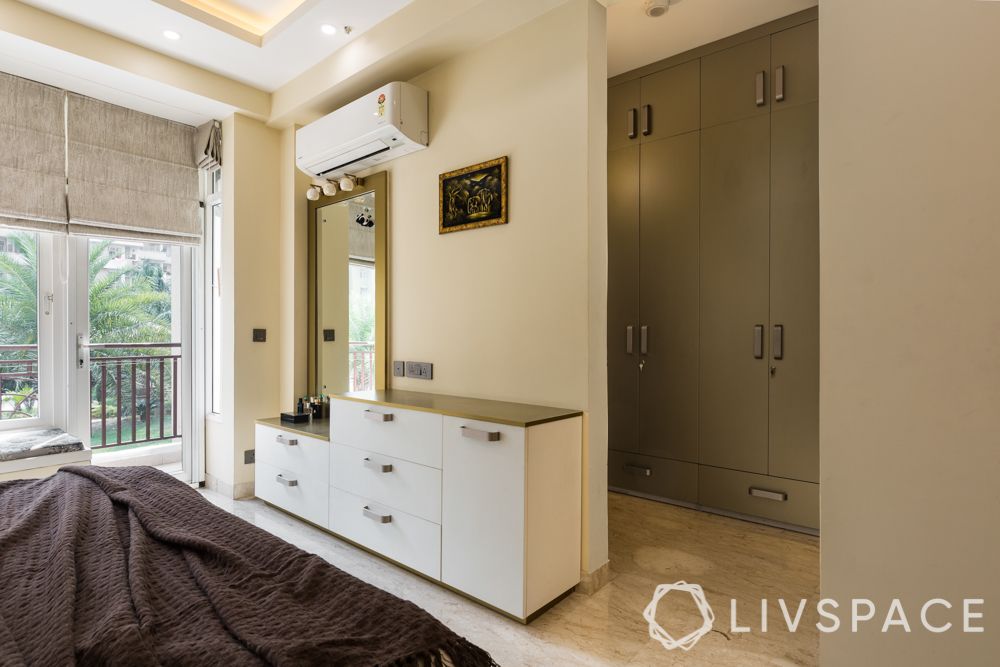 What we love?
Did you know that the original walk-in closets in the West do not have shutters? In the Indian context, when we value privacy over all else, walk-in wardrobes come with shutters and an array of accessories to serve the purpose of different types of storage. This bedroom cupboard tucked into a niche is a perfect example of Indian walk-in closets.
#17: Dial 'C' for continuity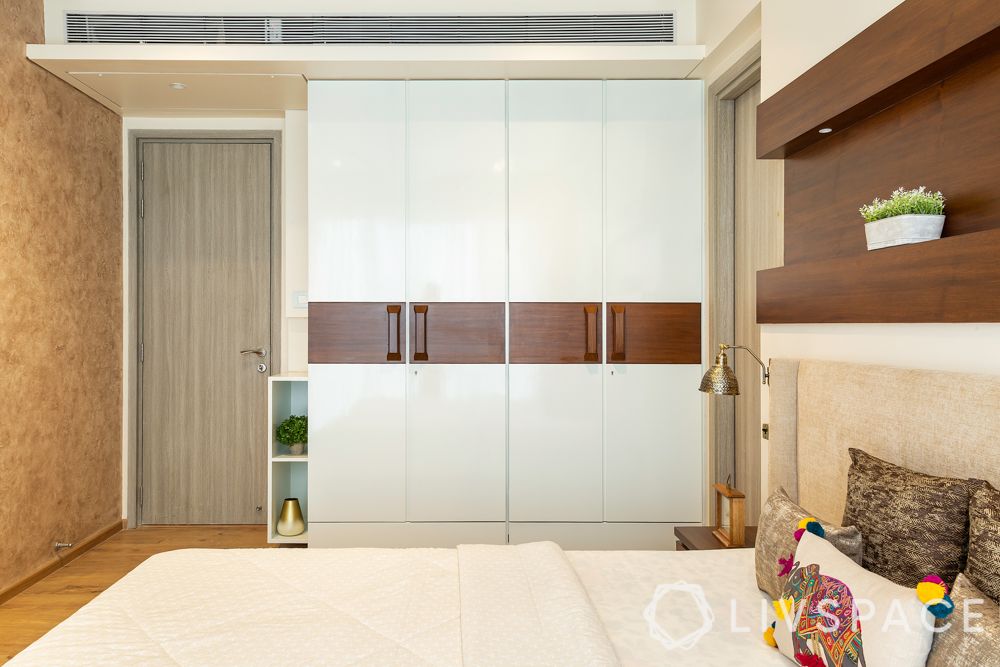 What we love?
The wooden detailing that we see on the wardrobe is actually a continuation from the shelf behind the beds. Apart from ensuring continuity, this element also adds a playful touch to the bedroom.
#18: Le Louvre style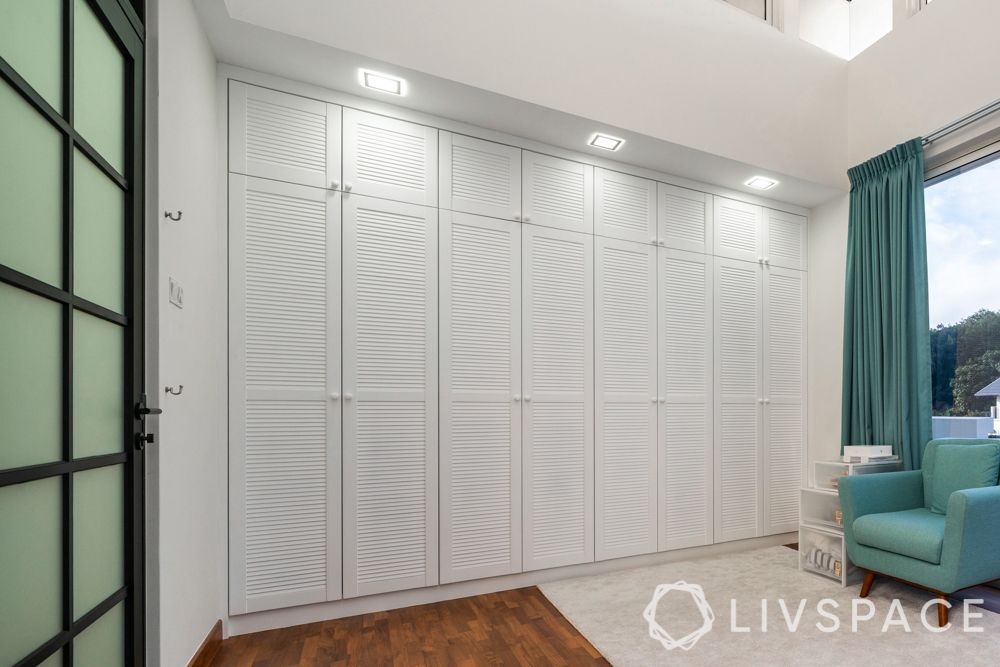 What we love?
A Louvre door essentially has slim slits to let in air. The idea is that there will be passage of air within your wardrobe and your clothes won't smell stale. But the design detail can also be used to make all white wardrobes look interesting.
#19: Lit from within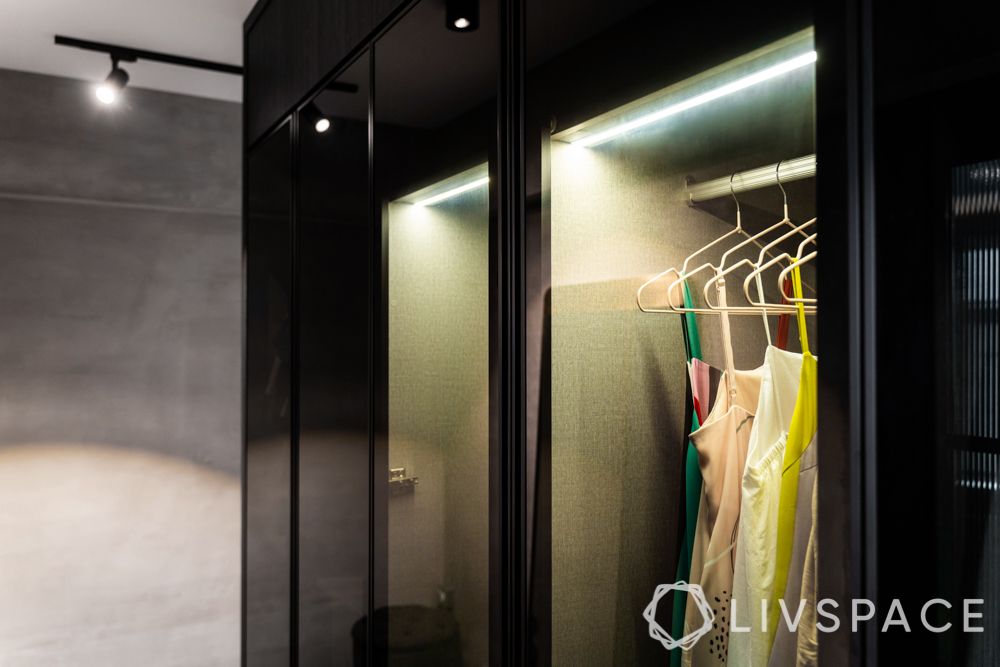 What we love?
LED lighting strips within the wardrobe ensure that you can see all your clothes and accessories clearly. You can also turn some of your better clothes into a display wall if you opt for glass shutters!
#20: Pretty pastel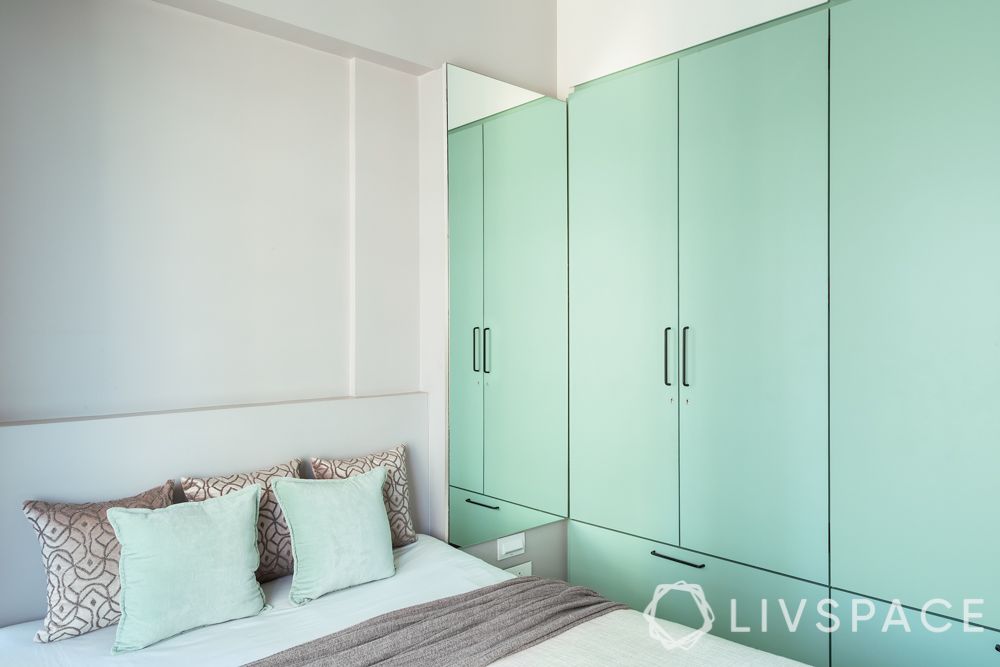 What we love?
Pastel are 'in' so cash in on fresh shades like this one to have a fashionable bedroom. Don't miss the drawers at the bottom of the wardrobe that can be used to store your delicates.
If you enjoyed this inspiration collection of bedroom cupboards designed by Livspace also explore the best bedrooms designed by us.
Check out wardrobe designs:
Send in your comments and suggestions.