It's not everyday that you come across a home in Hyderabad with all-white interiors. Imtiaz and Ramla were certain they wanted their new Hyderabad interiors home to have a minimal, clean and monochromatic design. Designed by Ar. Rajdip Das says, "White is a timeless and universal colour for home interiors." And we completely agree!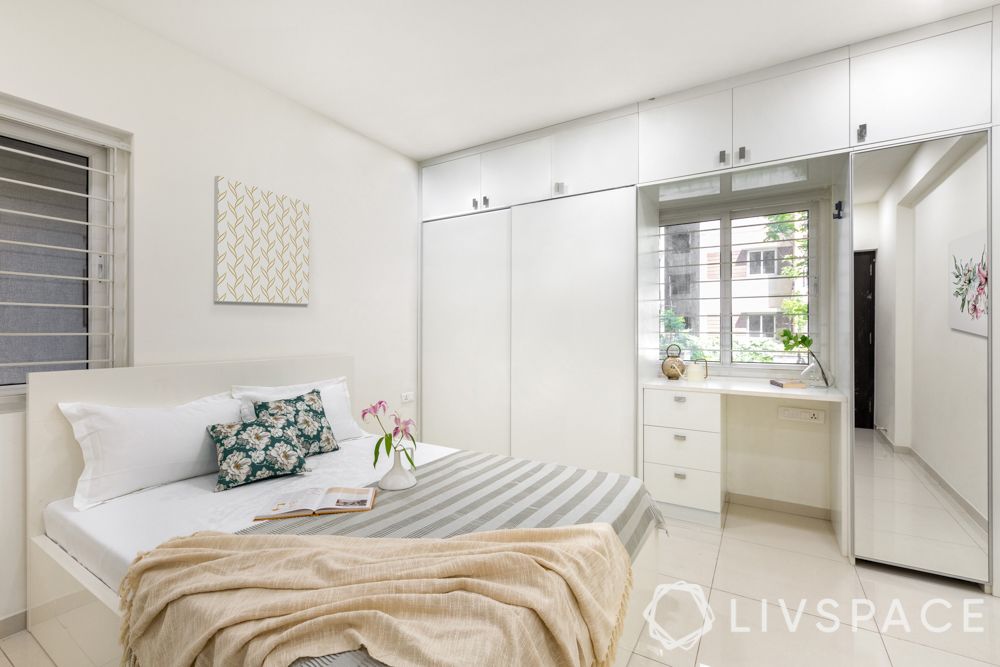 ---
Who livs here: Imtiaz with his wife Ramla and his parents
Location: Rajpushpa Atria, Hyderabad
Size of home: 3BHK spanning 2.100 sq ft
Design team: Interior designer Rajdip Das
Livspace service: Kitchen and wardrobes
Budget: ₹₹₹₹₹
---
While we are prone to picking out decor that is vibrant and colourful, it's unique to find homeowners who want to stick to this milky-hued colour. However, in reality sometimes designing a home with white interiors can result in a cold visual and bleached-out look. Therefore, Rajdip found the ideal way to incorporate white into the couple's home while giving it a pristine and classy look. Read on to find out how Rajdip, an architect by profession too, chalked out this look!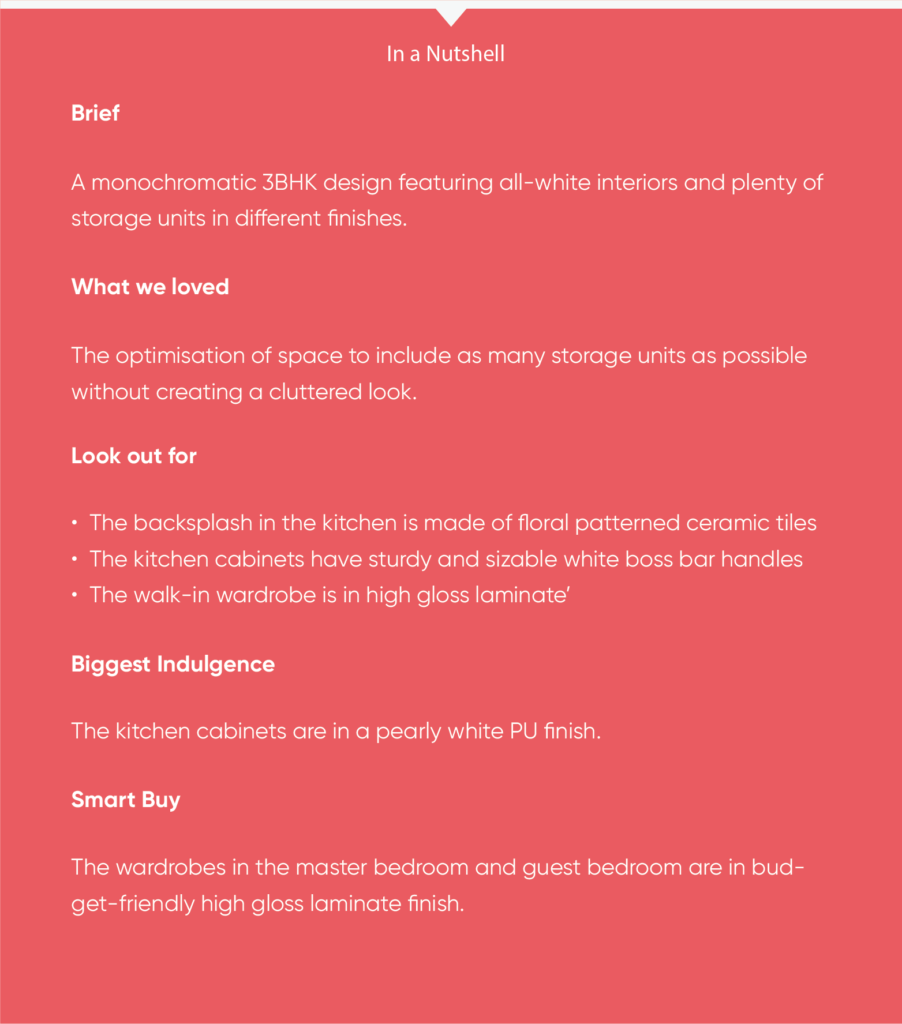 A dreamy kitchen design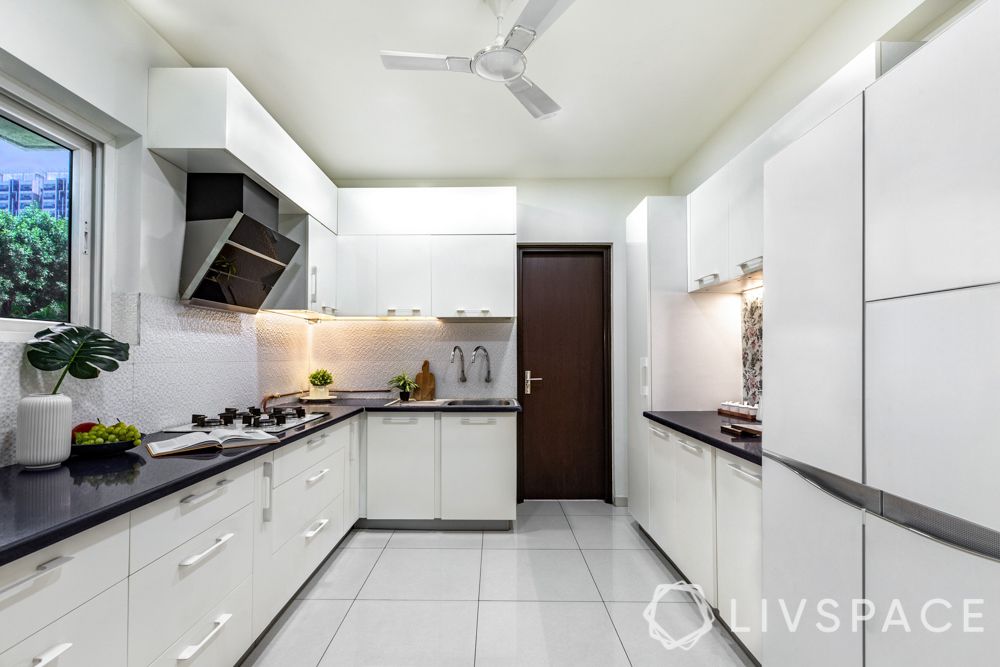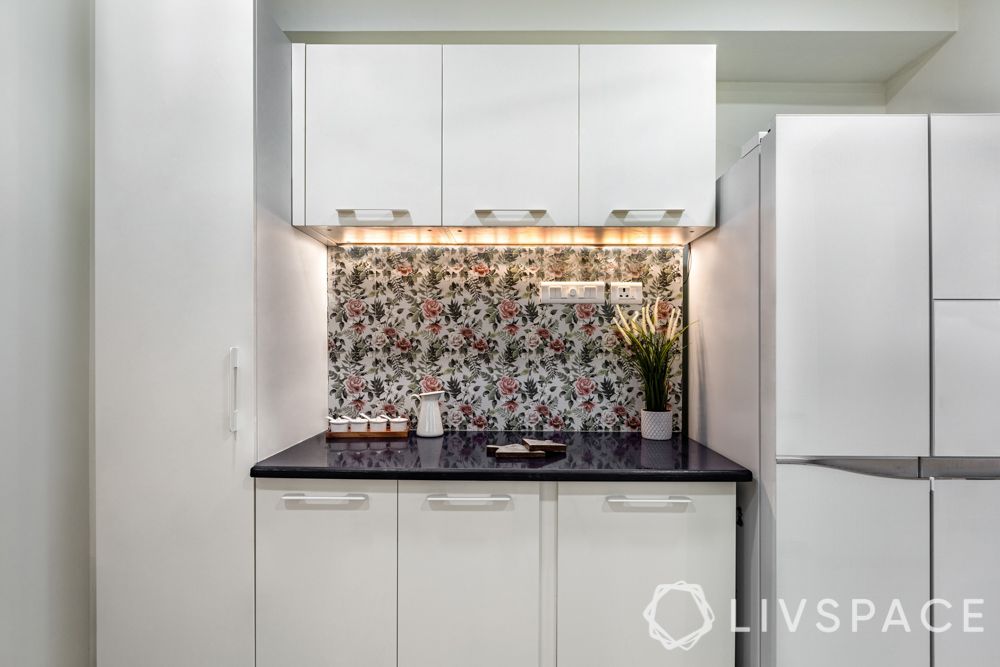 The interiors of this spacious kitchen has plenty of wall and base cabinets coated in PU finish that is imported to Hyderabad. "PU is known for its durability but it's also one of the most aesthetically pleasing finishes to opt for. You can't see the edge banding finish, giving it a seamless look," Rajdip explains.
However, the kitchen is more than its serene colour. Originally, the kitchen was a one-wall kitchen that required meticulous planning to ensure optimum use of every nook and corner. Rajdip redesigned the space to fit in an extra prep counter along with a tall unit and a niche for the refrigerator. This counter has a granite countertop like the main one. It also has a pop of colour and texture with a stain resistant, floral backsplash made of ceramic tiles. Whereas the rest of the kitchen has white ceramic tiles that merge with the cabinets.

Designing a monochromatic master bedroom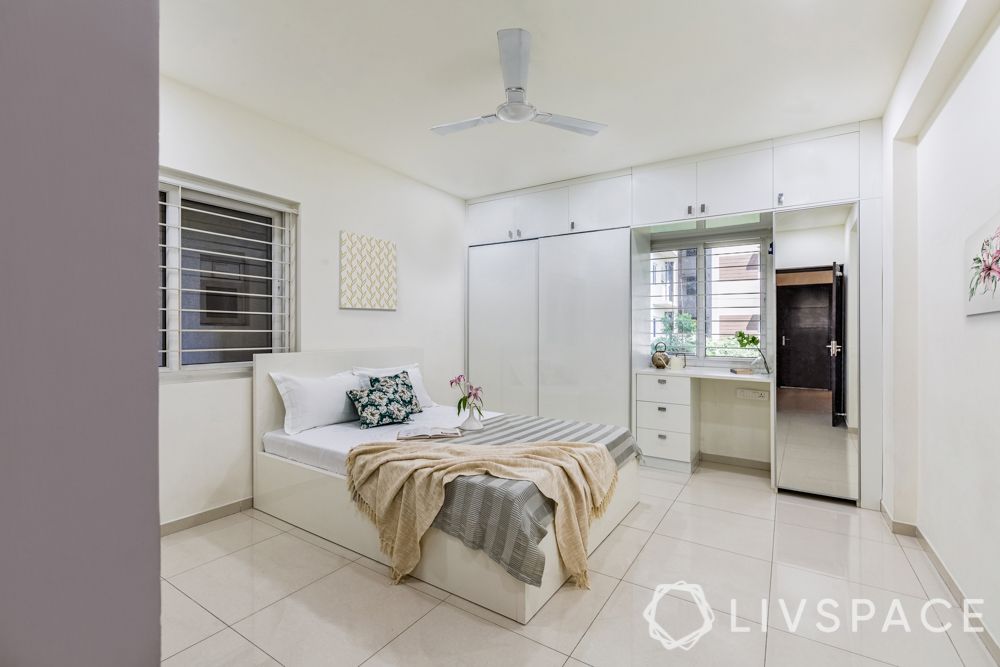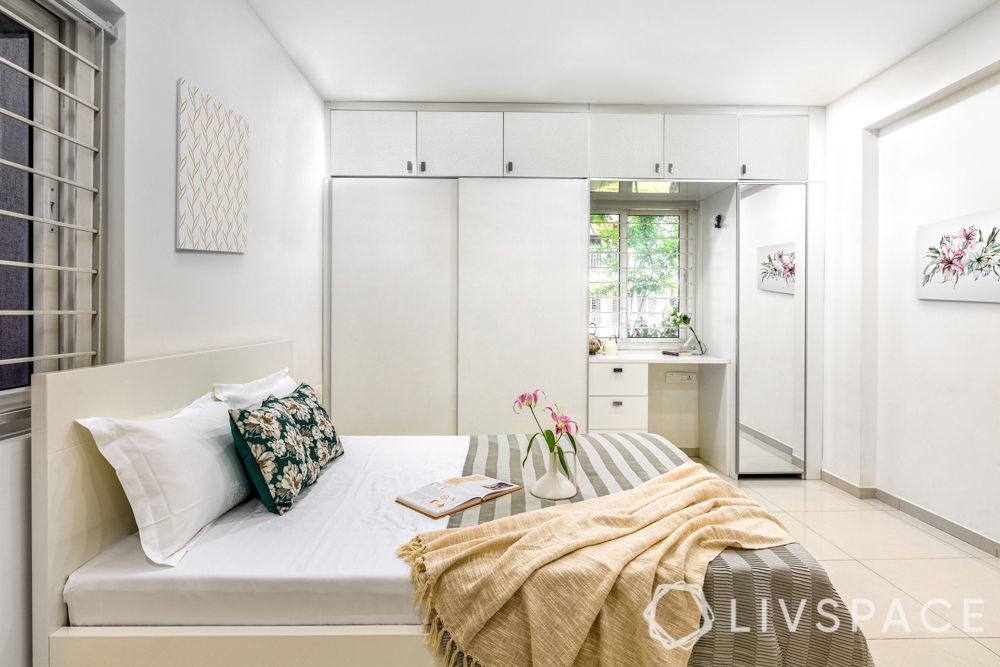 Imtiaz and Ramla wanted to move into their new Hyderabad home as soon as possible. With a tight deadline, Rajdip wanted to ensure that his design would cater to all their requirements. For the interiors of the master bedroom, the only wall available for storage units had windows. Therefore, Rajdip had to work around it by installing a sliding wardrobe on one end and a full length mirror and storage unit on the other end.
This laminate wardrobe design allowed the couple to place their study desk in the empty space and it fit like a glove. Moreover, the loft space adds plenty more storage space for the couple.
A walk-in wardrobe for the win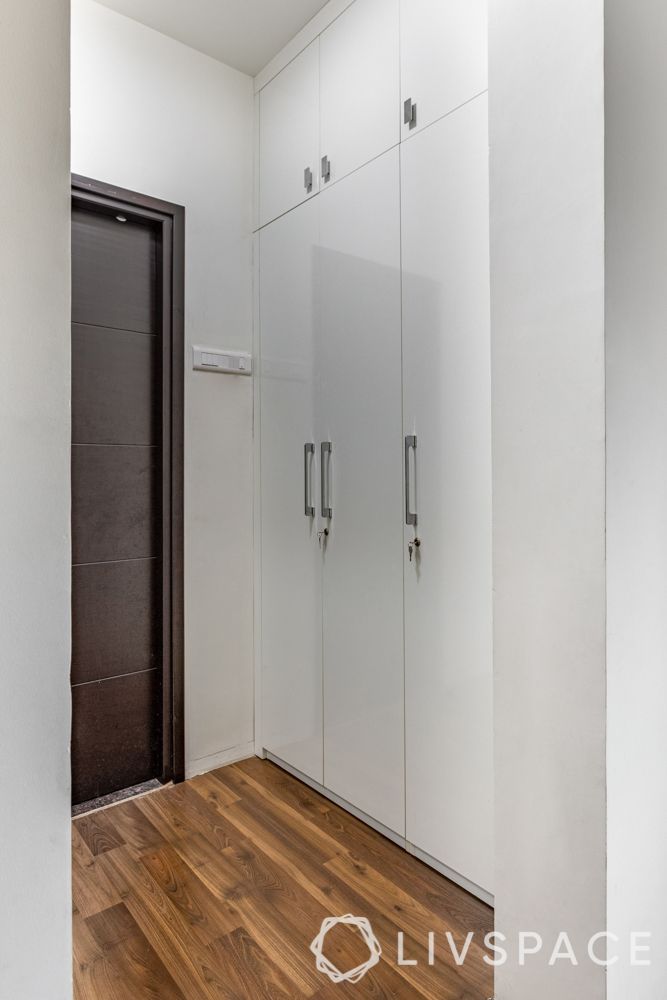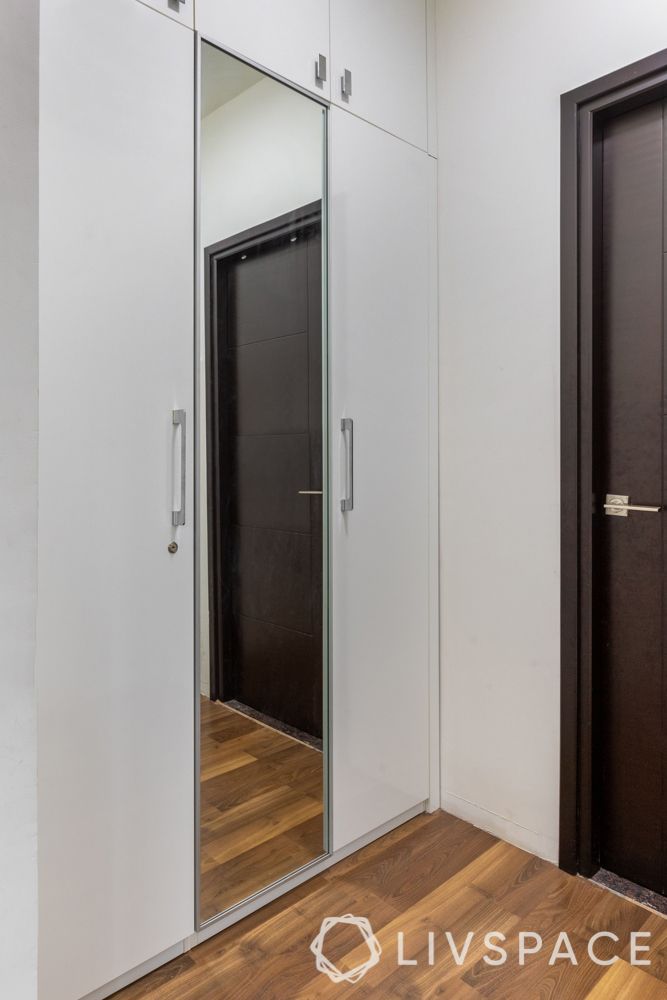 The other bedroom had space for a walk-in wardrobe that was packed with hinged door wardrobes on two walls. These floor to ceiling wardrobes along with the loft storage units are in high gloss laminate finish. With all-white interiors it's difficult to create a visual break, that's when textures and patterns come into play. The high gloss finish in these wardrobes gives the room a sleek and glassy look.
"As my first project designing a home, I wanted to ensure that the Imtiaz and Ramla get the best of designs and quality for their Hyderabad home. It was a unique experience designing a home with only white interiors. However, the couple were open to experimenting with textures, finishes and patterns."

– Rajdip Das, Interior Designer, Livspace
Want to take a look at another Hyderabad home? Check out You Need to See How Custom Designs Transformed This Family Home.
Send us your comments and suggestions at editor@livspace.com.