This kitchen room design in Hyderabad comes in a lively magnolia hue that can cheer you up on the darkest of days! With a glossy membrane finish and a white quartz countertop, the space looks pretty as a picture. And it's packed with storage, tailor-made to the family's needs!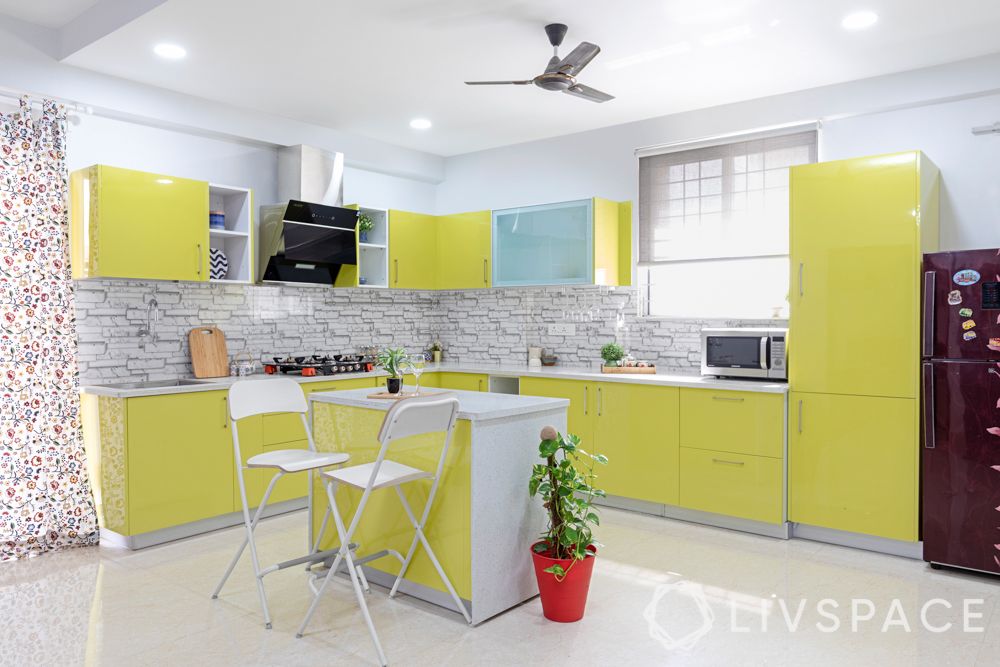 ---
Who livs here: Alok Yadan with his wife Anshika and their daughter
Location: Vazhaara Nirman Pushpak, Hyderabad
Size of kitchen: 140 sq. ft.
Design Team: Interior Designer Shreshta Reddy with Project Manager Gautam
Livspace Service: Modular kitchen design
Budget: ₹₹₹₹₹
---
Anshika and her husband Alok had just purchased their new home in Vazhaara Nirman Pushpak. And with the excitement of a new flat comes the desire to get the perfect home interiors. So the couple walked into a Livspace Experience Centre, and walked away with a tailor-made kitchen room design! Designer Shreshta Reddy has carefully crafted this spacious kitchen to look open and airy with all the essentials. That's how the Yadans got this L-shaped kitchen design with an island counter in the center. Let's peek in and find out how it came together!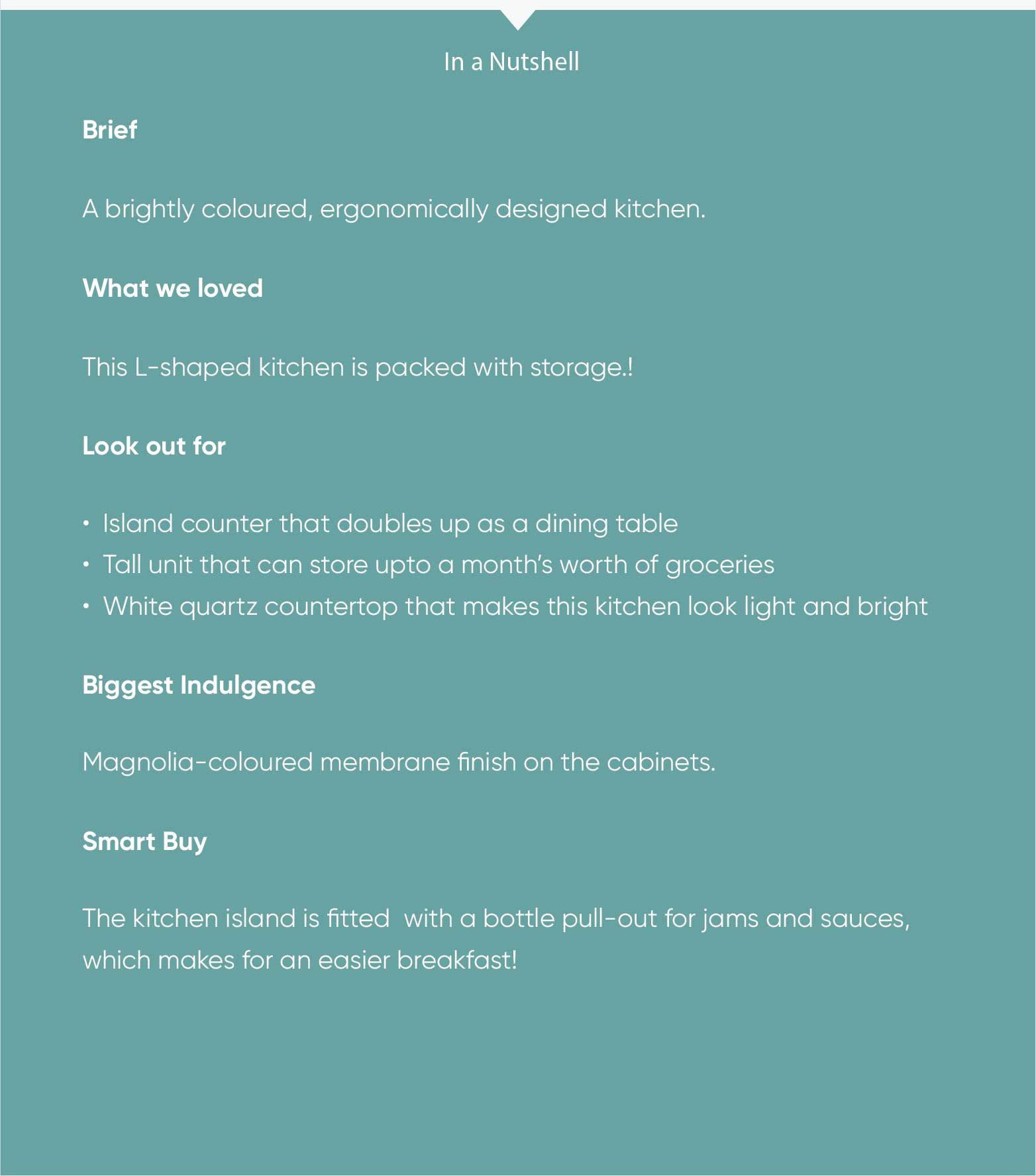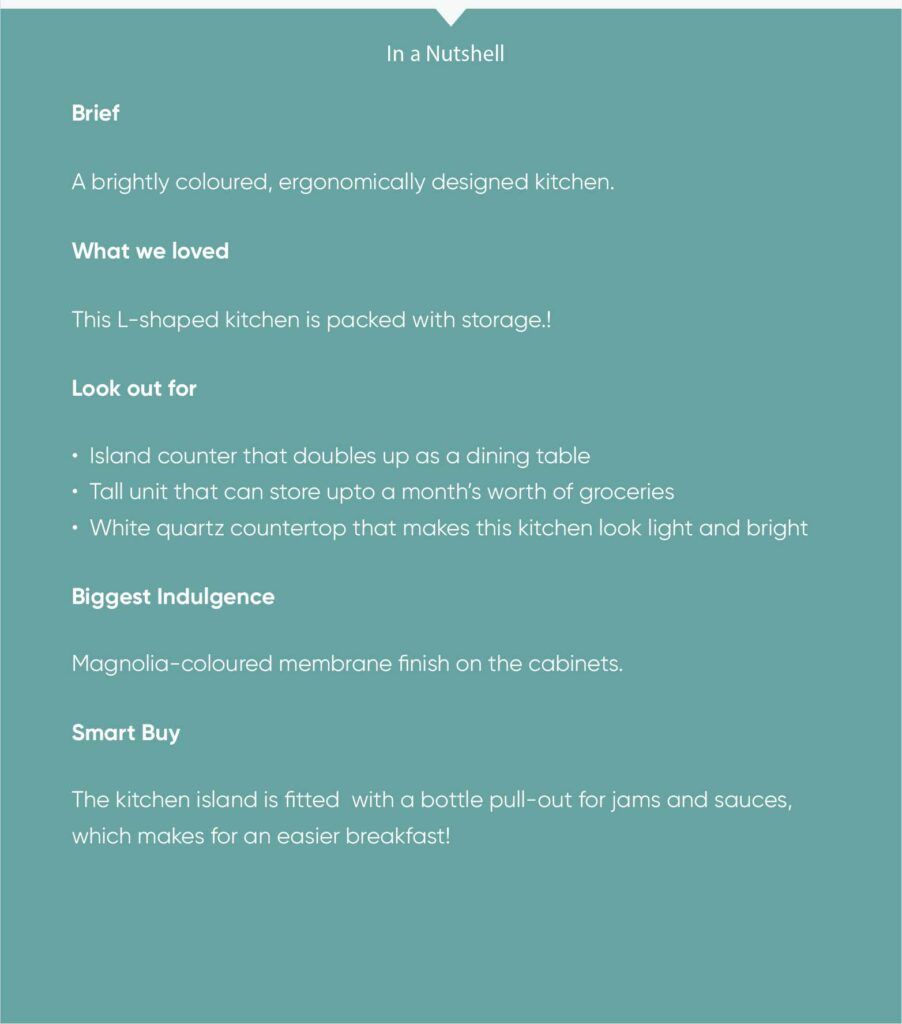 Colours chosen with care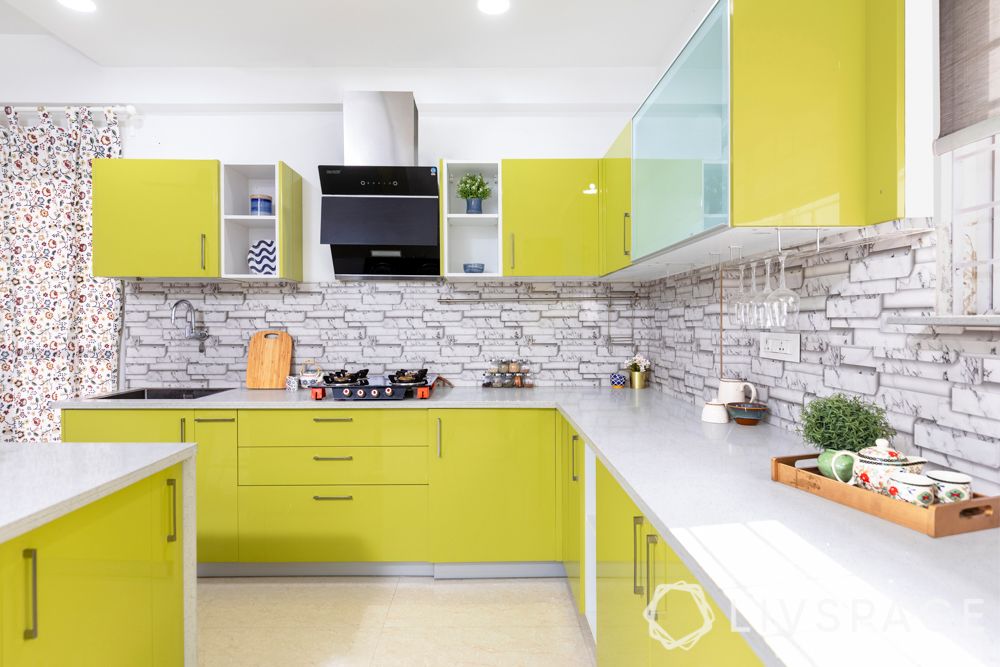 Anshika was keen on a bright-coloured kitchen room design, and she fell in love with this magnolia hue. So Shreshta, one of the top interior designers in Hyderabad, gave her a glossy membrane kitchen with the colour of her choice tied together with frosty white open shelves. This ties in beautifully with the tiled backsplash, and the white quartz countertop simply adds to the light and airy feel!
A countertop suited to their style of cooking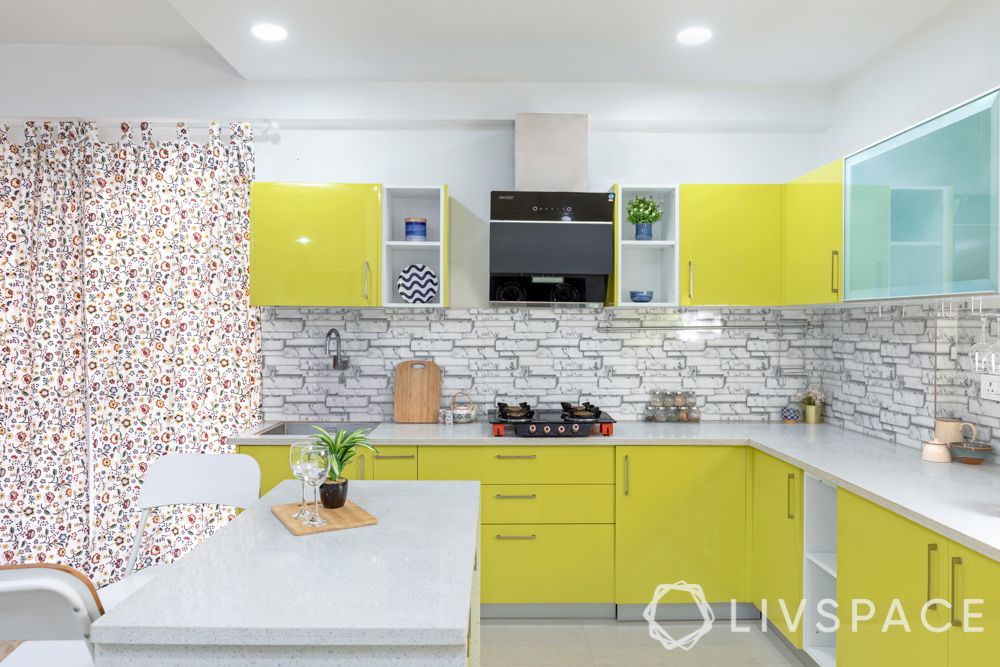 When Sheshta started designing the kitchen for this Hyderabad home, she started by asking Anshika about the kind of meals the family regularly prepared. Anshika informed her of the family's preference for light but delicious meals. So Shreshta suggested that they steer clear of the conventional dark countertop choices. Instead, she recommended a light-coloured quartz countertop that opens up the kitchen further.

A breakfast counter that negates the need for a dining table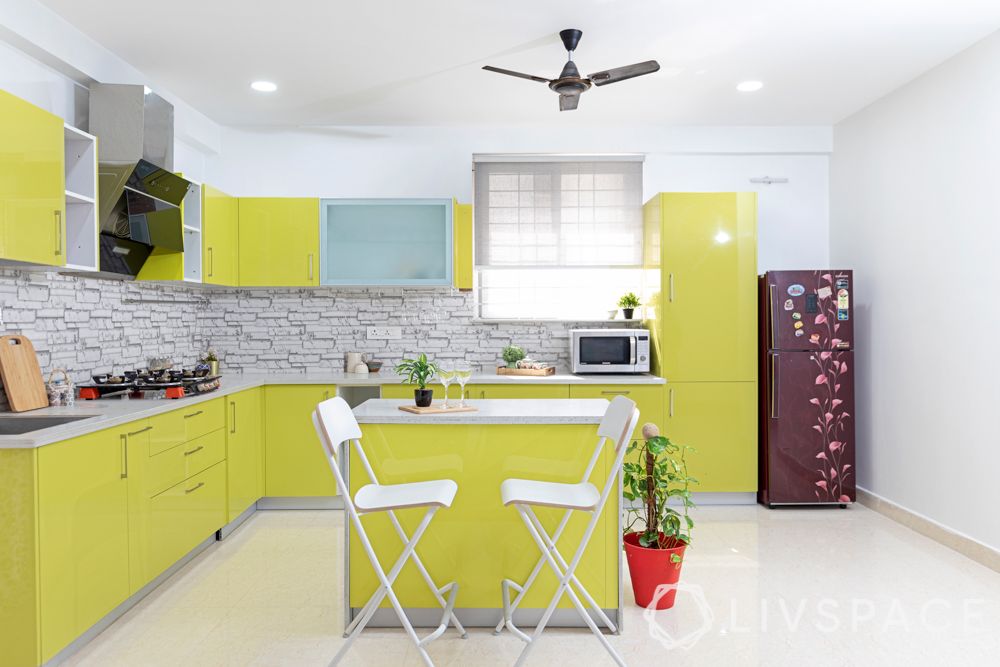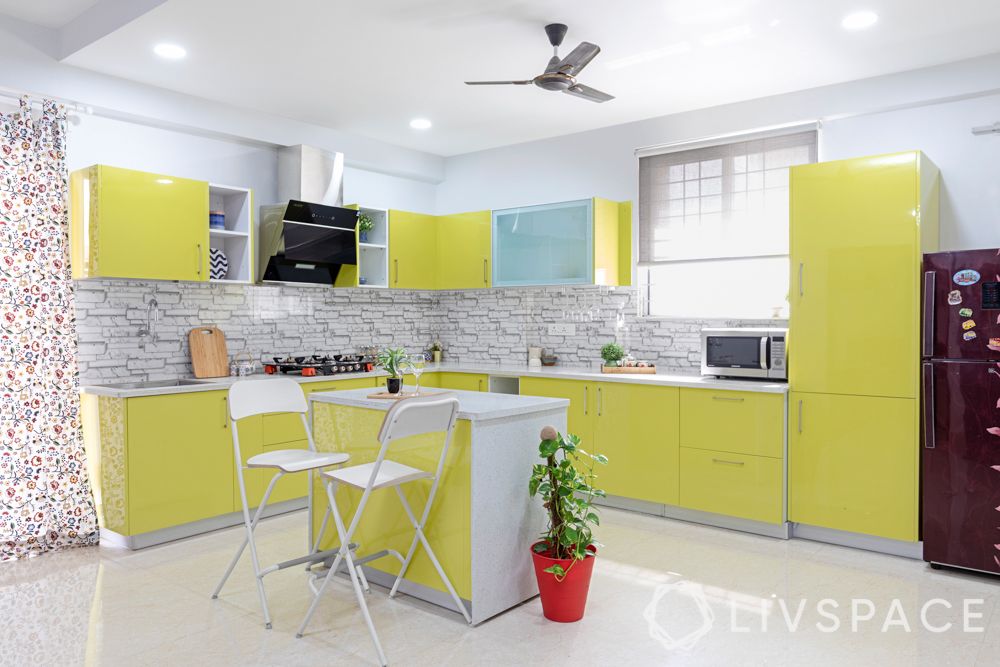 Since Anshika and Alok had a spacious kitchen, Shreshta, as one among the best interior designers in Hyderabad, suggested the idea of an island breakfast counter. Not only does this island counter make judicious use of space, it also adds to the functionality of the kitchen. In fact, with this addition to their kitchen, Alok and Anshika decided against having a dining table!
Storage tailor-made to requirements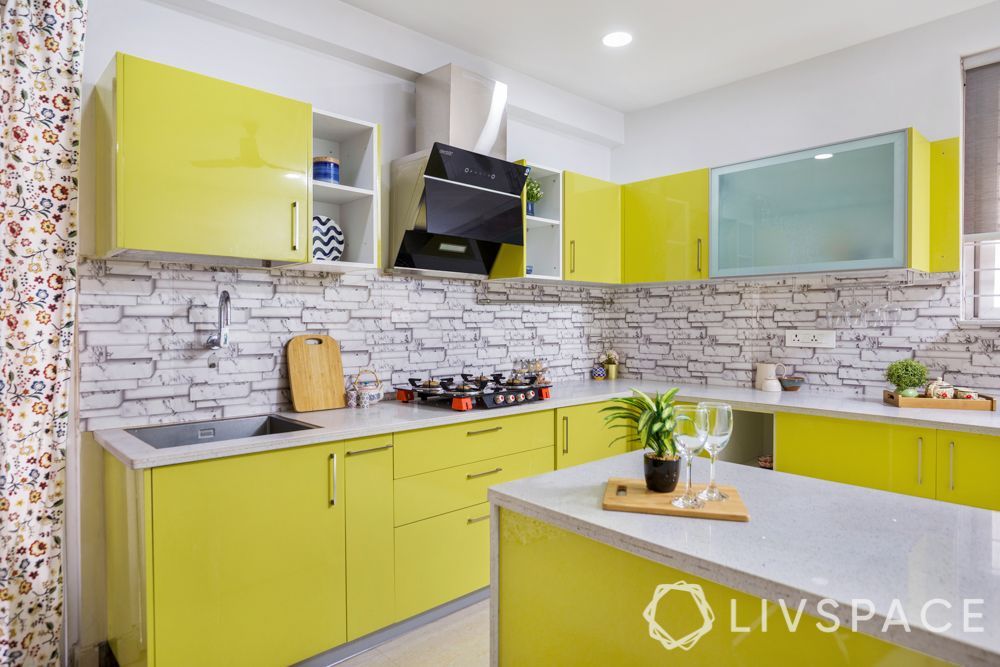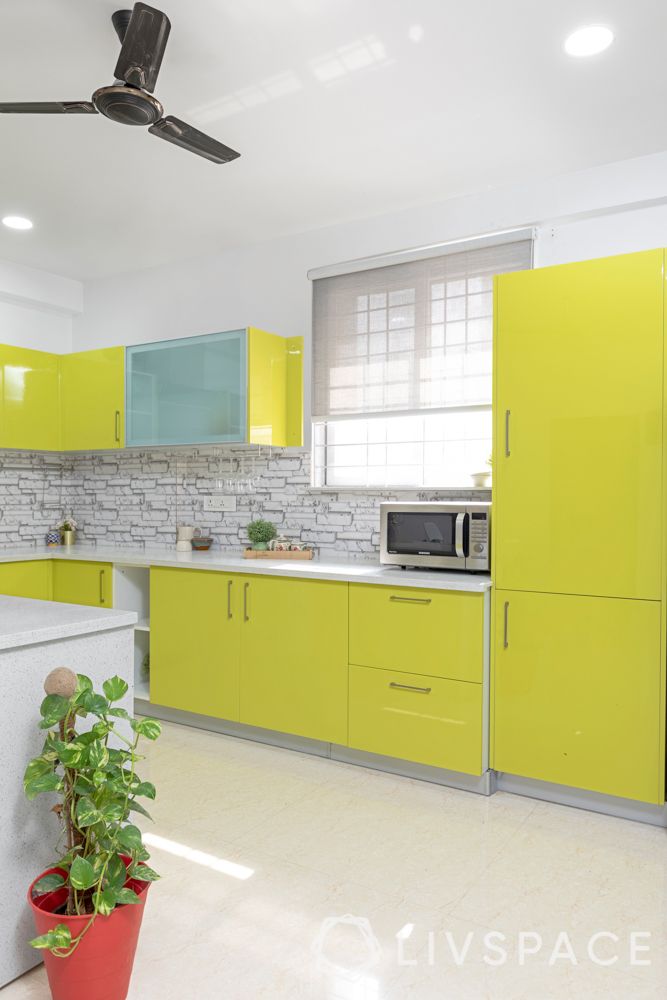 While the Yadans were keen on having extensive storage as an essential feature in their kitchen room design, they also wanted everything to be easily accessible. That's why Shreshta took her time understanding their pattern of buying and storing groceries. While she has given them ample bottle and spice pull-outs near the hob, there isn't enough place to store the staples. That's why the Livspace team designed a tall unit divided into two sections for them.
The tall unit is large enough to store a month's worth of staples for the family with ease! To make it even more convenient, they positioned their existing fridge right beside it. Thus, this corner holds both perishable and non-perishable essentials. Doesn't that make cooking easier?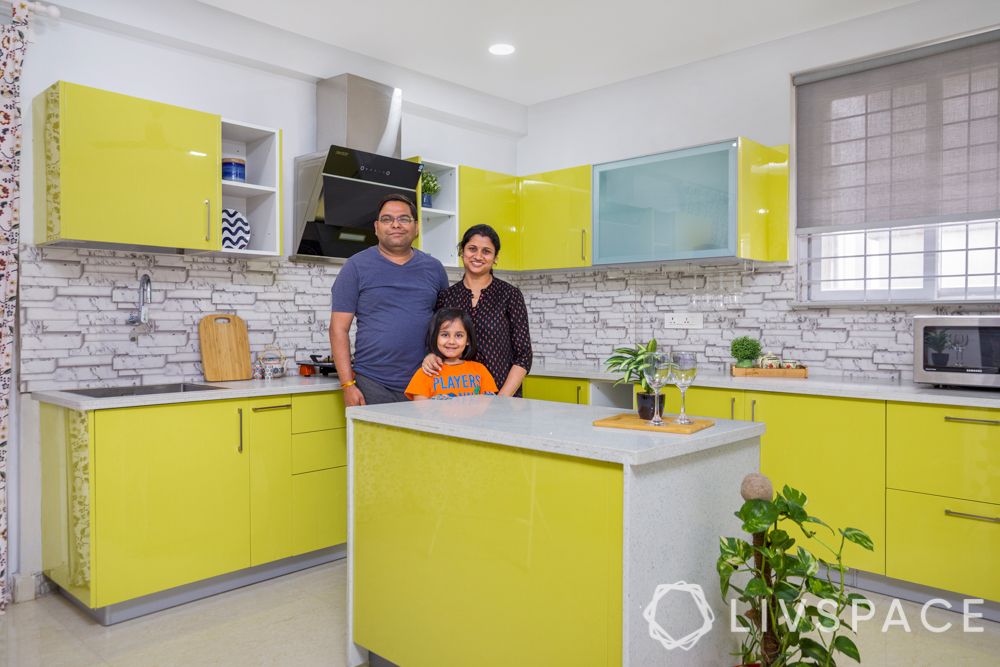 "The Yadans were a pleasure to work with. They knew what they wanted and accepted my suggestions as I designed this important space. I asked a variety of questions, and the result is this – a kitchen tailor-made just for them!"
– Shreshta Reddy, Interior Designer, Livspace
Having checked out this kitchen, if you're wondering if you need a tall unit, read this: Why Designers Recommend a Tall Unit for Every Kitchen.
Send in your thoughts and suggestions to — editor@livspace.com