Remember Lucy from C.S. Lewis' book, 'The Lion, the Witch and the Wardrobe,' who found herself in a magical land called Narnia after she entered a wardrobe? This might be just a fantasy story, but it is true that a child's external environment can do wonders to inspire their creativity and imagination. A kid's wardrobe design is an important part of this environment, and hence needs to be planned well. However, wardrobes for children's rooms need to tick a lot more boxes than when designing for other spaces.
Kids' wardrobe design needs to be functional enough to store clothes, toys, games and the like. It also needs to be safe for their use, which means no sharp edges or corners. But most of all, the ideal kids' wardrobe caters to growing children in terms of height, space and storage. Hence, we share with you some practical and easy-to-follow kids' wardrobe design tips. Additionally, we also show you some cool and cute kids' wardrobe designs that will make you want to revisit your bachpan! 👶
What Are the Most Important Kids' Wardrobe Design Tips?
1: Choose Neutral, yet Bright Colours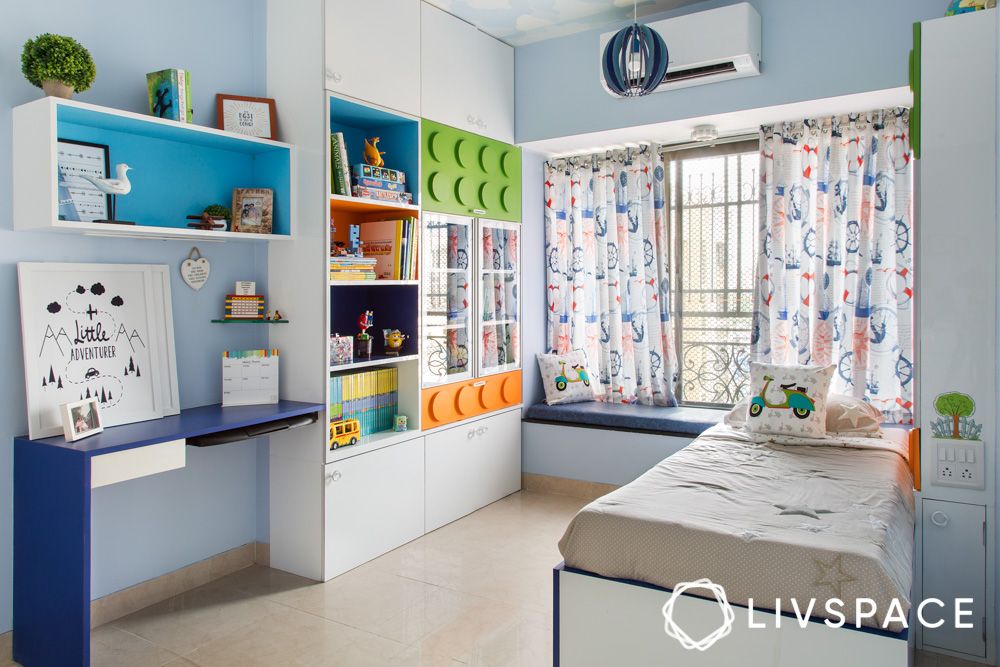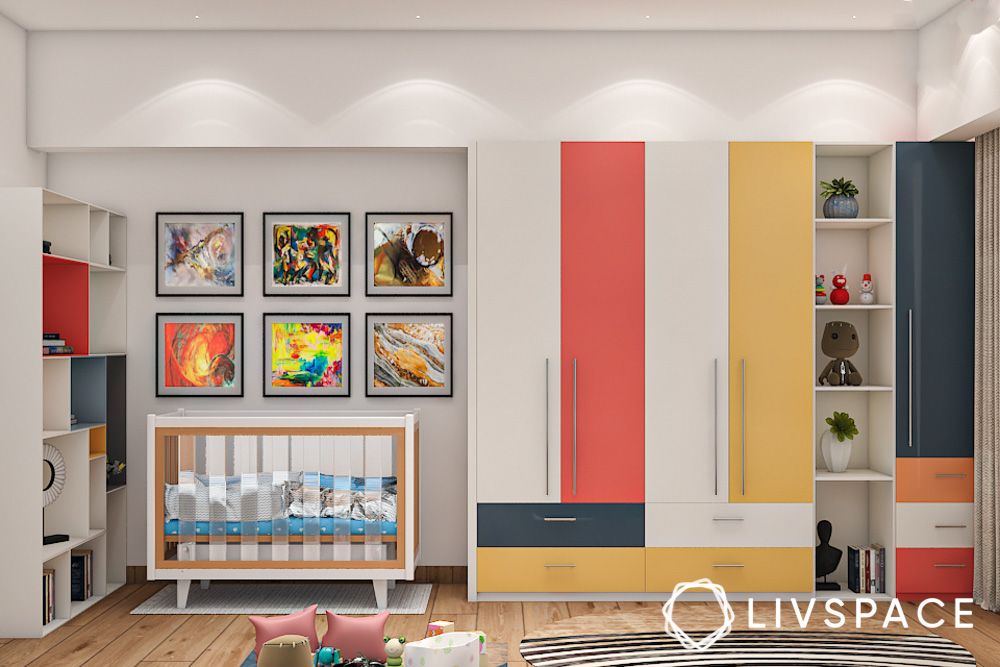 Nothing says 'kids' bedroom' better than bright colours. This doesn't always mean a saturated egg-yolk yellow or orange only, though, because chances are your children might outgrow them. Pick a foolproof palette that they will continue to love — white, aqua, beige, pink, blue and lemon yellow are safe options. You can add in pops of some other bright hues to make it a more colourful kids' wardrobe idea. To give your children an extra surface to unleash their creativity, you can opt to install a chalkboard on the wardrobe.
Also Read: How to Buy or Design the Best Study Table for Kids
#2: Make Use of the Vertical Space in Small Bedrooms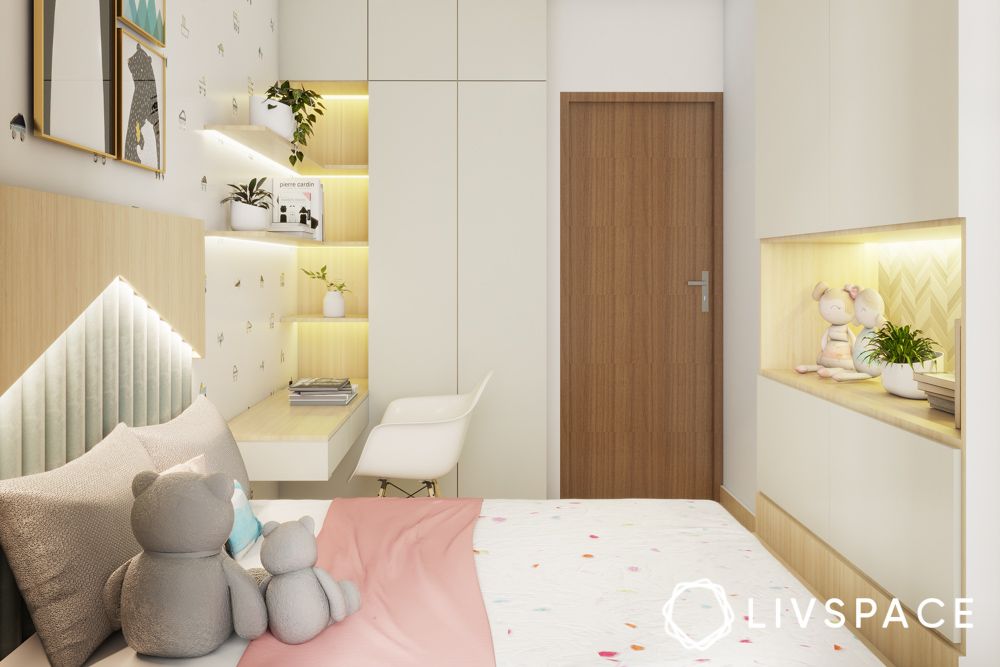 If there's not a lot of space in your children's bedroom, you can leverage the vertical area with the help of floor-to-ceiling wardrobes with loft storage. Use neutral colours like white and beige as they reflect light well and make the room look bigger and brighter. You can even use glossy laminates in the kids' room wardrobe design as they can be easier to clean than matte surfaces.
#3: Add Low Drawers For Easy Access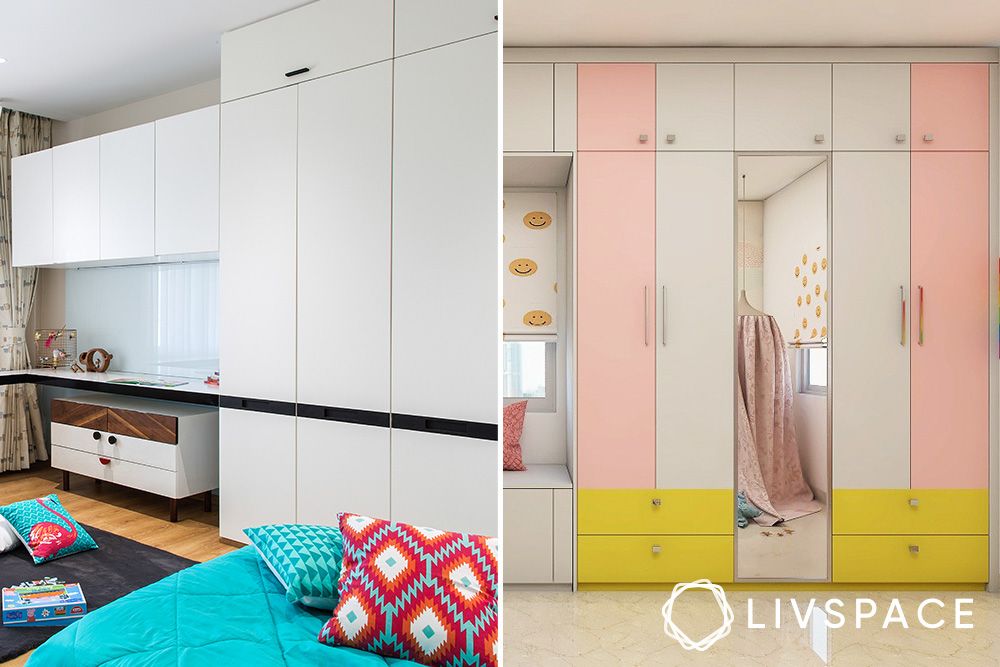 If you are thinking of adding drawers to fitted wardrobe designs, consider keeping them towards the bottom of the wardrobe. This way, your child gets easy access to their essentials without having to reach up. Low drawers also mean your child is less likely to bang their head against sharp corners!
This practical storage method also has room to grow in, so that the drawers can later be repurposed for shoes or non-essentials as the child becomes older and taller. Also, you can think beyond gender stereotypical colours. Don't restrict it to pinks and blues unless your child loves those colours.
#4: Pick Easy-To-Maintain Finishes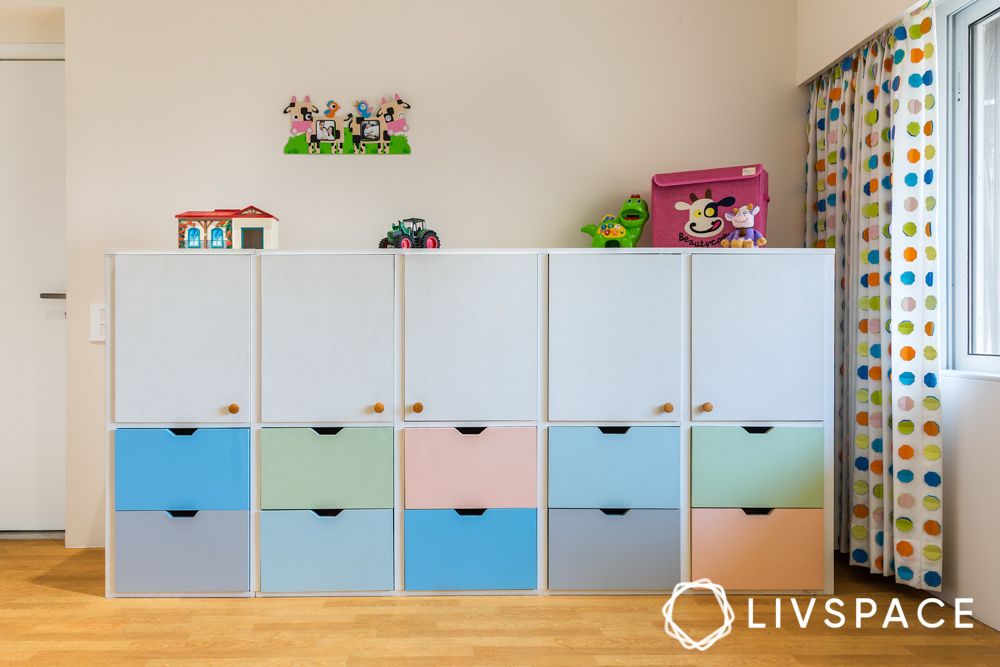 A kid's room is also their creative playground, so stains and spills are a given. To avoid fretting about unmanageable stains, consider choosing wardrobe design finishes that can be wiped down. Some ideal finishes are lacquer, which comes in a variety of glossy yet maintainable colours, and laminate, which is water-resistant and easy to clean.
#5: Liven Up the Handles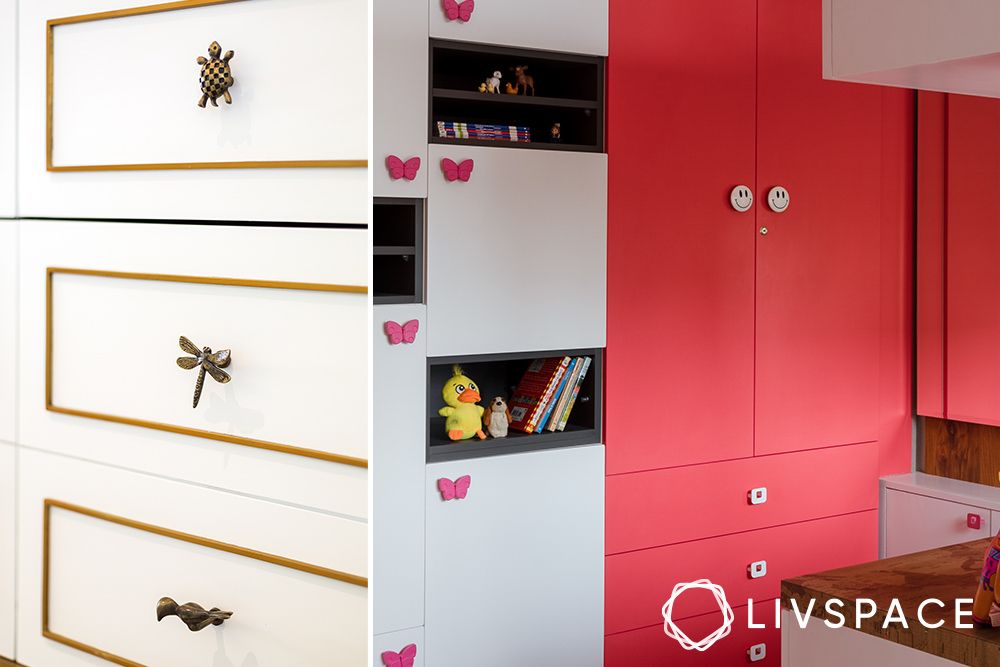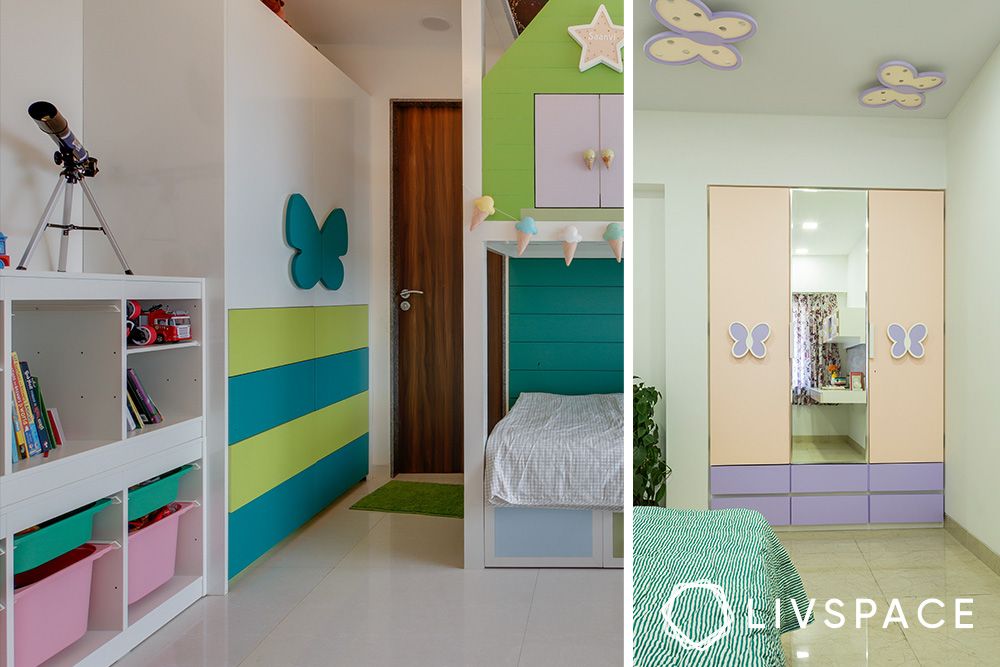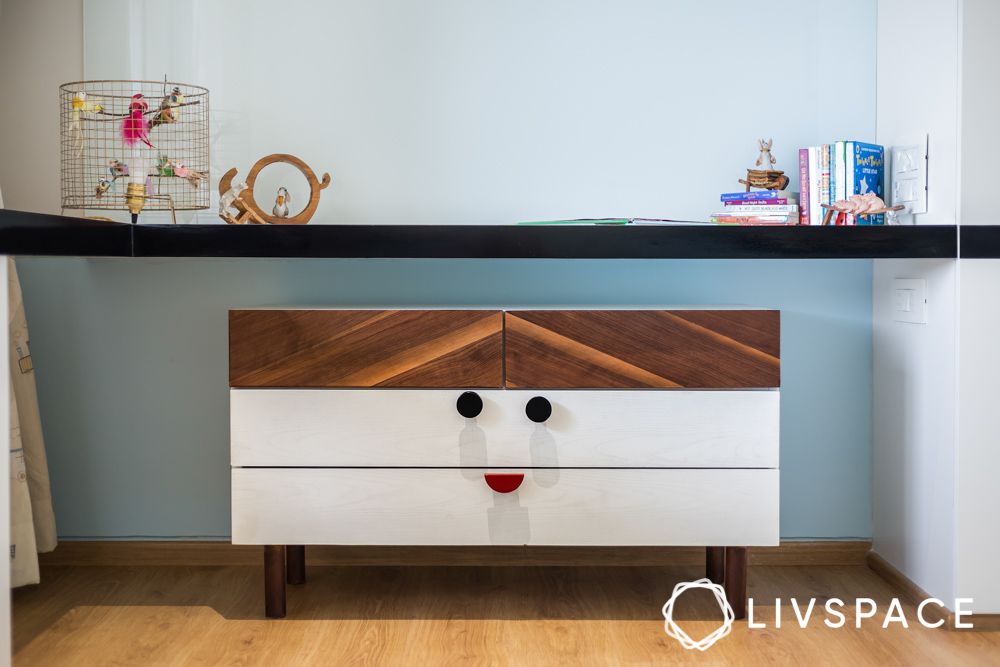 Choosing a neutral tone for the fitted wardrobe design in your kid's bedroom doesn't mean you can't have pops of colour outside. Pick from star-, butterfly- and heart-shaped drawer knobs in bright shades. Children also love smiley faces as their wardrobe handles.
If they have a favourite cartoon character, replicate that in the form of a handle. Even a subtle handle switch, from plain to crown-shaped or character-shaped, can liven up the look. The positioning of handles are critical, too — they must be accessible yet high enough to avoid any injury.
#6: Optimise Storage Based on Needs
When choosing from kid-friendly fitted wardrobe designs, consider their every need, whether clothing or toys. Pull-out storage bins are easily accessible and are the perfect home for uncategorised knick-knacks like toys and games. Lower shelves can be put to use for toys or shoes, while higher areas can store off-season clothing. Additional door hooks keep bags and hats organised, instead of being scattered around your children's bedroom.
#7: Additional Storage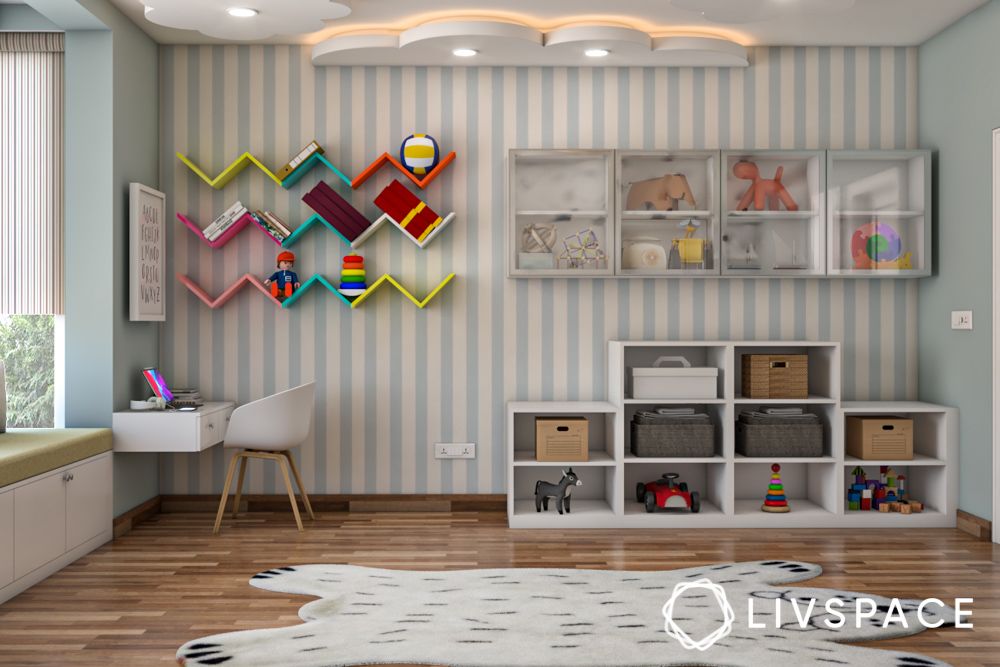 Let's face it. Who doesn't need some extra storage space? You can create additional storage for your kids' toys and books by curating a display unit and shelves like the ones in the image above. Not only does it look interesting and quirky, it can also accommodate more boxes to stock frequently used items.
13 Interesting Kids' Wardrobe Design Ideas
And the award for the best kids' wardrobe design goes to…
#1: Wardrobe With Bookshelf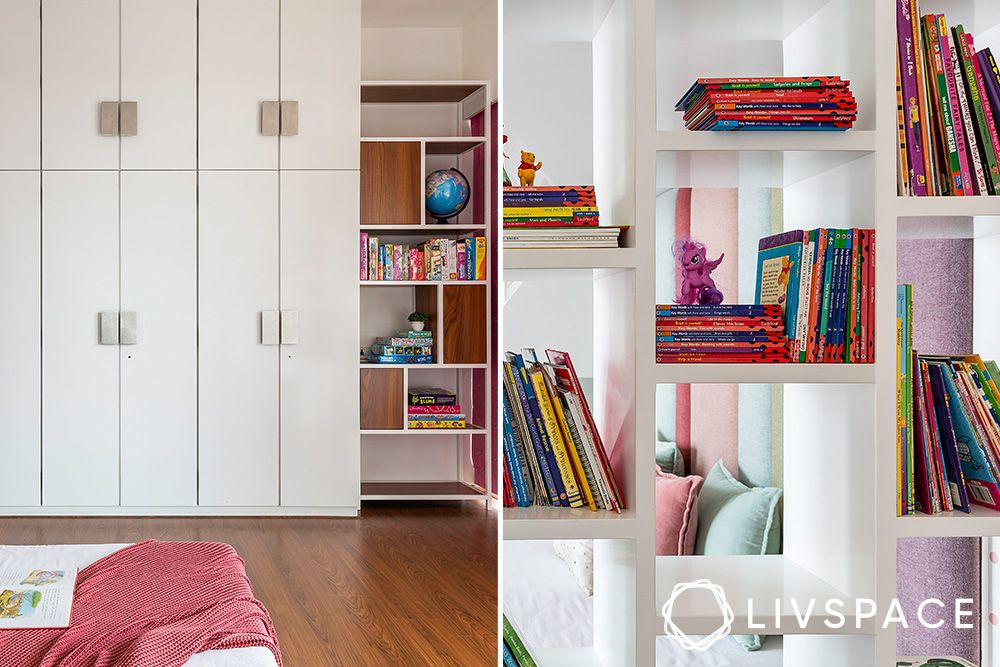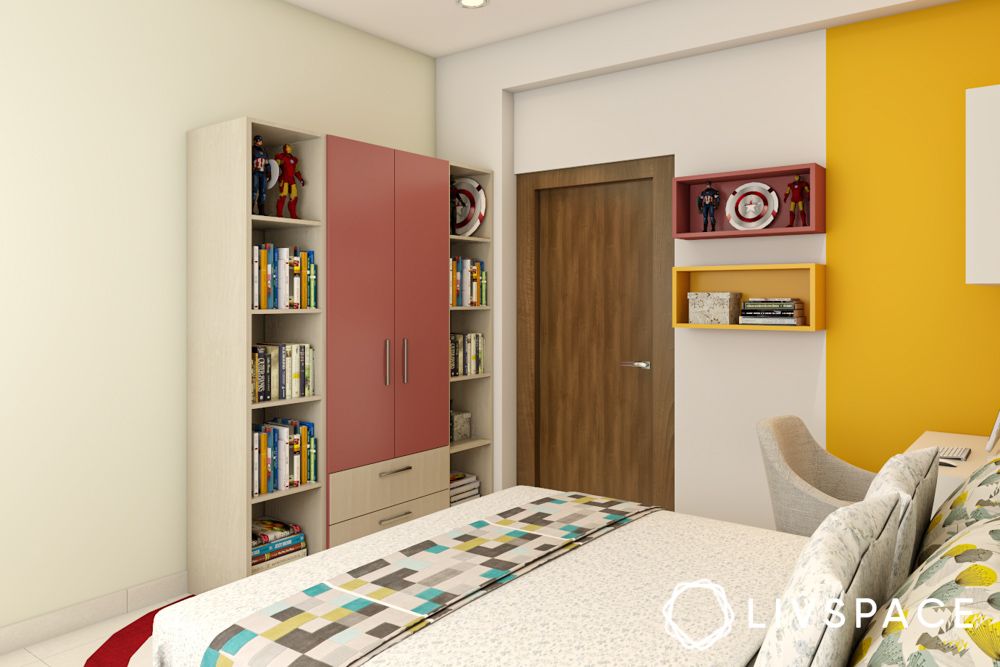 "So please, oh please, we beg, we pray,
Go throw your TV set away,
And in its place you can install
A lovely bookshelf on the wall."
– Roald Dahl, 'Charlie and the Chocolate Factory'
Or in this case, as part of the wardrobe! Reading is a wonderful habit to cultivate among kids. It gives wings to their imagination. You can have the bookshelf installed on one or either side of your modern and stylish wardrobe. You can even have another shelf facing the wardrobe, as in the first image, to innovatively create more space for additional books.
#2: Pretty in Pink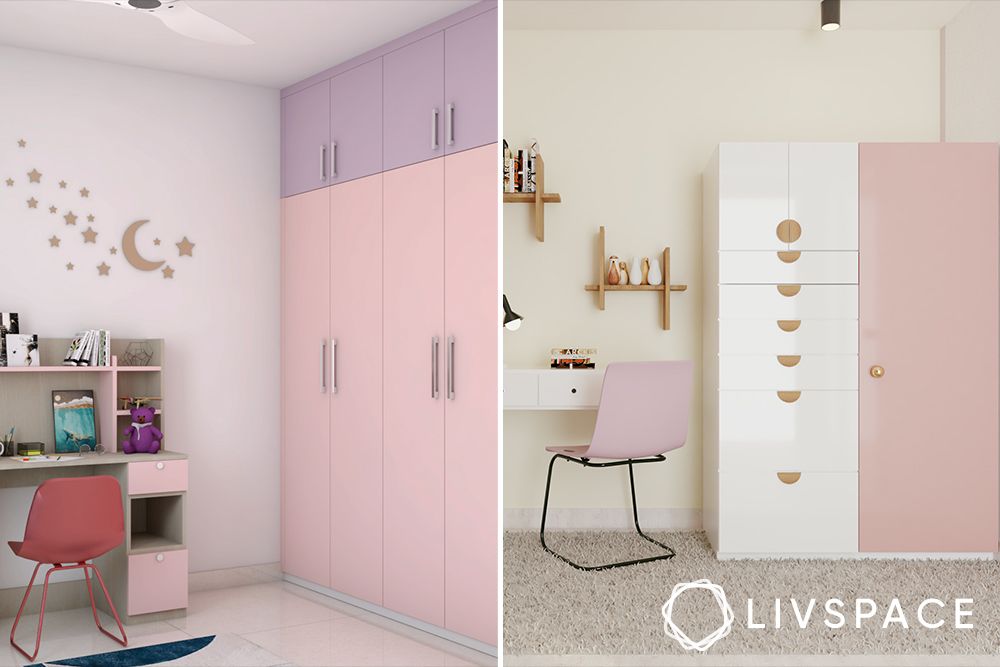 Lilly Pulitzer couldn't have been more accurate when she said, "Anything is possible with sunshine and a little pink." You can use shades of beige, lavender and white to offer a good contrast to pink in your wardrobe design for the kids' room.
You should also look at these interesting kids' bedroom design ideas before you finalise the wardrobe.
#3: Blue Hues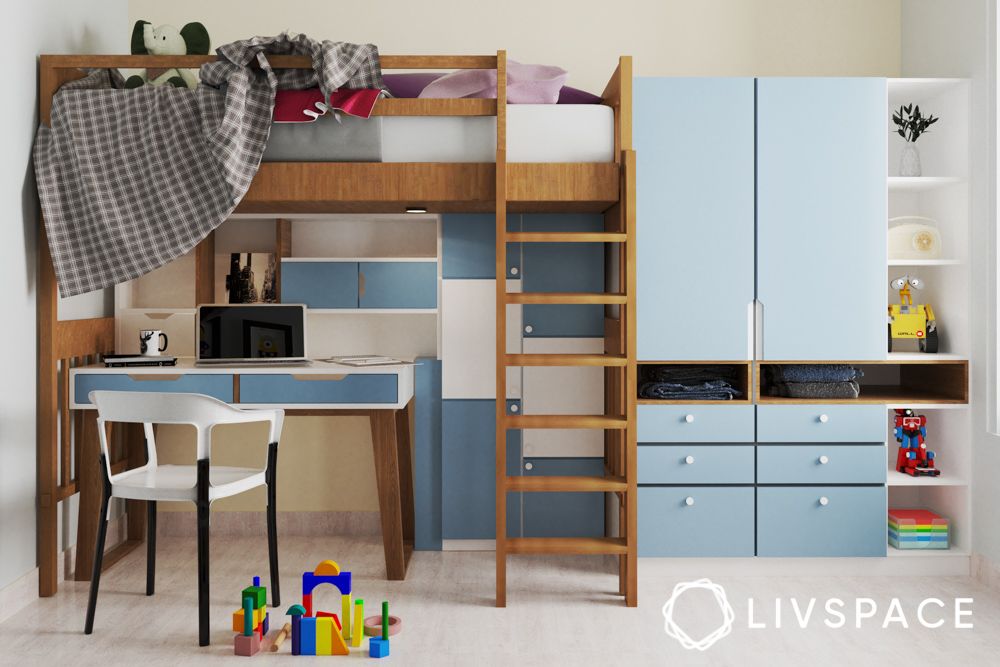 "How sweet to be a Cloud. Floating in the Blue!"
– A. A. Milne, 'Winnie-the-Pooh'
If the clear blue skies and the deep blue ocean are what inspire your kids, why not bring in this calming colour into your kids' bedroom wardrobe design as well? All shades of blue can work well on the wardrobe, but lighter ones can definitely make the room look much bigger.
#4: Neutrals With a Pop of Colour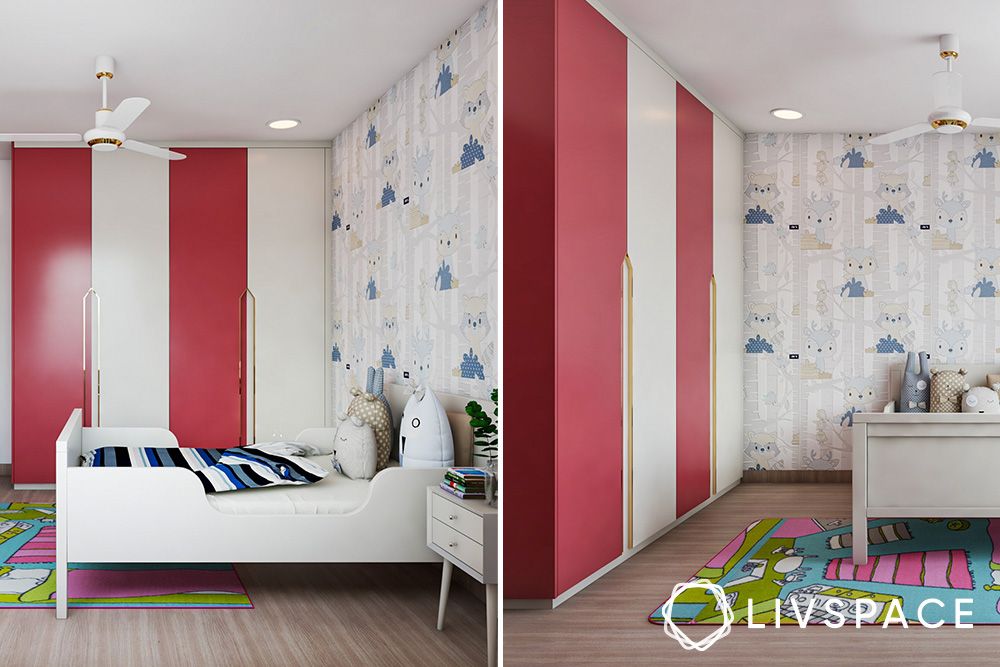 Muted colours like white, grey and beige can be used in a kids' room wardrobe design without making the room look dull, by simply adding bright colours like red, yellow and orange to offer a striking contrast. It will also instantly make the room look brighter. You can even use colourful curtains and cute wallpapers to enhance the look further.
#5: Wardrobe With Wooden Finish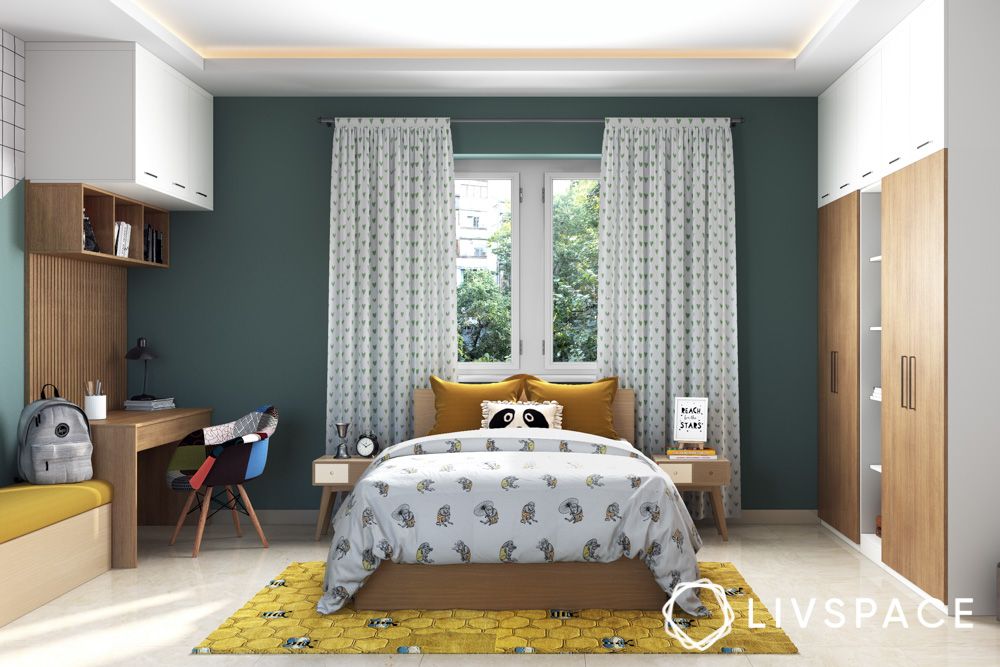 This is a timeless wardrobe design that can work for your kids' room even as they grow older. Some kids may outgrow pastel shades and cartoons, but a wardrobe with a wooden finish will always remain a classic.
#6: Themed Kids' Wardrobe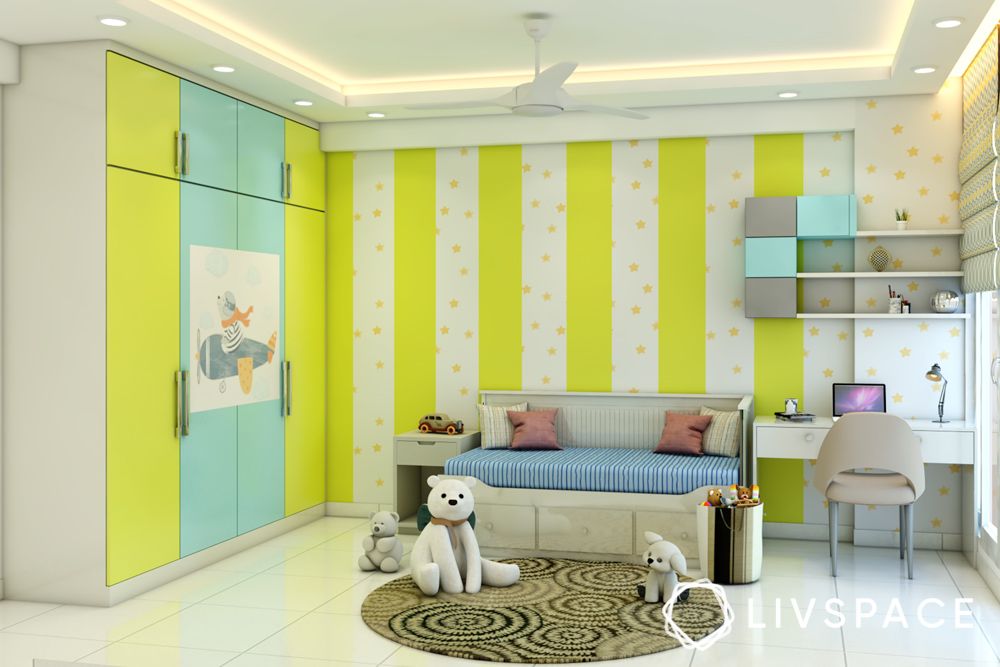 If starry nights and planes fascinate your child, this themed kid's wardrobe idea will work wonders for their imagination. Add to it some nice and bright colours, and you have a wardrobe that's truly delightful to look at.
Also Read: Pick Trundle or Bunk Bed for Compact Rooms
#7: Kids' Wardrobe Design With Cartoons
Your kids' wardrobe design can also have cartoon illustrations or paintings of their favourite animals. You can choose to go for a subtle design like the left one, or add a splash of bright colours like in the right design. Notice how smartly the wardrobe space has been utilised in the right image? The corner wall, which would have been otherwise bare, now looks like an extension of the wardrobe and acts like a stunning display area!
#8: The Coolest Kids' Wardrobe Design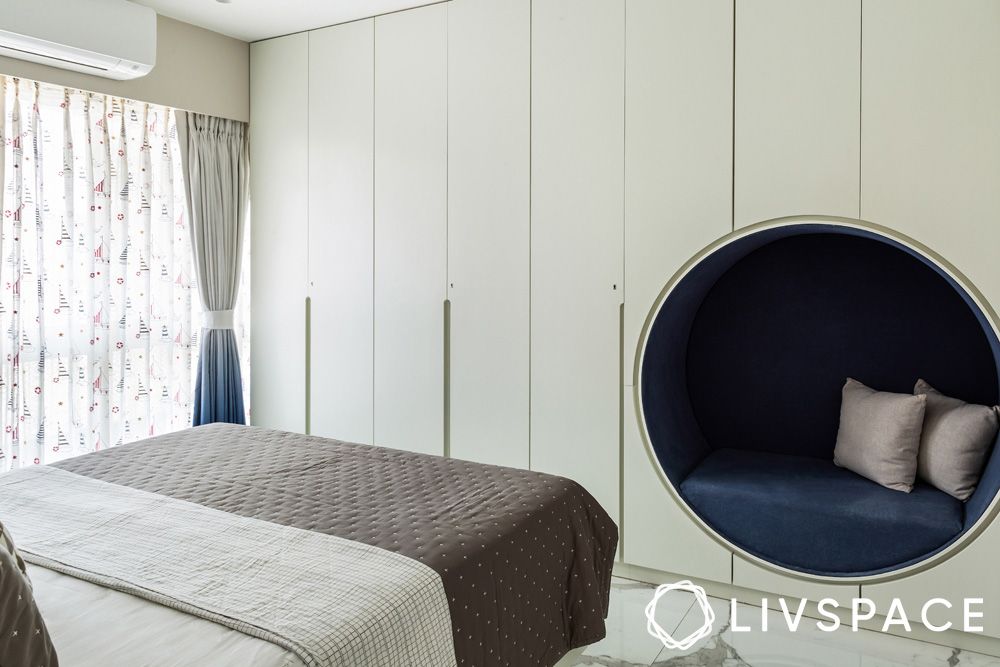 Doesn't this cool seating idea remind you of the Hobbit homes (aka hobbit-holes) in The Lord of the Rings?! Whether your kids are acquainted with the series or not, they are going to simply love the seating space built inside this modern kids' wardrobe design. You will forever be the coolest parent in their book.
#9: Space-Enhancing Wardrobe With Glass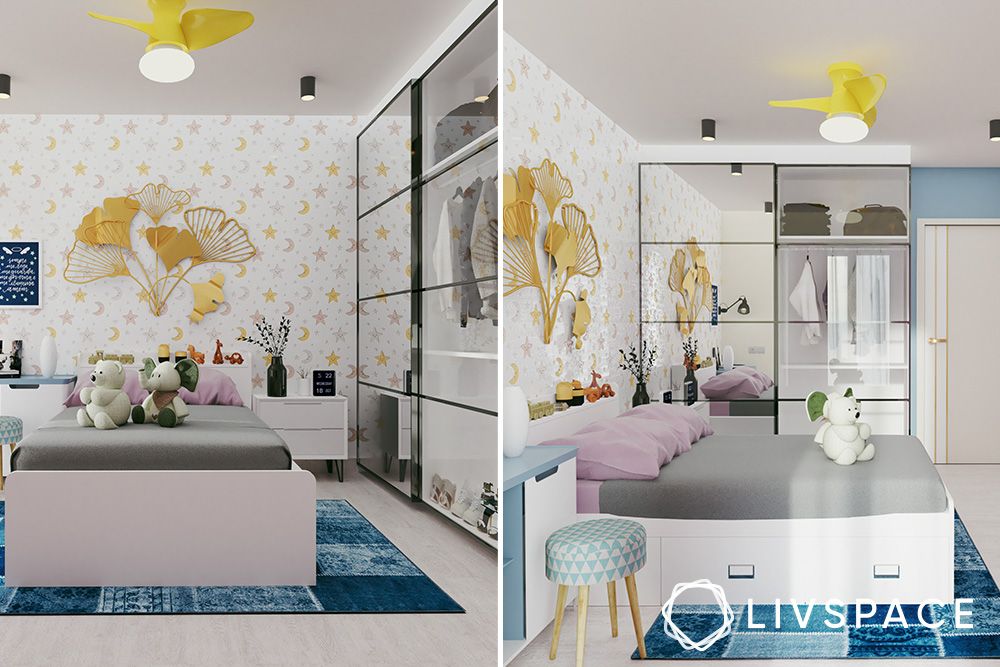 If there's less space in your kid's room, you can choose to opt for a wardrobe installed with glass doors. Not only does this help to reflect light better and makes the room look bigger, but it also serves as a timeless piece of furniture which can be used even when your child grows older.
#10: A Fun Kids' Room Sliding Door Wardrobe Design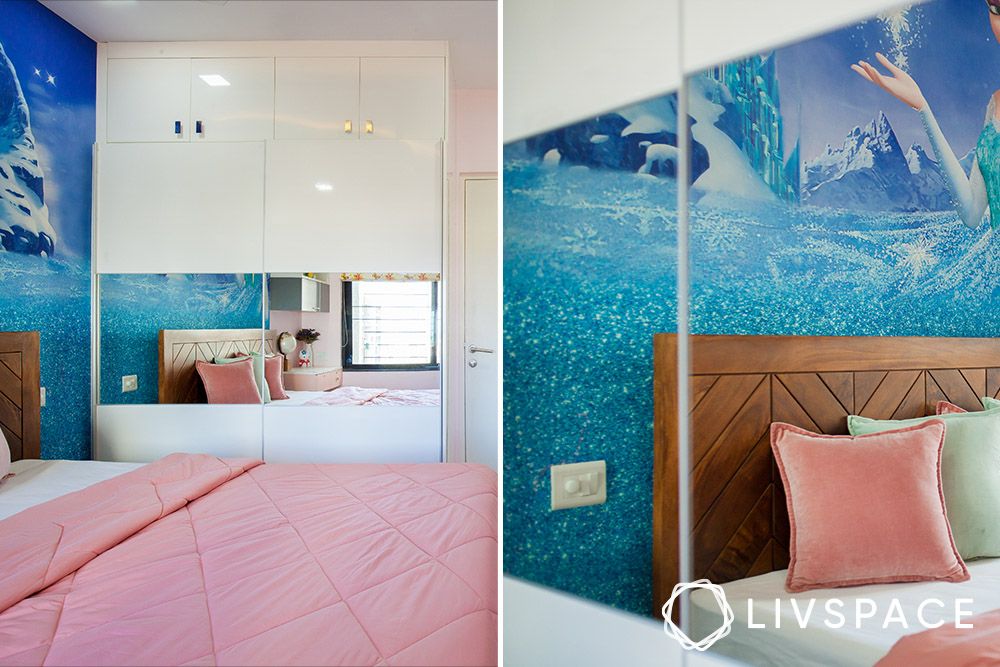 If you like a clean silhouette for your kids' wardrobe design, you can reduce the clutter by not opting for handles. In this case, a kids' room sliding door wardrobe design is a great fit for your needs. This particular design also includes a mirrored portion that does wonders in visually opening up the space. Additionally, it also captures the Frozen-themed wallpaper design on the adjacent wall beautifully.
#11: Kids' Wardrobe Designs With Mirrors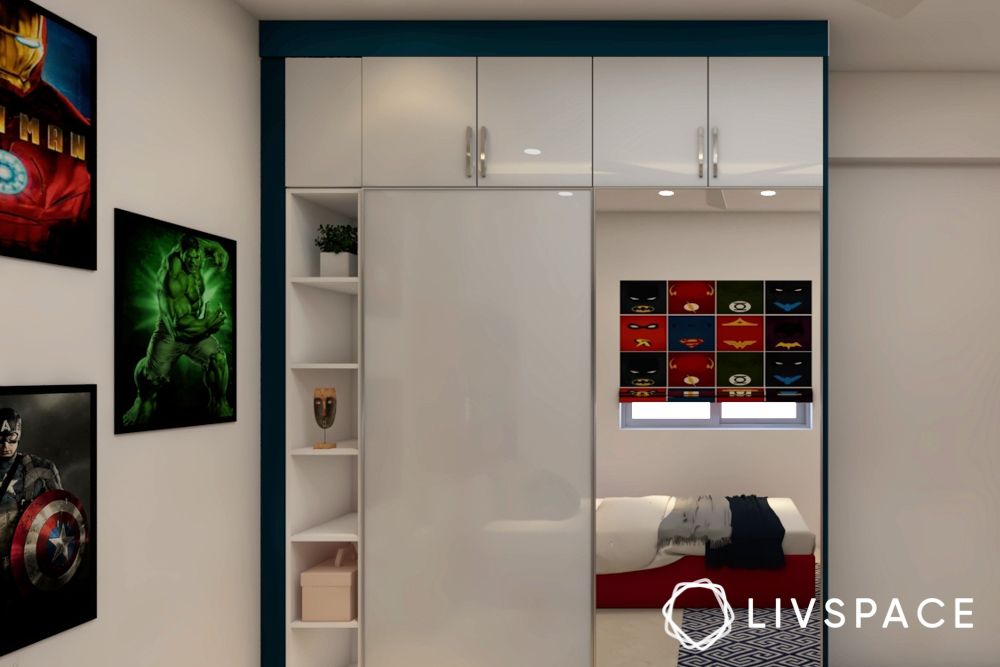 As mentioned earlier, mirrors give the room a feeling of openness. A smart way to use them is on the wardrobe door. This way, you will not have to install a separate dressing table, saving you space and money. Additionally, if you place some cool decor/designs on the opposite wall, the mirrors will make it look like it is a part of the wardrobe, improving the aesthetics of even the simplest kids' wardrobe design.
#12: Infuse Some Colour in Your Kids' Wardrobe Design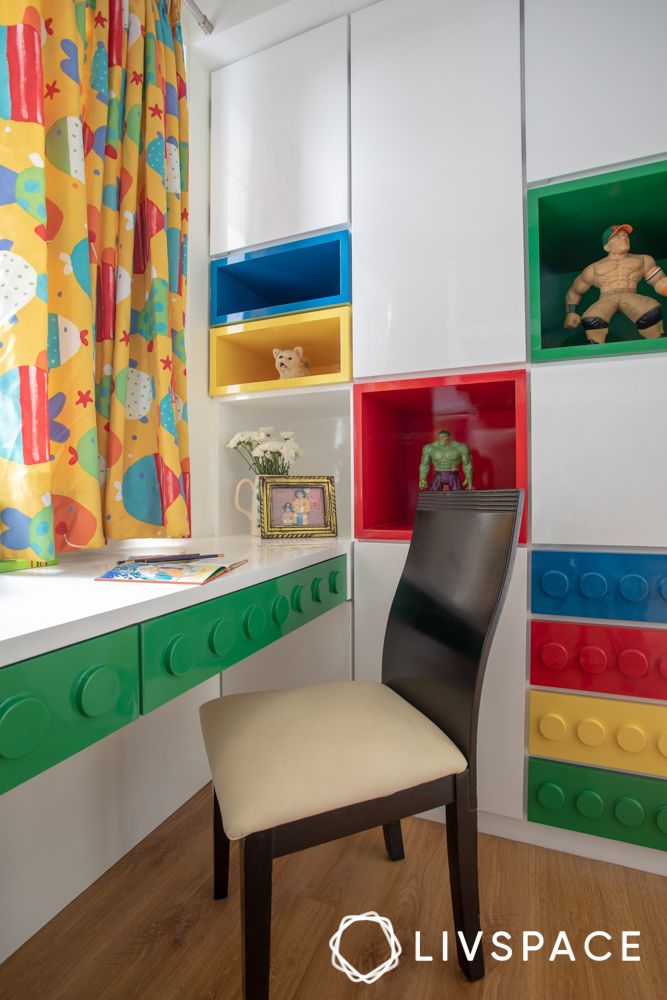 Not sure which bright colours to use on your kids' wardrobe design? Why not use a little bit of all? See how the red, blue, yellow and green Lego pieces make this simple, white wardrobe look so unique, bright and cheerful?
#13: Fit for a Princess or a Prince!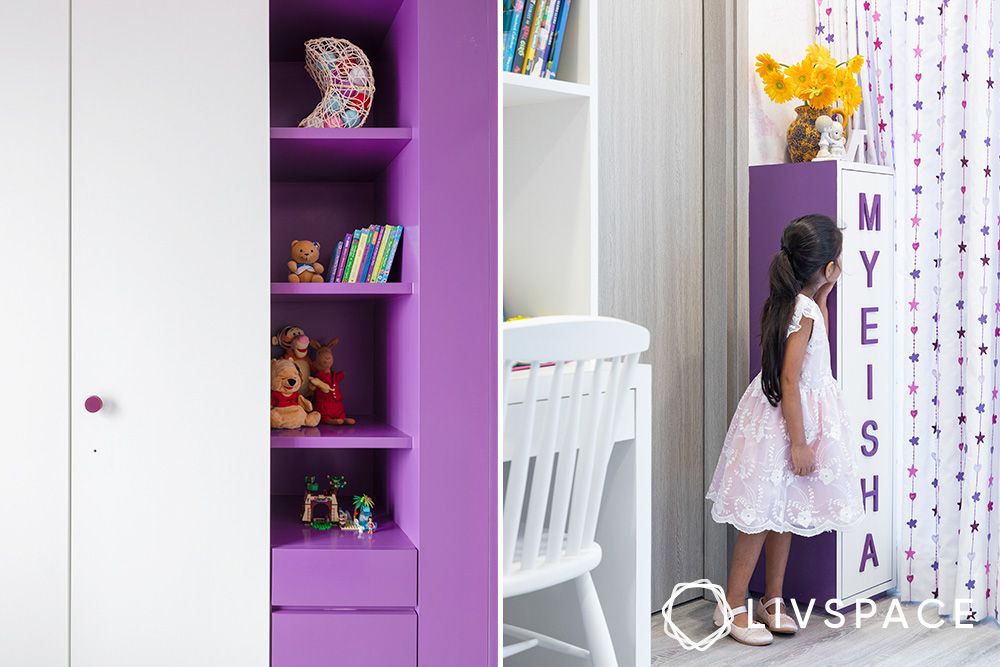 Purple symbolises royalty and is a fitting colour to use in your kids' wardrobe design. You can balance it out with any complementary neutral shade, so that it does not end up overpowering the room. Additionally, you can also get a custom stand-alone unit with your child's name on it, making the room truly their own individual space.
Points To Consider While Creating a Kids' Wardrobe Design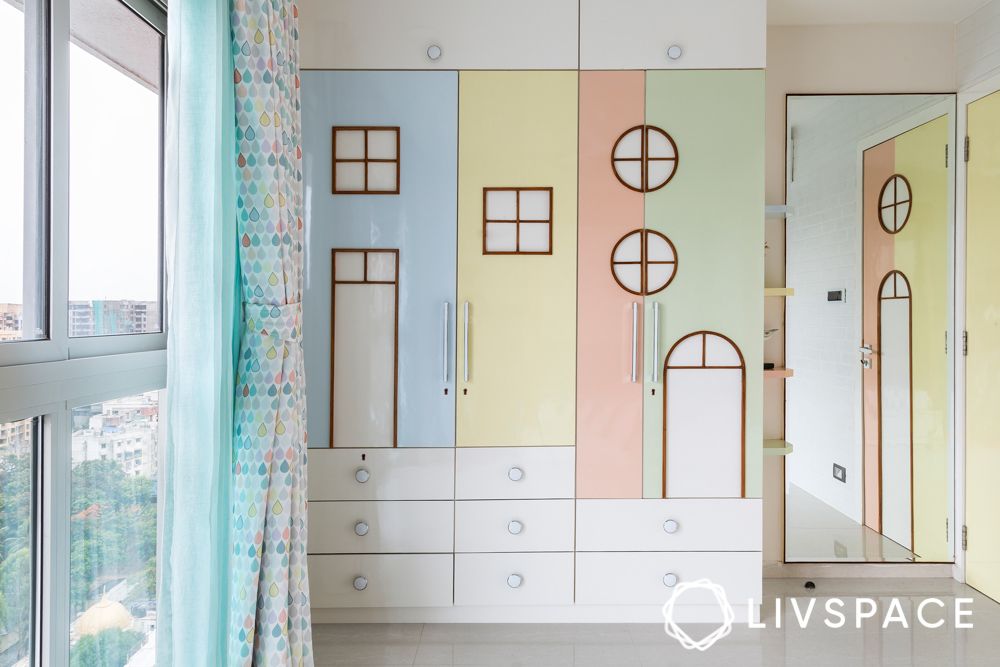 Lighting:
Install an LED profile light inside the wardrobe to ensure there's enough light to easily spot things placed within. Motion sensor lights that turn on and off automatically, as you open and close the wardrobe, are a great investment.
Safety:
Ensure that there are no sharp corners in any part of the wardrobe. Also, you can install soft close wardrobe doors to ensure that your child's fingers don't get trapped between them accidentally. Consider lining shelves and corners with padding/corner guards to prevent accidental injuries. Also make sure to anchor the wardrobe to the wall to prevent it from tipping over. Additionally, use durable wardrobe materials for shelves to ensure that they do not break if your kids choose to hide and play inside the wardrobe.
Colours:
Colours play a huge role in psychology and have a great impact on your child's mood. The chart below shows the emotions that each colour evokes. Soft, pastel shades are usually preferred for a child's wardrobe. However, you can pick bright, bold hues as long as you balance them out with the rest of the colours in the room.
Colour
Symbolises
Red
The colour of excitement, passion and love, red infuses a lot of energy
into the room. Hence, it is best to use it sparingly as an accent
Yellow
This shade stands for all things warm and happy, and is a stimulating colour.
It works well if you wish to inspire more creativity in your child
Blue
Epitomising peace, trust and loyalty, blue brings in a sense of calm
to the surroundings
Pink
Symbolising all things sweet, sincere and sophisticated, both its pastel
and bright hues work well for kids' wardrobe
Green
Representing nature, growth and healing, green is a great colour for
both adults and kids' wardrobes and rooms
Orange
Infuse confidence, bravery and success into your kids' life by
using orange as an accent colour on their wardrobe
Purple
Evokes the feelings of royalty, spirituality and luxury, making it a
good choice for an ambitious child's wardrobe
Black
Denotes sophistication and elegance and is best used sparingly
as it can make the room look dark
White
Symbolises cleanliness and purity, it is a great choice for most
wardrobes and rooms as it pairs well with other accent colours
and makes a room look large and bright
Brown
Brings in a sense of warmth and dependability if used in the right proportions
Pastels
Soft hues that bring a sense of calm and sweetness to the interiors
Gold
Represents prestige, power and also divinity, gold is a good shade for
smaller areas like door handles
Silver/Grey
Similar to gold, it works well on door handles and even frames.
It is a colour that symbolises innovation, glamour and refinement
Storage:
Organise the internal compartments in a way that all the frequently used items are placed in easy-to-access areas. Use shelves, rods, drawers at a height that is convenient to access. Also make sure that you factor in your child's changing needs as they grow up. This makes it necessary to ensure that the wardrobe has sufficient space.
Ease of maintenance:
Choose laminates and finishes that are easy to clean and maintain. Glossy finishes usually work well as they accumulate less dust and dirt. You can even install a chalkboard surface on the wardrobe to encourage your kid's inner M. F. Husain, and hopefully spare some walls and other furniture! 😉🤞
Wardrobes are a necessity but that doesn't mean they need to be boring or cumbersome. Use this interior design essential as your blank canvas to push the limits on the play of colours, design and organisation in kids' wardrobes for a growing child's room!
Check out some cool wardrobe designs:
How Can Livspace Help You?
We hope you found our kids' wardrobe design ideas useful! If you want beautiful interiors for your home, then look no further. Book an online consultation with Livspace today. If you have any thoughts and suggestions you'd like to share with us, we're all ears! Drop us a line at editor@livspace.com.