Bedroom wardrobes, unlike any other piece of furniture demand a certain design that maximises the purpose of storage. Irrespective of gender and age, if you have clothes, you need a wardrobe. Considering that wardrobes are one of the most widely used pieces of furniture, we at Livspace have spent countless hours perfecting the design for every individual.
We have progressed from basic hinged wardrobes to sliding door wardrobes with baskets, racks and lofts in each. Here, we take you through the process of finding what you need for your wardrobe.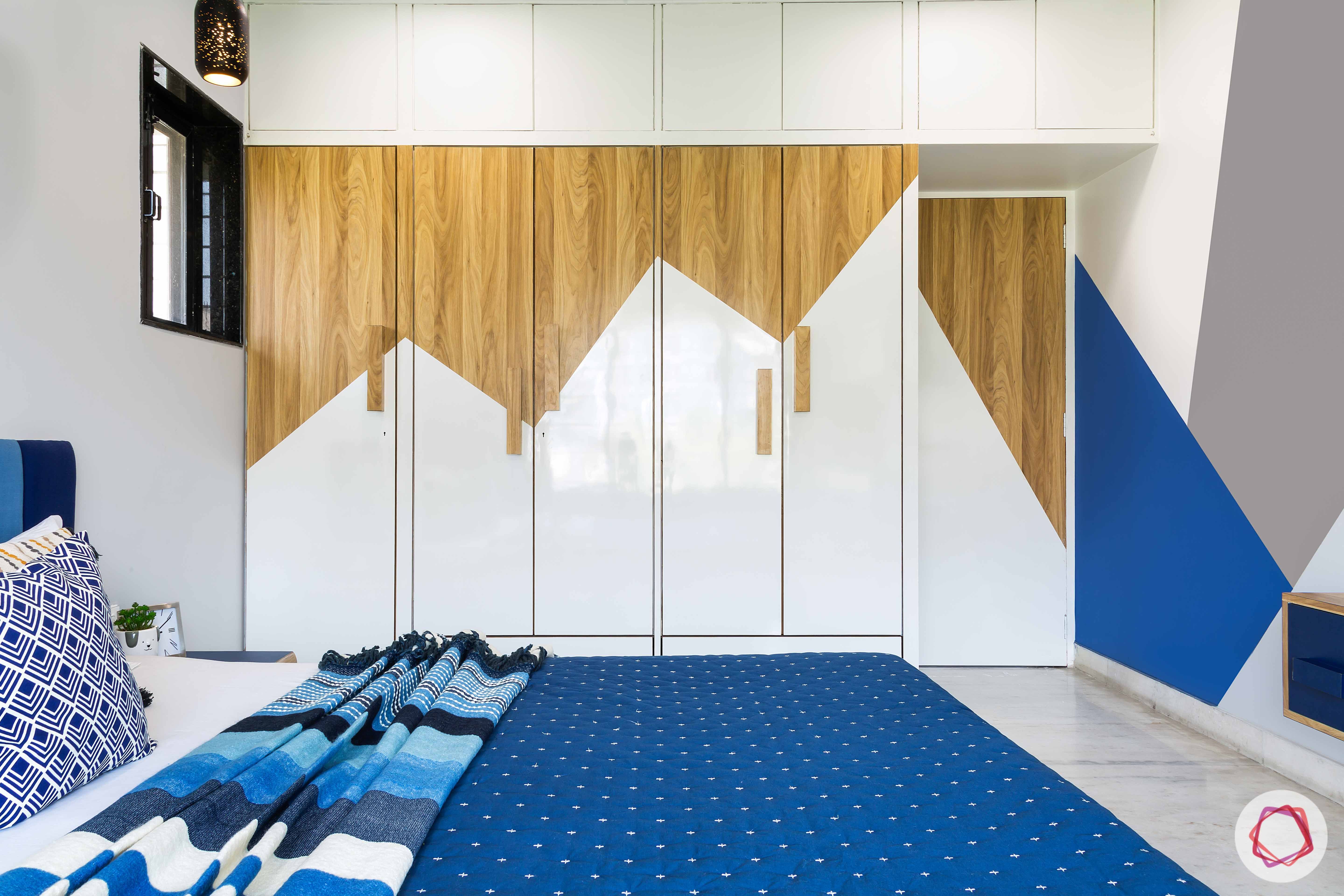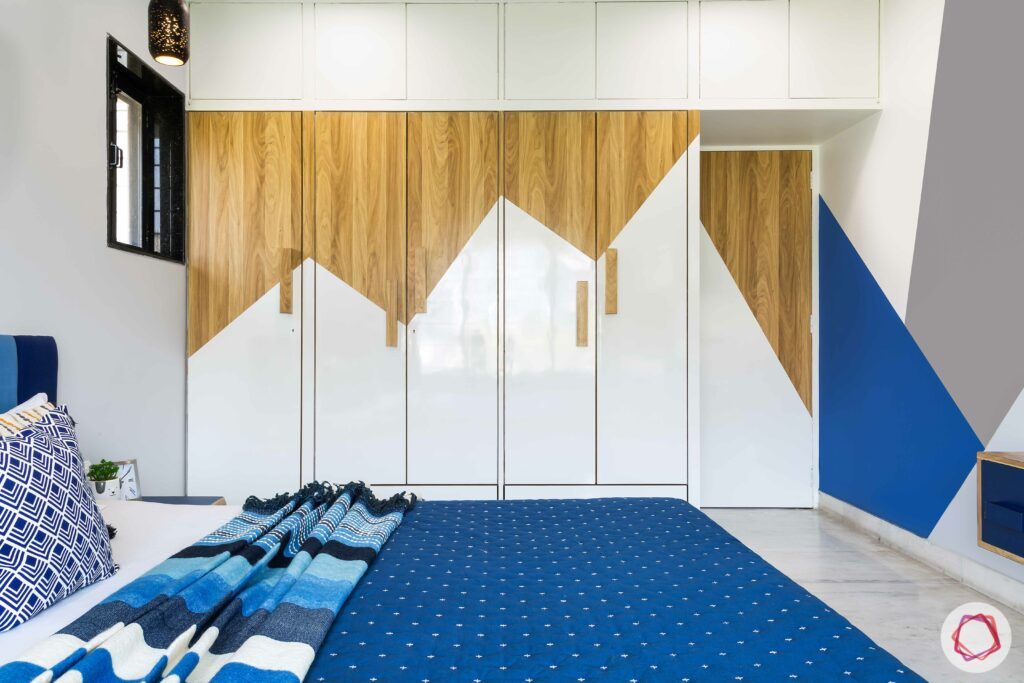 Bedroom Wardrobe Design Question #1: If you could describe the size of your room in one word, it is:
A. Cramped
B. Compact
C. Spacious
Bedroom Wardrobe Design Question #2: Space and convenience make a difference. How much space do you have for a wardrobe?
A. Minimal space
B. Just enough space
C. Plenty of space
Bedroom Wardrobe Design Question #3: How much storage do you require in your bedroom?
A. I have very few clothes
B. I have just enough
C. I have a horde of clothes. Too many to count.
Bedroom Wardrobe Design Question #4: Not just any basic design wardrobe will do. You need a-
A. Kid's Wardrobe
B. Men's Wardrobe
C. Women's Wardrobe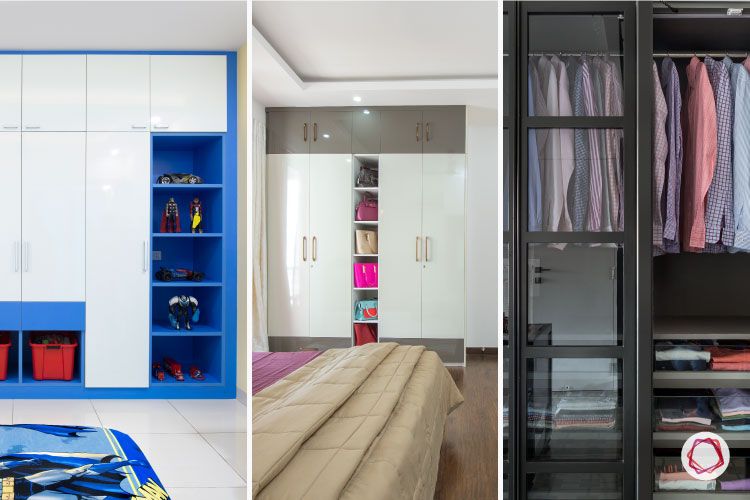 Bedroom Wardrobe Design Question #5: Let's talk budget. Where do you fall?
A. Thrifty
B. Mid-range
C. High-Priced
Bedroom Wardrobe Design Question #6: Based on your budget and requirements, what's most important?
A. Simplicity all the way
B. Budget and/or aesthetics matter more
C. Quality above all!
Bedroom Wardrobe Design Question #7: Your personality matters. Which style suits you best?
A. Functional and basic
B. Sleek, modern or classic
C. Edgy and contemporary
Bedroom Wardrobe Design Question #8: How many clothing accessories do you have?
A. Very few
B. A substantial number
C. I have lost count
Bedroom Wardrobe Design Question #9: How about the weather conditions where you live?
A. Dry
B. Moderately humid
C. Rainy and extremely humid
Mostly A's:
Your room maybe cramped for space and what can keep it tidy is plenty of storage. If your room barely has space for a closet, don't worry! You can opt for a wardrobe that is low-cost and space efficient. A great option for a budgeted and quality wardrobe material is engineered wood or pre-laminated particle board.
Making it multi-purpose are sliding mirrored doors. So, no more trips to the dresser to decide on your day's outfit. Besides convenient dressing, mirrored doors don't take up any extra space in the room and give the appearance of a spacious room. In addition to this, maximise storage with lift up cabinet lofts. With functionality taking a forefront, there is no need to compromise on style. Functionality goes great with minimal and modern designs.
Mostly B's:
There is a wardrobe design for every room. Even if your room is compact, you can find the perfect wardrobe. A high quality option for the body of your wardrobe can be moisture-resistant plywood or commercial ply. As the name suggests, it is resistant to moisture and can withstand damp conditions and humidity.
Its strength and durability makes it well suited for solid wardrobe construction. With less space, a great space-saving option is a mirrored glass door, either sliding or hinged. Subsequently, these doors can give you a sleek modern look or a classic look. With more space, you can opt for more modules in the wardrobe.
Mostly C's:
Get creative and design your dream wardrobe. With quality and aesthetics being top notch, you can't help but design an edgy and stylish wardrobe. Marine ply and HDF HMR are known for its strength, high resistance to temperature changes and waterproof features, making it a perfect match for rainy seasons.
The doors can be hinged, sliding or folding with plain, glass, mirror or a unique combination of any two. With ample space, the wardrobe can have a number of modules along with storage baskets in a variety of materials, boxes for jewellery and watches and multifunctional trouser racks.
Furthermore, Livspace offers over four hundred internal module combinations, which can be used as stand alone units or two or more units integrated together to give you limitless options to suit every possible size and storage requirements.
If you enjoyed taking this quiz, Read This Before Getting a Built-in Wardrobe.
Send in your comments and suggestions