Some of our best work as designers and creators of functional and beautiful living spaces was displayed last year. But it seems a notch pompous to boast about ourselves. So we took the mandate to our readers. And the verdict is in! They picked the best Livspace home interiors for style, comfort, functionality – all the things Livspace designers specialise in providing for homeowners.
So without further ado, we present to you the top 10 Livspace India homes for 2019.
Livspace Home Interiors 2019 #1: Functional Kitchen & Wardrobes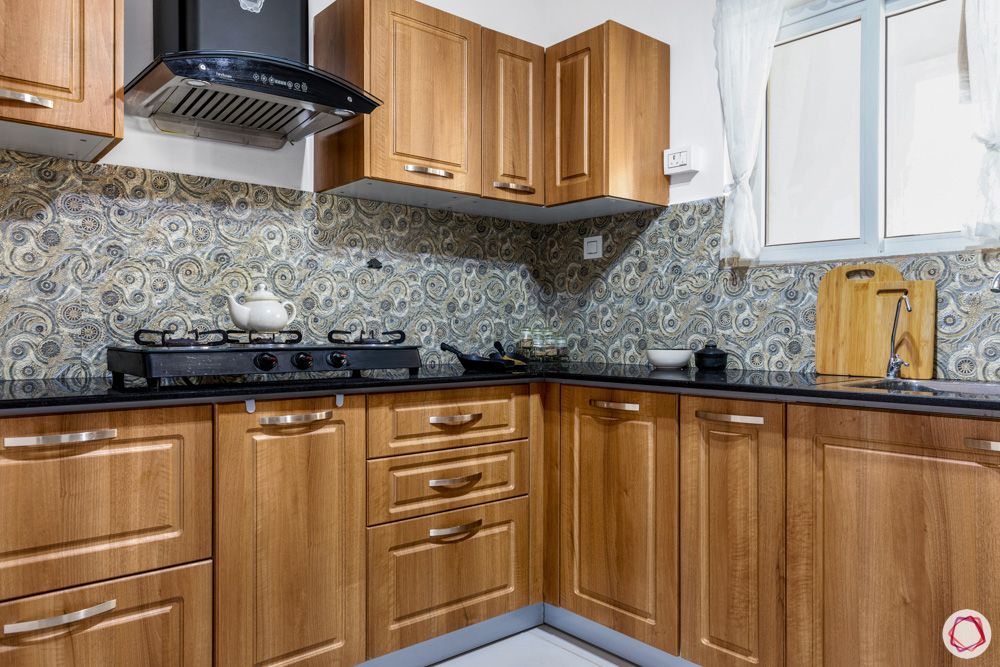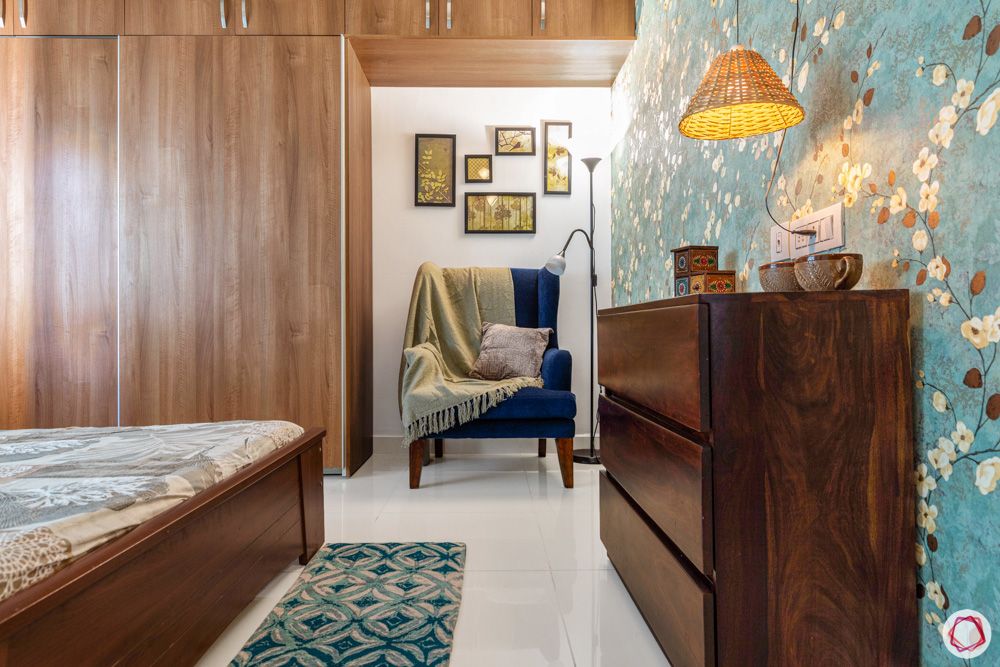 Place: Hyderabad
Property: Accurate Wind Chimes
Budget: ₹₹₹₹₹
Not all homes require a complete overhaul. Sometimes, it's the most essentials fittings people need – kitchen and wardrobes. Fareed and Zinher Saikia's apartment is one such project. We've designed laminate-finish wardrobes and kitchen cabinets for this apartment and it's basic but innately beautiful and on a budget! No wonder our readers love it.
For those who love classic designs and wooden finishes, check out Kitchen & Wardrobe Design on a Budget.
Livspace Home Interiors 2019 #2: Nature-inspired Hues for Roomy Hyderabad 3BHK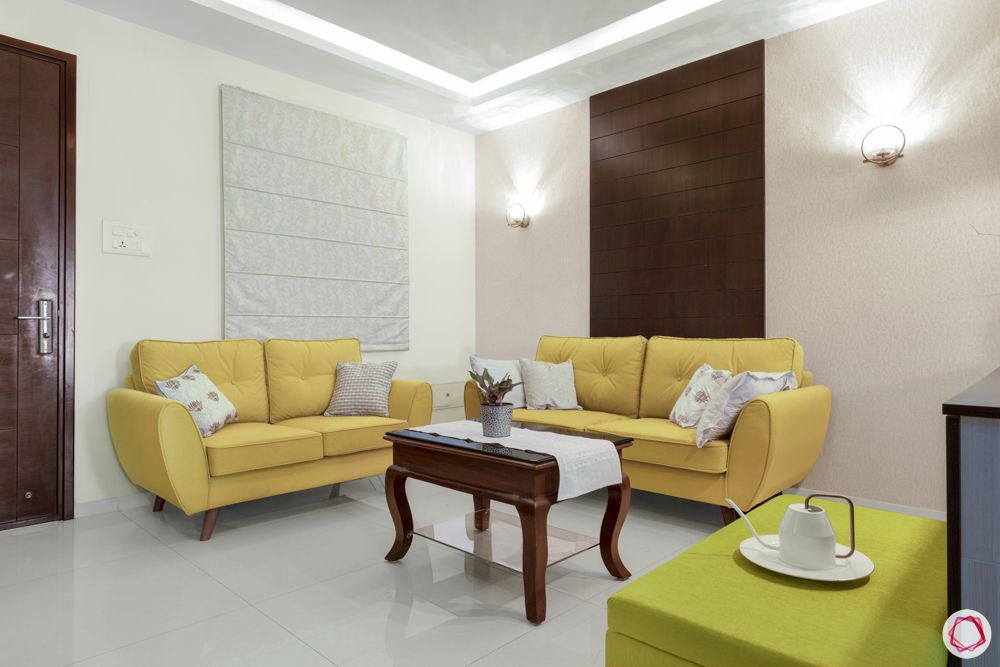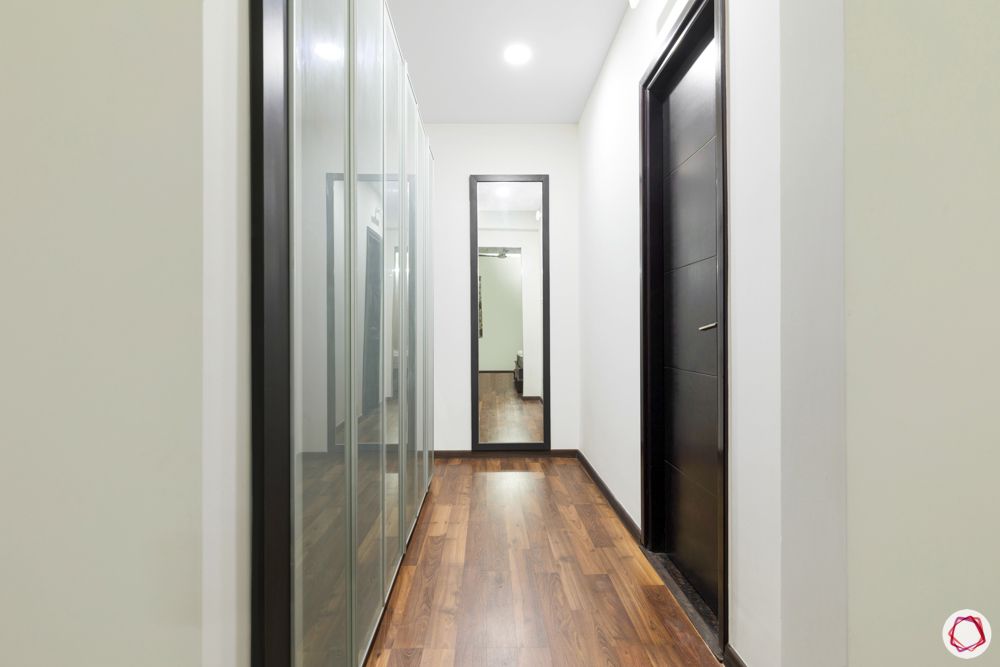 Place: Hyderabad
Property: Rajapushpa Atria
Budget: ₹₹₹₹₹
What's a designer home if it does not cater to all your whims and fancies? The best homes blend functionality with gorgeous designs, just like this home. From ingenious space organisation techniques to bright colours and brillant feature walls, this Hyderabad 3BHK has it all! And if you're looking for luxury, this home comes with a walk-in closet too. Neat, isn't it?
If you want to read all the cleverly crafted details, take the full tour here: Functional Interiors for Roomy 3BHK.
Livspace Home Interiors 2019 #3: Rustic Decor for Pet-friendly 3BHK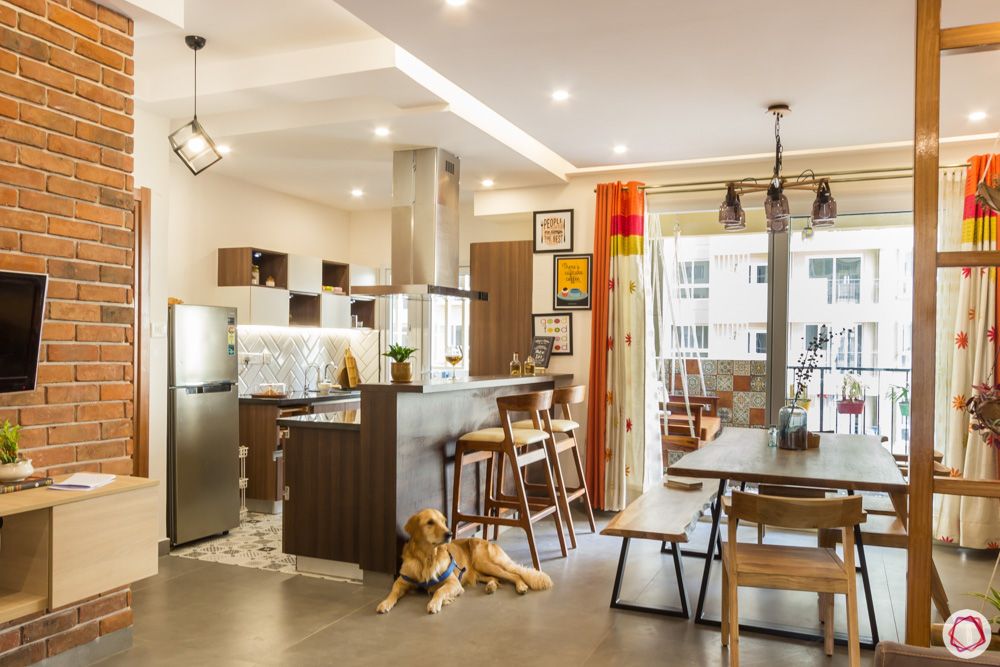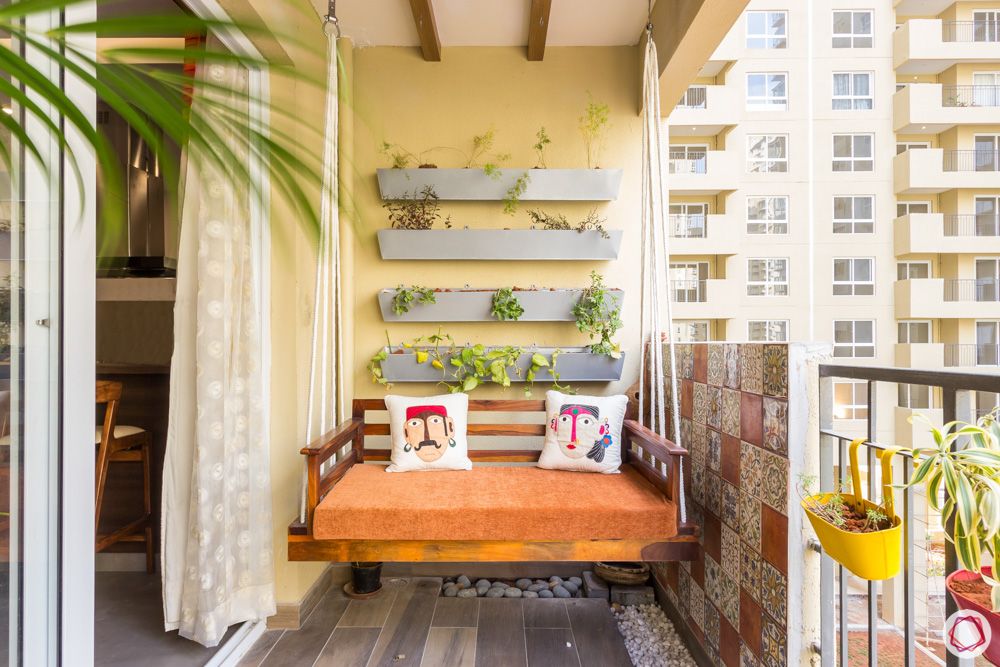 Place: Bangalore
Property: Bhartiya City
Budget: ₹₹₹₹₹
At the very beginning of the list of Livspace India homes is a gorgeous 3BHK from namma Bengaluru! Our clients, a young couple, Nikhil and Pritika, are well-travelled and possess great taste in interiors. When they approached Livspace, they were brimming with ideas and needed someone to put it all together for them.
Our designer Anjali Murali, who spearheaded this project, was delighted to know that this couple wanted their home to look "naturally designed". Thus, lovely LED bulbs, exposed brick walls, pretty tiles and a lot natural-looking wooden finishes are a part of this home's design. Take a look!
If you want more details on the products, finishes and design, read: This 3BHK is Earthy with Industrial Elements.
Livspace Home Interiors 2019 #4: Radiant Revamp for 14-Year-Old Kitchen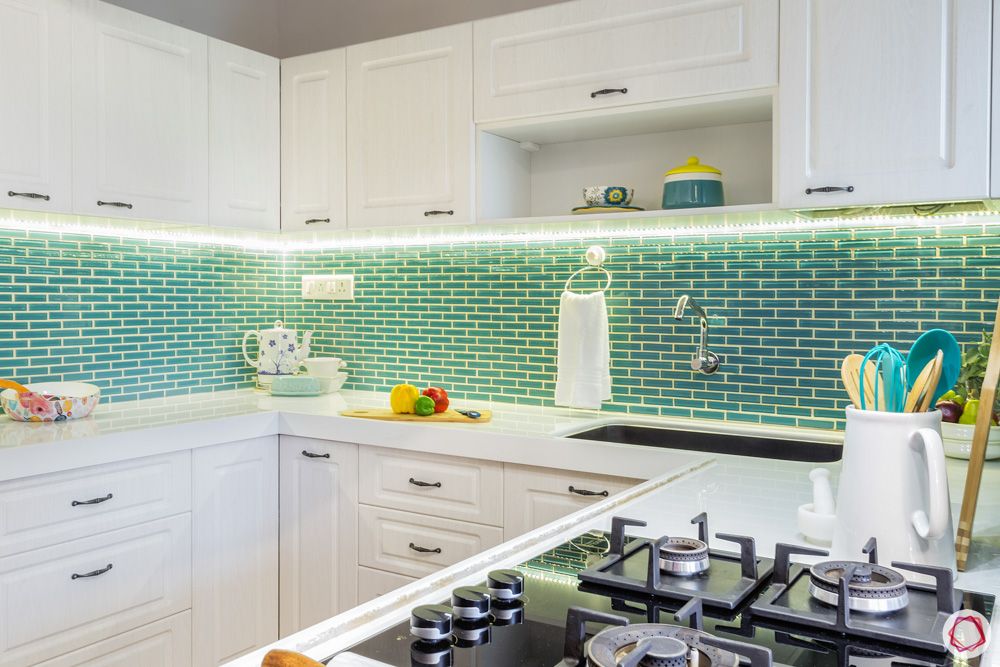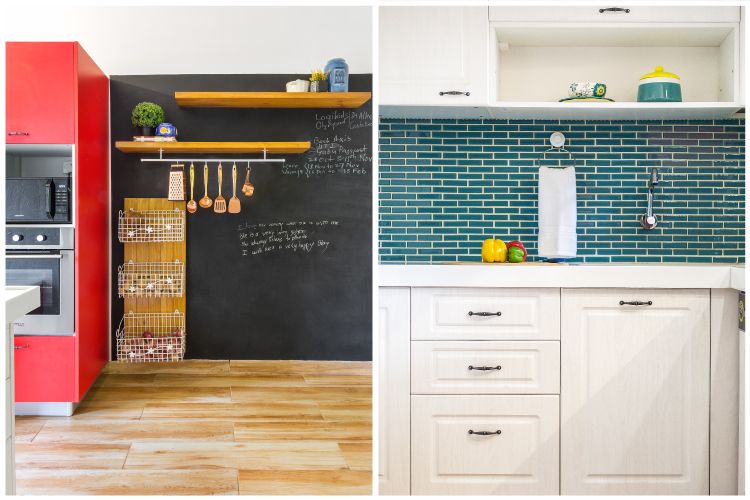 Place: Mumbai
Property: Runwal Heights
Budget: ₹₹₹₹₹
Who doesn't love a fairy tale before-after story? But this kitchen renovation story was special due to the sheer magnitude of the change. Our design team transformed a dark and dingy kitchen into this bright, airy and modern space. And all this under ₹3 lakh! Besides, white kitchens are quite the rage and we also love the use a blackboard installed here for planning menus.
"We found our comfort zone with Rushika and loved how she devoted her time and energy to reinvent our kitchen. She respected the fact that we have used our kitchen space for 14 years and knew exactly what we wanted.
– Girish & Amruta Parulkar, Livspace Homeowners
This kitchen transformation is one for the books. Read more about it: Outdated Kitchen Gets a Modern Makeover.
Livspace Home Interiors 2019 #5: Chennai 3BHK Styled with Ethnic Wooden Details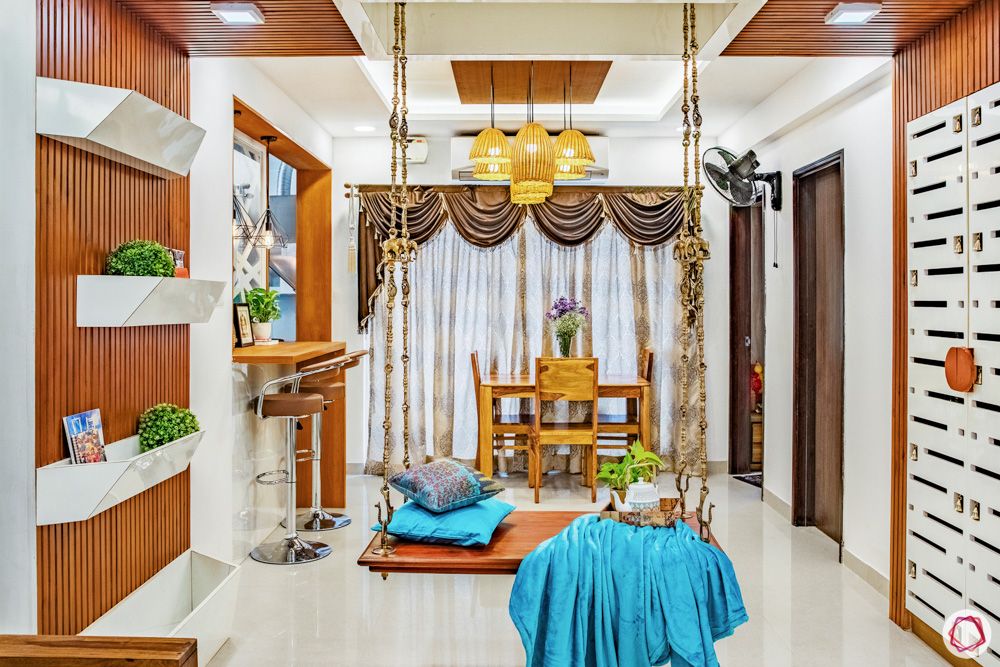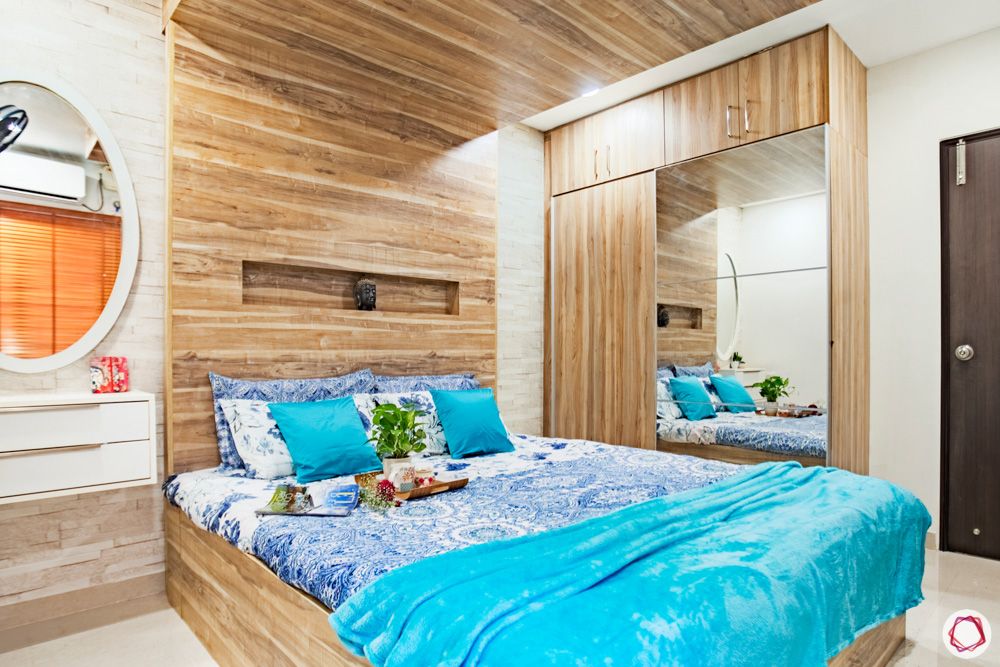 Place: Chennai
Property: AVM Asta
Budget: ₹₹₹₹₹
Guess what? Our first home in Chennai has got people talking. It is a spacious 3BHK in an upmarket locality in the city. Readers love it for its quintessential ethnic elements like the trademark South Indian swing and intricate wooden detailing. If you are planning to get woodwork done in your home, this is home serves as an inspirational look-book.
It's got everything – from a swing in the living room to wooden elements throughout the home, a gorgeous pooja unit and a minimal kitchen and bedrooms. See more of it here: Traditional Touch for 3BHK at Asta AVM.

Livspace Home Interiors 2019 #6: Bespoke Interiors for a Luxe 4BHK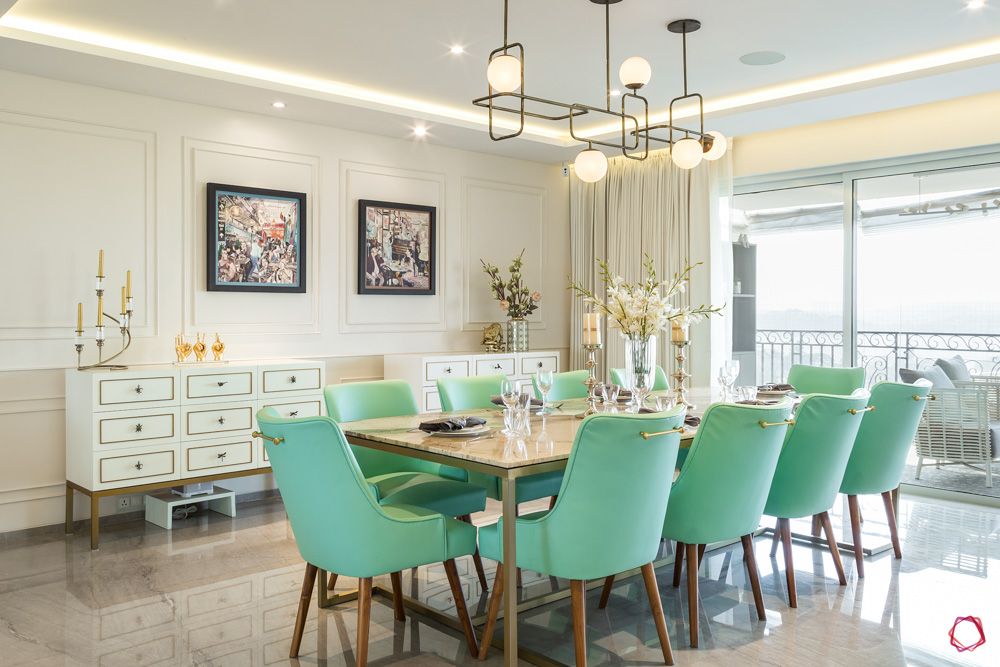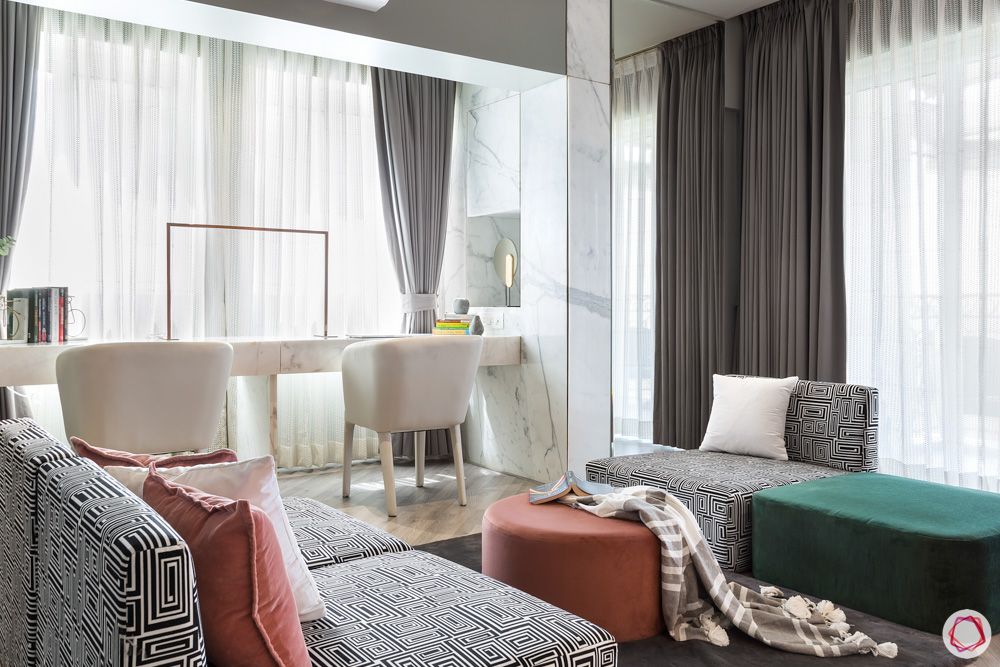 Place: Mumbai
Property: Tivoli, Hiranandani Gardens
Budget: ₹₹₹₹₹
Got luxury on your mind? We can offer you a home that is fit for royalty! In between its bespoke furniture and enormous size spanning over 4,000 sq. ft., it is no surprise that this Mumbai 4BHK made it to the top 10 Livspace India homes. It looks like it has come straight out of a home interiors magazine. Tasteful and extravagant without being flashy is such a sweet spot. You need to explore it for so much more! Our designer Preetu Muley walks you through this gorgeous home:
For more design and decor details, this will help: Plush, Tasteful, Fresh Enviable.
Livspace Home Interiors 2019 #7: 2 Living Rooms in 2 Classic Styles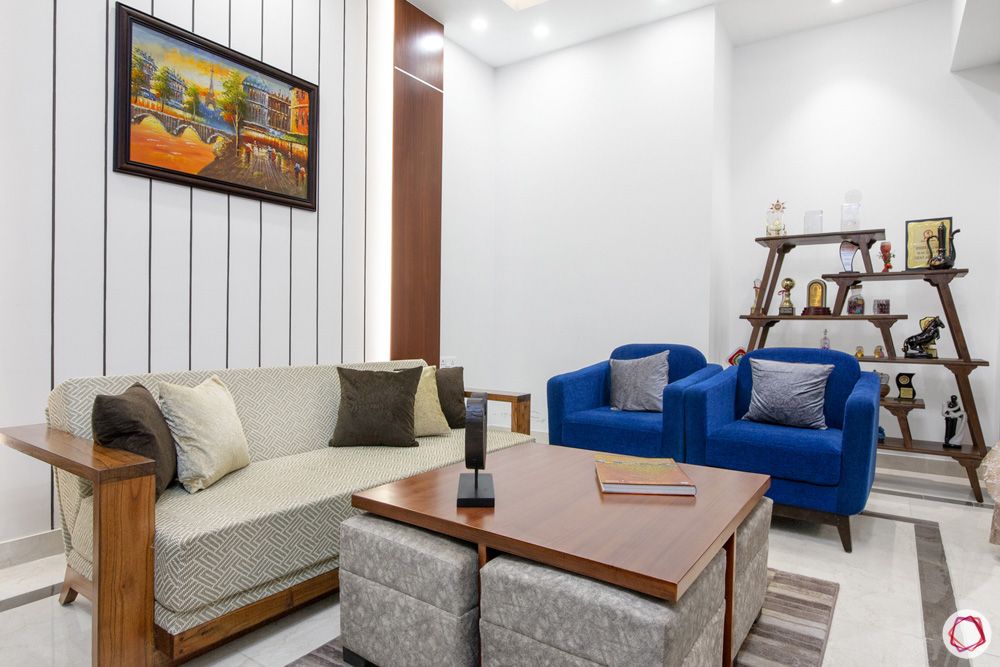 Place: Gurgaon
Property: Independent house
Budget: ₹₹₹₹₹
Ever heard of the saying, good things come in small packages? It seems to be true in this case. Our scope for this Gurgaon home was limited to just the living space but we did the best with what we had. This family wanted a formal living room to host guests and an informal family room for themselves. And both these styles are a huge hit with our readers!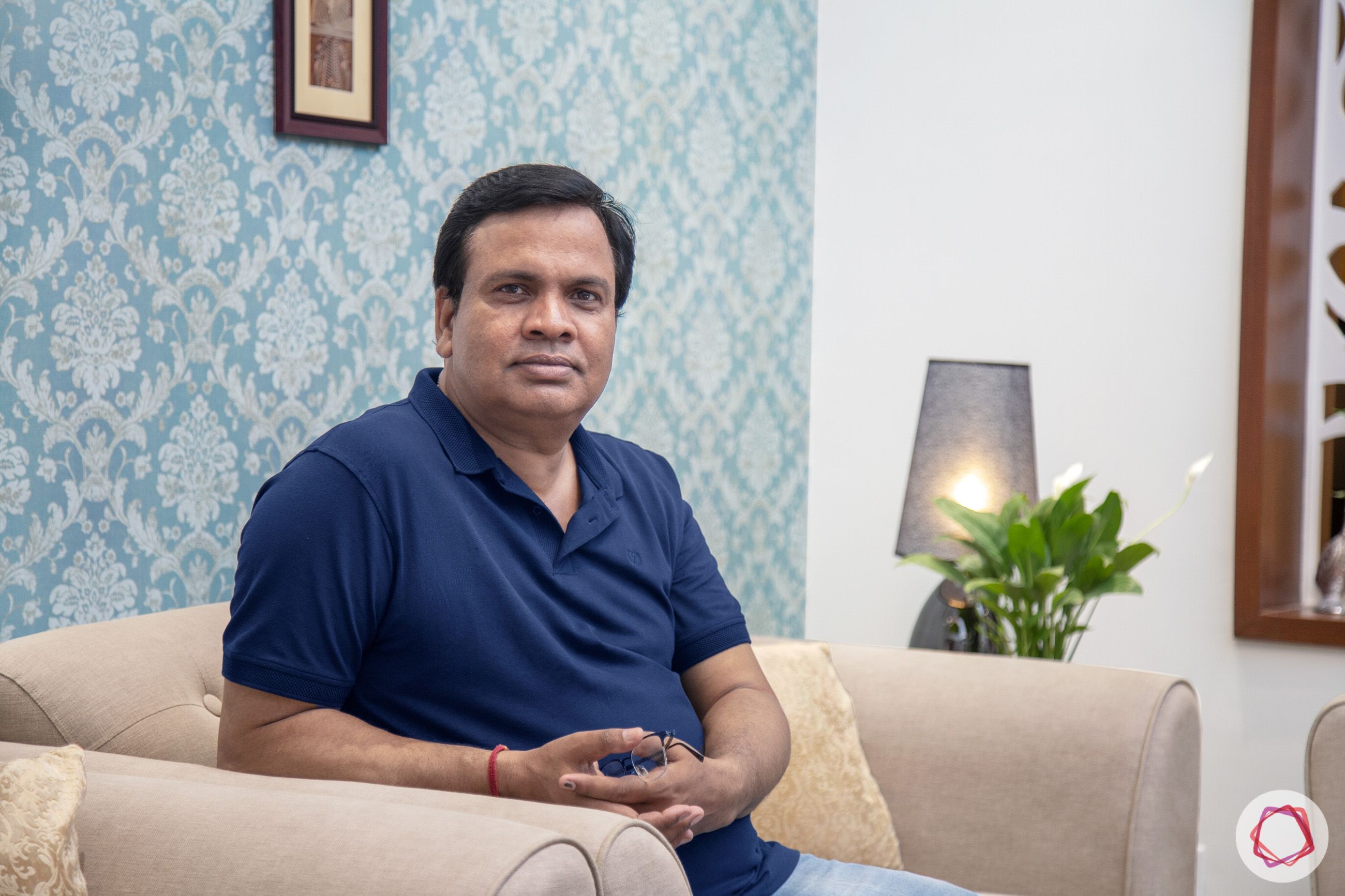 "After seeing my home post renovation, I am very glad to see all the improvements made. Thank you for all the hard work and effort put in. All the designs meet required conditions and everything is just the way we wanted. I am looking forward to utilising your services in the future again."
– Rudhesh Chauhan, Livspace Homeowner
Curious to know more? Read Two Living Rooms, Two Styles.
Livspace Home Interiors 2019 #8: Simply Stunning Interiors on a Budget for 2BHK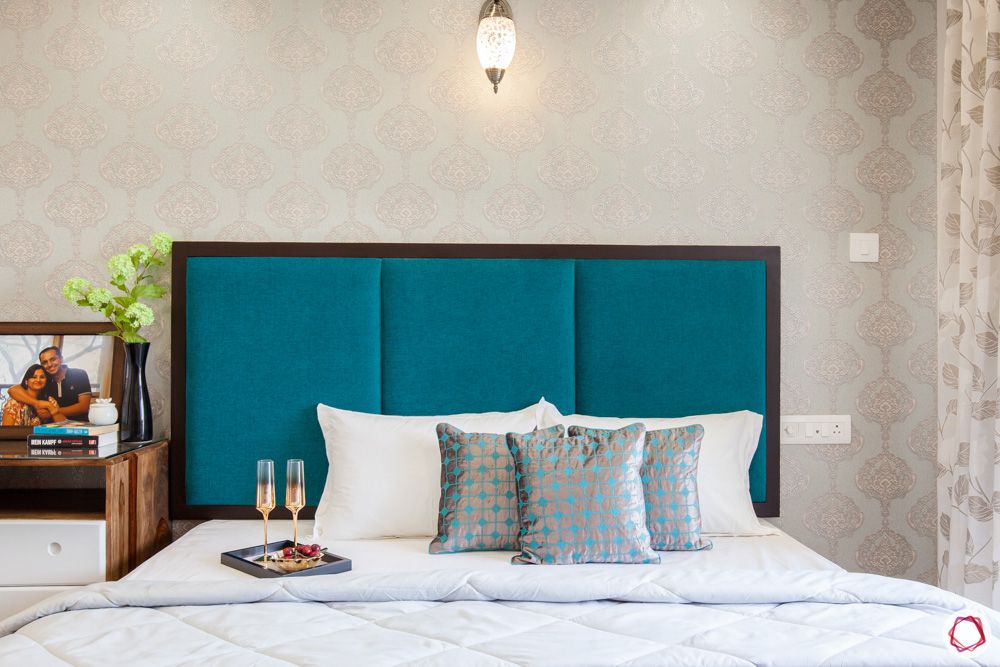 Place: Pune
Property: Kunal Aspiree
Budget: ₹₹₹₹₹
Livspace India ventured into the budding city of Pune in 2019, and our clients from this lovely city have been a delight to work with. The readers too have showered their love of Pune home interiors. This 2BHK, for example, stands apart for the sheer simplicity of its design. With ambient lighting, simple furniture, elegant design and ample storage, it's surprising to think this was done on a budget! From the headboards to the intricate jaali panel, we love the detailing in this home and are particularly enamoured by the red and white kitchen.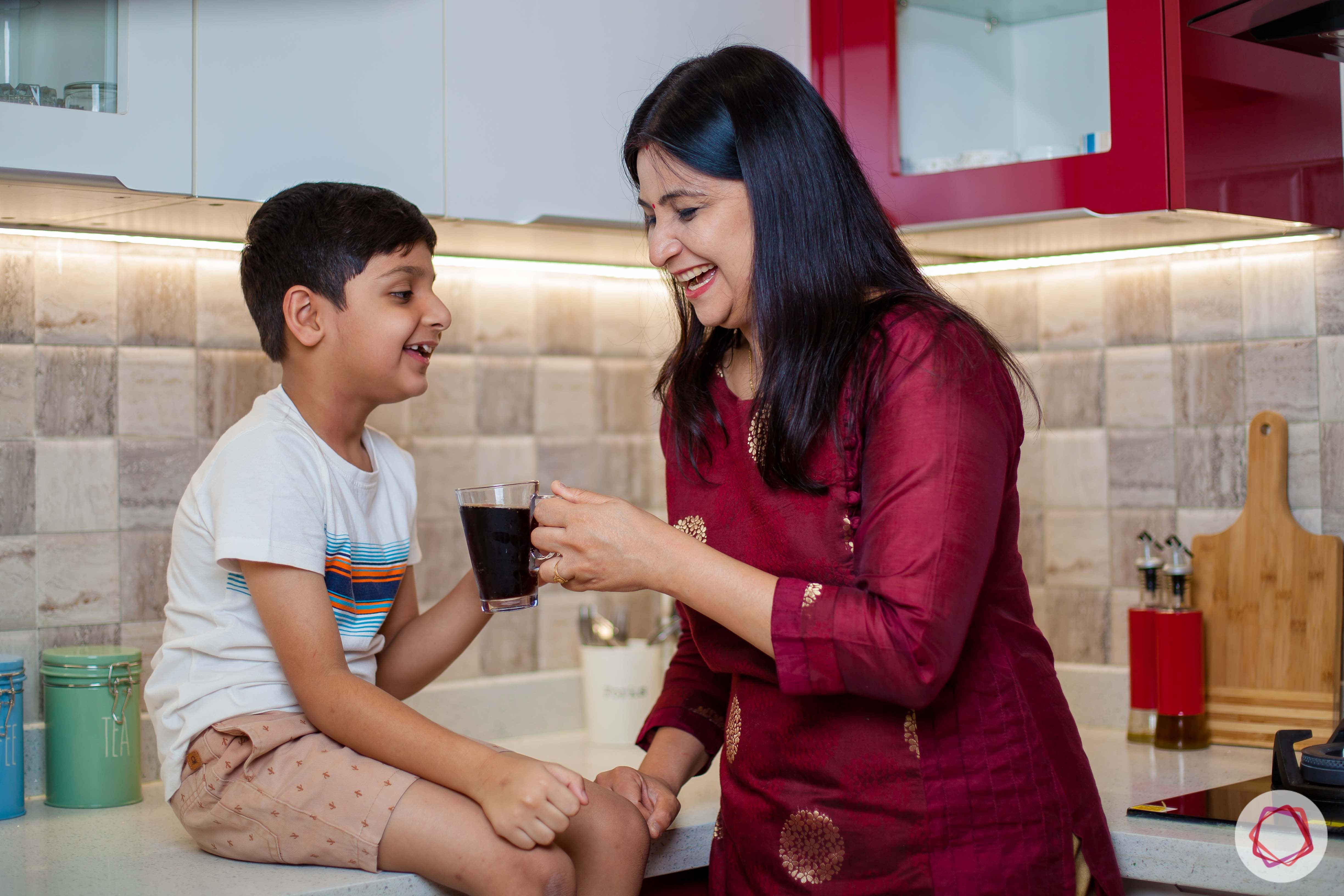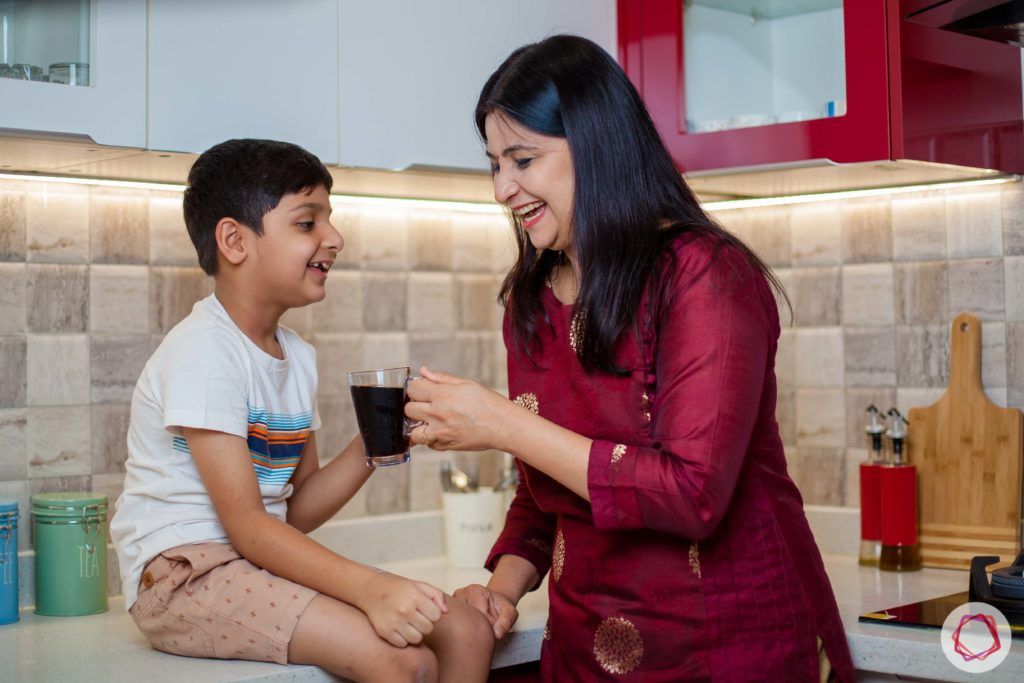 "We were looking for interior design services for our new home when we came across Livspace. We had a specific budget in mind and Ila, our designer made sure that she gave us the best within that. Our dream home was delivered to us on time and we love how it looks. Ila is very prompt and a patient listener. All thanks to her and the entire team for giving us the home that we had imagined."
– Richa Trivedi, Livspace Homeowner
For all the exclusive details, read: Budgeted & Cheerful 2BHK at Kunal Aspiree.
Livspace Home Interiors 2019 #9: Travel-inspired Decor for Plush 8BHK Duplex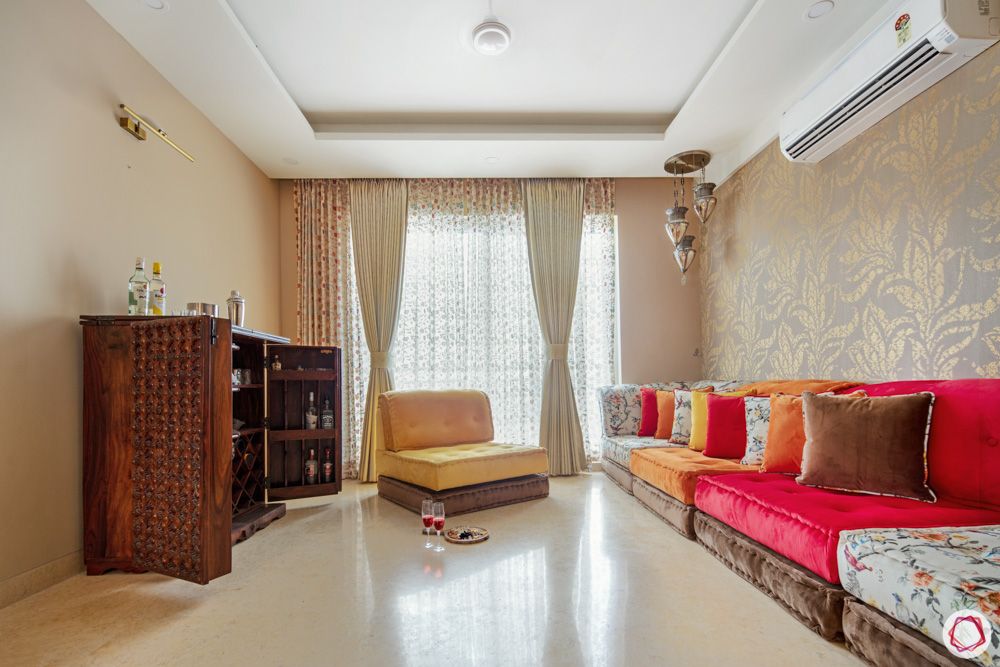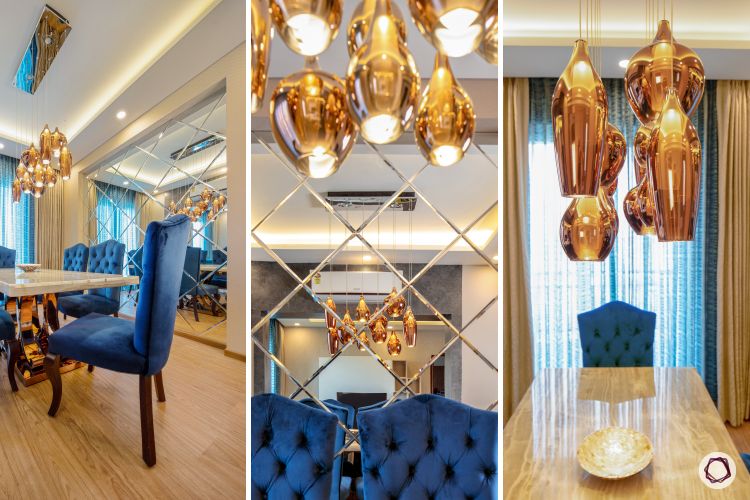 Place: Delhi
Property: Winter Hills
Budget: ₹₹₹₹₹
This duplex in Delhi is of our head-turners for 2019. It is obvious that this home is a huge one but our readers love it because it is designed with a streak of bold choices. The family lives in this expansive 8BHK happen to be travel enthusiasts, and they wanted to recreate memories from the places they have travelled to in their home interiors. We combined two apartments and this included structural and electrical changes, Don't miss the Santorini-esque study or the Turkish durbar!
Read more about their journey here: A Luxurious Travel-inspired 8BHK.
Livspace Home Interiors 2019 #10: Glam Interiors for Storage-packed 4BHK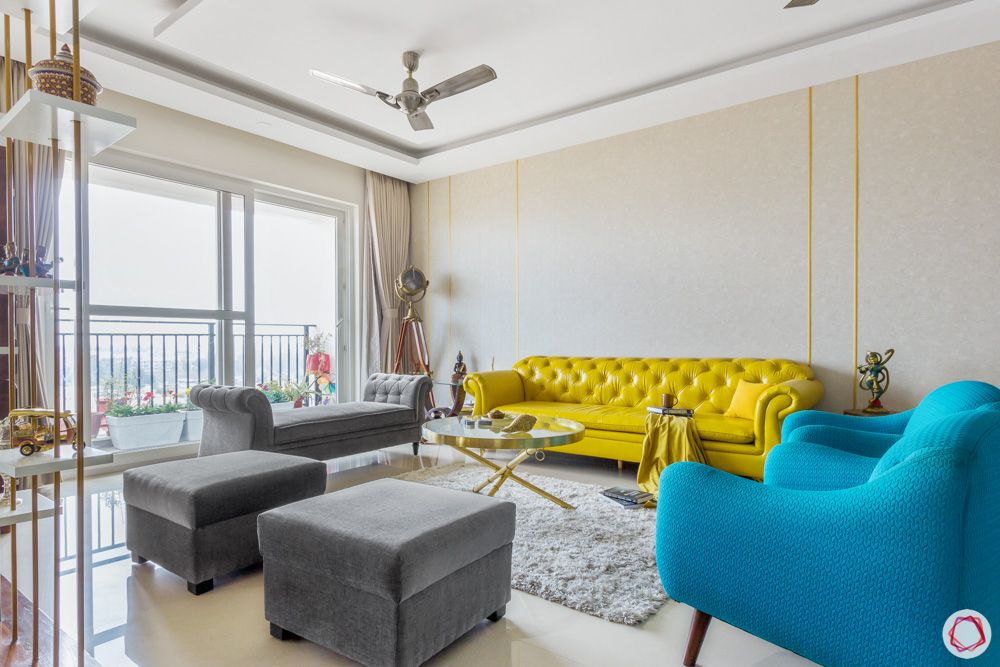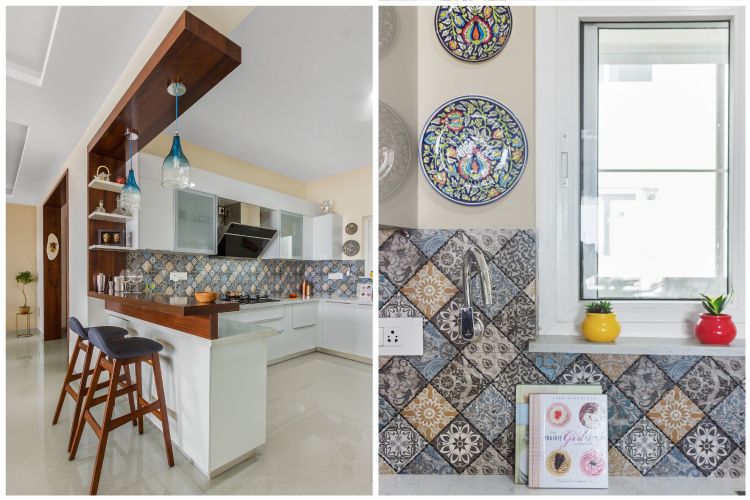 Place: Bangalore
Property: Adarsh Palm Retreat
Budget: ₹₹₹₹₹
This 4BHK in one of Bengaluru's prime properties is a crowd puller for many reasons. Rajat and Payal Malhotra's home has lavish interiors, just the right pop of bright colours, customised pieces and a classy kitchen furnished with dainty ceramics. From the living room to kitchen, pooja room to kid's room, this home's design makes the most of natural light and stays classy. Don't trust us? Listen to our clients:
Dive in for details: Colours Meet Class at This Adarsh Palm Retreat Home.
If you loved our best homes for the year 2019, also check out the Our Favourite Budget Homes Under ₹10 Lakhs.
We love hearing from you! Send us your comments and suggestions.