This Rajapushpa Atria apartment has amazing space optimisation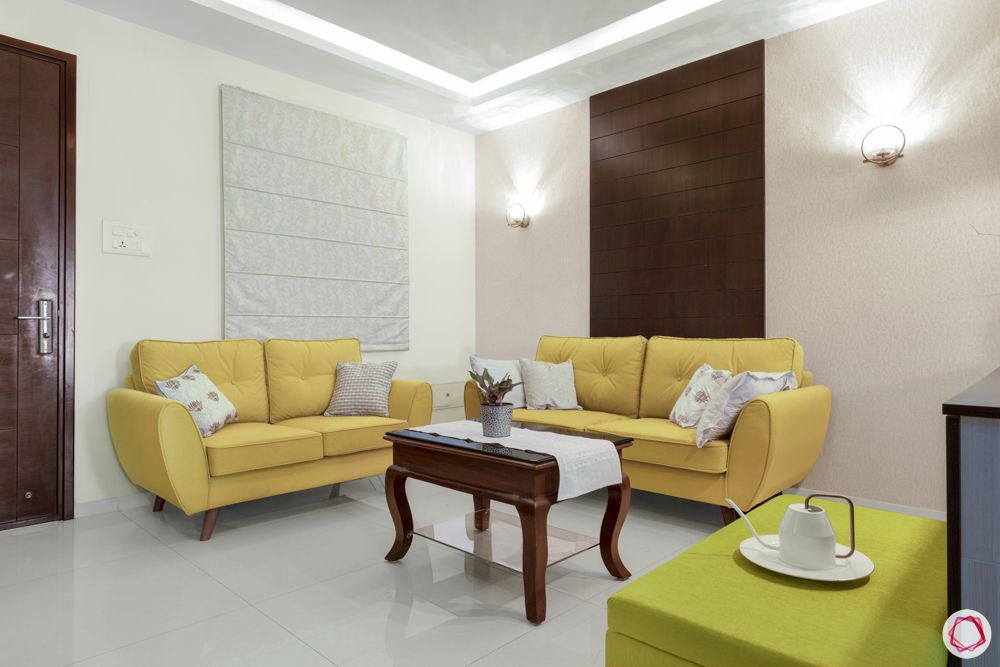 ---
Who livs here: Harshita & Rohit
Location: Rajapushpa Atria, Kokapet, Hyderabad
Size of home: 3BHK spanning 1,975 sq. ft
Design team: Interior designer Monica Reddy with Project Manager Shanawaz Khan
Livspace service: Kitchen, wardrobes, storage units, feature walls and false ceiling
Budget: ₹₹₹₹₹
---
An apartment becomes a home only when it answers to all your whims and fancies. Harshita and Rohit, who are first time homeowners, had quite a few of these! So they reached out to us and our designer Monica Reddy transformed their 3BHK at Rajapushpa Atria in a home. Needless to say that they got the best interiors in Hyderabad for their spacious 3BHK that has functional storage options and some frills for visual interest.
Take a sneak peek into this neatly designed home if you aspire to get the best interiors in Hyderabad.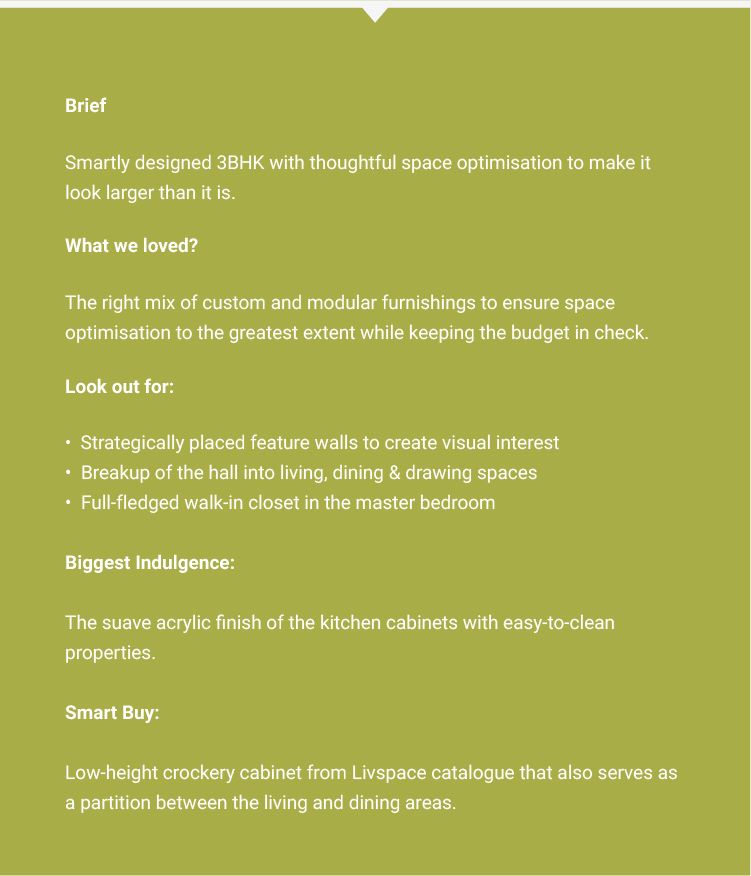 A Three-in-one Living Room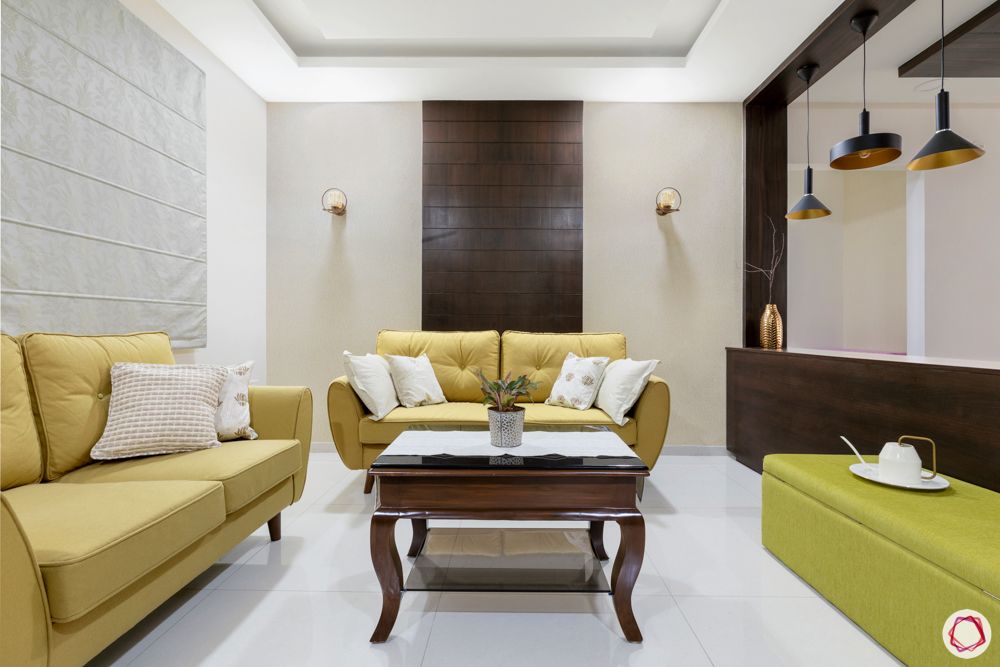 Harshita and Rohit had a very special requirement for their living area; they wanted it to be split in three! Usually, the living room is segregated into seating and dining zones. But this young couple wanted to have a drawing zone, where guests could be seated when they entered, along with a dining space and living area where the TV unit would be placed.
Monica solved this problem with some ingenious space optimisation tricks. To segregate the drawing and dining space, she has used a low-height laminate crockery unit from the Livspace catalogue. The veneer panel around this unit is a customised piece of work but it blends in seamlessly. The pendant lights over the crockery unit quirk up the space quite nicely.
The seating area is a mix of contemporary and ethnic features, and we love the veneer panelling behind the sofa with the sconces on either side.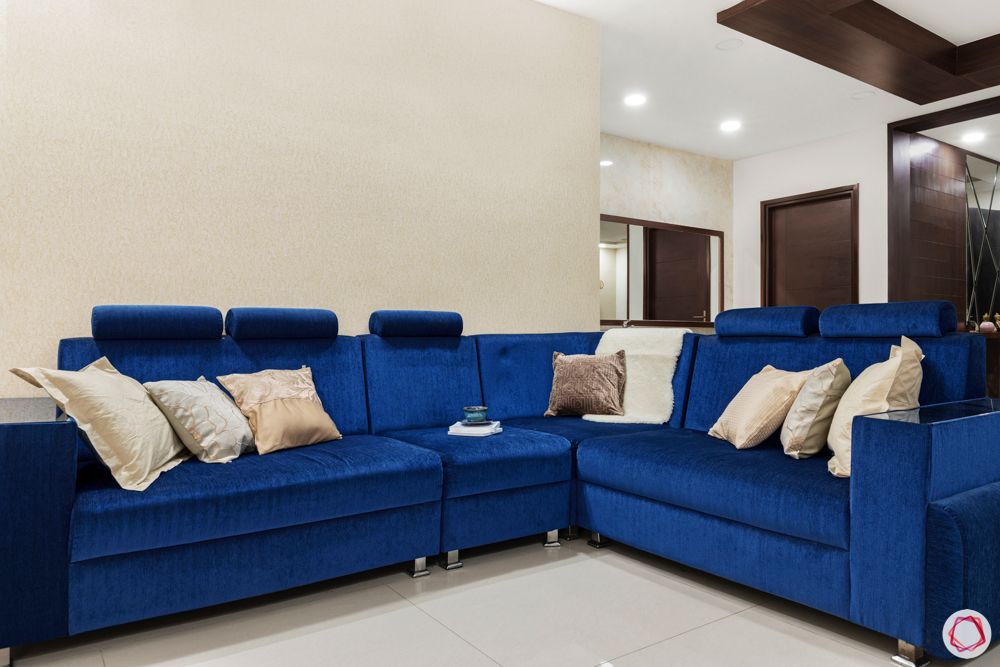 The main highlight of the living zone is the entertainment unit with a veneer back panel. This custom piece matches the wooden ceiling details and lends a thread of continuity to the design.
Indulging in Feature Walls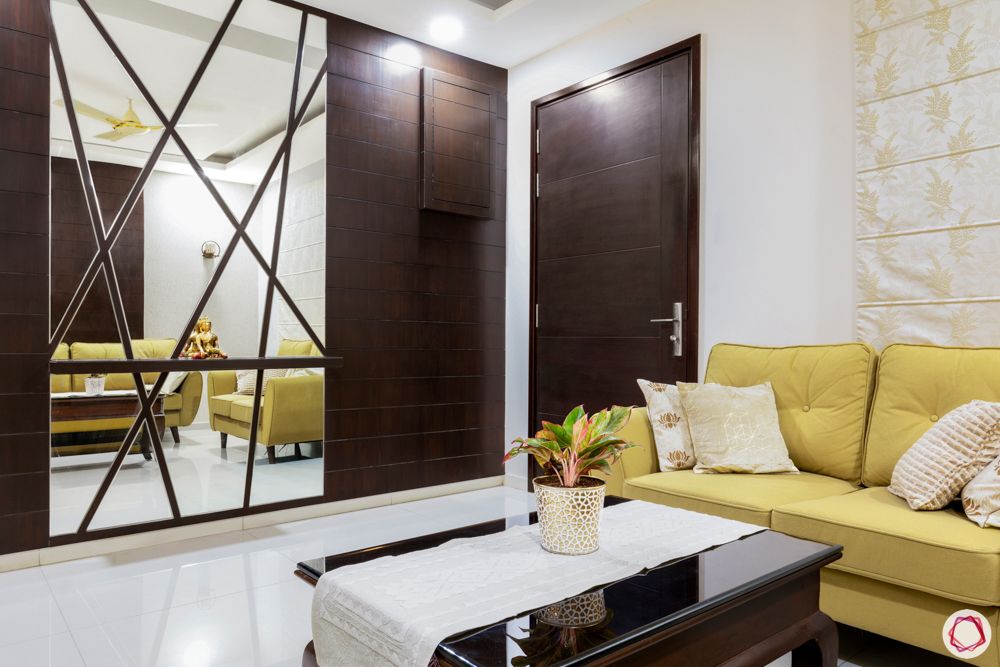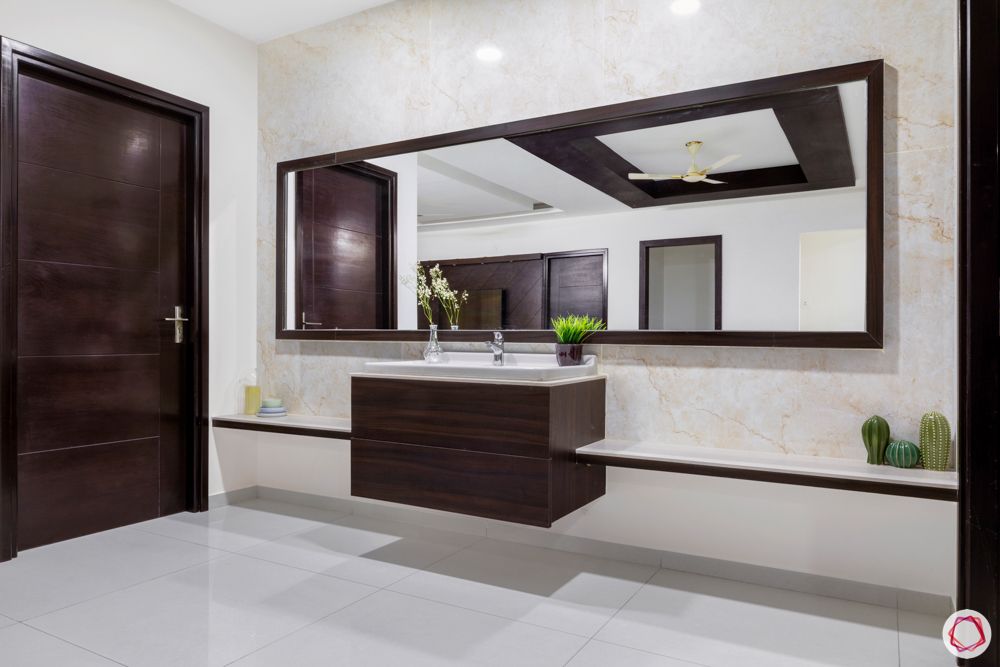 While Harshita and Rohit intended to have functional home, they were keen on having some feature walls in the living room. From a design perspective, this allowed Monica to segregate the spaces in an unassuming manner. We see the first feature wall as soon as we enter through the main entrance. It created visual interest with a mix of veneer as well as mirror panelling, and it also happens to be Harshita's favourite design element in this house. The other feature wall is seen in the dining space. This too is a combination of veneer and mirror with a storage unit and ledge for texture.
What's Cooking in This Sleek Kitchen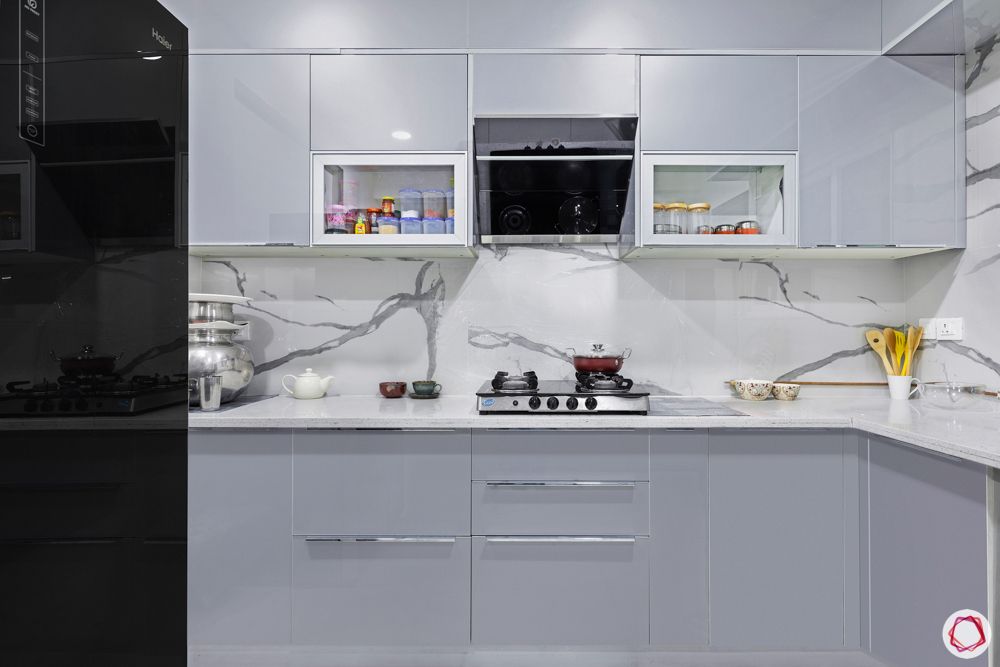 The kitchen in this home is rather compact, so Harshita wanted a colour scheme that would open up the space. Monica suggested a grey and white palette that has worked splendidly for this kitchen. The cabinets have a grey acrylic finish that gives them a sophisticated look. Also, acrylic is much easier to clean than laminate or membrane finish. The backsplash comprises statuario tiles that is basically a marble look-alike. But they are much more affordable than marble.
"Our designer Monica was our single point of contact during the design and installation process. And she did a very good job of coordinating on our behalf. We are pleased with the way our home has turned out as Monica has ensured that we get everything that we signed up for!
– Harshita & Rohit, Livspace Homeowners

Walk in to Elegance With a Walk-in Closet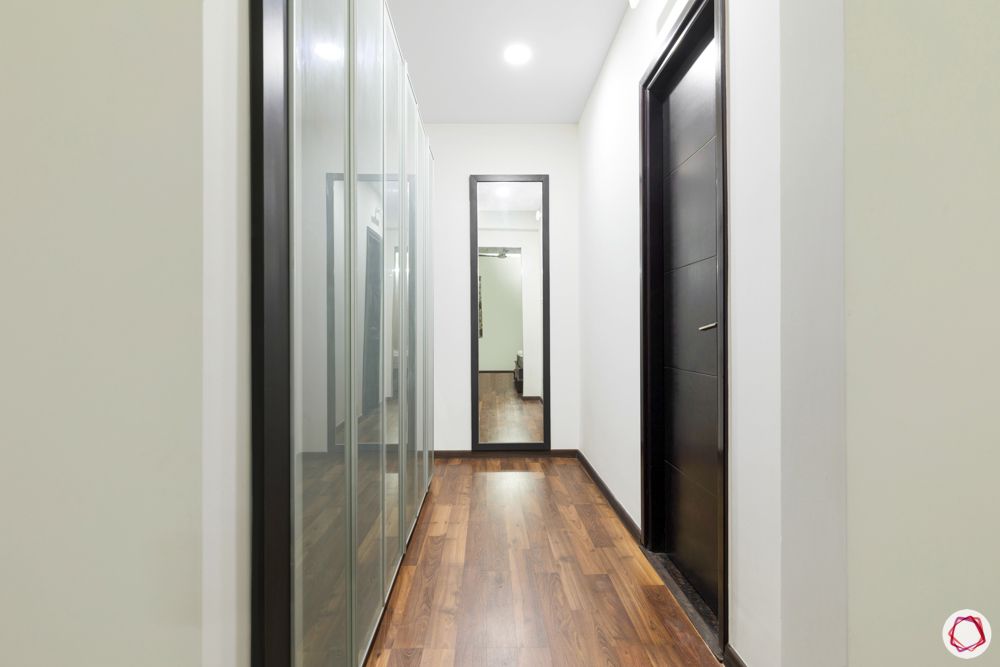 Harshita and Rohit decided to hold on to their existing furniture for the bedrooms and invest in a walk-in closet instead. In their master bedroom, we see a full-fledged walk-in wardrobe with frosted glass shutters; not a very common sight in Indian homes! The glass shutters add depth to the dressing area and the floor-to-ceiling wardrobes make the best possible use of space. Apart from the wardrobe, Monica has provided a TV cabinet with veneer panelling in this bedroom that mimics the style of the entertainment unit in the living room.
Mix & Match at Rajapushpa Atria Guest Bedroom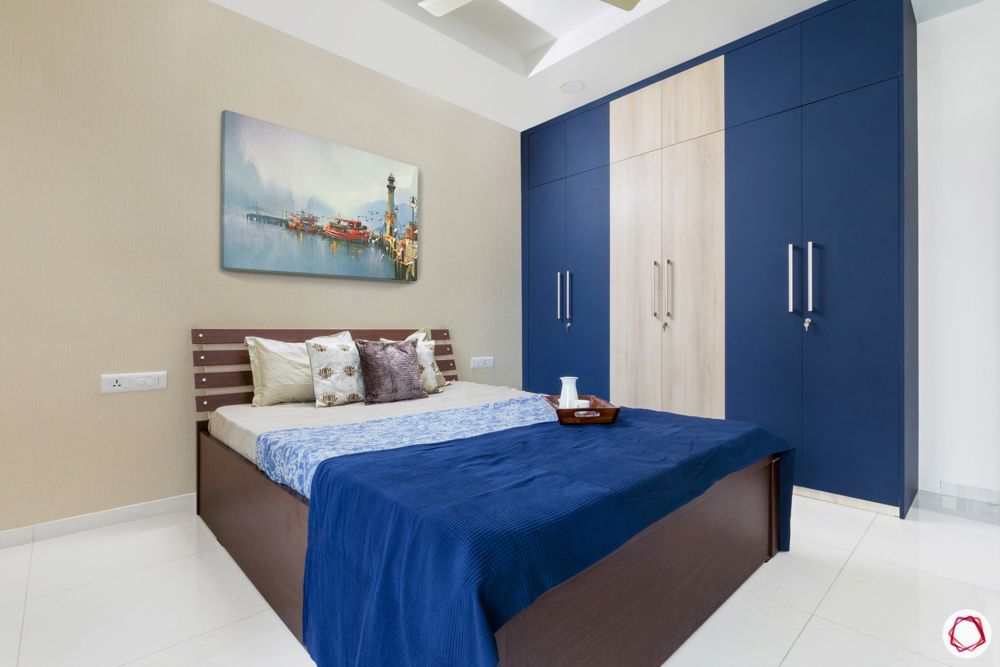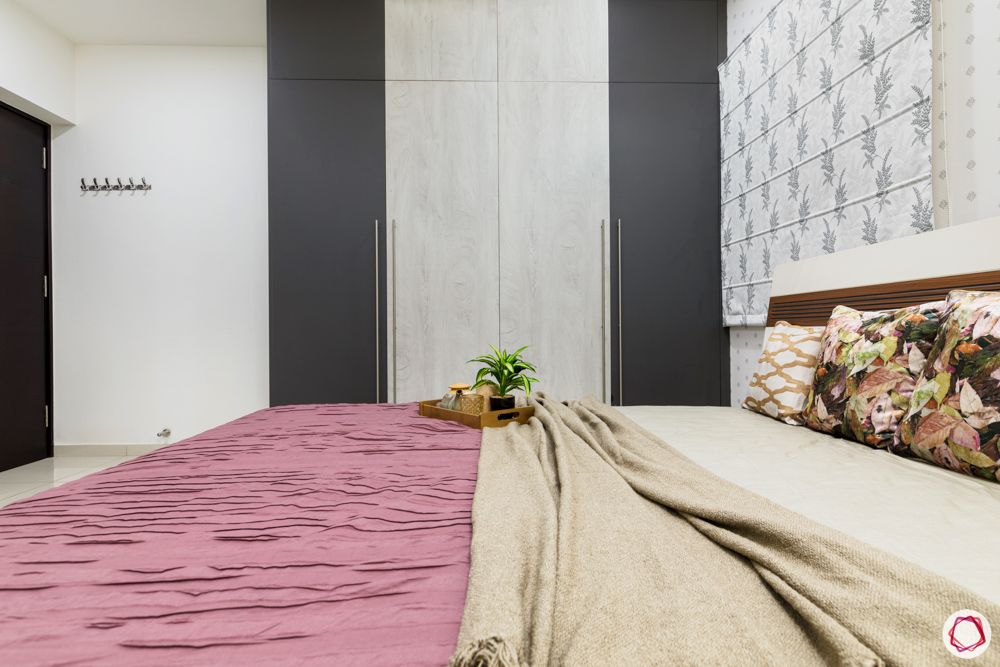 As this home is for a young couple, both the remaining bedrooms are designed for guests. One of the bedrooms has a rich blue coloured wardrobe in membrane finish interspersed with walnut brown. The other bedroom is furnished with a grey and white wardrobe in laminate finish.
"Rohit & Harshita were one of the most joyful couples that I have worked with. We steered through the functional aspects of the design more than anything else. It was great working with them since they were very accommodating and placed their complete trust in me."
– Monica Reddy, Interior Designer, Livspace
If you enjoyed reading about this home, also explore why We Love the Simplicity of This Spacious 3BHK. For the best interiors in Hyderabad, contact Livspace!
Send in your comments & suggestions!