What if the beloved Friends gang lived in India? How would their apartments in 2020 look like? With news of their reunion happening sometime this year and most of us catching up on re-runs on Netflix during this lockdown, it's only natural we would like to upgrade their interiors from their 1994 avatars (yes, it's been 26 years). If you're finding it hard to picture this intriguing combination, take a look at how we've done up Friends-inspired living room with a hint of desi swag.
#1: Monica & Rachel's Open Living Room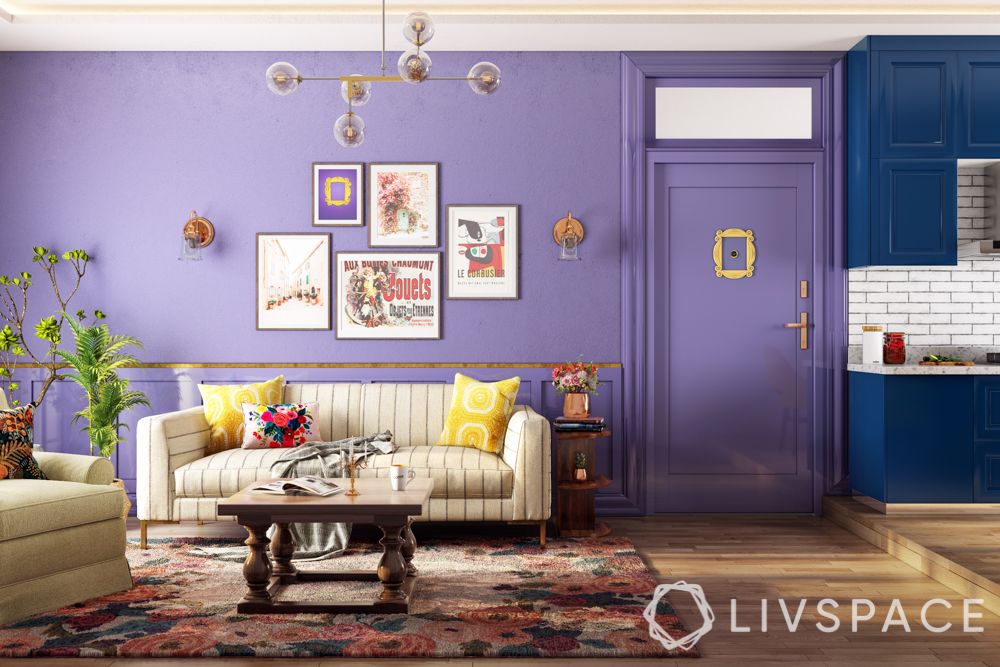 Monica and Rachel's apartment is a win for those who love having their immediate circle over most of the time. An open layout is perfect for this. Conversations can flow whether you are whipping up a meal or lounging around. To give an illusion of separate rooms, you could elevate the kitchen flooring. For the post-26 year upgrade, we suggest brick wall tiles for the the kitchen.
Of course, we can't do away with the light purple walls from their apartment. It can turn heads in any home. Choose bulky, sink-in sofas for seating and dress them with printed cushions (we love our pops of colours). Desi homes are also incomplete without a large potted plant. So bring in a little green to grace empty corners. Centre your living nook with an accent light fixture, patterned rug, and a traditionally-loved wooden coffee table. Make sure to place the table equidistant from the sofa and armchair to get your seal of approval from Monica too!
#2: Chandler & Joey's Relaxed Living Room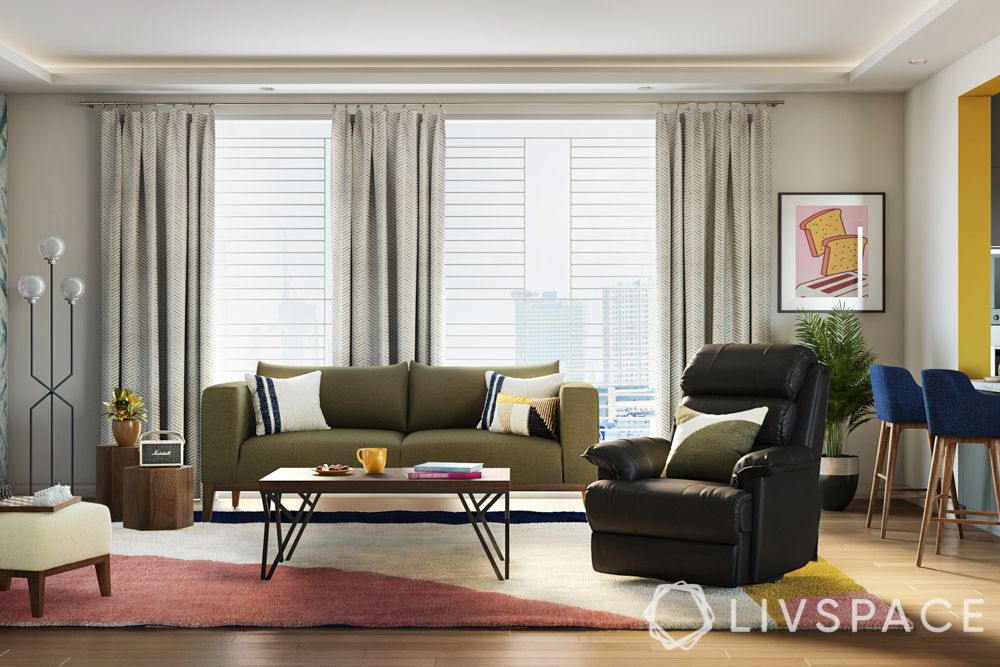 Kick back and relax — that's the theme of Chandler and Joey's apartment. So seating is the most important element of your space. A two-seater sofa and a recliner (how could we forget Rosita!) are great for any cosy living room. Complete the arrangement with an ottoman since this jiffy solution has become almost indispensable in any modern Indian home. Want to make it more inviting? We think Chandler and Joey would love the effortless way to separate the living nook from the kitchen — a colour block rug.
Notice the long grilled windows? While their original home featured a narrowed version of this, we believe the bigger the window, the better for your home's source of lighting. Other Friends-themed home decor must-haves are quirky artwork, a French poster and statement bar stools for the breakfast counter. Some things transcend time, don't you think?

#3: Ross' Refined Space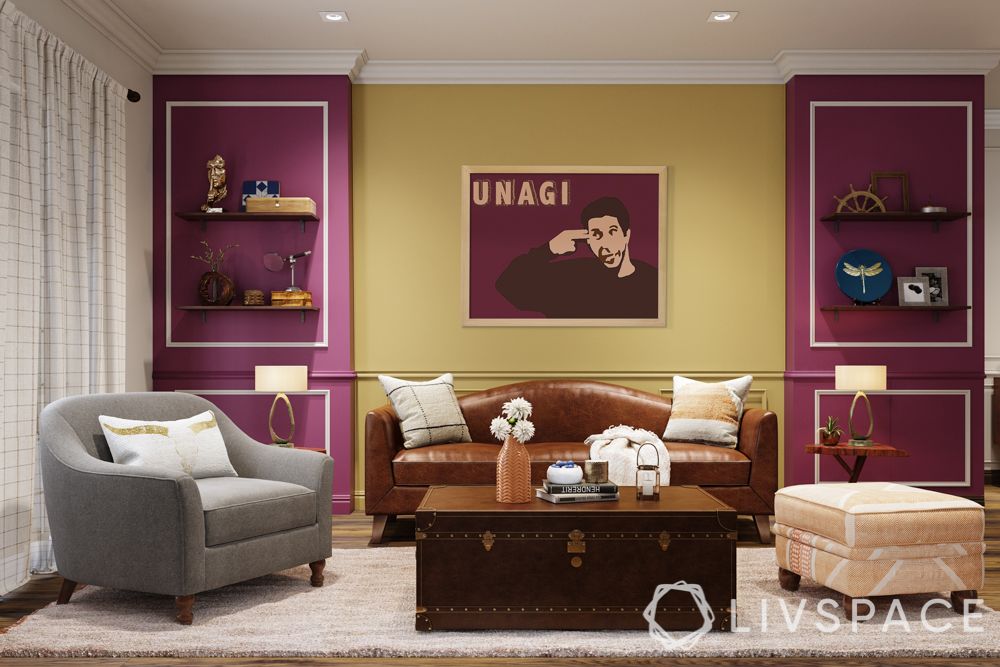 If you are Team Ross, leather is your go-to choice of material. We suggest picking a bold brown leather two-seater and an armchair with curved-backs as the post-26 year upgrade. We know Ross can't get enough of his apothecary table, so centre your living space with its makeshift desi alternative — an antique Indian trunk.
His choice of colours is also easy to replicate with wine-coloured walls and white trims. Mount minimal shelves for a fuss-free peek into your personality. So make sure to dress it up with artefacts, collectibles and other tidbits you love.
#4: Phoebe's Full-of-life Living Room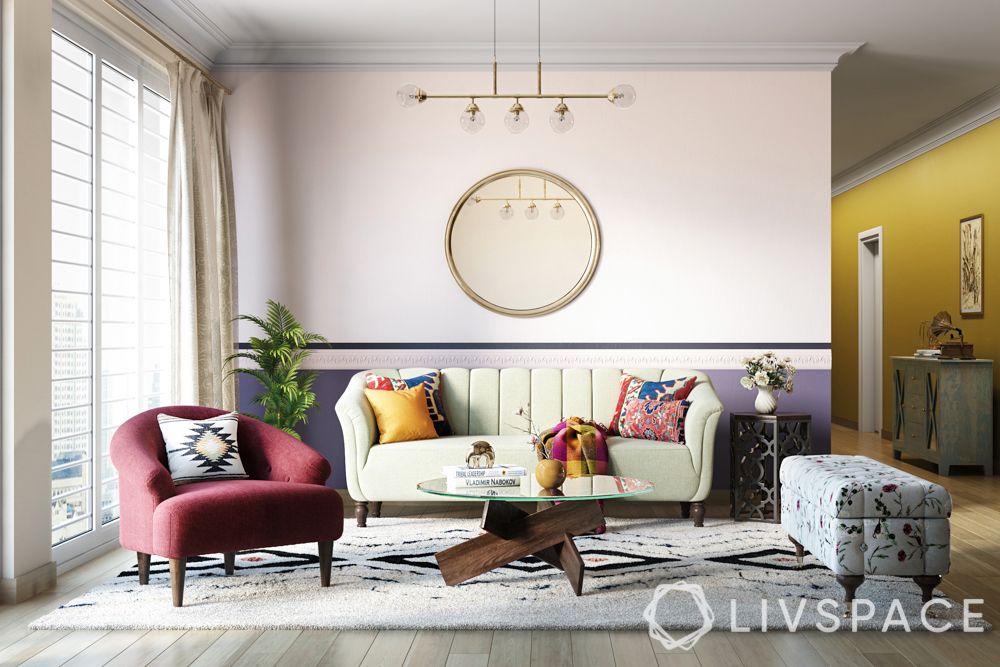 Boho, eccentric, and hints of colour are things you need to emulate if your kindred spirit is Phoebe. We are sure after 26 years, her place would have been revamped to ease up on the number of elements while retaining her dramatic sense of style. We are picturing a red tub chair, tufted sofa, and a floral storage bench to tuck things away.
A blue half-painted wall and gold-framed mirror will help keep the backdrop beautifully basic so the rest of the furniture could do all the talking. But you don't have to restrict yourself with choosing colours for your furniture alone. You could amp up empty passageways with a happy sunshine hue for empty passageways.
#5: Cosy Vibes from the Central Perk Coffee Shop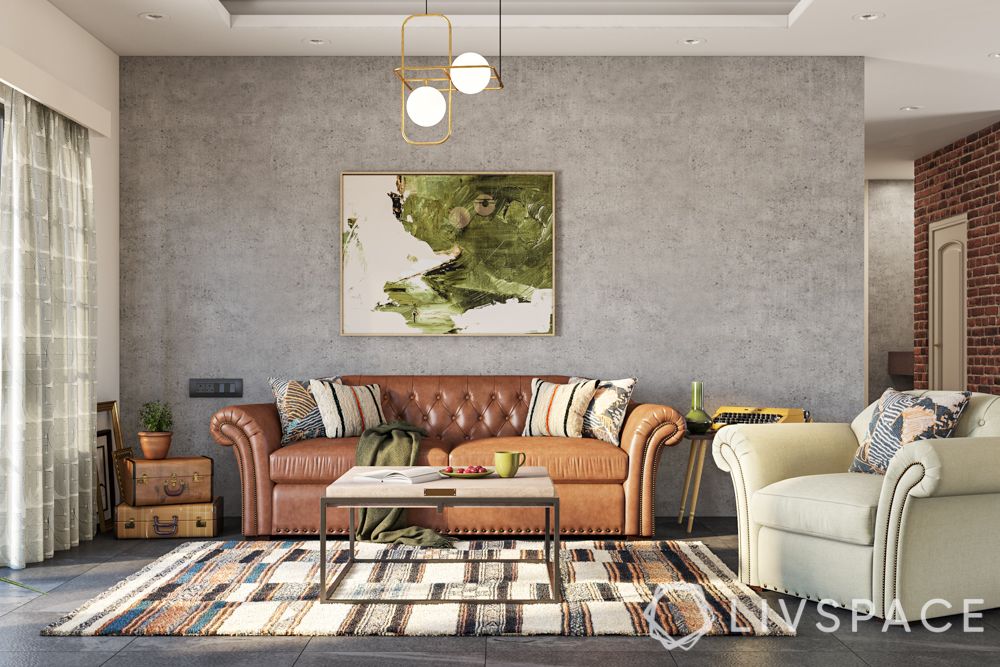 If the Central Perk coffee shop look is what you're really after, go rustic in your decor choices. For serious cafe-inspired vibes, a tan buttoned leather sofa for comfort and an armchair with rolled arms for a hint of drama are the way to go. To amp up the cosy look, choose dark coloured flooring and a matching concrete wall. For a pop of texture, we recommend tribal prints for the centre rug and sofa cushions.
Another part you can't overlook is the coffee shop's brick wall backdrop. Pro tip: if you are on a budget, you can always get brick wallpaper to do the job.
Also, if you enjoyed reading about Friends-inspired living room, we recreated Twinkle Khanna's Zesty Mumbai home too.
Check out living room designs:
We like mail! Send us suggestions and comments to editor@livspace.com