Traced all the way back to rock carvings and pieces of pottery from a bygone era, the chevron pattern remains one of those designs that never really went out of style. Moreover, if it reminds you of the military or police for some inexplicable reason, we'll tell you why. Several countries use chevrons as badges or insignia in military and police uniforms.
But that doesn't answer the basic question – what is chevron and where to use it in your home interiors. Well, the chevron is an inverted V-shaped pattern that flows smoothly. And as to where you can use it, we could probably find use for it in every part of your home. But to help you get started, we've scoured Livspace homes and found where and how chevron has been used. Read on and get inspired!
Chevron Design #1: The TV unit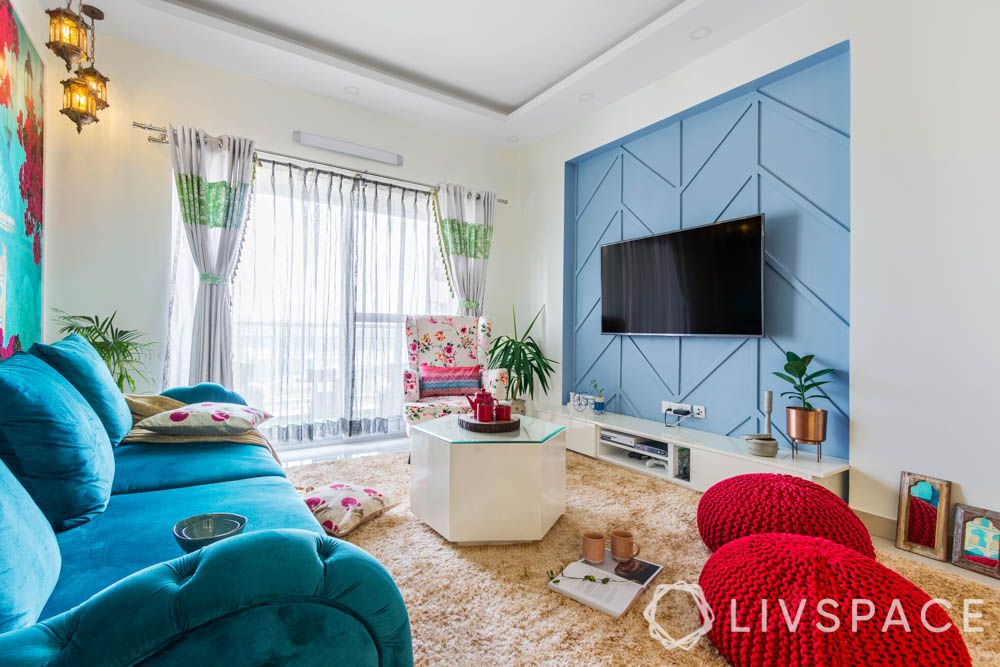 We're blown away by the dainty pastel blue hues and chevron wall trims in this TV unit. Whether your room has a mix of bright colours or softer hues, this chevron patterned TV unit will fit right in. And what's more, it'll make your living room look like it's straight out of a dream!
Chevron Design #2: Living Room Floor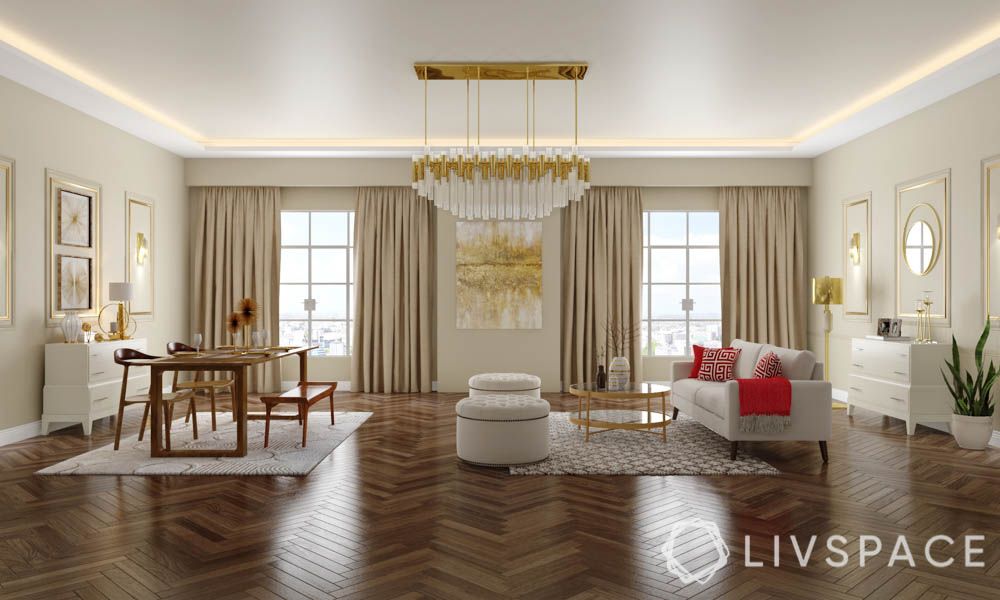 If you thought that the floors of your home have to remain bare and boring, well, you're wrong. Check out this vinyl flooring, laid out in a chevron pattern. As it is also water- and stain-resistant, the flooring is highly durable. What's more, the chevron-patterned floor amps up the charm of the room!
Chevron Design #3: Dining Room Partition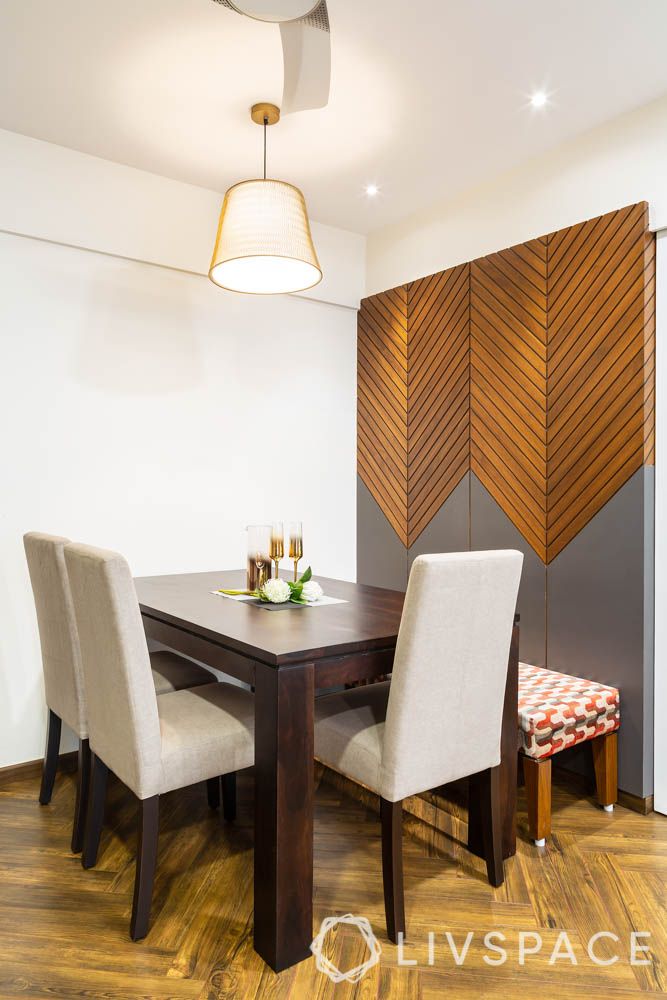 This veneer finish chevron pattern wall could be just the statement piece your home requires! Not only does it provide the perfect backdrop for any space and make it look luxurious instantly, but it also helps in demarcating spaces with minimal effort.

Chevron Design #4: Kitchen Backsplash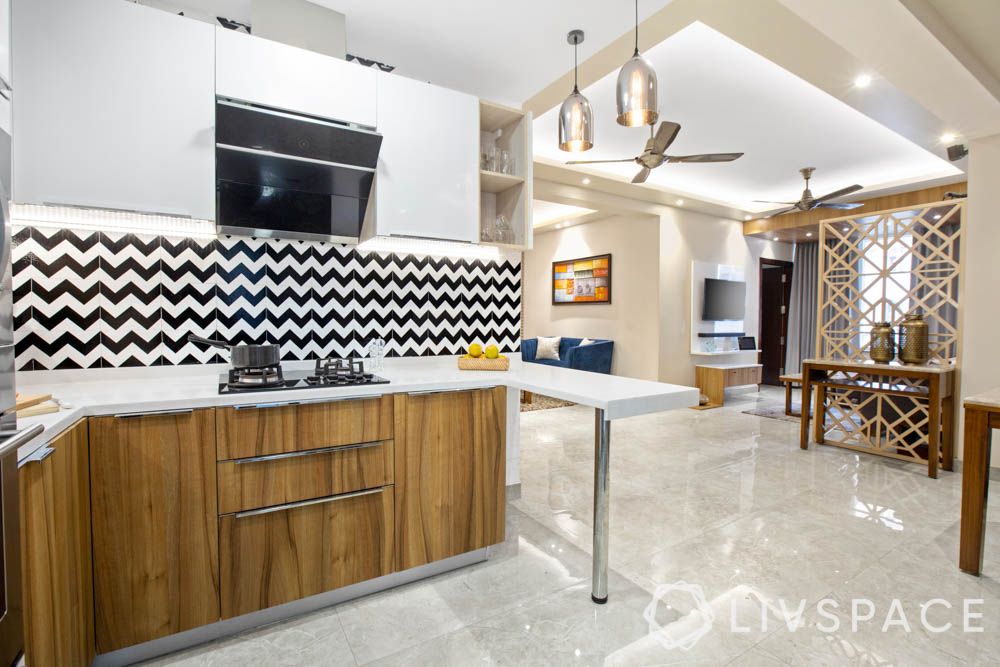 If you want to highlight the backsplash in your kitchen, you cannot go wrong with chevron-patterned tiles. So take your cue from this kitchen that comes with white and wooden laminate finishes and a gorgeous black and white tiled backsplash. We bet you haven't looked beyond the backsplash yet, have you?
Chevron Design #5: Bedroom Wallpaper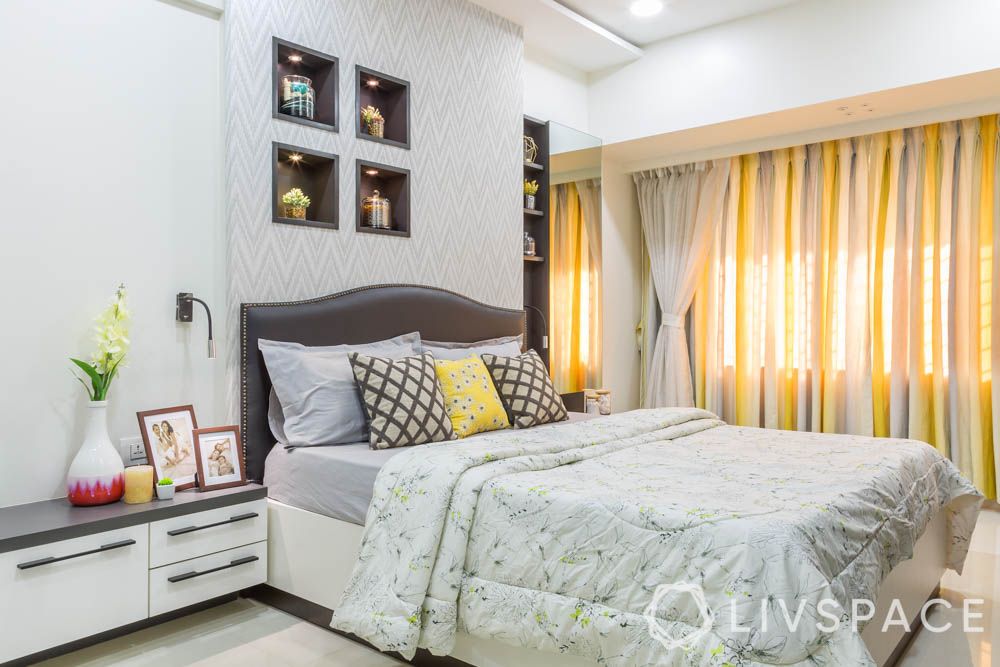 If you want to use colours sparingly but still want your room to have that dash of drama, this grey and white chevron pattern wallpaper might be just what you're looking for. With such a wallpaper, you can add to the character of the room without making it overwhelming.
Chevron Design #6: Headboard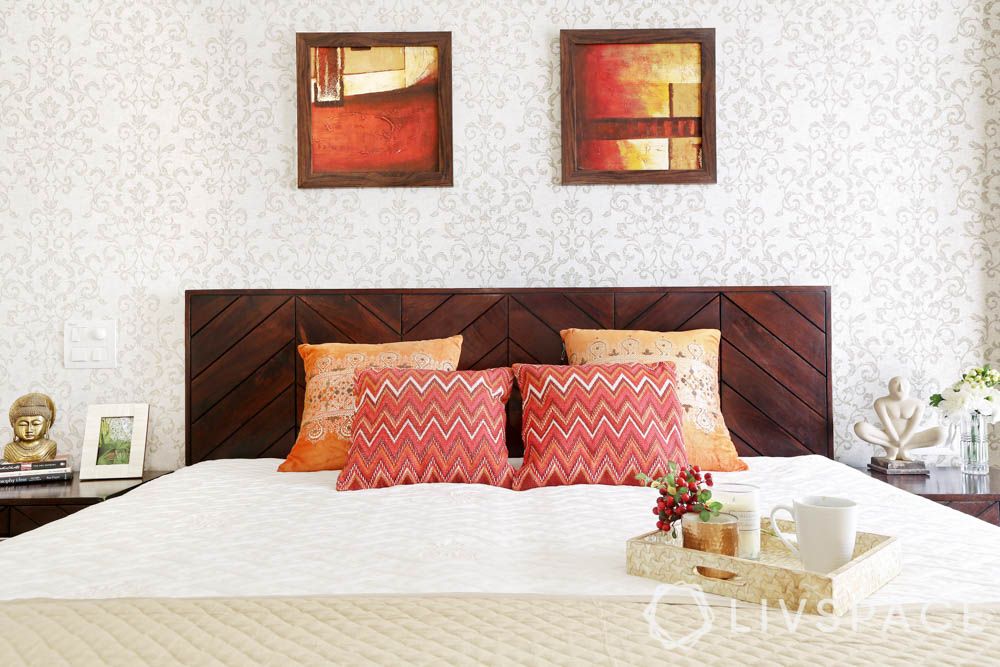 No matter what your design aesthetic is like, a wooden bed carved with a chevron pattern will fit seamlessly into it! You can place it in a desi bedroom with hints of gold and traditional bedsheets. Also, inspired by the picture above, you can pair it with a subtly patterned wallpaper and place it in a room with neutral colours. In both cases, the wooden bed will look just right for the room!
Chevron Design #7: Bathroom Walls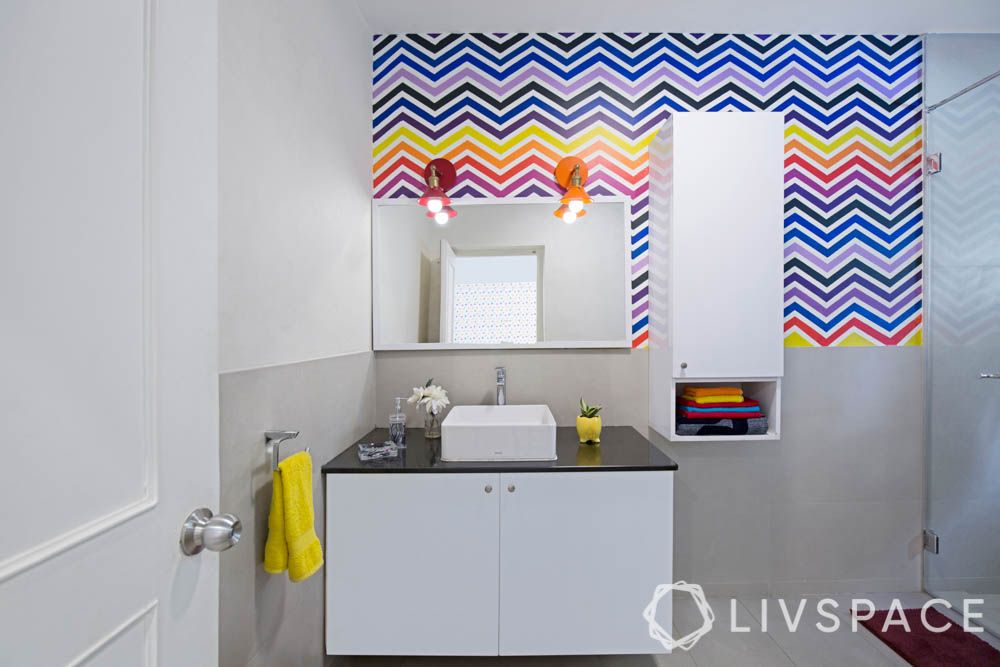 Who said bathrooms had to be dull and boring? A vibrant rainbow-hued chevron pattern takes over this bathroom. If you want to replicate this chevron design in your bathroom, we'd suggest that you steer clear of wallpaper – stick to good old wall paints, and your bathroom will look as cheerful as can be!
If you love geometric patterns and would love some more of them in your home, check out Geometric Decor Ideas for a Trendy Home
Send in your comments and suggestions.