If your heart belongs to the sea, look no further than these ocean-themed bedrooms! There's something about relaxing by the sea, with the sun on your face and sand between your toes that no one can seem to get over. With the right coastal elements, you can bring the scents of the ocean into your bedroom effortlessly.
Ocean-Themed Bedroom #1: Seafarer Accents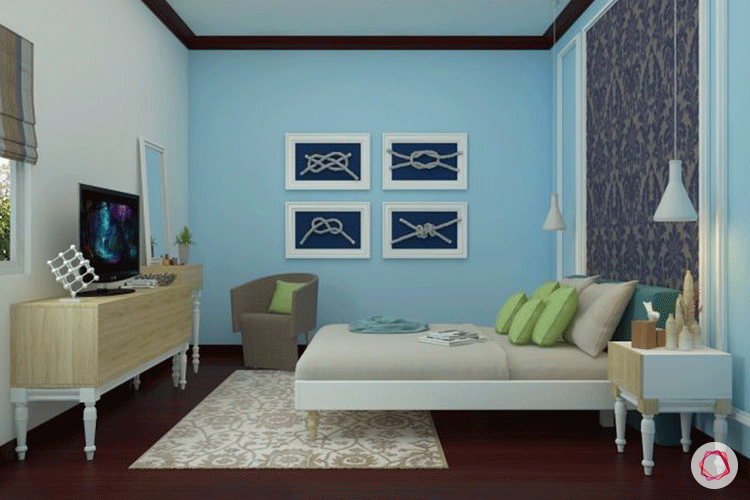 Nothing says nautical-inspired like boating knots. A simple two-toned blue palette paired with oak and white furniture pieces keeps things cool and breezy, while a four-piece installation of framed knots stands out and works as a stylish focal point. Soothing green accents reflect the outdoors and complete the coastal feel.
Ocean-Themed Bedroom #2: Bare-boned Beauty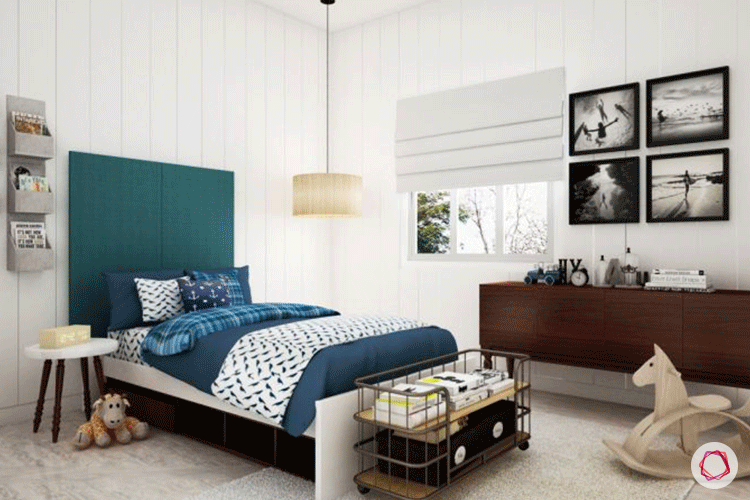 Living by the ocean is all about embracing an easy, simple life. This snug bedroom surrounded by bare essentials does exactly that. White walls amplify the natural light in this ocean-themed bedroom, while layered bedding in pops of blue with an extended teal headboard forms an inviting spot to snooze or read a book.
Ocean Themed Bedroom #3: Surf And Turf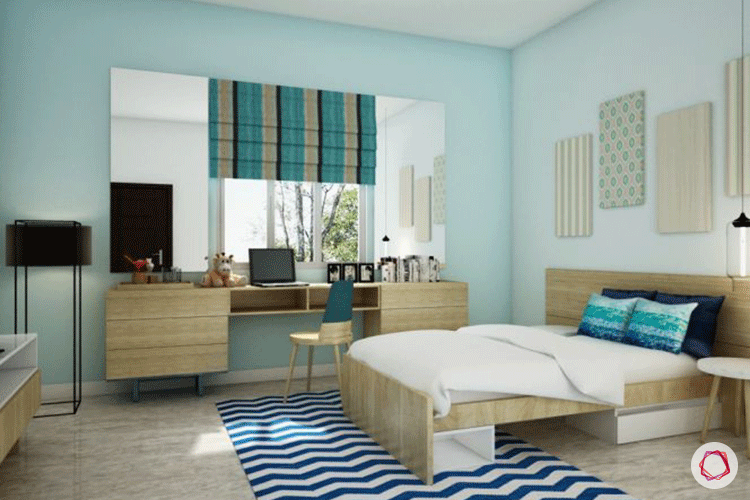 This spacious ocean-themed bedroom finished with lightly cerused oak and white furniture and blues of the sea running through instantly transports you to the beachside. Adding some drama and evocative waves lapping the shore, the large chevron-patterned rug anchors the space.
Ocean-Themed Bedroom #4: Coral Highlights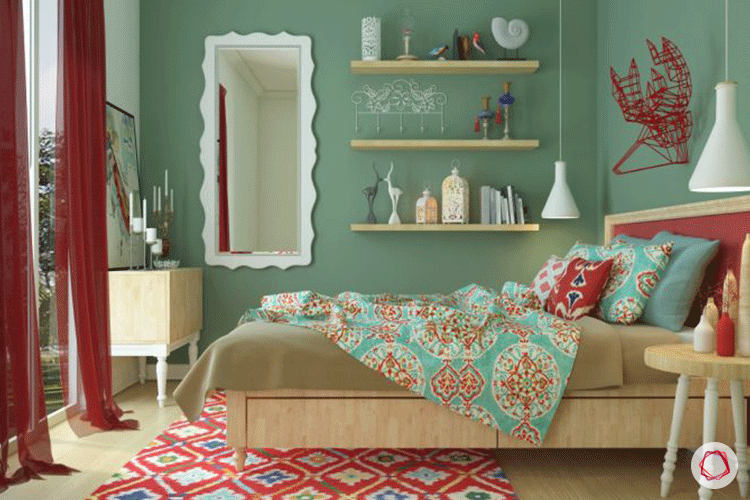 In this sea-green bedroom, ebullient patterns and coral highlights lend a vibrant and refreshing touch that is sure to bring smiles. An assortment of quaint antiques and curios on the floating shelves and a large, curvaceously framed mirror finish this romantic vignette. French windows let in plenty of natural light and make this small ocean-themed space seem large.
Ocean Themed Bedroom #5: Deep Sea Piquancy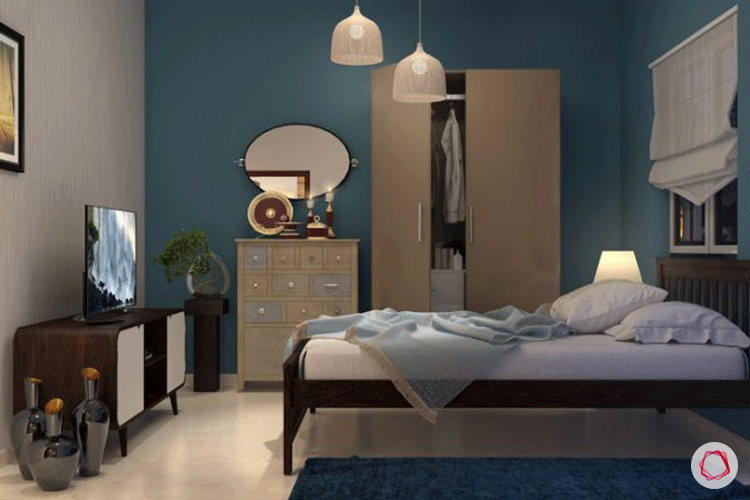 A simple, streamlined bed with its slat-back headboard is an archetype of those usually found in tropical homes. With its hand-distressed finish, the apothecary sideboard lends a rustic touch to this room that combines the deep hues of the ocean with sandy notes.
Ocean Themed Bedroom #6: Cabin By The Sea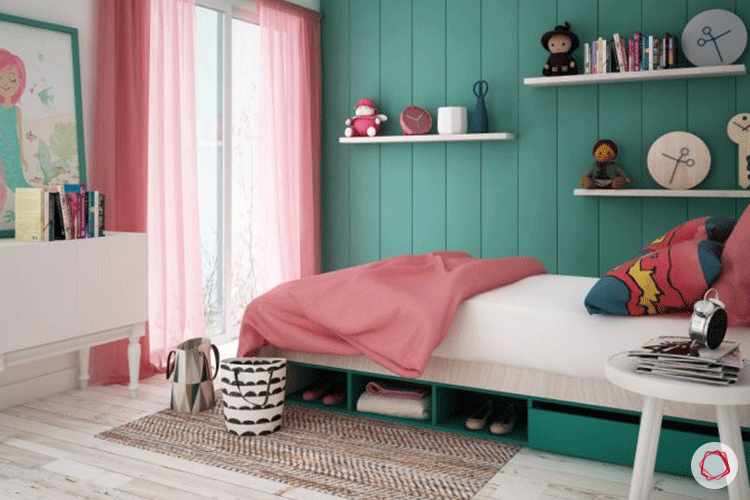 Simple board walls reminiscent of a beach shack add character to this gender-neutral kids' bedroom that combines pink and teal in deft fashion. White distressed planked flooring lends a raw, down-to-earth feel. Floating shelves, a classical sideboard and cubby storage beneath the bed define this room's utilitarian character.
Ocean Themed Bedroom #7: Industrial Marine Edge
This single bedroom, awash in aquamarine overtones and tempered with a slice of olive green, is a fresh take on the industrial look. Unfinished white brick walls and filament bulbs offer an edgy, loft-like feel. Simple patterns and muted colours on the cushions and rug keep things interesting without taking away from the bold, geometric accent wall.
Ocean Themed Bedroom #8: Luxe Touch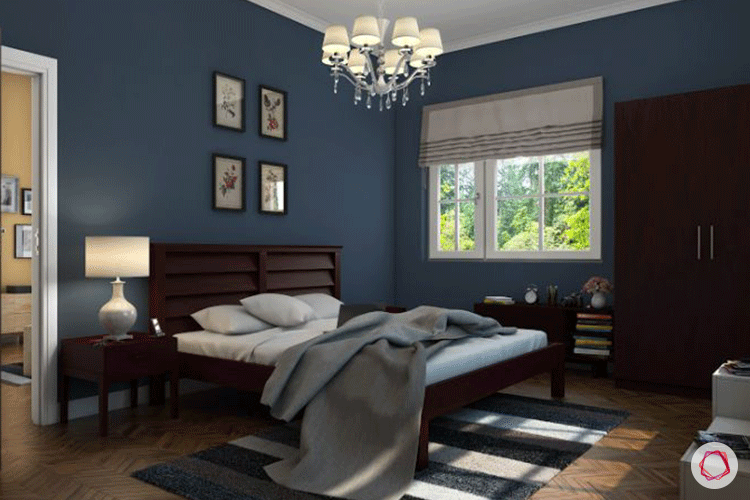 Deep blue-grey walls lend a soporific ambience as well as a luxurious vibe to this ocean-themed bedroom. An uplight chandelier adds a layer of richness that is offset by simple tropical-style furniture below. The chevron-patterned flooring radiates warmth and provides textural contrast.
Ocean Themed Bedroom #9: Tropical Beach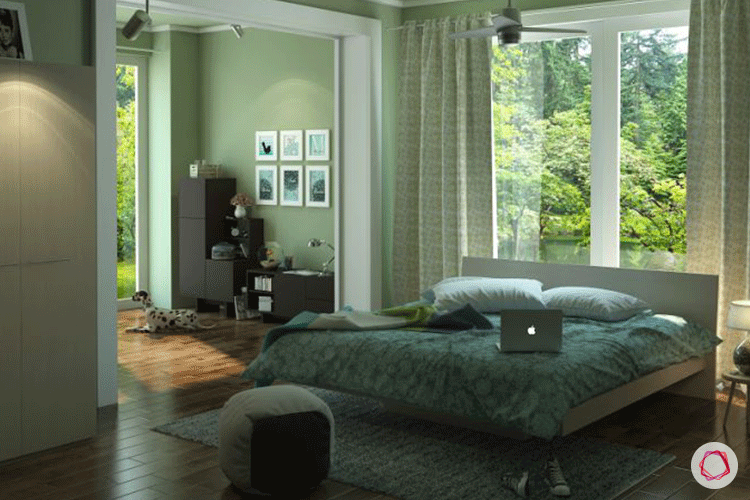 Not all ocean-themed bedrooms have to be blue. Show your love for the ocean with sea green. In this spacious bedroom, the expansive view of the outdoors works as the focal point. Multiple hues of green and wooden flooring imitate the natural landscape surrounding a tropical beach.
You don't need to strip your space and start from scratch to create ocean-themed bedrooms. You can transform your space into a nautical-themed bedroom with simple design changes. Hang a seashell-framed mirror, place a coral-inspired paperweight or go over the top with an oar or a nautical chart wallpaper.
Love our ocean-themed bedrooms? Get your own by requesting a Livspace consultation right here.