If you're a fan of vastu, chances are you prefer using lighter themed palettes in your interiors. This can also sway your decision in embracing dark interior ideas for your walls and furniture. However, this might further limit your options when it comes to experimenting with new and interesting colour combinations or design styles. Then again, investing in dark palette interior design can also seem like a daunting idea without knowing how exactly it might turn out.
Here's where we can help paint a picture for you before you settle on a dark theme interior design for your home. With a wide range of homes designed by Livspace, we've collated a list of homes that use dark interior design ideas. What's more, the list also features Livspace-inspired homes that perfect modern palettes and design. Let's get into it!
Here's How We've Decorated Livspace Homes With Dark Neutral Shades: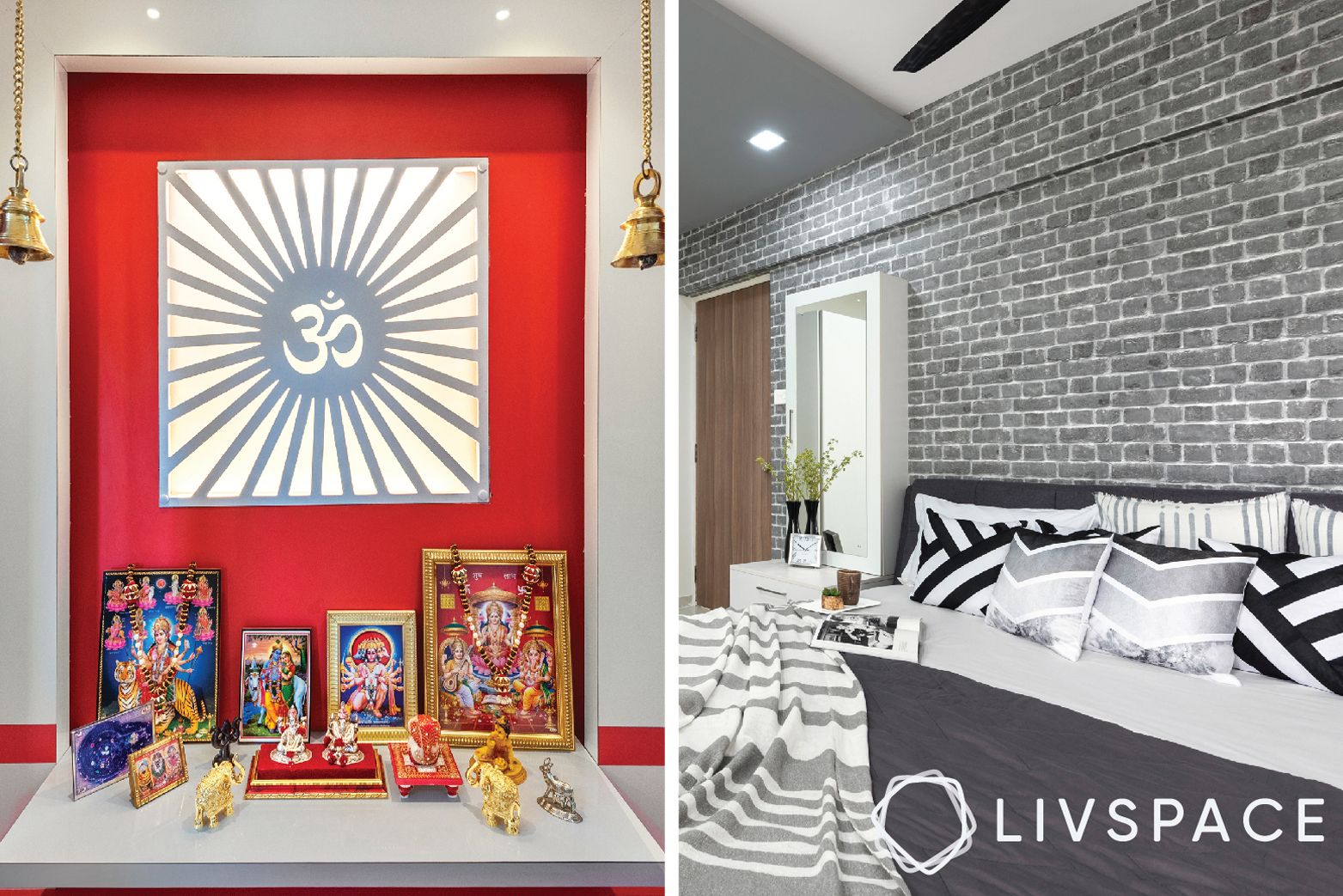 The best way to add a little bit of contrast to your interior design with red colour schemes is to use a dash of grey. This home in Pune perfectly balances out the dark theme interior design with a bright red pooja room. Though both colours lean towards the darker spectrum of their respective shades, they come together beautifully to create a dark palette interior design.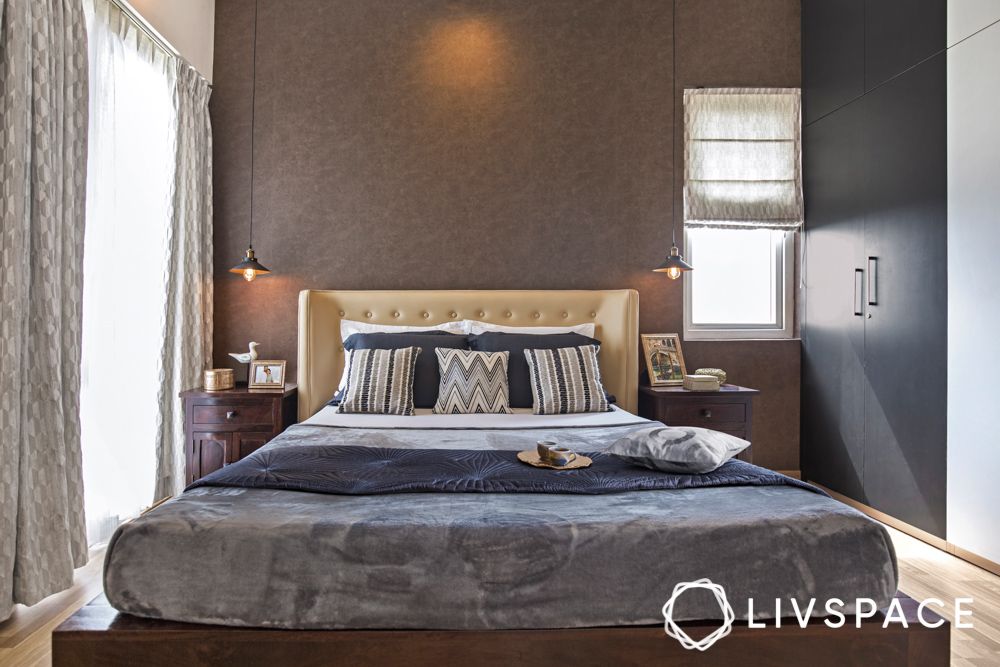 Love earthy shades in dark palette interior design? Then you probably want some elements of brown in your space. Instead of going for a solid brown shade, consider using a slightly textured wallpaper or paint for added effect. This shade pairs well with neutral colours like white, black, and cream for a dark theme interior design.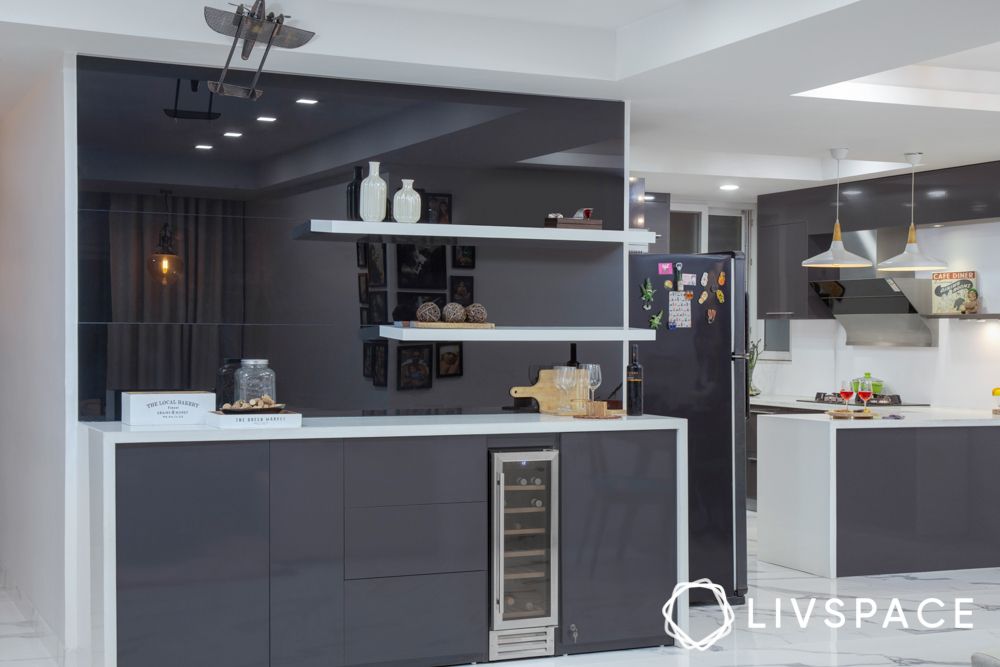 When it comes to designing your kitchen, dark palette interior design might seem like the best option in terms of maintenance. But, have you ever considered using this shade outside of your kitchen as well? If you're afraid to take the leap with a dark theme interior design, let this home be the example you need!
Cool slate grey cabinets with a glossy finish help keep this space tidy and low on maintenance. What's more, the mirrored black panel at the bar also makes the space appear bigger than it is. By balancing grey interior design ideas with white across the open layout, you get a sleek, sophisticated look.
Livspace Homes That Use a Bold Pop of Colour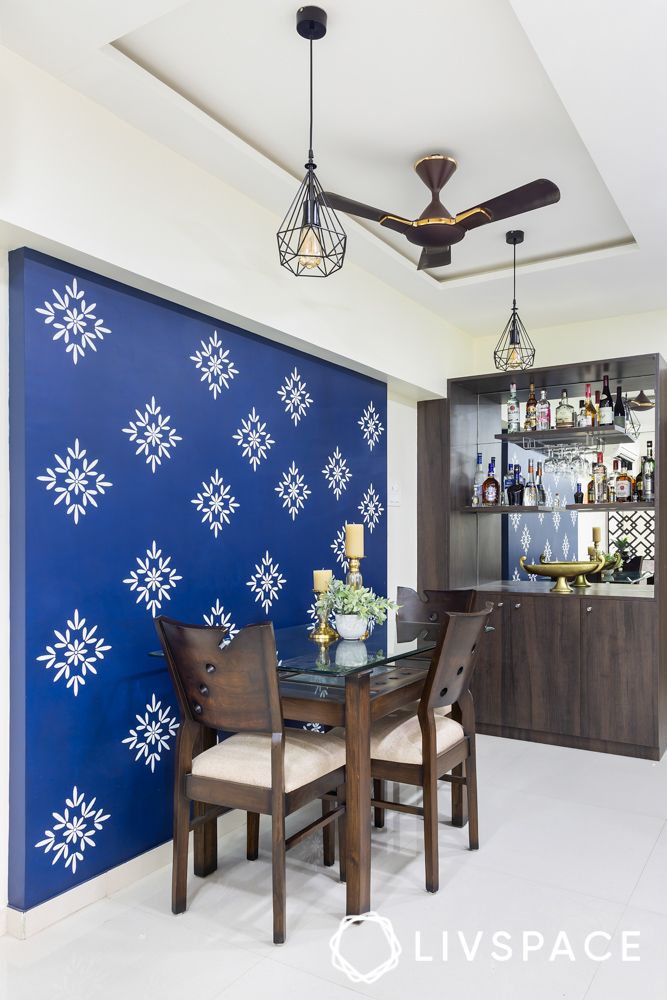 Your traditional-style interiors are incomplete without some dark wood furniture and Indian motifs. This home is a great example of how to introduce dark interior design ideas into traditional interiors. The use of a dark blue feature wall decorated with block patterns gives this dining area the colour contrast it needs. You can pair rich browns with dark blues and whites to build on your dark theme interior design.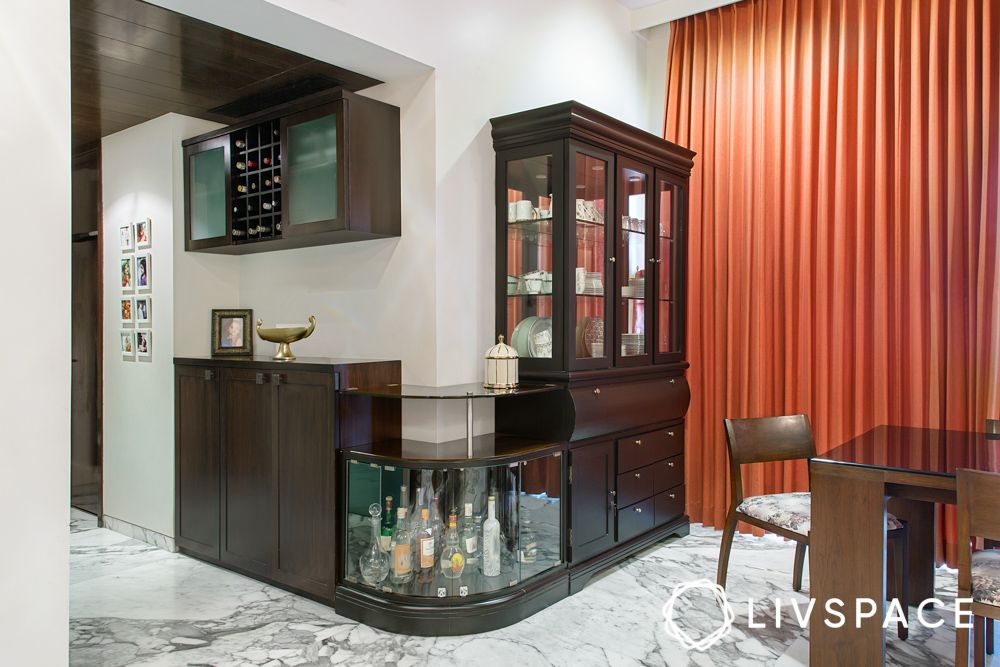 Besides brown, another great earthy shade to explore for dark palette interior design is orange. This lovely shade can be the perfect pop of colour to complement dark colour interiors. You can even create a stunning balance by using orange room décor ideas to contrast dark wooden furniture. Also, make a note of how the white walls and marble floors further add to the balance between these bold colours.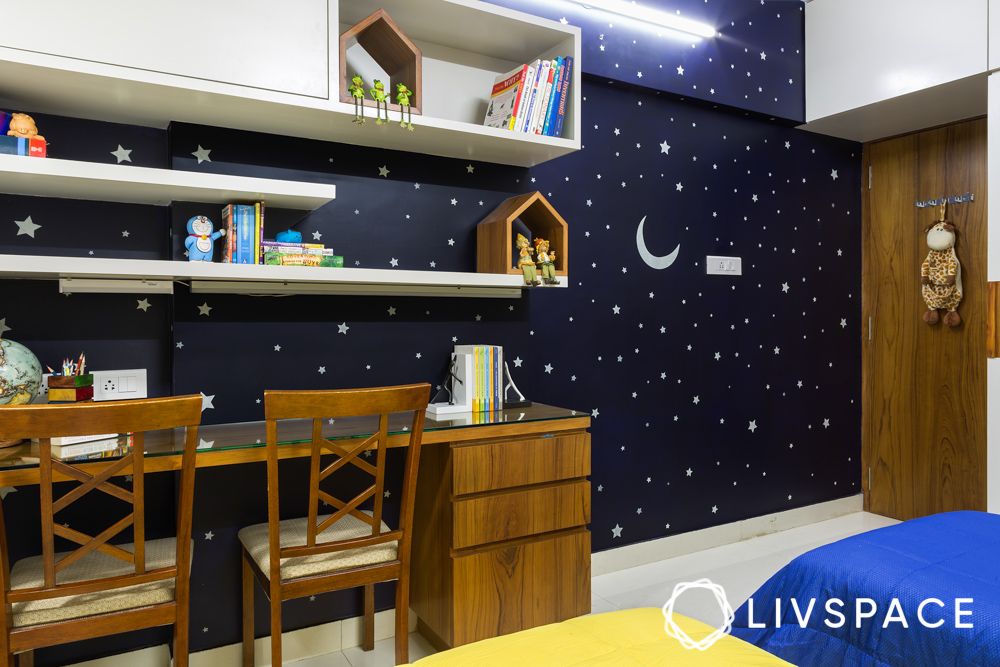 This home's dark palette interior design allows you to look to the stars for inspiration! For the kid's room, our designers made use of a night sky themed wallpaper, bringing a lovely shade of midnight blue to the space. Since this is the only accent wall in a dark shade, it adds depth to the room. Moreover, the dark blue interior design also acts as a creative backdrop for the kids to gaze at as it lulls them to sleep.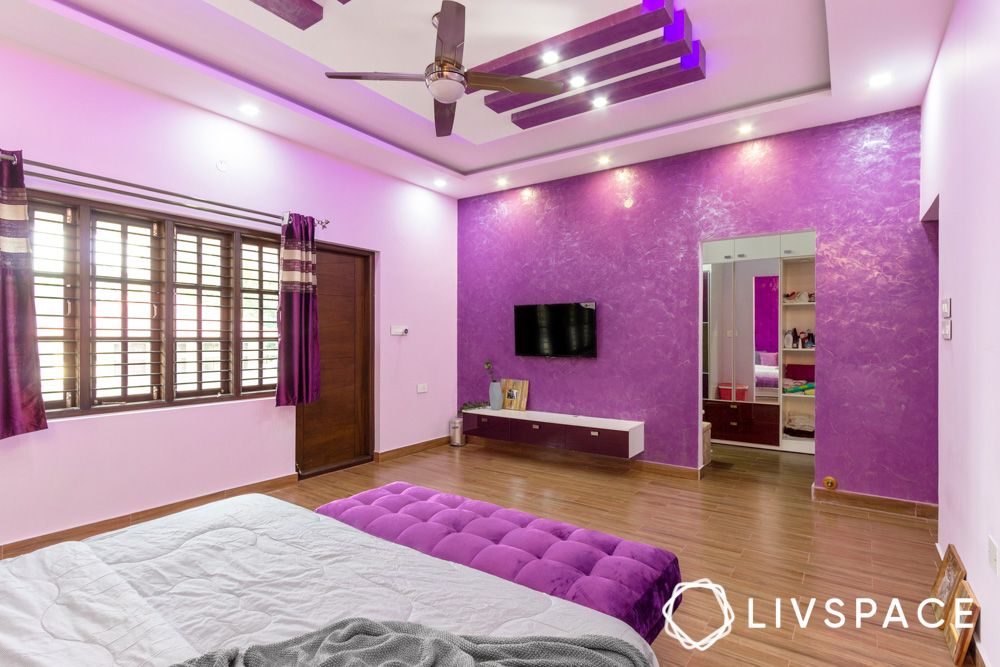 What's the best way to spice up your dark interior design ideas? By layering it with shades of purple, of course! More often than not, dark theme interior design can be overpowering when used in large quantities. However, this doesn't mean accent walls or statement furniture are your only options when it comes to dabbling in purple room design ideas.
Like this home, you can use purple interior design ideas to kick things up a notch. Choose one base colour like purple, and use shade variations of it across your room. The feature wall uses a dark shade of purple, whereas the other walls and furniture use lighter, complementary shades.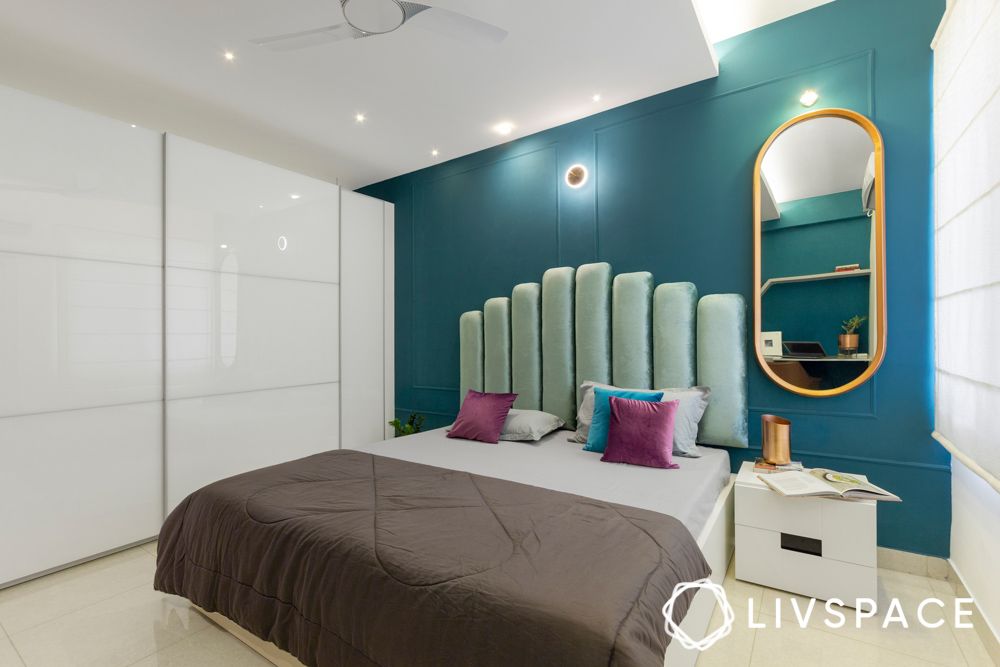 There's something about how brass accents make the perfect addition to dark interior ideas. Take this bedroom for example. The vibrant teal walls, brass-rimmed mirror, and velvet upholstery are nothing short of luxury personified.
Similar to the previous home with purple interiors, you can use gradient shades of teal to amplify your dark theme interior design. The use of a dark colour for the accent wall helps elongate this room, adding length to it.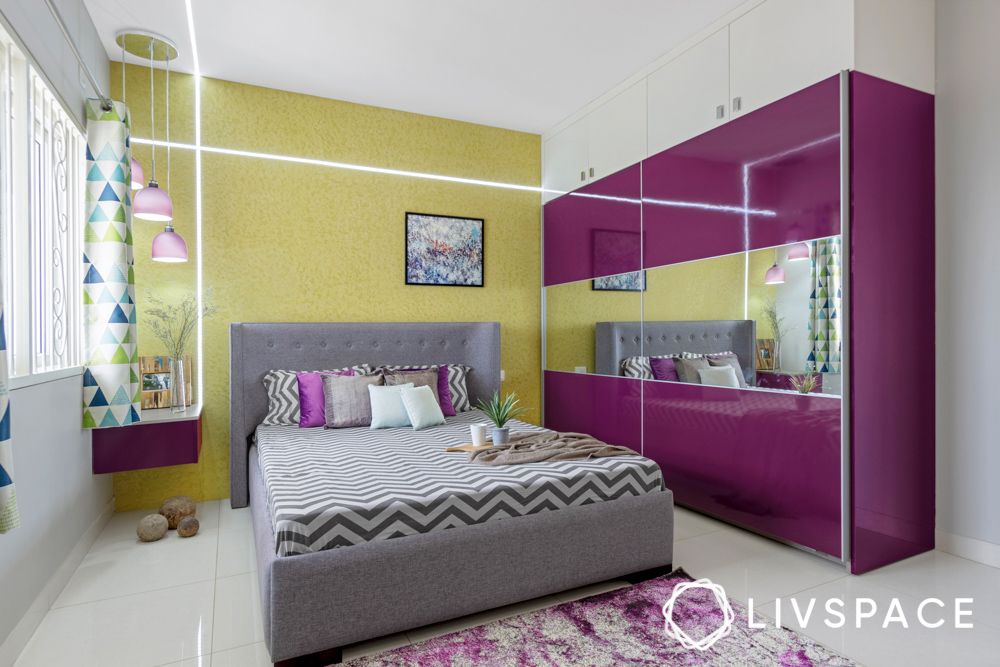 If you're indecisive about which colour to choose for your bedroom, why not go for multiple? Instead of overpowering the space with dark palette interior design, you can even it out with contrasting dark and light shades. A light shade of yellow can be just the contrast you need to complement dark purple furniture. You can further tone down the dark colours with neutral shades like grey or white.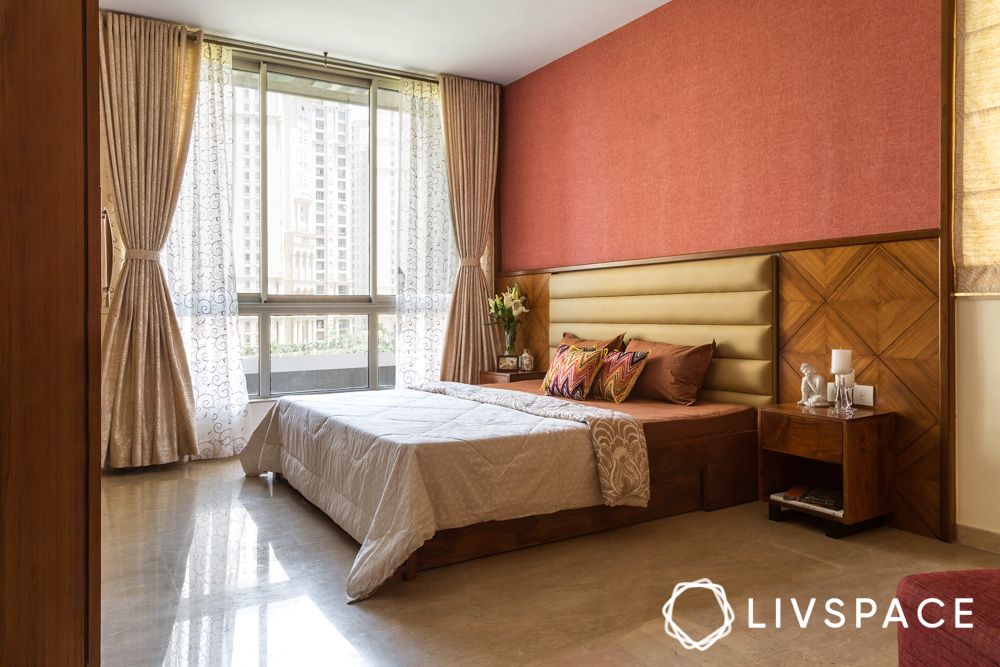 Remember the orange room décor ideas we previously covered in this list? How about bringing some of that bold colour to your walls too? If you have a lot of wooden furniture and neutral shades in your space, a dark shade like orange can make a nice statement. Use it as a feature wall and watch how easily the rest of the room comes together to create dark palette interior design.
Livspace-Inspired Homes That Embrace Dark Interior Design Ideas
Other than designing real homes, we also design Livspace-inspired 3D renders that can give you an idea of what your home can look like. If you're interested in dark interior ideas for your home, you don't want to miss this series of images!
#1: Dark Blue and Marble Are Elegance Personified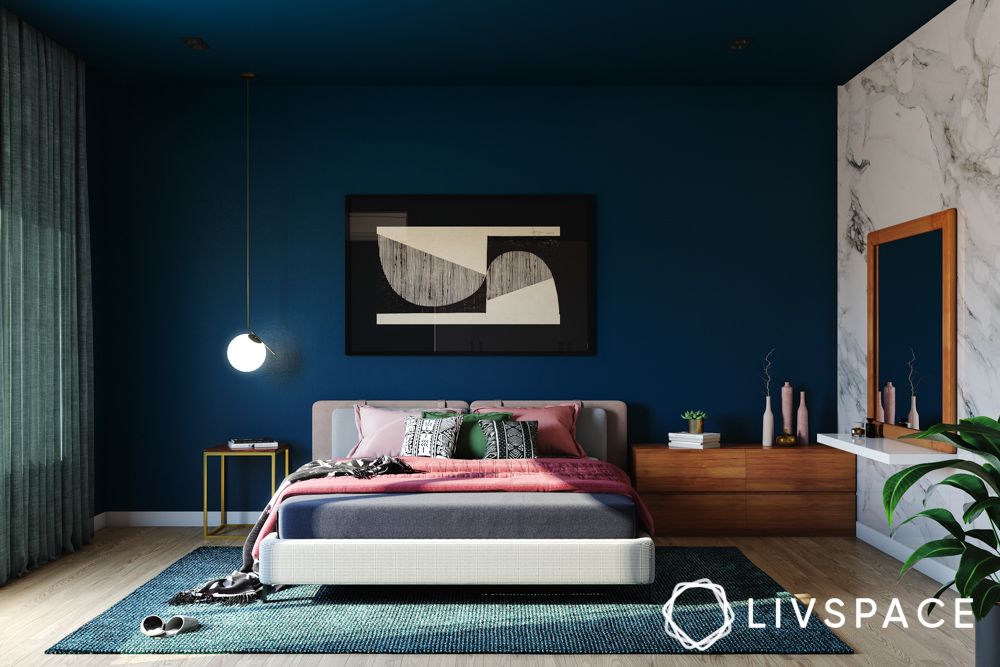 A really dark shade of blue might seem like too much. However, if you know how to pair it, dark blue interior design can be the most stunning look for your room. Light wooden floors and a marble accent wall do just the trick when it comes to balancing out dark colours. Keep the rest of the space light with minimal furniture to prevent visual clutter in your dark palette interior design.
#2: A Royal Kitchen to Make a Grand Statement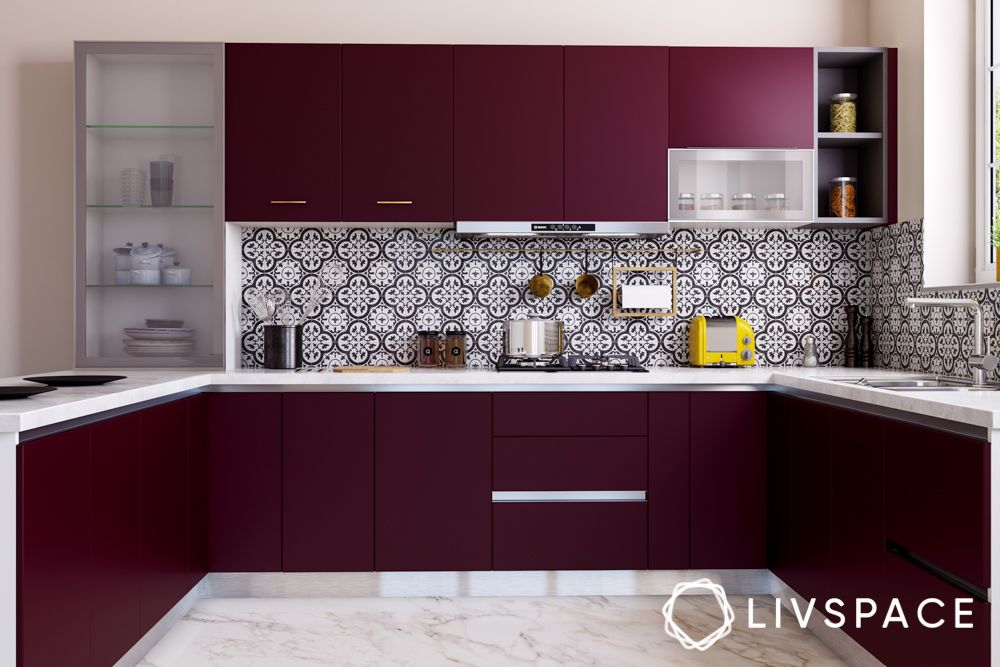 Did you know that purple signifies royalty? If you've ever dreamt of living in a castle, now's your chance! Go for purple interior design ideas to make an elegant statement in your space. What's even better is that using a dark shade such as this can help keep stains at bay. A fun, patterned backsplash can add visual interest to your purple room design ideas.
#3: How About a Spot of Red to Highlight White Interiors?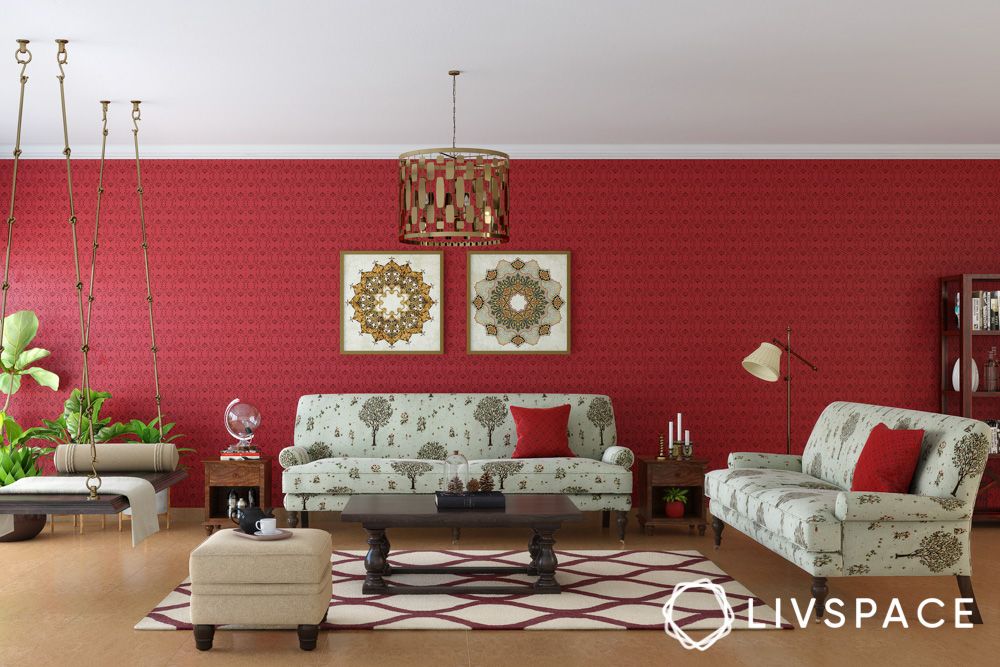 What better way to brighten up plain white walls than with a spot of red colour interior design? You can use a bold red wallpaper to draw the attention to one wall in the room. You can even take it a step further by adding wall art to this style of dark palette interior design. However, since an interior design with red colour schemes can be visually overpowering, keep the rest of your interiors neutral to avoid a clash.
#4: Charcoal Grey + Wooden Accents Are a Match Made in Heaven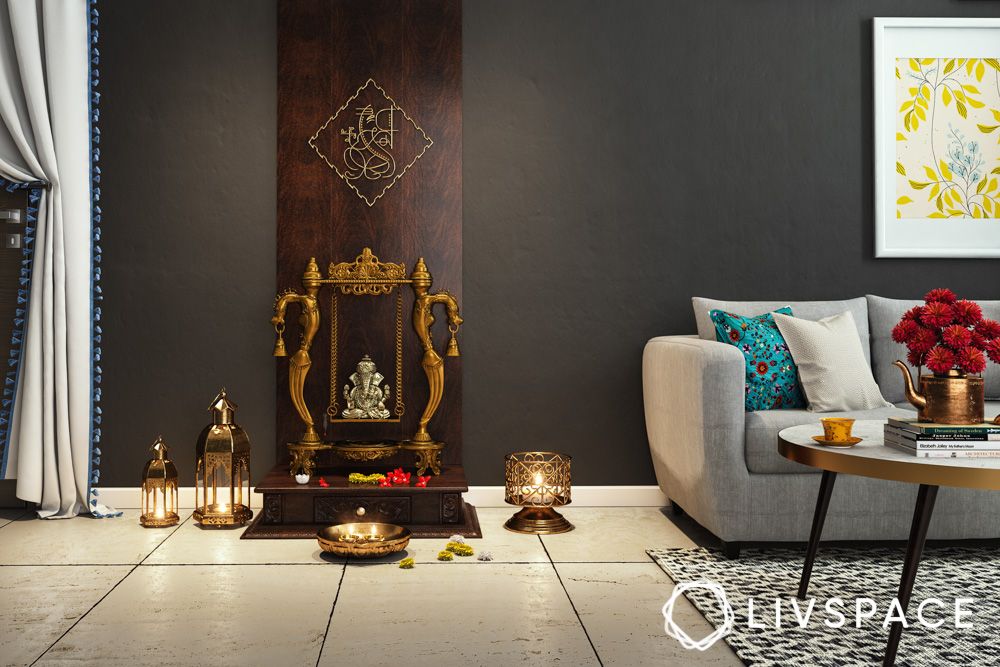 Have you ever thought about using dark interior ideas in your pooja room? If not, let us give you a reason to. Not only can a dark palette interior design help keep the space looking clean for longer, but the dark background can also make your idols stand out well. Dark grey interior design ideas are perfect for spaces where poojas are often performed. The smoke from the diyas and agarbattis won't show up on darker walls, and this can end up being a low-maintenance investment.
#5: Who Said Crimson Red is Too Strong for Living Room Interiors?
Among the shades of red you can use, crimson is a scene-stealer. This beautifully bold colour stands out and adds drama to dark interior design ideas. For modern homes, this is the perfect shade to break the monotony in colour palettes. You can even use it to colour block your space by using complementary colours.
#6: Patterned Wallpaper Works Just as Well as Solid Paint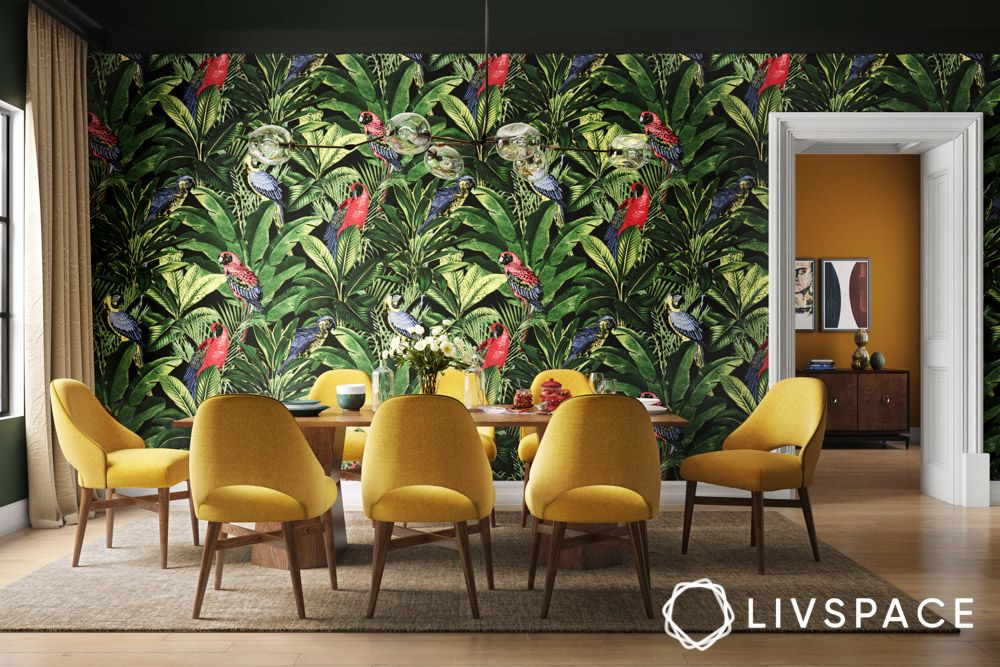 Tired of plain solid colours at home? We've got you covered. A patterned wallpaper with all the vibrant elements of nature is a sure-fire way to make things interesting. If you have bold, accent furniture in your dining and living area, go for a tropical themed wallpaper for best results. The green foliage and tropical birds in the wallpaper can provide just the right contrast for dark palette interior design.
#7: Deep Sea Blues to Set the Mood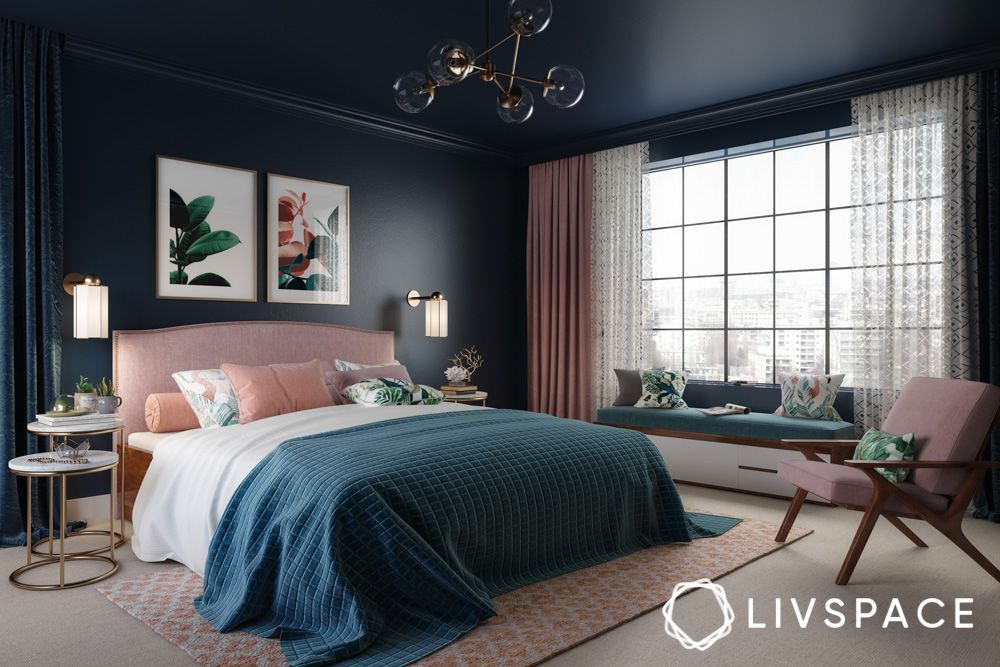 There are many layers when it comes to a shade like blue. From easy breezy pastels to deep dark blues reminiscent of the depths of the ocean, the options are endless. However, one thing's for sure, this is one bold shade that can certainly stir things up. Further accentuate your dark palette interior design with pastels like pink and salmon to brighten the space.
#8: And for the Daring: A Touch of the Gothic Style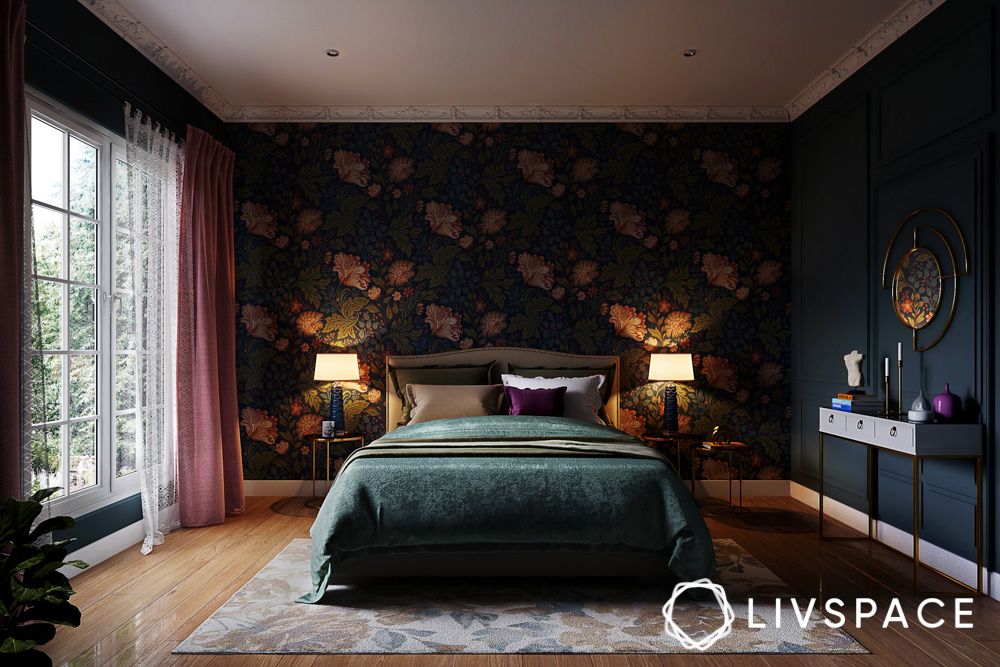 How much black is too much black? If you're willing to experiment, why not go all out with all-black interiors! This stunning jewel-toned room makes use of black walls and Victorian-style wallpaper to amp up the experience. Make sure you try this dark palette interior design in a room with a good amount of natural light to ensure the space doesn't end up looking dull.
#9: A Jewel-Toned Feature Wall Goes a Long Way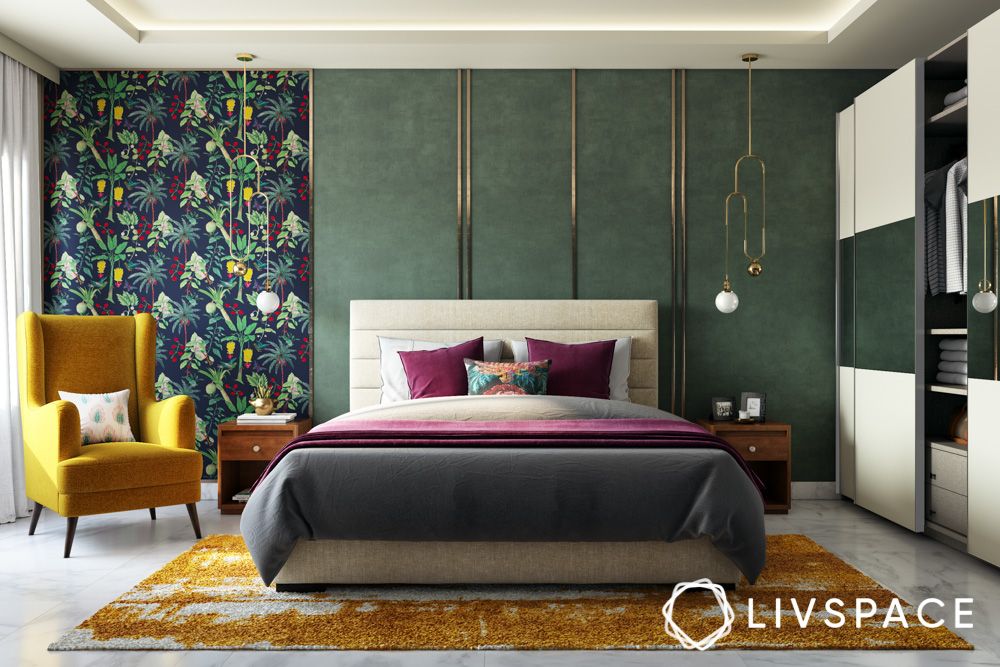 If there's one thing better than refreshing green palettes, it's when they're paired with brass inlays. This beautiful example uses both to give you an idea of how you can style any shade of green, especially in a dark palette interior design. You can either go half and half with paint and wallpaper, or you can decorate the entire wall with a dark colour and let the wall design speak for itself.
#10: Black and Blue May Be Right for You?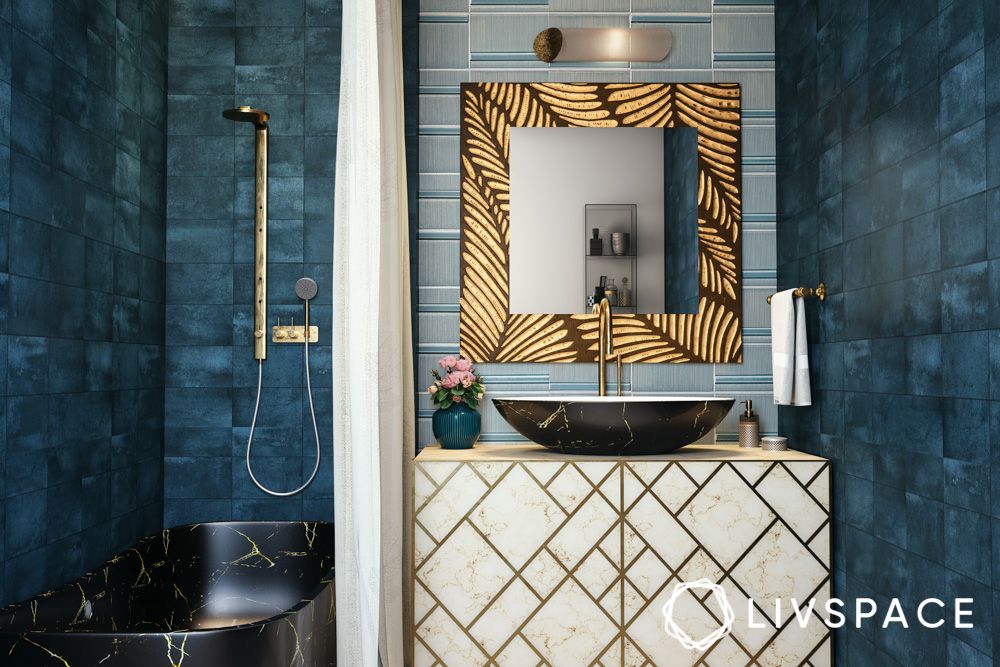 We've covered black and blue as two standalone colours. But, what if you put them together? By using both these dark colours in the same space, we can create the ultimate look of luxury. The brass accents on the mirror, shower fittings, and vanity lend an art deco feel to the space. To recreate this dark theme interior design, consider using bathroom tiles that have a watercolour effect to add dimension.
How Can Livspace Help You?
We hope you found these dark interior design ideas useful! If you want beautiful interiors for your home, then look no further. Book an online consultation with Livspace today. If you have any thoughts and suggestions you'd like to share with us, we're all ears! Drop us a line at editor@livspace.com.