Indian home decor styles, just like our composite culture, come from an amalgam of many different decor elements. Every state in our diverse country has its own unique traditional decor style. Regional influences make homes rich and keep them close to your roots. So why not try out these five special decor styles that we have handpicked from the corners of India.
Indian Home Decor #1: Rajasthani Foyer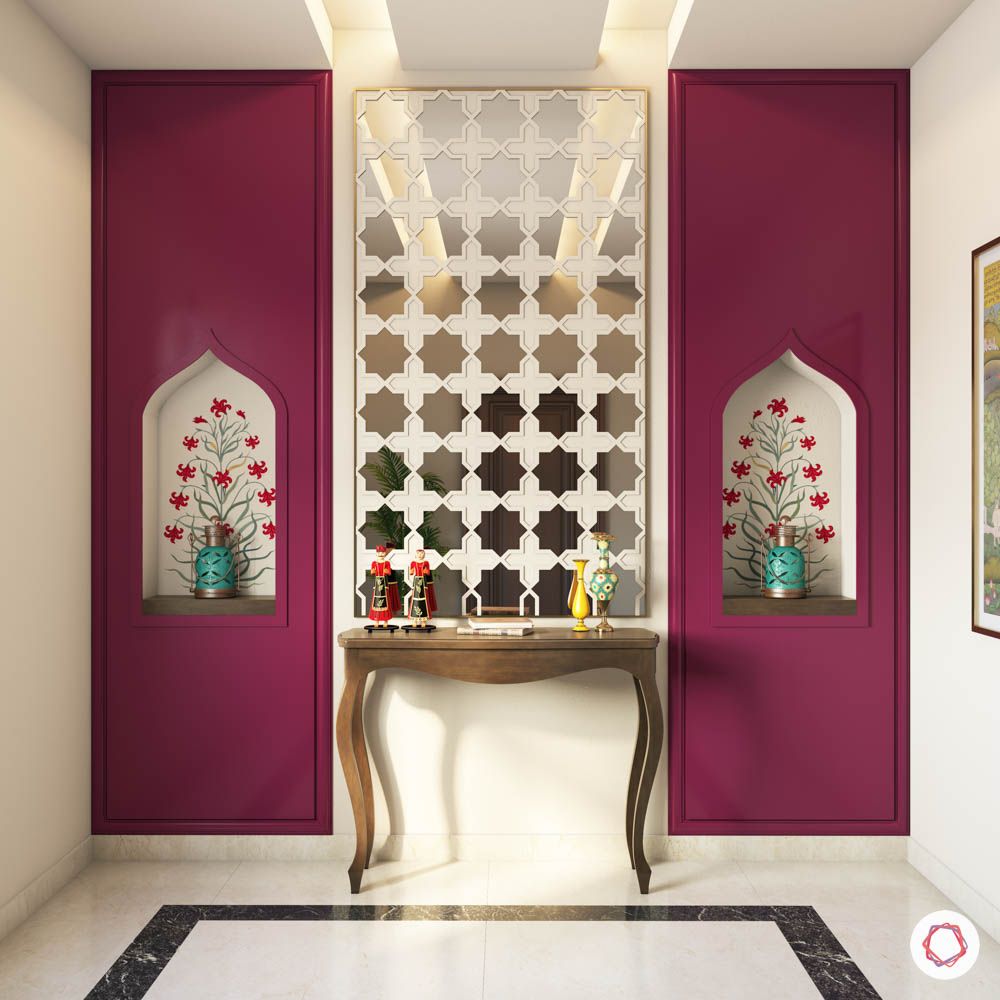 Of all the states in India, Rajasthan has the most regal bearing that has rubbed off on the architecture of this region. One of the most prominent traditional decor elements of this style is the jharoka, etched, carved and set to perfection. Mirror Work and a coat of royal magenta paint infuses the space with vibrance. For finishing touches, place a pair of raja-rani puppets here. Tada, you have a foyer that says, padharo mhare des!
Indian Home Decor #2: Chettinad-style Living Room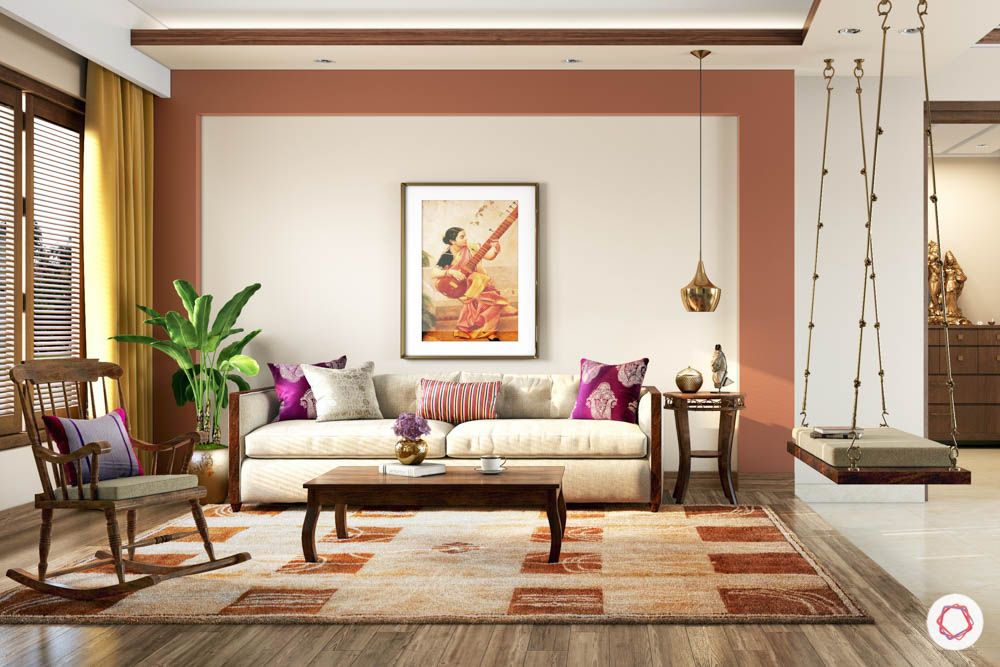 From the expansive deserts of Rajasthan, we move down South to the Chettinad belt. And guess what, it has more to offer than just yummy chicken curry! Wooden furniture in deep mahogany shades is typically associated with this region. If you can get one of those quintessential rocking chairs, then nothing like it. Homes down South usually have a large wooden swing that separates the living area from the dining space. Prop up silk cushions in rich colours to glam up this setup. But the crowning glory of a Chettinad-style living room would be a Tanjore painting.

Indian Home Decor #3: Goan Kitchen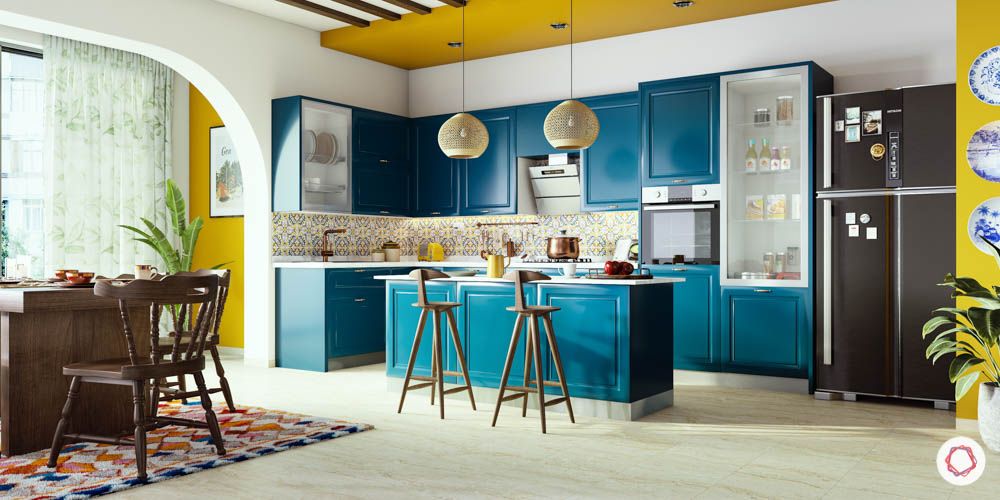 If you want your kitchen to smell of the sand and sea, borrow the Goan style of architecture. This type of traditional decor is marked by arched beams and rustic wooden furniture. Keep the fun and party element of Goa alive by using bright colours and stick with old-school kitchen shutters. For the backsplash, use Azulejos tiles to keep things groovy. Now be sussegad (carefree) and play Ya ya maya ya o while cooking.
Indian Home Decor #4: Kashmiri Bedroom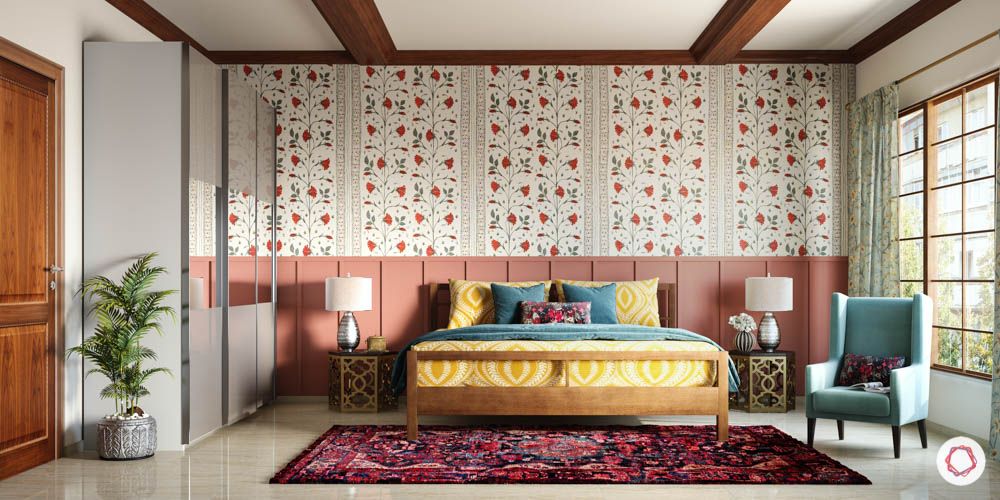 The valley of Kashmir is famous for its natural beauty and breathtakingly beautiful people! But even its antique decor style is worth your attention if you have a penchant for beauty. A classic Kashmiri-style bedroom would have a low wooden bed that matches the wooden grids on the ceiling and windows. As it is a cold region, the curtains are usually made of cashmere wool and the floor is covered in gorgeous Kashmiri carpets woven in intricate patterns. But the most characteristic element of this traditional decor is hand-painted designs on walls.
Indian Home Decor #5: Calcutta Calling Bedroom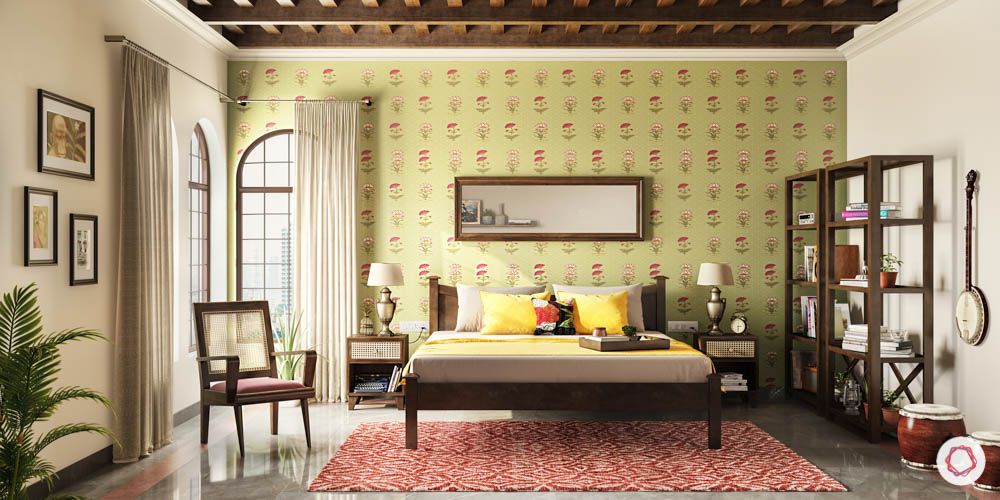 The colonial hangover in Kolkata is inescapable; it actually grows on you. So if you are looking for something vintage, try this traditional decor style to set up your bedroom. The furniture has to be classical in design and wooden of course. It is absolutely necessary to have a book rack that houses a collection reflecting great taste in art and literature. The flooring must be dark grey with brick red borders. Fill the walls with the abstract Jamini Roy painting to set the mood right.
If you enjoyed reading about the various Indian home decor styles from different states, also explore Decor Essentials for Indian Homes.
Send in your comments & suggestions.