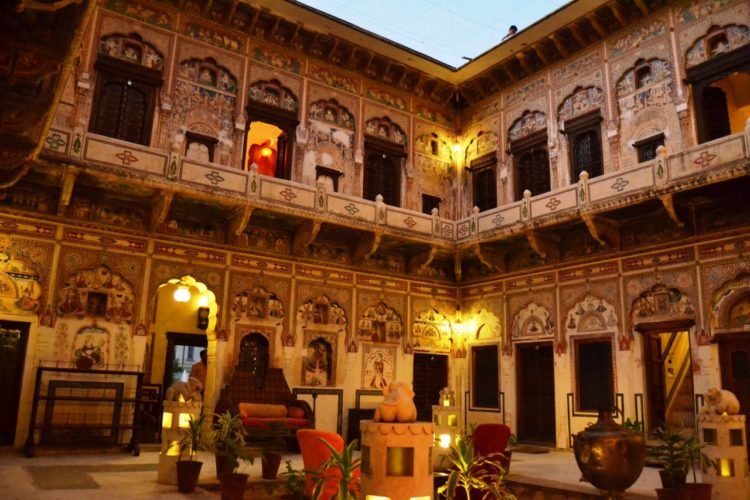 Source
This grand style, unlike any other, is as close to our heritage and history as it gets. Traditionally, the huge private mansions which housed families and extended families were referred to as havelis. Their distinctive architecture (inspired by Mughal, Persian and Indian architecture) and decor style are all clubbed under Haveli style.
Haveli style is exuberant, rich, intricate and cosy. From the arched windows, carved pillars to the patterned floors, it can make you revisit a bygone era. If your family owns a haveli in a remote town that you visit regularly, or if you have visited a fort in India, you'd be close to imagining haveli style.
A haveli style home is incomplete without gorgeous, luxurious textiles, if possible in patterns and prints galore. A dash of bright color is also a great feature Havelis. Traditional ornate furniture is a must-have while rugs and chandeliers, add to the charm.
If the thought of surrounding yourself with such opulence excites you, then we have a list of tips and tricks to help you recreate haveli style grandeur in your home
1. Mughal architectural elements
Havelis are largely influenced by Mughal architecture. But it does not stop there – Persian and Morrocan architecture, too, are important influences. You can include the prominent salient features like arched gateways and windows, pillars, jharokhas, etc. or some subtle ones like ornamentation and jaalis.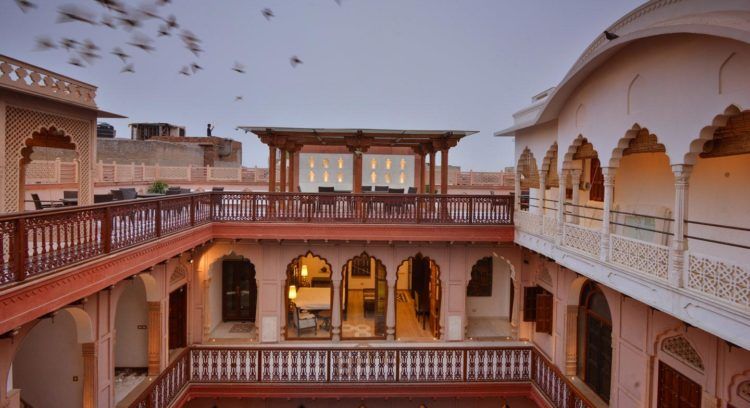 Source
2. Frescoes, murals, inlays and artworks
Havelis are known for art embedded in their very walls in the form of frescoes, murals and inlays. The motifs and depictions could vary from one geographical region to the other, but the themes usually revolve around nature and life in the times gone by. If such labor-intensive crafts aren't feasible for you, you can instead recreate the ambience using good quality wallpapers or deck your walls with valued artwork such as vintage prints and paintings.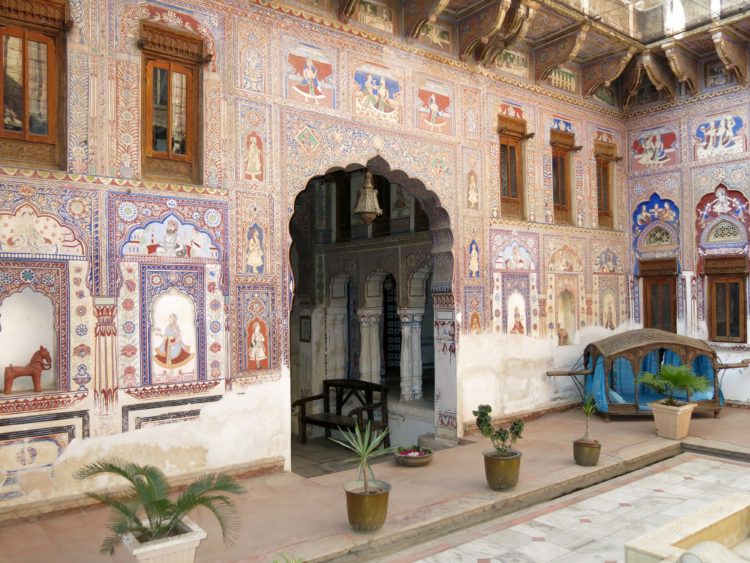 Source
3. Mashrabiya
These are lattice windows in wood or stone, occasionally covered with stained glass. You may have seen something similar when you visited a palace or fort. Latticework is seeing a renaissance and it is no longer limited to windows alone. Hence, you can choose to include this detail on screens or possibly even on wardrobes.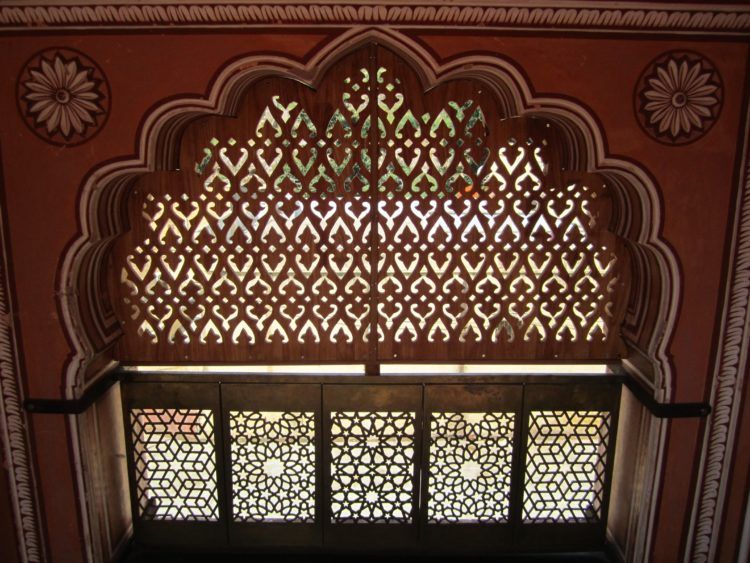 Source
4. Courtyard
Havelis are built around courtyards, and some of them even have two. Hence, for a haveli style home, it is important to have a courtyard or angan, as it is popularly called in Hindi; a way to let in light and fresh air and space for all residents of the haveli to gather. Some angans even have age old trees right in the middle. So forget backyard and terrace gardens, a central courtyard it is for a haveli home.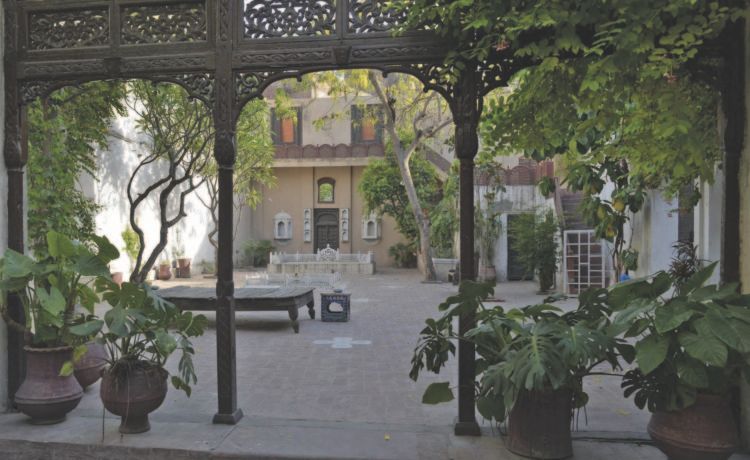 Source
5. Pillars and carvings
Carved and ornamented pillars are an integral part of haveli architecture. If your home is not built that way, don't shy away from installing an ornamental pillar wherever necessary, without going overboard. Also, a vital aspect of haveli architecture is symmetry, so opt for at least two pillars.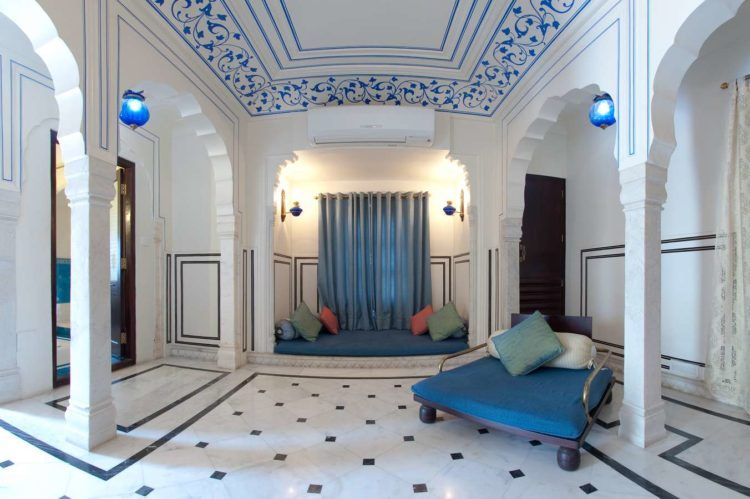 Source
6. Earthy tones with brights
The color scheme of havelis can vary geographically, from bright hues dominating earthy tones and vice versa. But as a rule of thumb, in contemporary times, it's advisable to keep it balanced to create an authentic haveli flavour without any excesses.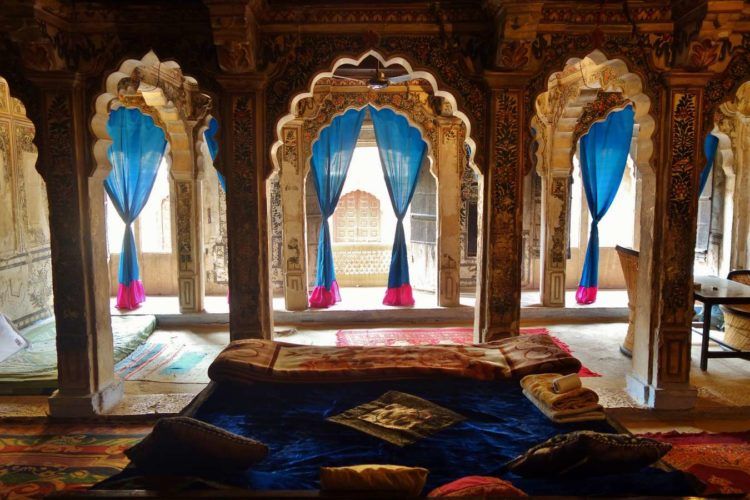 Source
7. Antique finds
Since havelis remind us of a bygone era, vintage objects complement them highly. Whether it is an antique piece of furniture or contemporary renditions of old prints, your home has the space to welcome it.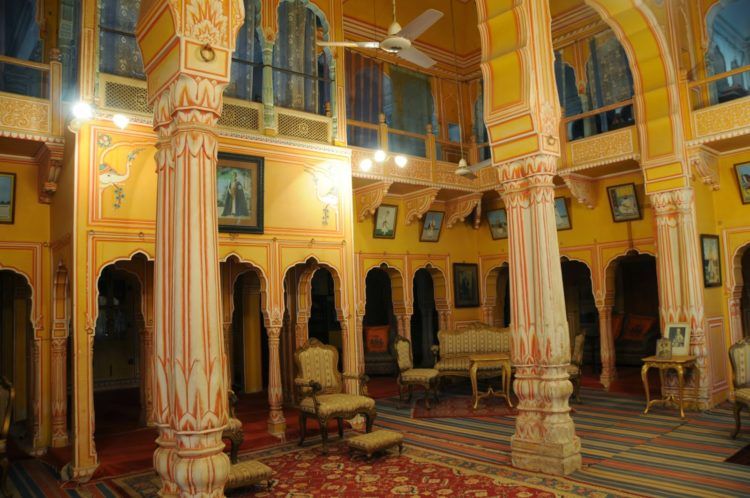 Source
8. Love wood
Heavily engraved dark woods are highly associated with haveli style. Whether it be beautifully ornate and heavy doors, furniture or even pillars, you would see the influence everywhere. Hence, don't shy away from using a lot of wood in all your haveli home endeavours.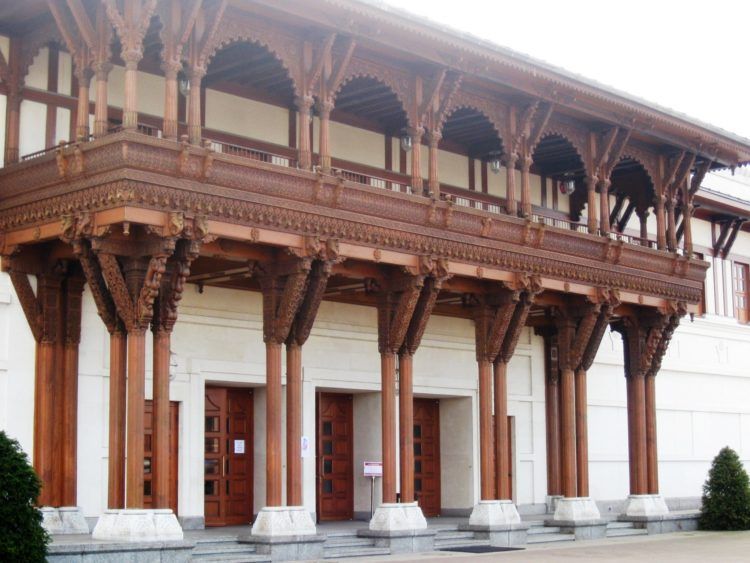 Source
9. Opulence and ornamentation
Judging from the amount of decoration that goes into haveli style, from upholstery to walls and furniture, we believe this decorating style is the opposite of minimalism. Therefore indulge your love for opulence in every corner, while keeping it classy. After all good taste that can contest with royalty is what havelis are known for.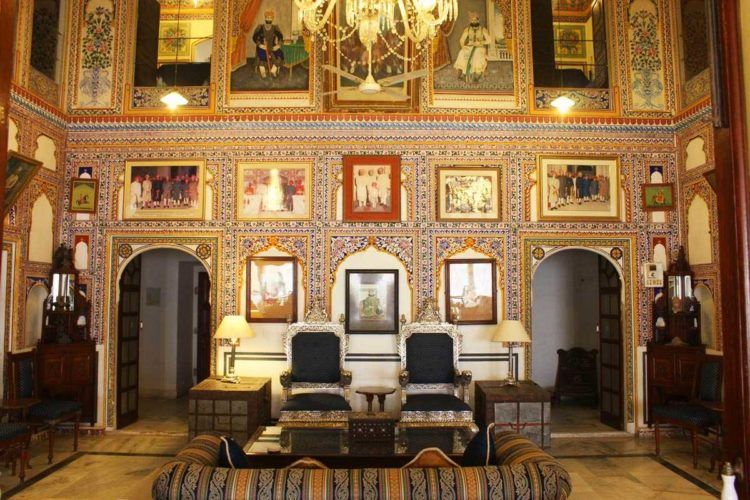 Source
10. Rugs and chandeliers
Elaborating on the opulence mentioned above, beautiful carpets and lighting are haveli essentials. So whether it is the carpet in your living room or your bedroom, simply indulge. The lights can be elaborate traditional chandeliers or ornate hanging lamps like in the picture below.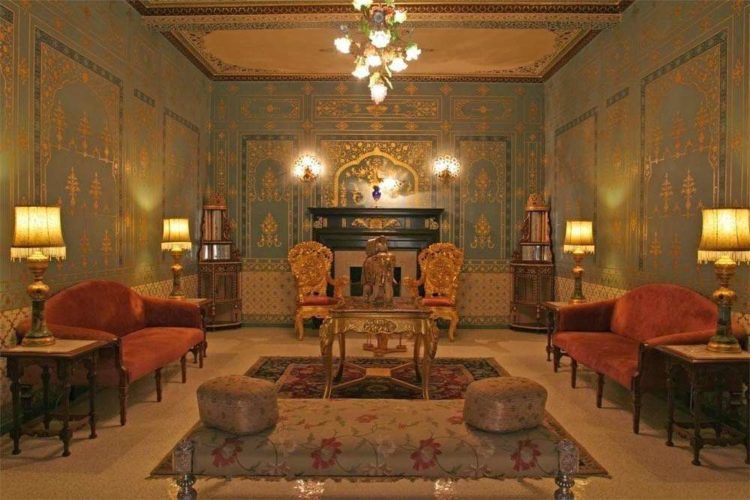 Source
11.Crafts
Whether it is intricately carved furniture or hand-blocked bed linen, handicrafts are highly respected and coveted in haveli style decor. And luckily, India boasts an abundance of rich crafts, which makes adding haveli-style touches to your home all the easier.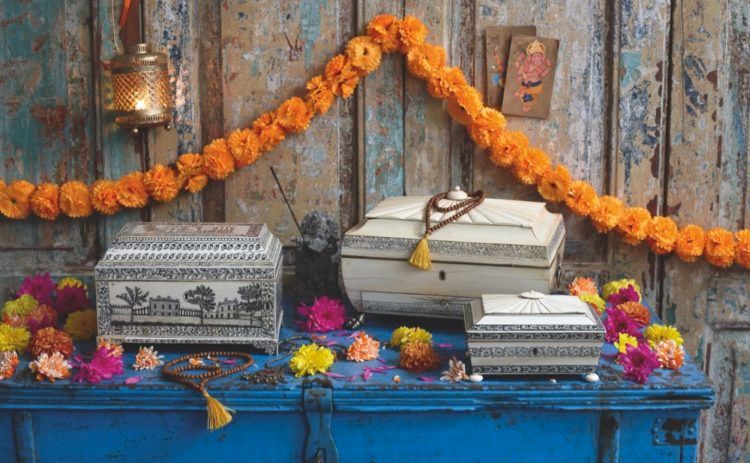 Source
12. Traditional furniture
The type of furniture used is a great identifier for any style. For haveli style, Indian traditional furniture – heavy, ornate, wooden furniture with rounded forms is a sure-shot way to add haveli charm to your home. If you talk specifically about the bedroom, then a four poster bed is a must-have. The upholstery should be rich and opulent as well, with prints ranging from paisleys to floral brocades.


Source
13. Warm metals
Warm metals like brass and copper are used as accents in many havelis. You will find them used on walls, doors, furniture, lamps, etc. Favour the warmer metals or antique finish metals (even silver) over new-age cold metals like steel.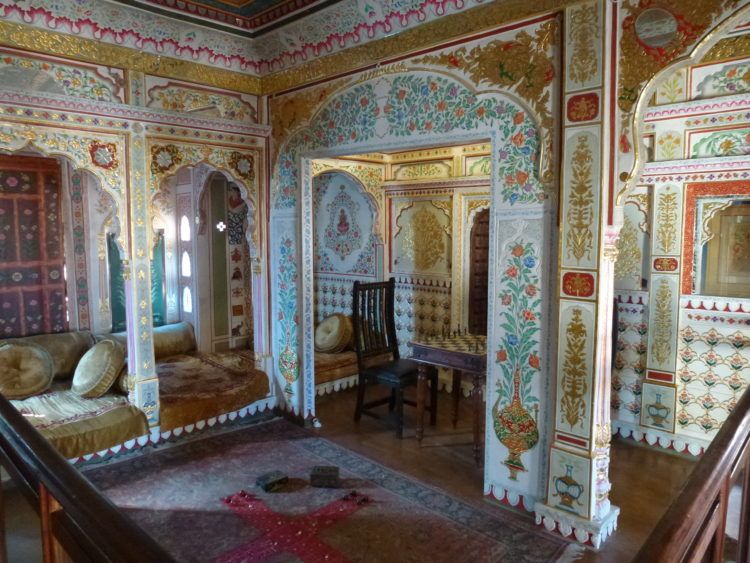 Source
14. Patterned floors
Patterned floors, especially those made from stone and marble are a unique feature of havelis. Whether it is simple checks or colored tiles, you'd find a lot of variety. Today the look can be virtually replicated with ceramic tiles.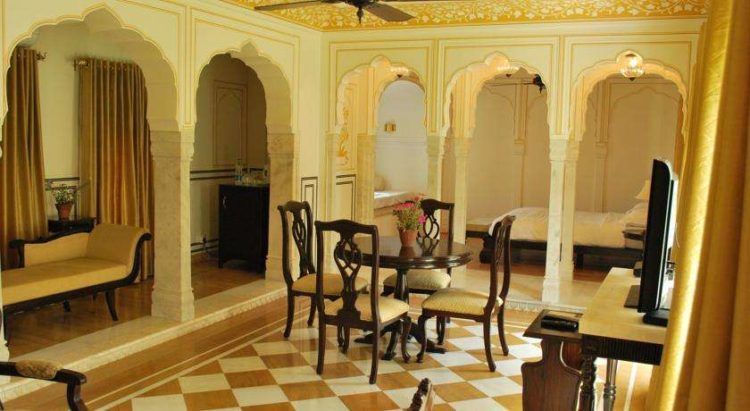 Source