Warm and comforting, with a wholesome appeal, the rustic style is perhaps among the most enduring of all decor styles across the globe. Commonly referred to as the country or farmhouse style, this particular look holds a special place in the hearts of those who yearn for simplicity and authenticity. Here's what you need to know about this style in a nutshell.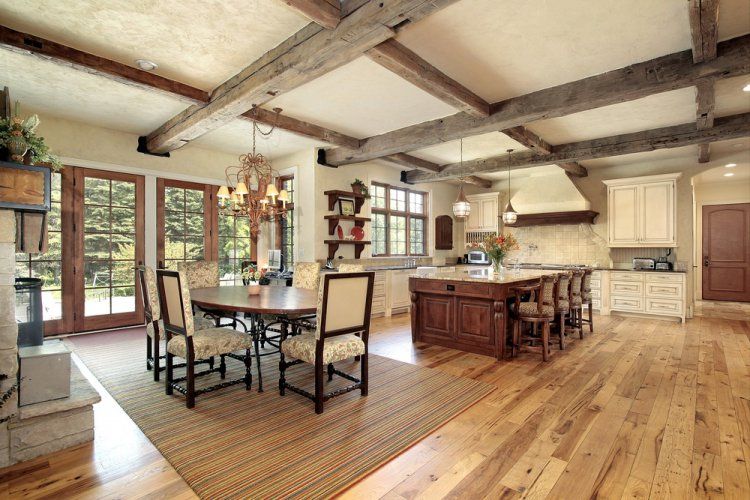 What is Rustic Style?
To best understand rustic style, imagine a cabin in the woods, a charming ranch house by the countryside or simply a mountainside hunting lodge. Rustic Style replicates the style of a world gone by, a far cry from the concrete jungle and the super-fast lives of today. Nature-inspired, simple and organic, rustic style home design uses natural materials and textures. The defining feature of a rustic style home is a distinctly homely, comfortable, unpretentious and organic appeal.
Key Items for Rustic Style Home
A rustic home, being nature inspired, will have a lot of wooden and stone items – but the raw, unfinished kind. It always helps to have a statement piece that is nature-inspired – think a stone fireplace or a wooden bark stools. Also, a rustic home is never complete without a reclaimed or repurposed object occupying the place of pride.
Tips and Tricks to decorate a Rustic Style Home
1. Unfinished surfaces: A rustic home takes pride in the beauty of weathered materials and walls. Unplastered, rough walls or patina on wood, all bring out the character of rustic decor style. Novelty items like vintage-looking wall paintings and even rustic bird cages can do the trick.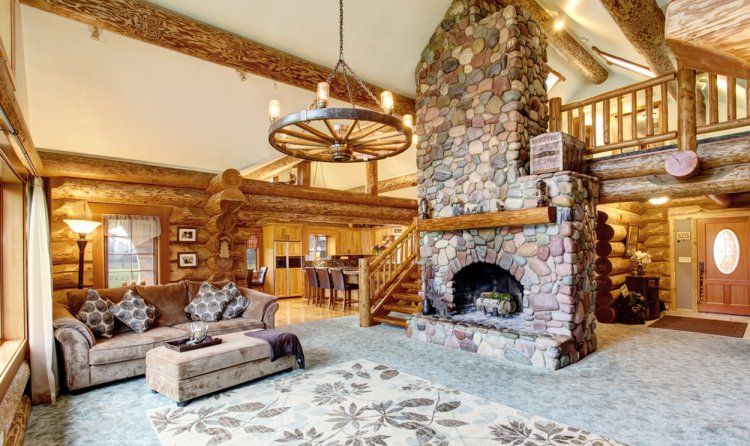 2. Earthy tones and neutrals with subtle accents: Since this decor style is so closely interwoven with the outdoors, color schemes typically favour earthy yellows and browns. An interesting twist, however, comes from adding bright colors like turquoise or deep red – in their subtle or sometimes faded avatars. In the picture, the powder blue rustic cabinets break the monotony of the neutral room.
3. Exposed beams: Exposed construction beams honor the fifth wall – the roof. The more rugged and unpolished – the better. If you're trying to infuse your existing home with rustic elements, you can opt for artificially aged faux wooden beams.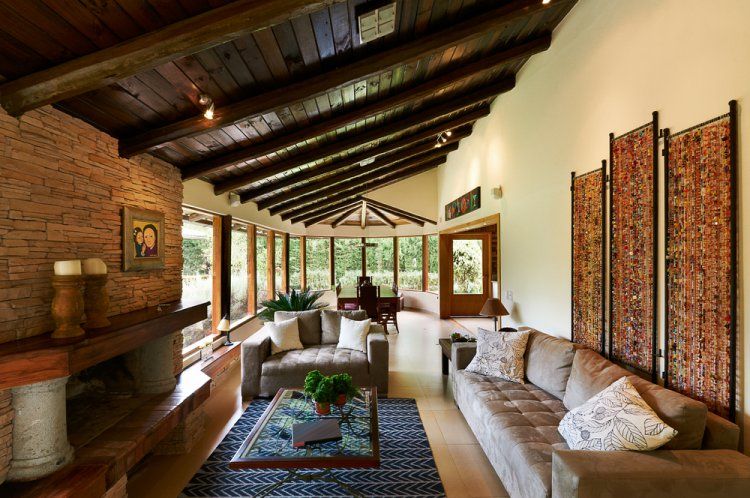 4.Natural Floors: The feeling of a natural floor underneath your feet is an experience by itself. Hardwood, bamboo and unpolished stone flooring can deliver rustic flavour with ease. In India, red oxide flooring is one of the best ways to achieve an authentic rustic style look.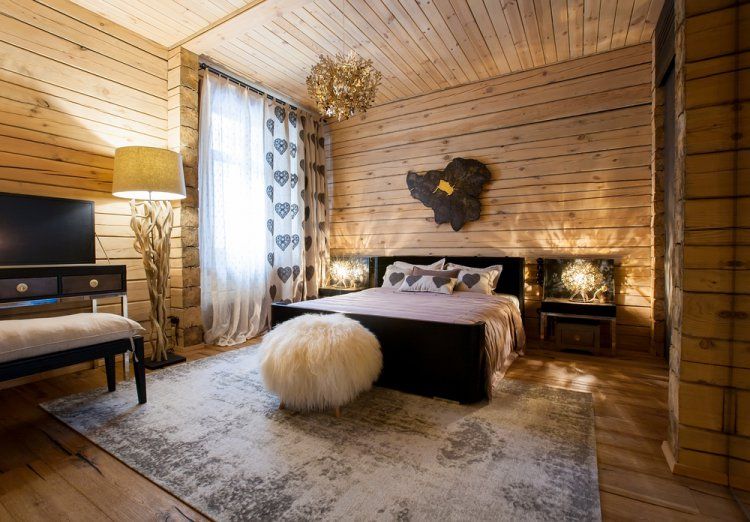 5. Natural Furnishings: Natural fabrics like cotton, linen, burlap, wool and even fur and cow hides echo the rustic aesthetic. Ethnic inspired prints like tartans, ikats or Suzani patterns, which speak of the simple life will also fit right into your rustic home.
6. Windows with a view: For a style which has such a close connection with the outdoors, large windows are an absolute must. Huge windows overlooking a lush garden (wild and natural) or a forest (if you are lucky) are a coveted detail in a rustic home.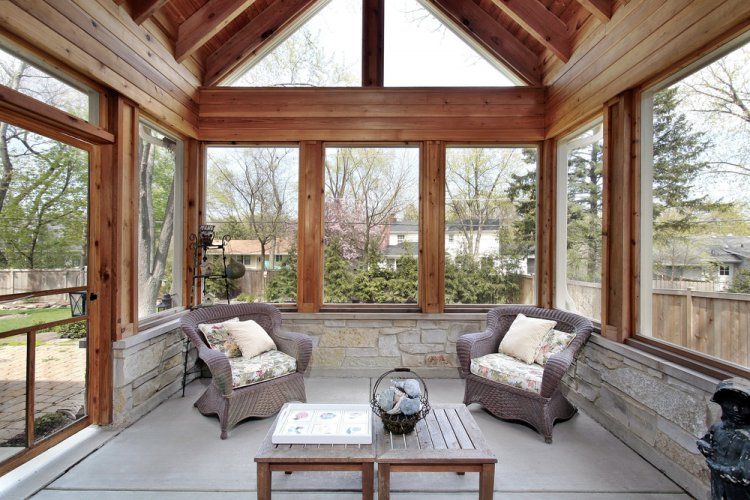 7. Repurpose objects: Part of being eco-friendly is also about recycling and repurposing found objects. You can turn a bucket into a sink or bamboo sticks into posts for a bed. Patchwork quilts and curtains can also capture that homely vibe beautifully.
8. Have traditional architectural elements: If it is appropriate for the climate you live in, having a cozy fireplace is the perfect choice for a rustic home. For warmer climates, you can incorporate water troughs or indoor ponds made of stone.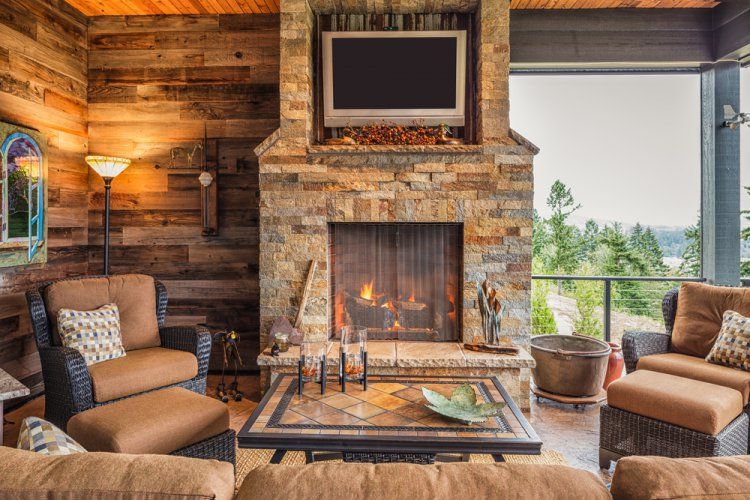 9. Display handicrafts: Now, this is a finer detail. To bring the rustic essence in your home, display traditional craftworks like wicker baskets, tapestries, brass pots, earthenware etc. Vintage pottery in various shapes, in their natural finishes are also a surefire way to emphasize the rustic look.