A plant without roots is but a floating weed. It is often the same with people. No matter how far we move away from our roots, we always carry a little piece of our native in our hearts. These memories of 'home' often find their way into the interiors of our new homes. If your memories hark back to the lush greenery of god's own country, you will find our renditions of a Kerala-style house very familiar.
The architecture of the homes in Kerala is unique because the climate is rather hot and humid. Homes here are built with the collective learnings of centuries to keep the heat out. Also to shelter from the torrential rains and keep things as breezy as possible indoors. Although this style of architecture has evolved from temples, it has distinguished itself with many influences. It has mingled with people coming from Syria, Portugal and various other geographies. Thus, the Kerala style of decor is as composite and unique as its plural culture.
We have picked out the design elements that go into styling five different spaces in a Kerala-style house. Let this set your imagination of fire!
Entryway Panelled in Wood From a Kerala-style House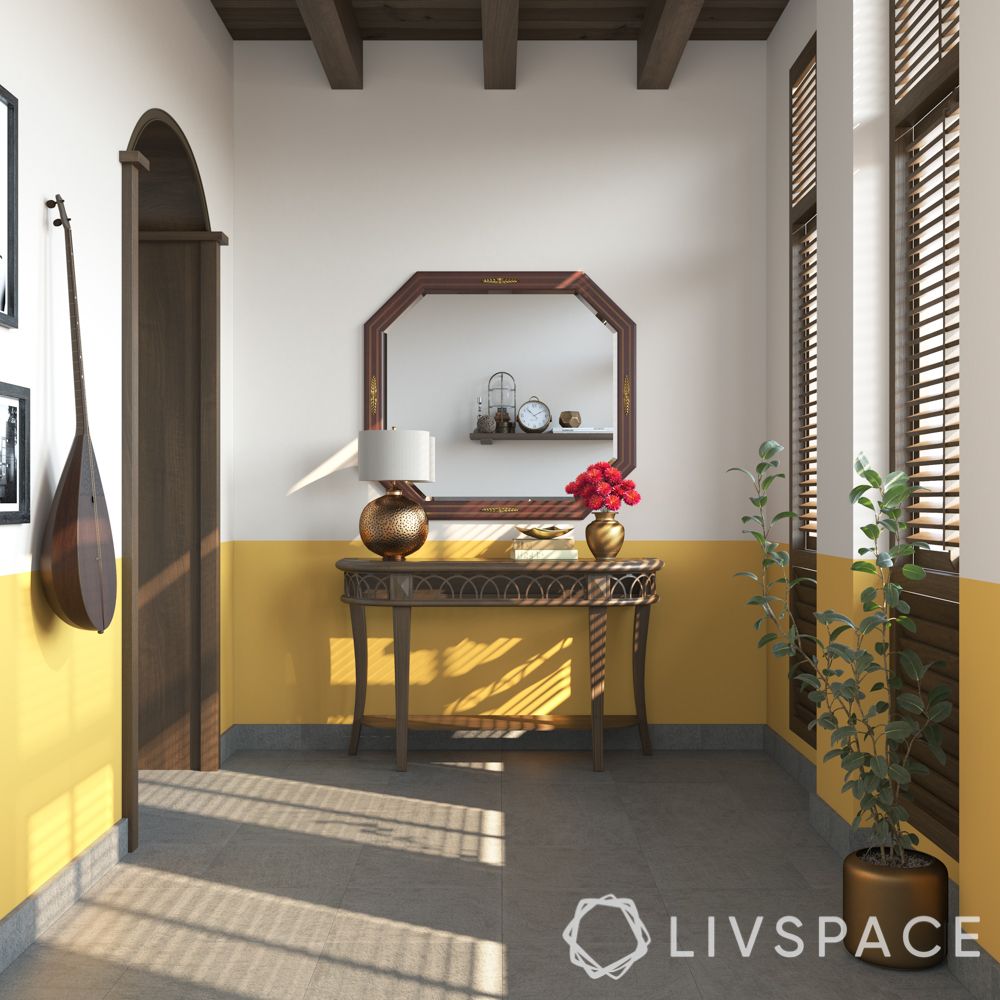 The influence of wooden accents is very strong in the architecture of Kerala. As timber was quite abundantly available in this region. Hence, we commonly see roofs with wooden rafters and doors and windows framed with solid wood in Kerala. Another distinct feature of this type of architecture is the prevalence of tall windows that let in plenty of light. This entryway recreated from a typical Malyali home has all these features. Moreover, the decor is tempered with traditional decor items like the wall-mounted veena, carved console and wooden framed mirror.
Design Takeaway
It is easy to pick the smaller elements of decor like the veena or plants in earthen pots. But the real showstopper here is the wooden panelling on the doors and windows. It presents a stark contrast to the glass floor-to-ceiling windows we are used to seeing in modern apartments.
Living Area Sporting Bright Red Flooring From a Kerala-style House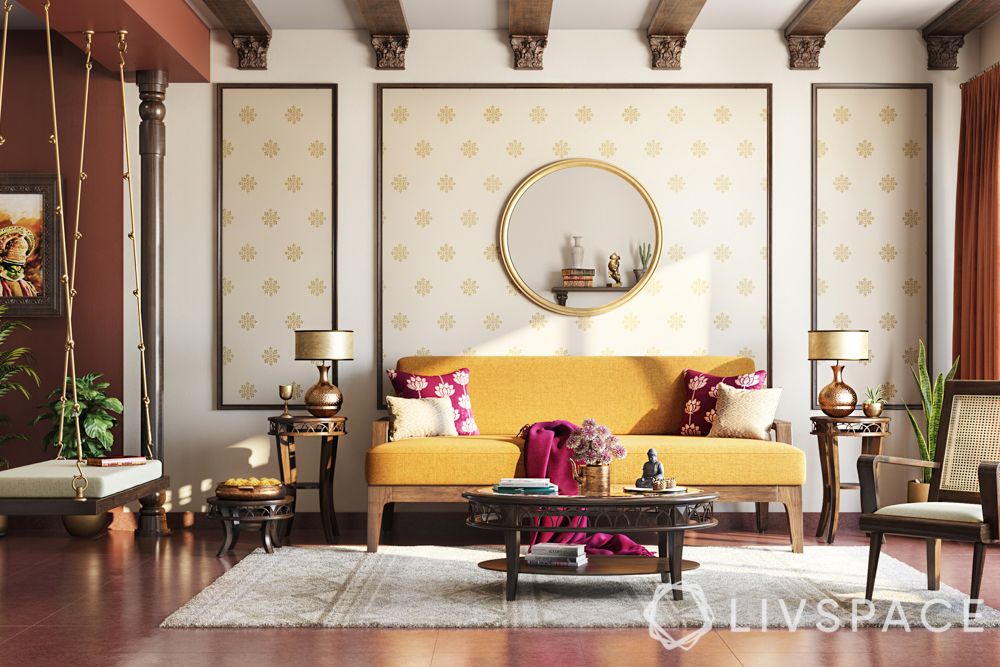 A sitting area in a Kerala-style home is marked by wooden sofas, oversized chairs and recliners as well as a typical South Indian swing. While we love all the ornateness of the furniture in such traditional living rooms, red-oxide flooring, stands out. People in Kerala borrowed this flooring trend from the Portuguese way back in the 1700s. The massive pillars, which were earlier a structural element for houses, are now mostly used as an ornamentation.
Design Takeaway
Red-oxide offers an affordable and novel flooring option compared to tiles. Not only does this flooring have cultural significance, the rich hue could easily become the statement feature in your home.
Niche Storage in Dining Room From Kerala-style House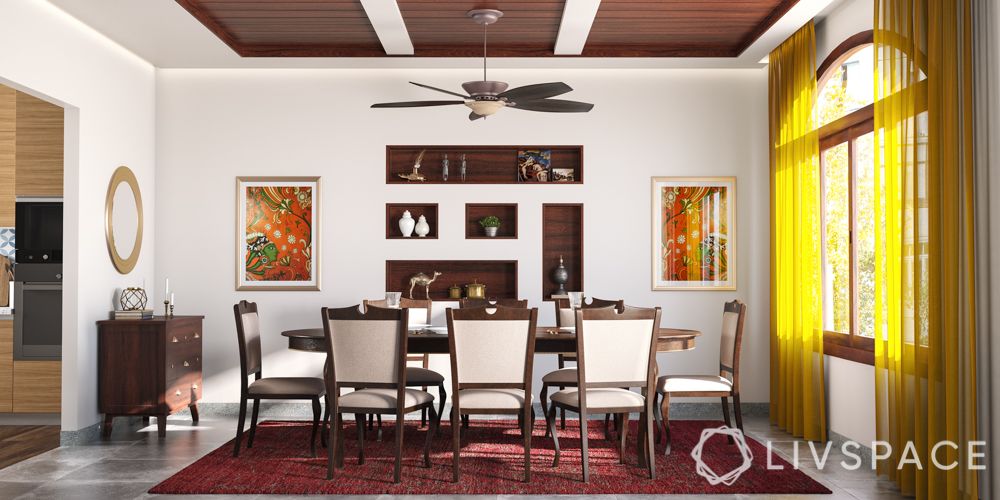 A traditional Kerala-style home always has a dedicated dining space. It is one the cultural prerequisites of being Malayali. Coupled with wooden ceiling details and rustic colour combinations, the dining space is quite an earthy visual experience. We see the quintessential arched windows in this particular rendition. These large windows are responsible for keeping things breezy indoors when it's hot and humid outside.
Design Takeaway
In most homes from this region, the crockery is stored in niches carved into the wall. These cast-in crockery cabinets have glass shutters. They are also super compact and functional, making them perfectly suitable for apartments.

Dark Wood Polish Colours Bedroom From a Kerala-style House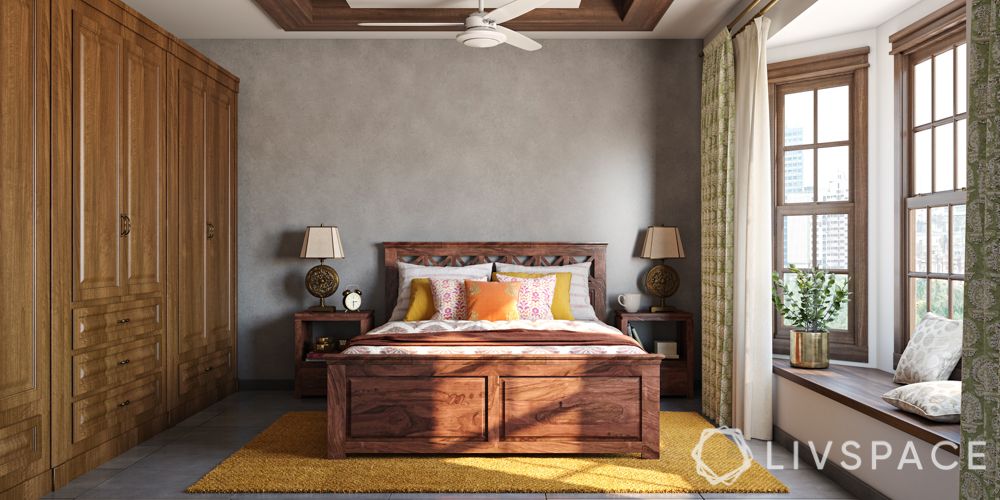 Bedrooms are mostly a simple affair in a Kerala-style home. Apart from sufficient storage, which usually comes in the form of wooden wardrobes, the bedroom also needs to remain cool. Hence, the bay windows are an excellent way to ensure air circulation. So you sleep will in an airy space even on the hottest days.
Design Takeaway
It is a known fact that decor down South involves plenty of wooden furniture and accents. But what stands out in a Kerala-style home is the predominant use of dark wood polish. If you look at a solid wood bed or carved coffee table, the polish is always a dark shade of mahogany. This adds richness and depth to the interiors of any home. This is especially true when paired with furnishings in earthy shades.
Well-lit Reading Nook From a Kerala-style House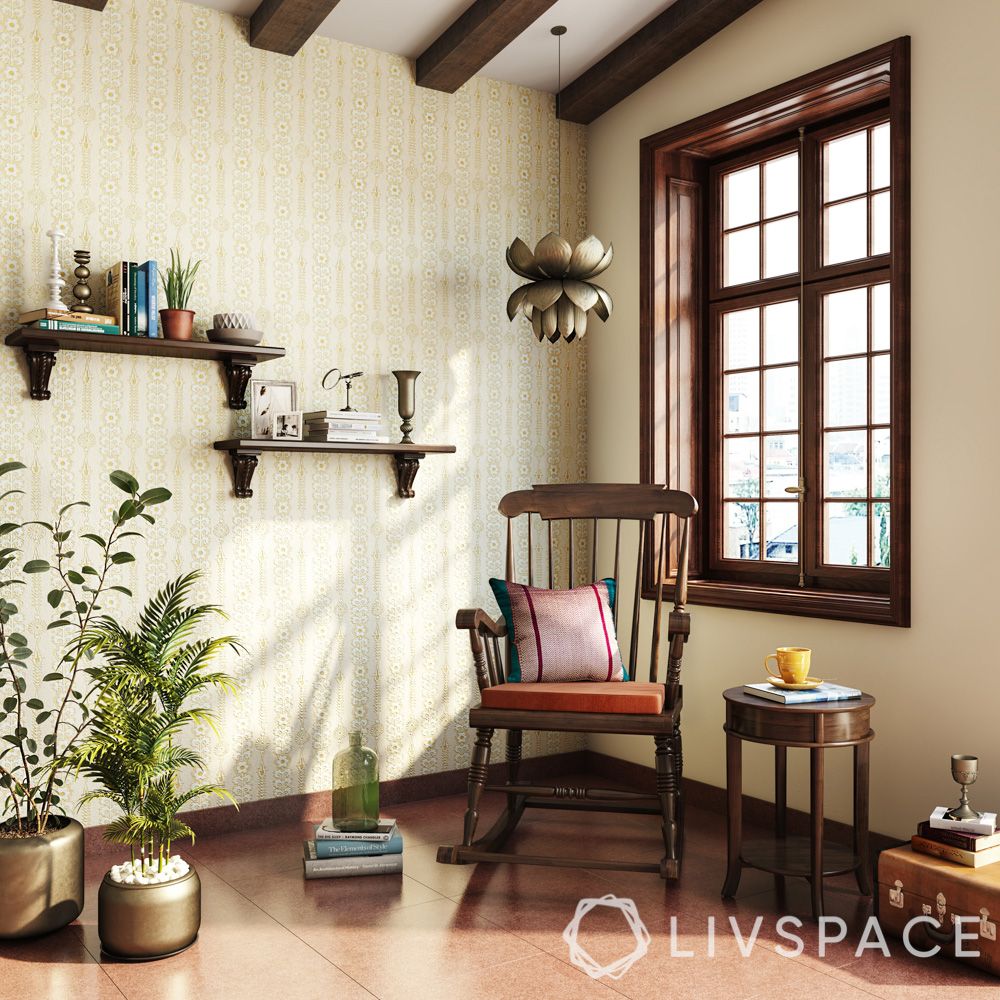 There is no denying the fact that Malyalis are a community of intellectuals. Every morning starts with a cup of tea and newspaper. And almost all homes have a designated reading nook either in the verandah or the attic. We would ideally furnish a reading spot with a rocking chair and coffee table. It is also easy to imagine a book rack or shelves here. Plants in earthen pots complete this picture of perfect solitude.
Design Takeaway
A reading spot certainly requires plenty of light. And that brings us to a very characteristic feature of Kerala-style architecture — gable windows. These are basically windows that appear with the roof or in a protruded part of the house. Thus, they bring in natural light to the fullest extent.
If you wish to retain some traces of nostalgia while designing your new home, also explore how We Recreated Decor Styles From 5 Indian States.
Tour this home in Kochi:
Send in your comments & suggestions.