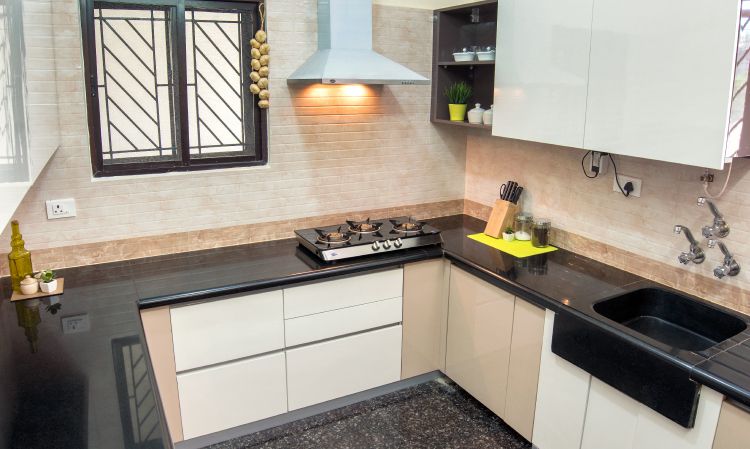 ---
Who livs here: Sujith Menon with his wife
Location: K R Puram, Bangalore
Design team: Interior designer Akshatha Suresh with Design manager Shruti Prakash
Livspace service: Kitchen makeover
Budget: ₹₹₹₹₹
---
Sujith Menon wanted to surprise his wife while she was away. After much contemplation, he bought his wife and himself a brand new Livspace kitchen where the couple could whip up meals together complete with modular fittings, wire baskets, a hob, a muted backsplash and lots of ventilation.
While the wife was away soaking up some fresh air and green in Kerala, Sujith and Livspace designer Akshatha Suresh worked together to transform their old dingy kitchen to one that feels cleaner, smarter and more open.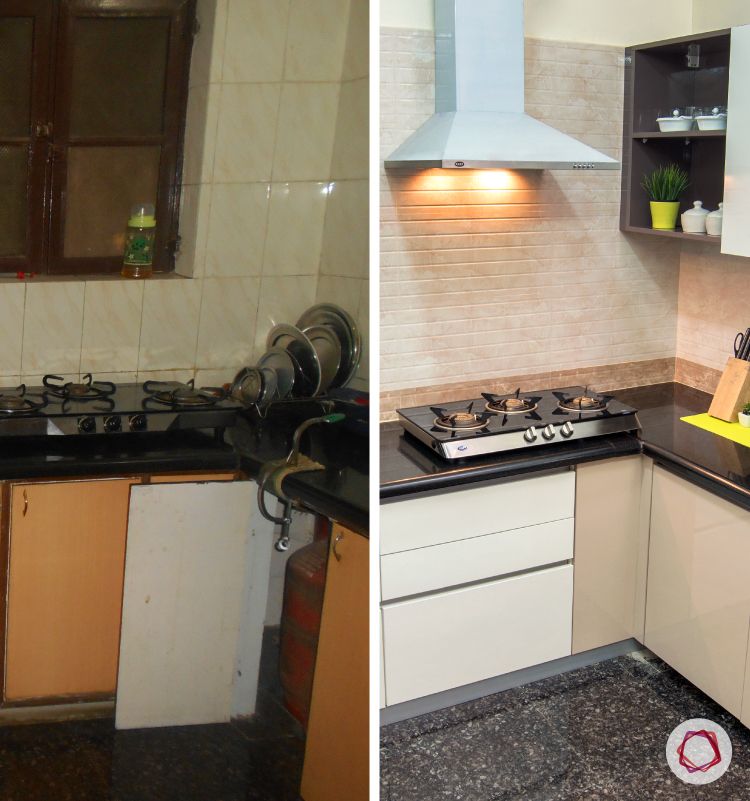 ---
One half of their old windows were closed off to make space for a powder blue chimney that pops against the muted walls, while the cabinetry was overhauled with modular fittings.
---
Akshatha broke up the line of double windows to make space for a chimney. This was a welcome change from the shabby windows, which were of no help to the poorly ventilated kitchen. Since the kitchen was anyway suffering from inadequate natural light, Akshatha used a muted tone of apricot beige with ivory so that space would reflect more light and seem more open.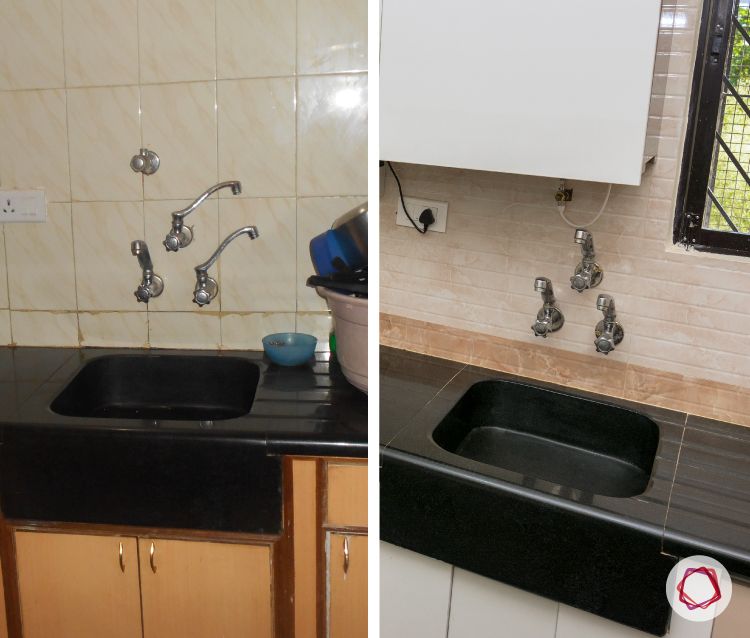 ---
To aid cross-ventilation, windows were installed on the wall above the sink.
---
With only one set of windows, it was absolutely necessary to install more windows to keep the kitchen fresh and airy and allow cross ventilation. Additional ivory cabinets were installed with a set of brown-grey open shelves in the otherwise dead space above the sink.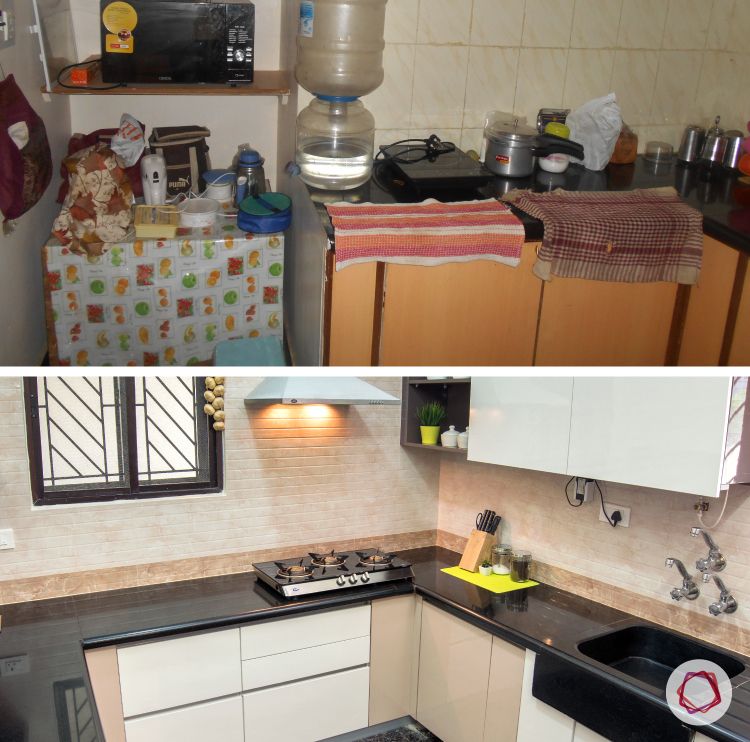 ---
Storing stuff out in the open looks unappealing and that is precisely why the Menon's kitchen needed clean cabinetry to hide their clutter.
---
In the Menon's new kitchen, Akshatha made sure she replaced all traces of their old carrot toned cabinetry with a plush ivory twist that enjoys wire baskets and customized storage that hides away any unsightly clutter. The untidy and old-fashioned vitrified tiles were replaced with chic subway tiles in a pale apricot beige tone to match the cabinetry.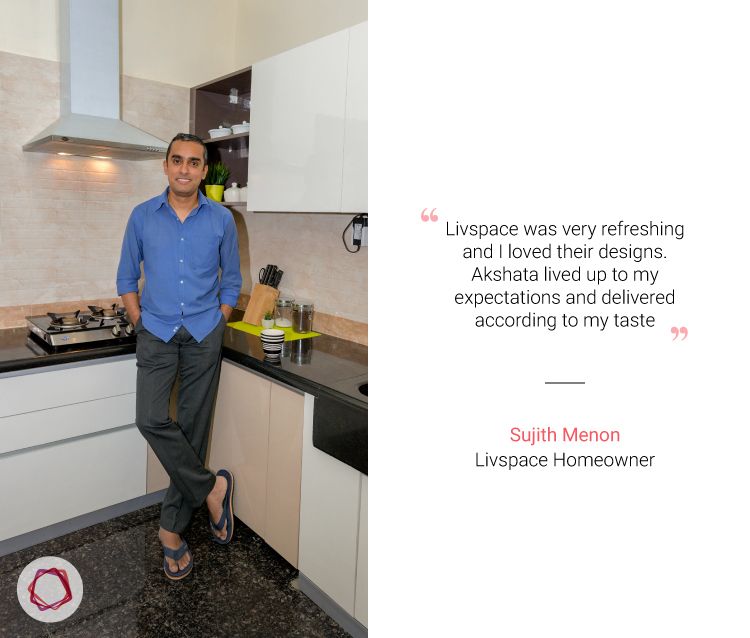 ---
Sujith Menon was insistent that their old granite and mosaic flooring would be retained as is.
---
The only two things that survived Akshatha's remodeling wand are the mosaic flooring and granite slab. Sujith was insistent that he liked both and would prefer if they could work around it. With the granite intact, the Menon's didn't need a stainless steel sink to be installed and with a quick wax, their sprightly mosaic tiles took on a new lease of life.
---
"There was a lot of on-site visits that were required from my end with a lot of back and forth, but in the end we were able to deliver according to what was expected of us and the client loved the final outcome."

– Akshatha Suresh, Interior Designer
Check out this kitchen design in Hyderabad: