For this carefree, suburban Bengaluru home that frequently hosts lively parties, a kitchen brimming with spontaneity and positivity was the perfect addition. All this while taking Vaastu shastra into consideration as well. Homeowner Vinod Jain talks about his bright new kitchen and more.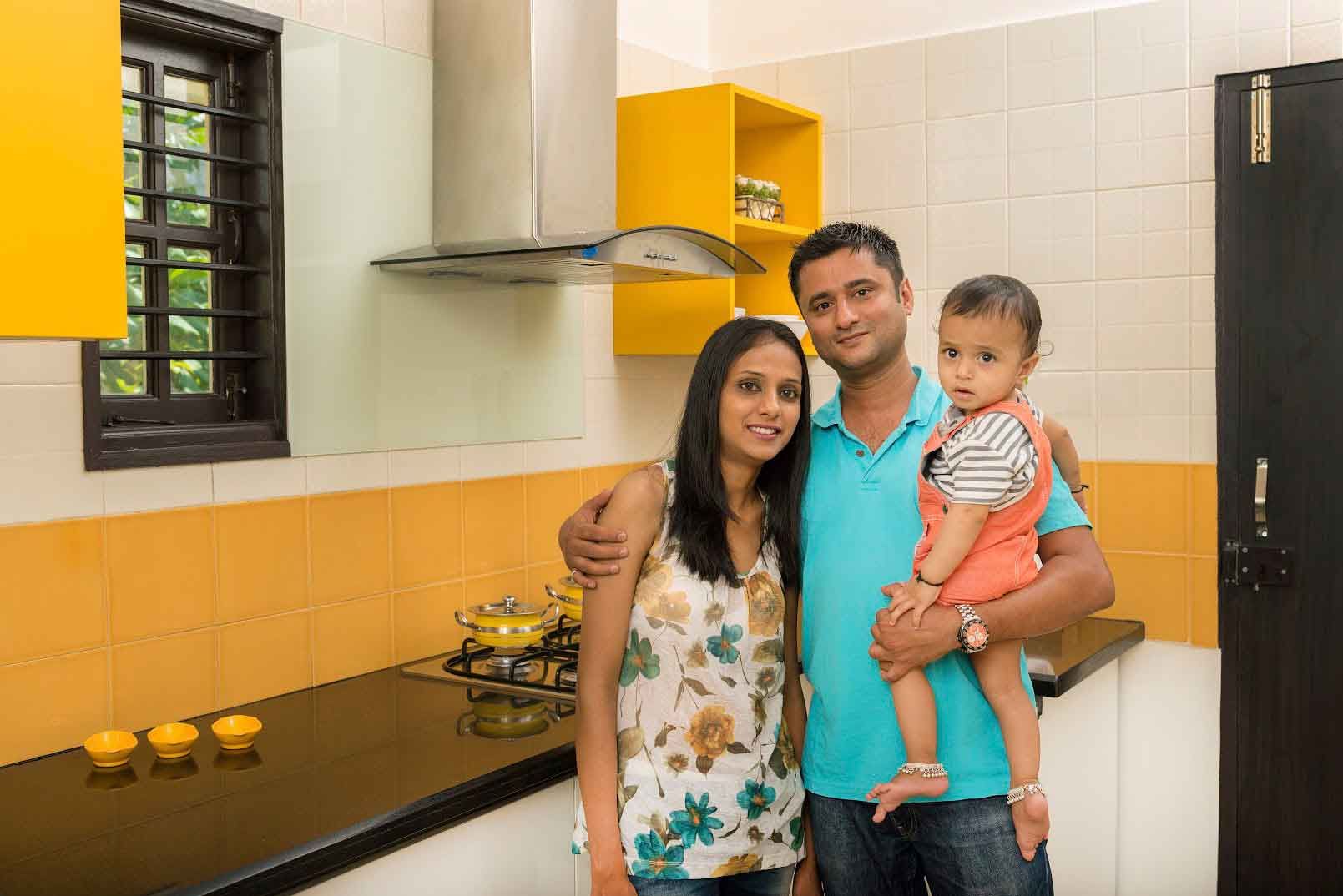 ---
Who lives here: Vinod and Deepti, with their 1-yr old son Riaan
Location: Kodichikkanahalli, Bengaluru
Kitchen Size: 111 Sqft
Livspace Service: Kitchen design
Budget: ₹₹₹₹₹
Livspace team: Interior designer Swathi Suresh with project manager Xavier Prabhu and relationship manager Praneta Kataria
---
A tidy and organized kitchen is an absolute essential, especially in a home where bustling party nights are the norm and guests frequently volunteer to whip up a meal on the fly. .
Vinod Jain and his wife Deepti, now proud parents to one year old Riaan, engaged Livspace with the task of transforming their bare-bones kitchen into one more suited to their needs. With the couple's first-born on the way, designer Swathi Suresh created a happy space that reflects their sentiments while fulfilling their needs and beliefs.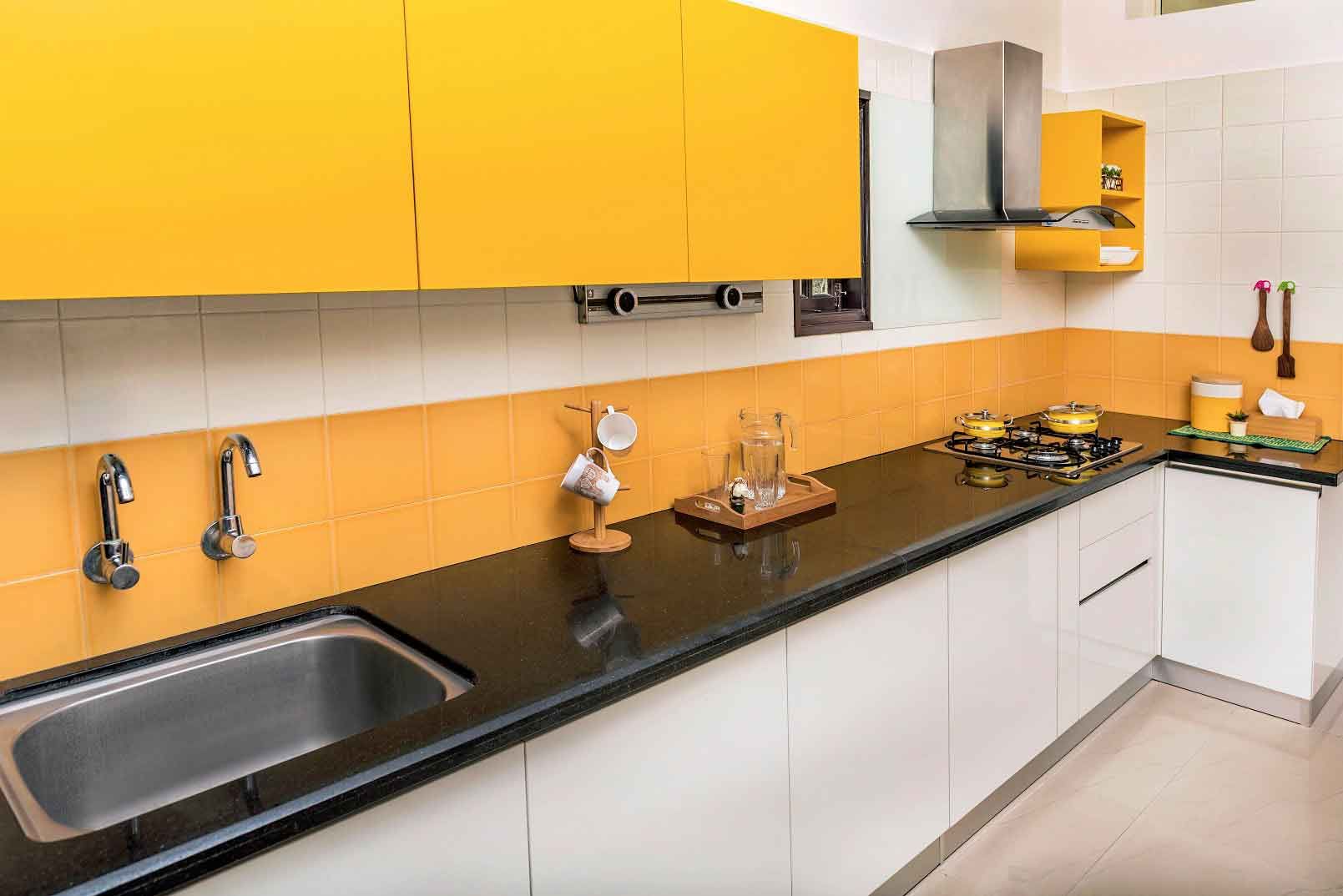 Their beautiful new kitchen reflects their peppy, carefree personalities and complements the rest of their open and spacious home. Set against a neutral backdrop, canary yellow cabinets and a matching backsplash act as design elements, exuding vibrance while clearly demarcating the kitchen's deep storage areas. In accordance with Vaastu principles, the position of the hob was left untouched and the rest of the kitchen was designed around it. The existing wall niche was fitted with shelves to serve as a display area for crockery and home accents. The end result is an airy, cheerful space that is a delight to cook and entertain in.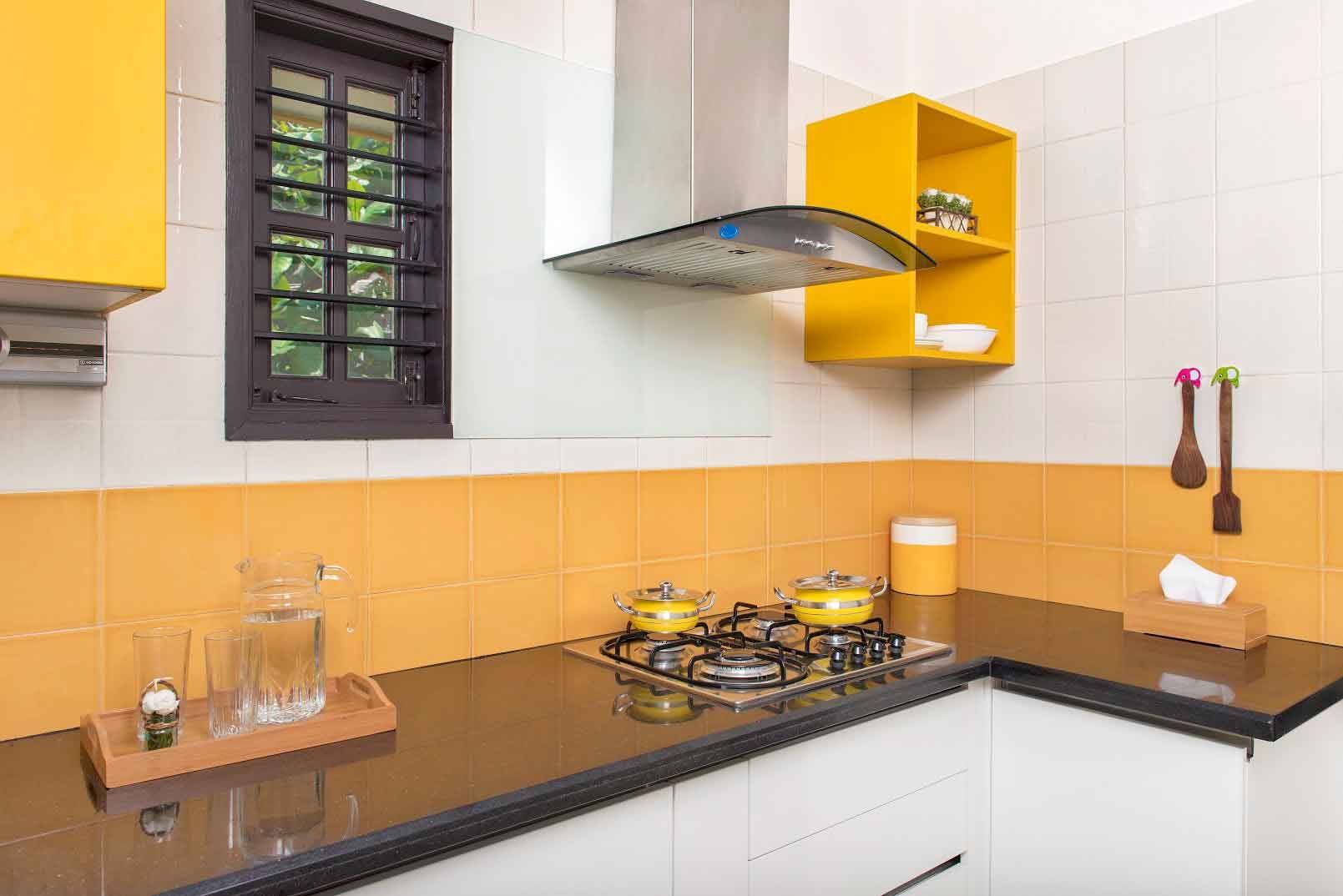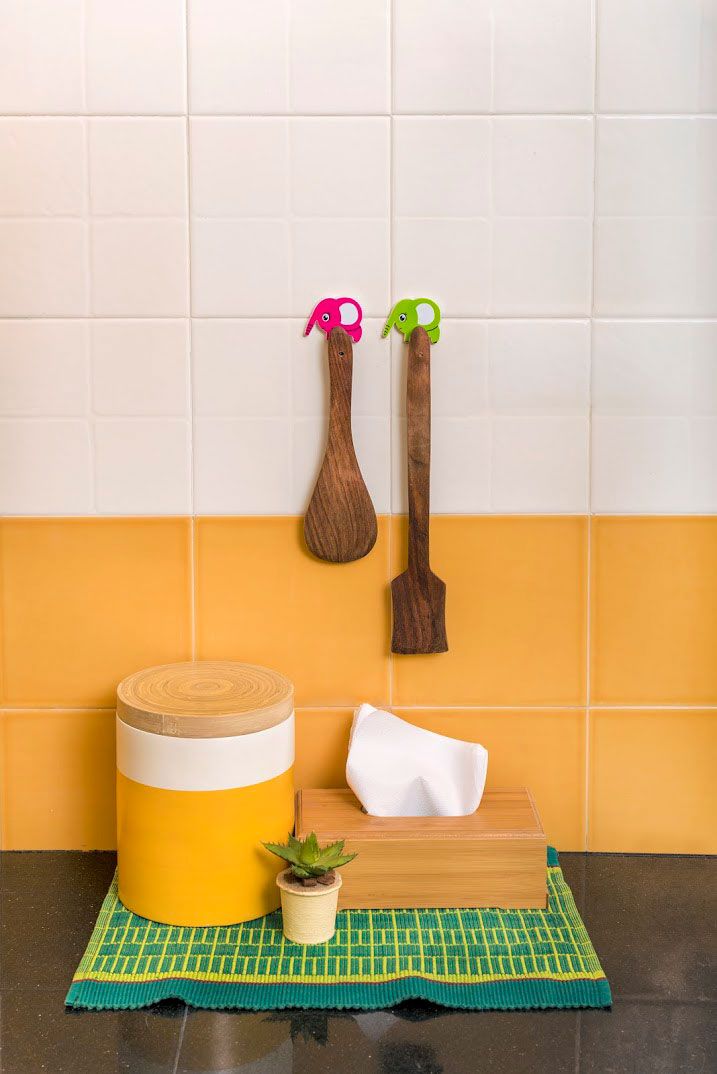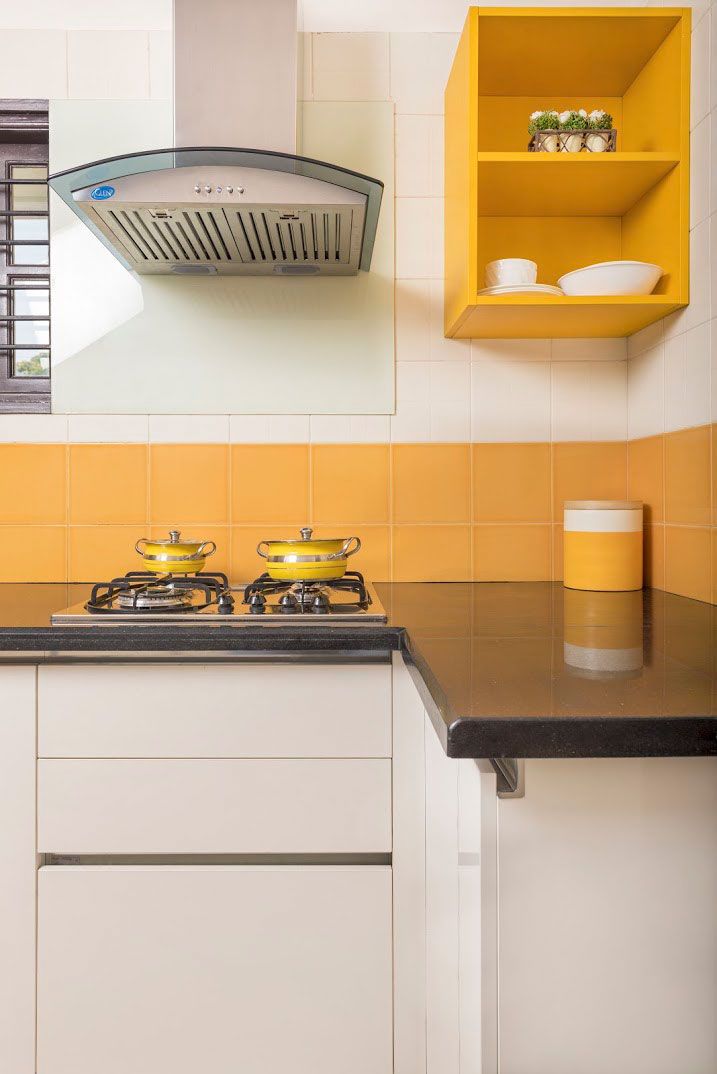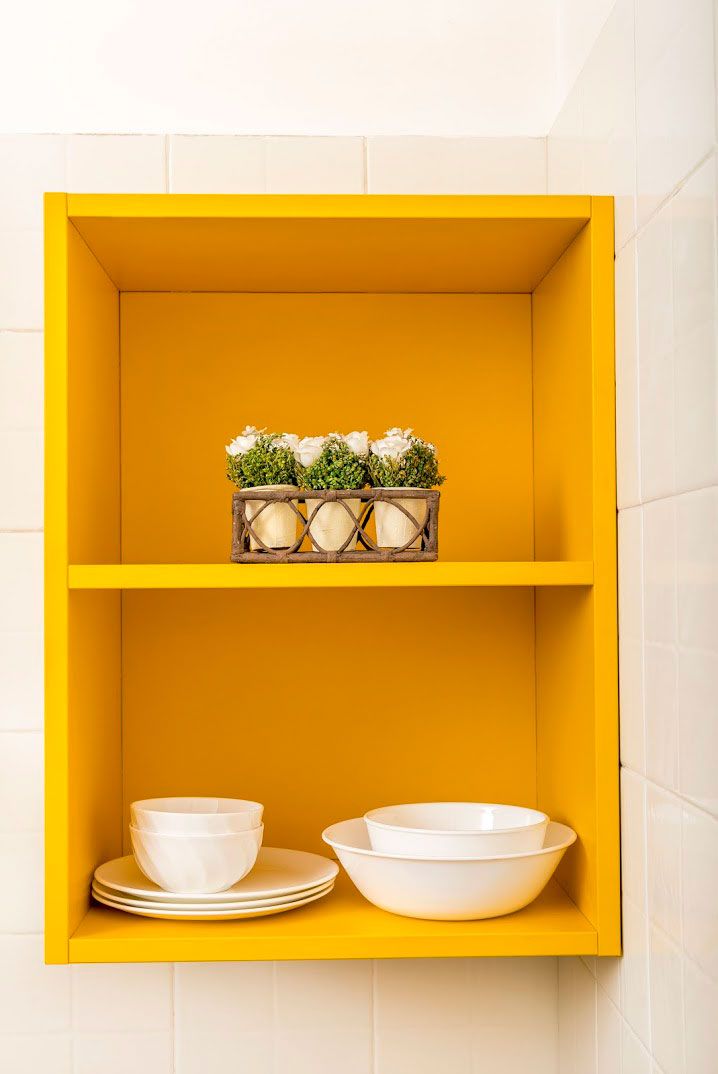 Tell us a bit about why you wanted your kitchen remodeled.
Vinod: We always have long, huge parties at our place and our kitchen used to get very untidy. My wife was pregnant then and spent most of her time at her mother's place. In the few times that she came home, she would hate the sight of accumulating bottles and the messy kitchen. That's when we decided we needed to get the kitchen redesigned. Before the remodeling, my kitchen really had nothing. There were no cabinets. It was all open shelves. There was just a stone slab and an old exhaust fan. That's about it.

What were your expectations in terms of the overall look and feel of your kitchen?
Vinod: I have a distaste for standard wood-finished kitchens. So I asked Swati, our designer, to make our kitchen look light and colorful, without too much clutter. I didn't want too much happening in the space, in terms of visual elements. It was she who suggested that we choose a theme that complements my kitchen's existing backsplash tiles. After seeing 3D images of what my kitchen would look like, I was sold.
How did your designer work around your Vaastu needs?
Vinod: I was told by my Vaastu consultant that the hob should not move from where it is. However, the hob was right in front of a window and that had to be permanently sealed to accommodate the chimney. A major source of natural light was cut off. Swati went on with the hob and chimney plans as discussed and suggested we create a slit on the roof where the exhaust fan was, and added a concealed glass panel on the outside. The kitchen didn't look dark and dingy anymore and the hob was positioned exactly like I wanted it to be.
---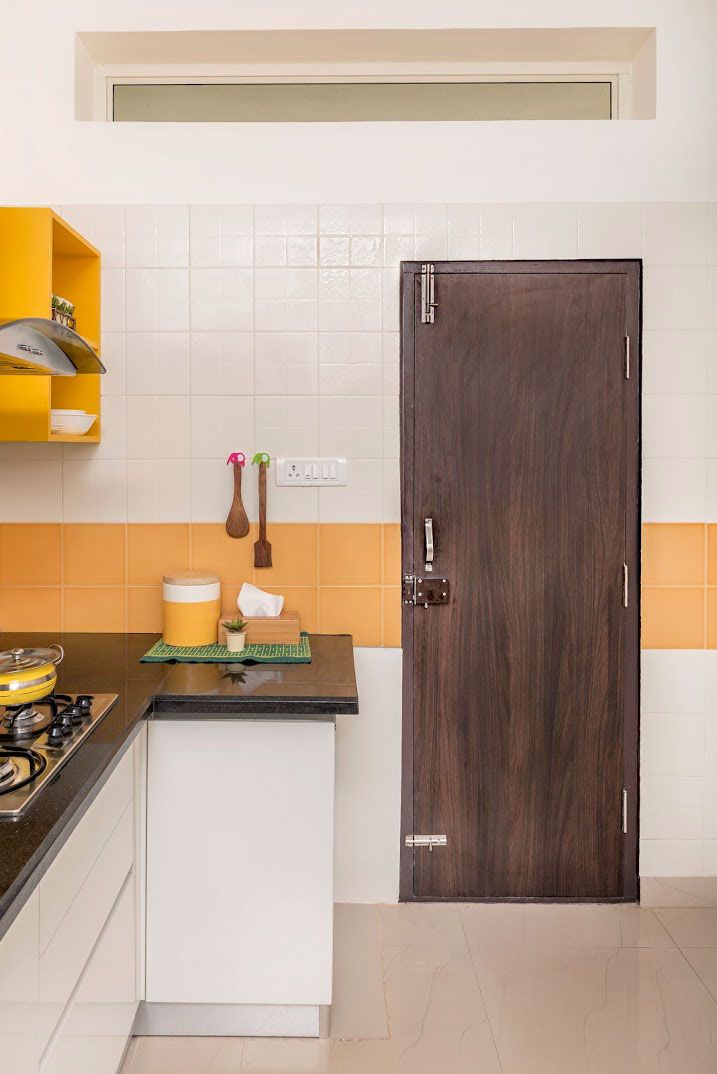 "We realized we could save costs by utilizing the existing tiles. That is how I decided on the color scheme for the cabinets and open shelves.
The most challenging part was working around the chimney. From a safety point of view, having windows in front of a hob was a bad idea too.
We had to close two windows to support it and I had to choose a material that could withstand the chimney's vibrations. I also had to find a way to blend it seamlessly with the background.
This got me thinking on how I could bring in natural light to the kitchen. We demolished the area where the exhaust fan was and put a long glass panel in the slit. This solved the problem in a jiffy and also added space for decorative items such as indoor plants"
– Swathi Suresh, Interior Designer, Livspace
---
How did you decide to use Livspace's services?
Vinod: For me the three drivers were – somebody who understood aesthetics, someone who could be extremely professional so that I do not have to oversee anything and lastly, someone willing to do customization. Moreover, your relationship manager, Praneta, was very transparent about your company's history and how it works.
What do you think about your new kitchen?
Vinod: I'm quite happy with what I've got in the end. In fact, I shared a video clip with my colleagues and they really liked what they saw too. They said that it's a 'photo match', meaning what we saw on your website is exactly what we got. I host a lot of parties so when friends come over, it gets very busy in the kitchen. The wide, spacious kitchen looks so much better. Overall, I'm happy.