It's difficult to imagine that this compact, organized kitchen was complete chaos before Livspace interior designer Savitha Bai graced it with her magical touch. Read all about this unbelievable transformation below.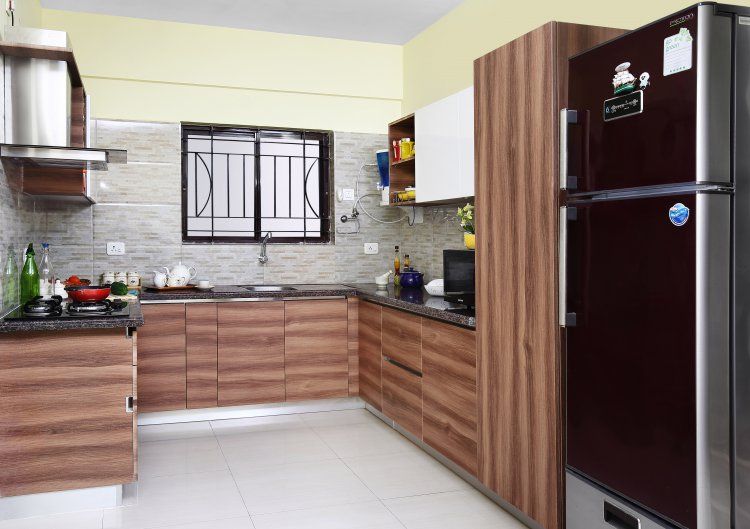 ---
Who livs here: Ashwin Kumar and wife Veena along with sons Vedant and Siddhant
Location: Bengaluru
Kitchen type and size: 80-100 sq.ft
Design team: Interior designer Savitha Bai with project manager Shankar Sontakki and design manager Deepmala Rath
Livspace service: Kitchen Design
Budget: ₹₹₹₹₹
---
BEFORE:
Catering to a family of four, this kitchen has always been a buzzing hub. There are plenty of utensils, cookware and ingredients for whipping daily meals. However, the old-fashioned design and layout of the kitchen posed several problems that made everyday cooking a chore. The basic open shelving meant that there was no designated space for anything, resulting in clutter and chaos. The lack of proper storage made it a complete eyesore. The kitchen was also desperately in need of better ventilation.
AFTER:
Livspace designer Savitha Bai came up with a plan to transform the Kumars' kitchen into a fully-functional modular kitchen in line with contemporary standards, one that made the best use of space available. Her revamped vision for this compact kitchen included a new layout for better efficiency, modernized storage cabinets with modular accessories, improved ventilation as well as aesthetic solutions.
1. Going 'U' for extra storage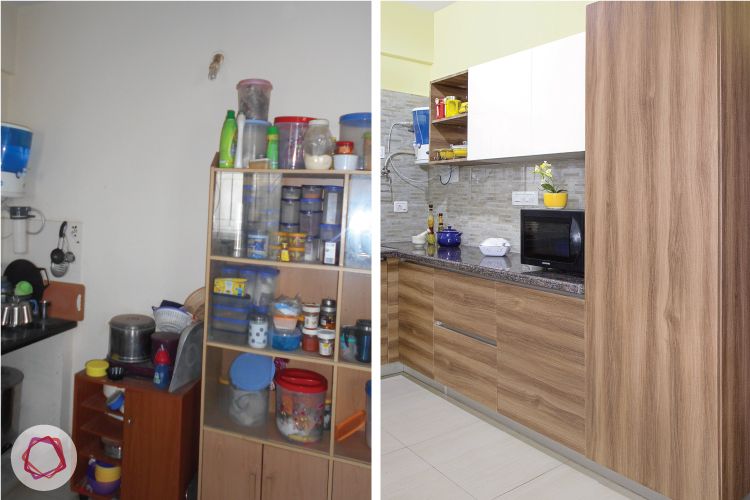 The kitchen workspace was changed from L-shape to U-shape. Open shelves on the right side of the kitchen were done away with and the kitchen countertop was extended to accommodate the oven and to provide a larger preparation surface. Cabinets were added below and above the countertop to provide additional storage and a tall unit was brought in to store everything from grocery items to utensils and more.
2. An easy-to-operate cooking station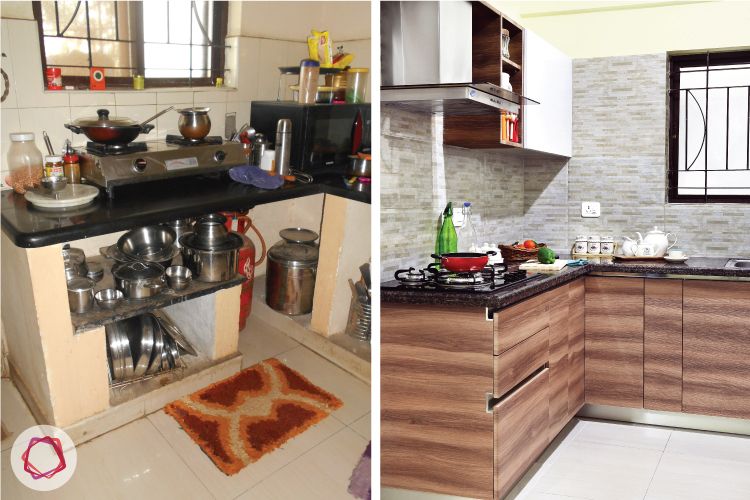 The cumbersome two-burner stove was replaced with a four-burner hob so that more meals could be cooked simultaneously. A chimney was fitted above it to ensure proper ventilation in this small space. Open and closed shelves in the upper cabinets provide easy access to frequently-used cooking ingredients.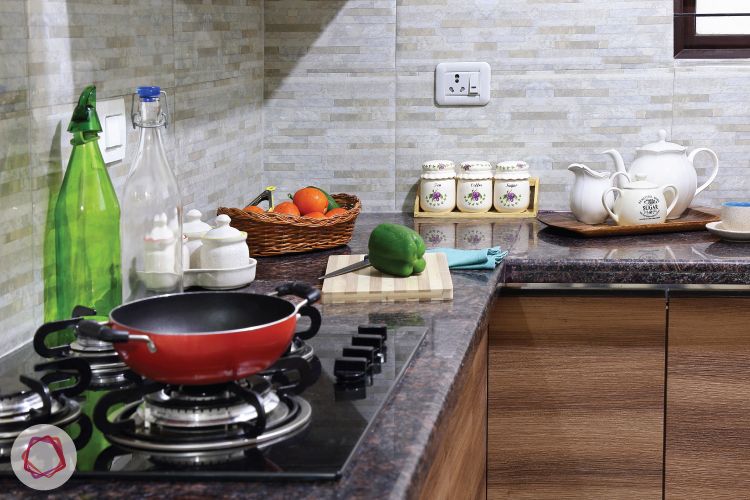 3. Storage, storage and more storage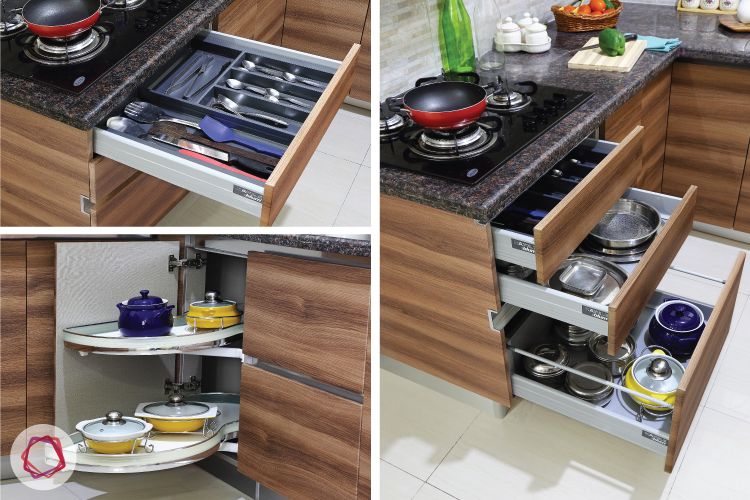 Blum drawers that open fully to reveal the deepest corners ensure that all items are easily accessible. A cutlery organizer in the first drawer neatly sorts the spoons, knives and spatulas. Drawers of varying depths allow differently sized items to be stored. With its handle-free design, the drawers and cabinets effortlessly lend a sleek look to the kitchen. Zig-zag corner shelves reach into the deepest ends of the cabinets and open out fully so that there is no need to bend and search for items.
4. A brand new look
Savitha added handle-less cabinet doors to give an earthy, warm touch to the kitchen. Gloss white cabinets were added above the countertop, making good use of height in this small space. A textured grey backsplash extends to the height of the window and complements the cabinets while protecting the walls.
The transformation speaks for itself. With an abundance of storage space, there is now a place for every item and the Kumar family is absolutely thrilled with their newly-remodeled modular kitchen.
---
"The kitchen desperately needed modernized storage solutions. So I made the most of it, without affecting the plumbing or overshooting their budget, by adding drawers, zigzag corners, cutlery trays and plenty of cabinets. The Kumars were amazing to work with. They were open to ideas and their only request was to give their kitchen a down-to-earth feel. I knew exactly what they were looking for"

– Savitha Bai, Interior Designer
---