Let's accept it. We Indians are major connoisseurs of delicious food! No wonder we spend most of our time in the kitchen, whipping up our favourite delicacies! But a cluttered and unattractive kitchen can really take the joy out of cooking! When Nitya and Kamlesh Tejwani approached Livspace, they were clear about their design brief. They were looking for a sleek and modern look for their 20-year-old kitchen and that's exactly what we gave them! Take the video tour of one of our favourite kitchen remodels here.
Our designer, Ashwini Gokhale, faced some unique challenges while designing this kitchen. First, the kitchen was in an uncommon trapezium-shaped layout. Second, the clients were keen on wanting oodles of storage while keeping the entire look light, sleek and clutter-free.
#1: Smart Storage Solutions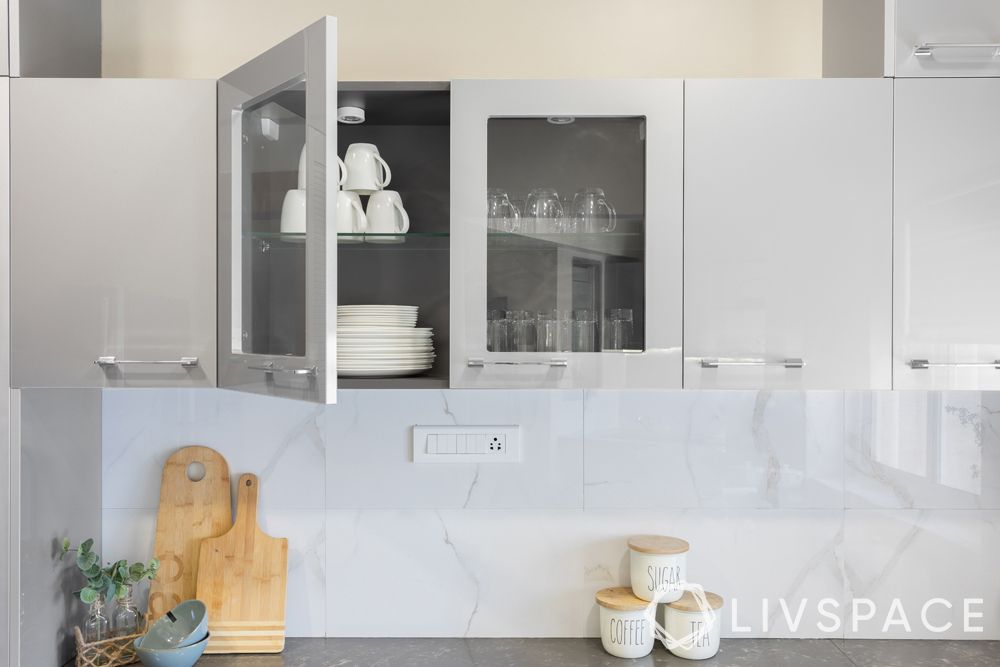 A perfect kitchen comes with ample storage without looking cluttered. Ashwini ensured that every aspect of the Tejwanis' kitchen had its place. For instance, Nitya loves to keep her cutlery very organised. So, Ashwini opted for a wall-mounted cutlery unit with clear glass shutters. The inside is equipped with clear glass shelves and surface marble spotlighting to highlight the cutlery.
One thing that we love the most about this kitchen remodel is the sleek Tambor unit. It has a smooth roll-up shutter which consumes minimal space while providing a neat corner to tuck away bulky electrical appliances. Ashwini also added a tall unit with an in-built microwave space with cabinets on top. The spacious wicker baskets are perfect for storing vegetables.

#2: Tricky Trapezium Layout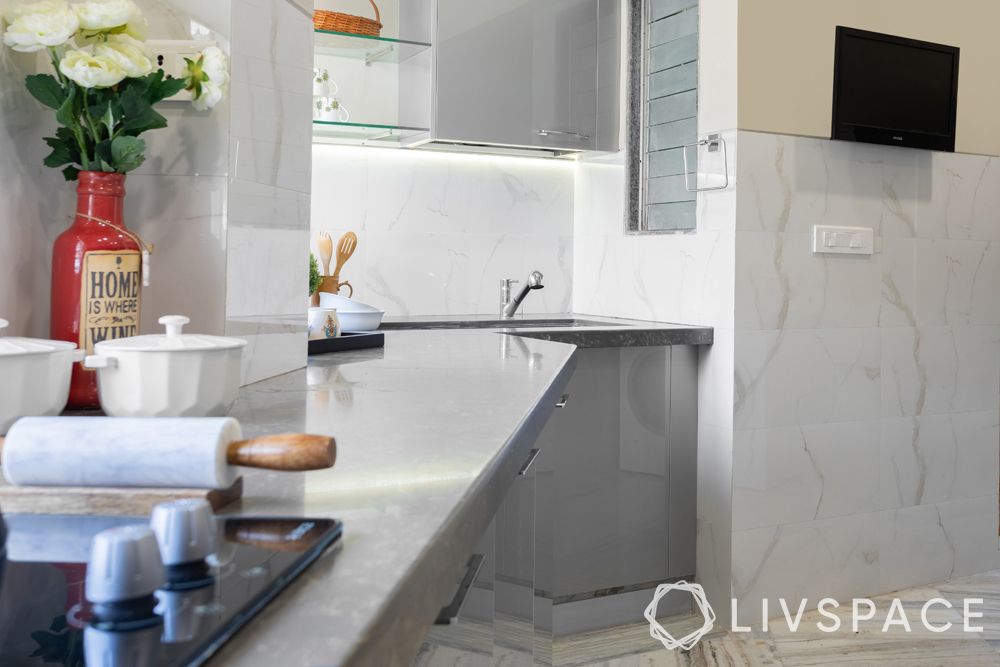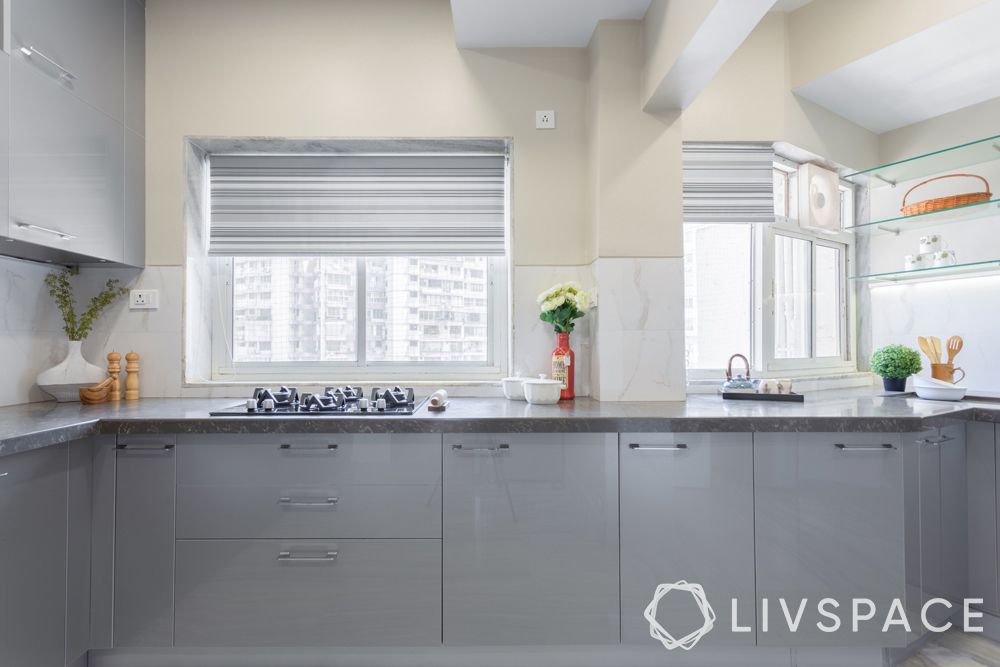 "The layout of the kitchen was a tricky one where we had to accommodate all modules as per the shape of the kitchen," says Ashwini. While L-shaped, C-shaped and U-shaped kitchens are common, we rarely come across a trapezium-shaped one. The Tejwanis wanted ample space and storage. So how did Ashwini manage it? By focusing on a linear and uniform look. She trimmed it up so that the kitchen would have some extra counter space, especially around the sink area.
#3: Amazing Pullout Features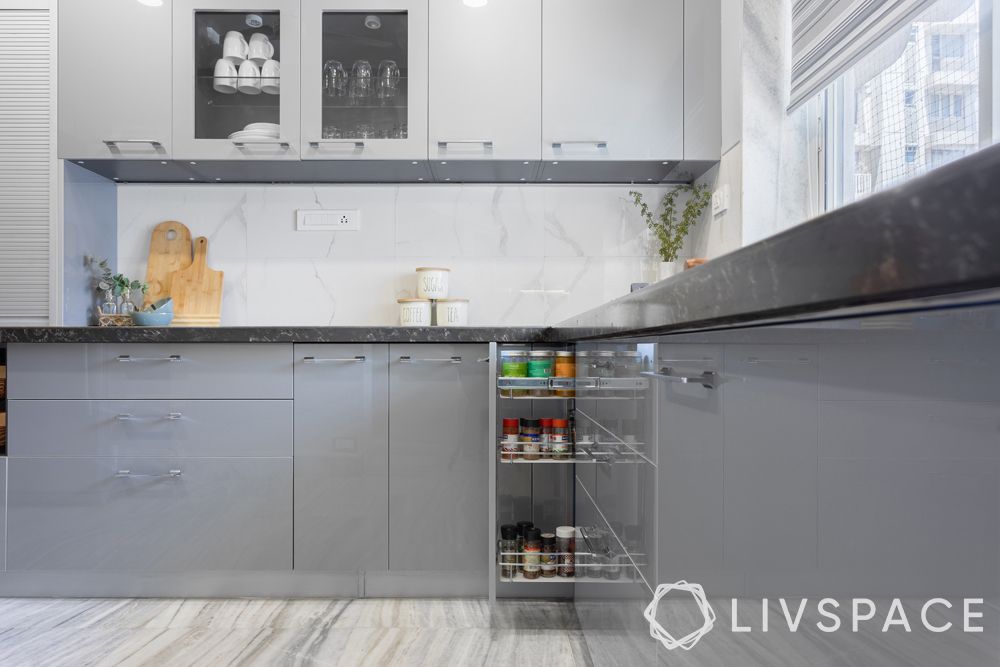 Why are pullout features such a rage in the Indian market? Simply because they offer plenty of storage in minimum space. Nitya and Kamlesh's kitchen has some striking pullout features. For instance, the bottle pullout tray in the bottom cabinet is sleek – providing so much space to store spice bottles without looking cluttered. But the feature we love the most? A unique accessory called the Cargoman corner unit. This pullout tray slides out so that the Tejwanis do not need to hunt for their jars in the dark cabinet! All these amazing features make the Tejwanis' kitchen one of our favourite kitchen remodels.
#4: Elegant Colour Scheme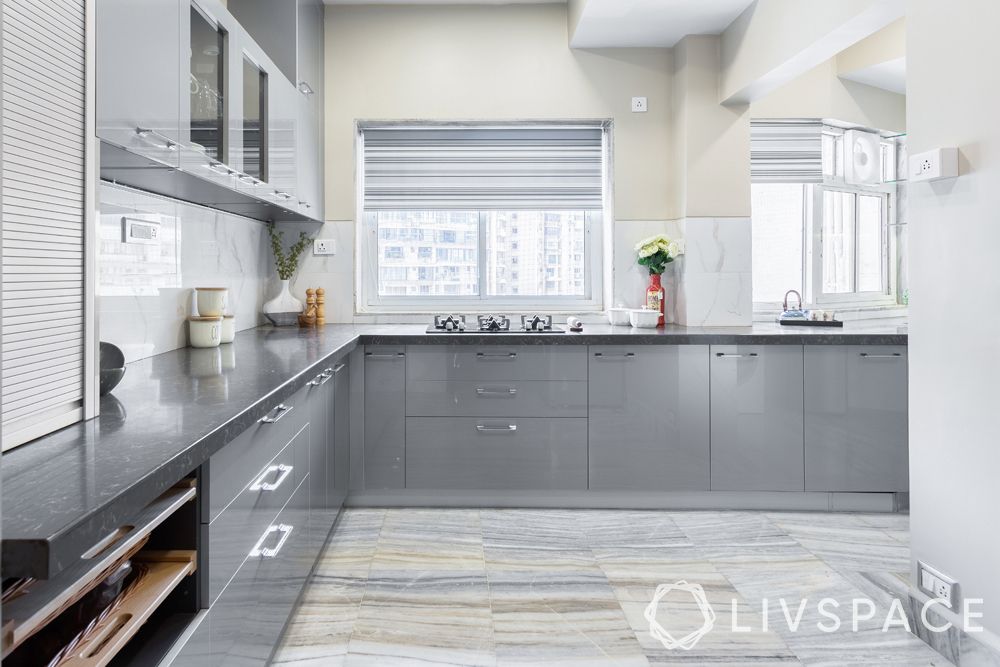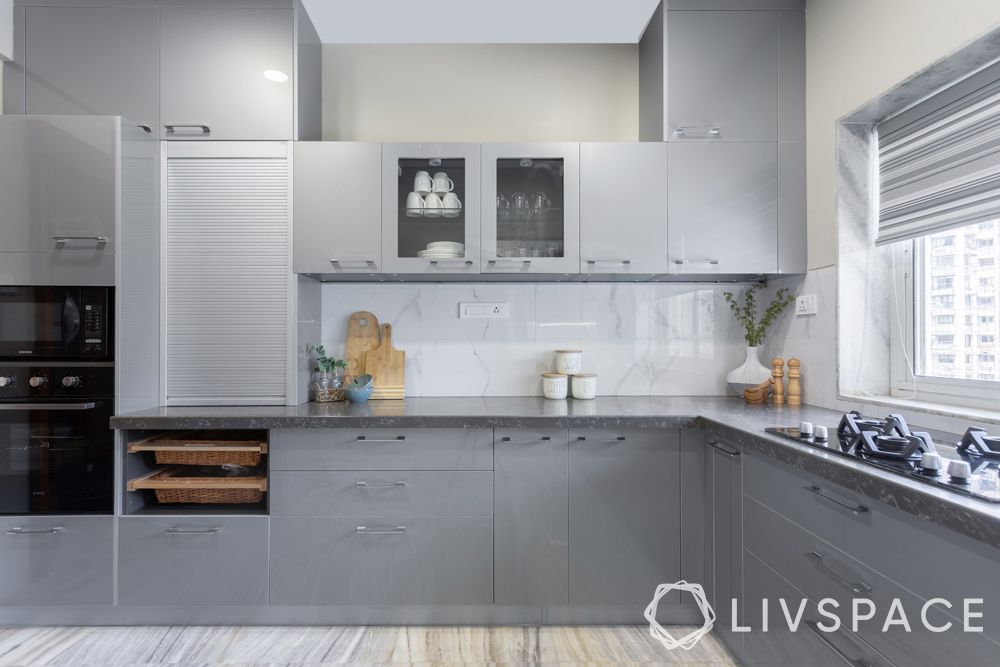 And finally, the modern monochrome hues! "The whole kitchen design inspiration was around the existing flooring," says Ashwini, who chose a colour palette that would complement the floor's colour and pattern. The silver-grey colour palette is subtle and modern. Ashwini kept it interesting by choosing a metallic silver acrylic finish for the lower cabinets and a lighter shade of grey for the upper ones. Coupled with the grey quartz countertop and the marble-esque backsplash tiles, this kitchen design is a contemporary wonder! No wonder it is one of our favourite kitchen remodels!
Nitya and Kamlesh were thrilled with the last look of their modern kitchen. Liked this kitchen remodel design? Then you'll also love this 20-year old Pune kitchen redesign. 
We love hearing from you! Write to us with your comments and suggestions at editor@livspace.com