A U-shaped kitchen layout has to be one of the most popular ones because they're so versatile. They're everywhere – you'll find them in kitchens of different sizes and shapes, and even with different needs. But all those who opt for a U-shaped kitchen do so because it creates an efficient golden triangle. Choosing a U-shaped kitchen design brings you more benefits than one. On that note, let's take a look at the 5 kitchen design secrets from this U-shaped kitchen design, Gurgaon.
1. Leave Some Negative Space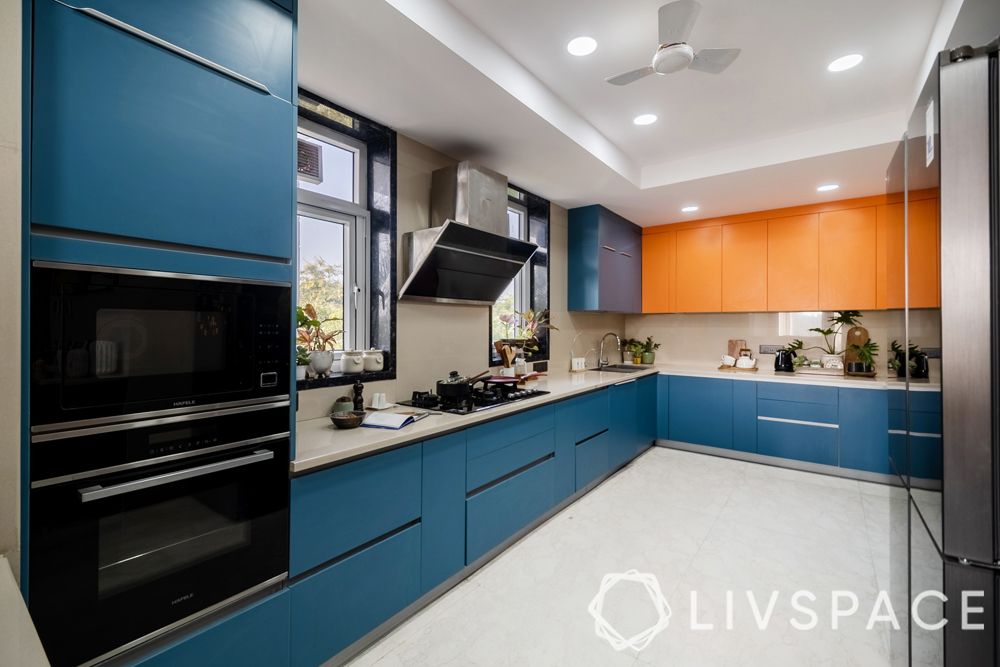 As U-shaped kitchens are power-packed with built-in cabinetry, it's always better to leave some space clear. This allows the room to breathe and have a comfortable and inviting vibe.
In fact, you should try to capitalise on windows and use them to give the kitchens a 'roomy' feel, like this U-shaped kitchen design under ₹8 lakh does.
2. Utilise Vertical Space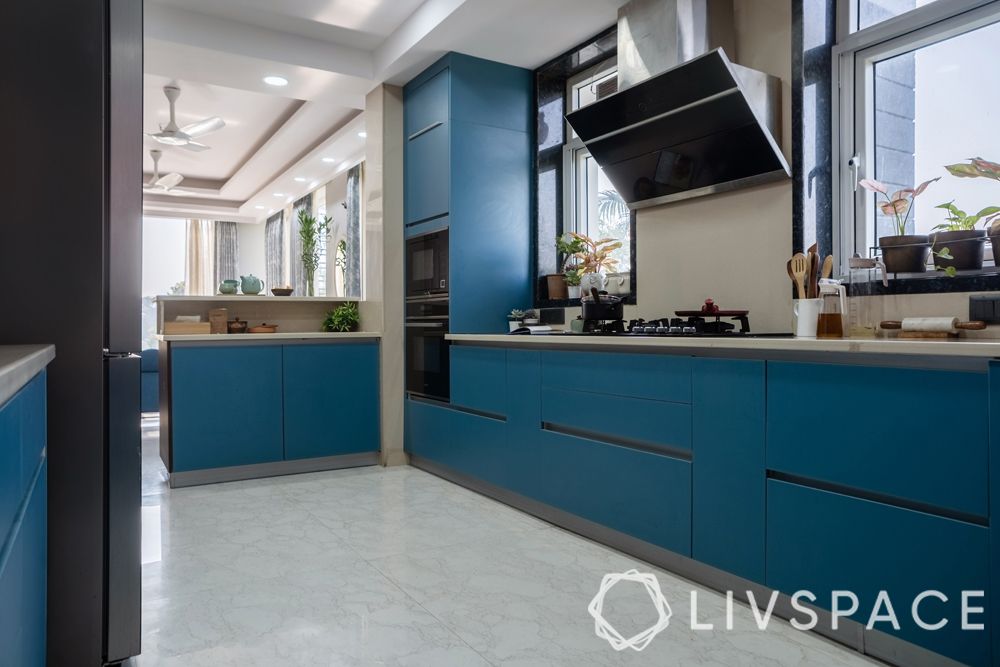 Too much talk about space – we get that. But what's good interior design if not an attempt to utilise space and work around it? A U-shaped kitchen reduces visual clutter by capitalising on floor-to-ceiling cabinetry on one wall. Take a look at this U-shaped interior design under ₹8 lakh.
It makes the best use of tall units to store appliances, and its placement between the peninsula and the cooking zone adds to Richa's convenience. She doesn't have to move around a lot and can warm up meals and serve them quickly in the peninsula beside.
3. Add a Multipurpose Peninsula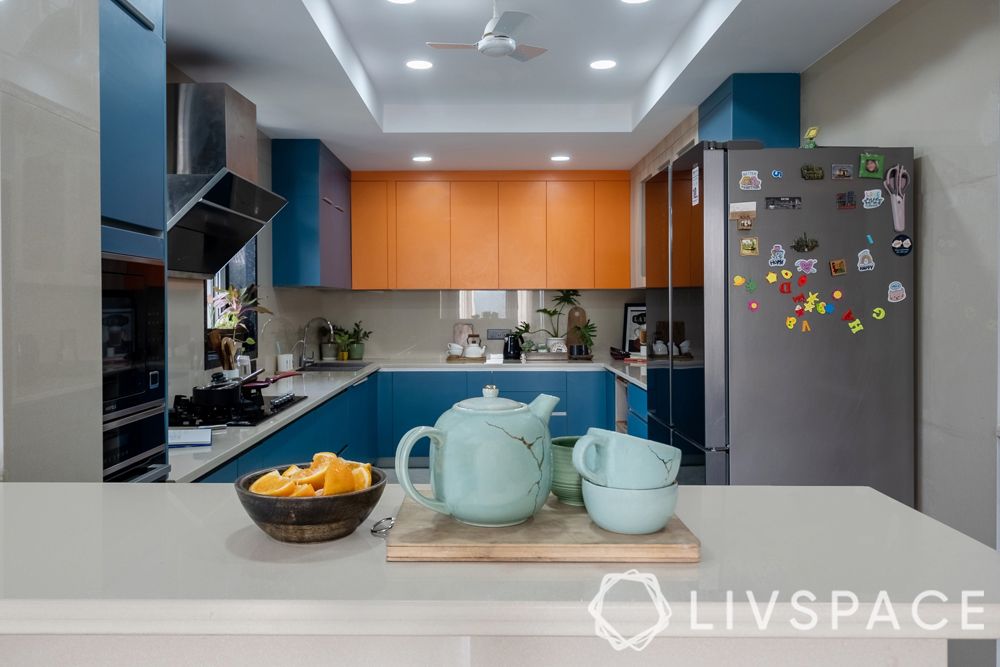 A peninsula is like an island in the way that it's an additional counterspace. But unlike an island, it's attached to one wall – which can transform bigger kitchens to a G-shape. What's good a peninsula, anyway?
You can get additional space for dining and kitchen prep without making your cooking zones a clutter. Moreover, you can add under-counter storage to your peninsula to ensure you're leaving the surface clear. In fact, throw in chairs and turn the peninsula into an impromptu breakfast counter.
Have kids? Keep an eye on them as they draw their favourite cartoons while you're busy cooking their favourite meal. Have work that never stops? Make a flexible desk setup for all your Zoom calls right next to your kitchen.
4. Mix It Up When You Choose Finishes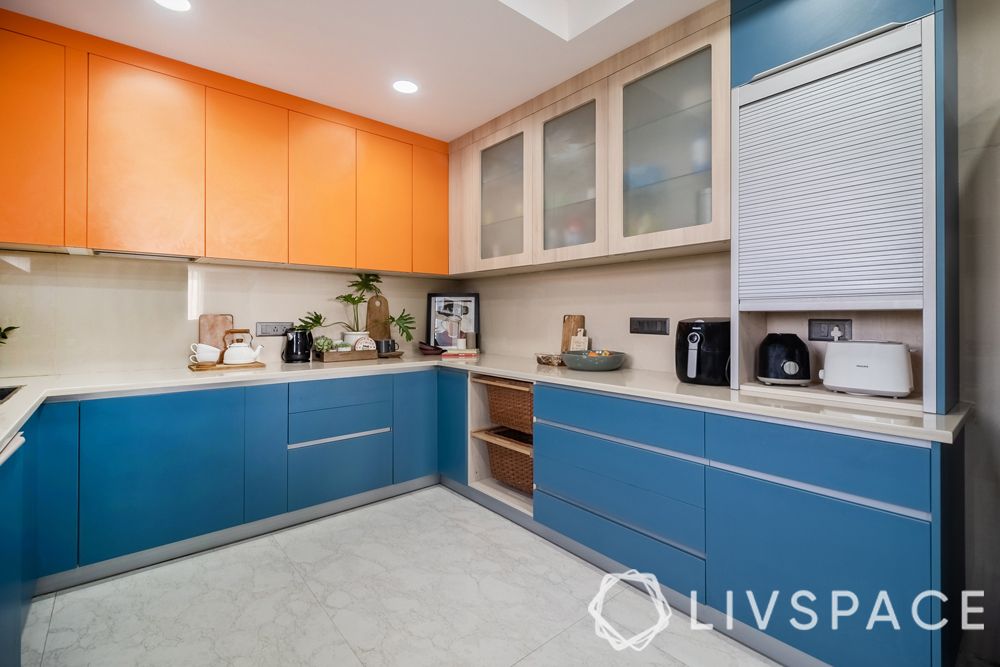 Break up the boxiness of the built-in cabinetry in a U-shaped kitchen with a mix of finishes. You can add interest to your kitchen by mixing light and dark cabinetry or two contrasting colours as this U-shaped kitchen design, Gurgaon does.
This U-shaped interior design under ₹8 lakh also incorporates a neutral wood-like finish to some of the top cabinets to break the monotony and add depth.
5. Go Handleless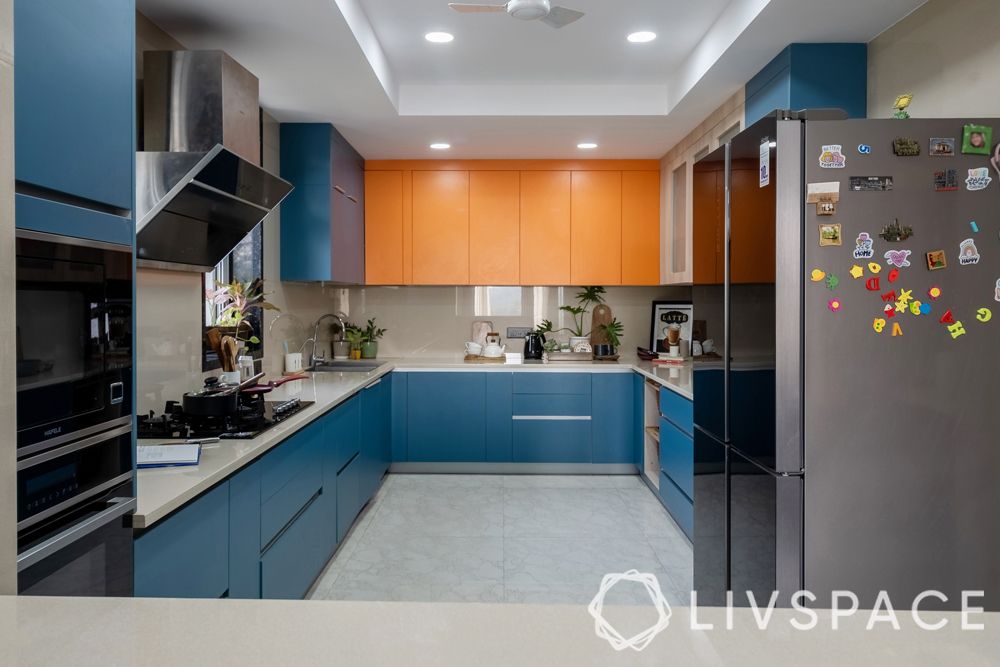 This one's true not just for U-shaped kitchen layouts, but for most modern layouts. When you opt for handleless cabinets, you reduce a lot of visual clutter. But that's not all! You make the kitchen child-friendly and elder-friendly.
Plus, they add a modern, rich and inspiring look to your modular cabinets. See the fascinating finish of the cabinets in this U-shaped kitchen design, Gurgaon.
Bonus Takeaway to Complete the Look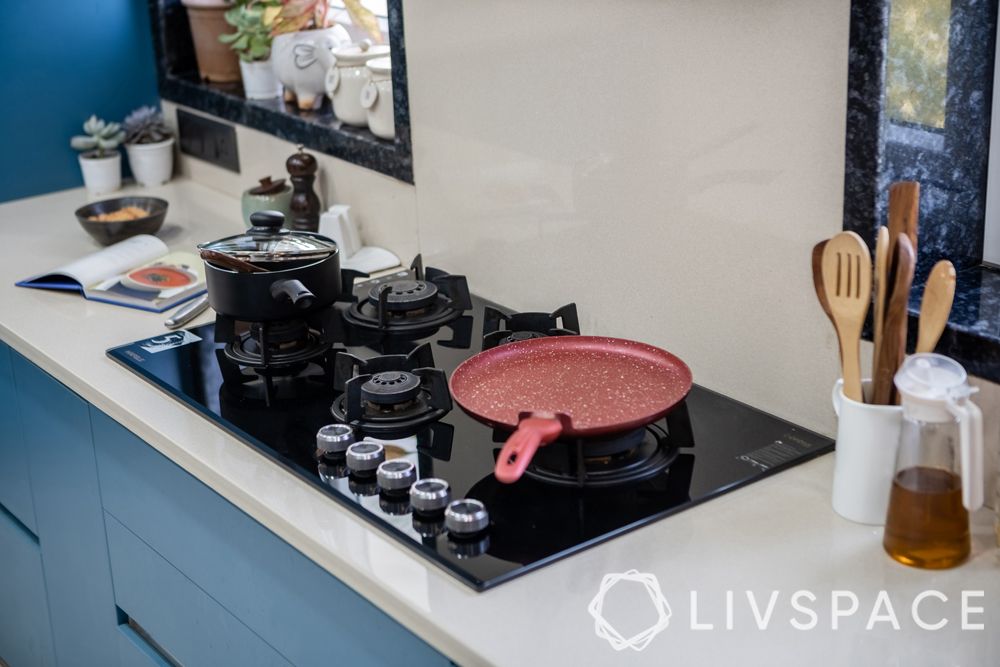 When you opt for built-in appliances, you complete the look and feel of your modular kitchen interiors. Take a page from the design book of this U-shaped kitchen design, Gurgaon. Replace the conventional freestanding hob and make the built-in hob a reality that not only elevates your interiors, but also reduces visual clutter while cooking.
It should be at the same level as your countertop. In fact, a built-in hob will conceal your gas pipes and cut down on the bulky look of your kitchen. Ready for a modern makeover?
How Can Livspace Help You?
We hope you found our ideas useful! If you want beautiful interiors for your home, then look no further. Book an online consultation with Livspace today. If you have any thoughts and suggestions you'd like to share with us, we're all ears! Drop us a line at editor@livspace.com.