A fully equipped kitchen in Bengaluru for a compatible couple!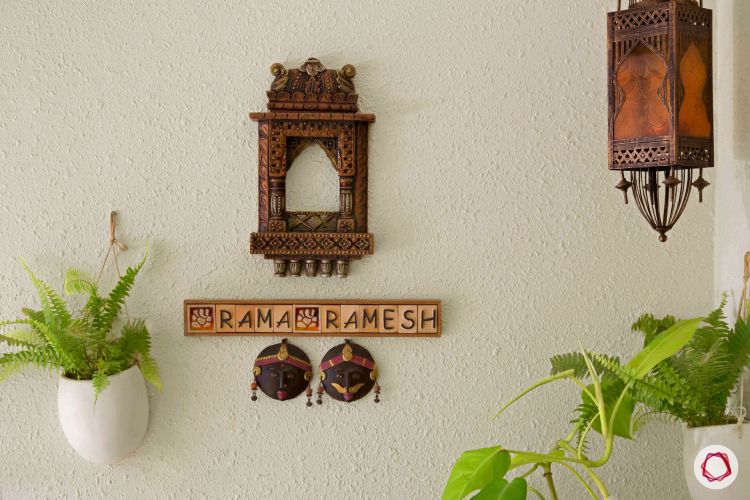 ---
Who Livs here: Rama with her husband Ramesh
Location: Sobha Malachite, Jakkur Plantation Road, Yelahanka, Bengaluru
Size of kitchen: 160 sq. ft. approx.
Design team: Interior Designer Smitha Mole with Quality Manager Pawan Shinde
Livspace service: Modular kitchen design
Budget: ₹₹₹₹₹
---
Before and after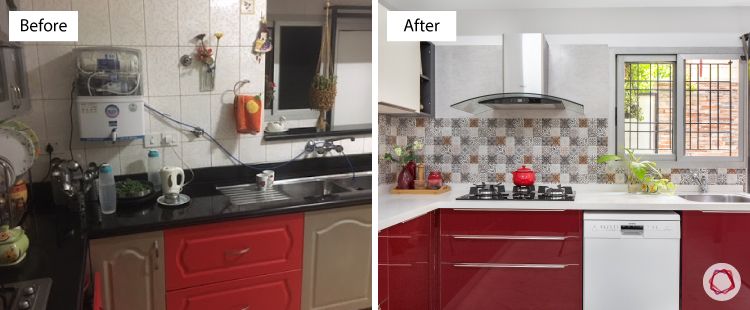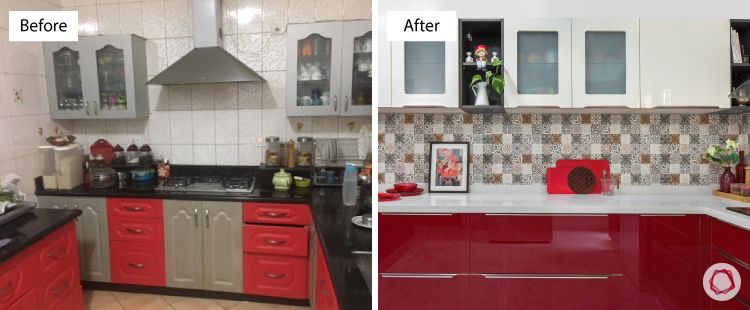 A home renovation mostly starts in parts, and the kitchen is the first essential room that shouts for a change every time it hears "makeover". For our clients, Rama and Ramesh, getting their kitchen redesigned was the first step to giving their home a facelift.
When we got talking to this light-hearted couple, there was so much that unravelled in a short period. From quick decisions to some amazing inputs from the wife, Rama, there was no stopping this chatty and very humble, retired couple.
Nestled in the Jakkur extension, this villa exhibits unmatched interiors with travel curios displayed in almost every corner. We were floored by the beauty of this home and how they've decorated it while paying so much attention to detail. So, right now, the kitchen is starkly different from the rest of the home and we love the fact the clients are ecstatic about their new space. We cannot wait to give you a peek into it. Read on.
#1: A spacious U-shaped layout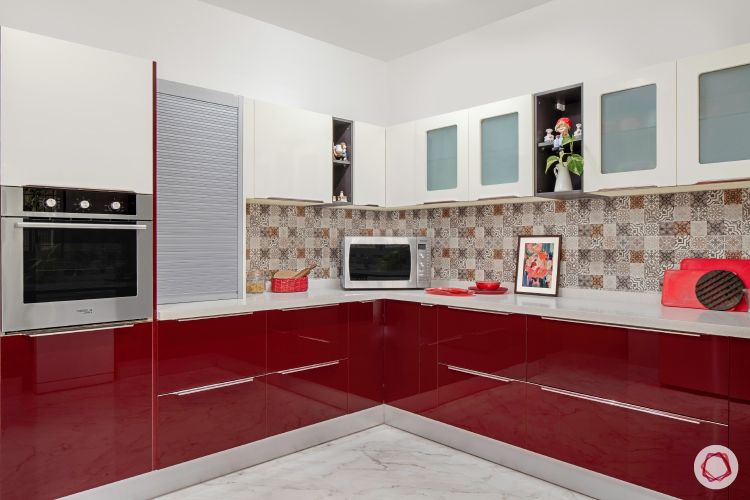 In conversation with us, the couple told us how they wanted to change the face of their kitchen, and how the kids living abroad were startled at their decision. But, after taking one look at the designer modular kitchen, things took a complete u-turn. The spacious U-shaped kitchen, sporting bright cabinets and some highly functional modules is the highlight of this address.
---
#2: Modules that fit in just right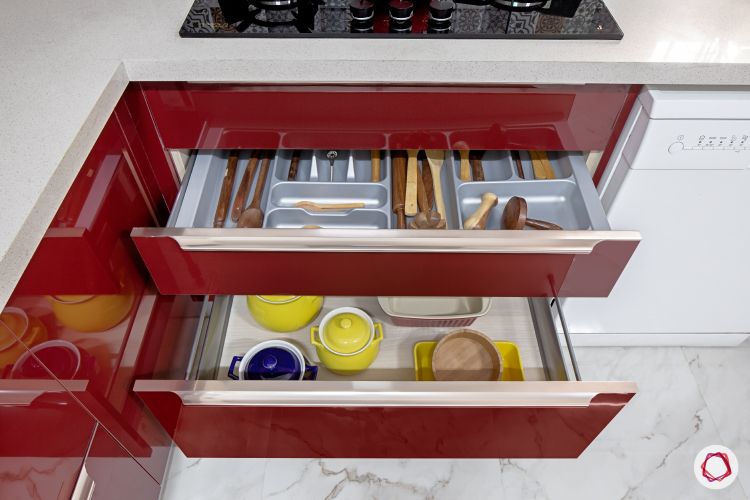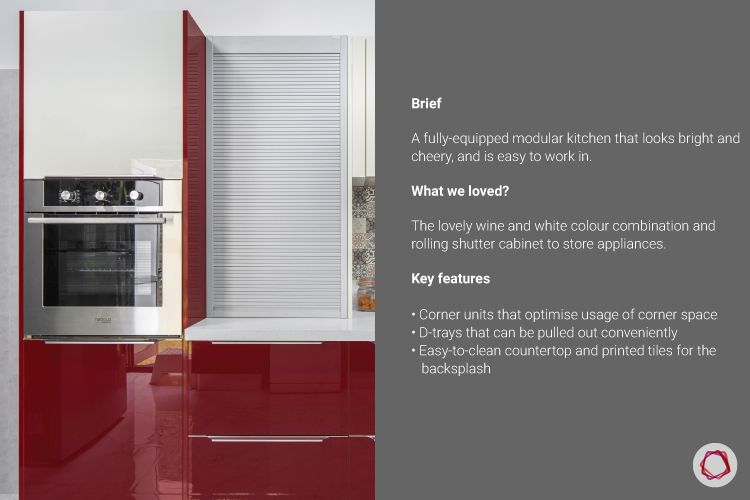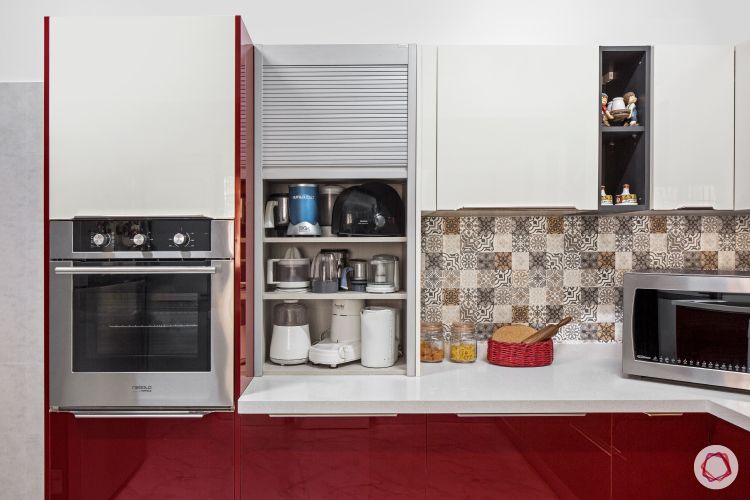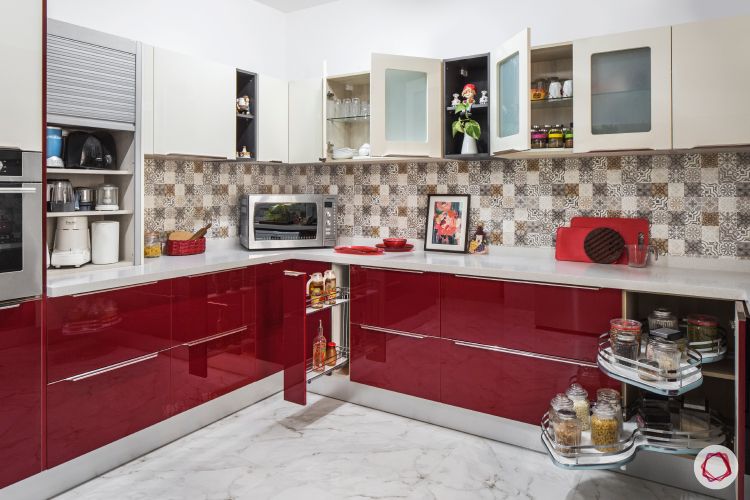 When we got talking to Smitha Mole, the designer of this wonderful kitchen, she told us how she went about designing it like a breeze. Speaking about modules, the couple wanted huge tandem boxes and drawers to fit in all their huge vessels and pull-outs that would make cooking an enjoyable experience.
Therefore, Smitha equipped this kitchen with bottle pull-outs, tandem drawers, d-trays and so on. Also, do not miss the roller shutter beside the tall unit with built-in appliances. It takes care of all the peripheral appliances that would otherwise end up occupying unnecessary counter space. We love how simple and functional this kitchen looks and feels!
#3: Designer tiles and countertops that Look classy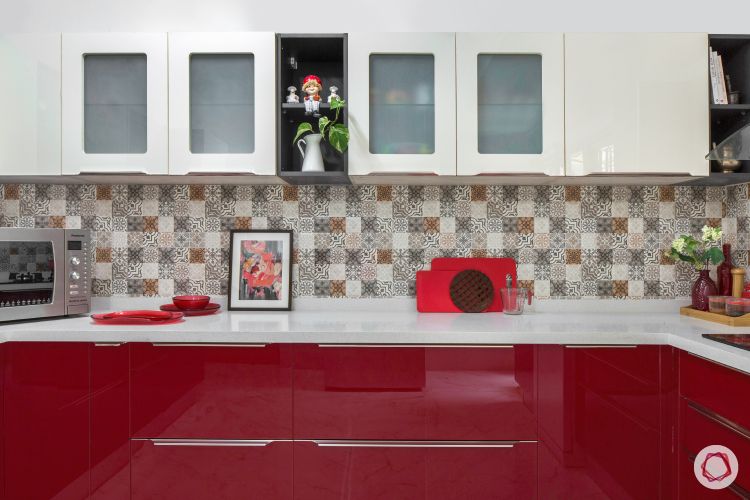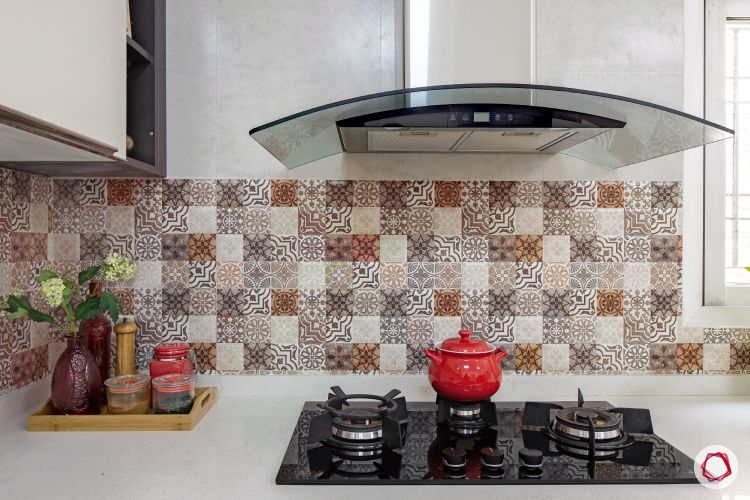 When the couple visited the Livspace Experience Center, they instantly fell in love with the wine-red modular kitchen that was ready to be touched and felt! They knew that very moment that this was what they wanted for their home. The countertop is a classic Caesar stone in white, that breaks the myth about maintaining light-coloured countertops.
Smitha gave the couple a combination of open and closed shelves for the wall units and played around with cream and slate grey for the same. The backsplash sports Moroccan tiles, for which the credit goes entirely to Rama and Ramesh, for their excellent aesthetic sense.
Also Read: 25+ Beautiful Kitchen Tiles Design Inspirations From Livspace Kitchen Wall Tiles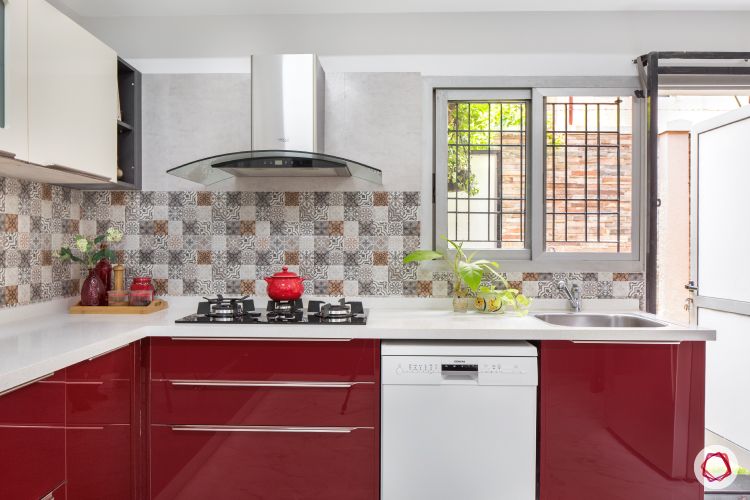 Some things had to move around in this kitchen, one of which was the placement of the dishwasher. It finds a place next to the sink, where it should ideally be. The height of the countertop was customised to make it fit right in.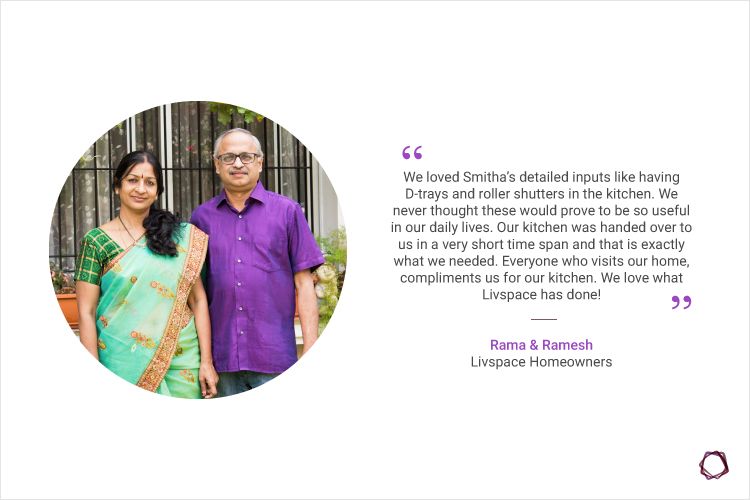 ---
"Rama and Ramesh were a very happy-go-lucky couple. Decisions were a breeze with them, since they knew what they wanted from the very first meeting. This was one of the fastest handovers by me, till date!"

– Smitha Mole, Interior Designer, Livspace
---
Did you love what Livspace did to this kitchen? Then we are sure you will be equally stunned by this Fresh and Functional Bangalore Kitchen Renovation. Take a look!
How can Livspace help you?
Livspace caters to your specific needs and customisations for your dream home. Our team of seasoned and creative designers is ready to collaborate with you to bring your vision to life. Whether you aspire to replicate the exact ambience of this space or desire a bespoke design tailored to your preferences, Livspace has you covered.
The platform offers a range of services, including design consultations, 3D rendering, project management, and installation. You can also find the perfect home decor pieces for your home by browsing through products on the platform's online store.
Book an online consultation with Livspace today. To know how our customers feel about working with us, check out these Livspace reviews for more details!