Simple kitchen designs for Indian homes that's easy on the eye and on your pocket!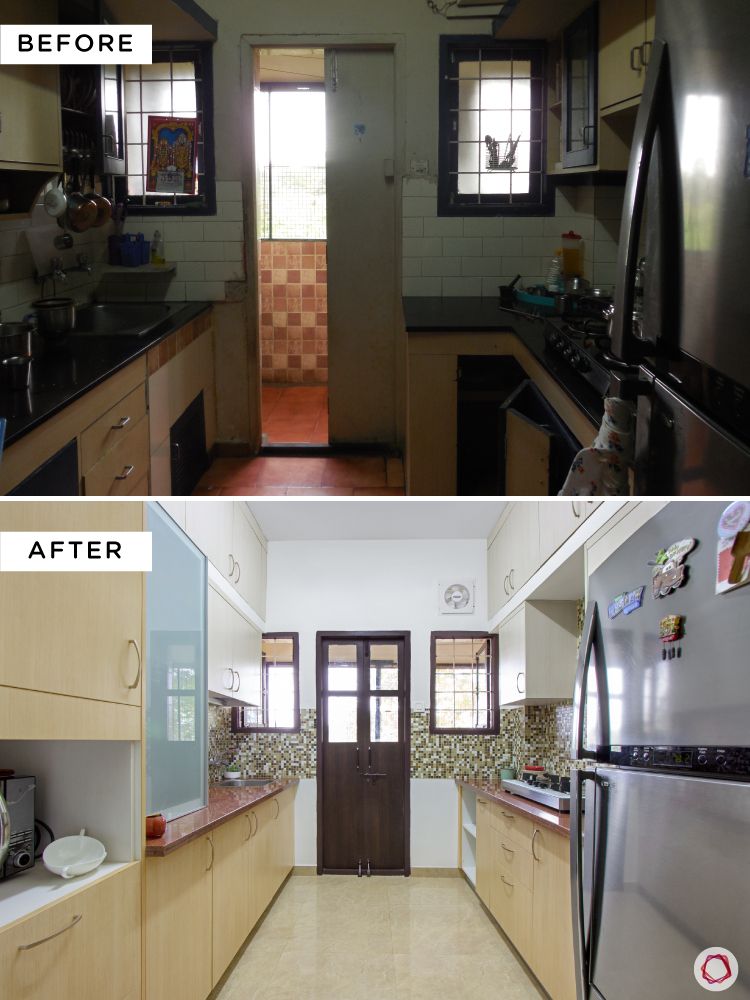 ---
Who livs here: Sumathi and her husband Sridharan
Location: Pioneer Plaza, Murgeshpalya, Bengaluru
Size of kitchen: 75 sq ft
Design team: Interior designer Sonia
Livspace service: Full home design
Budget: ₹₹₹₹₹
---
We love kitchen renovations! And this one holds a special place in our hearts. Mrs Sumathi and her husband Sridharan have been living in Pioneer Plaza, Bengaluru, for more than 20 years now. Both their mothers also live with them. So you could imagine how busy their kitchen can get! They wanted to update their well-used kitchen and add touches of elder-friendly elements as well so that everybody could use the kitchen without any hassle.
Our designer Sonia was soon put to the task of revamping their beloved kitchen. Mrs Sumathi had given few specific requirements that Sonia followed to the T.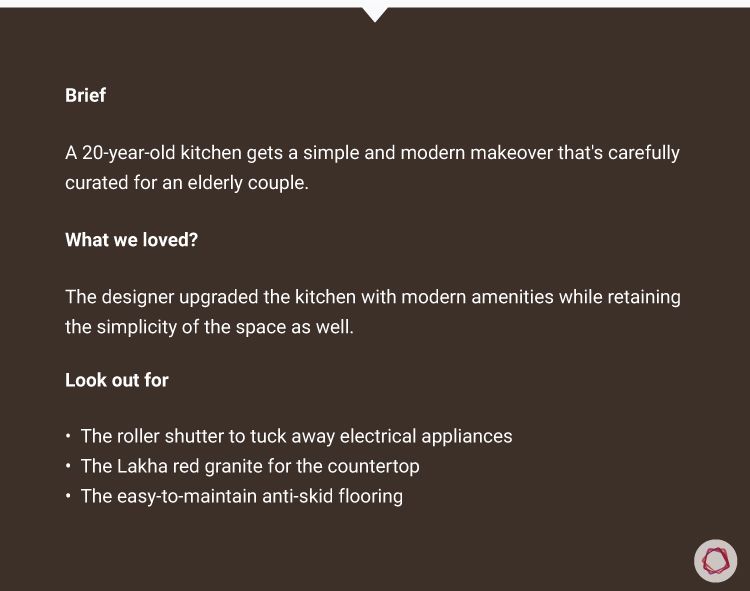 How They Pictured Their Renovated Kitchen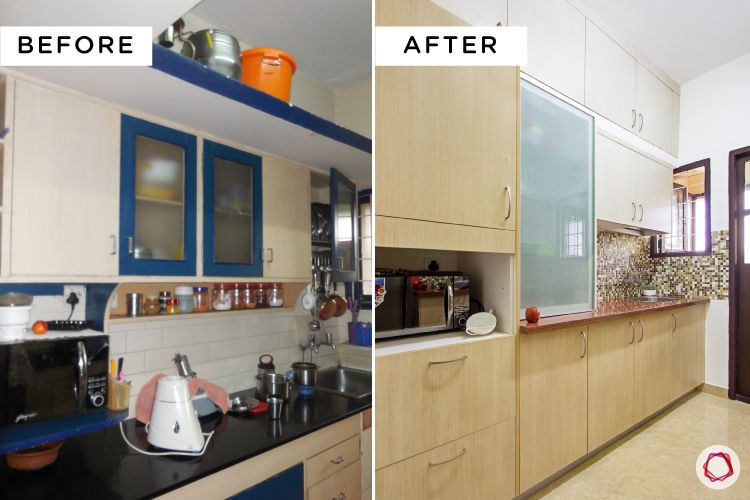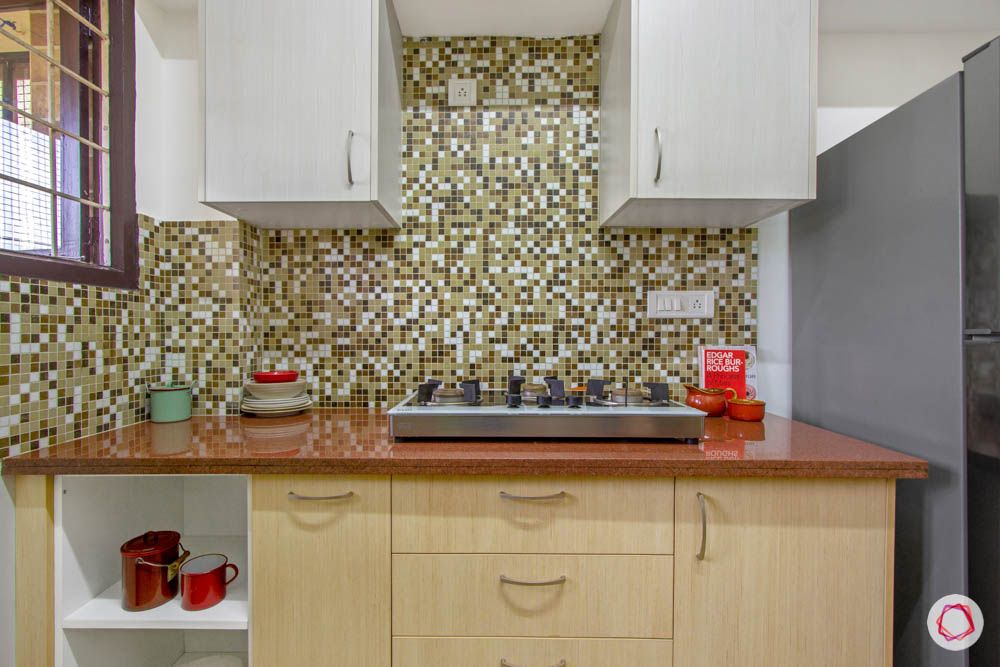 While Mrs Sumathi wanted a modern revamp, she also wanted it to be a simple design. Considering the age of the owners, it had to be easy-to-maintain with plenty of foot space. Most importantly, it had to fit within their stipulated budget. They also wanted plenty of storage, especially tucked away in cabinets. Their original kitchen had an open shelf ledge that ran on top of all the walls that wasn't working for them anymore.
She had also mentioned the revamp must be aligned with the colours of the rest of the home. Above all, while not a design requirement, Mrs Sumathi was concerned that during renovation, all the dust would damage the furniture of the adjoining rooms. See for yourself the result and their experience.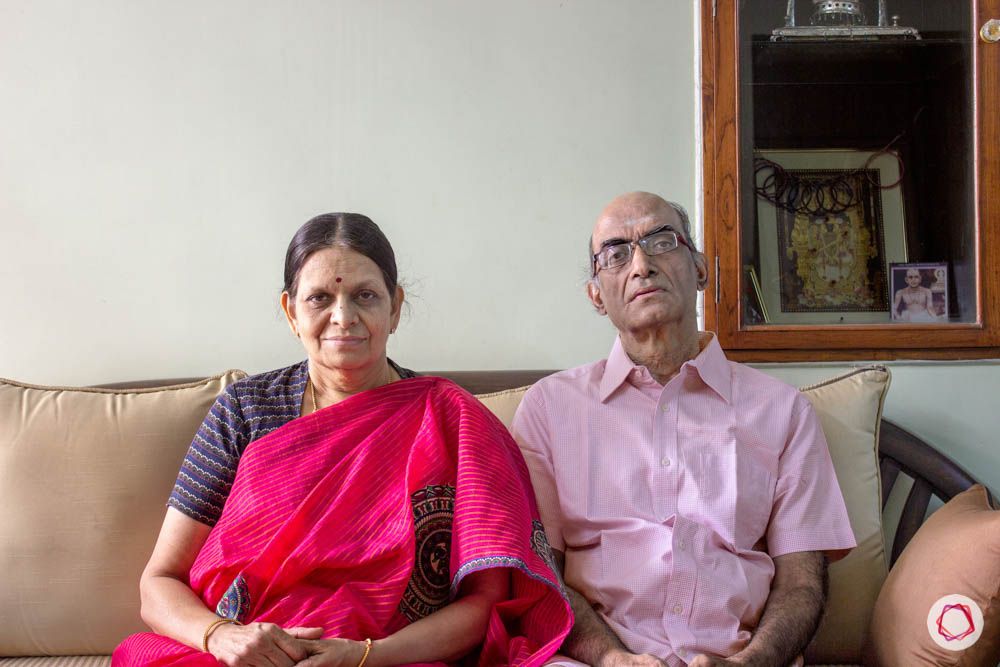 "We really like our new kitchen. We were impressed with the Experience Center and decided to go ahead with Livspace and we are glad we did! All our requirements have been met."

Sumathi, Livspace Homeowner

How we translated their ideas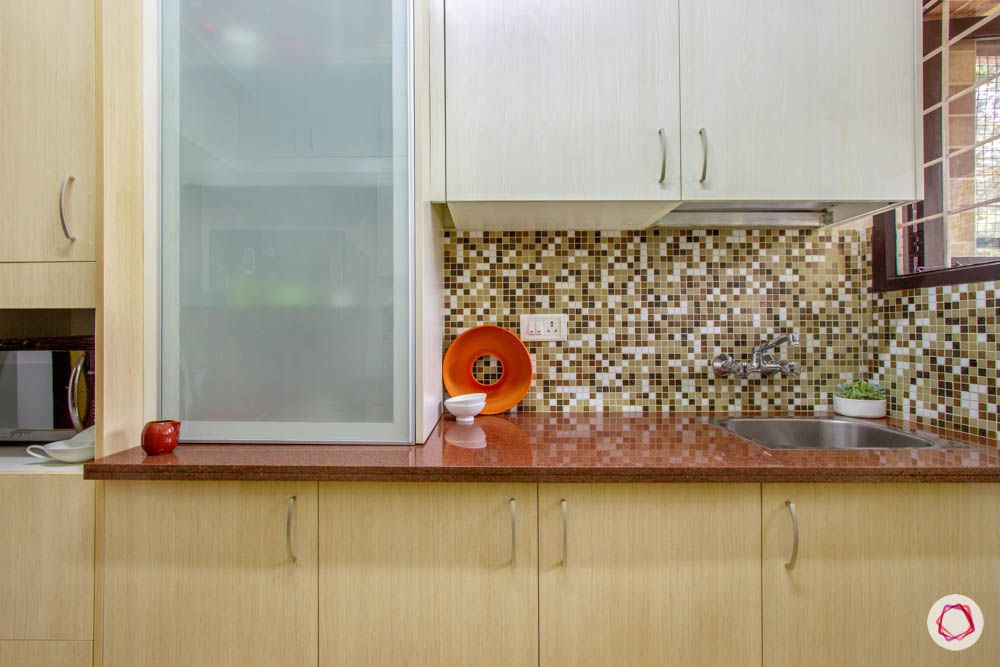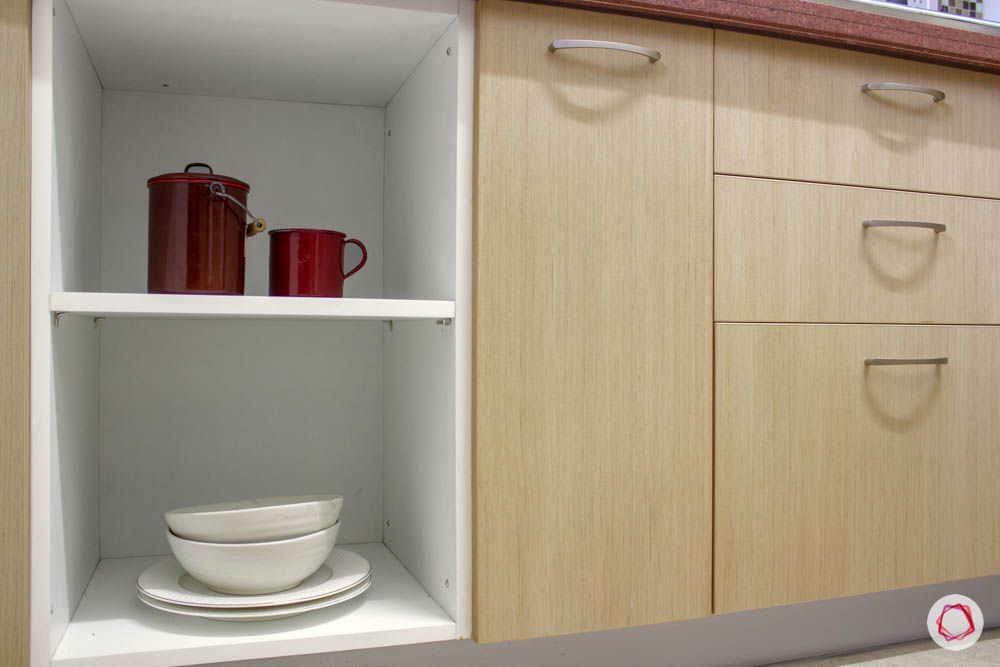 Before starting all major civil changes, Sonia ensured all the furniture from the close rooms were covered in bubble wrap. She also put up a temporary partition at the kitchen entrance. "We wanted them to experience a comfortable renovation," explains Sonia.
Since they wanted ample and concealed storage, Sonia put in cabinets all around. She took down the wide open shelf that ran along all the walls and swapped it for lofts. "We maximised storage space while carefully avoiding a very bulky look. We also put in closed units along with Vetrina, tall units and a roller shutter for electrical appliances," she reveals.
Keeping up with the rest of the home, they picked light wheat and beige colours in laminate finish. For a pop of texture, she put in pixelated mosaic tiles of brown and beige for the backsplash.
How we made it eldery-friendly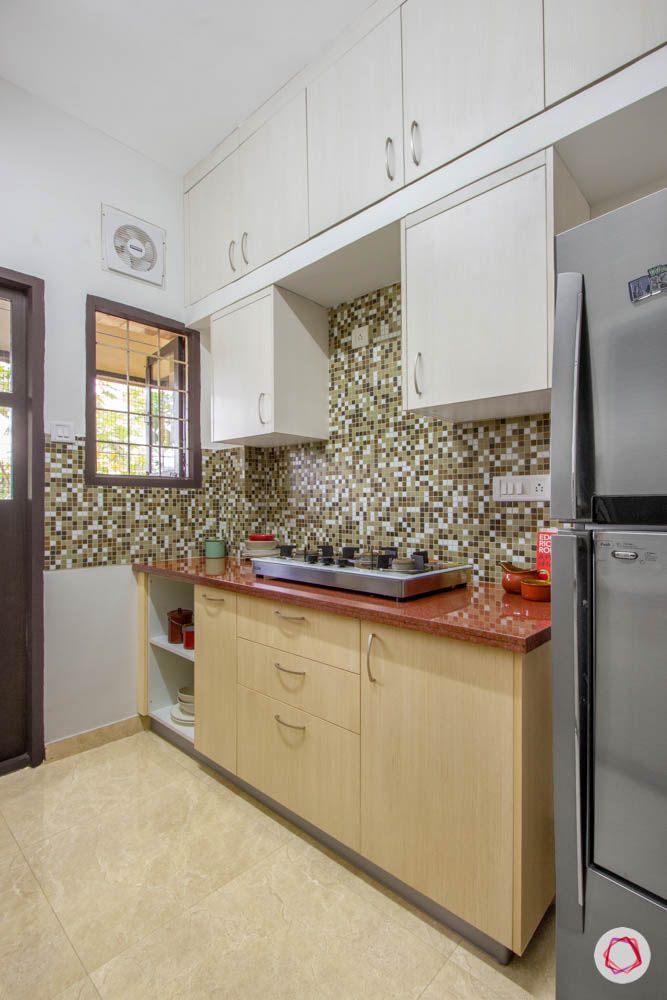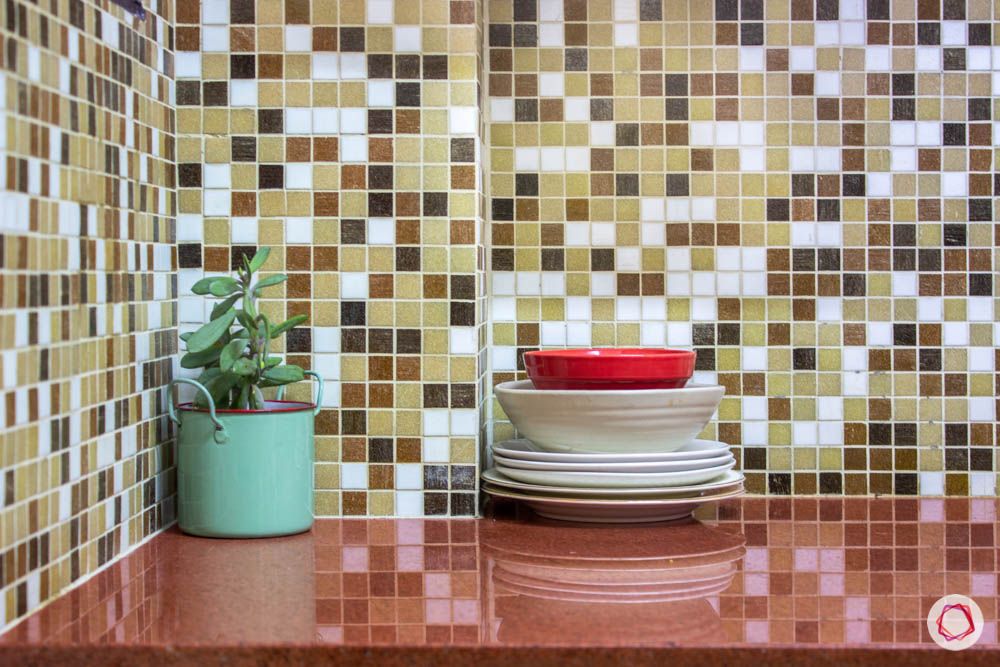 "We put in grip handles for the cabinets so that it's easy to use," Sonia explains. Mrs Sumathi was particular about the flooring, considering the age of everybody who lives in the home. As a result, Sonia used anti-skid flooring in beige.
Since Mrs Sumathi was interested to have a granite countertop for easy maintenance, they picked its Lakha red variant to keep it a little intriguing. Enough lighting was also very important for the family. Sonia took down the solid door to the utility room at the end of the kitchen and put in a door with glass panels. This way there's a lot more sunlight pouring in as compared to their original kitchen.
"Being more than a 20-year-old building, we had to work through the demolition phase very carefully. Keeping in mind the client's age as well as choices, every unit and every finish was meticulously detailed during planning. Mrs Sumathi was also very patient and understanding through the entire process. She was very forthcoming in selecting materials, taking calls and visiting the Experience Center. I ended up bonding very well with her during the course of the project. I hope her dream kitchen makes her routine comfortable!"

Sonia, Interior Designer, Livspace
Also, if you enjoyed reading this simple kitchen designs for Indian homes, take a look at 15-Year-Old Home Gets Stylish Revamp as well.
Send in your comments & suggestions.