The living room is one of the most visible areas of the house, used by both visitors and family members. Once you buy your living room furniture, you're faced with the task of planning an efficient layout. Proper placement will make the best use of space available and also create an attractive, inviting setting for everyone.
Here are few tips to help you with planning your living room:
Consider positions of doorways beforehand
The planning of seating area in a living room should always start with keeping the positions of doorways in mind. In an ideal living room, the movement paths are always around the seating area and never through it. So place the furniture without obstructing walking paths.
Consider positions of windows and lights
While planning your layout, mark the positions of all the windows and lights inside the living room. This will let you make use of natural as well as artificial lighting in the best way possible.
Measure everything accurately
An efficient living room layout is the result of correct placements and right measurements.
Make sure that no two pieces of seating are separated by a distance of more than 10 feet.
Maintain a 3 feet clear space for all movement pathways
For seating areas, place center tables at a distance of 18 inches or 1 foot away from your sofa.
The distance between the sofa and television should ideally be three times the height of the screen.
Consider the size and shape of the living room
What looks good in one living room might not work for another. That's why you need to analyze the size and shape of the space to figure out what living room layout will work for you.
For rectangular rooms, a linear furniture layout works quite well, making the room look more spacious and less cluttered. The largest sofa should be ideally placed facing the focal point of the living room.  Chairs or single sofas can be placed on either side. You can add ottomans to balance out the arrangement.
For square living rooms, a square or a circular arrangement is the best choice. Float the furniture away from the wall to add a sense of warmth to the space.
Open plan living rooms
Open plan living rooms aim at creating multipurpose spaces where a single area can be used for eating, entertaining and socializing.  Place the furniture to allow movement so that people can walk freely around it and use the same space for numerous activities. For a cozy, intimate seating area in an otherwise open setting, a vignette can be created in between the seating with an area rug to tie all the furniture pieces together.
Now here are a few living room layouts to inspire you and help get you started with designing your own: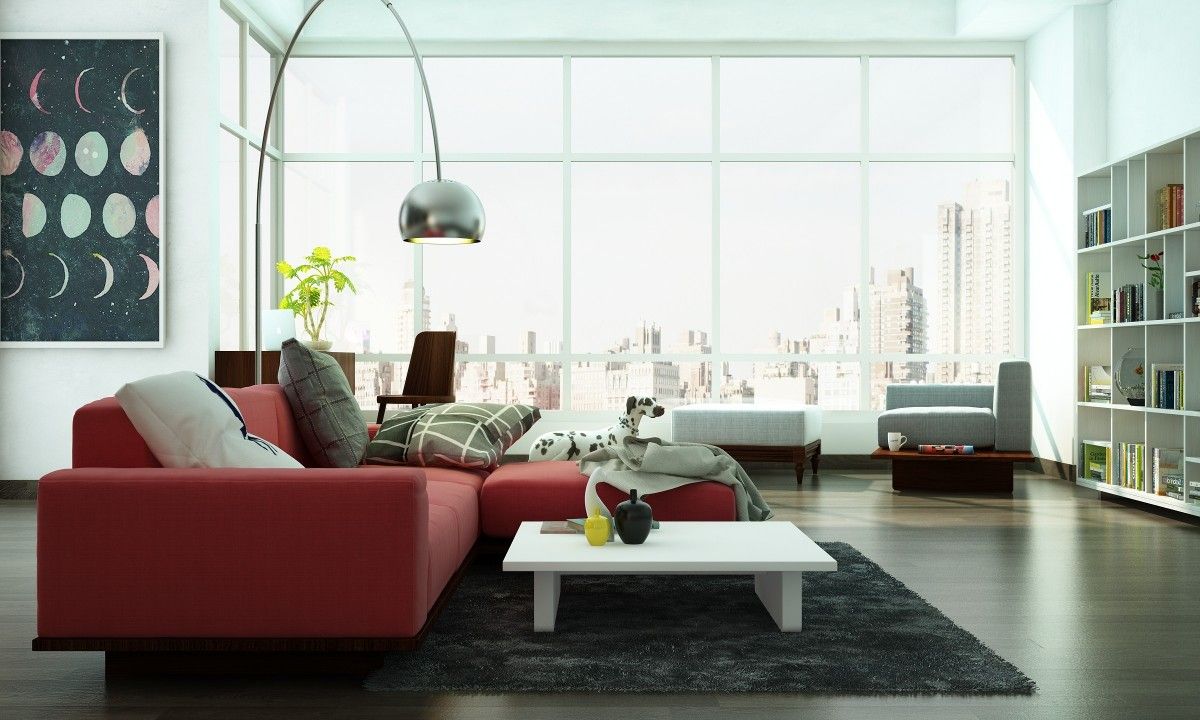 This spacious living room has a primary seating area in the center, defined by a rug and an L-shaped sofa. Ottomans and a coffee table create a small reading area to the side with a study corner positioned on the opposite end.
This Scandinavian style living room has a more compact arrangement ideal for smaller spaces. Two smaller tables placed in the center  beautifully solve the purpose of one large coffee table without making the space look cramped.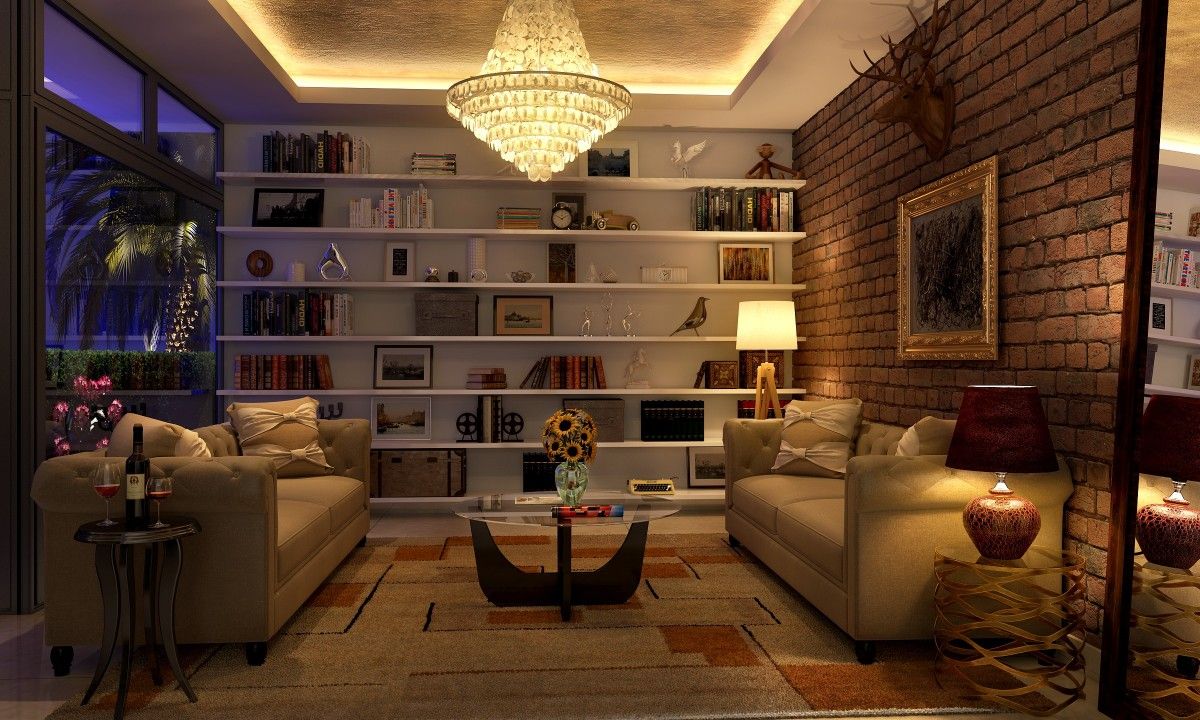 Perfect for entertaining, this living room layout  features an intimate and cozy seating area with sofas on either side with a large display shelf in between.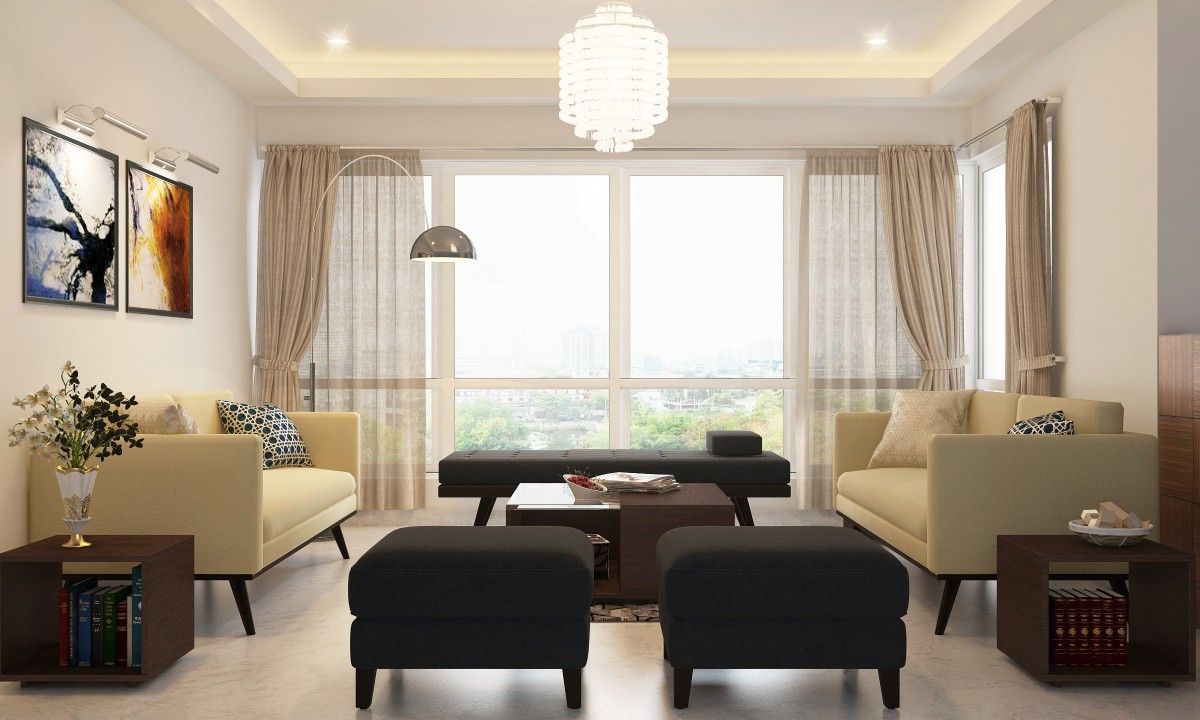 For a large and spacious living room, a seating arrangement like this creates a well-balanced and functional look. The low bench placed in front of the window ensures that natural light is not blocked.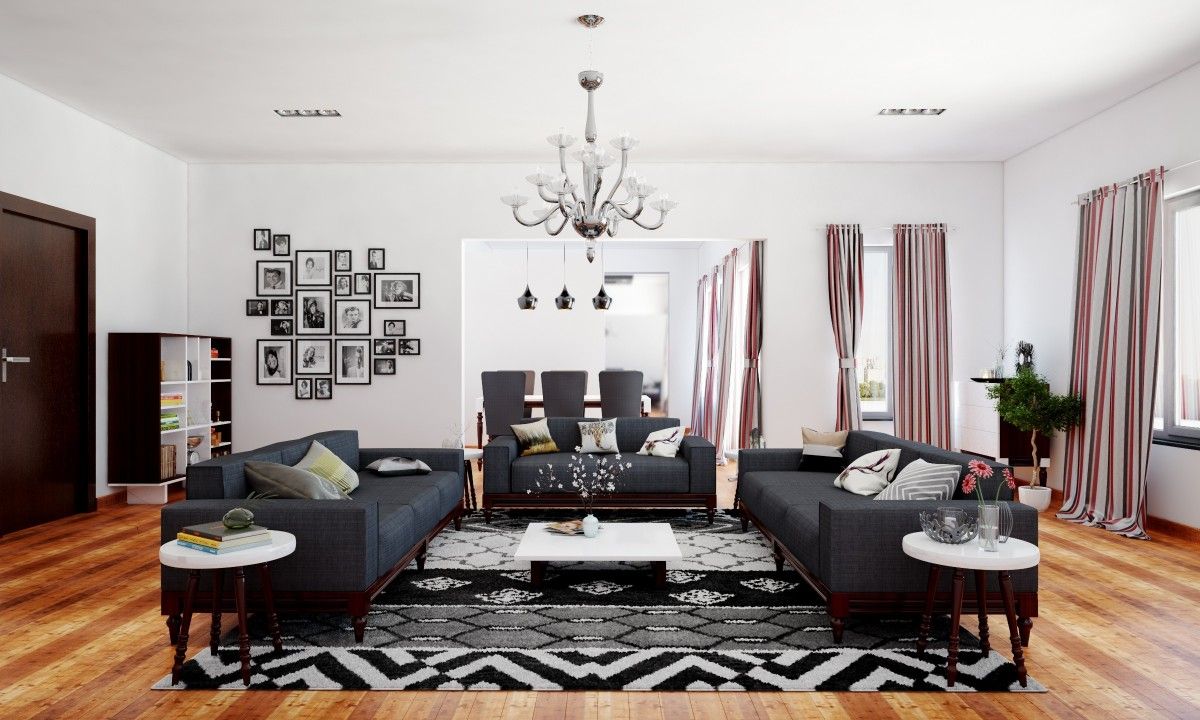 This gorgeous living room layout features a furniture layout where end tables are placed next to each sofa for a symmetrical look. The seating area is placed at the center of the room with space for movement on both sides.