There is a child inside each one of us. There is always that carefree voice in our head that tells us to run around bare feet on a beach or jump into muddy puddles. Having a swing in your home gives wings to that free spirit hidden inside you. What is more interesting is that there are several types of swings available in the decor segment these days. So there is a swing for every kind of home be it traditional or contemporary.
Explore the following types of swings that have been used in #LivspaceHomes and pick the one that suits you best.
Types of Swings #1: A Swaying Loveseat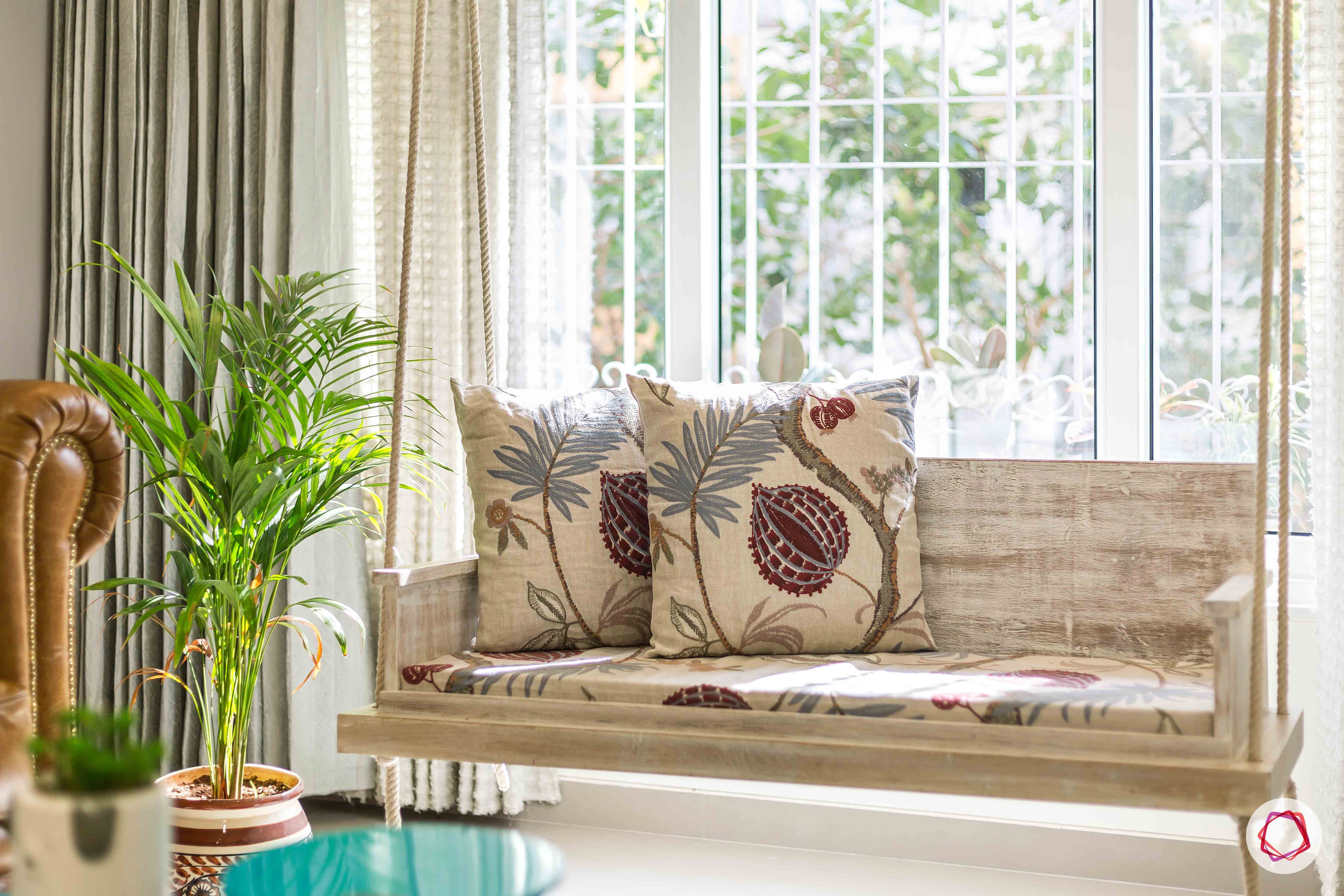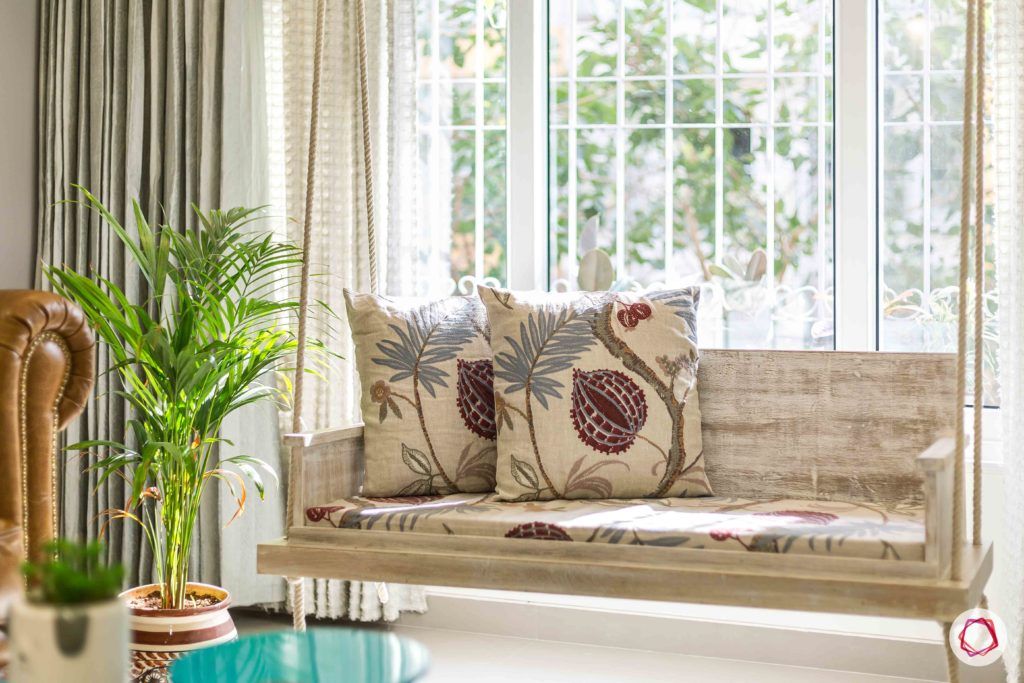 This swing is perfect for just two people so it seems fair to call it a loveseat. If you want to spend some quality time with your significant other, preferably by a window, a distressed-finish swing like this is what you will need.
Types of Swings #2: Nested Outdoor Swing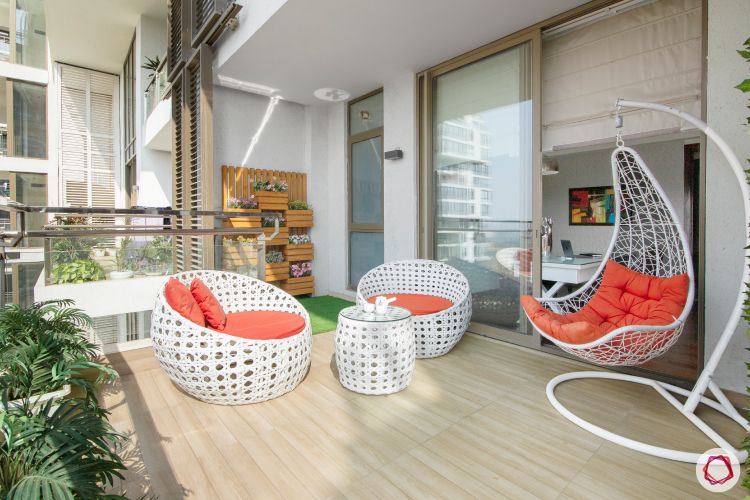 The nested hanging swing is a modern phenomenon that needs no installation. The design of this swing imitates a bird's nest and is meant for a single person. It might just be the sway you were missing with your morning cuppa! See full home here.
Types of Swings #3: Regal Wooden Swing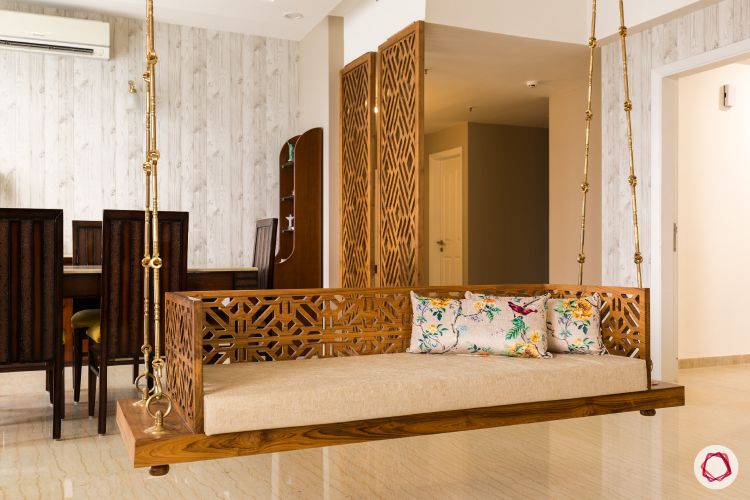 A swing like this one is as elaborate as they come. The wooden inlays and carvings in this swing are designed with intricate craftsmanship. Combined with the comfy cushioned seat, this swing is a seat fit for nothing less than royalty. See full home here.
Types of Swings #4: Upholstered Coordinated Swing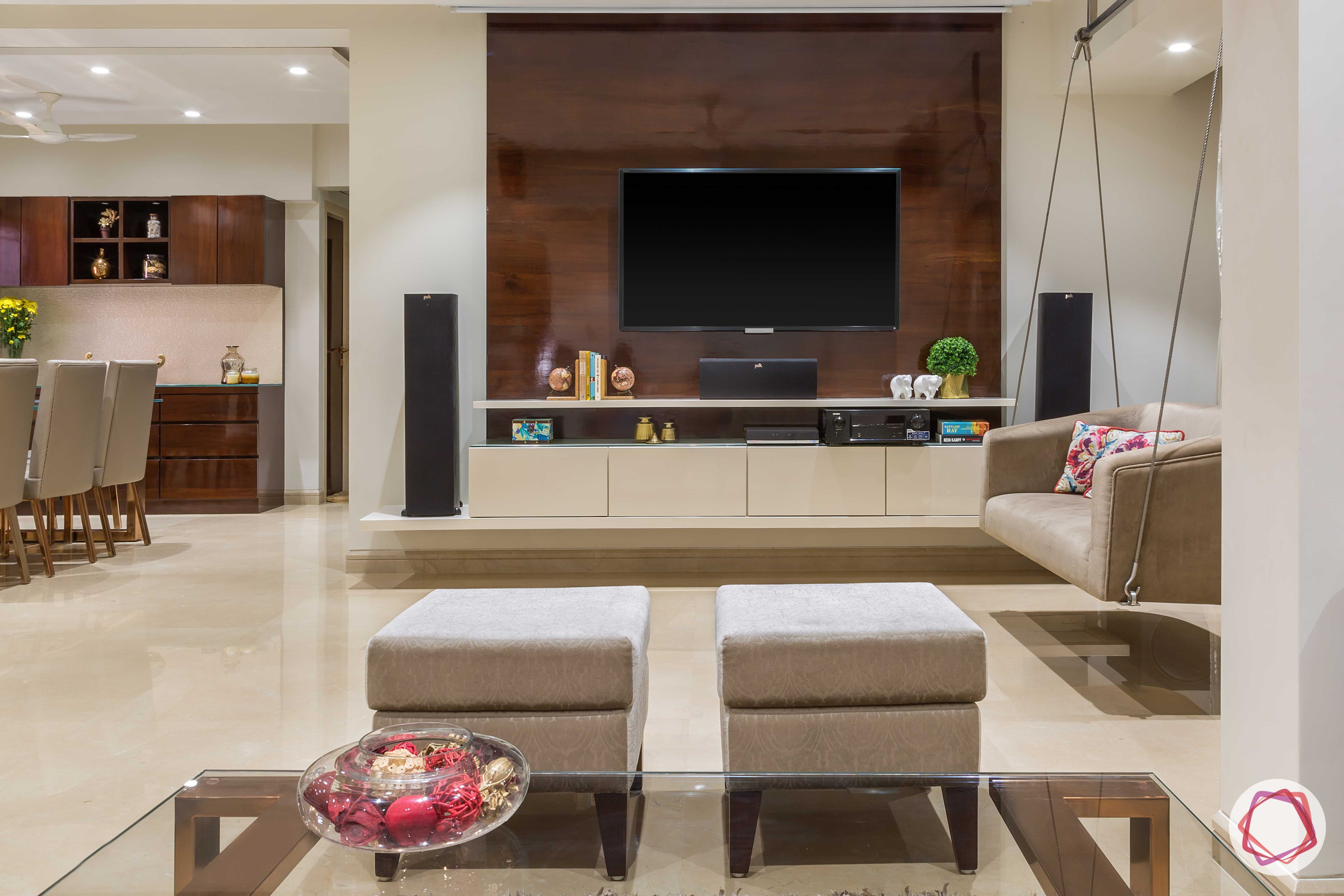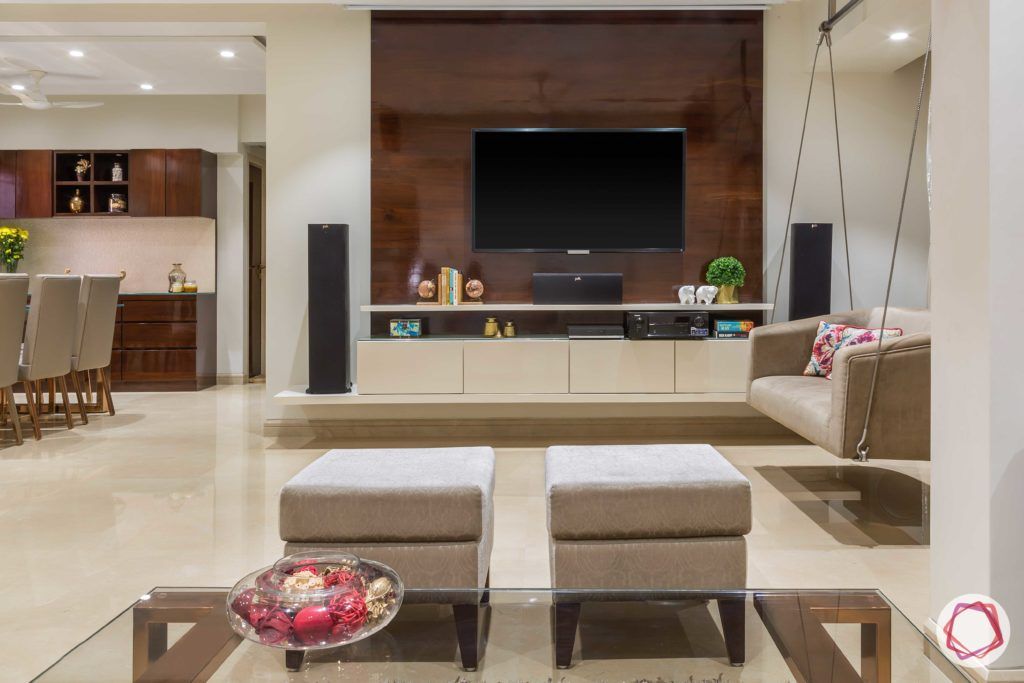 While it's easy to overlook the swing in this living room, it does add a tinge of drama. This is because the swing is perfectly matched to the rest of the furniture so it almost resembles a sofa. The contemporary leatherette upholstery has revamped the swing into a modern avatar. See full home here.
Types of Swings #5: The Parting Swing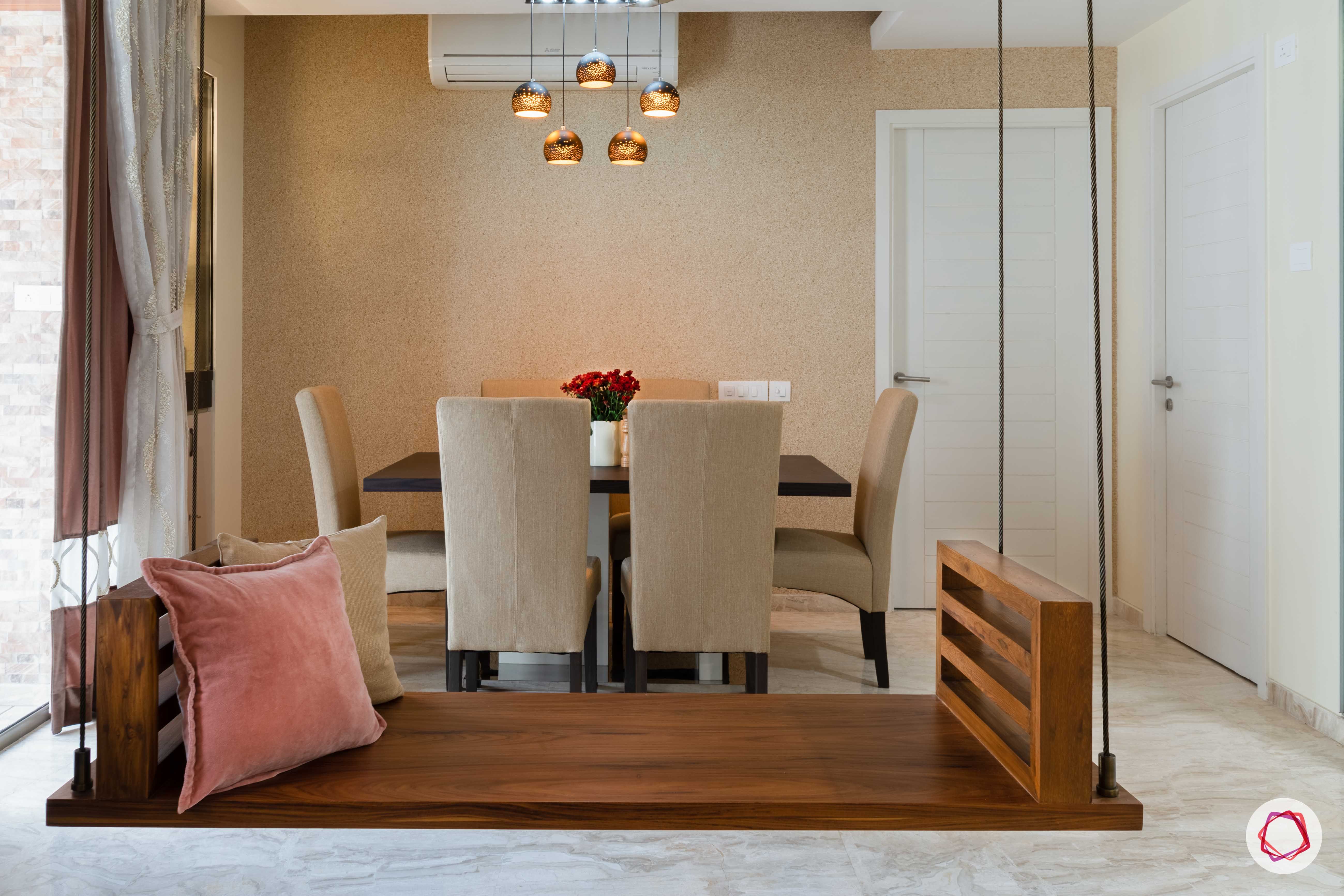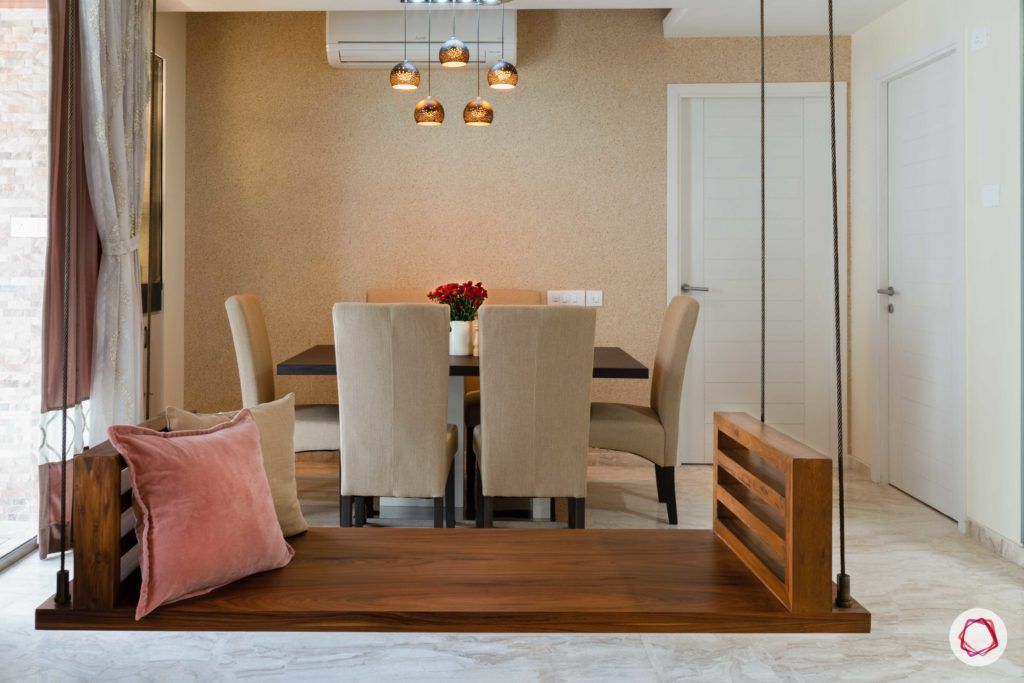 Partitions are often necessary from the design perspective to segregate areas within a room. However, they tend to eat up a lot of space. So it makes sense to put in usable partitions like this swing that stand between the living and dining areas. The design of the swing is minimal so that it doesn't obstruct the view of the room. See full home here.
Types of Swings #6: Jaali Designs for the Latticed Swing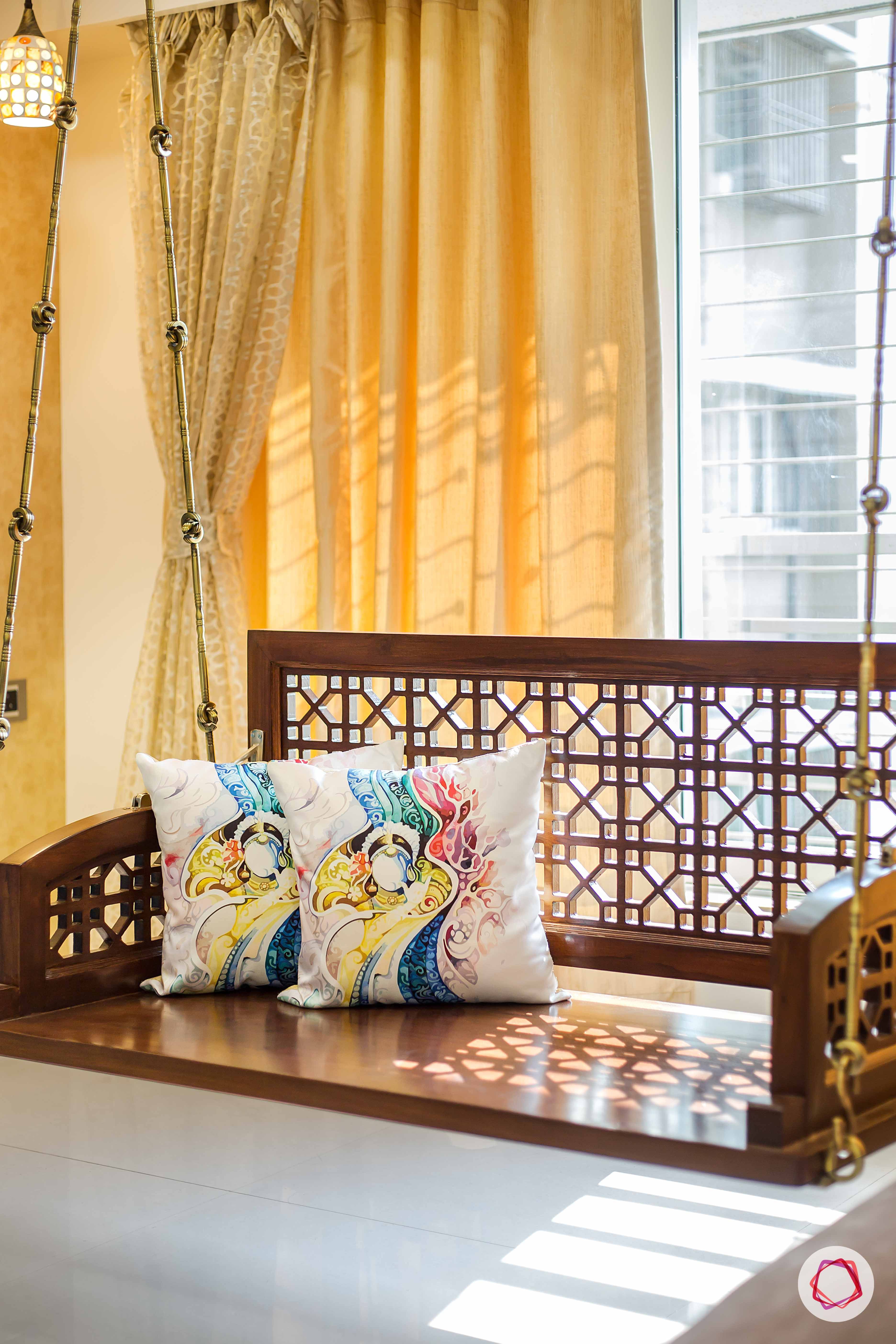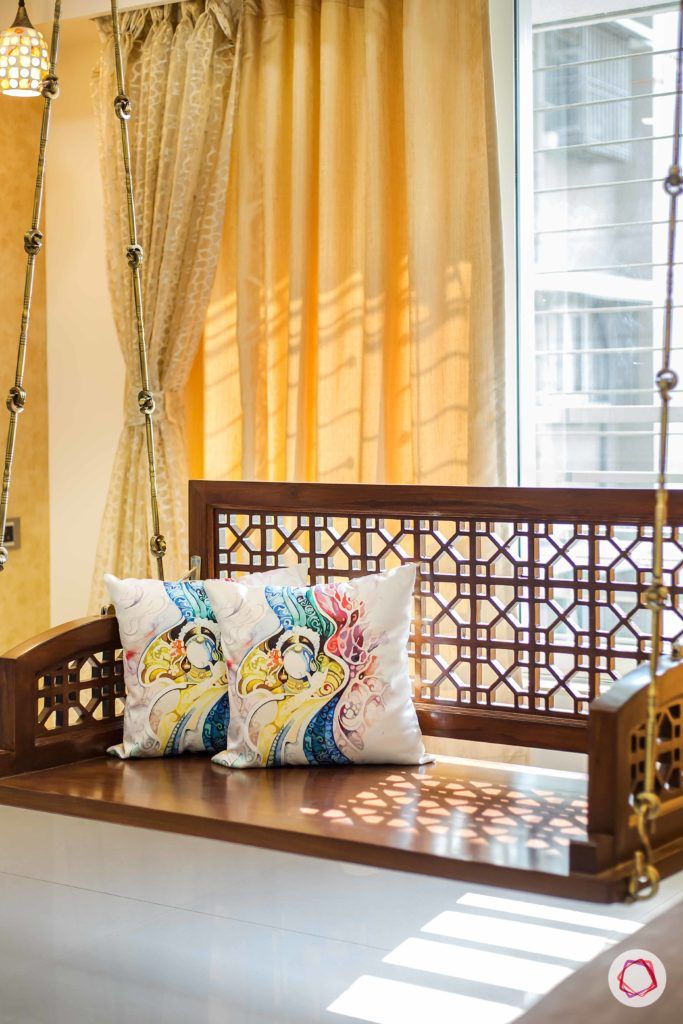 Jaali designs add an inherent Indian grace to almost any piece of furniture. Apart from its delicate beauty of the designs, latticework ensures that the design is open and does not consume space. This swing, for example, could fit into a compact corner of any room in your home.
Types of Swings #7: The Bench Swing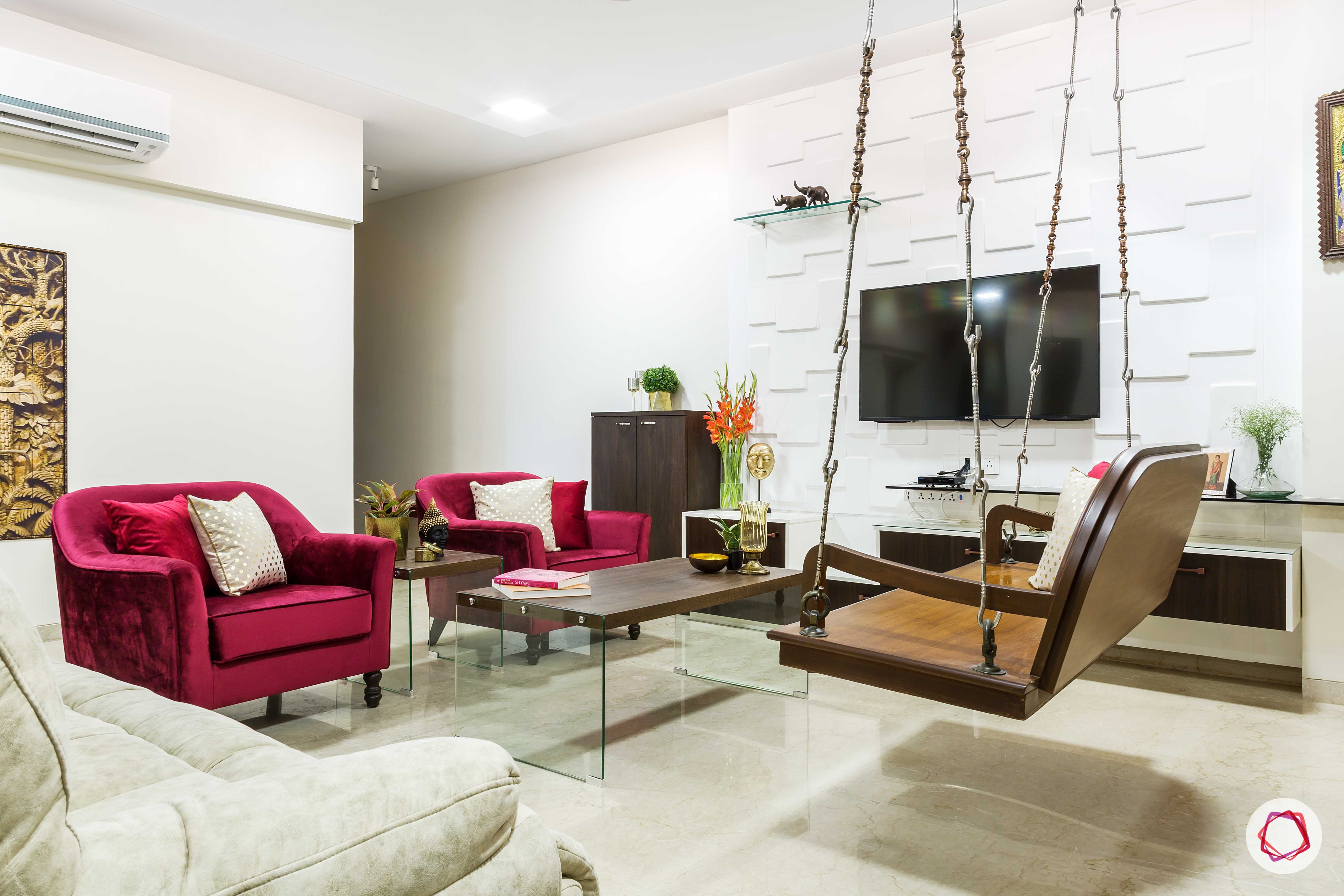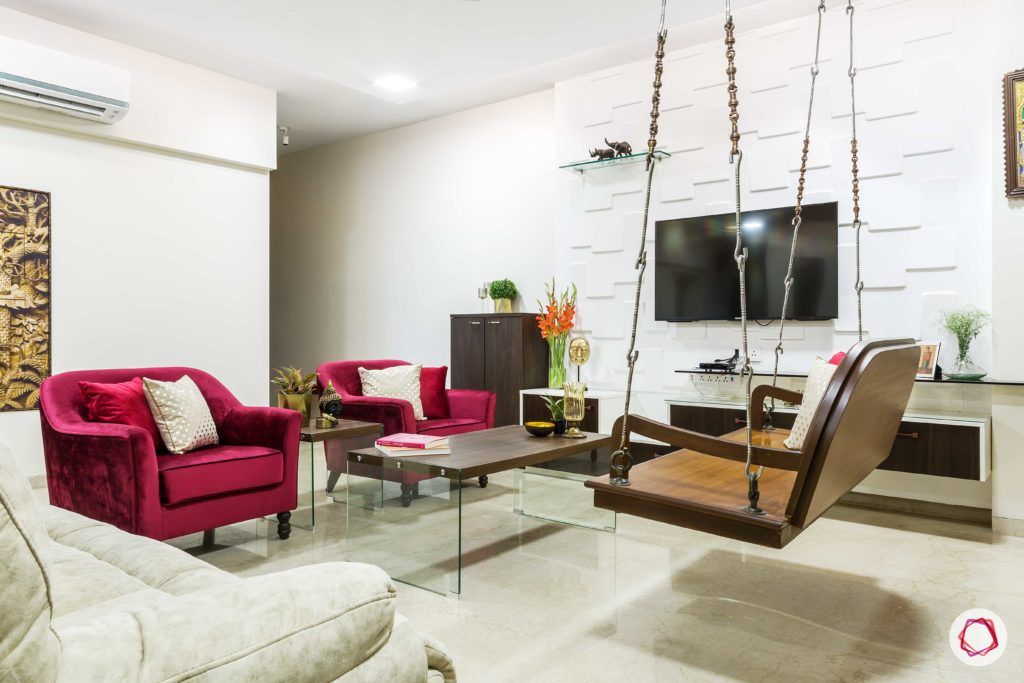 There is no end to the kind of seating arrangements that you can try. But to try different arrangements, you need to experiment with a variety of seating options like poufs, couches, loveseats, floor cushions, etc. If you want an out-of-the-box seating arrangement, a sturdy bench swing could be an interesting option to explore. Not only does it offer seating, it also saves floor space.
Types of Swings #8: The Garden Swing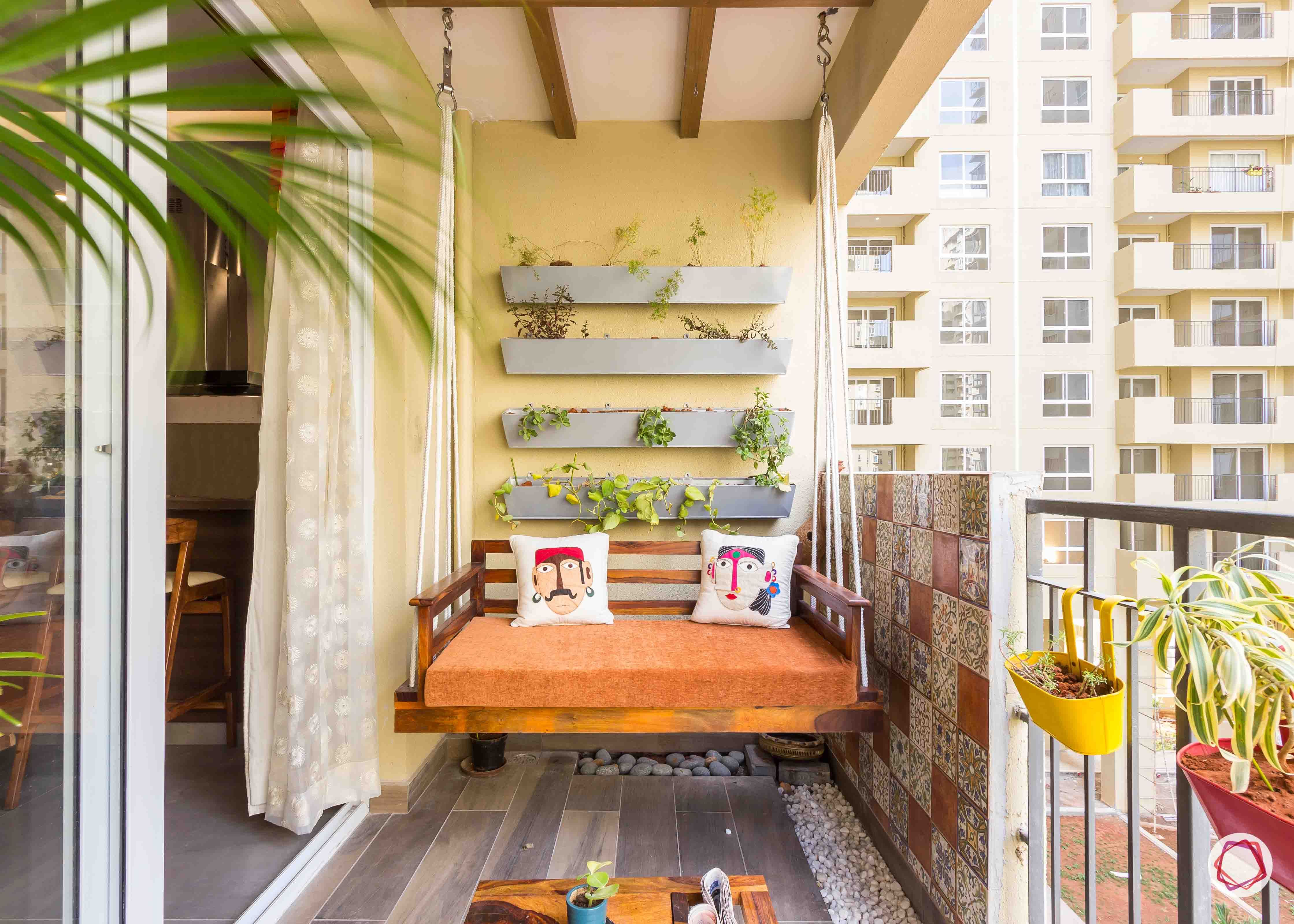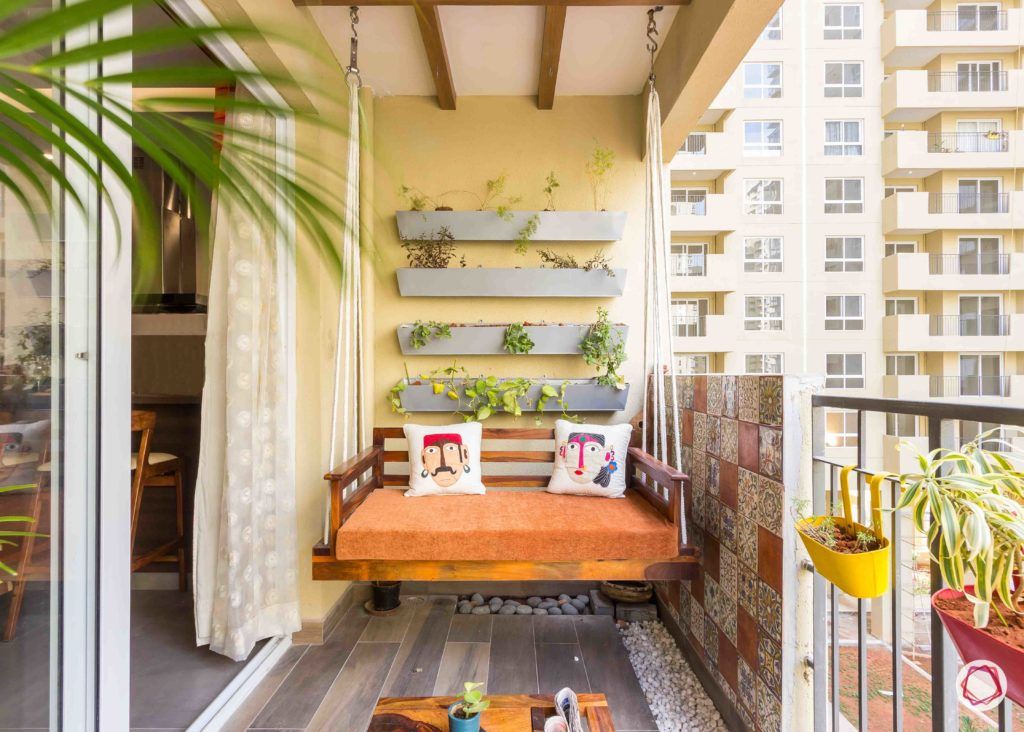 A great view from your balcony, plenty of fresh air, greenery at your feet and a lilting sway! Add a book and a cup of steaming coffee to this scene and it is any bibliophile's dream. Cushy outdoor swings, particularly the ones surrounded by a garden, are the best reading spots you could hope for. See full home here.
Types of Swings #9: The Dreamy Fairytale Swing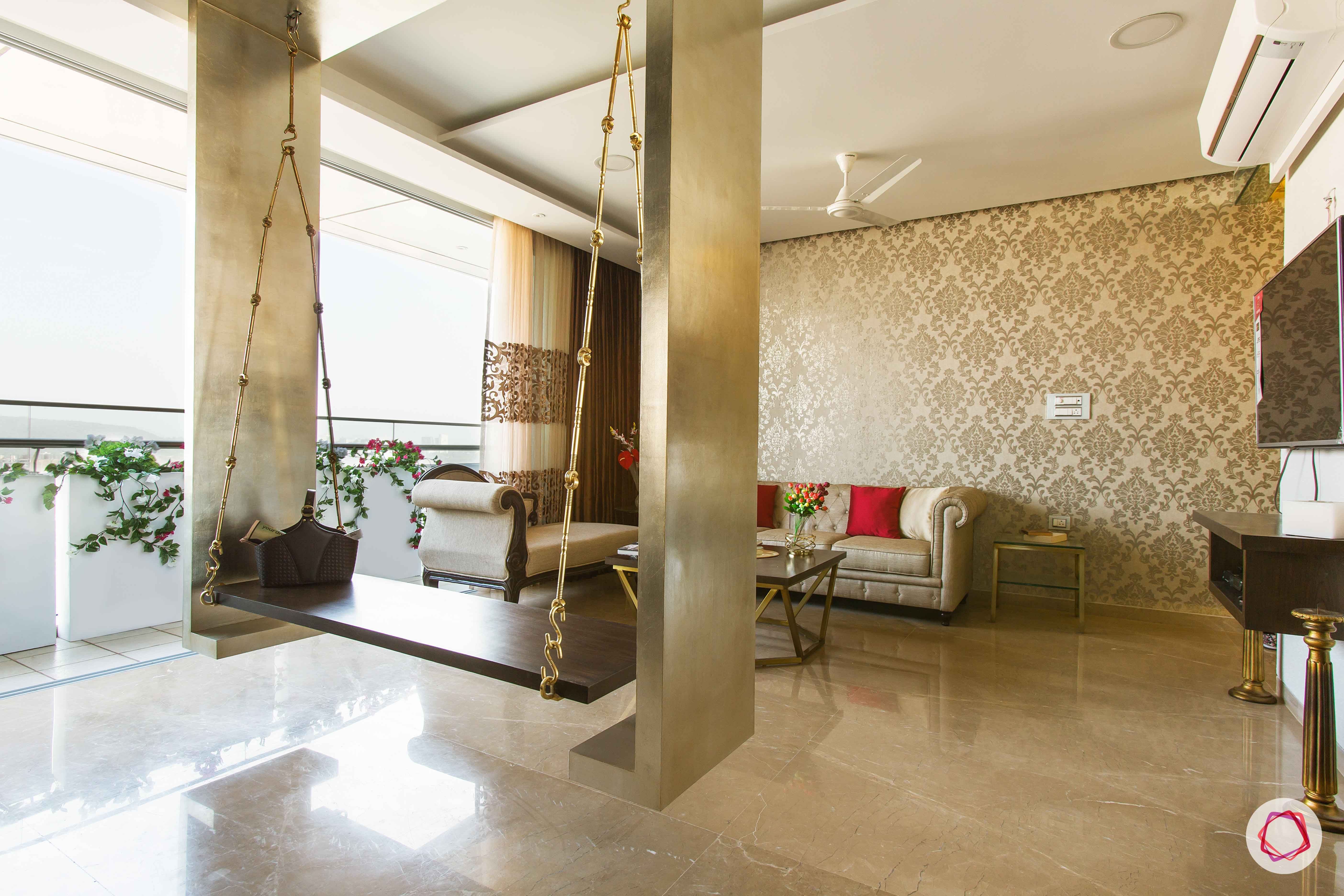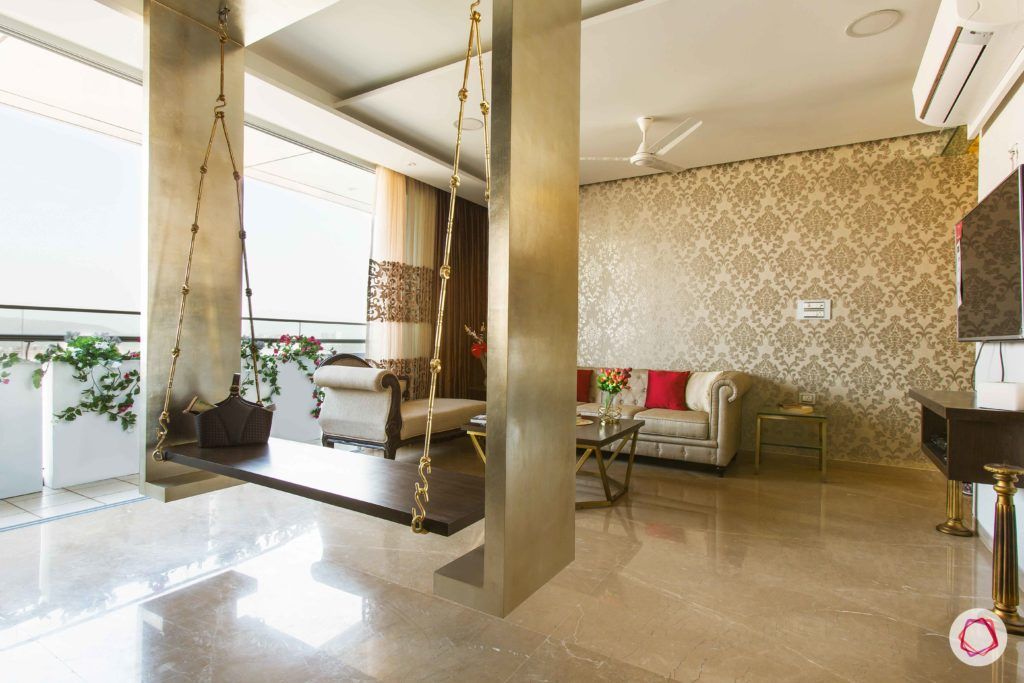 This swing is definitely not the average Joe. It is, in fact, the pièce de résistance of this living room cocooned within two shimmering metallic panels. The floating frames and the dreamy vibe of the room create a fairytale-like aura around this swing. See full home here.
Types of Swings #10: The Swing for Your 'Me' Corner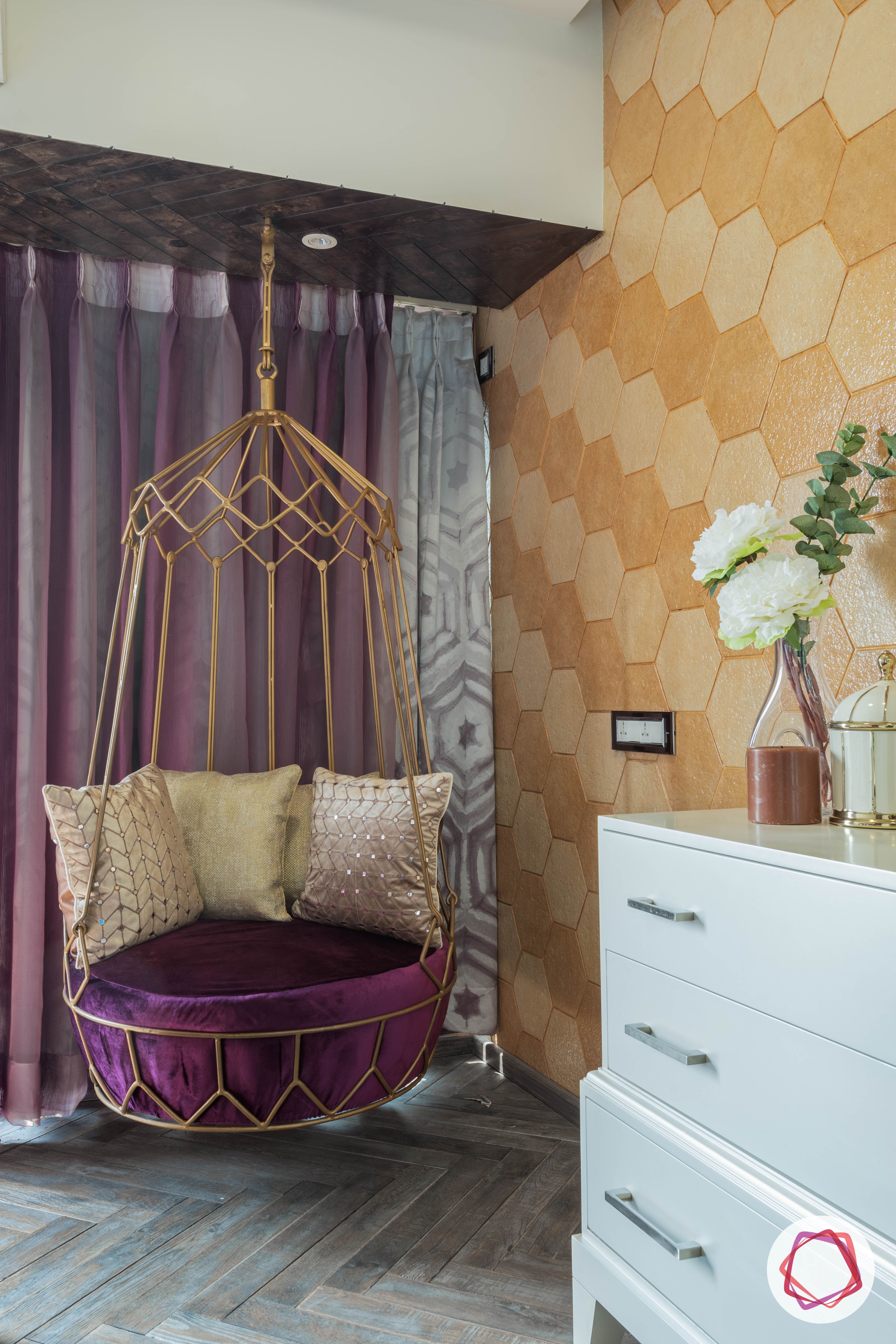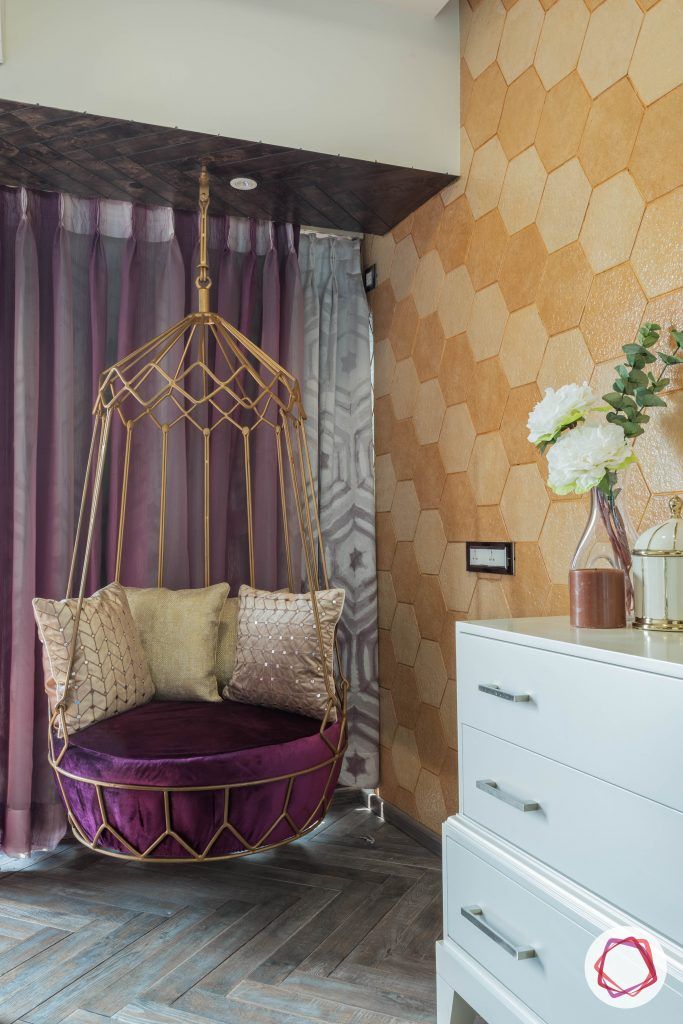 Swings don't necessarily have to be in the public parts of your home like the living area or balcony. You can easily deck up a private corner in your bedroom with a single cushioned swing. It can be your secret haven to retreat when you need to get some thinking done. See full home here.
Types of Swings #11: Yesteryear's Swing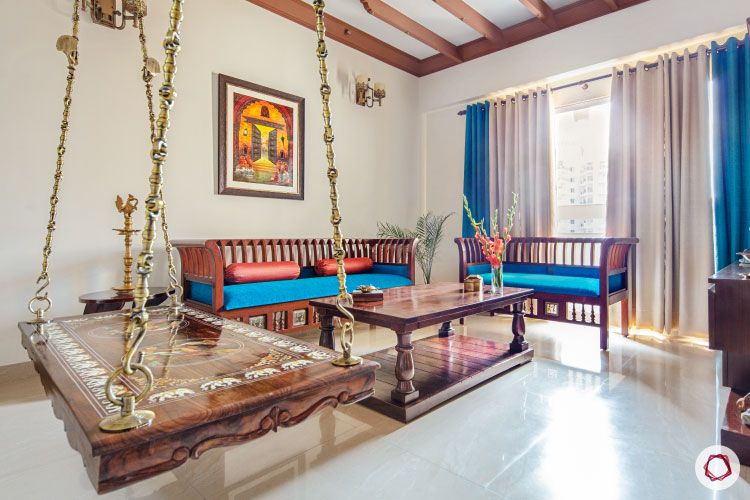 Did your ancestral home have one of those huge solid wood swings that you miss? A traditional swing from the Indian heartland looks like a swinging bed and often has etching or designs painted on it. Having one of these will help you relive your childhood. See the full home here.
If you enjoyed the sway of this piece, also read Small Home? Squeeze in Extra Seating.