Do you find it hard to fit everything you own into a 1BHK interior design? Even if you can stuff everything in, would you really want a cramped space? Moreover, how do you implement a smart yet functional 1BHK home design? The answer is clever space planning. All you need are a few multipurpose elements and some design must-haves. With these aspects in place, you too can have a smart 1BHK flat design, like these Livspace homeowners.
Lucky for you, our in-house experts can guide you on to make the most of your small 1BHK flat interior design. So grab a notepad and take notes!
#1: Use Neutral Colours in Your 1BHK Interior Design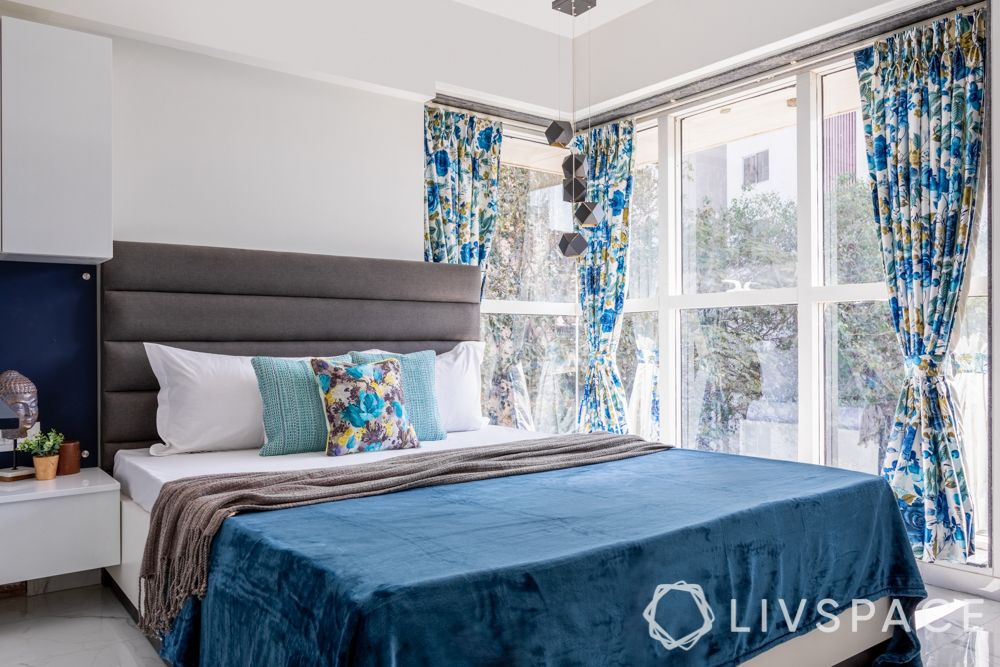 Paint can go a long way in making a 1BHK interior design appear bigger. Improving your space using paint is one of the easiest and best 1BHK interior design ideas. Start with a subtle palette of classic whites, neutral tans and greys, and keep the bolder colours for accent walls.
The combination of neutrals and bold pops of colour lend a soft and clean touch to your home, and makes it feel clean and fresh. For example, rich blue can express elegance while green reflects natural light. Both these shades, along with neutrals, will make your space appear cosy and airy. Use this simple idea to renovate your small 1BHK flat interior design on a low budget.
#2: Optimise Storage in Your Small 1BHK Flat Interior Design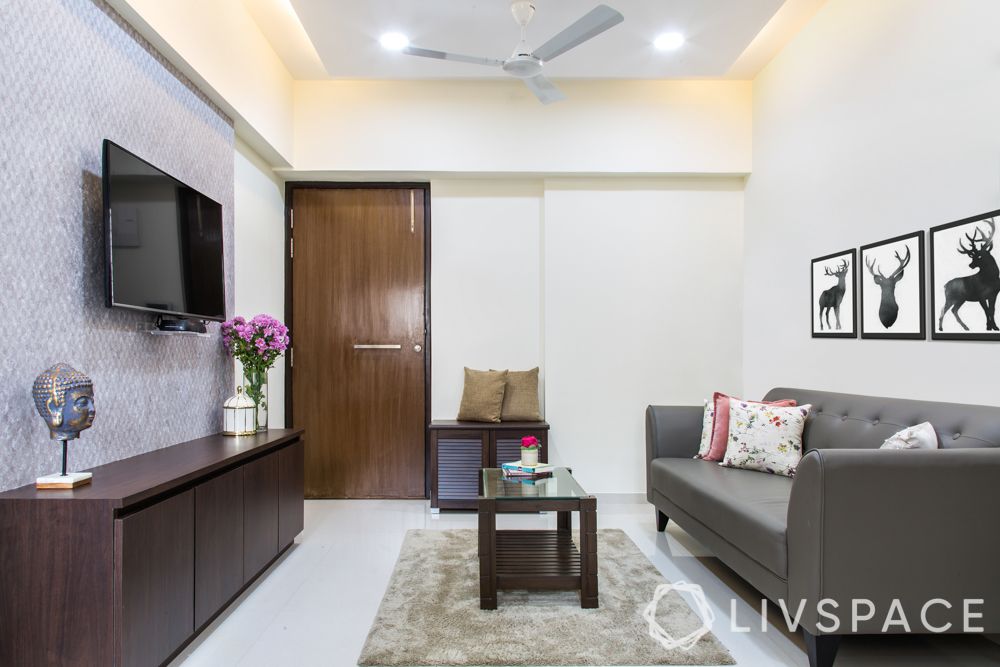 A clever 1BHK flat design makes the best of space by maximising storage. One way to do this is by installing a bench with storage in the hallway. Alternatively, use pouffes and sofas that double up as covered bins. Another way to make the best of your 1BHK home design is to install a slim TV unit that offers options to stow away your letters, documents and CD collection. The cabinet tops can also be used to display decor or your book collection.
#3: Pick Convertible Furniture to Save Space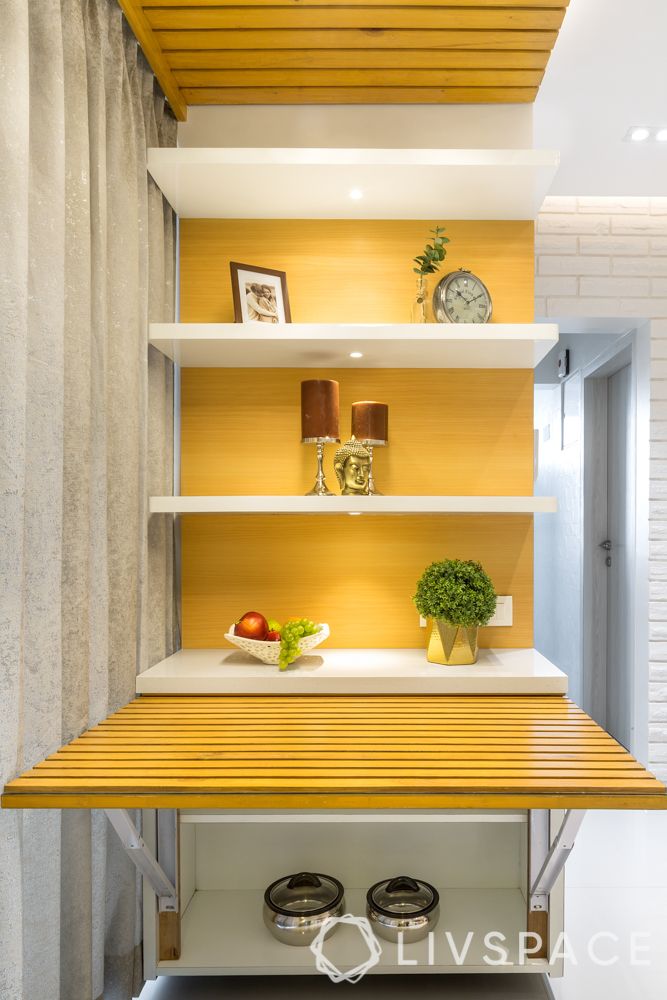 Multifunctional or convertible furniture can make your 1BHK interior design seem spacious and uncluttered. There are several sleek and elegant convertible furniture options, such as a sofa-cum-bed, that you can roll out only when needed. Alternatively, take advantage of the walls by installing a murphy bed in your bedroom. This bed comes with a wall-mounted vertical frame in which you can fold the bed when you're not using it. Invest in a foldable dining table that you have to pull out only for meals. This will save you a lot of space in your 1 BHK flat design.
#4: Put in Different Types of Seats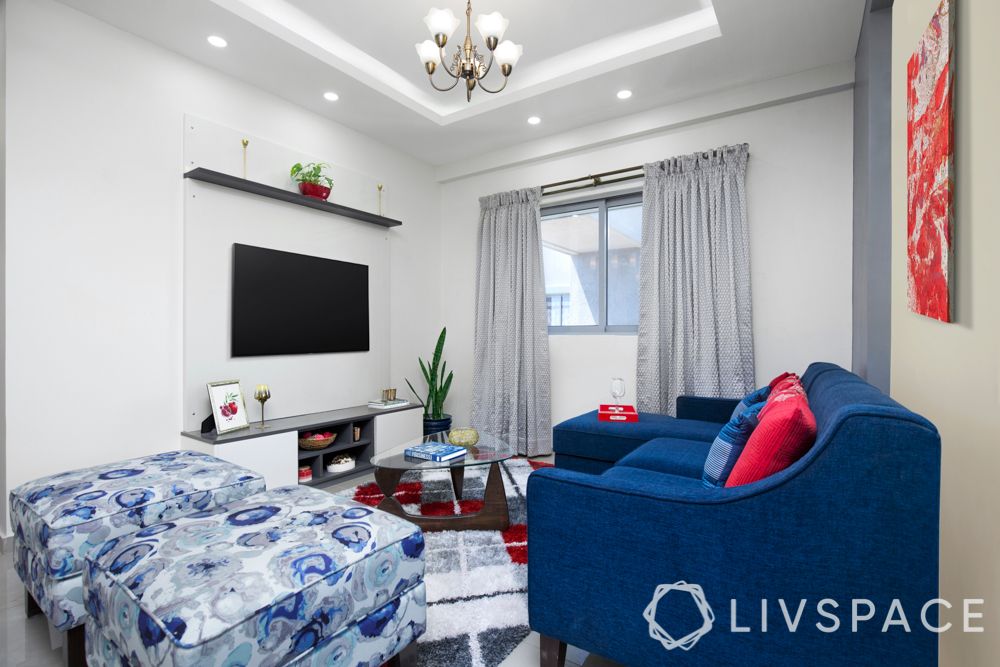 The right seating options is all it takes to comfortably accommodate your guests in your 1BHK interior design. Use compact and quirky ottomans as both seating and decor. You can also use nesting stools as they occupy less space, and can be stowed away when not in use. Folding chairs is one of the best 1BHK interior design ideas you could adopt. This ensures you don't have to scramble for seating when you have unexpected company.
#5: Opt for Open Layouts in Your 1BHK Interior Design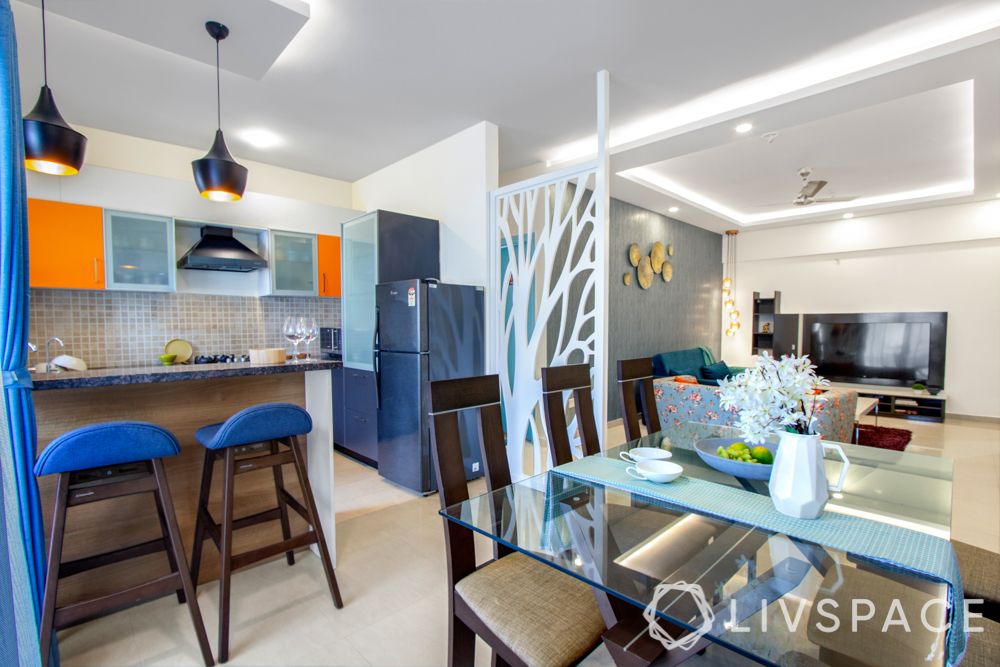 An open layout seamlessly combines the living room, kitchen and dining area, making it the ideal option for your 1BHK flat design. If you want some privacy, use screens or room dividers to reduce foot traffic in areas you would like to keep private. Install a backless bookshelf that can function as both a divider and display shelf. This is a great way to renovate a 1BHK flat interior design on a low budget.
#6: Turn Wall Niches Into Storage Spaces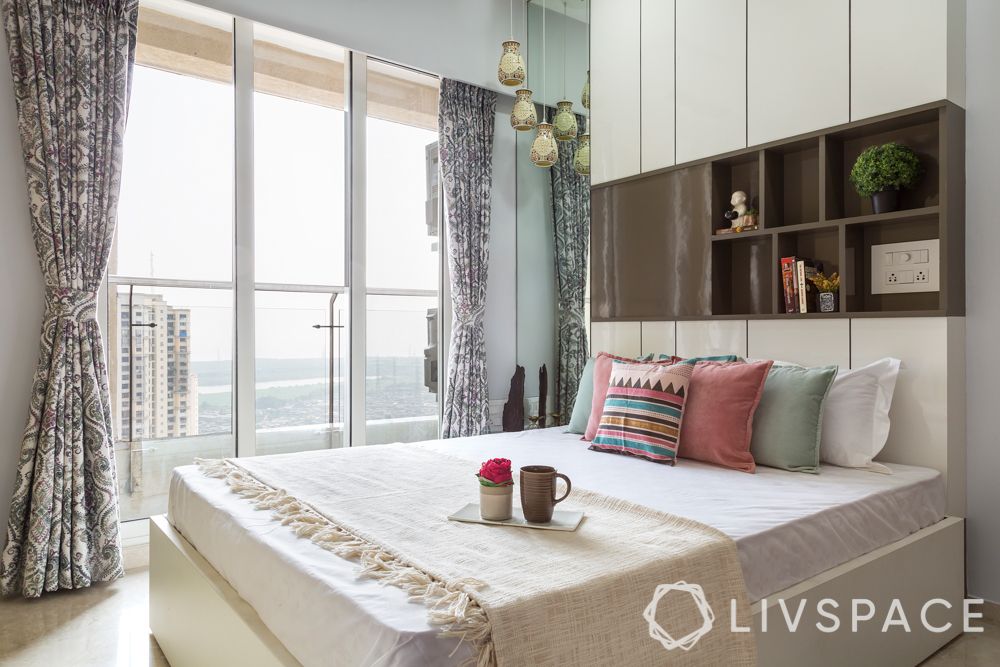 Take advantage of wall niches to make the best of your 1BHK flat interior design on a low budget. If you have a floor-to-ceiling wall niche, install a cupboard or mini-bar for extended storage space. Get creative and convert your headboard into a niche storage or as a display space for plants.
#7: Opt for Minimalistic Decor in Your 1BHK Interior Design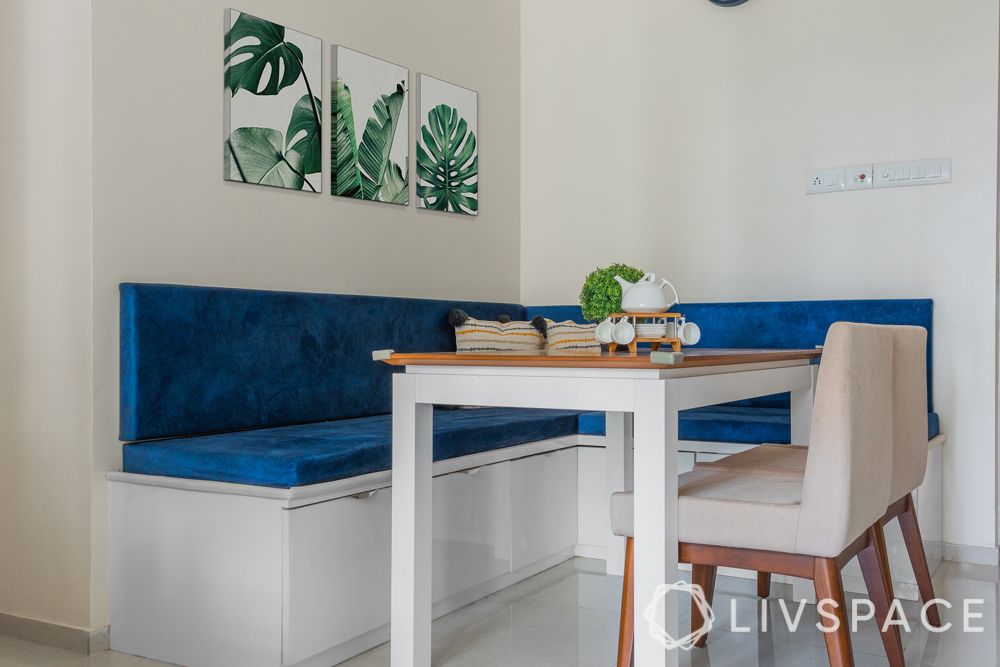 Minimalism doesn't necessarily mean spartan and boring. Take this 1BHK interior design, for instance. It has a classic blue-and-white combination with minimal decor, making the colours pop in the entire home. Moreover, the home is simple with space-saving furniture. One sofa, a TV unit with storage and a dining table set with L-shaped seating are all that we're needed to complete your living room.
Design Mistakes to Look Out For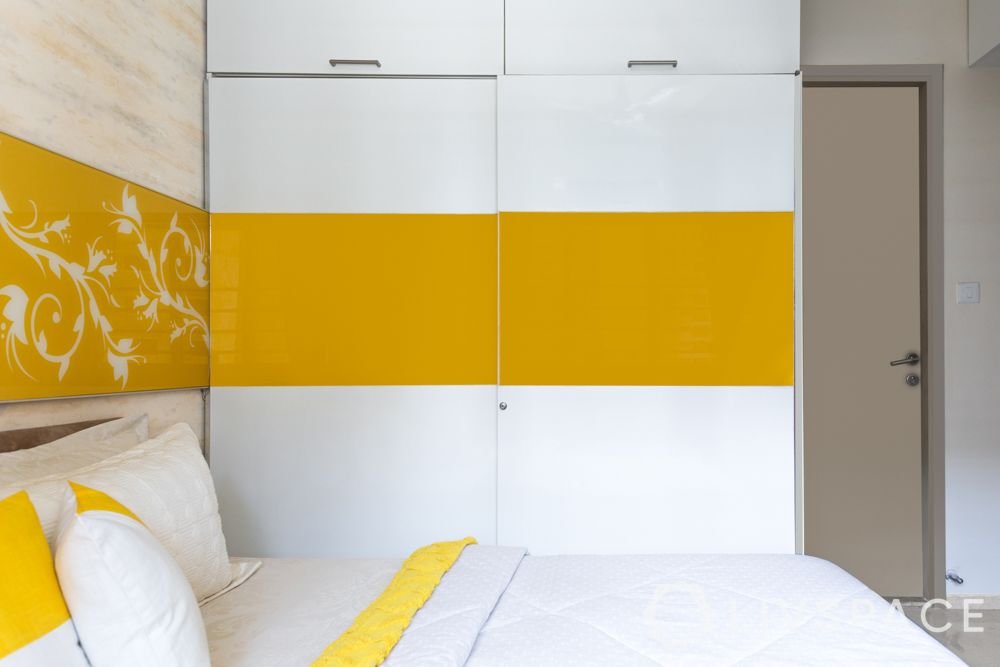 Living in a 1BHK flat design can be challenging when the design is not optimised for space. There are a few design faux pas that can complicate a compact home. Take a look at this list to avoid these design mistakes:
Do not get swing doors: Switch out all your swing wardrobe doors with sliding doors and you will instantly notice a change in the floor space that is available. This simple swap can make a world of a difference, giving you more space for a bigger bed or even a side table.
Avoid free-standing storage: While any kind of added storage will reduce your floor space, built-in units are a slender and space-saving option.
Don't ignore the bathroom space: You can optimise the bathroom by installing floating shelves above the toilet and opting for corner shelves for those empty corners.
If you're interested in more design inspiration for compact spaces, take a look at this home tour: Step Into a Simple Budget Home at Lodha Splendora.
Do you want decor ideas for your 1BHK interior design? Here are 10 budget ideas to decorate small homes.
Check out this cosy and glam 3BHK home:
How Can Livspace Help You?
We hope you found our ideas useful! If you want beautiful interiors for your home, then look no further. Book an online consultation with Livspace today.
Send in your comments and suggestions to editor@livspace.com