Traditionally, Indian homes were usually quite colourful. However, in recent times, homeowners are opting for more neutral colours as opposed to vibrant shades. Livspace homeowner, Saikarthik, also decided to go with a contemporary and neutral tone for his 3BHK in Hyderabad. Our designer coupled this understated colour palette with unique textures, resulting in a striking and glamorous home.
Join us as we take you on a tour of this beautiful 3BHK in Hyderabad designed under ₹27 lakhs. Additionally, we will also be giving you the costs of the products and services that were included in this premium budget.
Disclaimer: All contents of the story are specific to the time of publication. Mentions of costs, budget, materials, finishes, and products from the Livspace catalogue can vary with reference to current rates. Talk to our designer for more details on pricing and availability.
---
#1: Stunning Wall Treatments in the Living Room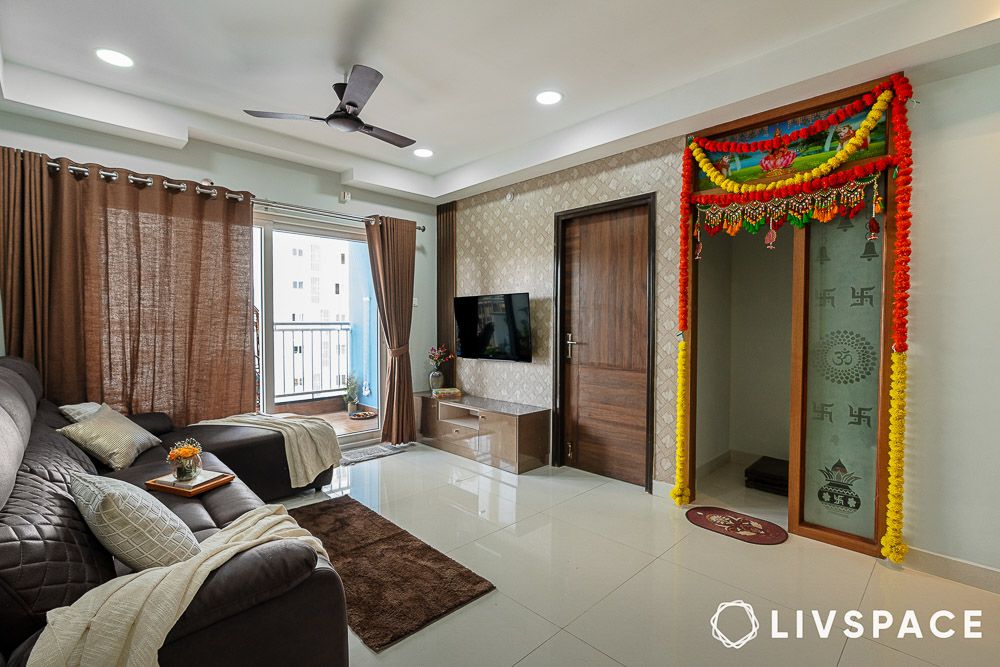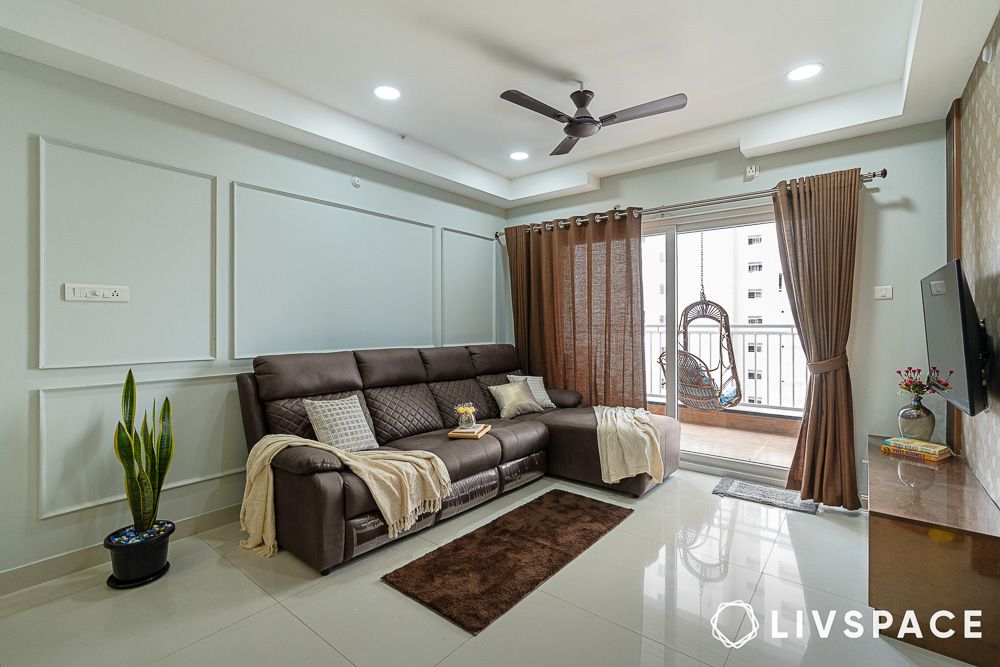 When you first step into Saikarthik's living room, it stands out due to its earthy tones. Our designer chose beige as the primary colour and accented it with rich shades of chocolate brown. However, the actual showstoppers in this room are the amazing wall treatments.
While the wall behind the sofa features classical trims, the TV unit wall has a subtle gold wallpaper with intricate floral patterns. These textured wall designs add a striking element to this otherwise neutral living room. Moreover, to continue with this theme, our designer included some texture in the furnishings as well, like the curtains and the sofa.
Most Indian homes are incomplete without a pooja room. Our designer fitted Saikarthik's mandir into a nook within the living room itself. This gorgeous frosted and etched glass unit has sliding doors to ensure privacy.
Cost of Items
TV Unit – ₹85,814.58
Wallpaper – ₹25,960
Pooja Unit – ₹43,186.27
#2: The Textured Theme Continues in the Drawing Room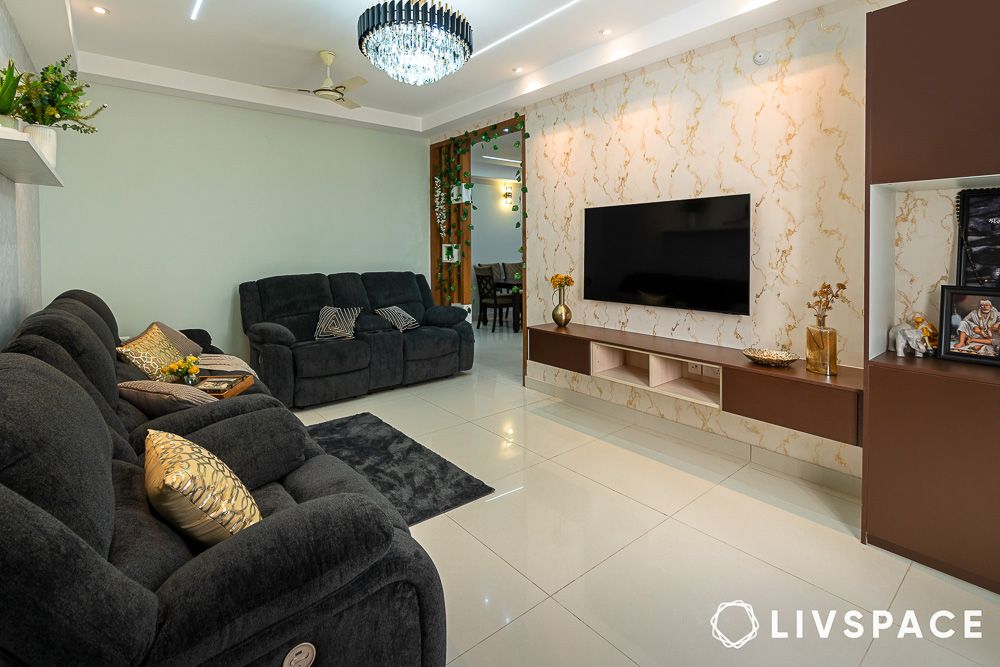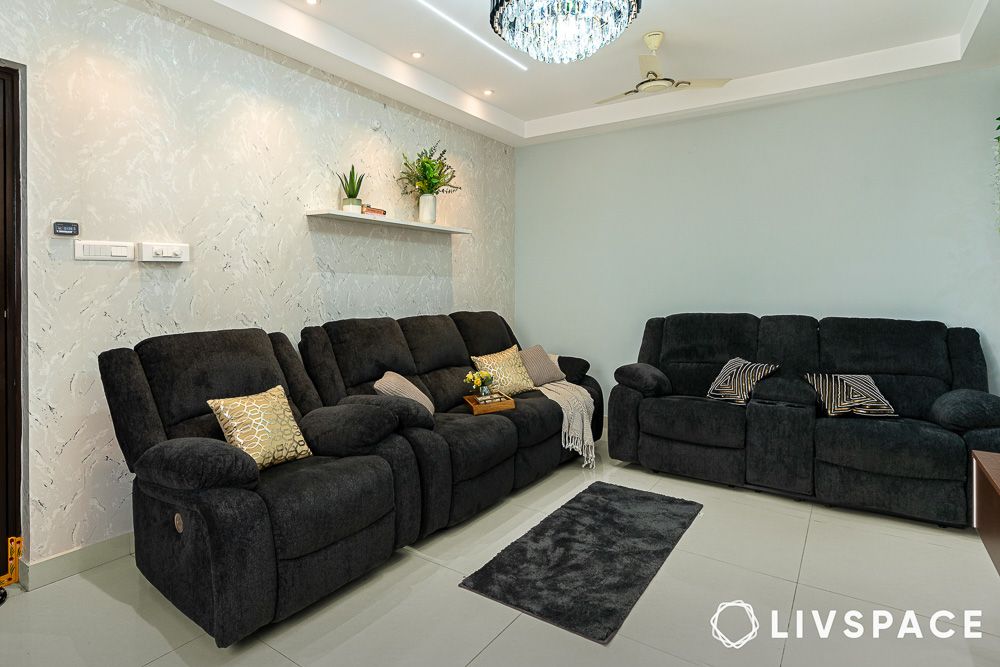 Saikarthik's beautiful 3BHK hides a surprise. It has not one, but two living rooms! The open layout living and dining areas came with a private nook, which is where our designer created the second living room. As in the case of the main living room, this area also features textured wallpaper. The overall look has been kept minimal here with a black sofa set, a TV unit with storage, and spotlights.
Cost of Items
TV Unit – ₹31,503.86
3-Seater Sofa – ₹45,290
2-Seater Sofa – ₹34,090
Single Sofa – ₹25,390
Wall Treatment – ₹50,000
#3: Rich Wooden Vibes in the Dining Room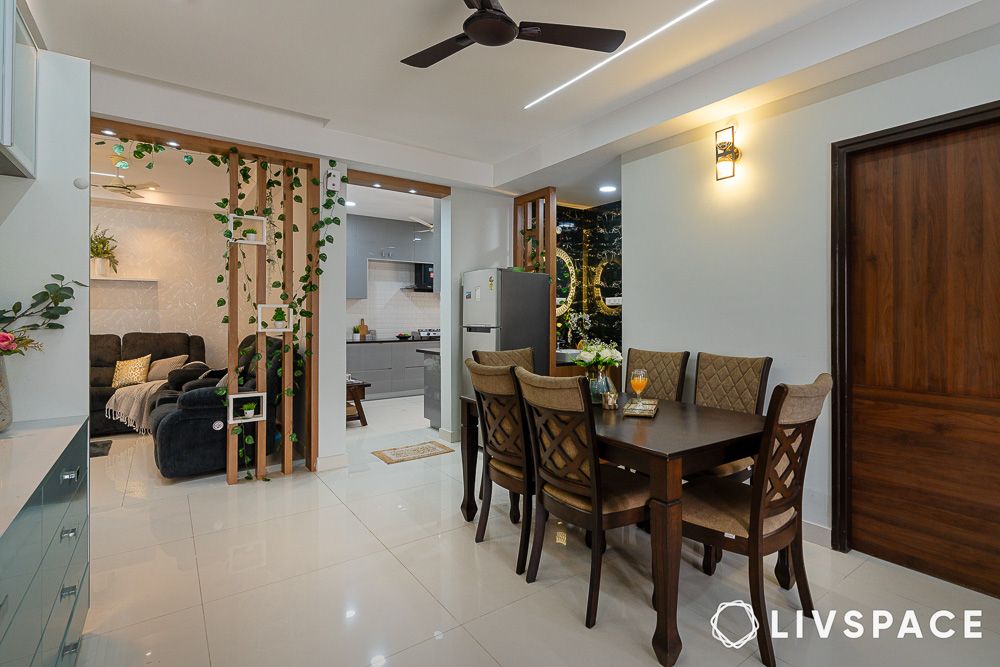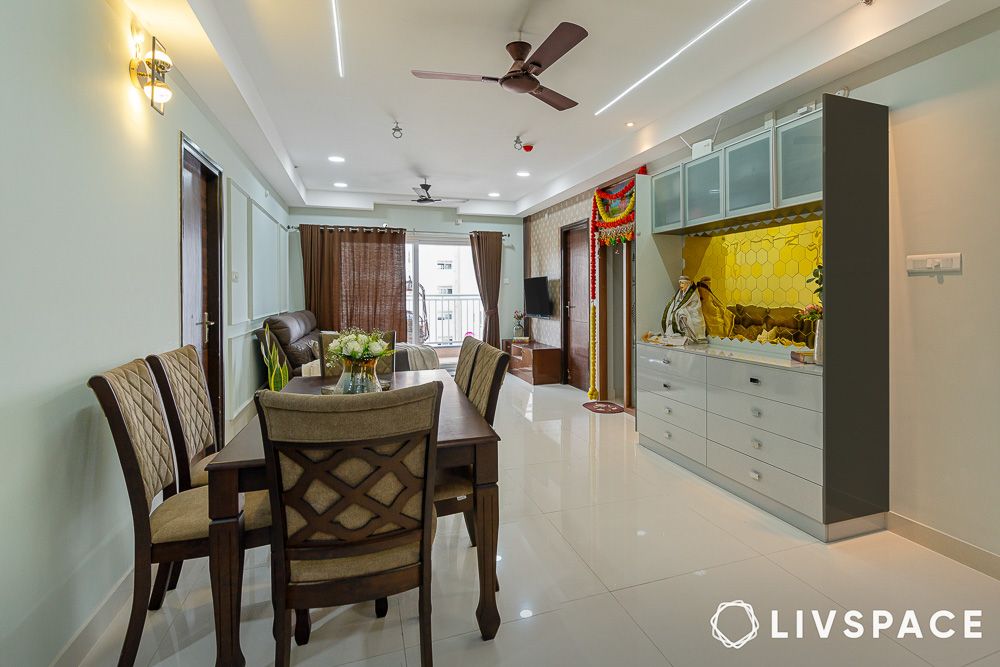 While the main living room and dining area are in an open layout, our designer created a wooden partition to segregate the smaller living/drawing room from this space. Since the drawing room is quite compact, the partition we provided Saikarthik is light and sleek. Additionally, the open slats ensure an airy and lightweight look.
The main focus of the dining area is the crockery unit. The glossy laminate and frosted glass shutters all contribute to the spacious look of the dining space. Moreover, the wall behind the unit features a honeycomb pattern for added texture.
Cost of Items
Crockery Unit – ₹1,13,286.78
#4: A Spacious and Contemporary Kitchen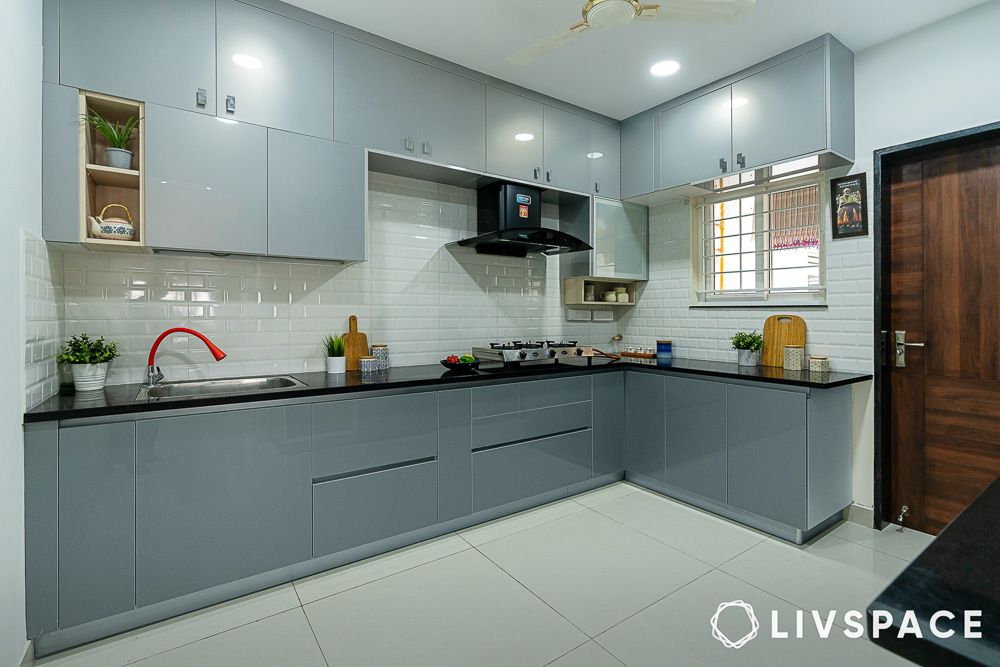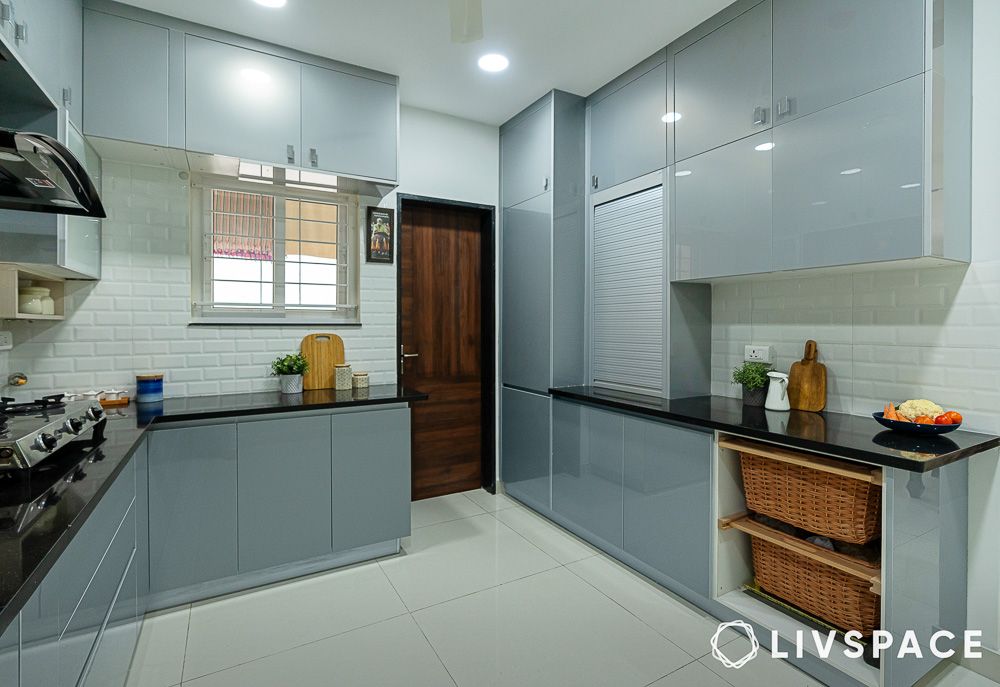 As compared to the rest of the home, Saikarthik's kitchen is more minimalist. Apart from the basic L-shaped layout, we also added an extra counter on the opposite side. As a result, there is more than enough space for prepping and cooking. Additionally, apart from the upper and lower cabinets, we have also included a Tambor unit, a tall unit, wicker baskets and spice pull-outs to ensure the homeowner never runs out of storage space.
Cost of Items
#5: A Plush, Hotel-Like Master Bedroom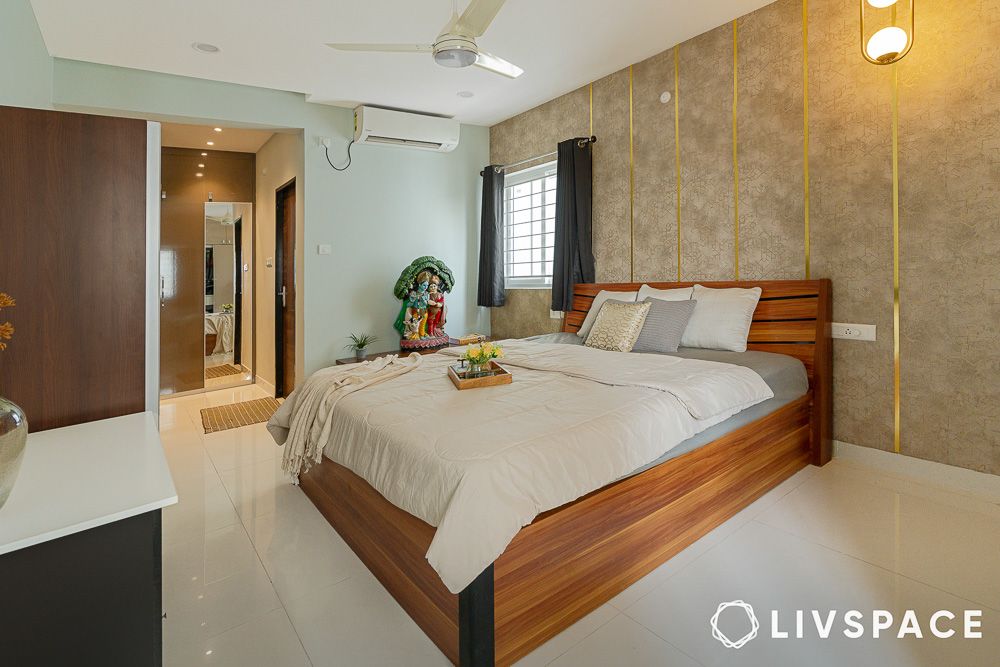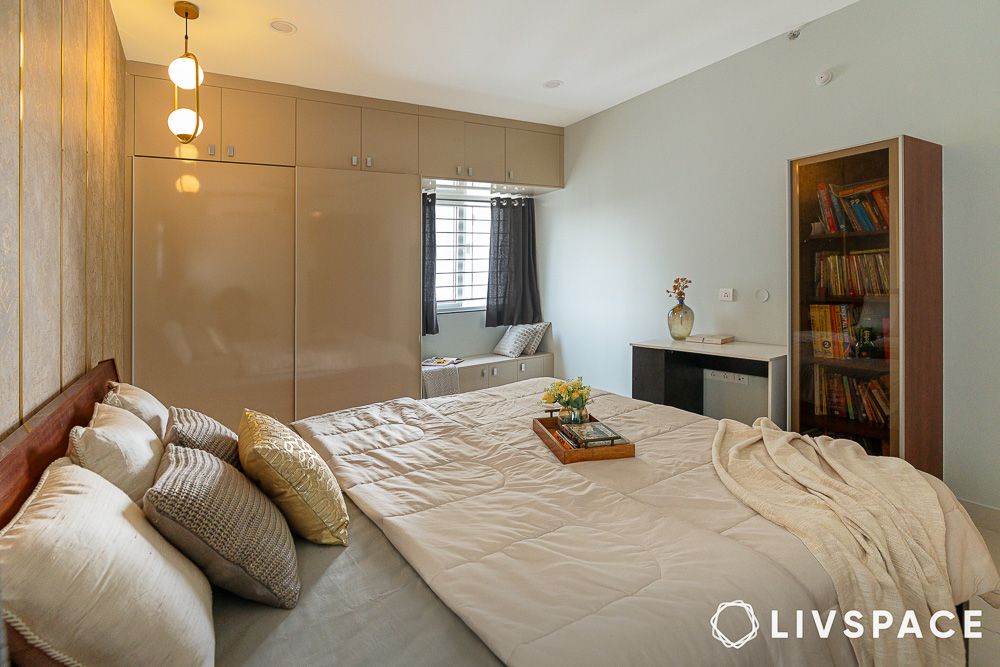 Saikarthik's master bedroom is as plush and rich as the ones you would find in luxury hotels. While the colour palette is neutral, the warm tones create a cosy effect. As with the rest of the home, the master bedroom also follows the textured theme. The wall behind the bed features an understated beige wallpaper with gold trims to up the glam appeal.
Another notable aspect of this bedroom is the sliding wardrobe. While the addition of the lofts ensures maximum storage, the glossy finish makes the bedroom look more spacious. Our favourite spot in this room is the bay window area. We added a storage unit under the window to create bay seating, making it perfect for some 'Me' time!
Cost of Items
Sliding Wardrobe – ₹5,12,322.76
King-Sized Hydraulic Bed – ₹43,890
#6: The Only Room With a Vibrant Colour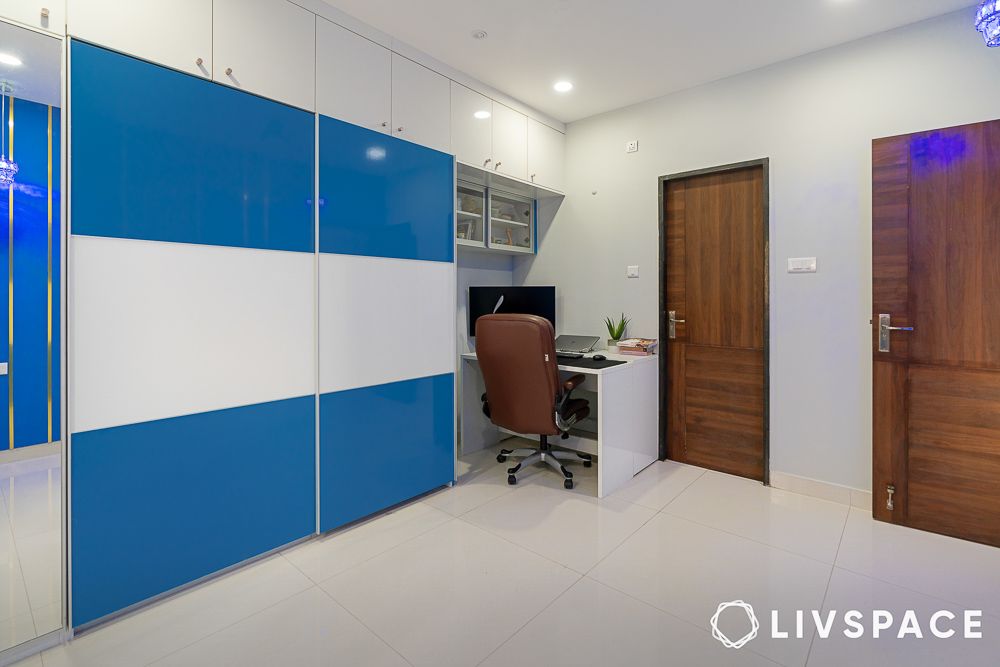 While Saikarthik's entire home is understated and neutral, this room is all things bright and vibrant! Firstly, our designer created a gorgeous accent wall in a bold shade of blue. However, to maintain design continuity with the master bedroom, we added gold trims on this wall. Isn't this wall the perfect background to click photos?
To match the wall design, we opted for a glossy, blue-and-white sliding wardrobe. The sheer number of lofts ensure maximum storage for Saikarthik. Additionally, we also inserted a minimal study unit within a nook in the wardrobe.
Cost of Items
Sliding Wardrobe – ₹3,70,249.68
Tour this home in Hyderabad:
How Can Livspace Help You?
Our expert team can design your dream home in Hyderabad with a 10-year warranty on modular solutions
We have delivered over 75,000+ happy homes
We promise high-quality and durable materials
If you want beautiful interiors for your home, then look no further. Book an online consultation with Livspace today. Additionally, you can also visit the Livspace Store in Hyderabad.