As temperatures rise, glaciers melt, and deforestation runs rampant worldwide, the need of the hour is to lead a more ecologically sound lifestyle. And when it comes to interiors, eco-friendly is quite easy to achieve! Sustainable interior design is the newest trend that designers and homeowners are eyeing. The core of this style is to create aesthetically pleasing interiors that do not have any negative impact on the environment, or at least minimise the impact. Before we show you how to get an eco-friendly interior design, let's first understand this popular trend.
Why Is Sustainable Interior Design Important?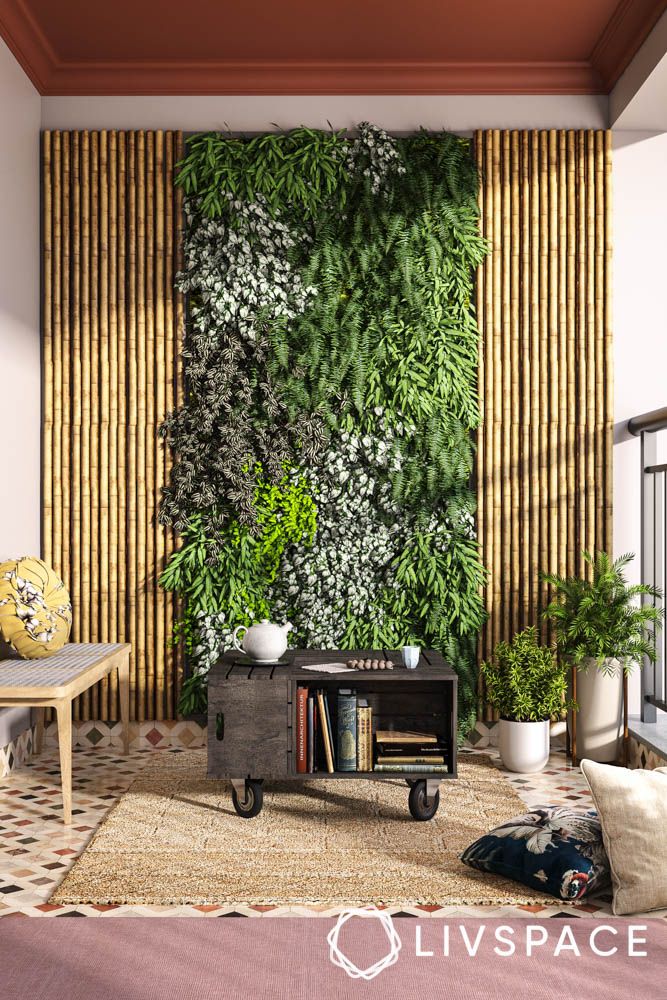 Sustainable interior design is about adopting a style for your home that involves meeting your current needs while leaving behind ample resources for future generations. Some reasons why an eco-friendly interior is important include:
It reduces the negative impacts on the environment
An eco-friendly interior design is good for your health
This design style can help you reduce your electricity and water bills
Materials used in this design style can be affordable
Sustainable interior design reduces wastes as it promotes recycling
Also Read: 3 Easy Ways to Make Your Kitchen Eco-Friendly
The 4 Pillars and 5 Rs of Sustainability
To understand the essence of eco-friendly and sustainable interior design, you first need to know what are the pillars of this interior design style.
4 Pillars of Sustainability
Human Sustainability
This refers to abilities
and skills that humans
need to develop to
protect and promote
the overall well-being
of society.
Social Sustainability
This involves improving
social quality so as to
preserve resources for
future generations.
Economic Sustainability
The ability to indefinitely
support a specific level
of economic production
and improve our
standard of living.
Environmental Sustainability
Initiatives that improve the
well-being of human
beings by protecting
natural resources.
Apart from the 4 pillars of sustainable interior design, you should also know about the 5 Rs that can help you get an eco-friendly interior.
Refuse
Refuse to buy
wasteful items
Reduce
Reduce the use of
non-recyclable products
and items that are
harmful to the environment
Reuse
Instead of buying, reuse
your old items
Repurpose
Repurpose and upcylce
your existing items
Recycle
Opt for recycling as a
waste disposal method
What Is the Difference Between Green Design and Sustainable Interior Design?
The terms green interior design and sustainable interior design are often used interchangeably. While green interior is a subset of sustainability, they're not the same. The main difference between the two is that green interior design focuses on the present, while sustainable interior design is future-oriented.
For instance, green interior design talks about immediate measures like recycling and using alternative sources of energy. On the other hand, sustainable interior designers will not just consider particular activities, but the entire design process as a whole. They'll optimise each step of the design process to reduce harmful effects on the environment.
15 Easy Tips to Get a Sustainable Interior Design
From choosing sustainable materials for your interiors to refurbishing old items, there are multiple ways you can get an eco-style interior design. Here are 15 easy tips to help you get started:
#1: Opt for Energy-Efficiency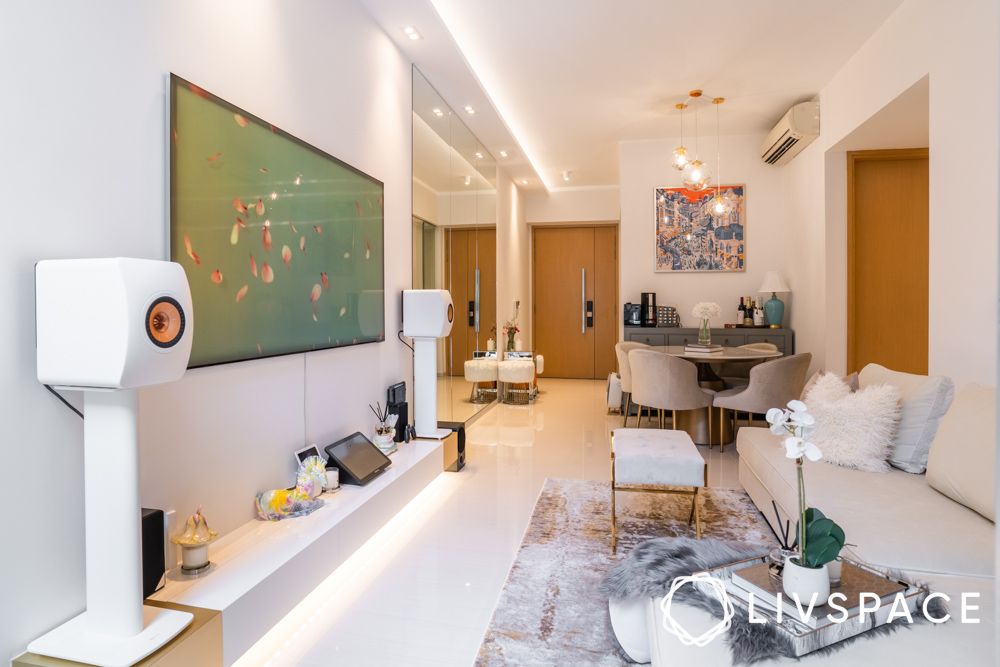 When it comes to eco-friendly design ideas, making energy-efficient choices is important. There are different ways you can do this. Firstly, try to reduce energy consumption in your home. One of the ways you can do this is to opt for large windows that let in the sunlight instead of multiple artificial lights. Secondly, try to use alternative sources of energy, like solar power.
#2: Choose Rattan Furniture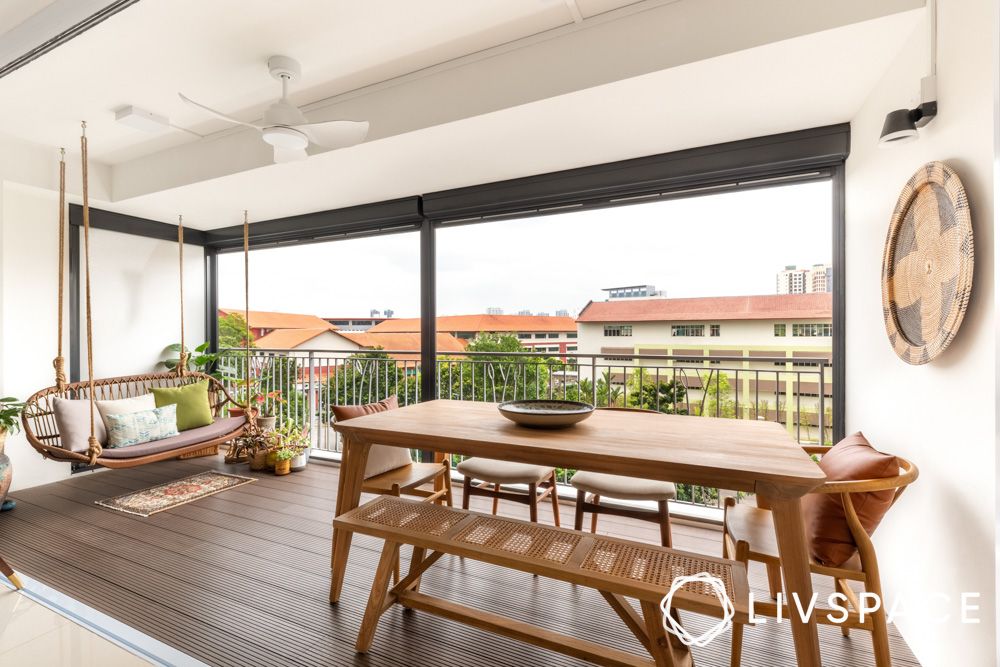 Rattan is a naturally growing vine species that is often used for creating furniture and decor. This material is very popular among homeowners due to the rustic, Bohemian look it can give your home. Moreover, it is also one of the most sustainable interior design materials available. There are different ways you can use rattan in your home, in furniture, blinds and decor.
#3: Go With Modular Units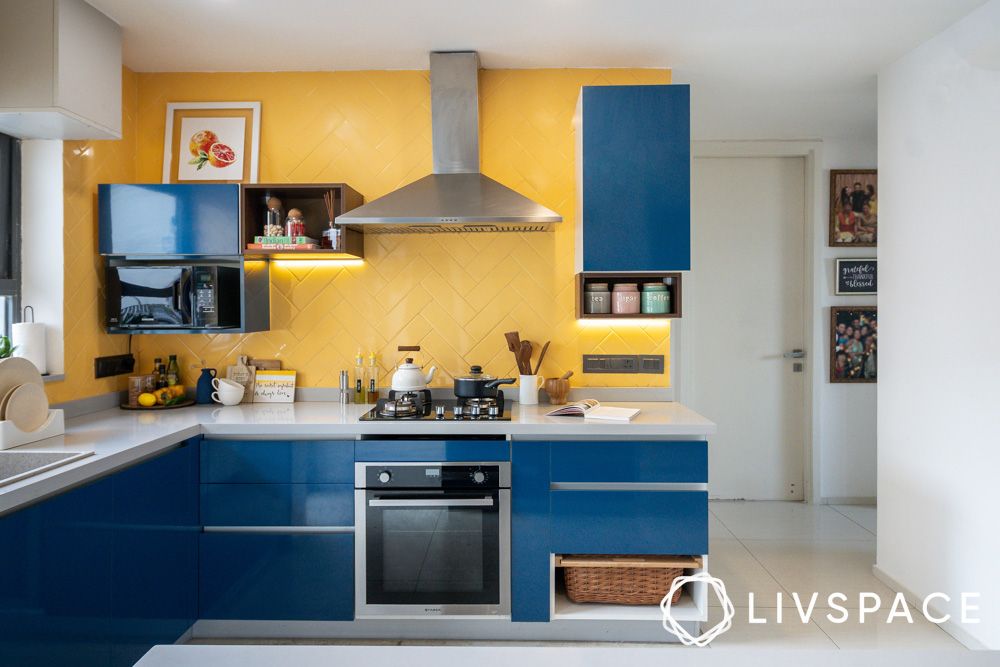 Almost everyone is aware of the convenience that modular units can offer. But did you know that it's eco-friendly as well? Modular furniture refers to separate pieces that are used together to create a specific design. Modularity is sustainable, as you can rearrange and readapt the same pieces of furniture to create a new design. As such, you don't need to buy something new, which helps in reducing waste.
Wondering how much a modular kitchen will cost you? Use our kitchen cost calculator to find out.
#4: Choose Durable Materials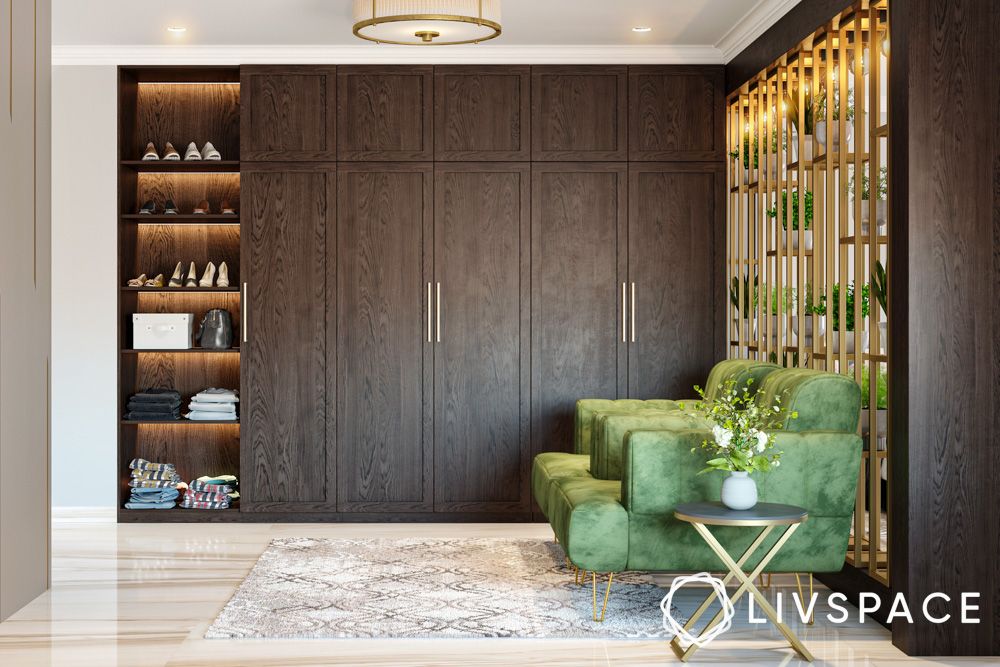 As we mentioned earlier, one of the main Rs of sustainable interior design is to reduce waste. And one of the ways you can do this is to opt for durable materials that will last you a long time. For instance, veneer is a much more sustainable as well as durable option than solid wood, despite giving you the same effect as wood.
#5: Source From Local Businesses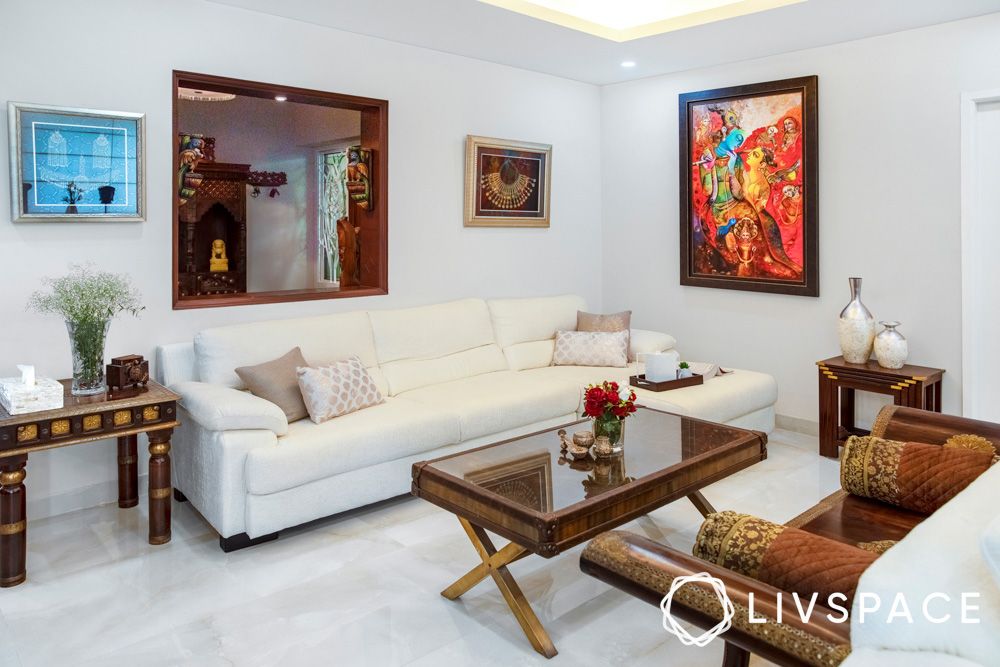 When it comes to sustainable interiors, the best options are the ones closest to home! Sourcing items from local businesses and artisans helps in reducing the need for long-distance transportation. In addition, most local businesses create handmade products that are eco-friendly. Moreover, local decor items can give your home a unique look.
#6: Refurbish Old Furniture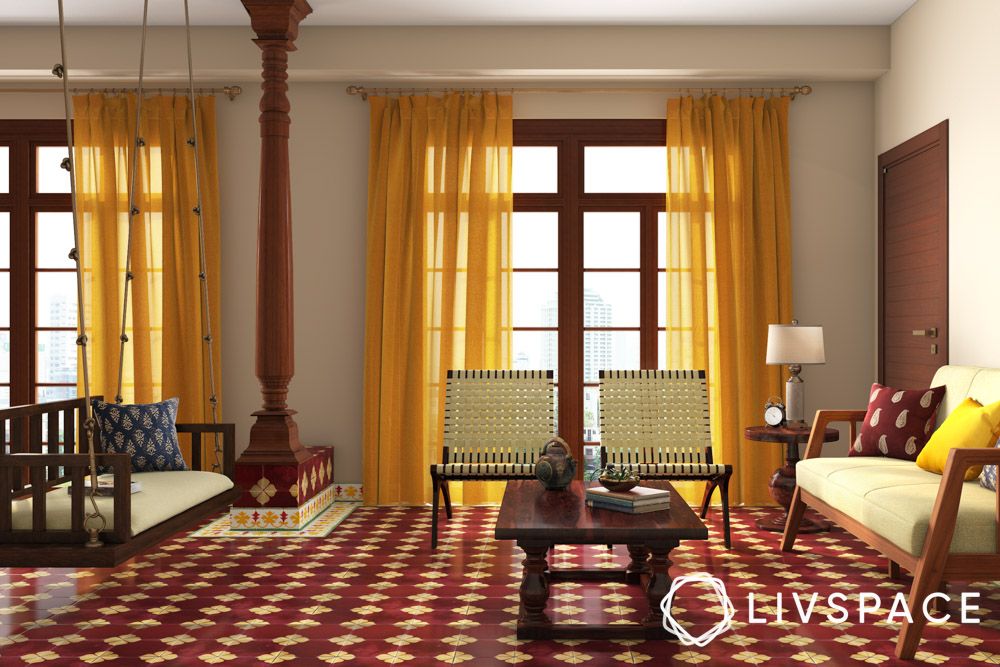 One of the main tenets of a nature-friendly interior design is to refurbish and reuse old items. This helps in reducing waste and protecting natural resources. An easy way to do this is to revamp old furniture and furnishings. While you can choose to retain the old charm of these items, you can also give them a whole new look. An experienced sustainable interior designer can help you refurbish your furniture.
#7: Opt for a Minimal Design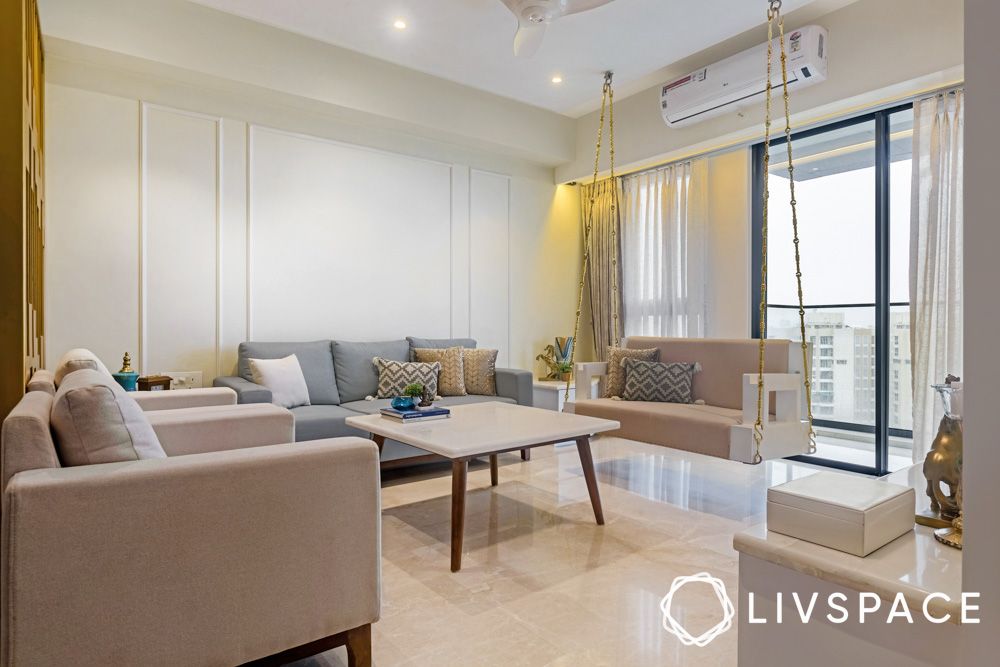 For an eco-friendly interior, you need to let go of the clutter! A minimal design style is not only trending, but also a great way to avoid unnecessary wastage. In addition, this style is perfect for small flats and looks so elegant!
#8: Say Yes to Plants!
The best eco-friendly sustainable interior design is to use plants as decor. They serve as a great alternative to most decor items. Moreover, a dash of greenery can make everything better and plants can fit in with every interior design style. In case your home does not get much natural light, opt for succulents.
#9: Choose Terracotta Flooring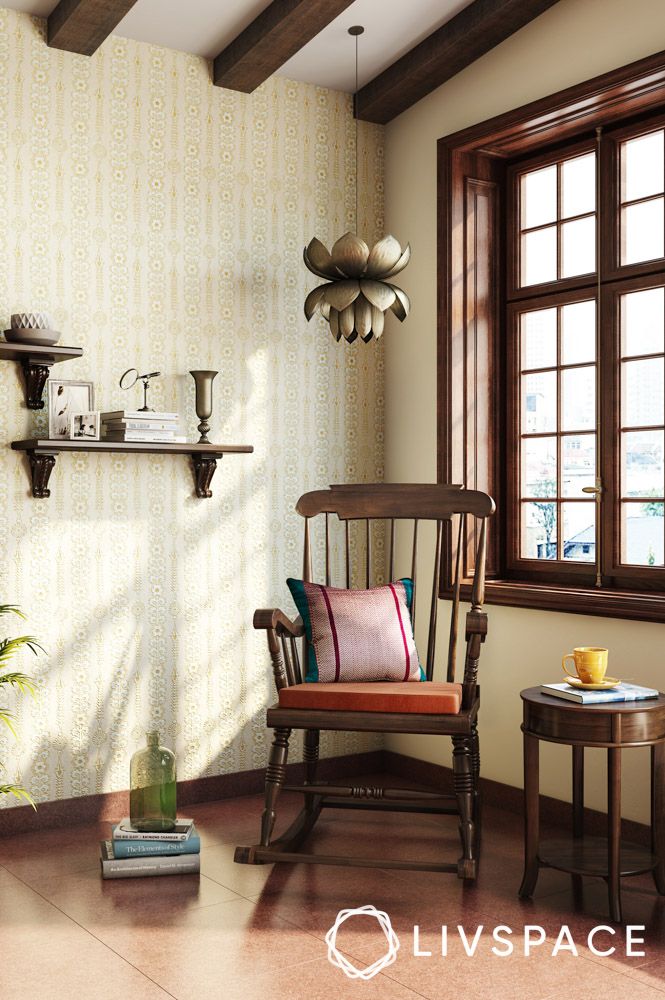 Remember those warm red tiles at your grandma's home? Also known as terracotta, these sustainable materials for interiors are making a comeback! Made of clay that's baked in a kiln, terracotta is not only eco-friendly but also highly durable, easy-to-maintain and moisture-resistant.
Also Read: Try These Stunning Terracotta Tiles and Give Your Home a Modern Retro Look
#10: Go With a Reclaimed Wood False Ceiling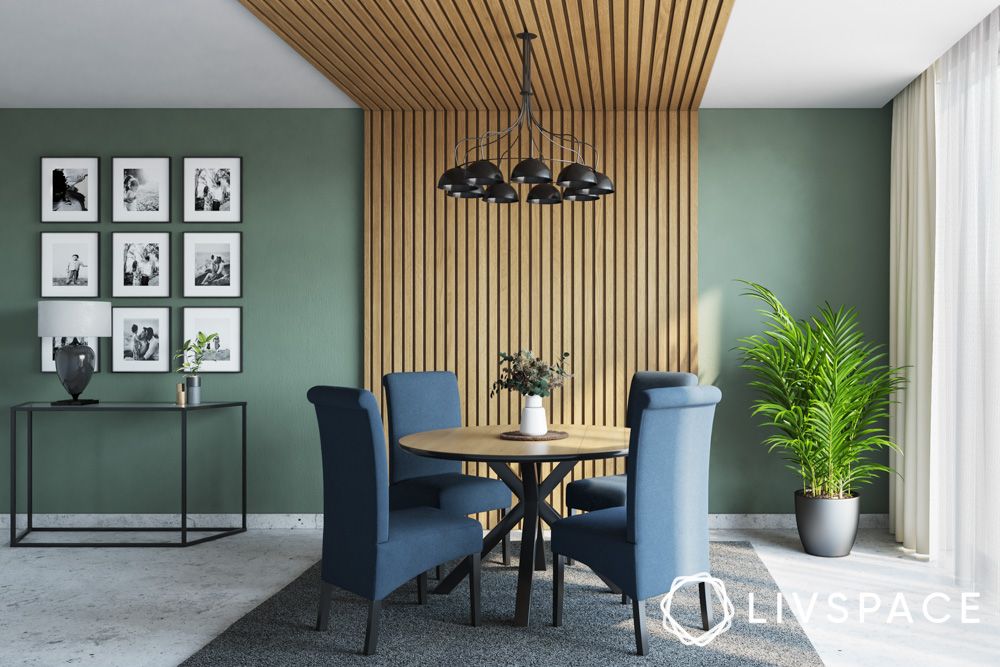 Nobody can deny that wood looks beautiful in your home interiors. However, an increased demand can harm the environment due to more logging. If you want a sustainable interior design but love the look of wood, choose items made of reclaimed wood instead of something that is brand new. For instance, you can reuse existing wood to create a lovely wooden false ceiling.
#11: Opt for Low VOC Paints
Low VOC or paints with lesser amount of volatile organic compounds are not only good for the environment but also the best option to avoid any adverse effect on your health.
#12: Go Old-School With Your Drying
Instead of a dryer, opt for a clothesline to dry your clothes. This technique is both energy-efficient and also reduces wear and tear of clothing.
#13: Choose a Greywater System
A greywater system helps in reusing household wastewater for irrigation purposes, thereby saving water.
#14: Use a Thermostat
A thermostat is a great investment as it can help you control heating and cooling within your home. This in turn helps the environment and also saves on your energy bills.
#15: Opt for Natural Cleaning Products
Natural cleaning products like lime and vinegar can go a long way in protecting the environment. Moreover, these will also help you reduce your monthly grocery bills.
How Can Livspace Help You?
We hope you found these eco-friendly interior design ideas useful ! If you want beautiful and sustainable interiors for your home, then look no further. Book an online consultation with Livspace today. To know how our customers feel about working with us, check out these Livspace reviews for more details!
Have any thoughts or suggestions you'd like to share with us? We're all ears! Drop us a line at editor@livspace.com.
Please note that the designs showcased within the story are subject to availability and will vary based on the year the homes were designed in. Consult our designers for more details on the latest designs.