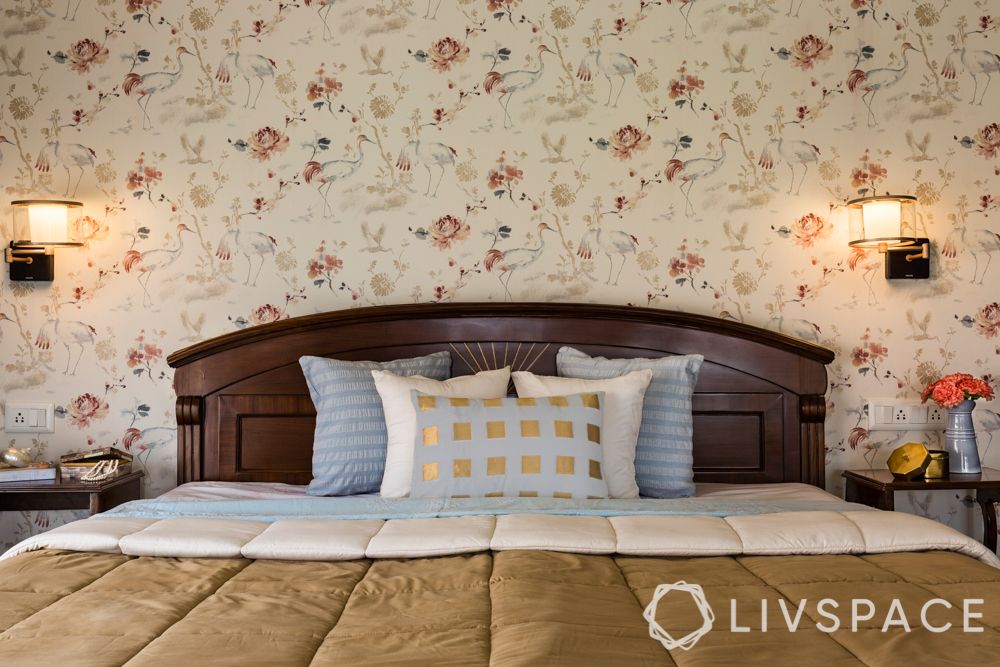 There are so many homes where you will spot modern and contemporary furniture that keeps up with the times. But, how many times do you actually come across a home that showcases charming old furniture with a new look? So many of us have inherited pieces of furniture that we want to keep with us forever. But everything wears off with time and if you want to make use of dated pieces in a new home, then you have to give them a bit of a facelift. The following ideas on refurbished furniture for this Mumbai home will give you just the right motivation to use those pieces that are just lying in your attic.
Idea #1: Give a twist to the upholstery if you want to retain your old sofas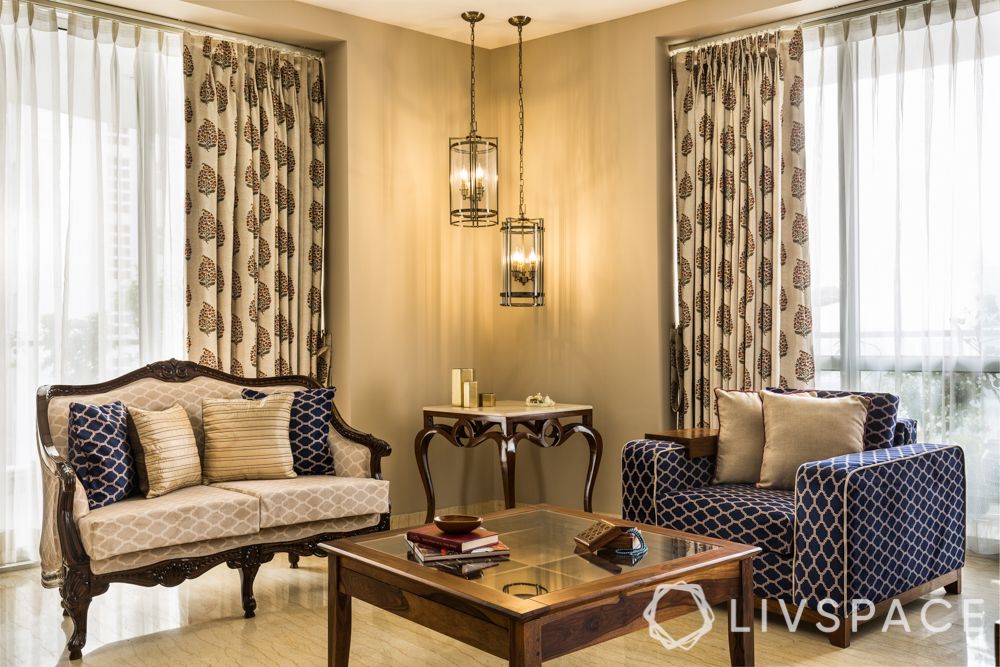 Doesn't this living room transport you to a bygone era? Well, the designer really had to put her skills to work to achieve this look. The homeowners wanted to retain their sofas from their old home. After an initial check for the quality of wood, our designer went ahead with the idea. But, of course it required some work. This refurbished furniture was given brand new upholstery. We absolutely love the moroccan pattern with matching cushions. You can hardly make out that these are old sofas, right? The pendant light in the corner further accentuates the look of this space.

Idea #2: Old wooden furniture looks even better with a fresh coat of polish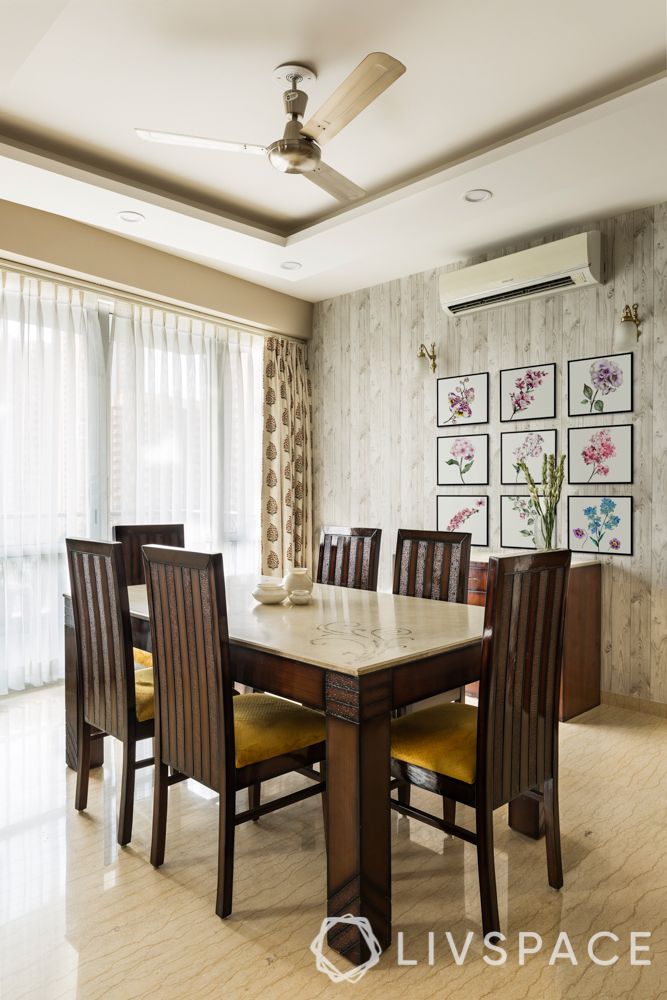 Another lovely piece of furniture that the family wanted to retain was this dining room. If you have a completely wooden dining table set then you might want to try this out. The designer simply re-polished this set to give it that sheen and make it more durable. Can you spot another interesting element here? Well, if you missed it, check out the upholstery on the chairs. The old ones were reupholstered with this happy yellow fabric. The look is further enhanced by the subtle wallpaper and wall art. Now that's what we call a smart decision!
Idea #3: You can finally use your grandpa's arm chairs by refurbishing them just like these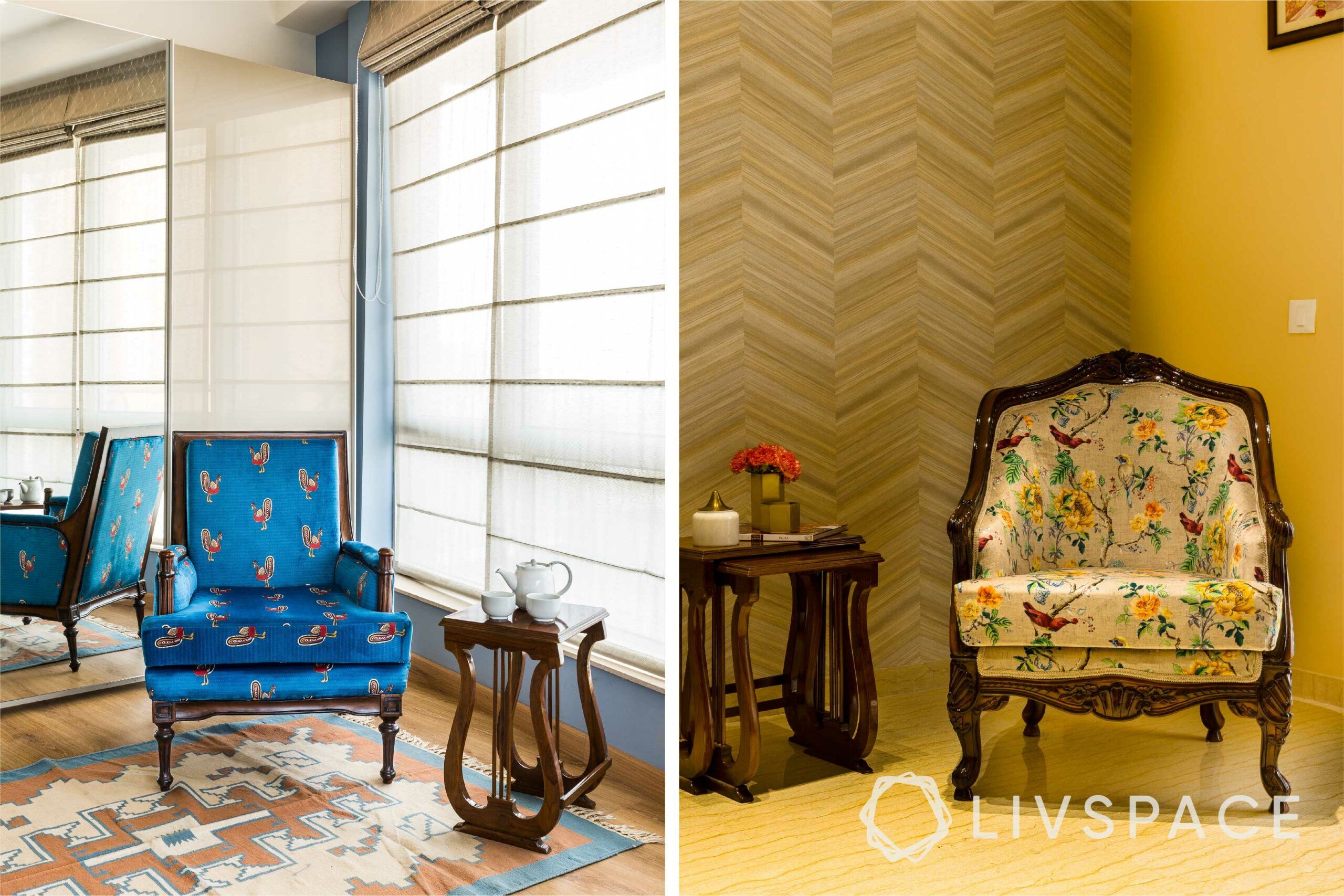 We all have at least one arm chair, rocking chair or accent chair at home that now lies in one corner. This home is an amazing lesson on how you can reuse these chairs to make it a part of your home design. So first, pick a sturdy chair, making sure the legs and frame are in perfect shape. Then choose a suitable fabric for upholstery. Here, the family picked a modern rendition of the classic peacock print for one and a subtle floral print for the other. And voila! Your old refurbished furniture now wears a brand new look!
Are you ready to use some refurbished furniture at home now? We hope this inspired you. If you're looking for ideas to maximise space, then check this out: 6 Lessons We Learned on Saving Space from This Mumbai Home.
If you'd like to take a look at the entire home, check this out: This Family Home Comes Alive with Plush Interiors.
Send in your comments and suggestions.