A house in Gurgaon that is snug and spontaneously pretty.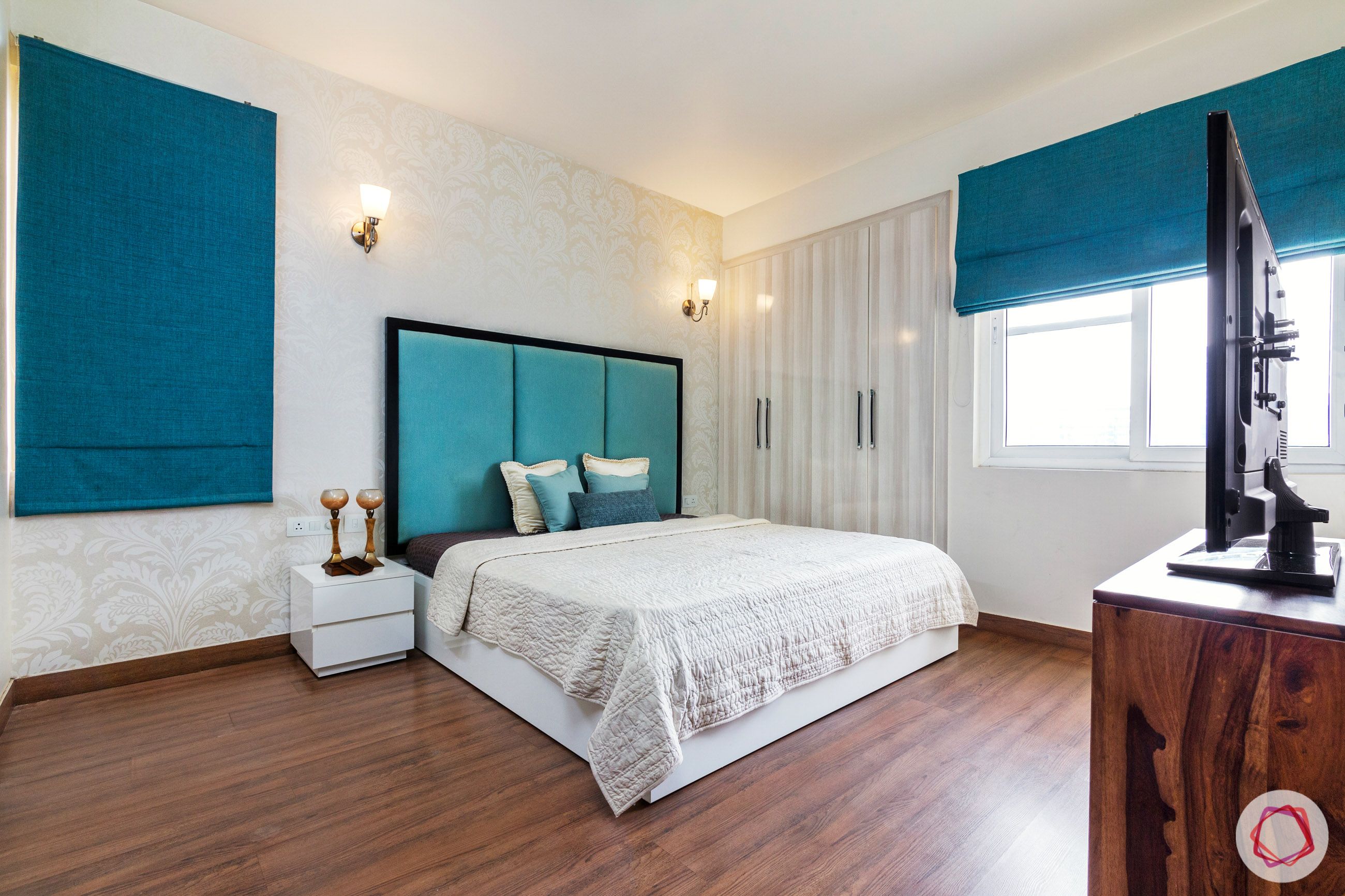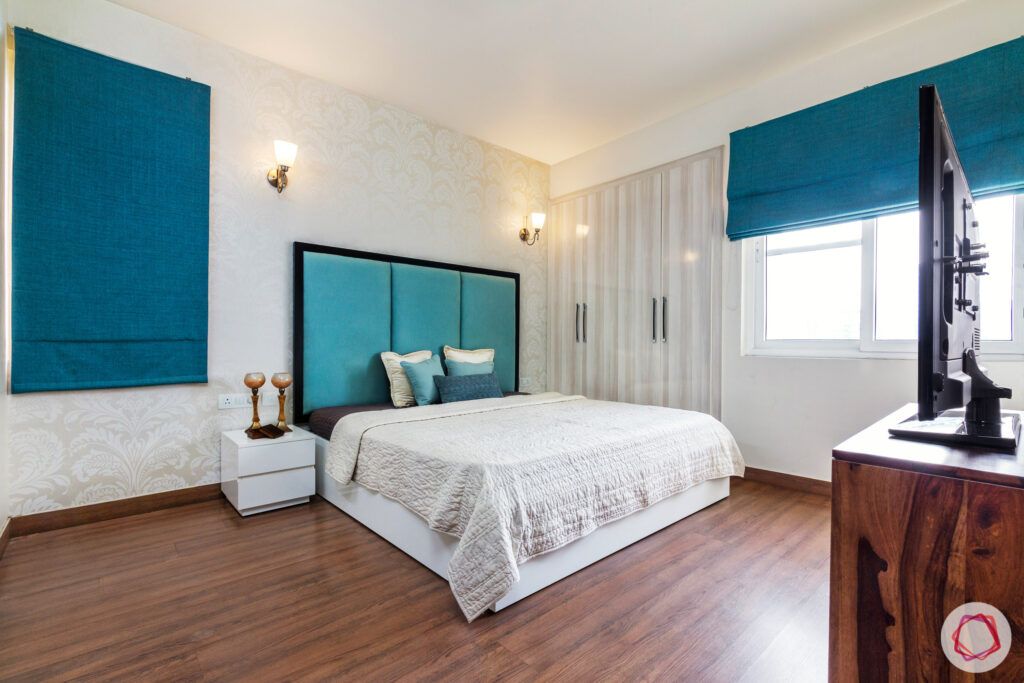 ---
Who livs here: Atul & Kanika Sachdeva with their baby
Location: Heritage One, Gurgaon
Size of home: 4BHK spanning 3,000 sq ft.
Design team: Interior Designer Saakshi Jaggi & Project Manager Vivek Singh
Livspace service: Full home design (excluding kitchen and 2 bedrooms)
Budget: ₹₹₹₹₹
---
Home means different things to different people. To Atul and Kanika, it meant a space they can call their own and come back to everyday. So when they picked Livspace to design their house in Gurgaon at Heritage One, they asked their designer Saakshi Jaggi to prioritise comfort over aesthetics. What was supposed to be a project to design the living area exclusively, eventually turned out to include two more bedrooms in this spacious home. This is mainly because the couple were impressed with Saakshi's designs and the execution teams efficiency.
Let us take you through this cosy home at Heritage One to show you the rest.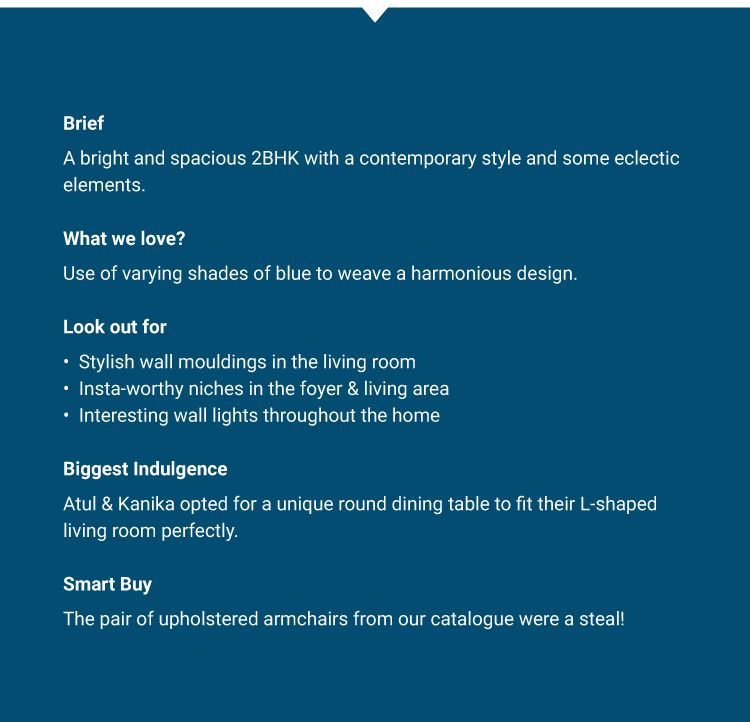 Design Ideas from House in Gurgaon: Insta-worthy Niches
What is a home without some photo-ops? So Saakshi has ensured that there are some nooks and niches in this home that are worthy of Atul and Kanika's Instagram feed! We particularly like the foyer with a tinted glass console and the nook in the living room with a carved solid wood table. The white moulding on sky blue walls only accentuates the beauty of these spaces.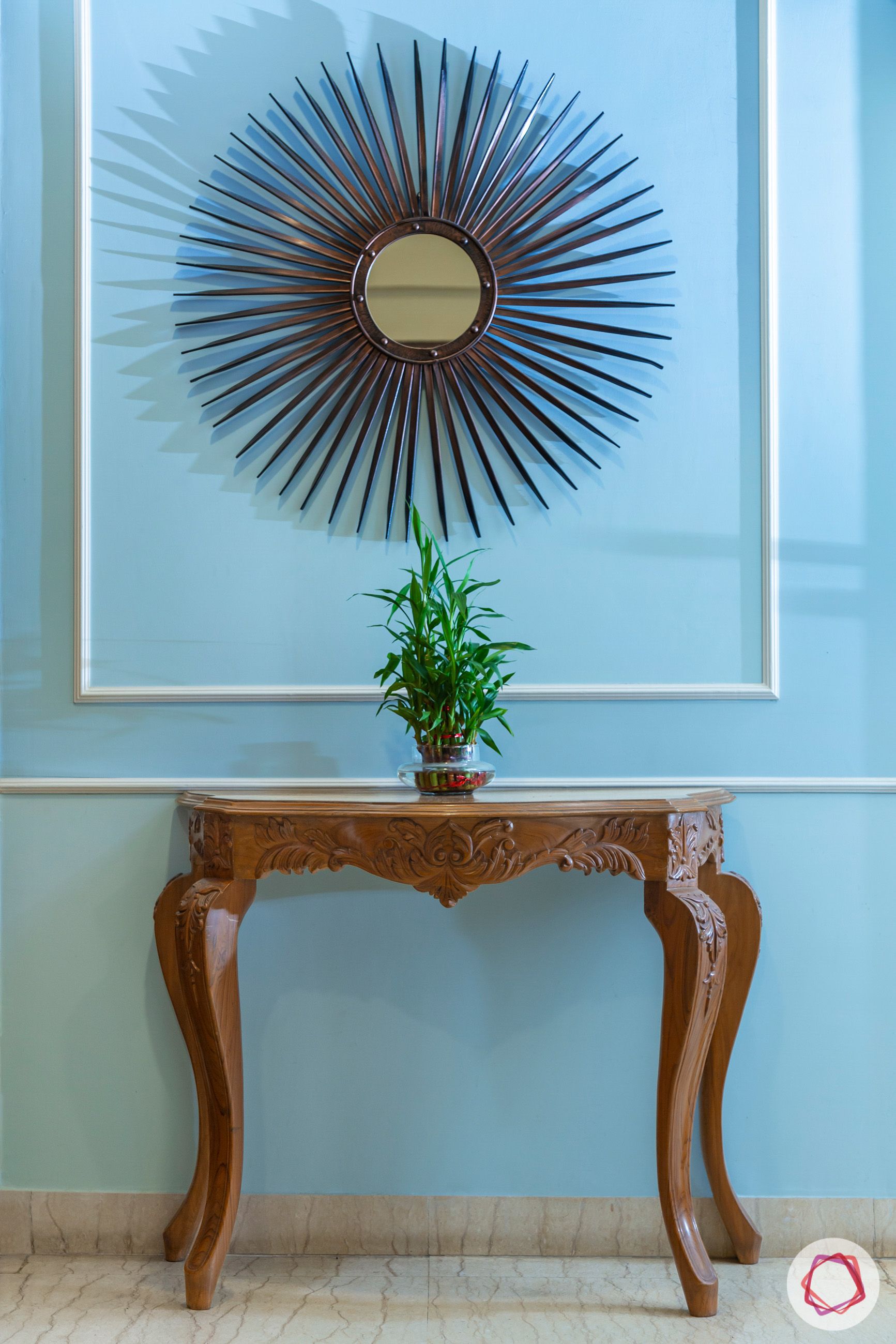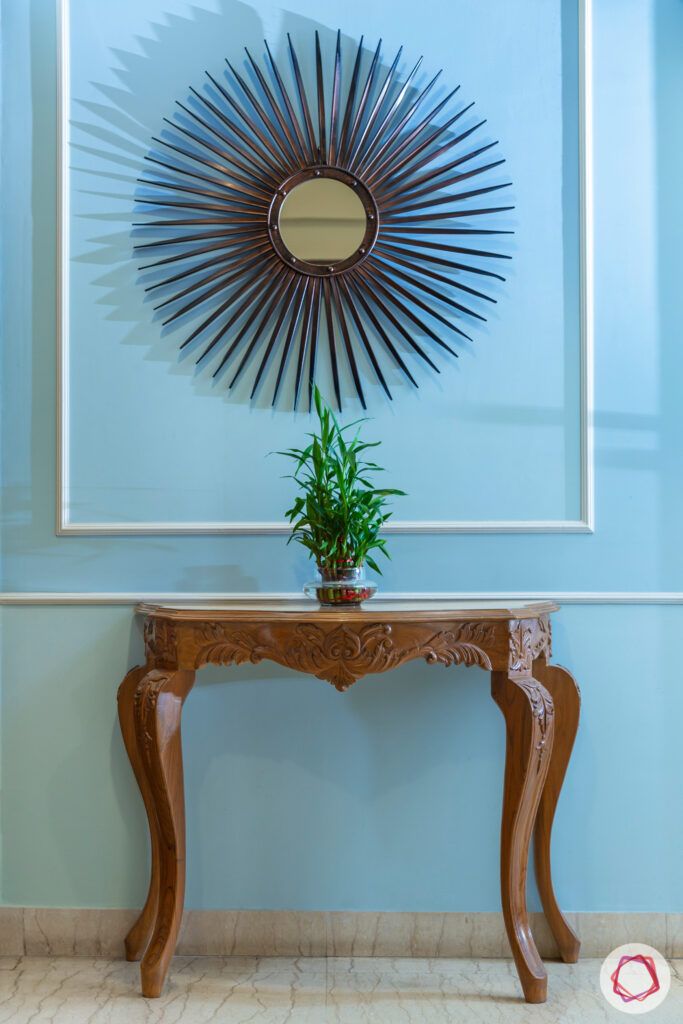 Design Ideas from House in Gurgaon: A Comfy Cove
Atul & Kanika's living room has a unique L-shape, and Saakshi wanted to utilise it in the best possible way. Also, Atul was keen on a comfortable and informal living area that would tend to their needs as a family. So Saakshi created a gaming area at the far end of the living room and set it up with a plush 3-seater recliner. The high-gloss TV unit for the playstation is from catalogue.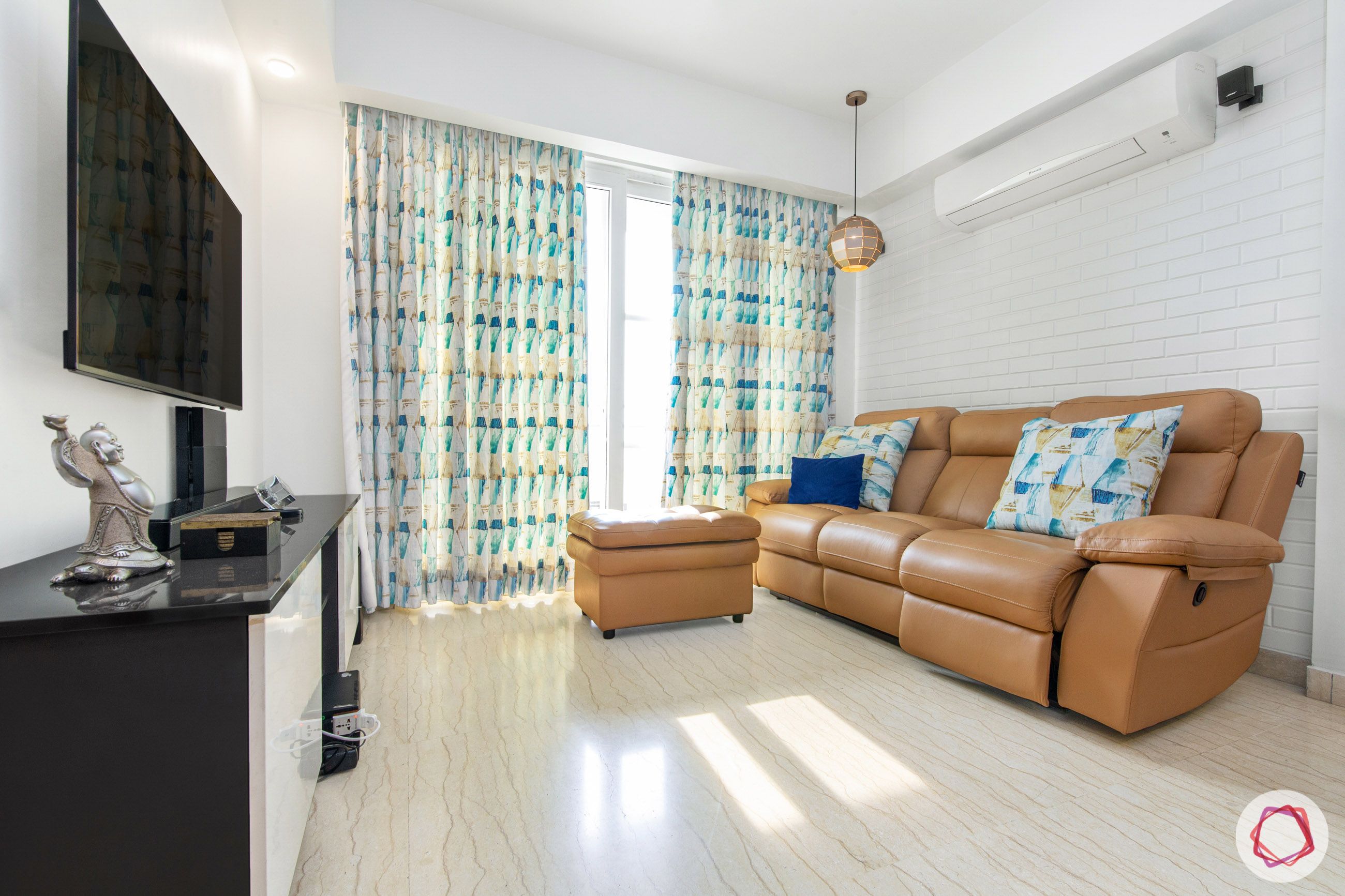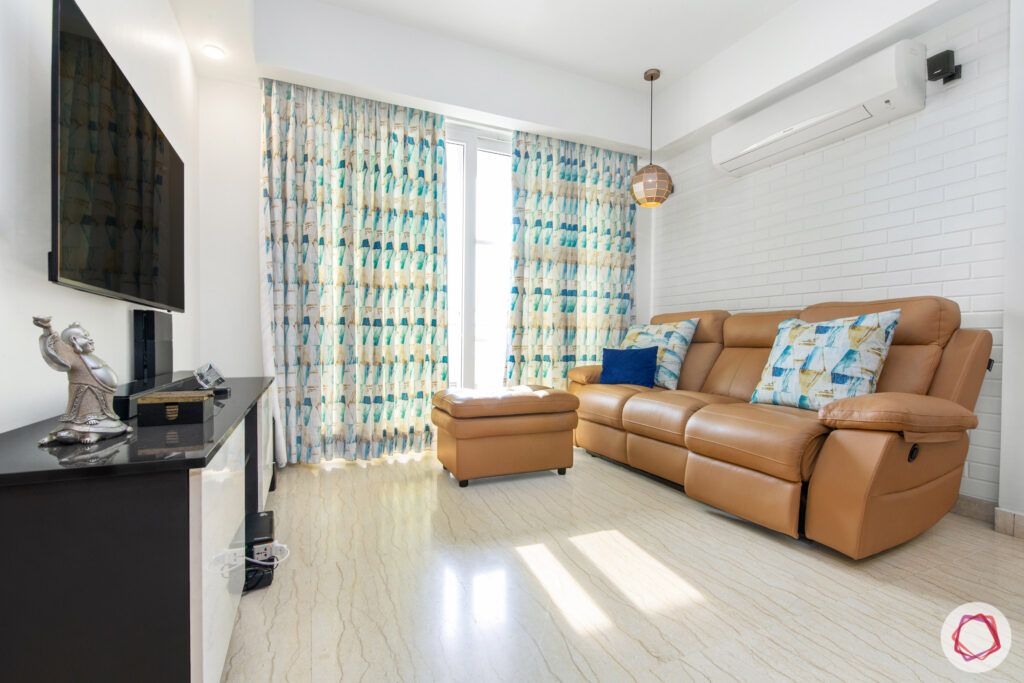 Moving on, we come to the seating area of the living room that is highlighted by the brilliant sky blue wall with white moulding. Saakshi has placed two accent armchairs from the Livspace catalogue against this wall and matched it with a reclining divan on the other end.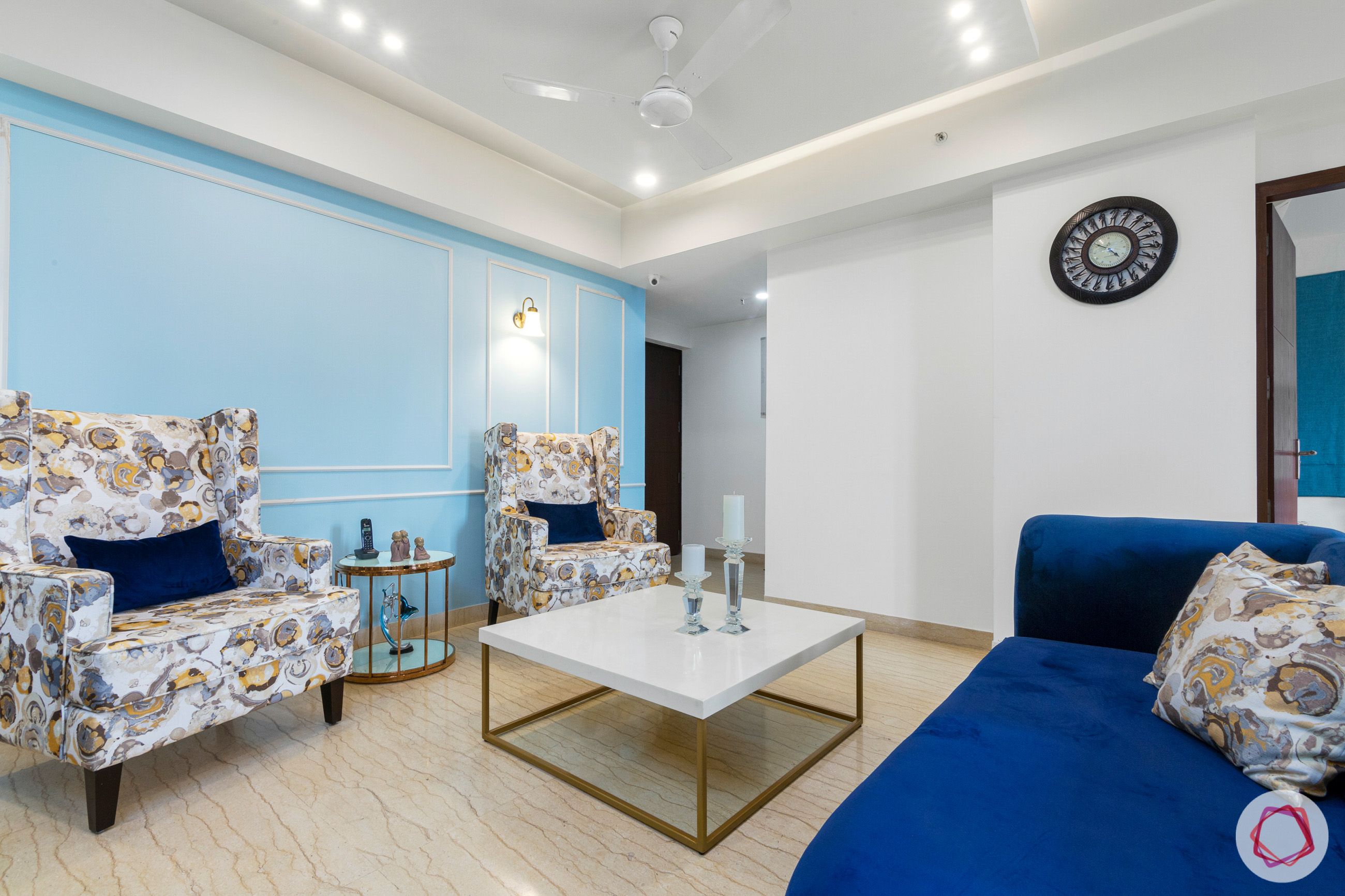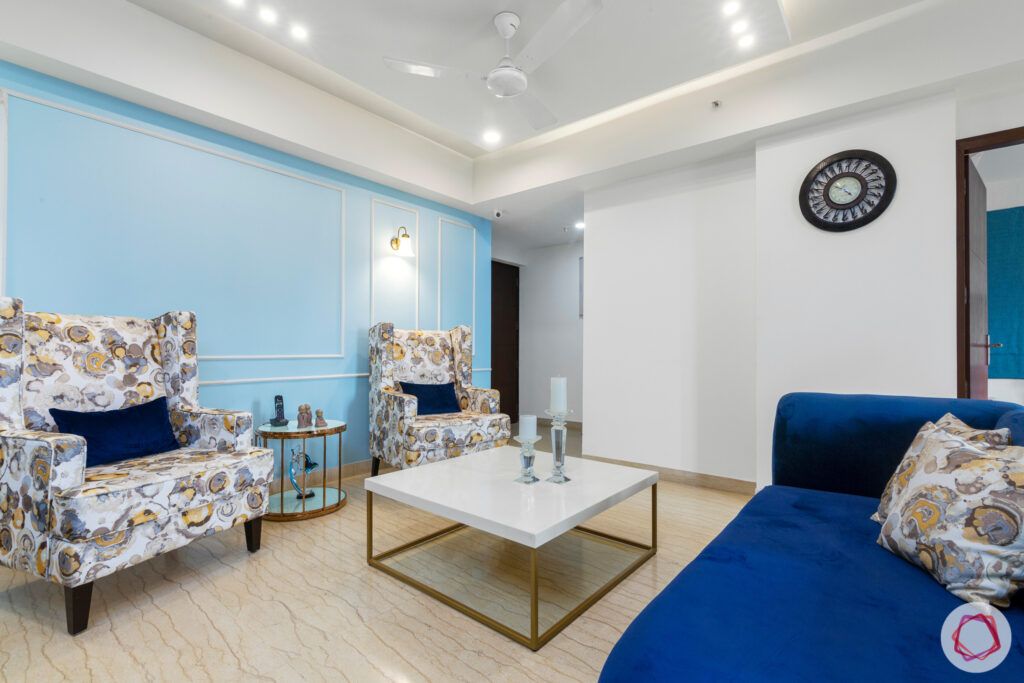 Design Ideas from House in Gurgaon: Fit to Order
The dining area here is a continuation of the living room; hence, Atul and Kanika opted for a round dining table that best fits the shape of this space.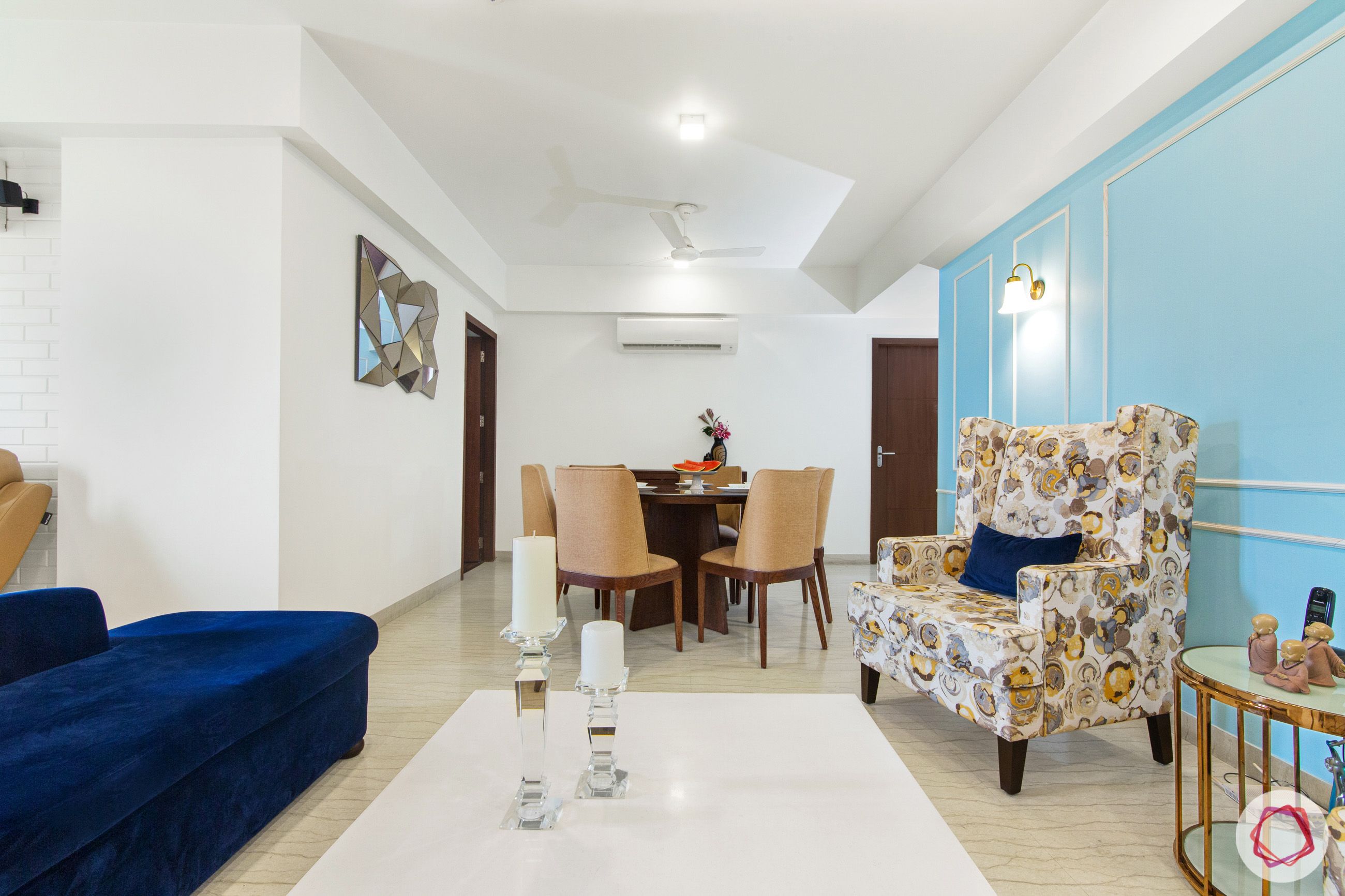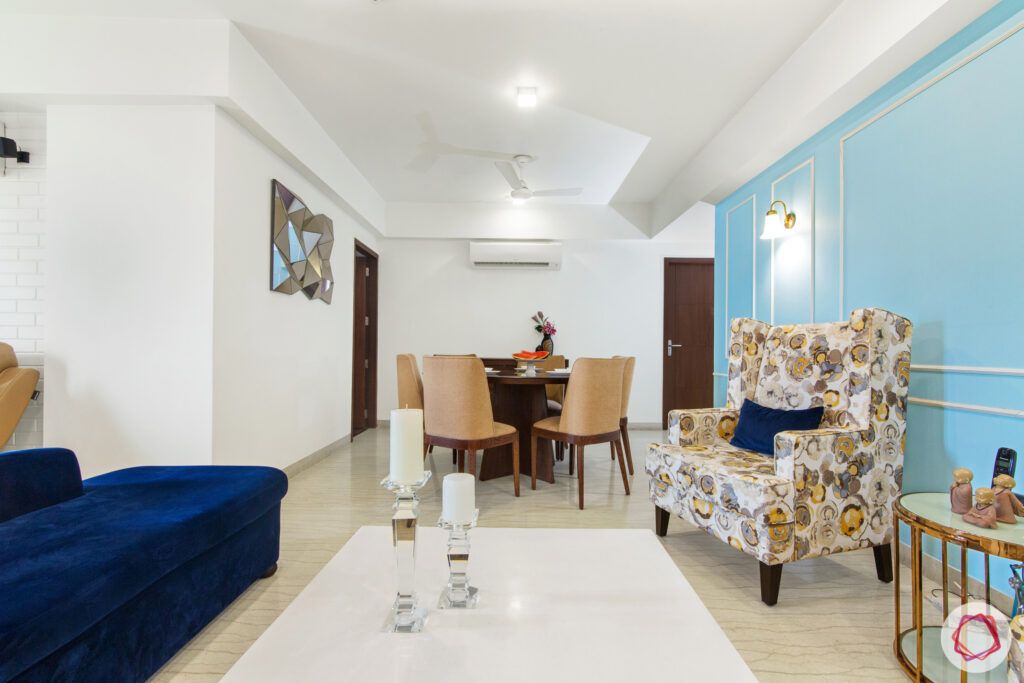 "I had intended to get my interiors done myself as I have experience in this field. But the first meeting with our designer Saakshi Jaggi changed my mind. I could see the value she could add by designing each and every corner of our home. After that, we met the execution team headed by Vivek and there was no looking back."
Atul Sachdeva, Livspace Homeowner
Design Ideas from House in Gurgaon: Boisterously Blue
The master bedroom is quite a riot of colours and it is highlighted by a bubbly blue wall behind the bed. The bed is a catalogue piece from Livspace including the groovy grey headboard. Saakshi has added two tinted brown mirror panels on their side of the bed to create visual interest. The walnut brown side table and study table on either sides of the bed are also picked from our catalogue. In general, the furniture matches the warm tone of the room set by wooden flooring and the blue wall adds a pop of colour to the palette.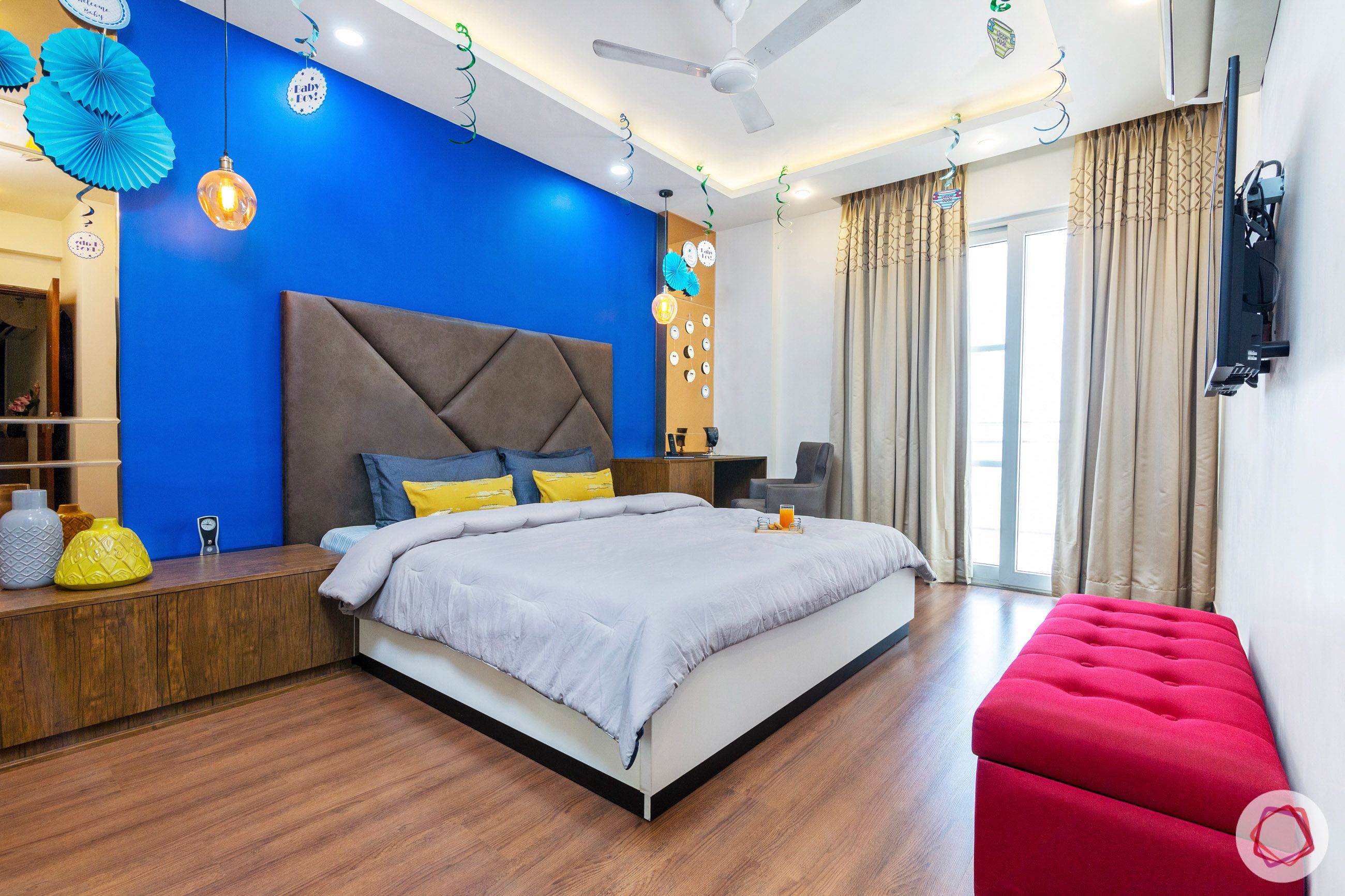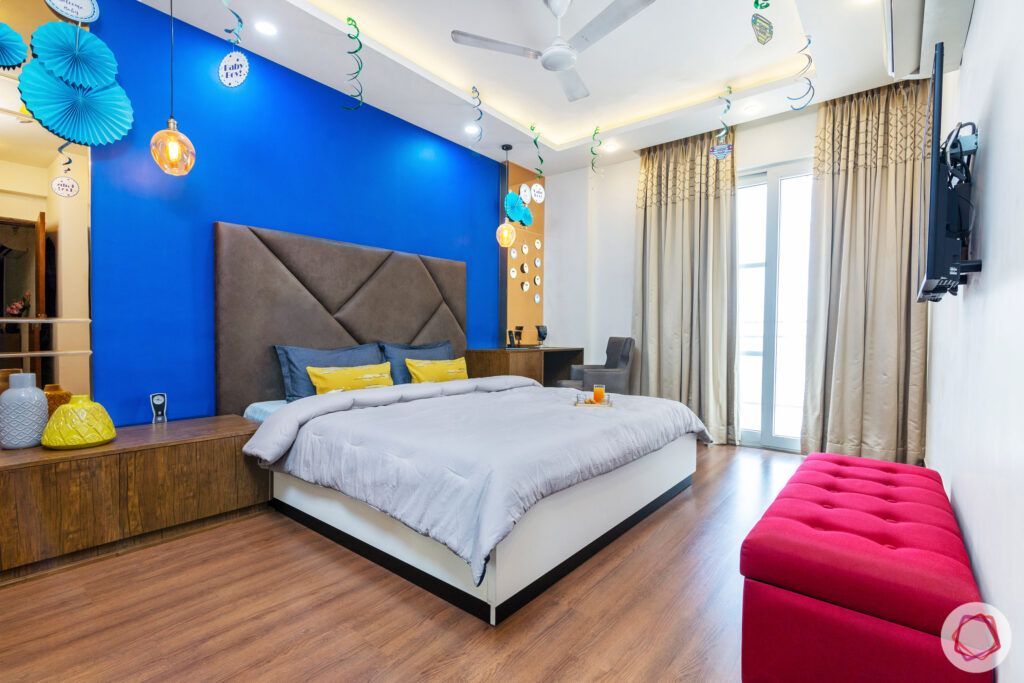 Design Ideas from House in Gurgaon: Blissfully Blue
In the guest bedroom, Saakshi refurbished an existing bed with a teal headboard from our catalogue. This matches the teal-coloured blinds and creates a blissfully blue vibe in this room. Moreover, we are quite taken in by the interesting wall-mounted lights above the bed for a vintage effect.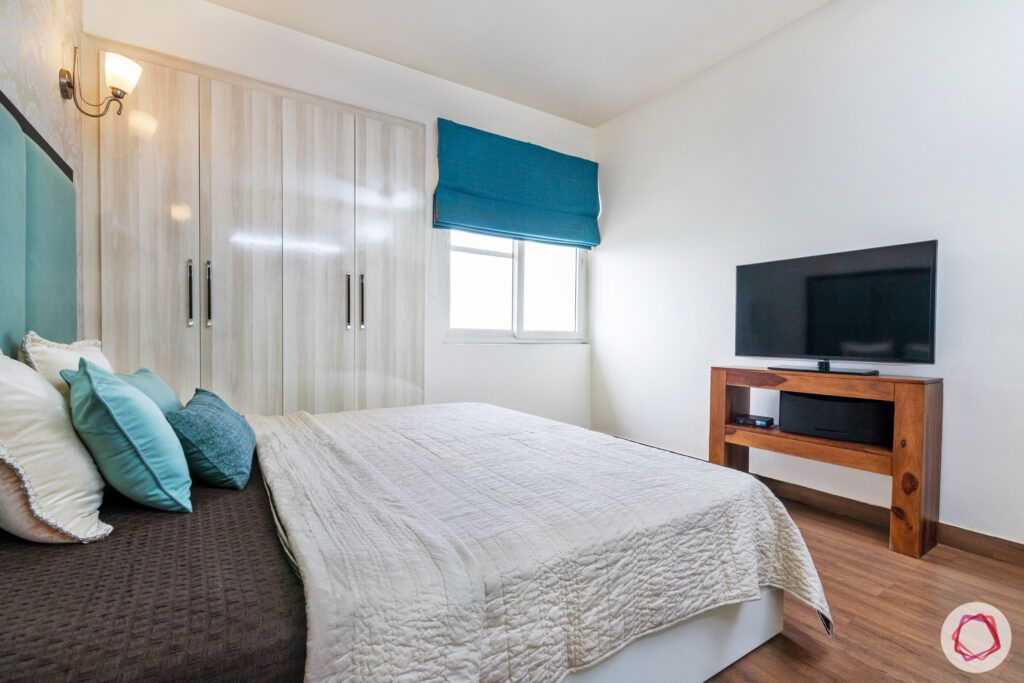 "Atul & Kanika were very open-minded clients and offered me a lot of creative liberties. They wanted a home that would be comfortable as opposed to being showy. They had initially wanted to us to design only their living area, but as they liked our work, the scope was extended to include two bedrooms as well!"
Saakshi Jaggi, Interior Designer, Livspace
If you enjoyed reading about this home, also explore Stylish Holiday Home in Gurgaon on a Budget.
Send in your comments and suggestions.