A DLF Gurgaon home that slays it with neutrals.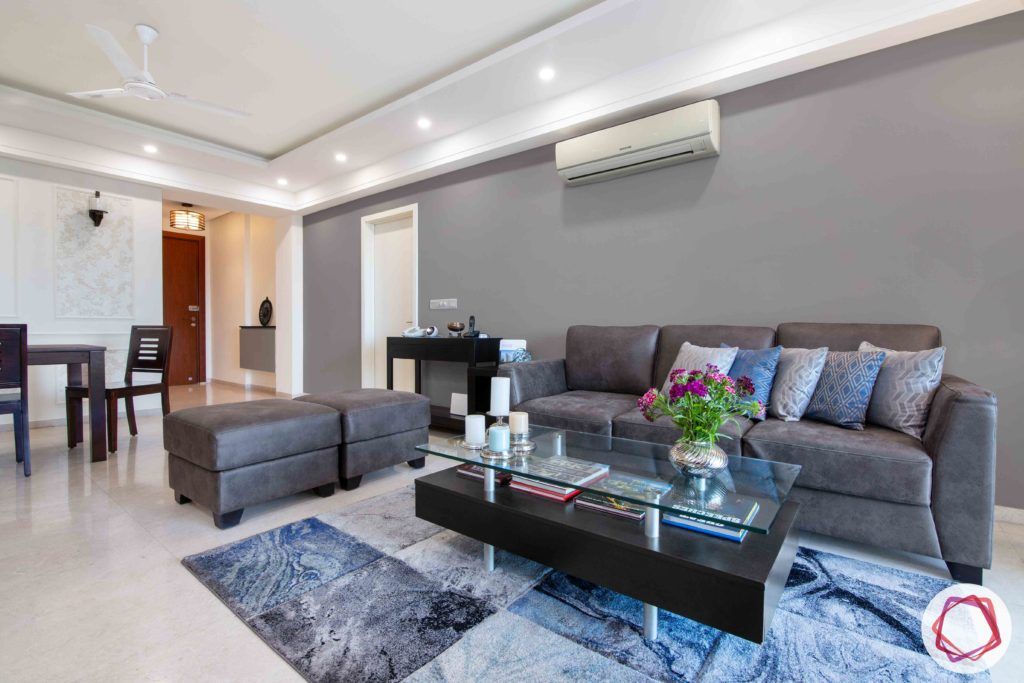 ---
Who livs here: Neeraj & Meghna Gupta with their daughters Eesha & Eera
Location: DLF Park Towers, Gurgaon
Size of home: A 3BHK spanning sq ft 2,700 approx.
Design team: Interior Designer Shruti Modi & Project Manager Arti Arora
Livspace service: Full home design, kitchen and wardrobes excluded
Budget: ₹₹₹₹₹
---
This DLF Gurgaon home lacks nothing in terms of space. After all, the 4BHK spans a whopping 2,700 sq ft! All it needed was the deft hand of Livspace to ensure that this expansive home was personalised to every family member's needs and preferences. The family that lives here comprises Neeraj and Meghna as well as their two daughters, Eesha and Eera. Our interior designer Shruti Modi ensured that all their needs were met in decor.
Their DLF Gurgaon home stands out in muted colours just like Meghna wanted, while using a bit of colour in Eesha's room to her liking. Also, for Eera who is passionate about dancing, Shruti designed a dance studio so that she could practice whenever she wanted!
Read on to know what more this amazing DLF Gurgaon home has to offer for its inhabitants!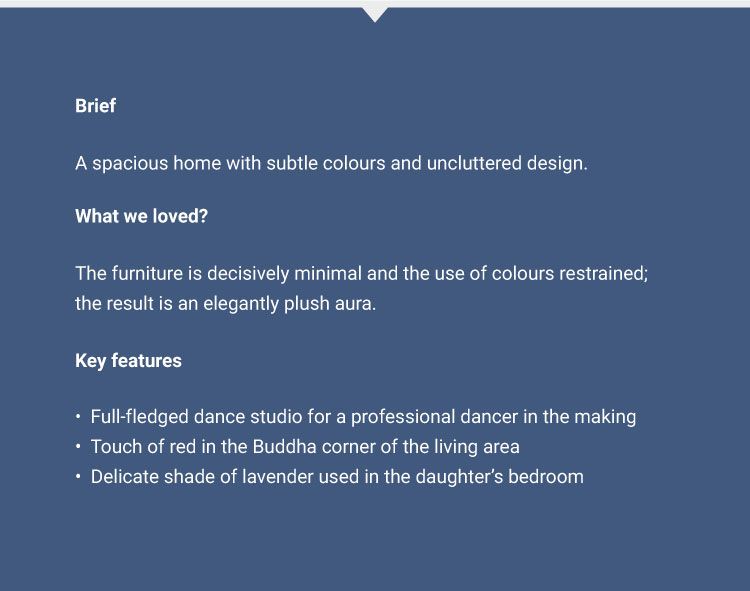 Gracious Greys at DLF Gurgaon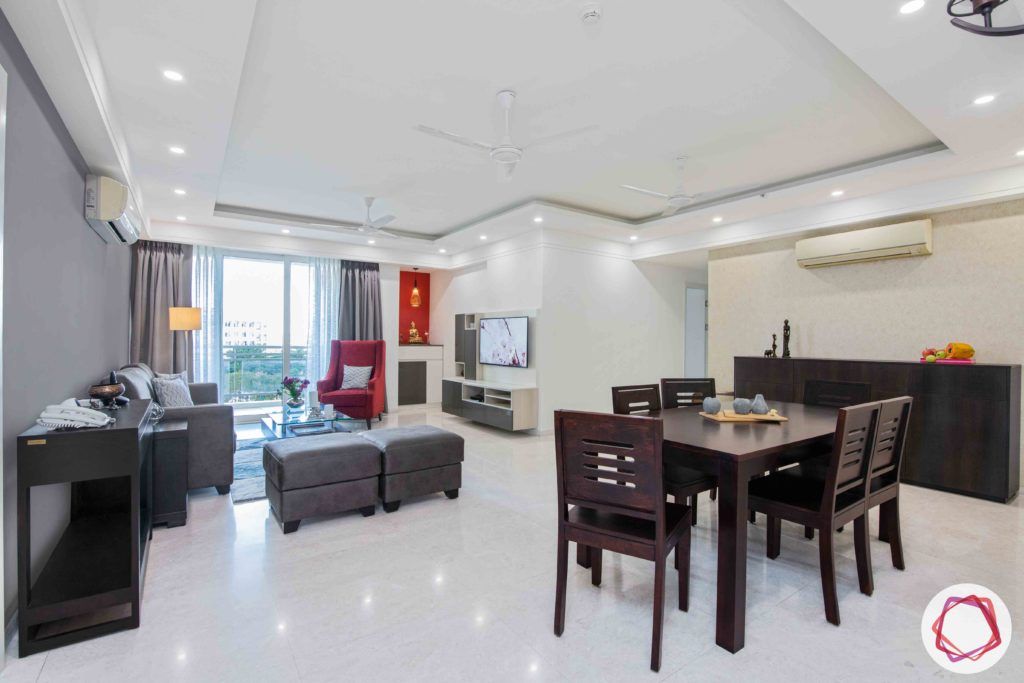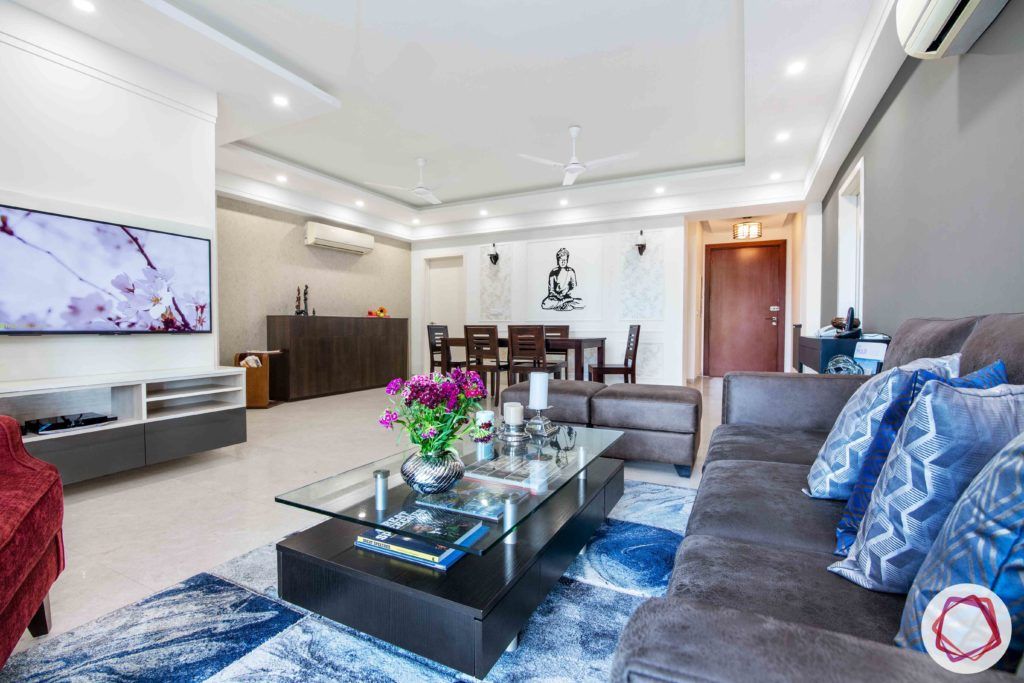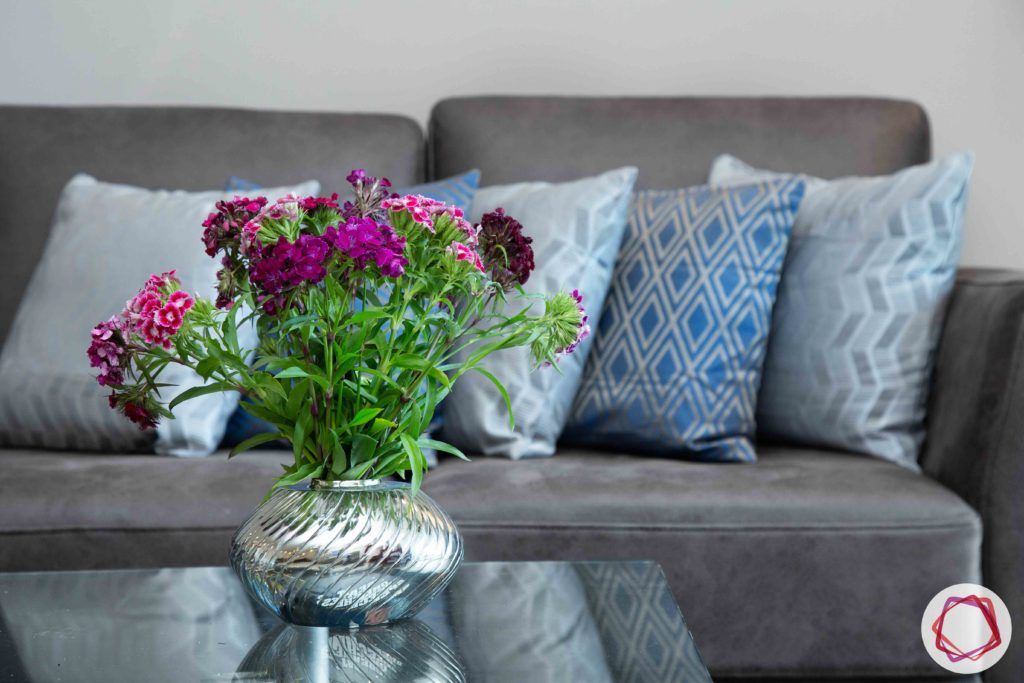 Meghna was clear about one thing, she did not want to experiment with too many colours. In fact, she preferred to stick with neutrals as far as the common areas of the house were concerned. So, Shruti chose a palette of greys and steel blue for the living area. The sofa is a plush affair with matching ottomans and the entertainment unit is a floating cabinet, rather minimal in design.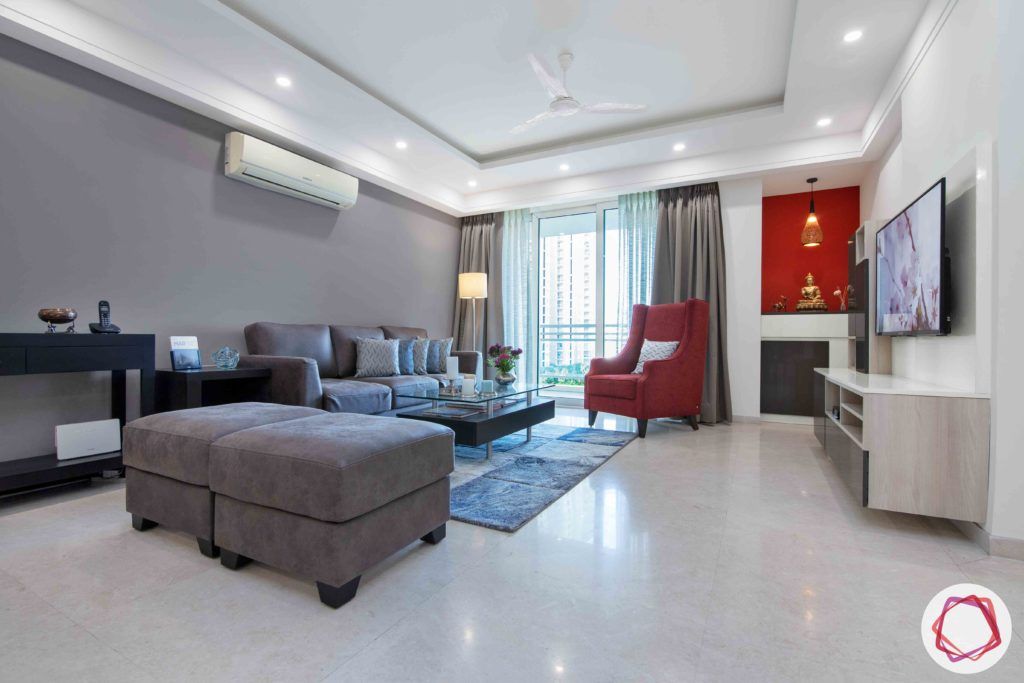 The only pop of colour we see in this area comes from the niche in the corner that is painted red. The statue of Buddha in this corner rests against a backdrop that complements the armchair. The scope of red in this living room is very little but Shruti has used a rich shade of crimson, which creates some interest in the otherwise muted setting.
"We had a very pleasant experience working with Livspace; their level of responsiveness and professionalism was commendable. A special shout out to our designer Shruti for bridging the gap between my taste and my wife's, which are poles apart. Also, the electrical team deserves a mention for the amount of research they put into their work. They managed to make an imported video doorbell from the US work with Indian electrical configuration."
– Neeraj Gupta, Livspace Homeowner
Timber Trails at DLF Gurgaon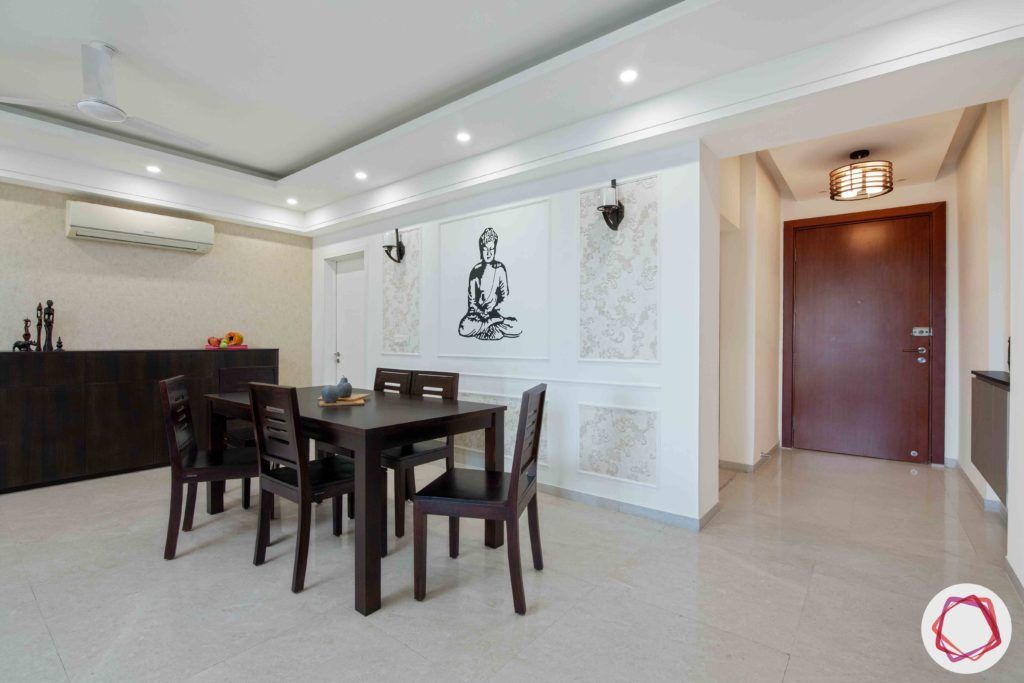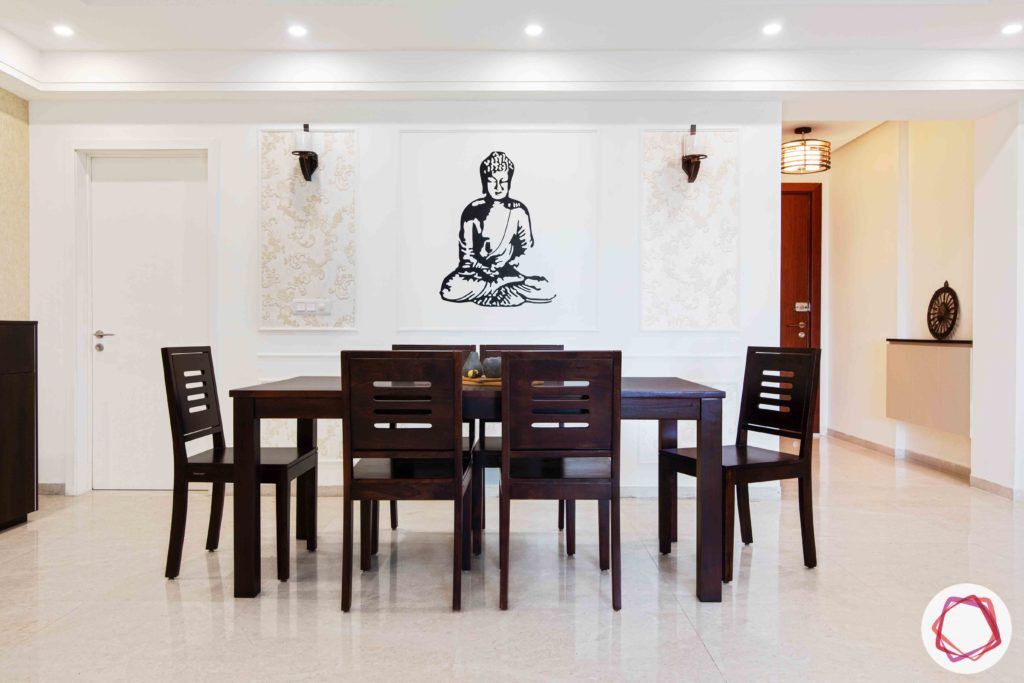 Like the living area, the designer has steered clear of using colour in the dining area as well. The dining set is a solid wood piece with a classic contemporary vibe. The accents in the dining area are the mouldings on the wall coupled with panels of shimmering wallpaper. The centrepiece, of course, is an artsy decal of Buddha in a meditative pose.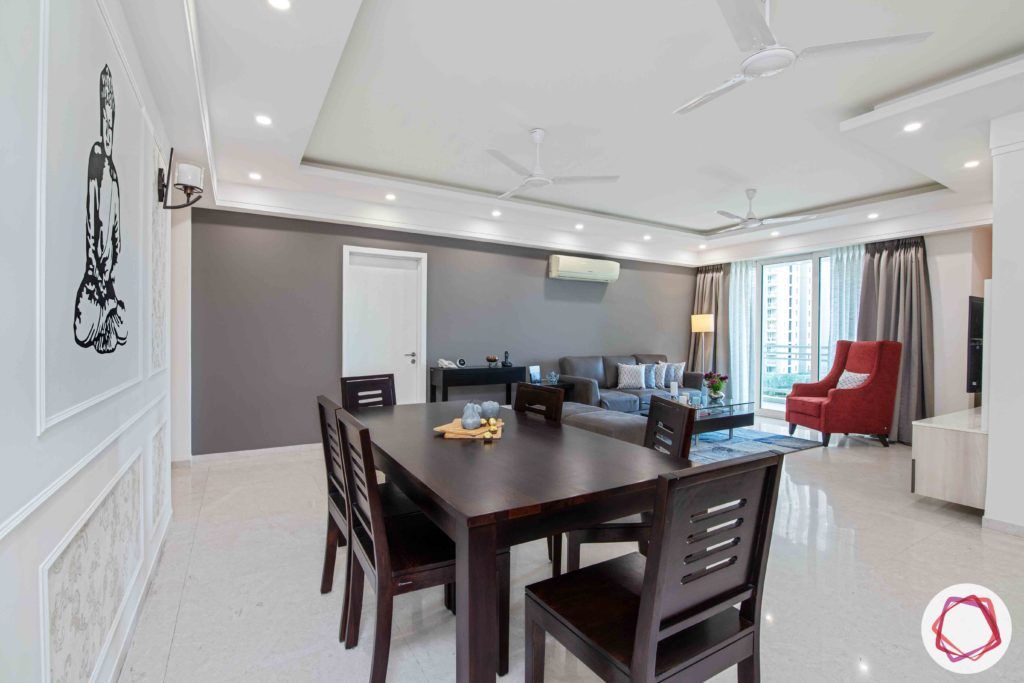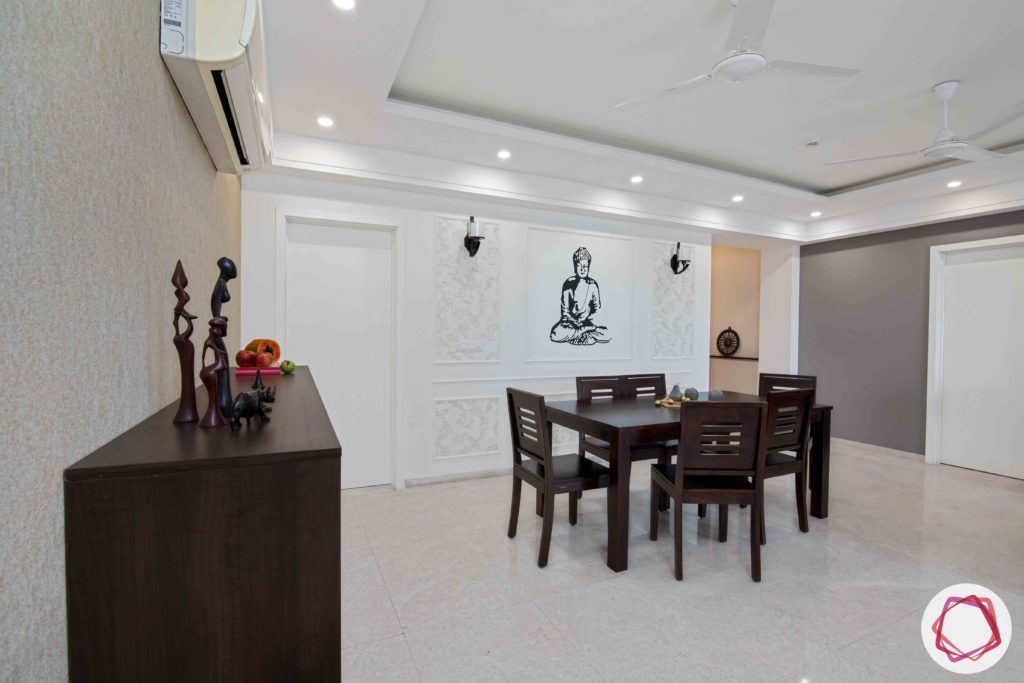 The sleek crockery cabinet in the dining area matches the dining table in colour and style. Don't miss the grey wall paint near the foyer that adds depth to the space without being too conspicuous.
Bashfully Neutral at DLF Gurgaon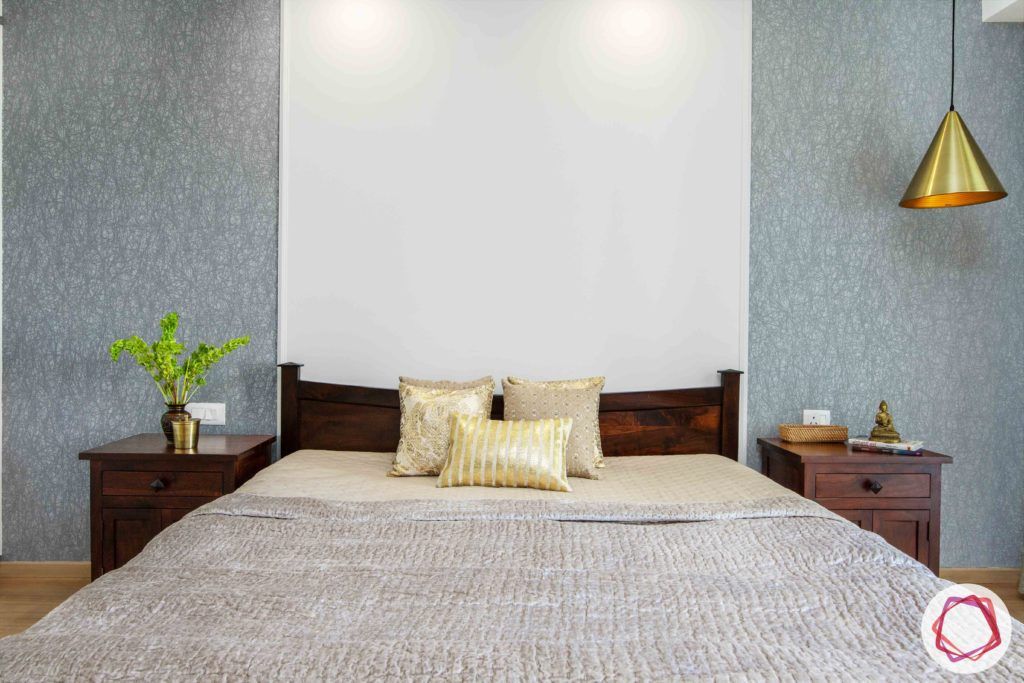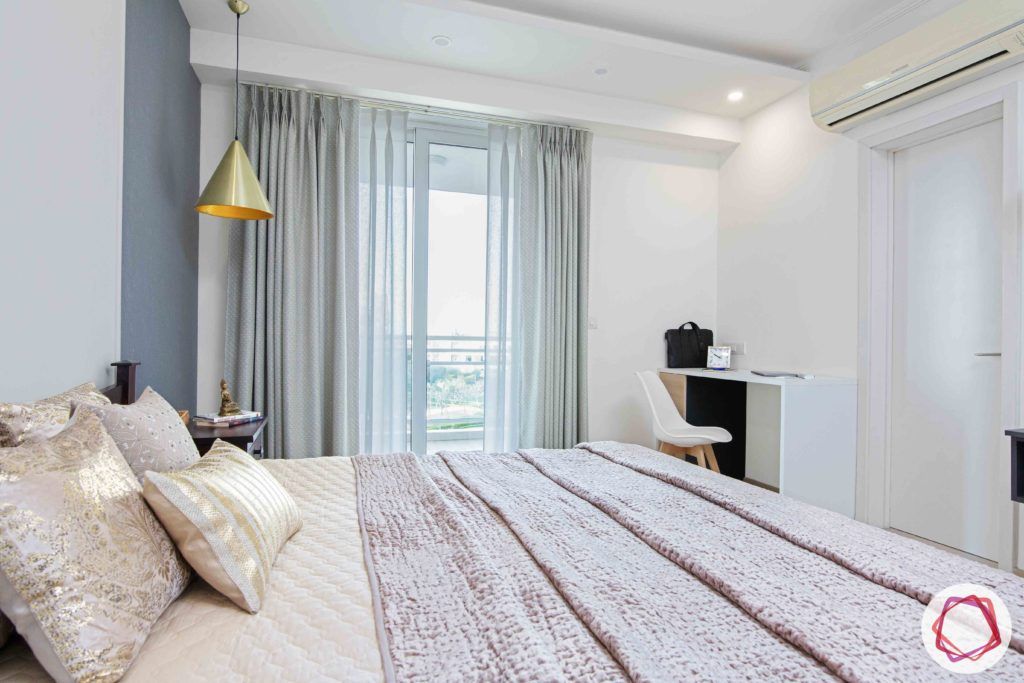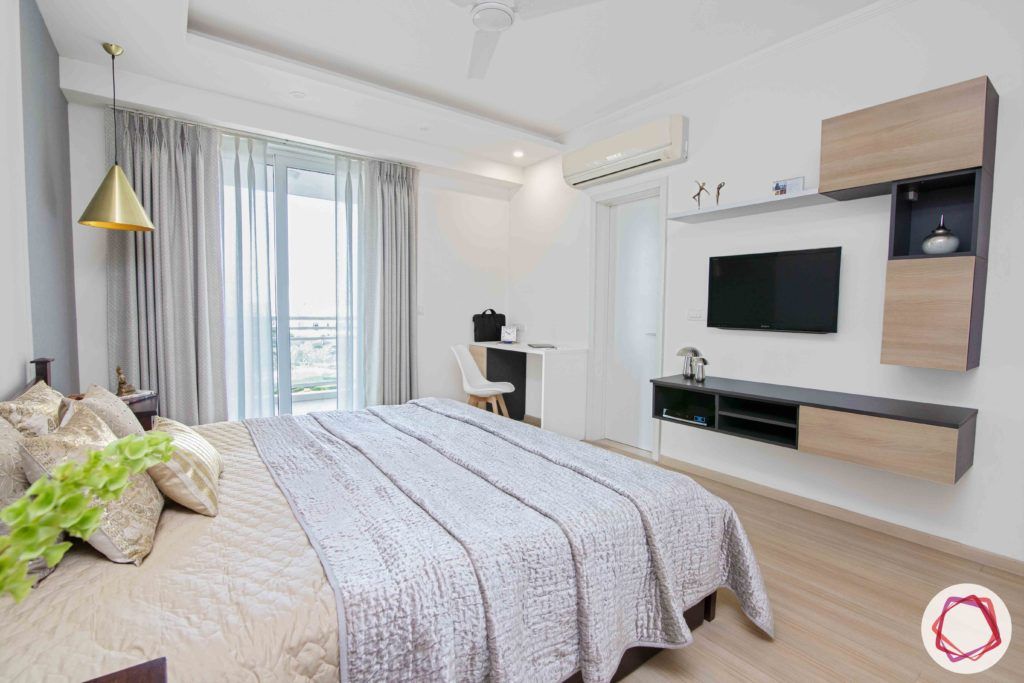 Staying true to the wishes of the lady of the house, Shruti avoided using a bright colour scheme for the master bedroom. However, she managed to convince Meghna to try a subtle dose of grey. The moulding on the wall behind the bed adds texture to the space as does the abstract wallpaper. The bed and side table are in solid wood and come straight out of the Livspace catalogue. The TV unit and working desk are a mix of black, white and wooden tones; the variety of finishes is a deliberate attempt to avoid monotony in design.
Lilac and Lavender at DLF Gurgaon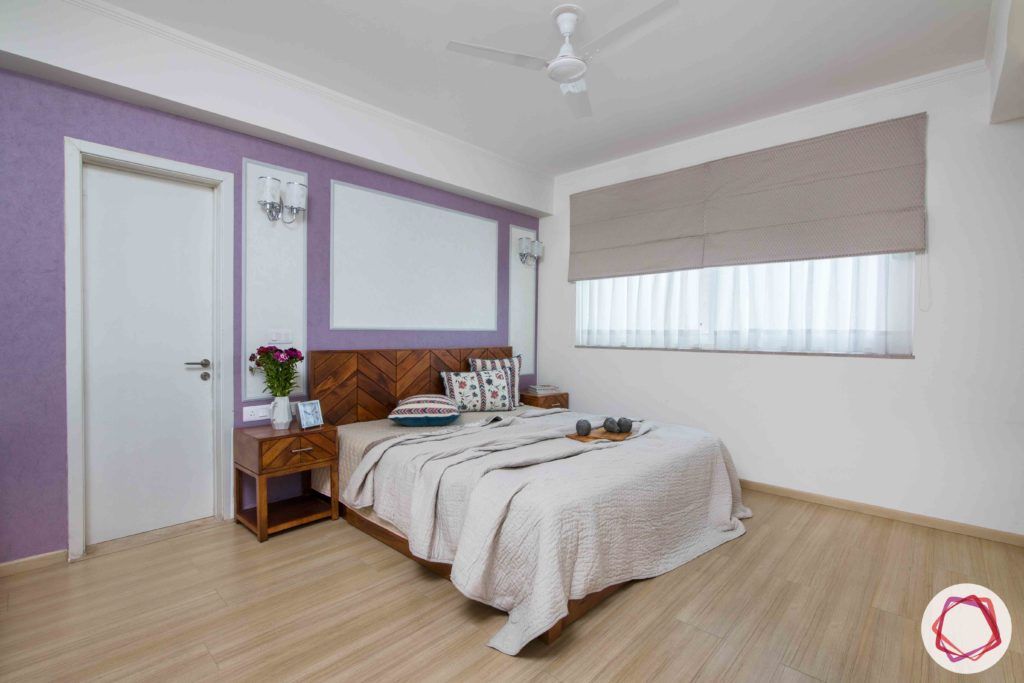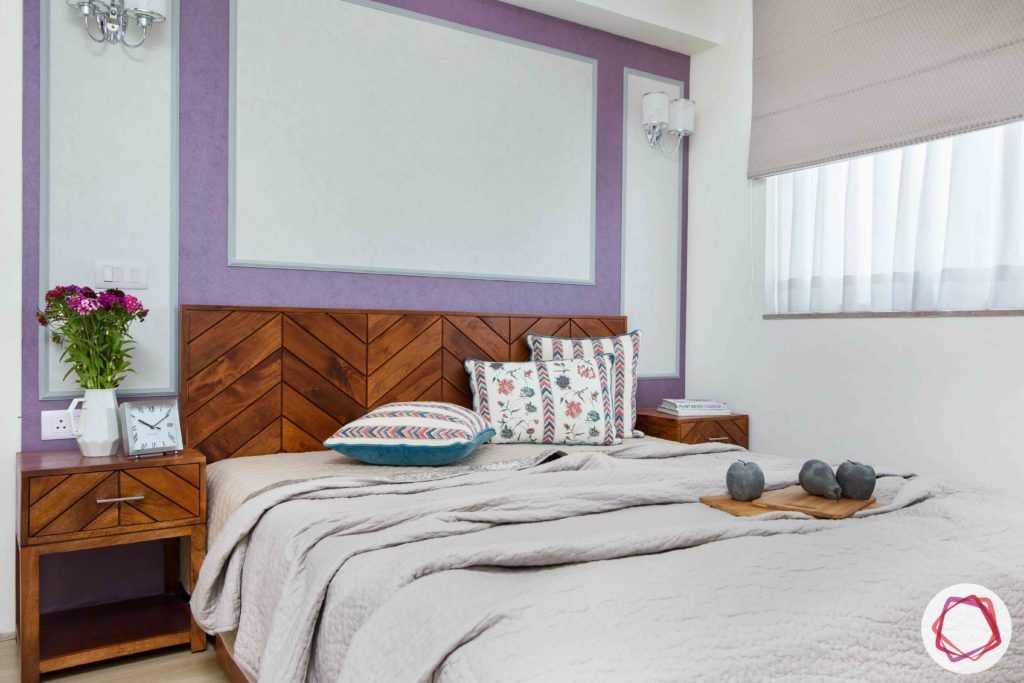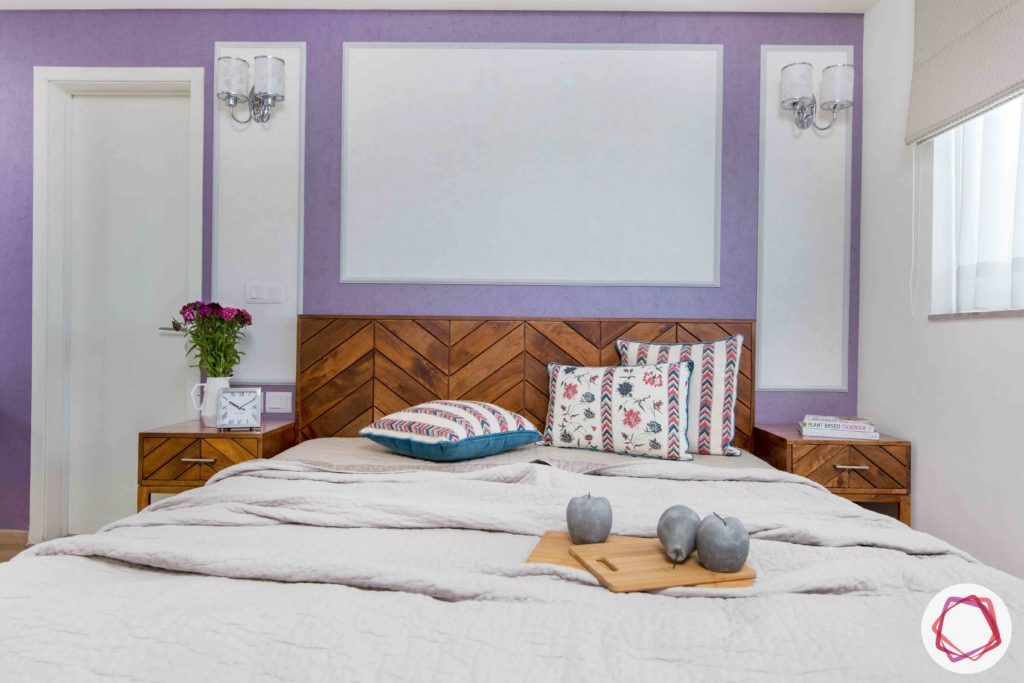 Meghna preferred solid wood beds to upholstered ones; hence, the bed in the Eesha's bedroom does not have an upholstered headboard. The elegance of a solid wood bed and side tables sets this room apart. This is the only room in this home that has a touch of vibrance in terms of colour. The delicate shade of lavender adds a refreshing touch to this room without going overboard.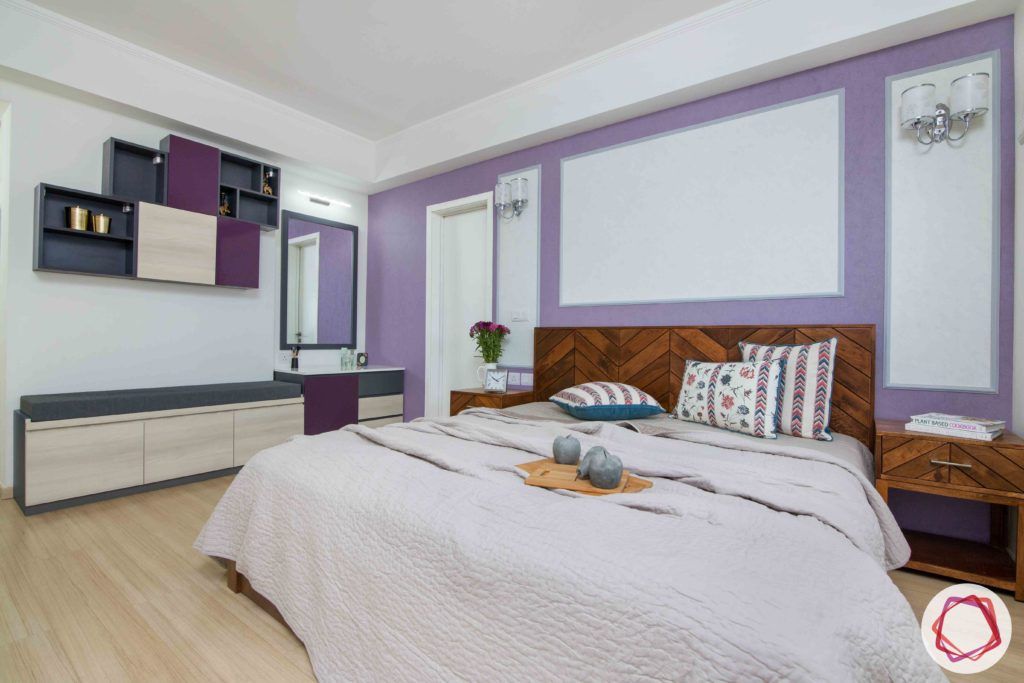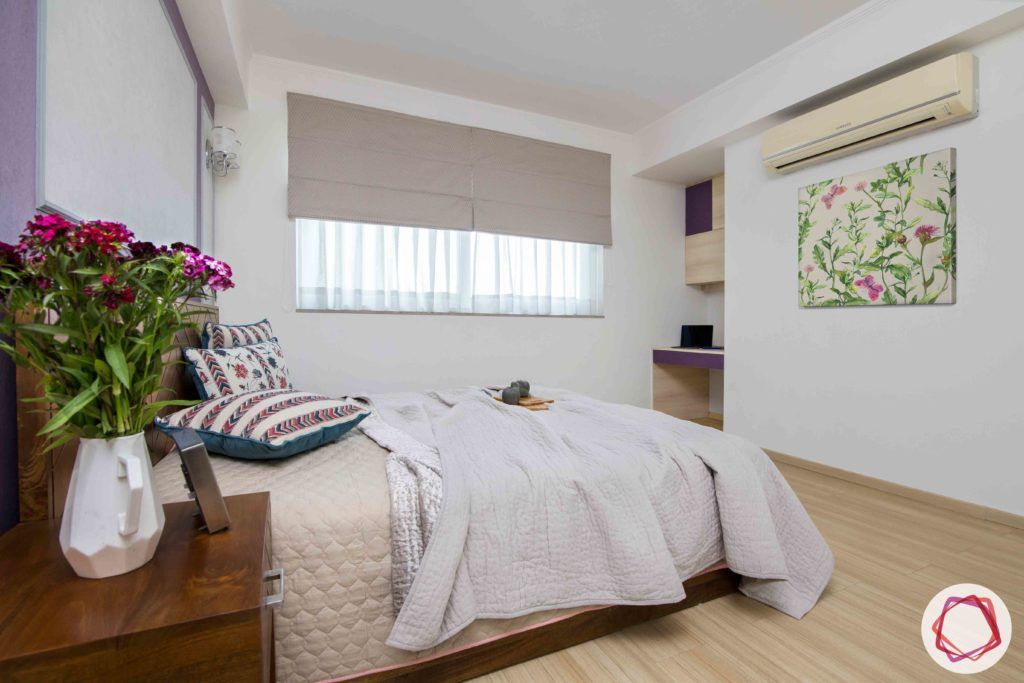 The cushioned bench (also used as storage for shoes) sports a deeper lilac shade of laminate with wooden tones. The same has been replicated in the study unit as well for continuity.
Nataraja's Den at DLF Gurgaon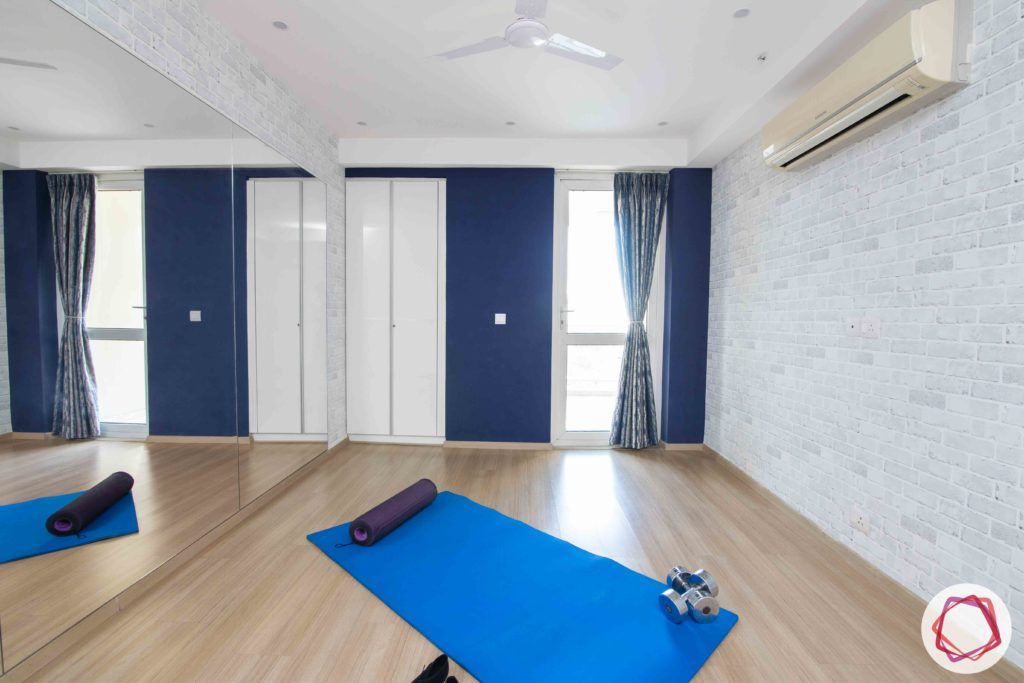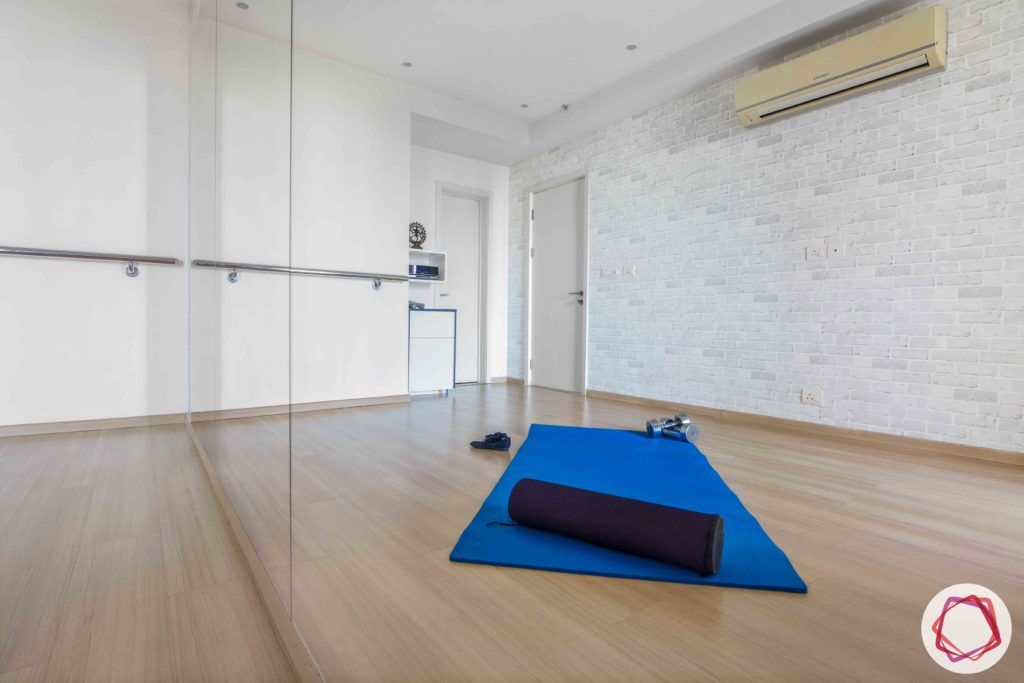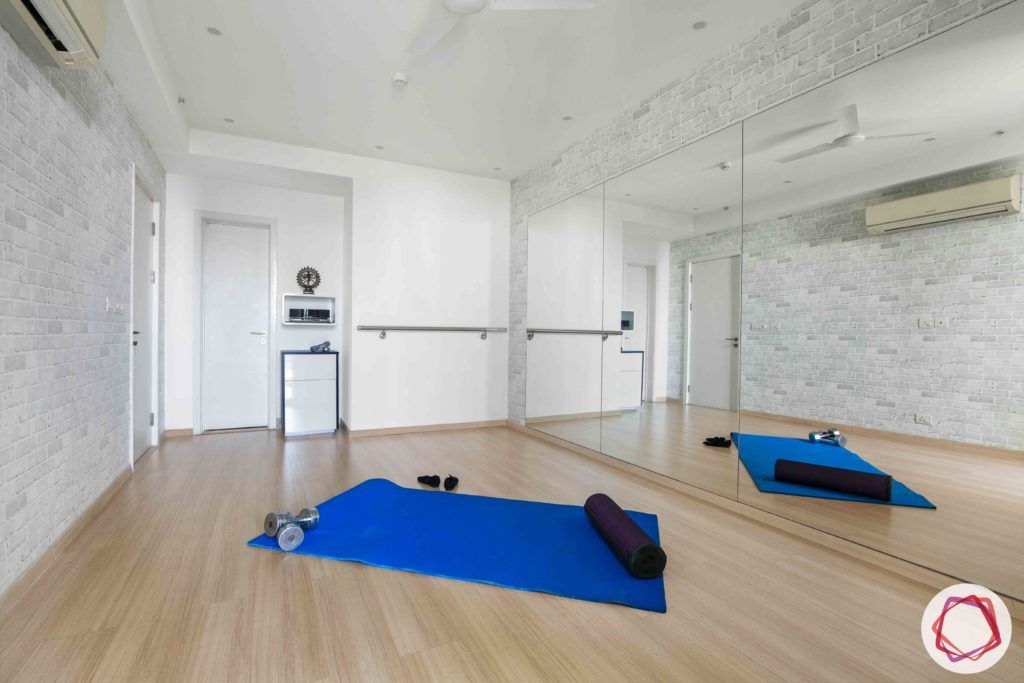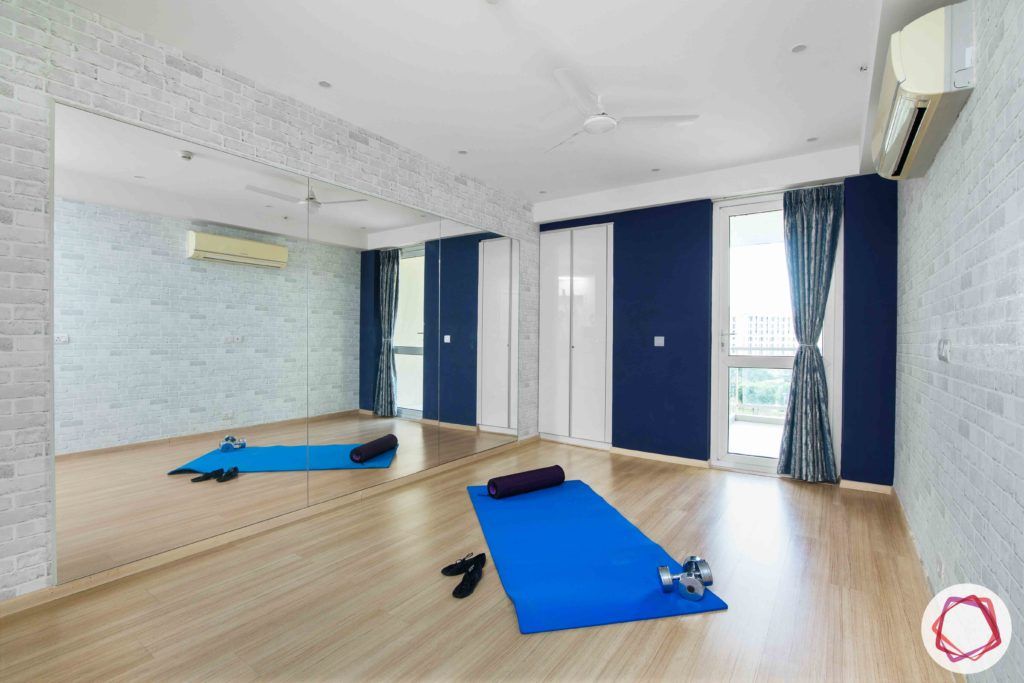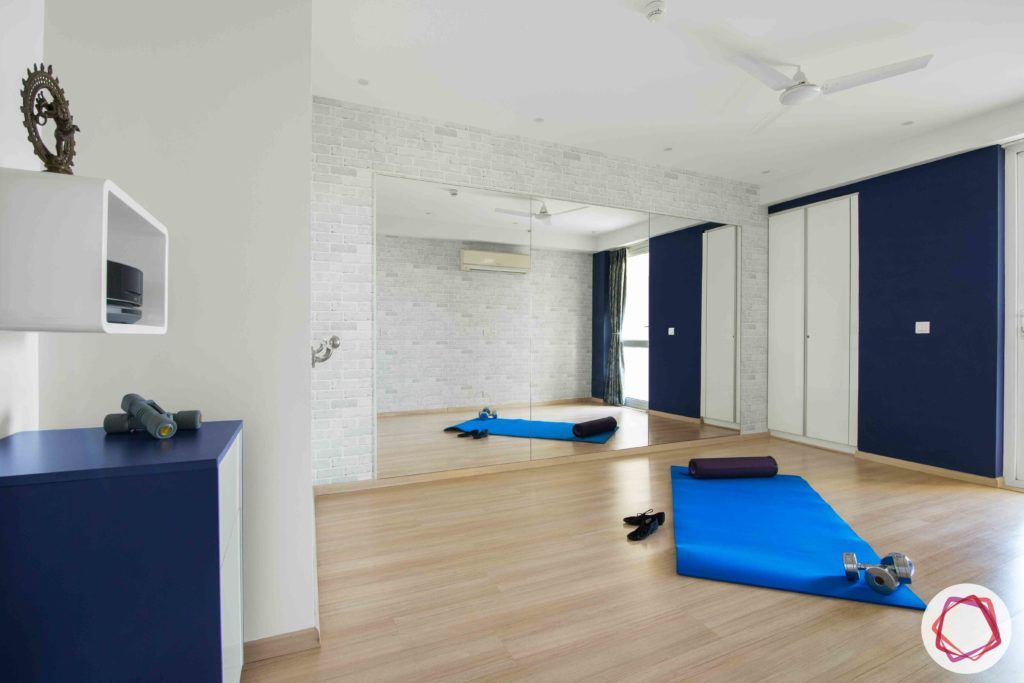 Finally, we come to the highlight of this home, which is a full-fledged dance studio for Eera, a professional dancer in the making. Sporting wooden flooring with full-length mirrors on one wall, this room is a drool-worthy space to have at home for a practicing dancer. The white exposed brick wallpaper adds texture this room that is bare save the storage unit in one corner. The unit is a custom piece designed to fit Eera's music system.
"The Guptas were very sorted as clients and moved quickly with their decisions. As they were reference clients, they were familiar with my work, making the design process smoother. They worked with the design team collaboratively to help us deliver the home they wanted."
– Shruti Modi, Interior Designer, Livspace
If you enjoyed reading about this home, also explore this Colourful & Contemporary Duplex in Gurgaon.