This DLF New Town Heights home is furnished in five different shades of blue.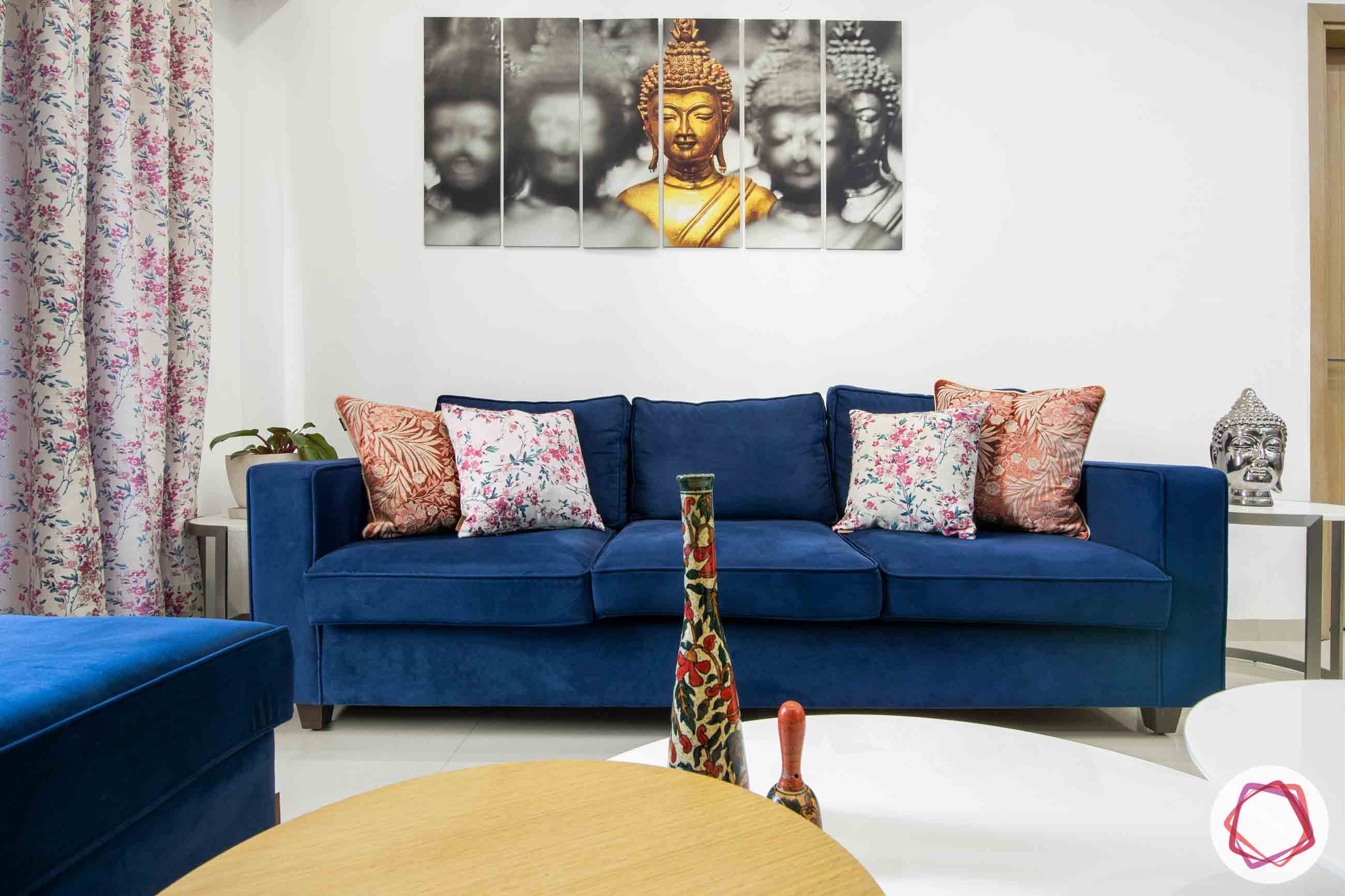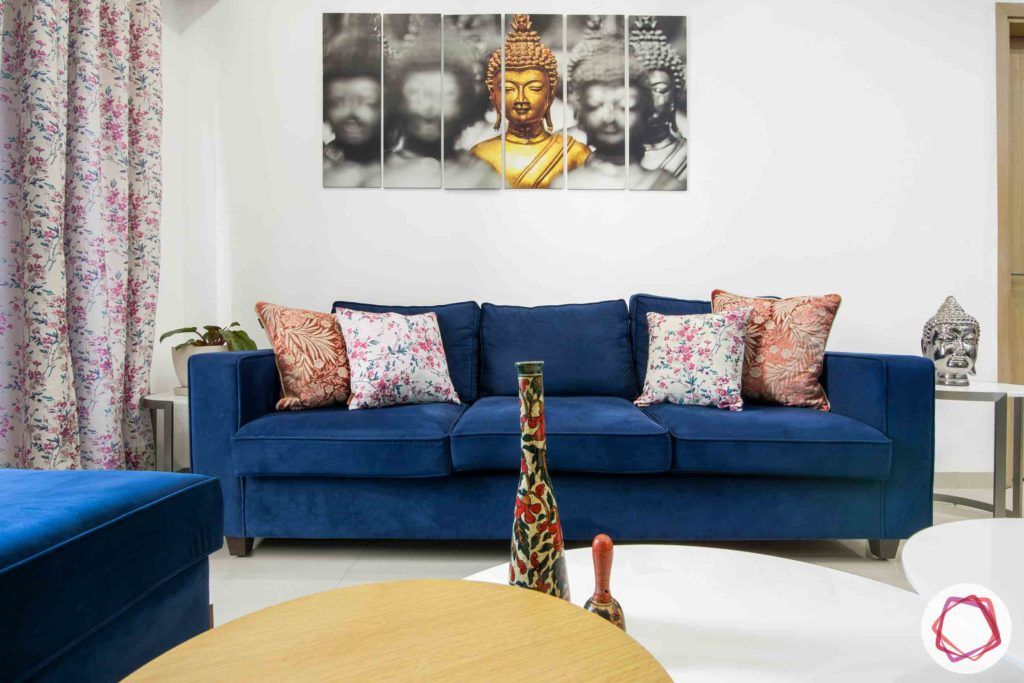 ---
Who livs here: Nitin & Ankita Verma with their son
Location: DLF New Town Heights, Gurgaon
Size of home: 3BHK spanning 1,800 sq ft
Design team: Interior designer Sushant Jain & Project Manager Amarjeet Kumar Mahto
Livspace service: Full home design
Budget: ₹₹₹₹₹
---
Every home has its own personality, which is usually an extension of those who live in it. This 3BHK at DLF New Town Heights is bold and unconventional in terms of design. This is all thanks to Nitin and Ankita, who were not afraid to experiment with colours and textures in their new home. The young couple inspired our interior designer Sushant Jain to try out different types of finishes and lighting effects.
The result of this avant-garde styling is here for everyone to see! We love the quirk factor in this DLF New Town Heights apartment and you will too once we take you through the full home.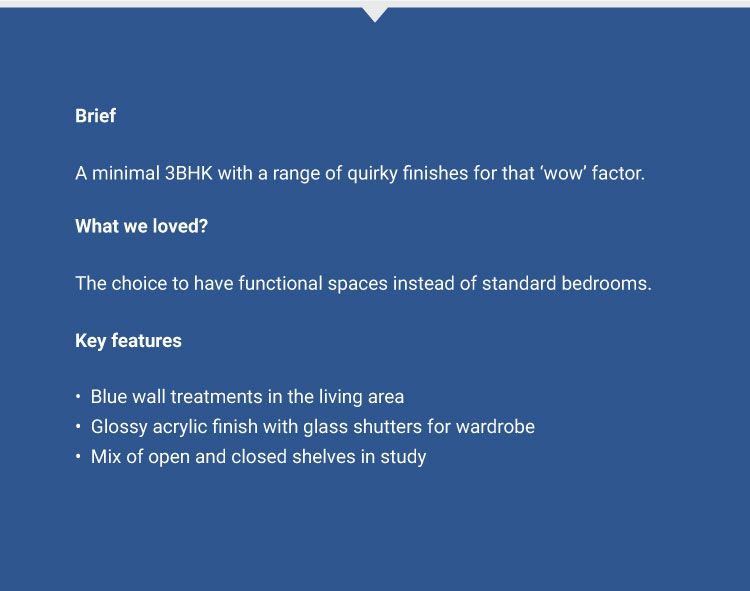 Bold Blues at DLF New Town Heights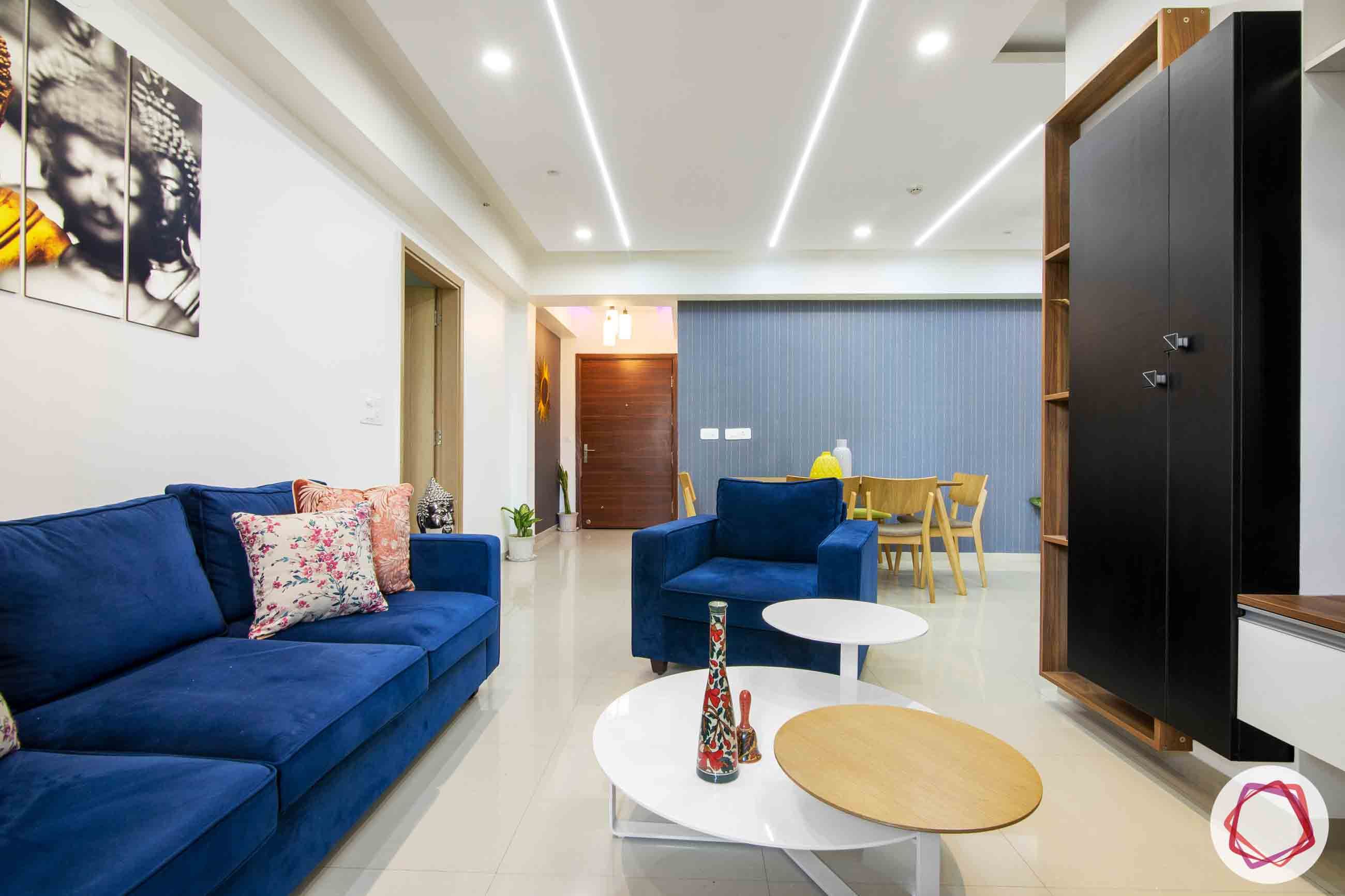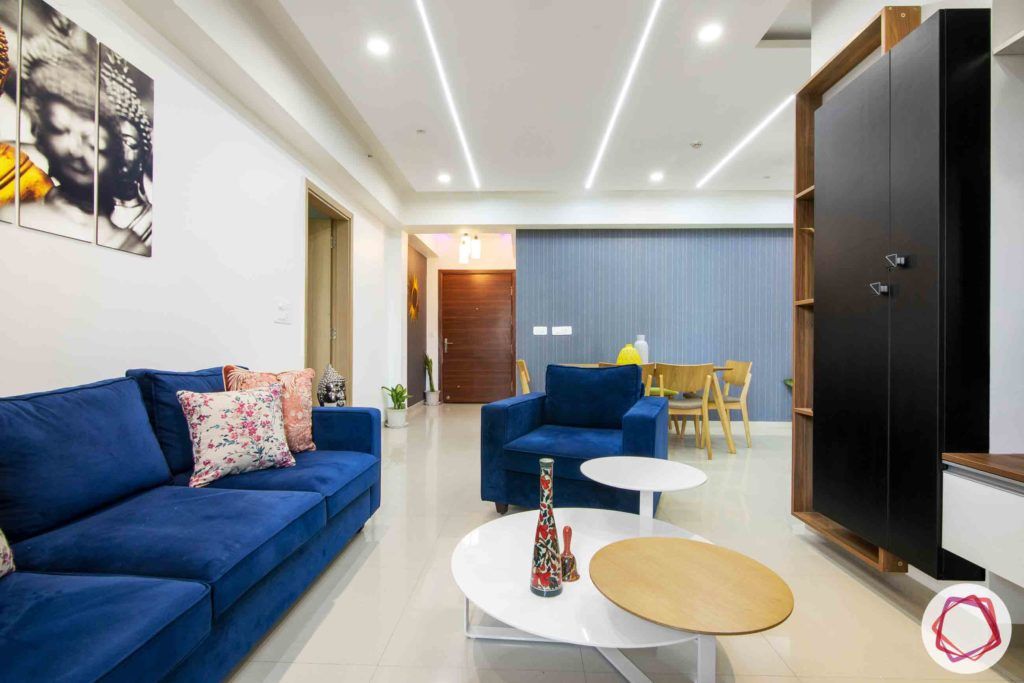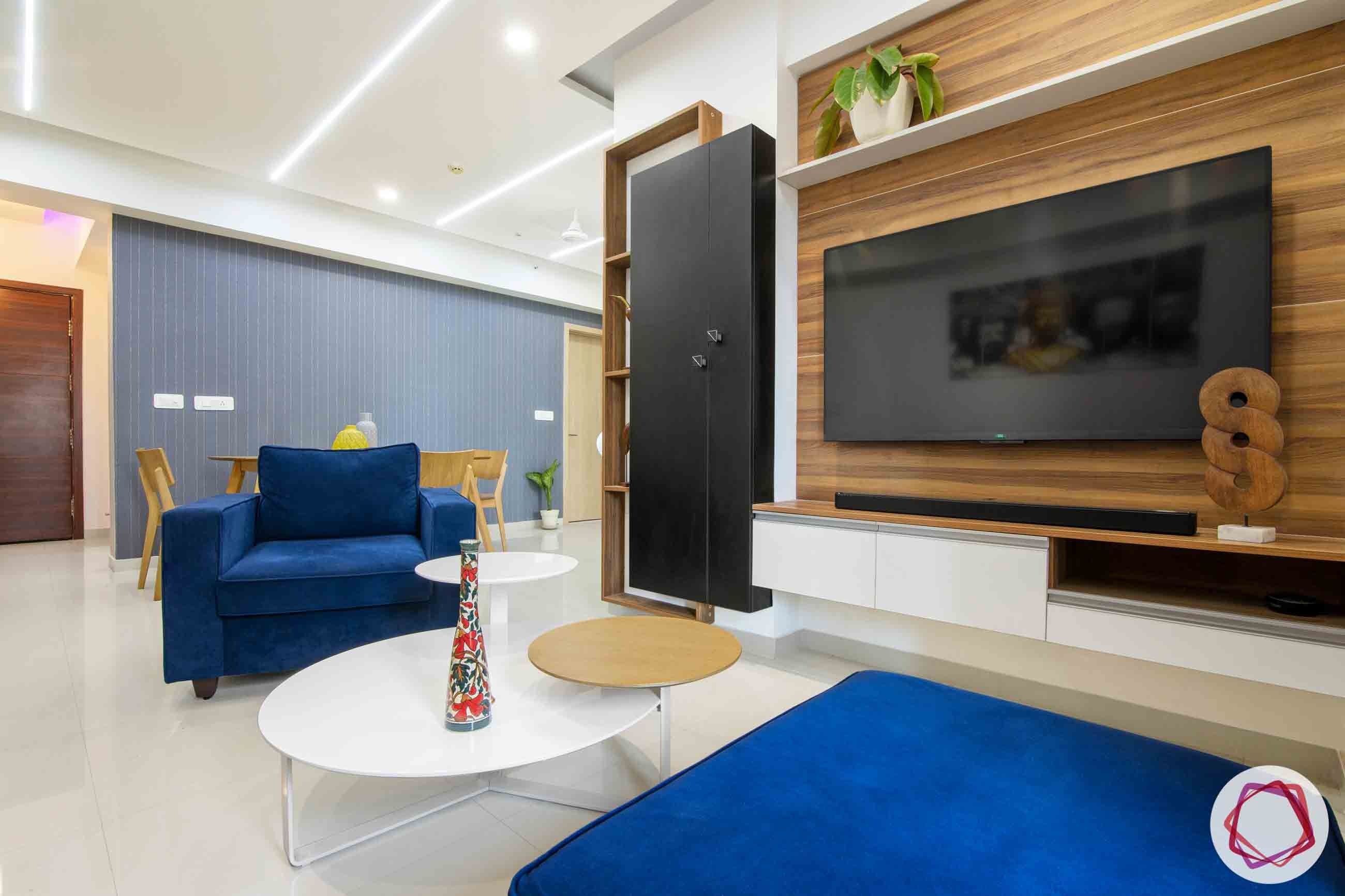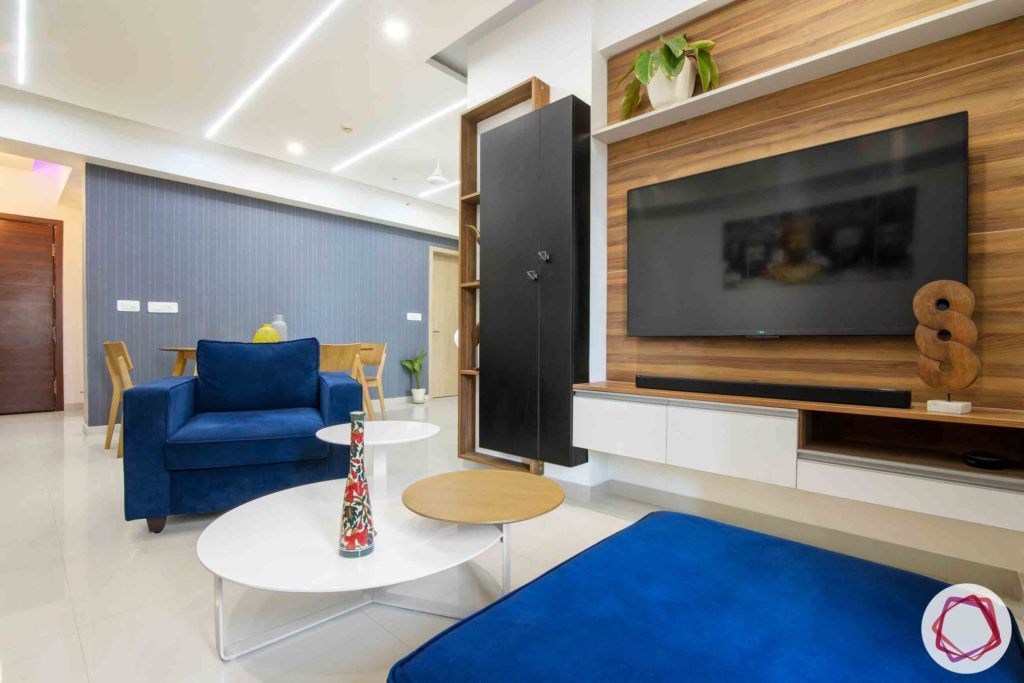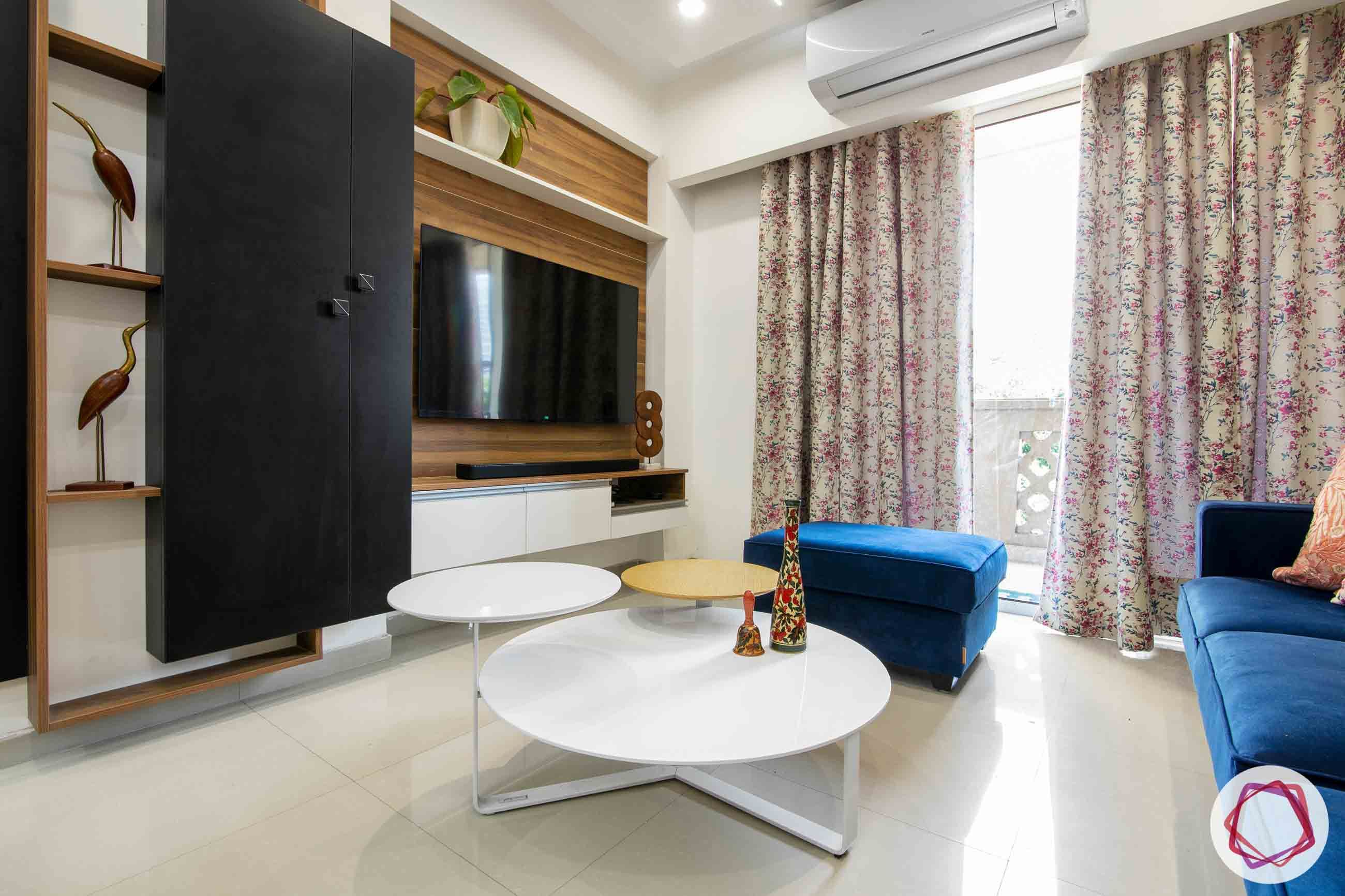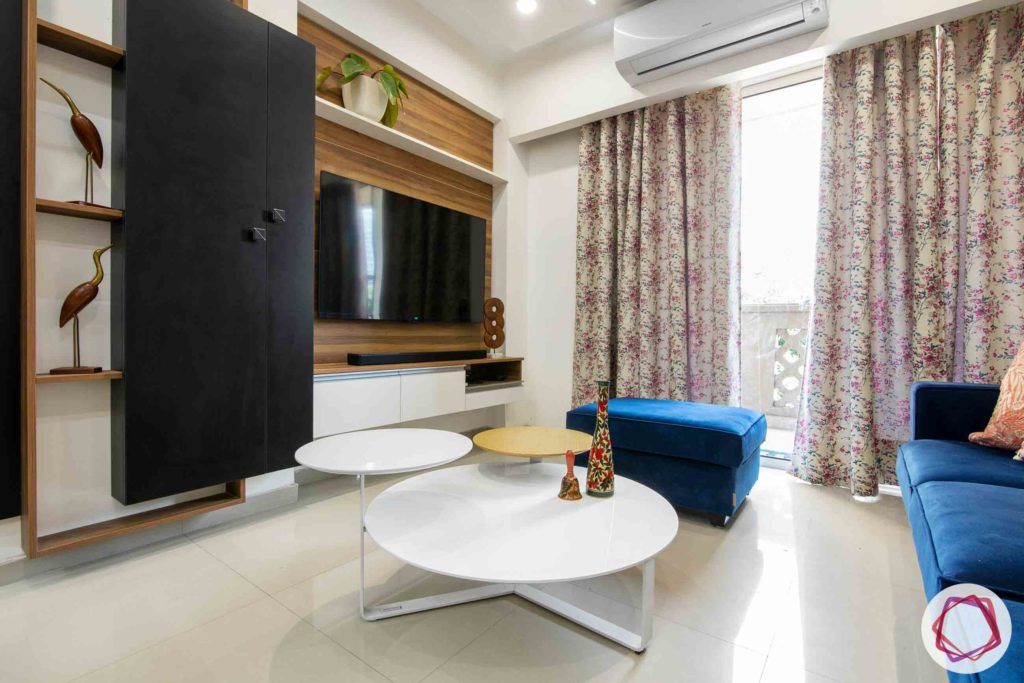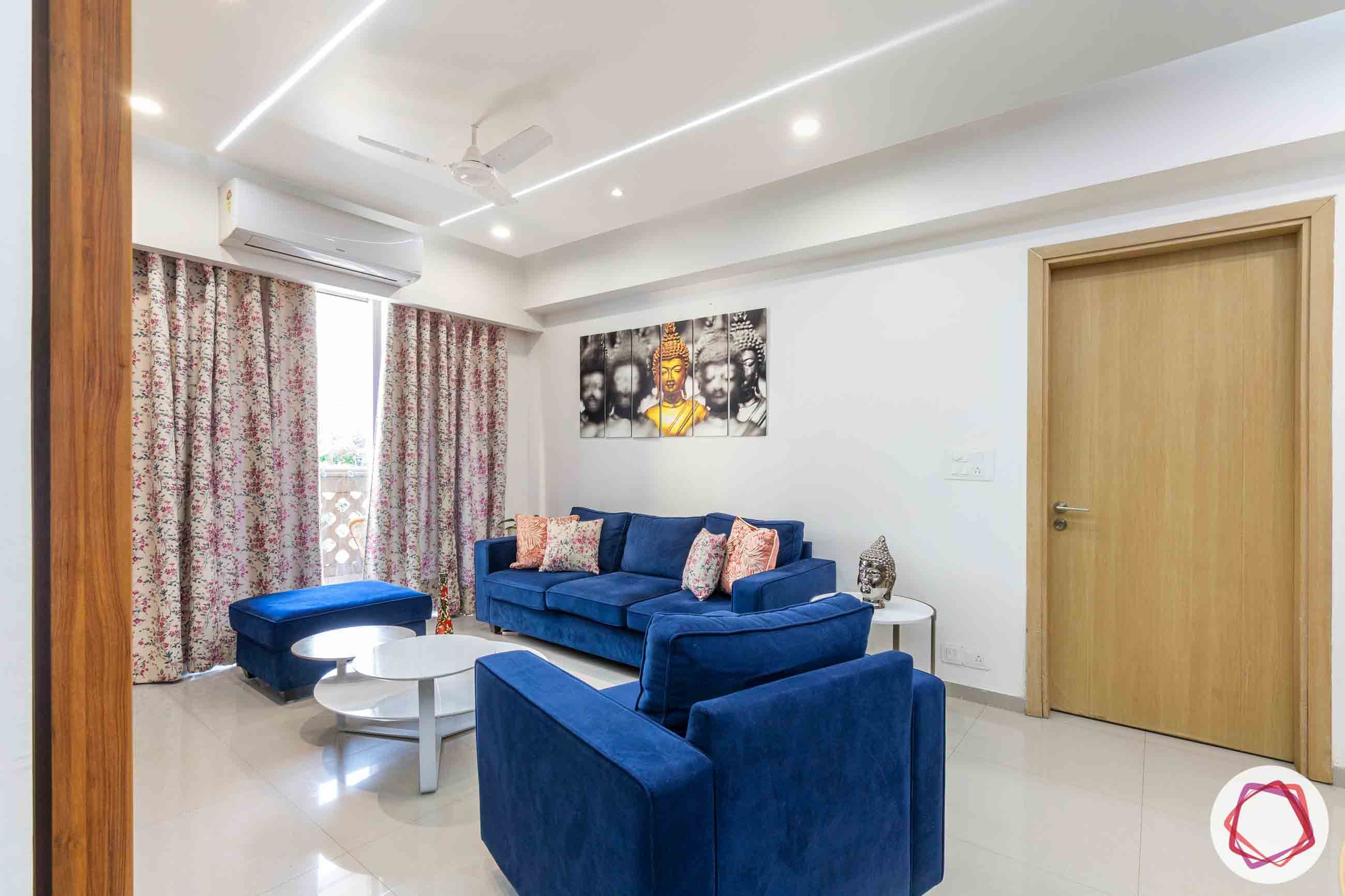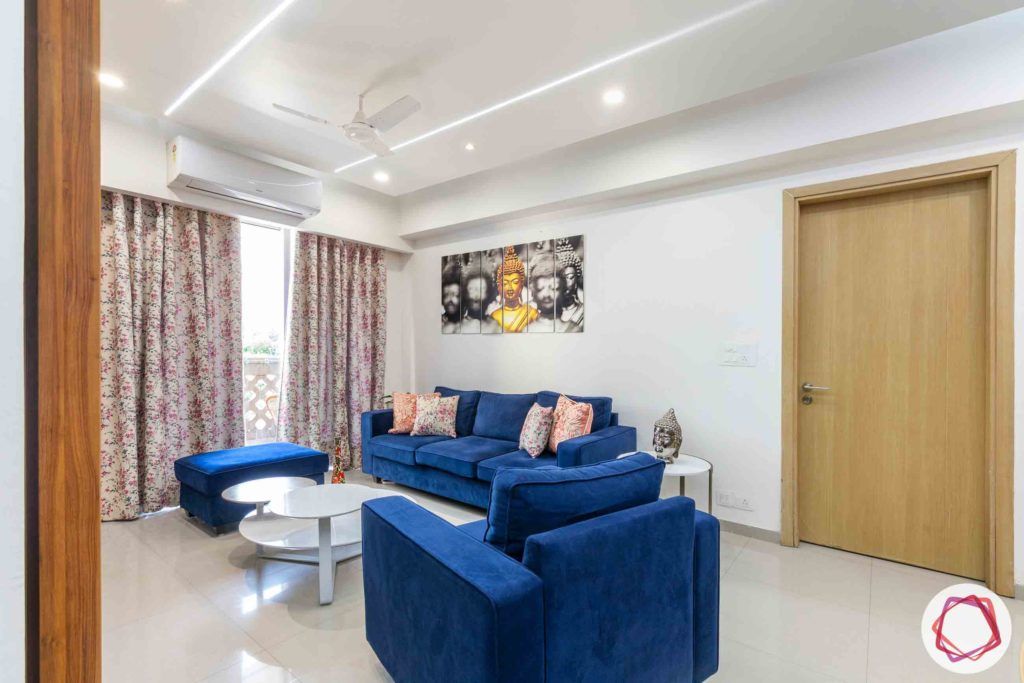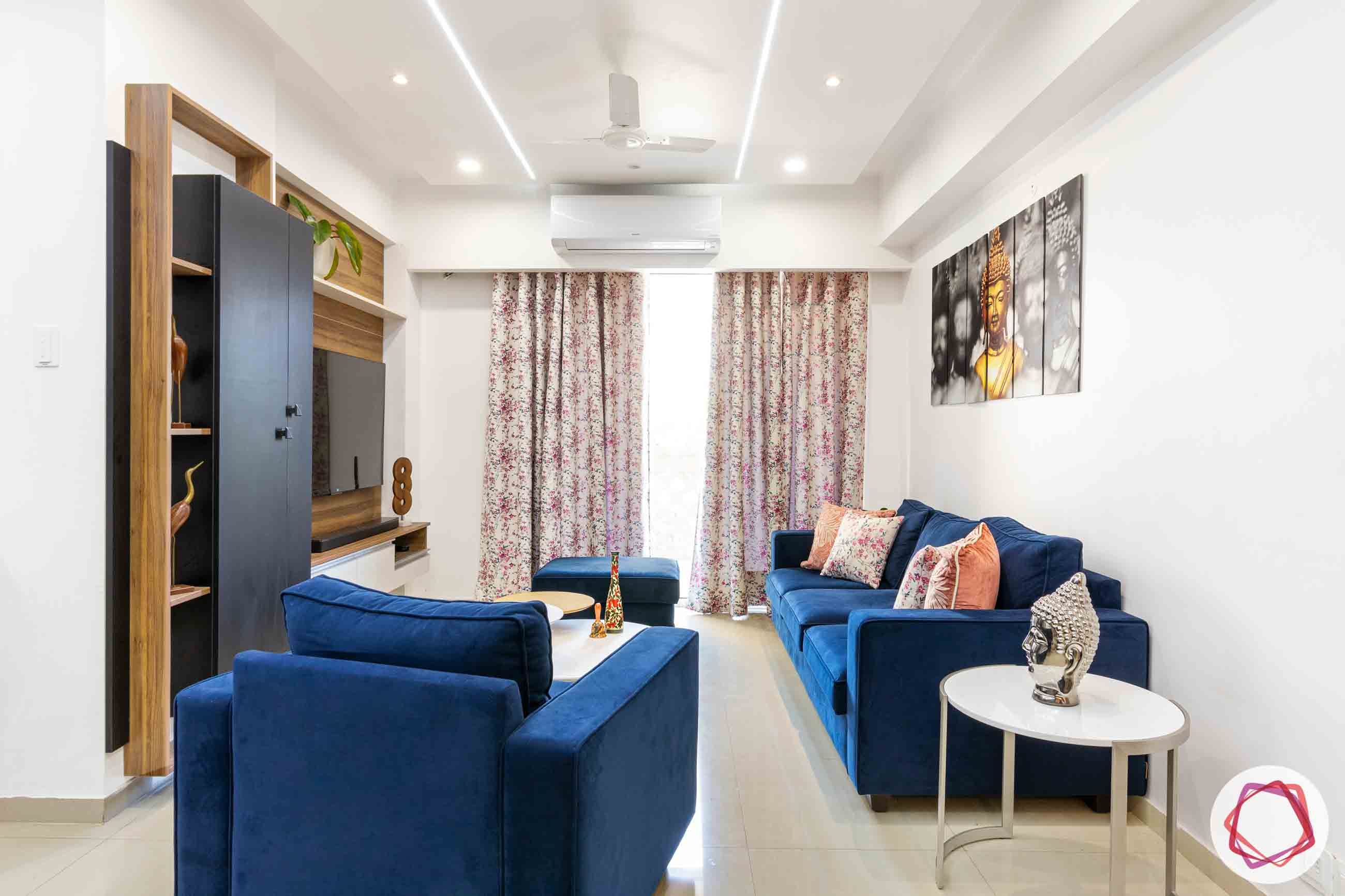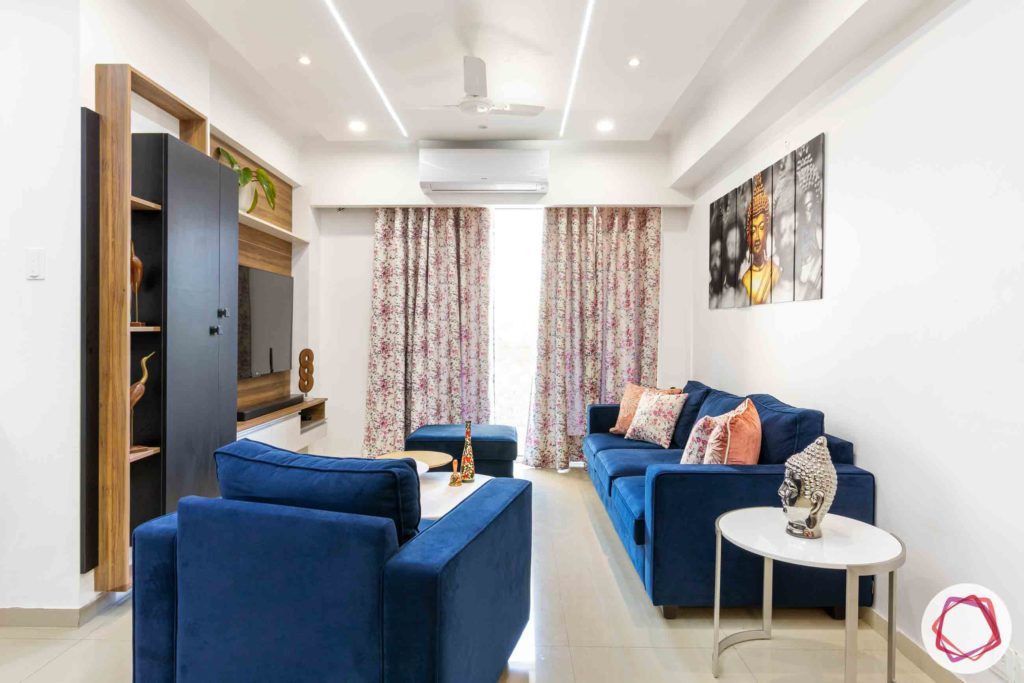 One look at the living room of this house will spell out its basic premise to you. This family likes blues and does not shy away from using it. The sofa set comprising a three-seater, a one-seater and an ottoman are in a rich shade of blue that complements the powder blue wallpaper in the dining area. The living area also sports some very interesting woodwork; the entertainment unit is a mix of laminate with wooden tones and a black MDF cabinet. The shelves and base cabinets are white, so there is a riot of colours and textures on this wall.
Azure Dining at DLF New Town Heights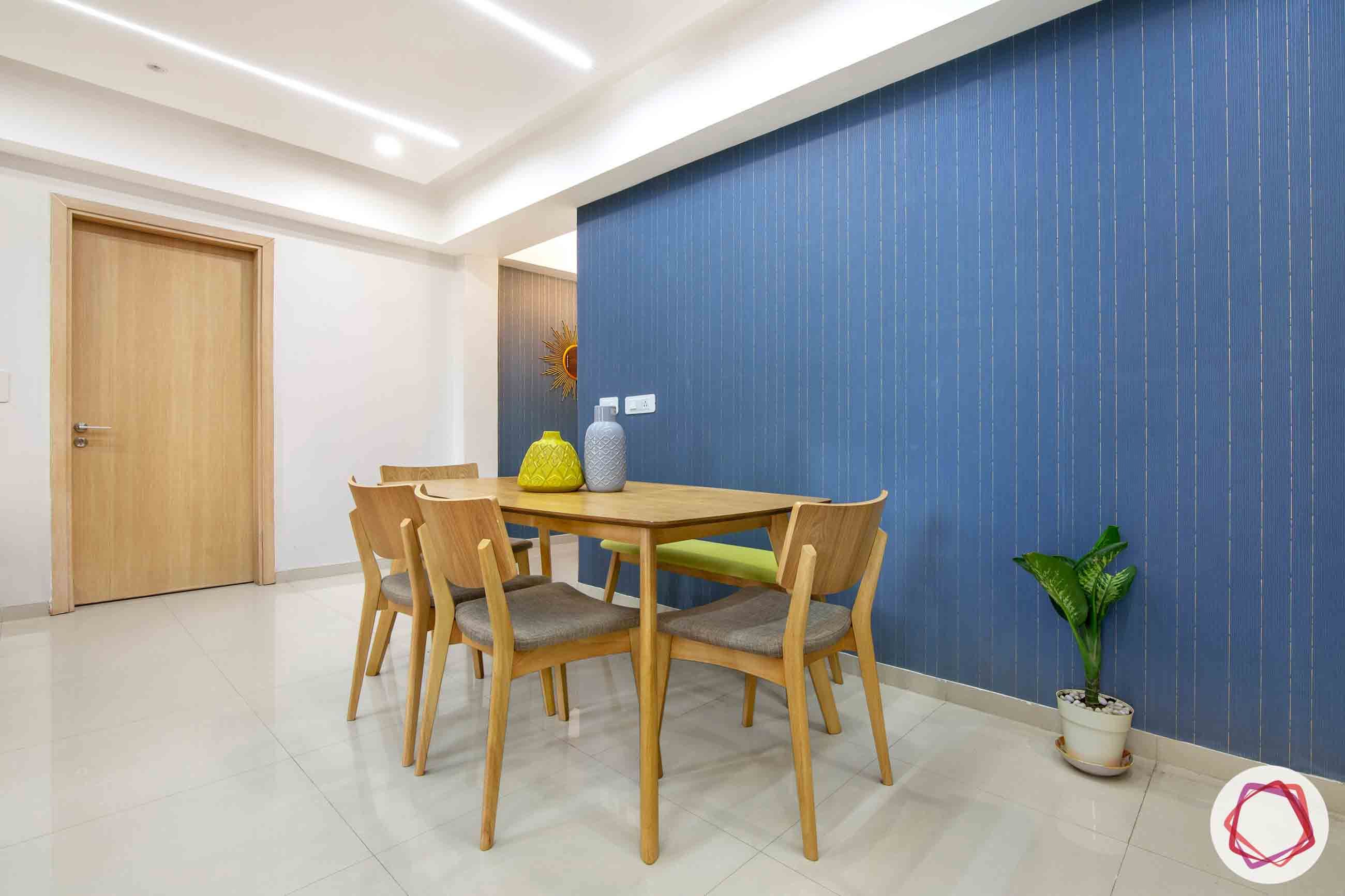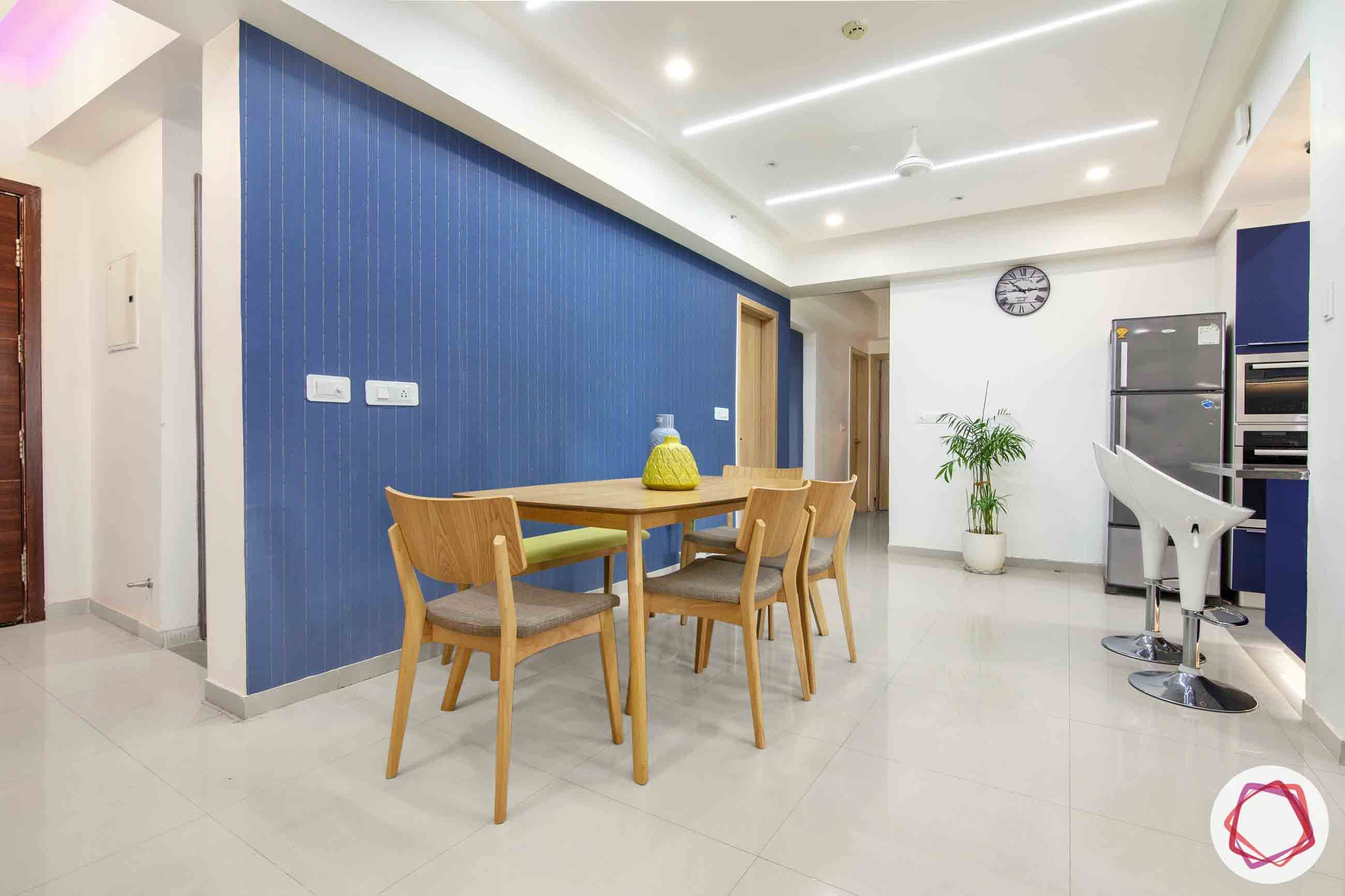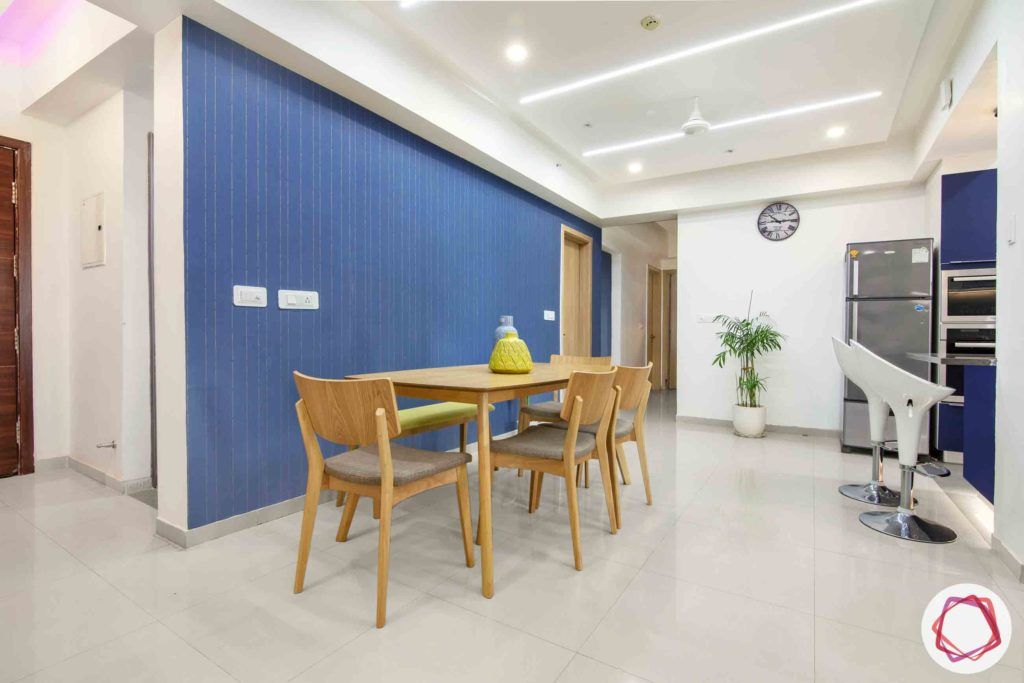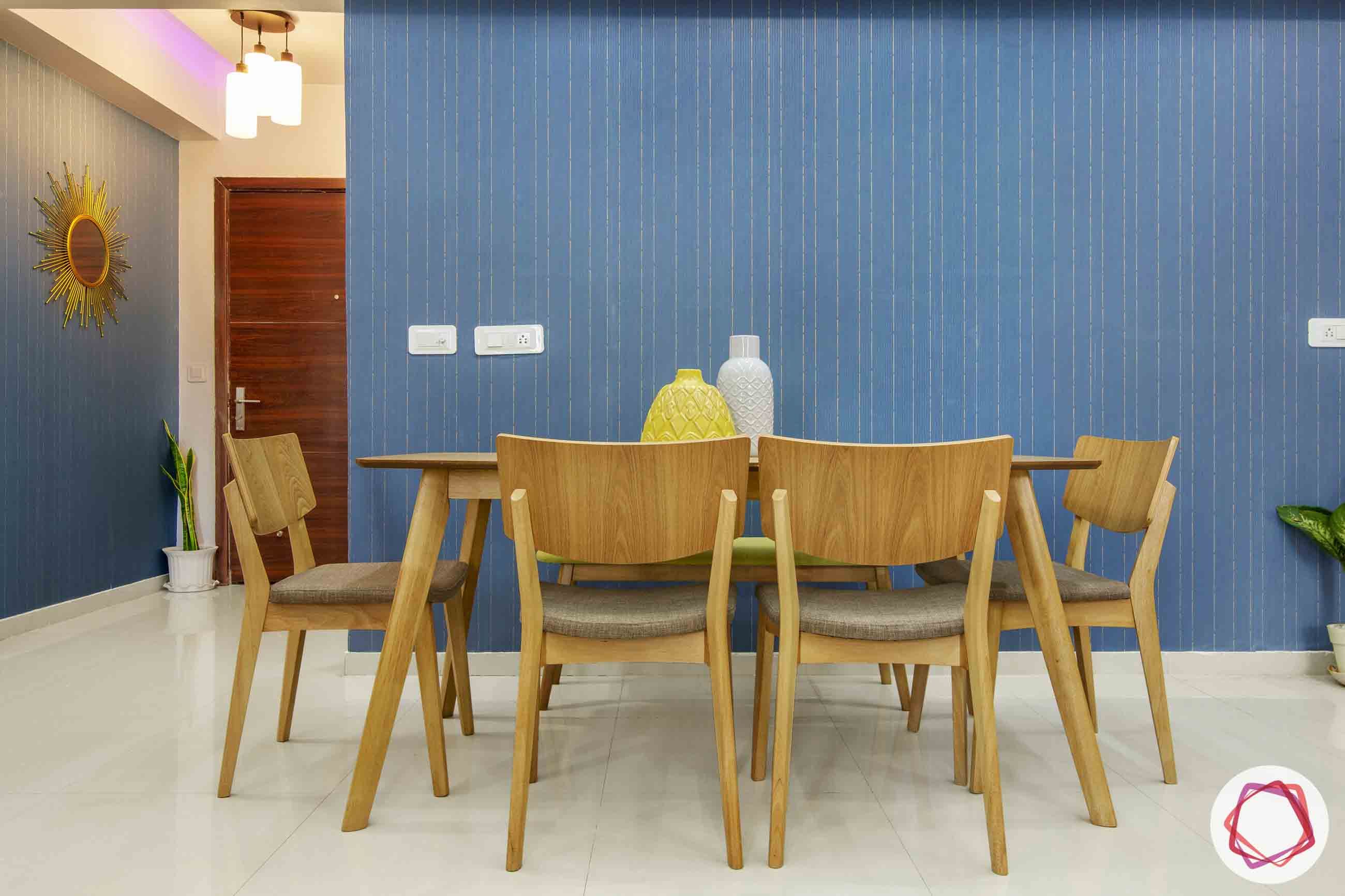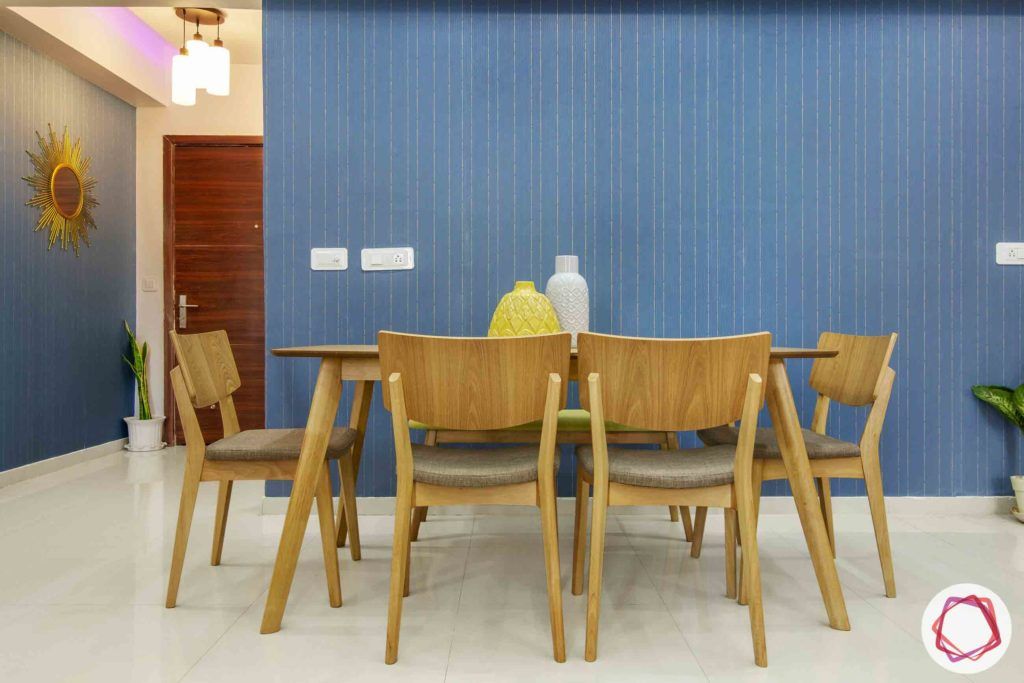 The focus of their dining space is a textured blue wallpaper that provides a striking contrast to the wooden dining set. This is the same powder blue wallpaper we see in the foyer. Hence, we have both colour balance and continuity of design in this DLF New Town Heights home.
Lights do the Talking at DLF New Town Heights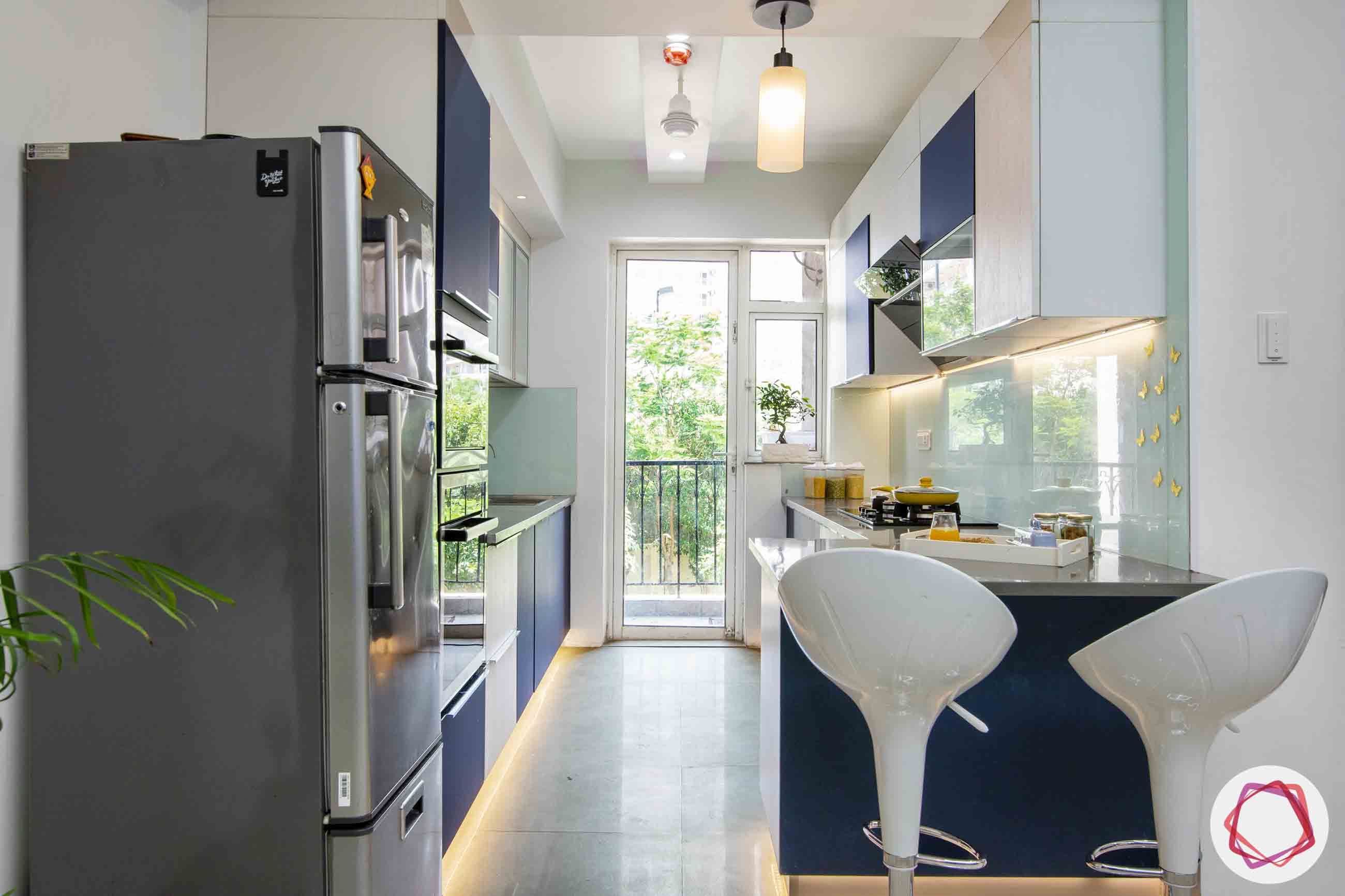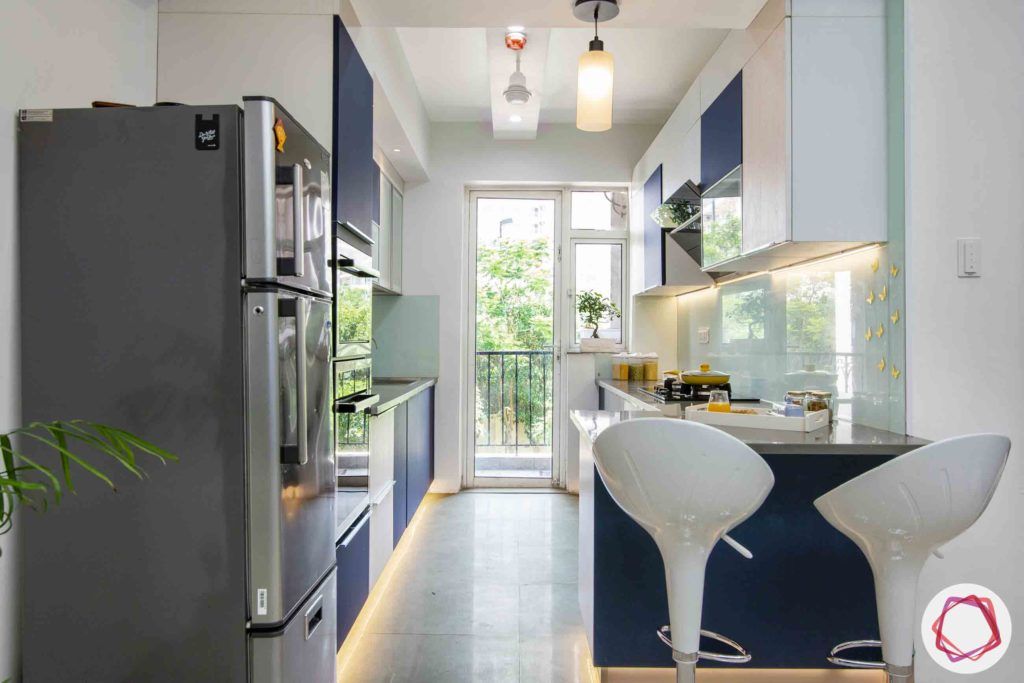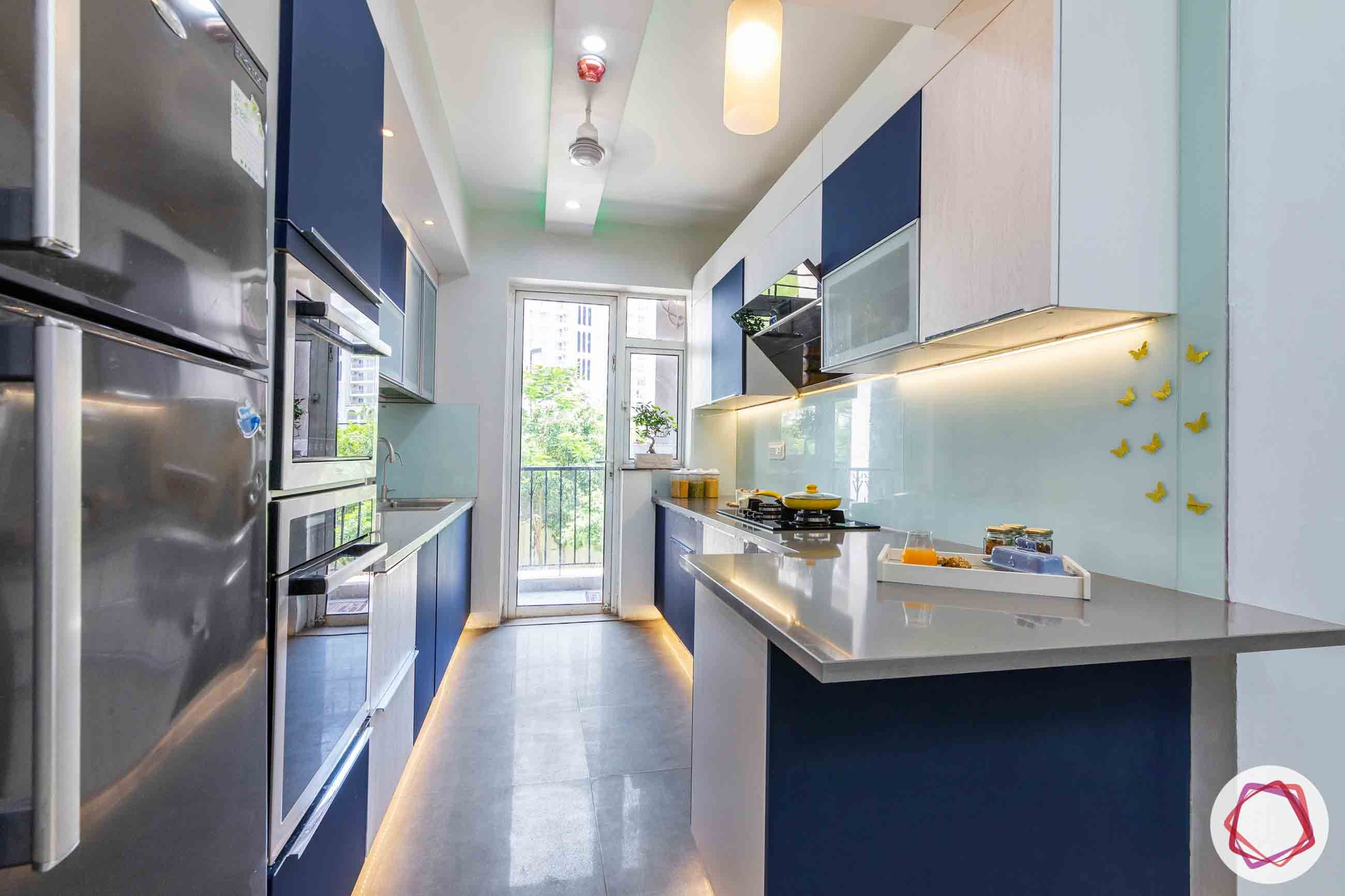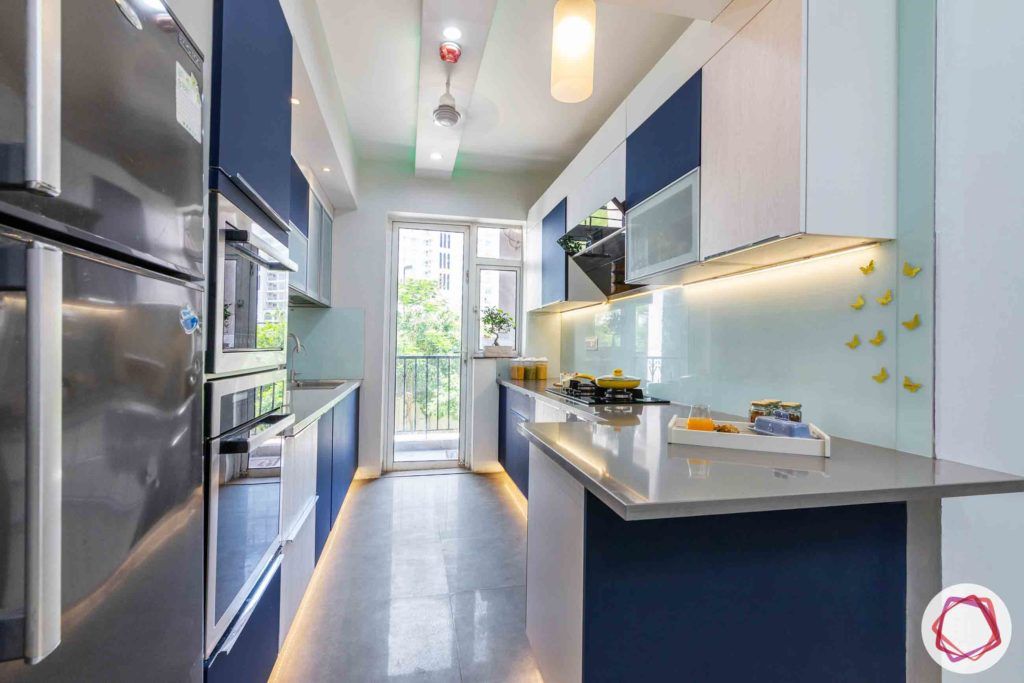 The kitchen is probably the most interesting space in this home as it packs a punch of many design features. Initially, the apartment had a closed kitchen but Nitin, who is a passionate cook, wanted to open it up and add a breakfast counter. The designer Sushant used this opportunity to opt for an open layout for this parallel kitchen that makes it look roomier and lets in more natural light.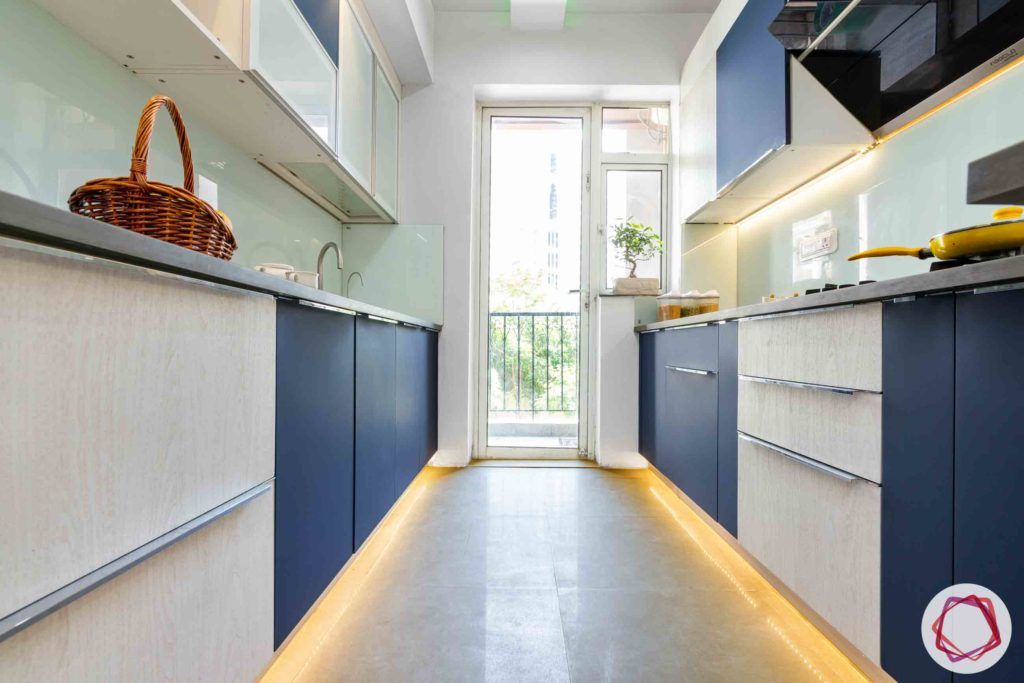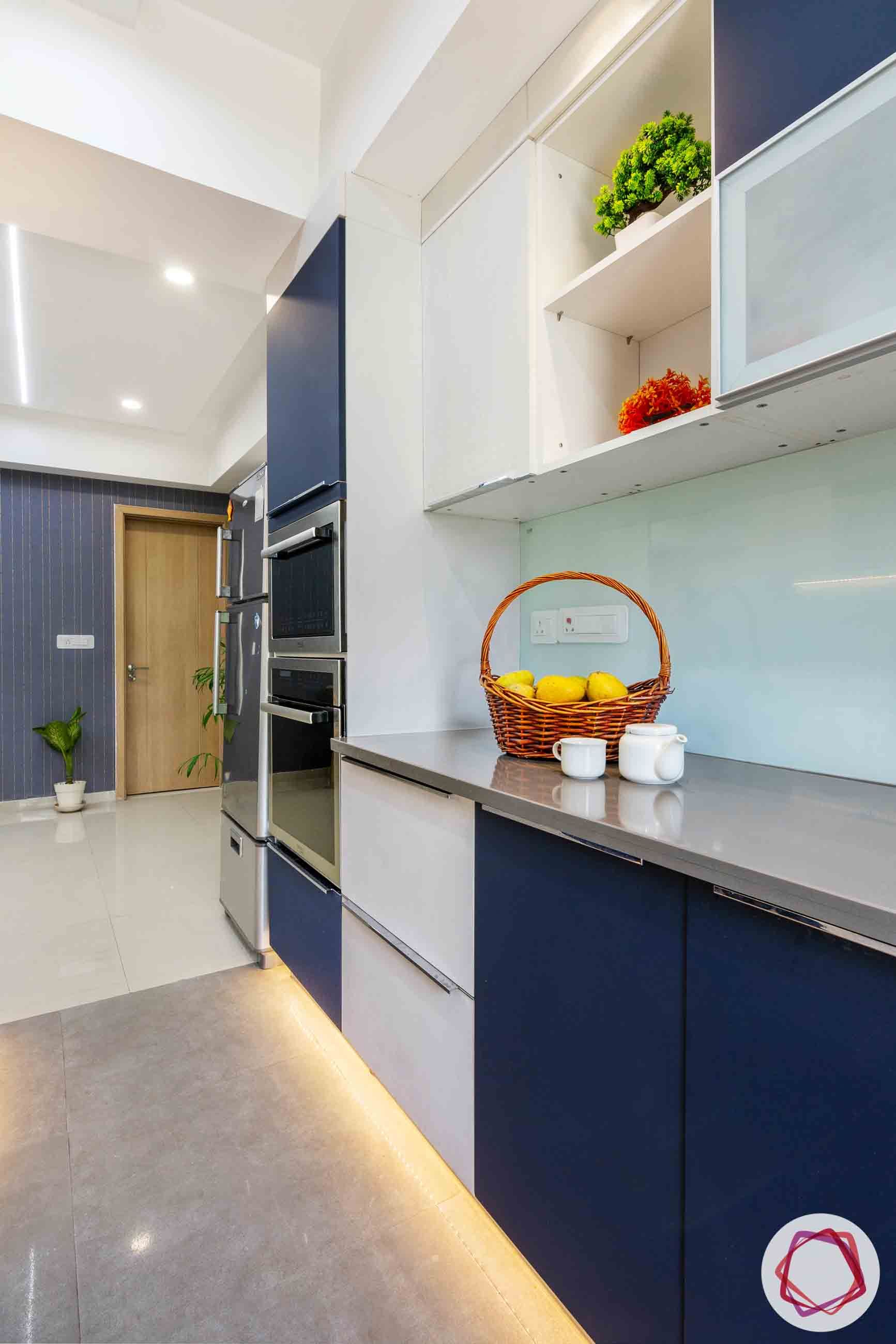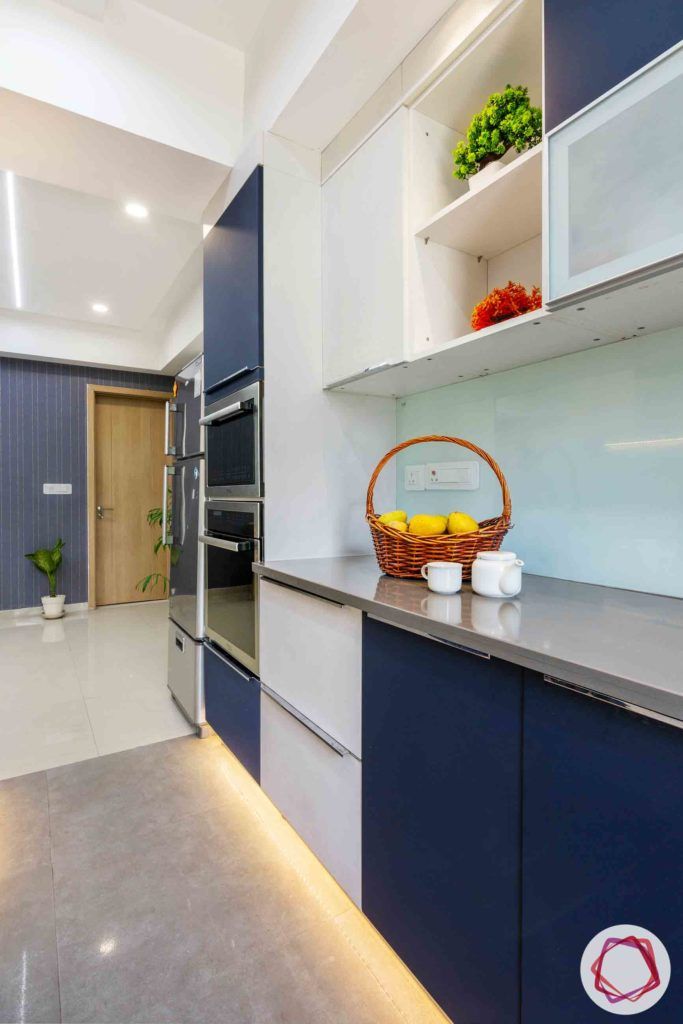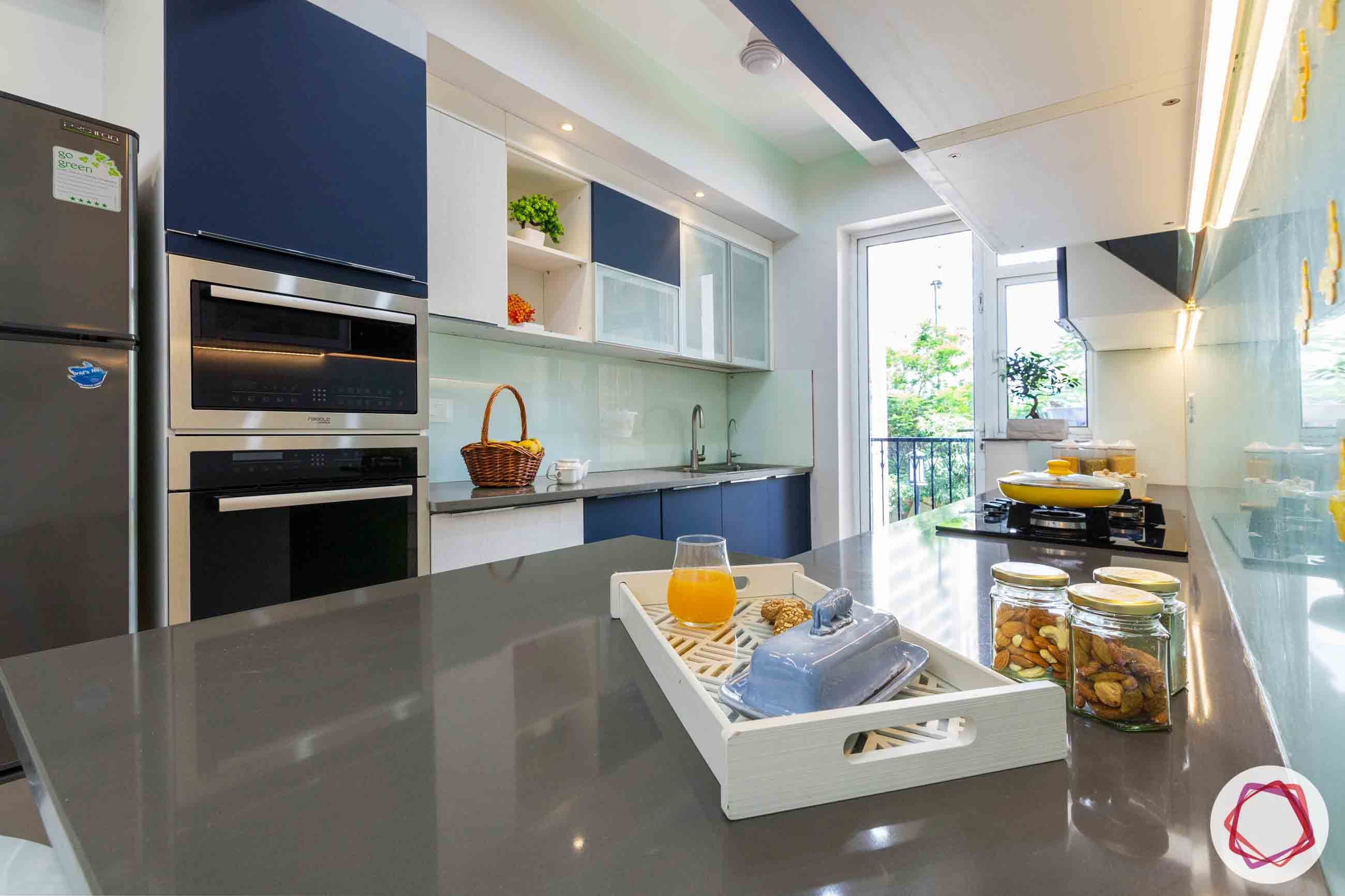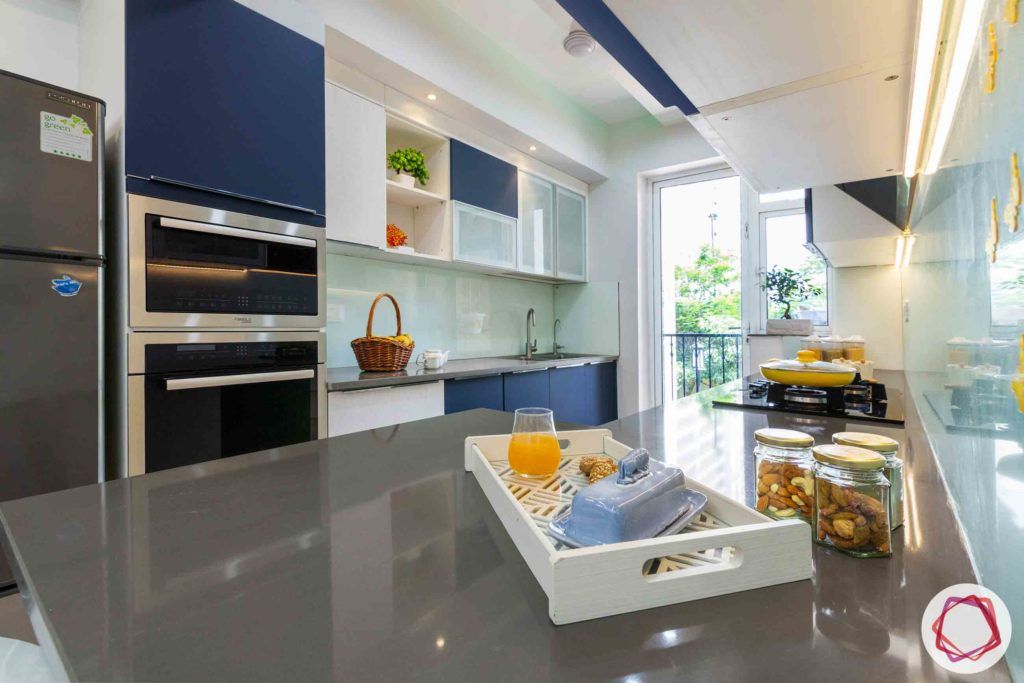 The Vermas opted for a two-toned kitchen with blue and white cabinets. The membrane kitchen has a suitably smooth and natural look. For extra storage, Sushant put in a tall cabinet for appliances that also incorporates a drawer for groceries. The backsplash has been done up completely in glass. It offers a classic contrast to the grey Kalinga stone countertop. But the real star of the show is the the profile lighting under the wall and base cabinets that adds a touch of edginess to this kitchen.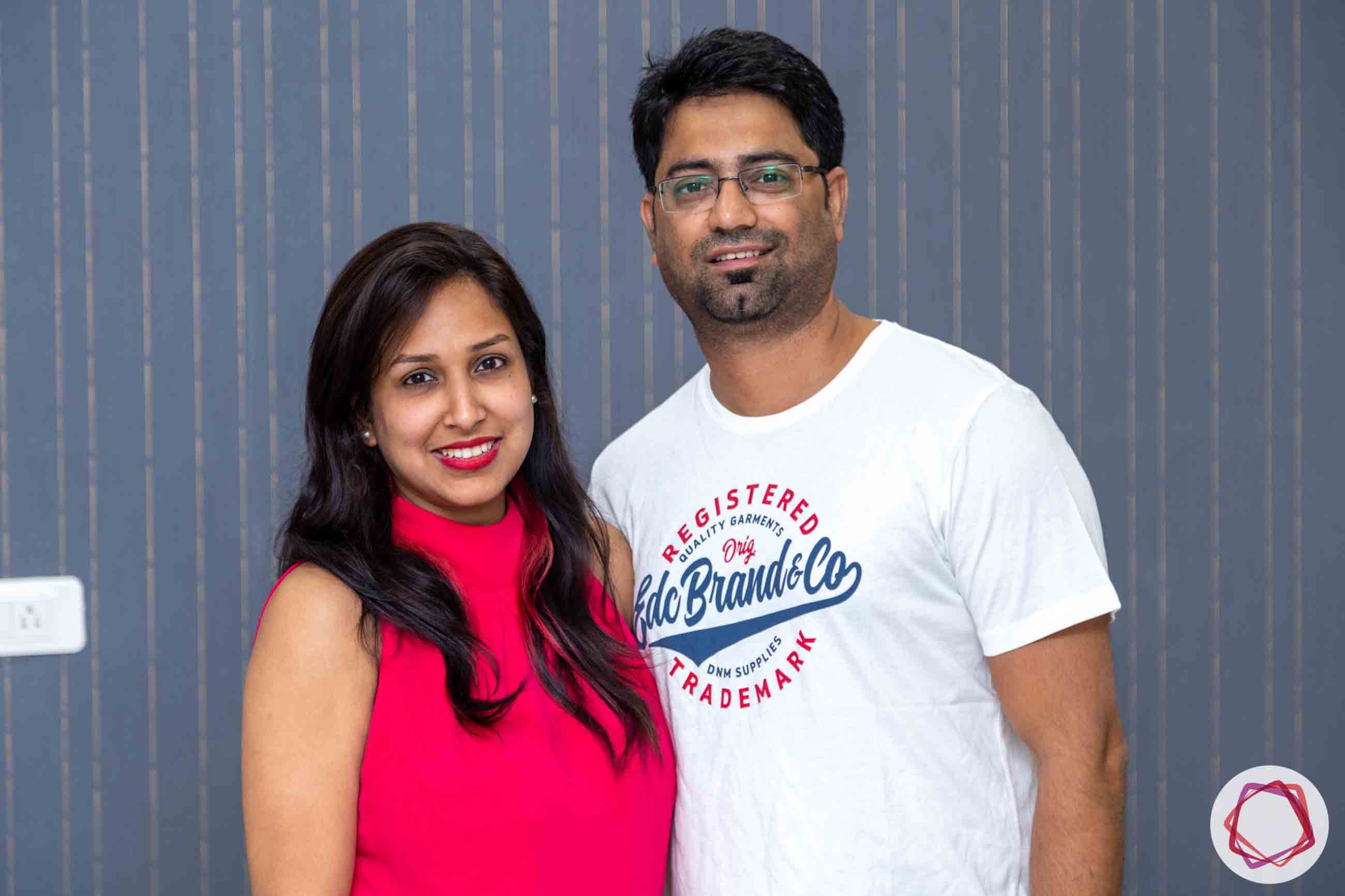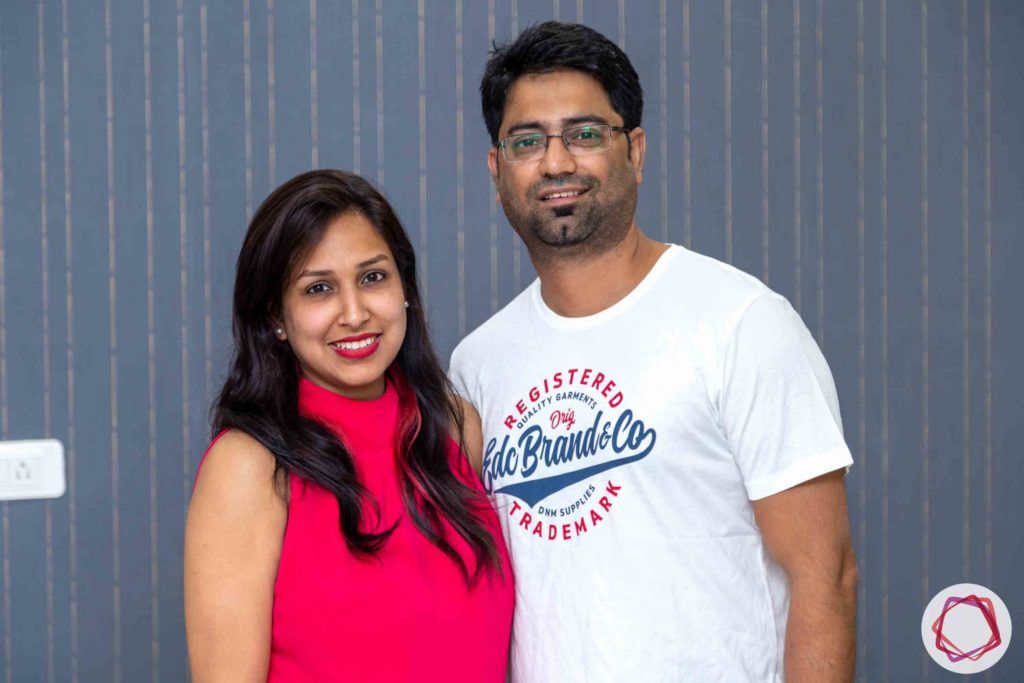 "We had an excellent experience of working with our designer Sushant as well as Livspace. We had a very specific choice of colours and Sushant used the same to furnish our home. He processed our inputs into workable designs, which have turned out to be perfect for us. I would say we received whatever we signed up for owing to the committed efforts of the design team."
– Nitin & Ankita Verma, Livspace Homeowners
Merry Mirage at DLF New Town Heights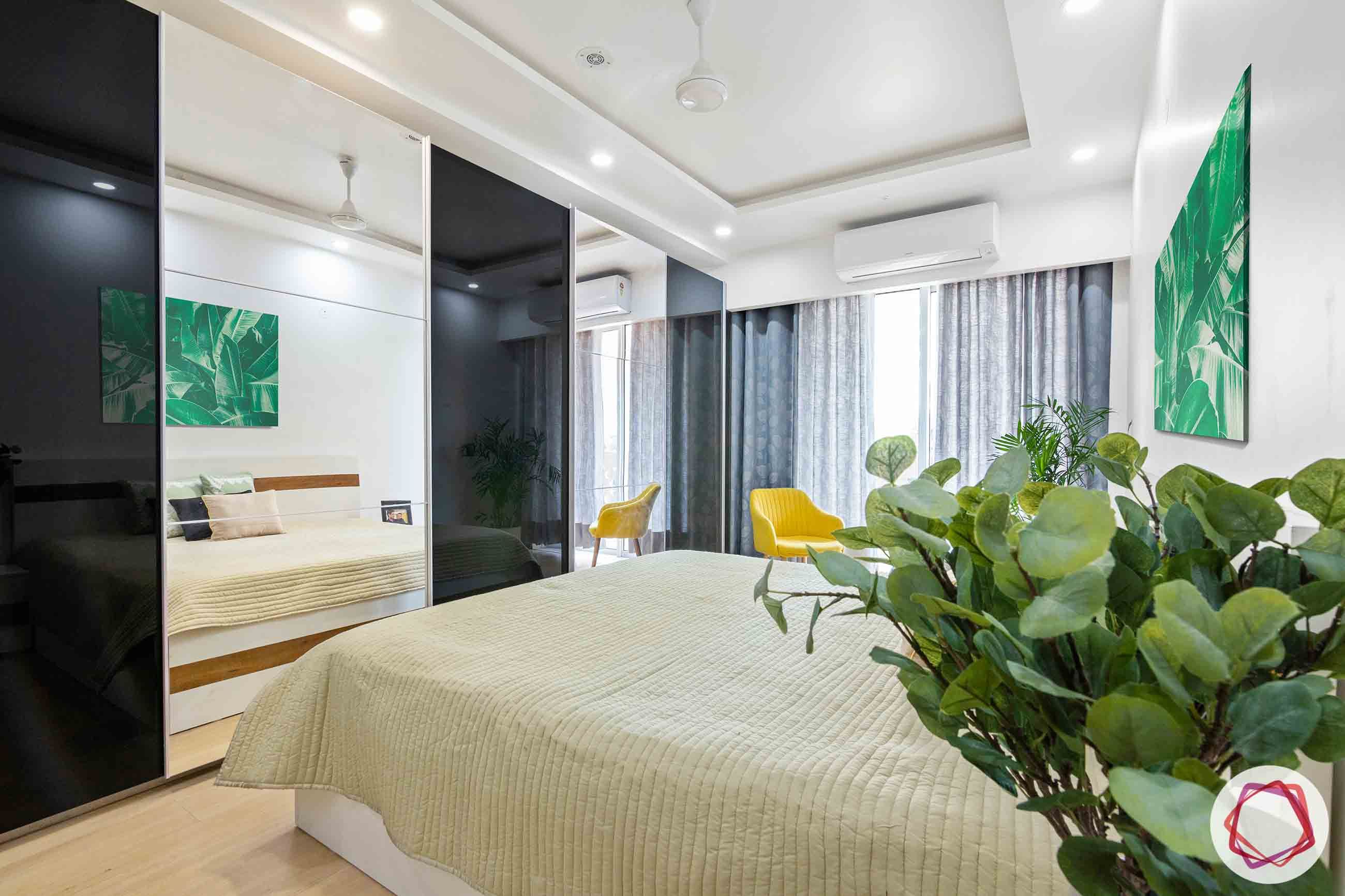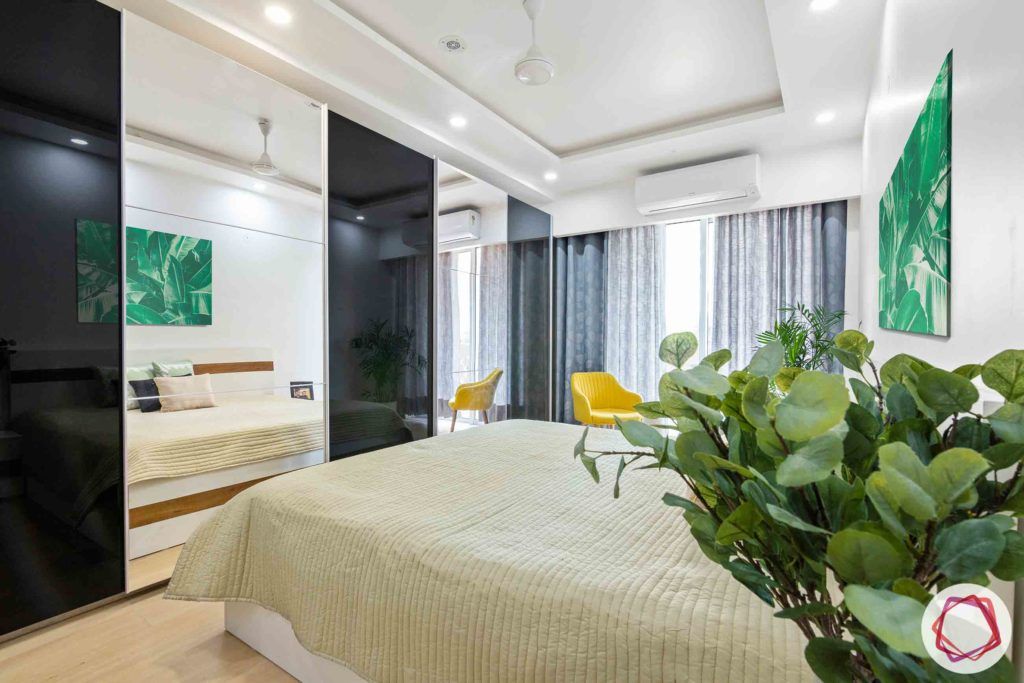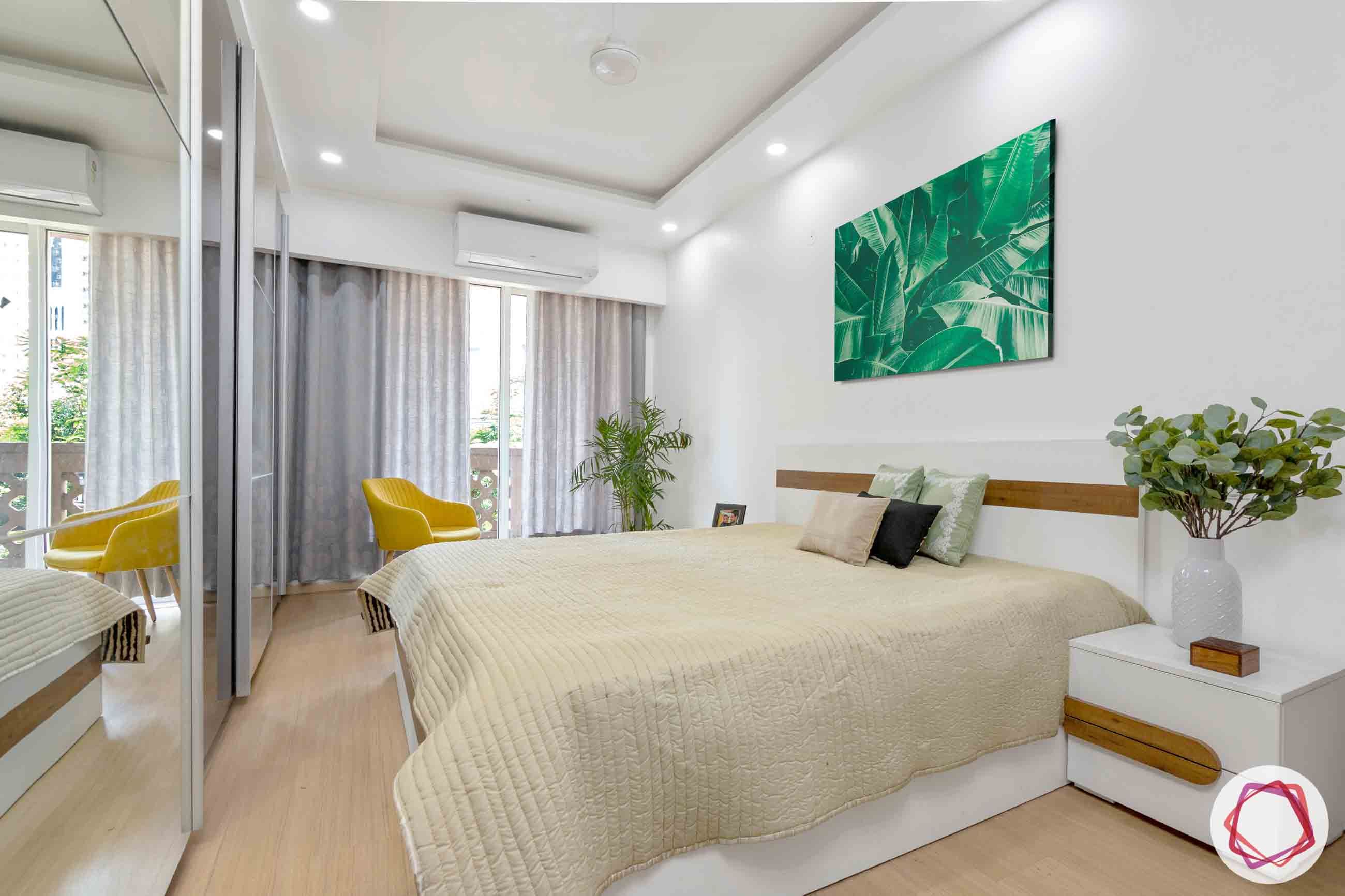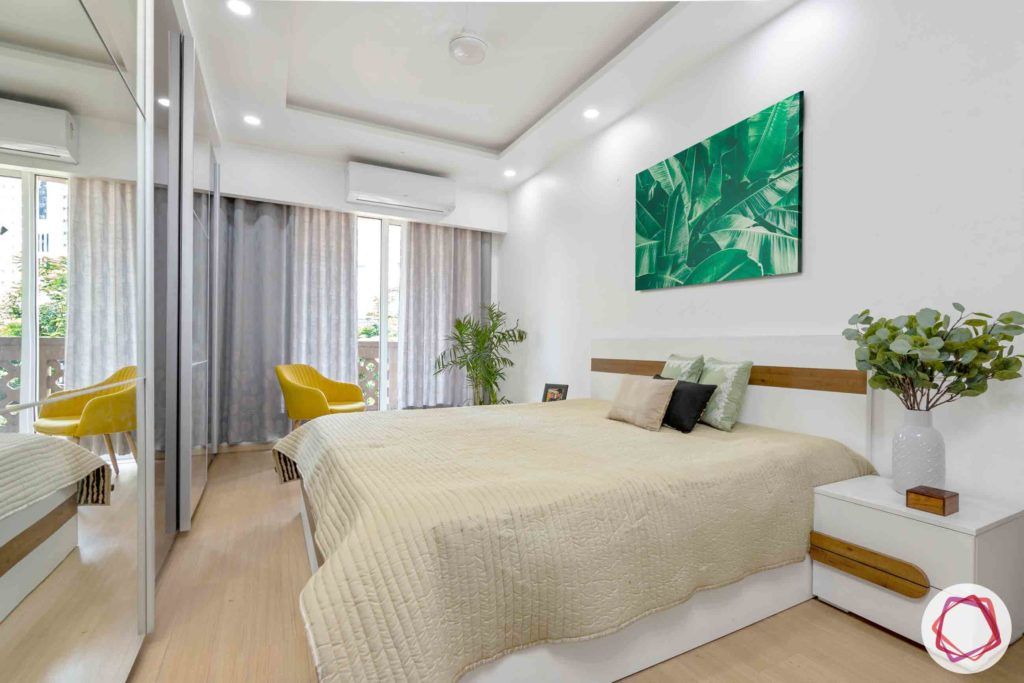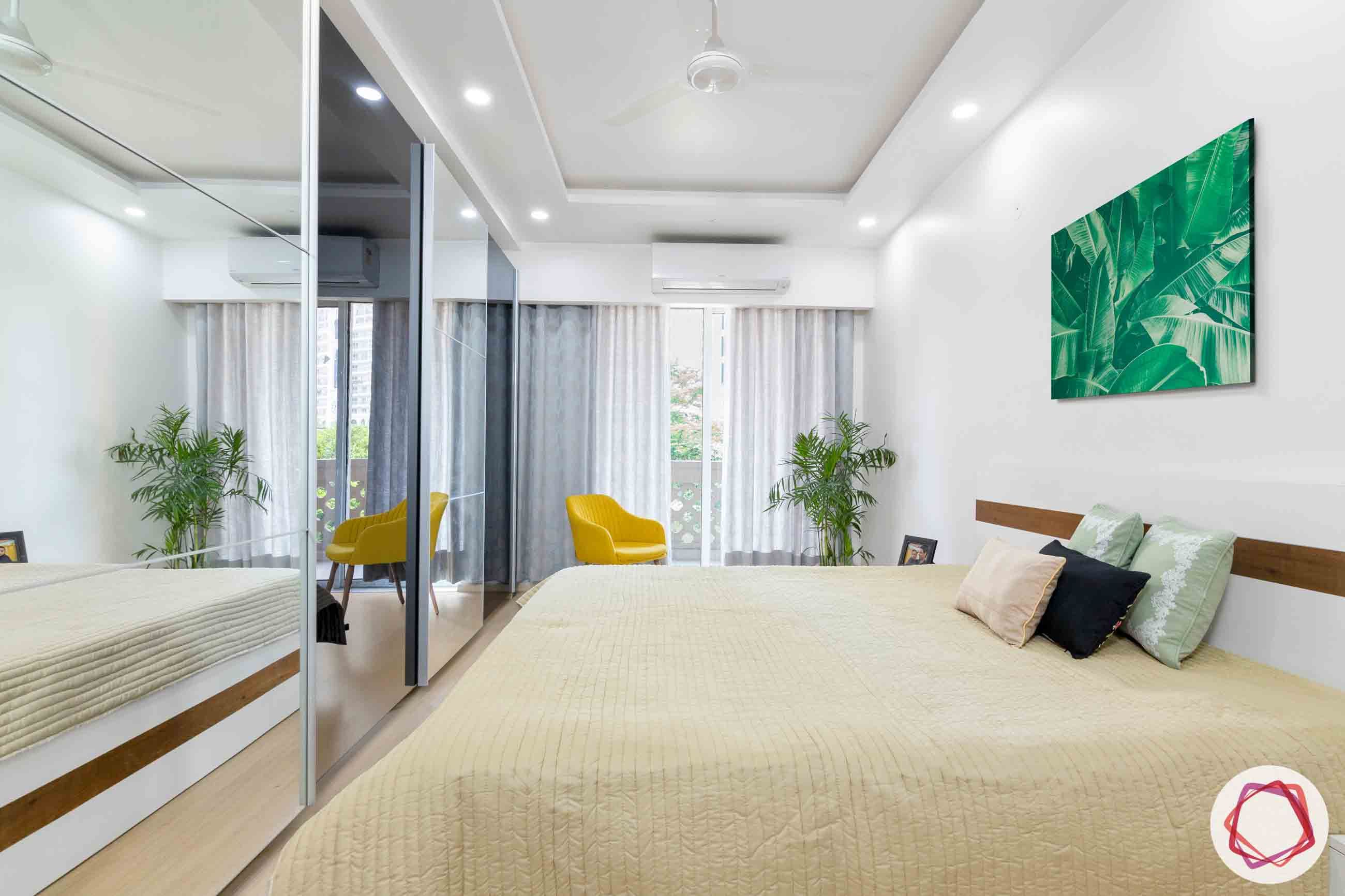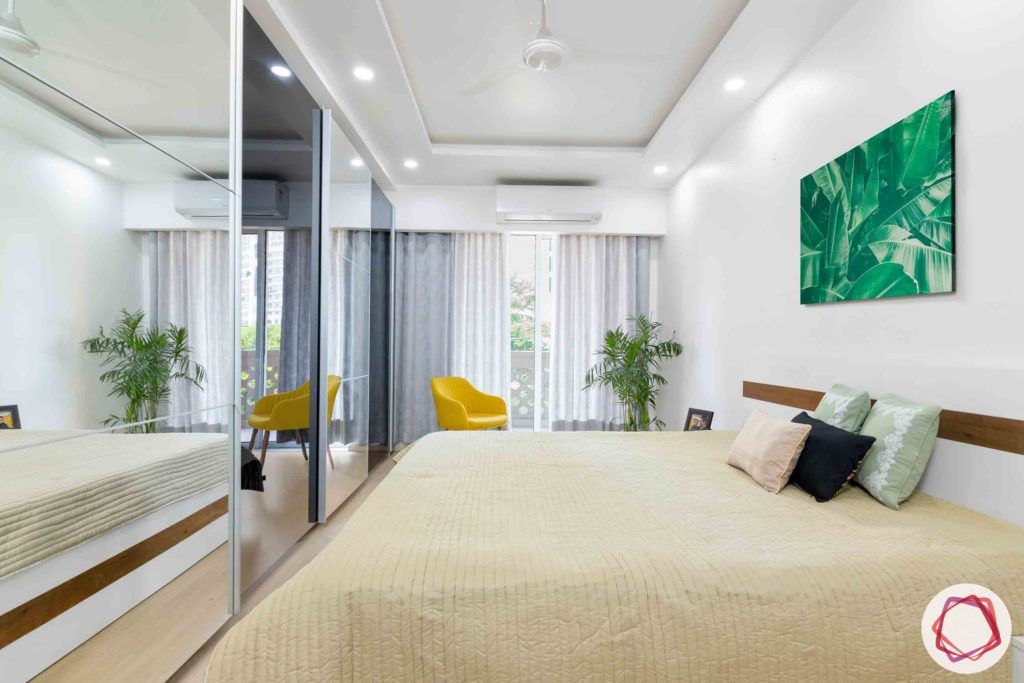 Nitin and Ankita's bedroom, like the rest of the home, is replete with a plethora of different finishes. The most striking being the wall-to-wall sliding wardrobe with seven doors. It is not just the scale of this wardrobe but its unusual finish that makes it the undeniable accent piece for this bedroom. Mirror shutters interspersed with glossy black acrylic shutters give a much needed illusion of space to this room.
As the room has warm wooden flooring, Sushant suggested installing a white bed and side tables that would have a balancing effect on the interiors.
Teal Trims at DLF New Town Heights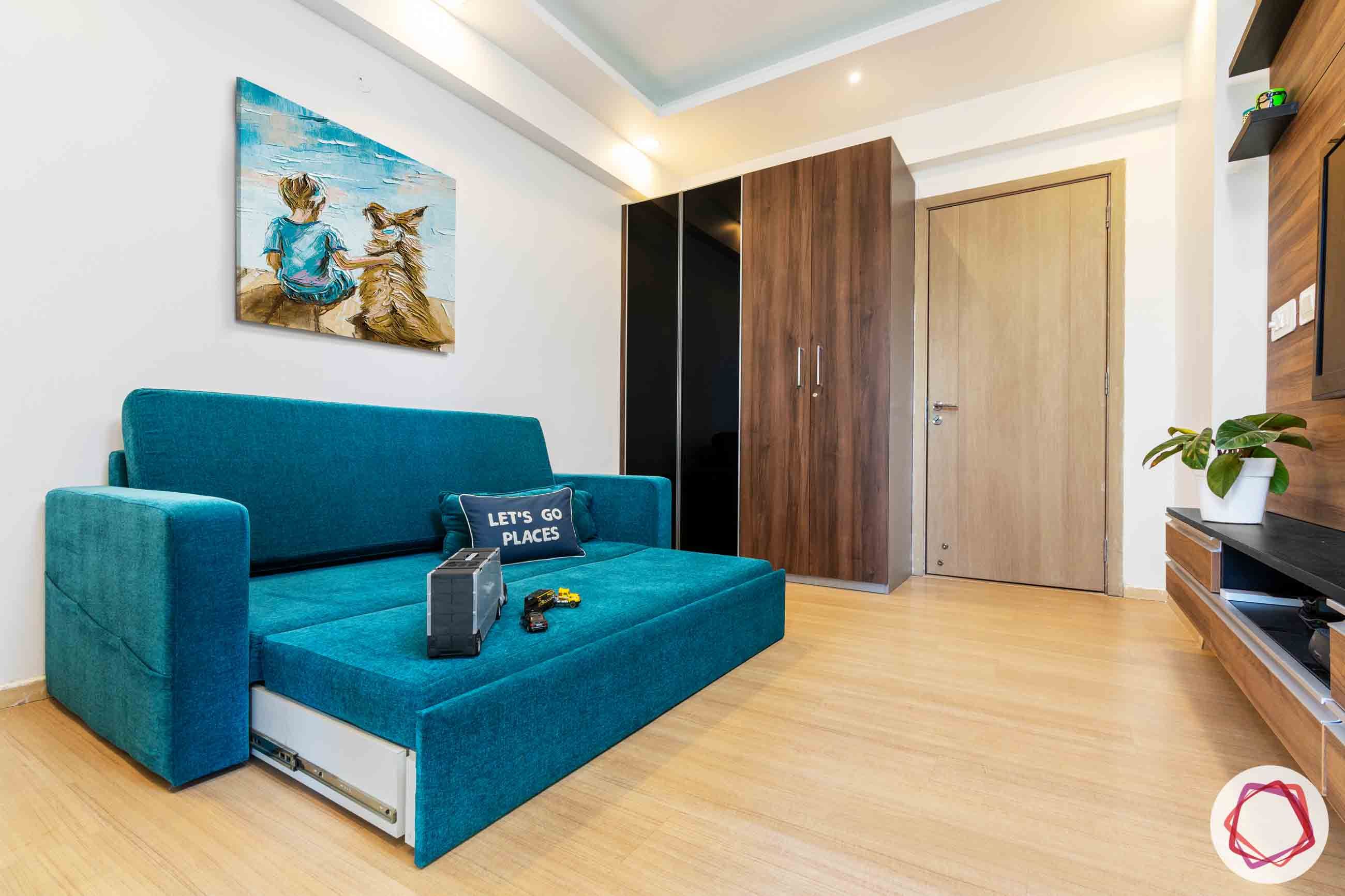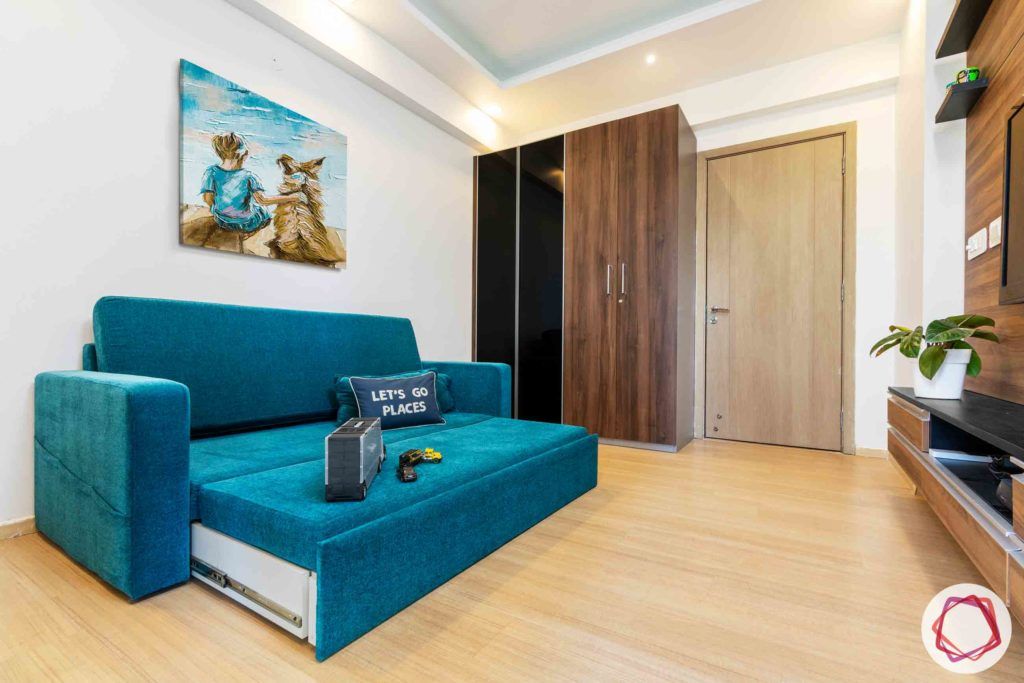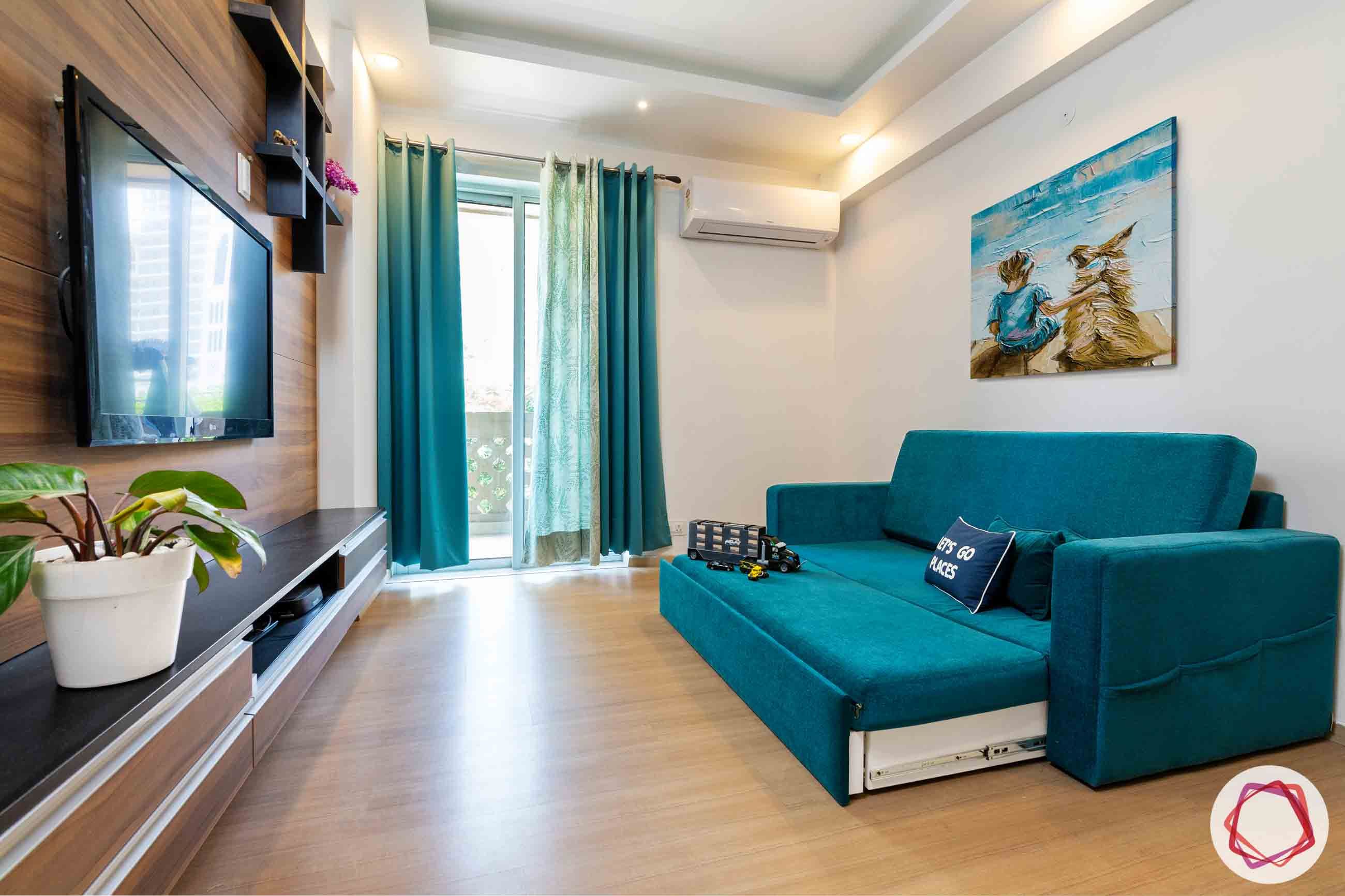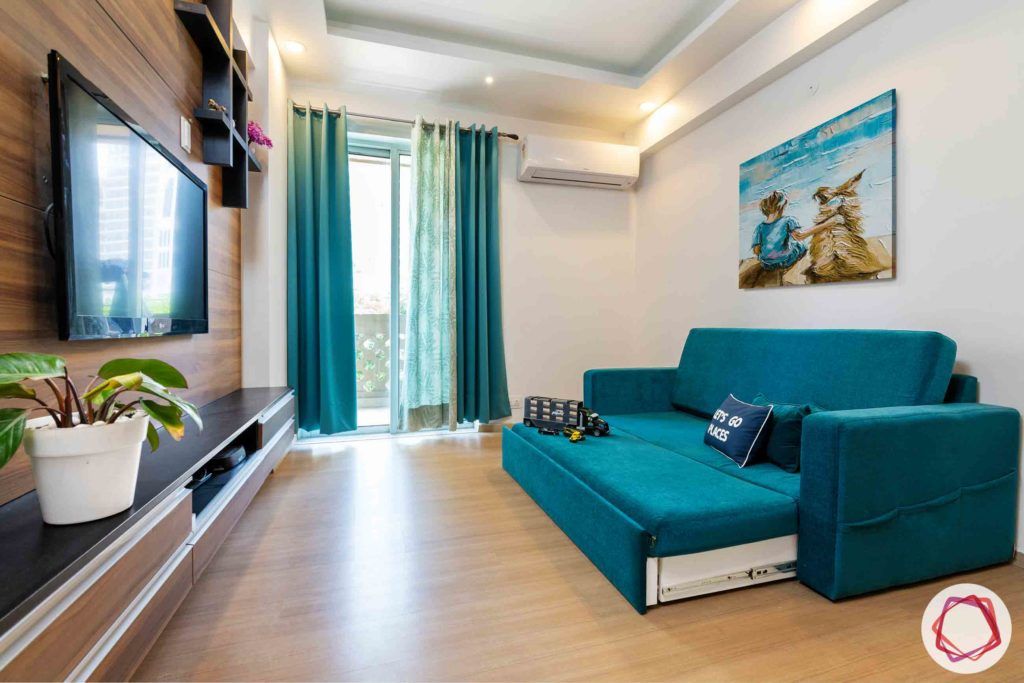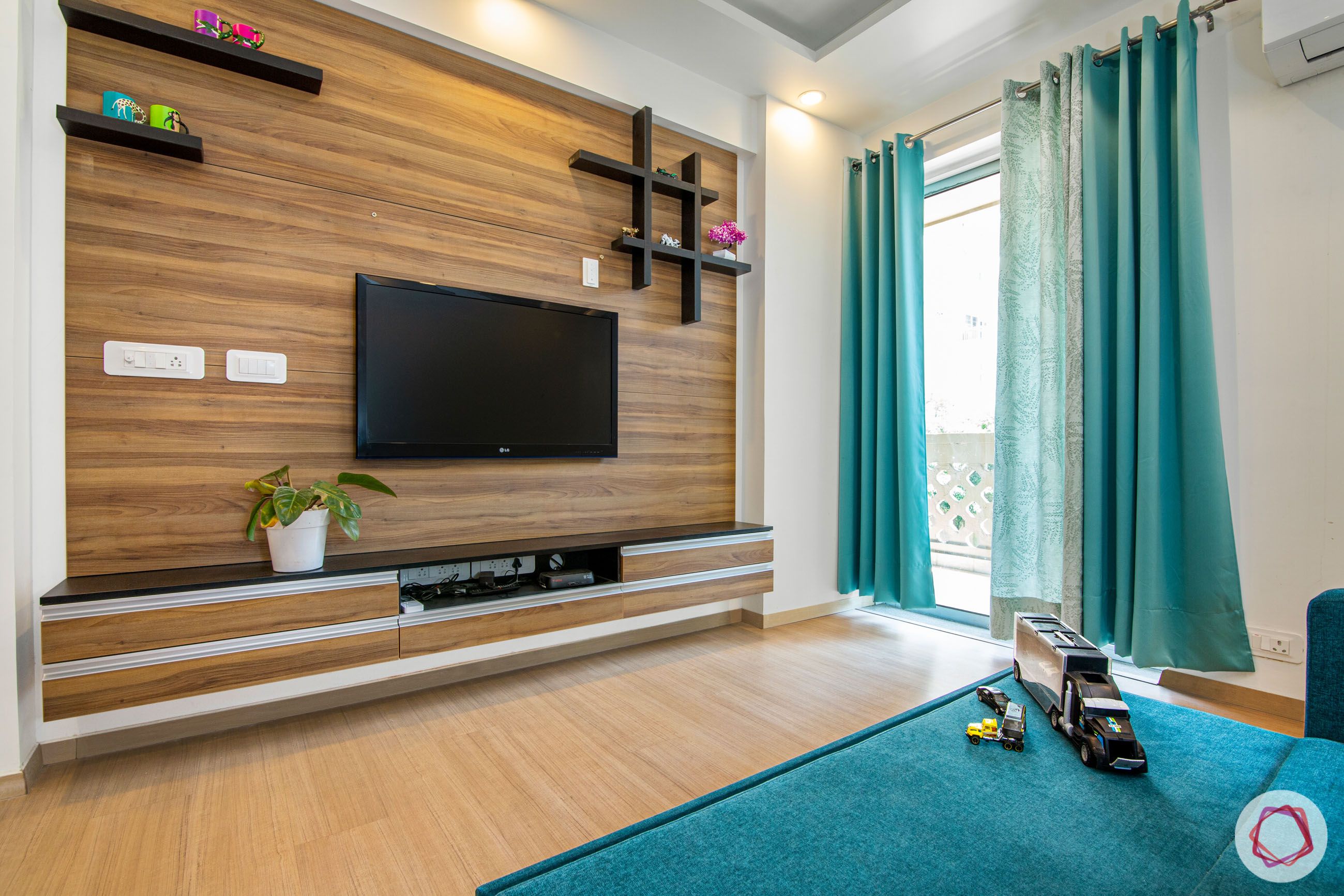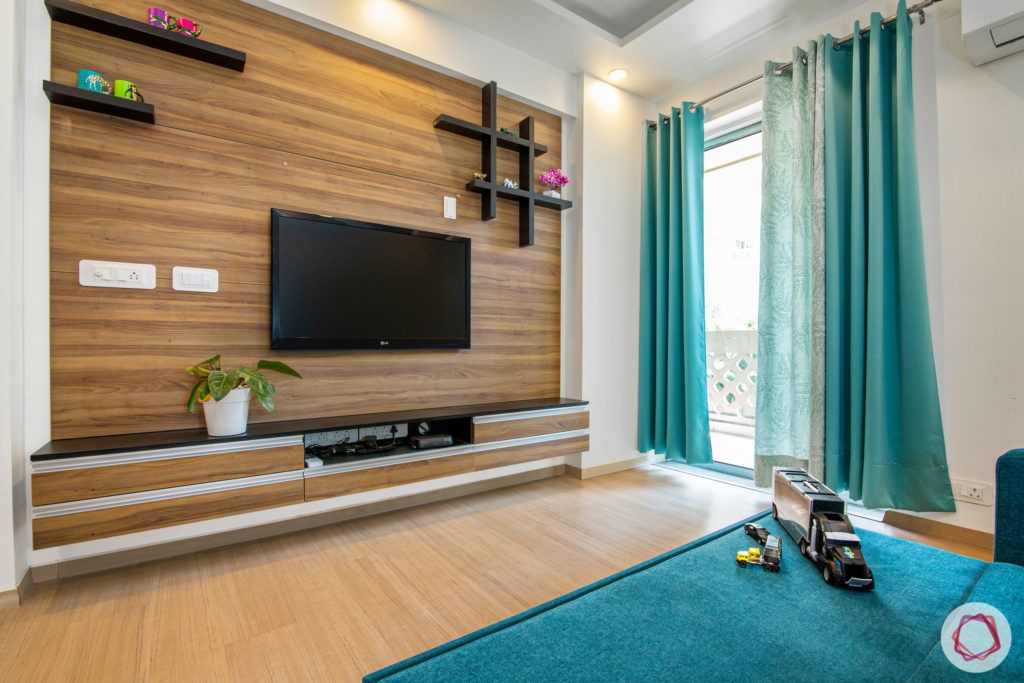 Nitin wanted to convert one of their spare bedrooms into a chill zone. Thus, Sushant suggested a casual seating arrangement with a sofa-cum-bed and an entertainment unit. Nitin's affinity for blue has an imprint on this room as well; the shades of teal are rather refreshing and contrast with the wooden flooring. We can see the unusual combination of laminate and black acrylic shutters on the four-door wardrobe in room. The entertainment unit is an amalgam of interesting shelf designs that go with the underlying quirky vibe.
Monochrome Magic at DLF New Town Heights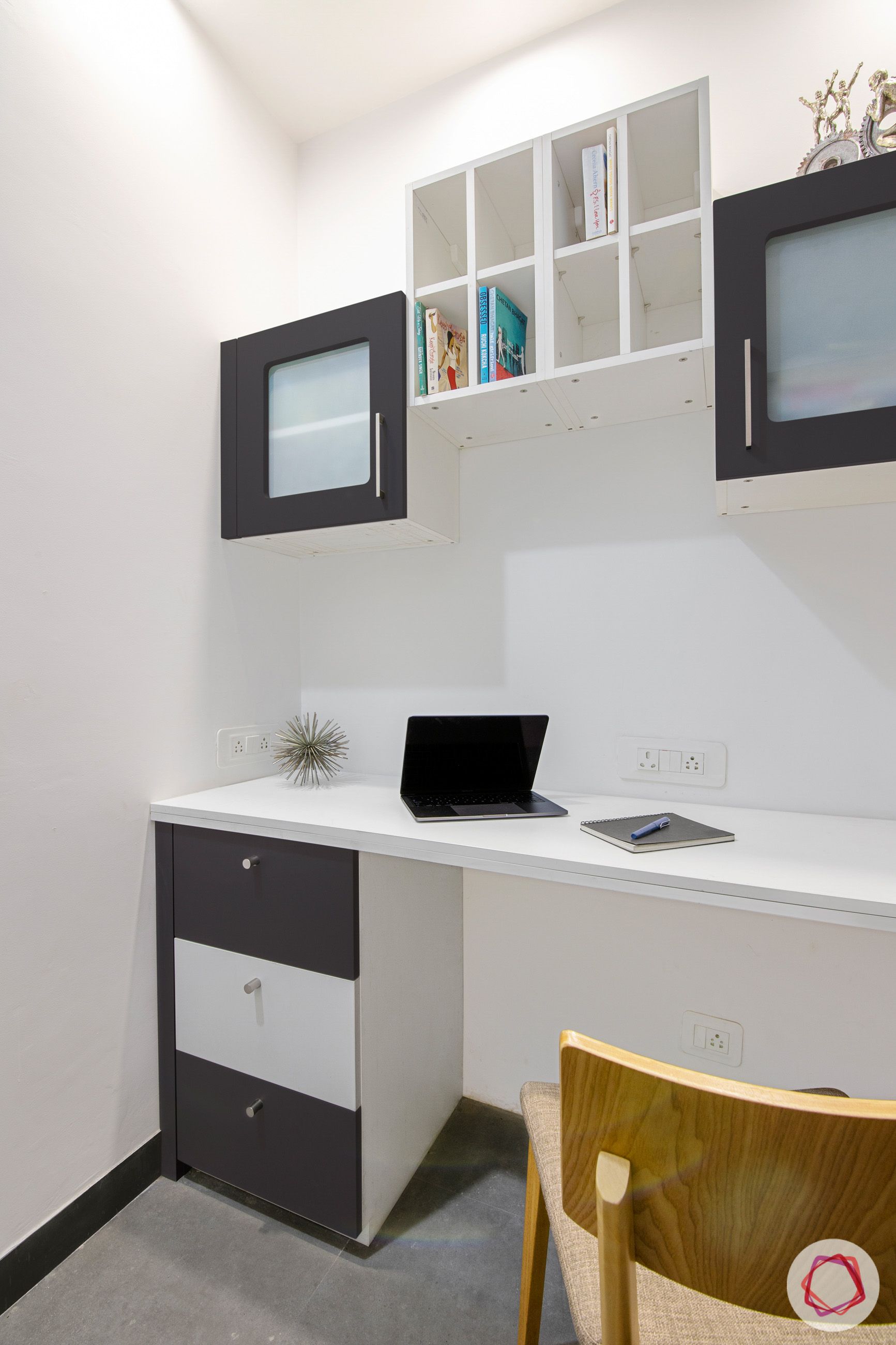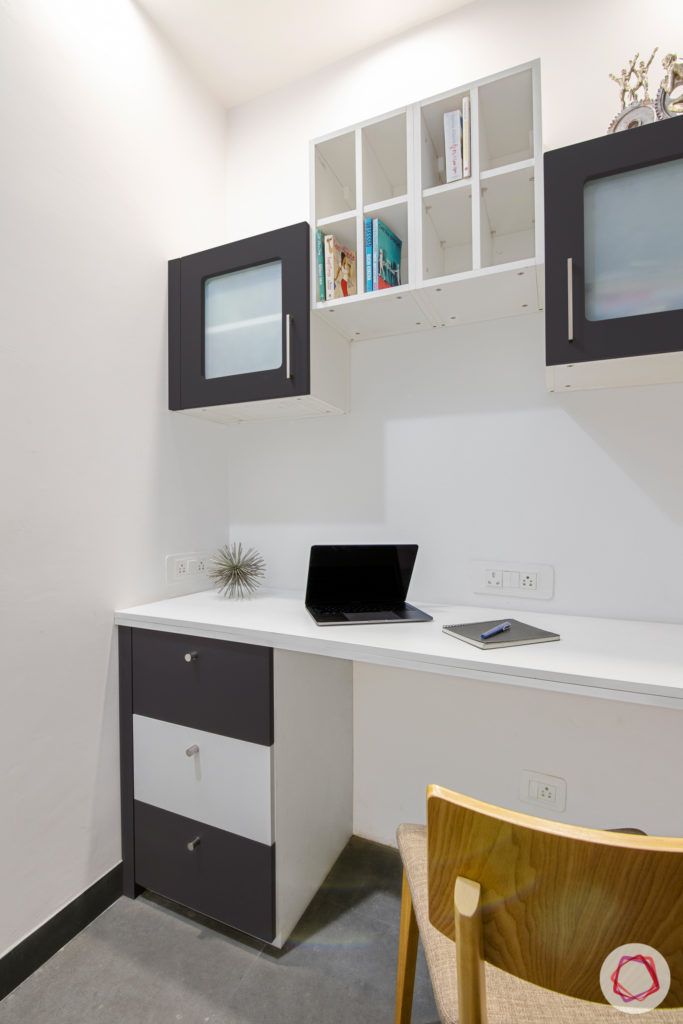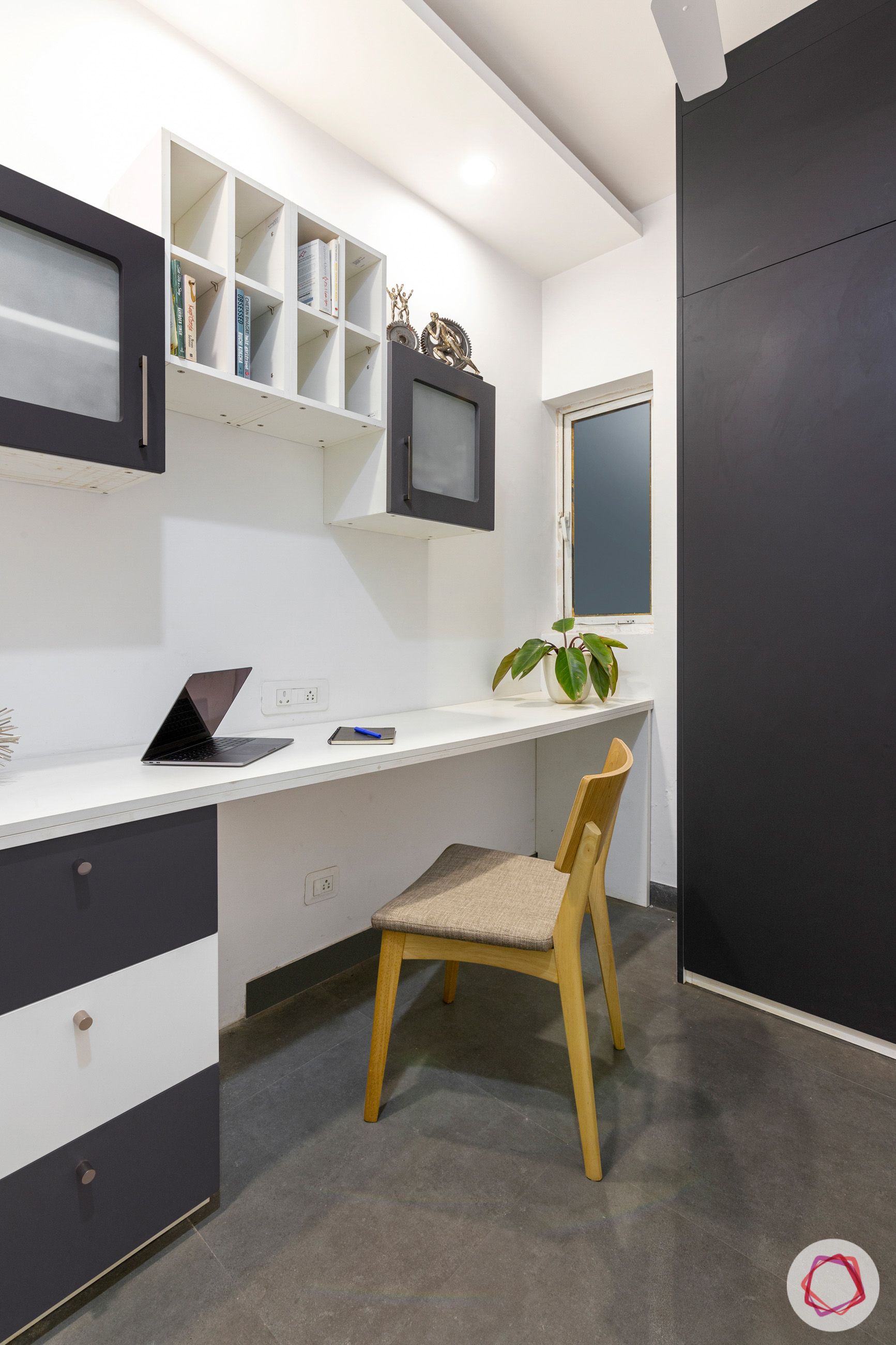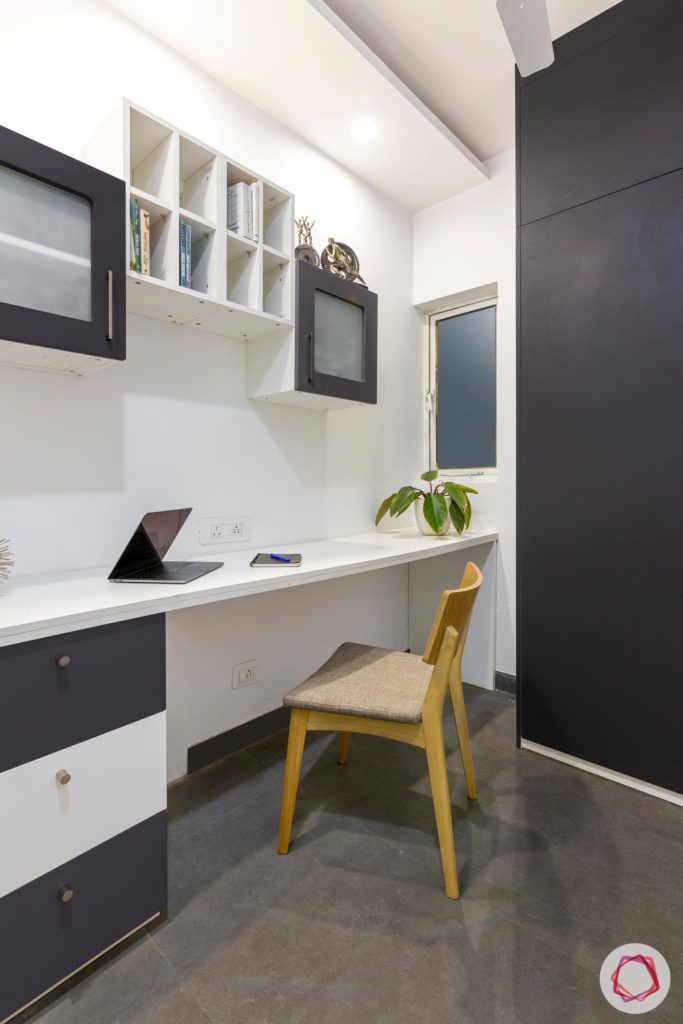 Nitin's job allows him to work from home quite often so he wanted a workstation at home. Considering the couple have a kid, it made sense to have an isolated work space. Hence, Sushant advised Nitin to turn the smallest bedroom into a study. This room has grey flooring that matched the monochrome furnishings. The unit is sleek thanks to a narrow floating table along with a stack of drawers and wall cabinets. There is a fair mix of open shelves and closed cabinets here to ensure easy access.
"Nitin always had a bold yet minimal design vision for his new home. Being a true perfectionist, all design details were carefully crafted and rigorously finalised by him. The end result is heartening to see for the whole team involved in the project. Overall, it was a challenging yet refreshing and creatively satisfying experience."
– Sushant Jain, Interior Designer, Livspace
If you enjoyed exploring this home, also read Stylishly Minimal 3BHK by Livspace.