The best interior designers in Gurgaon design a vibrant home.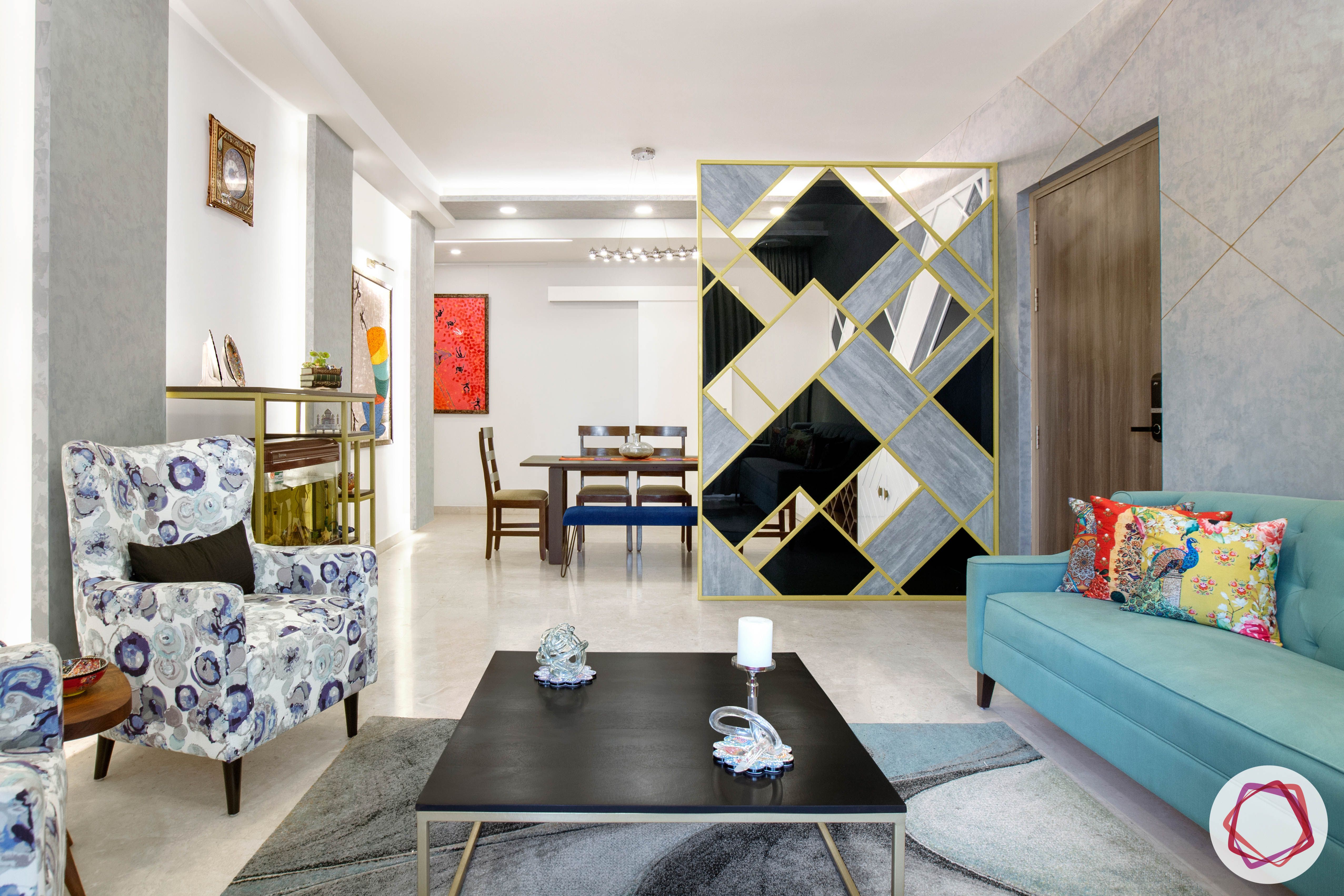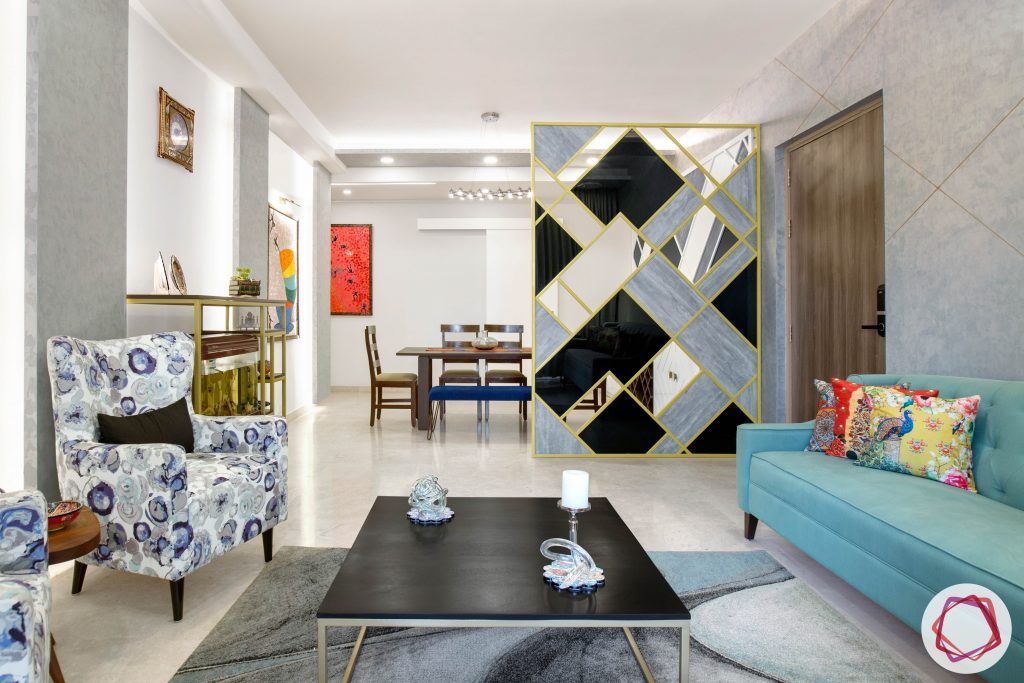 ---
Who livs here: Novita Arora with her husband Vipin and son Dhruv
Location: Ireo Victory Valley, Gurgaon
Size of home: 4BHK spanning 2,900 sq ft approx.
Design team: Interior Designer Sushant Madan & Project Manager Taranjeet Singh
Livspace service: Full home design (kitchen excluded)
Budget: ₹₹₹₹₹
---
All that the Aroras knew when they wanted to do interiors for their new home was that it should be a vibrant space with zesty colours. So they hired from the best interior designers in Gurgaon, to give them a home that would be as spirited as they are. Livspace designer Sushant Madan, had a core design strategy; he wanted to break the monotony of browns and beiges in the flooring provided by the builders for this 4BHK.
The rest, as they say, is history. Not only did our designer experiment with a variety of shades in this home, he also added plenty of character by alternating with textures and materials. Take a sneak peak to see how this gorgeous home was designed.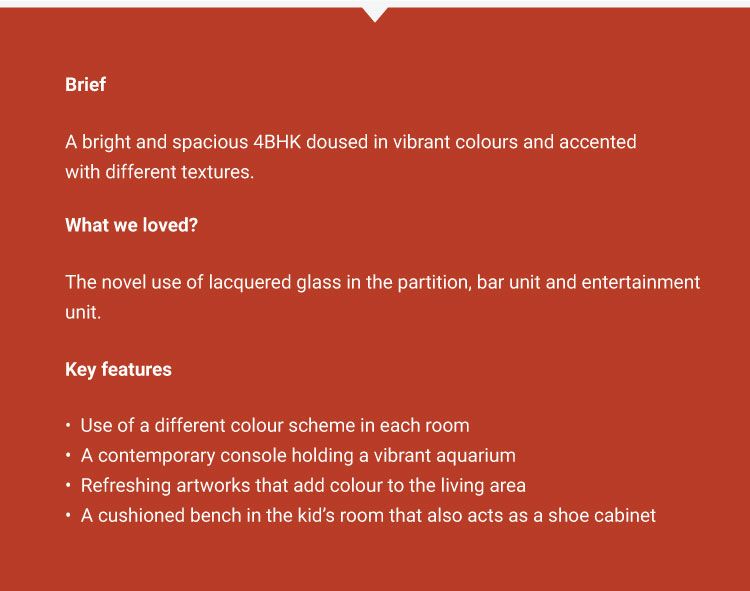 Best Interior Designers in Gurgaon Design: Blue & Beautiful Living Area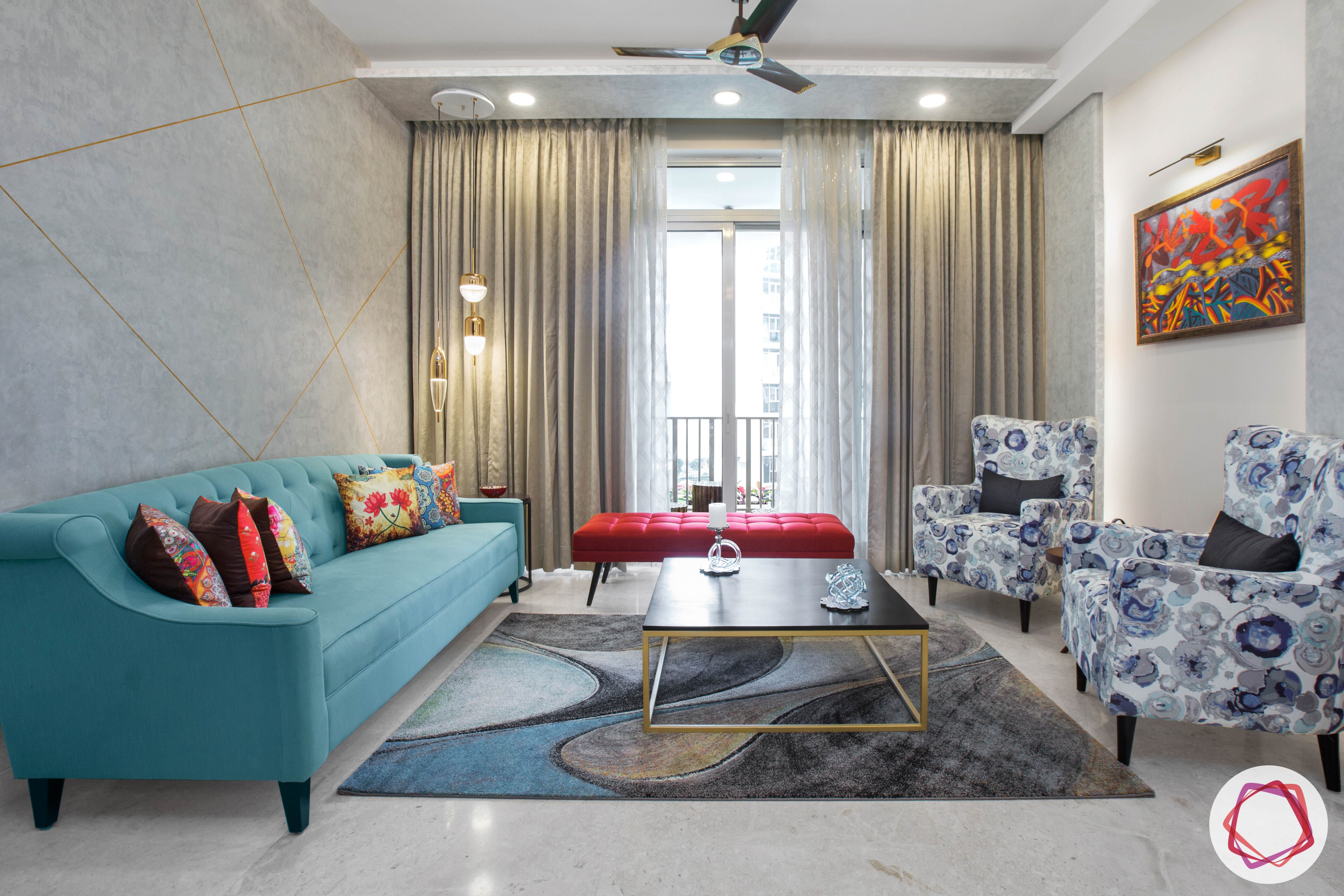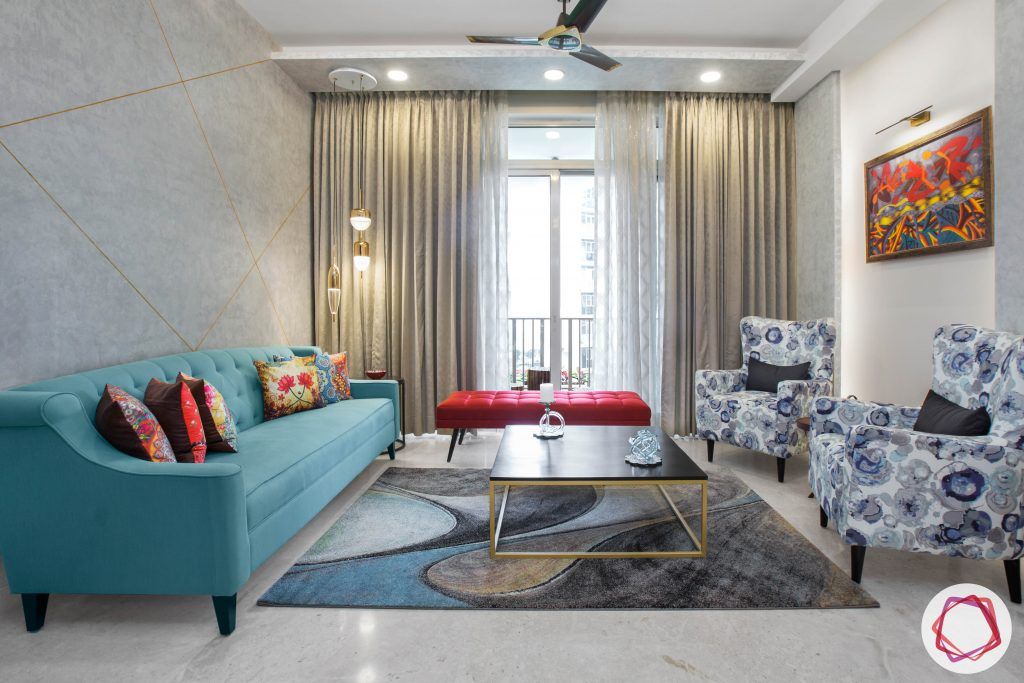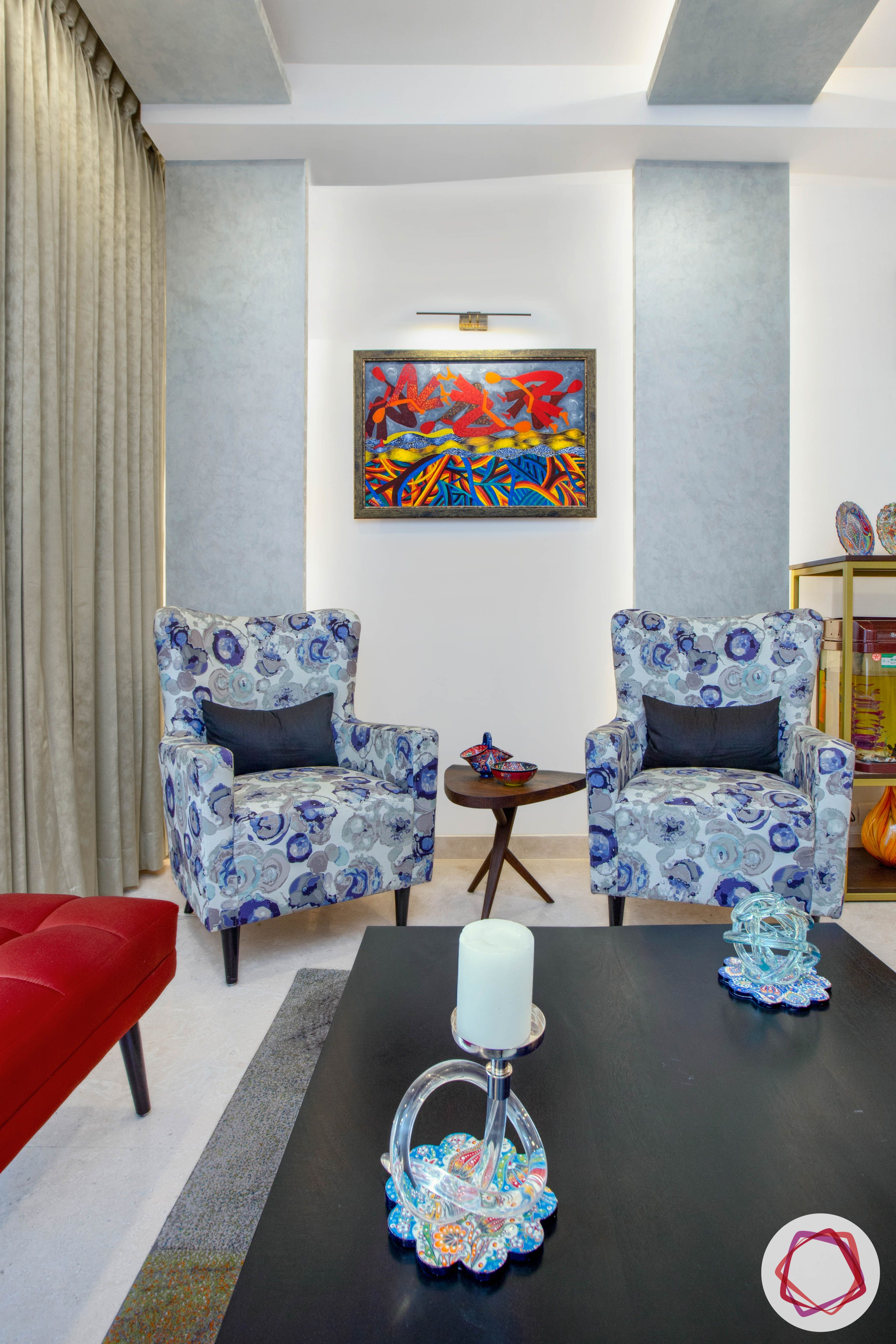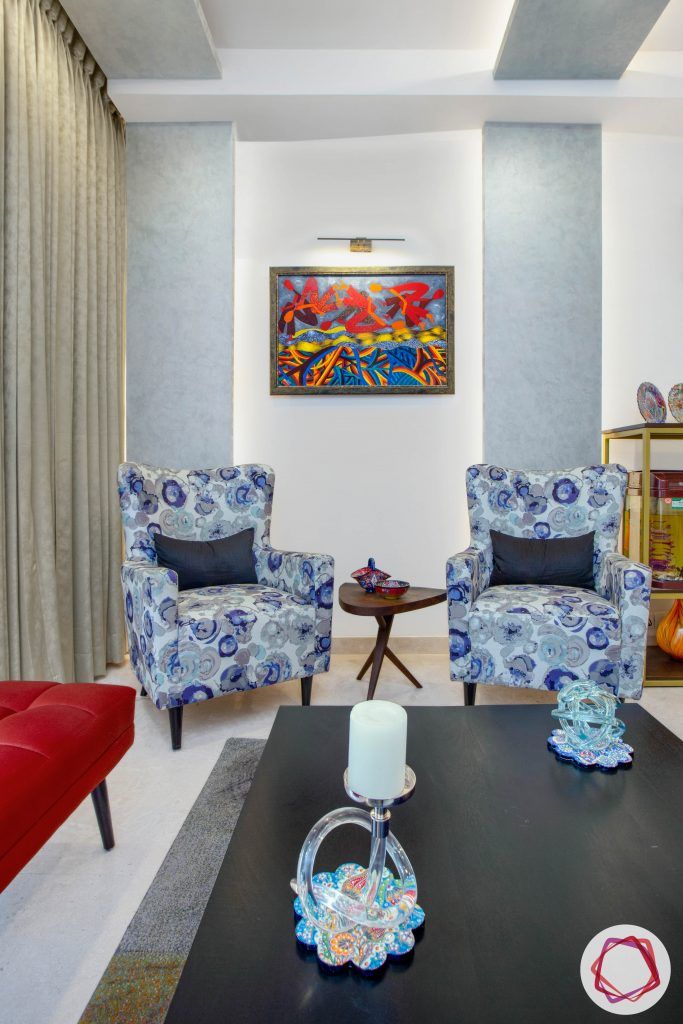 The living area in this spacious 4BHK is a riot of colours. On one side, there is aqua blue 3-seater sofa from the Livspace catalogue. Facing the sofa are two comfy armchairs that sport contemporary prints. By the French windows, there is a crimsom tufted ottoman that stands out. To balance out the deluge of colours, there is a rather utilitarian centre table with a metal base and dark wood top.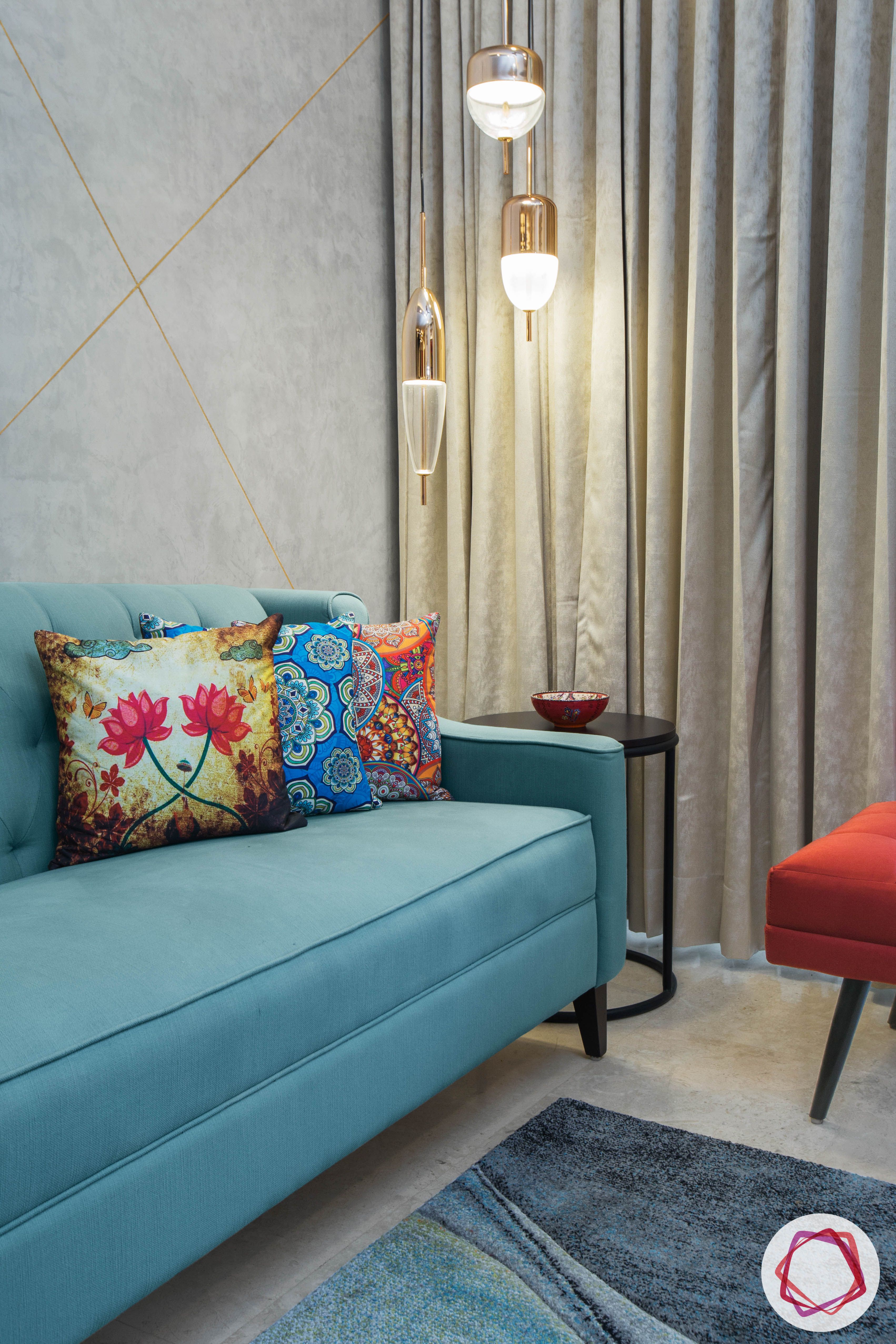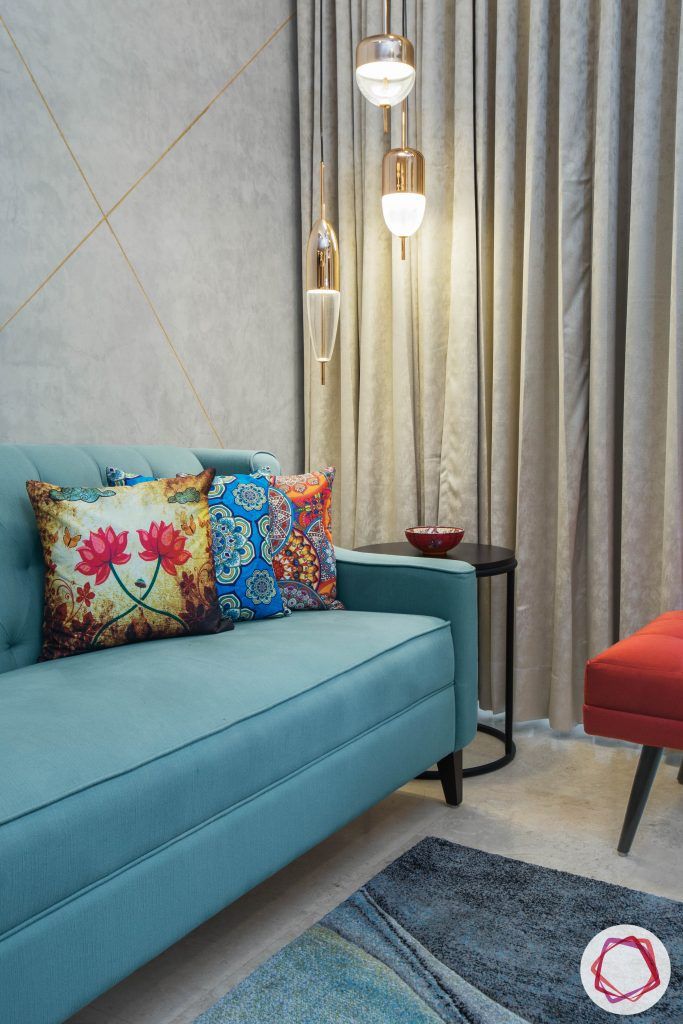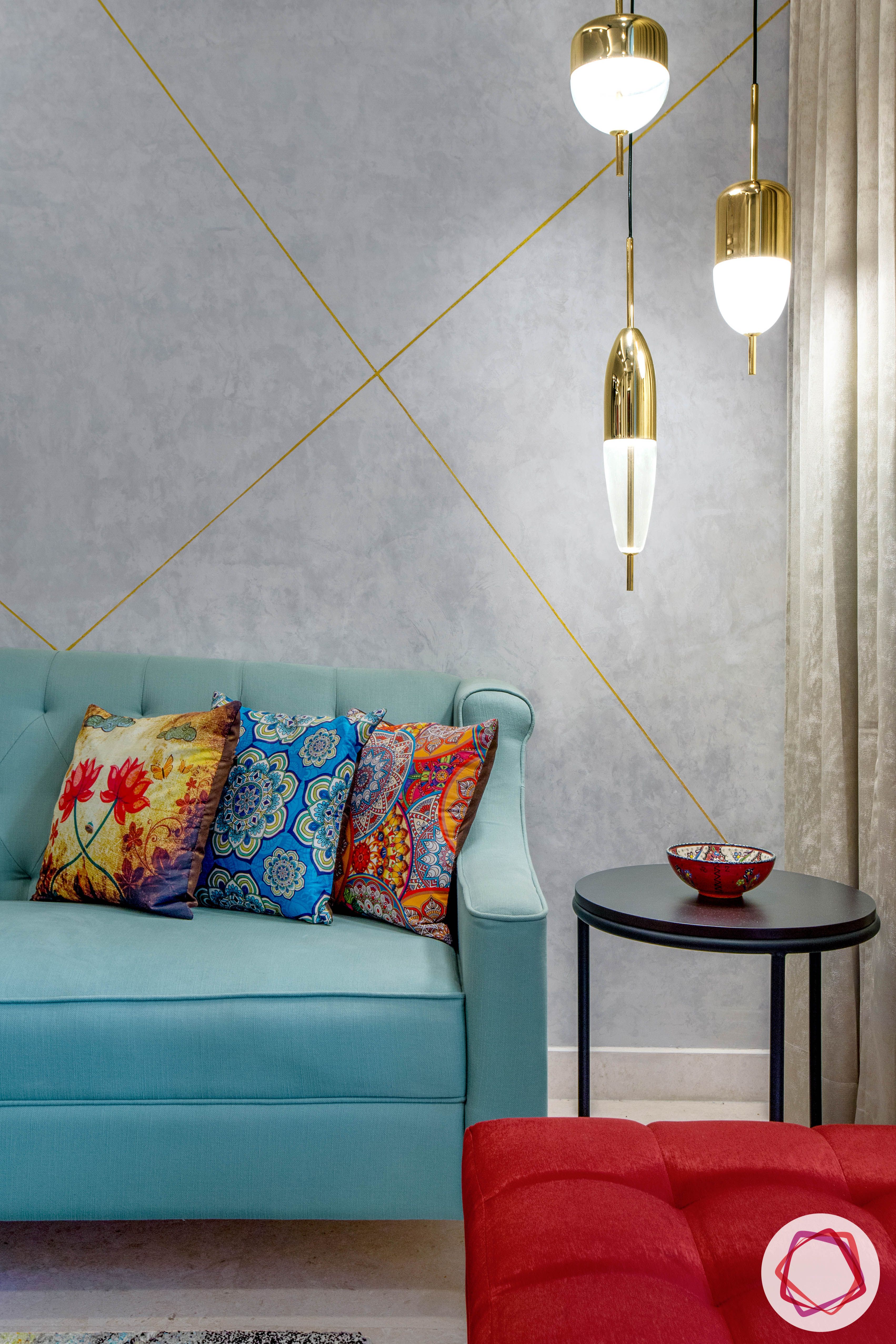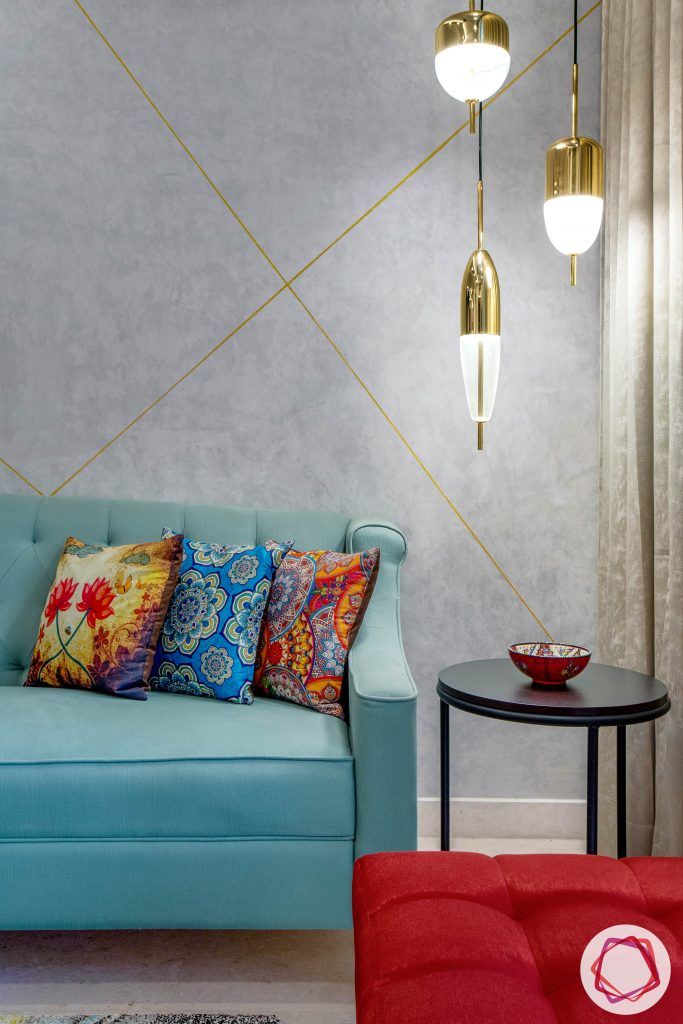 The corner is highlighting by a quaint cluster of golden pendant lights that hang over a daintily rounded side table. Consequently, the living area is covered in textured metallic grey paint with golden stripes.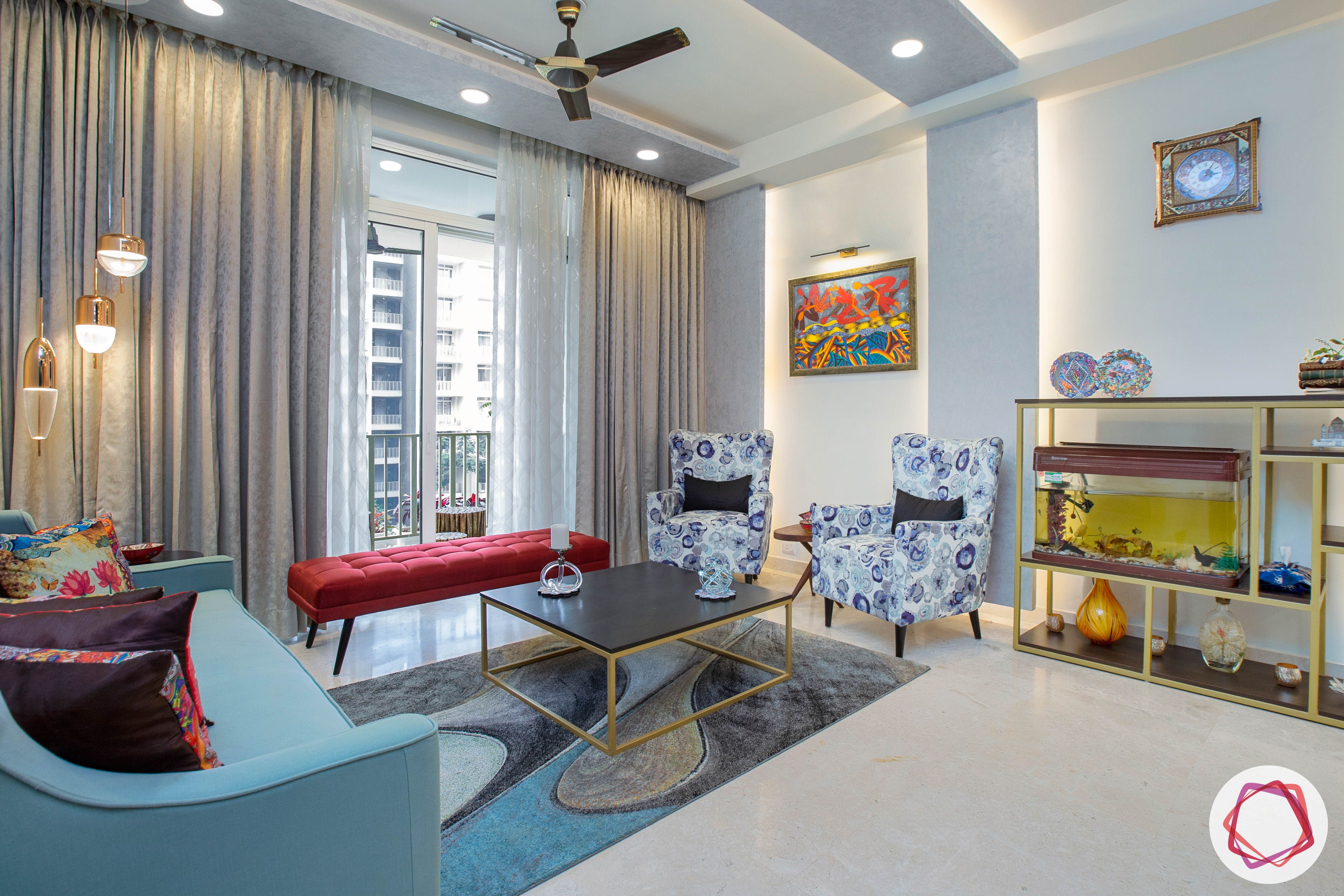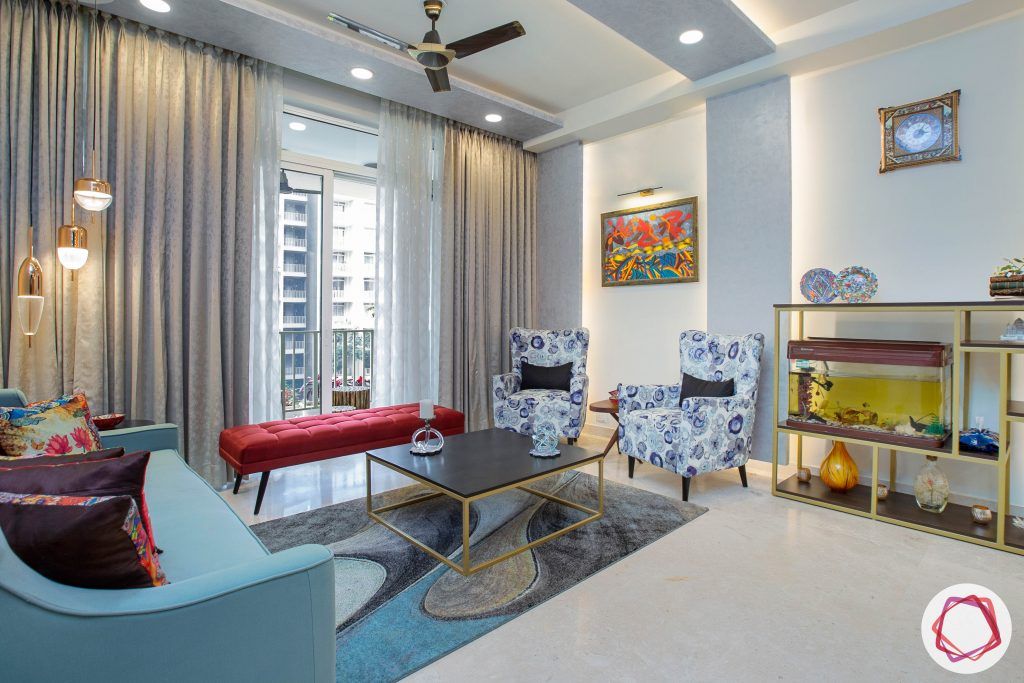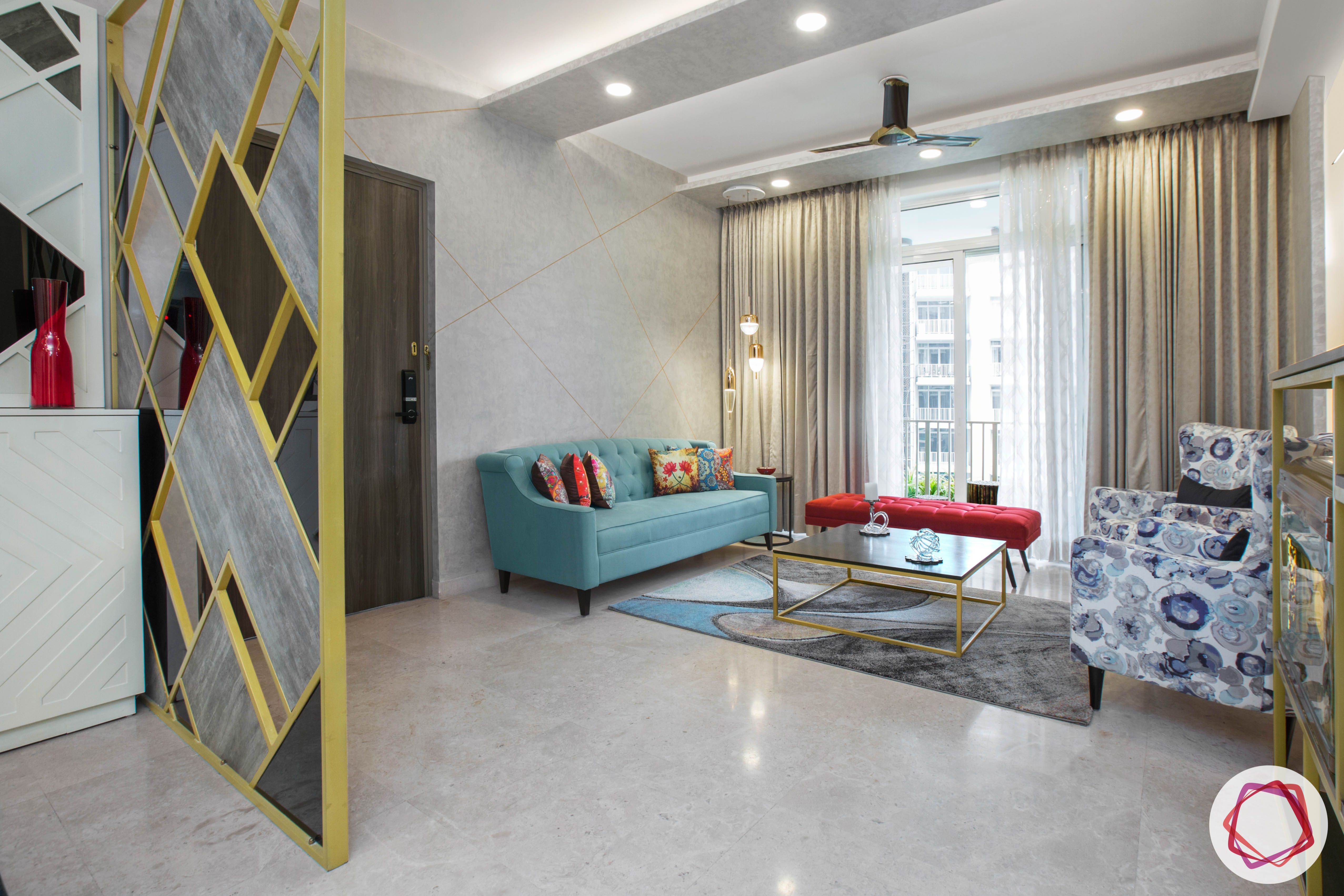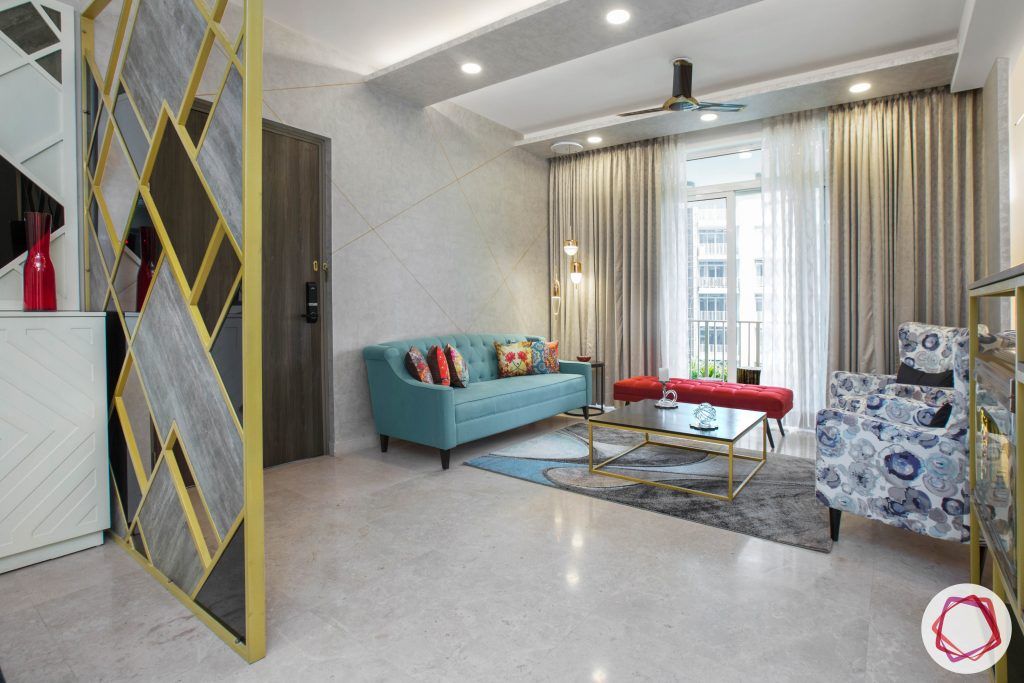 The defining theme of the living room is an aquarium, a prized possession for the family. Thus, the living room has been designed in such a way that the aquarium gets a central position and maximum visibility. Hence, contemporary display unit from our catalogue, made of MDF, is placed adjacent to the living area. It holds this aquarium along with other collectibles.
Best Interior Designers in Gurgaon Design: Monochrome With Glints of Metal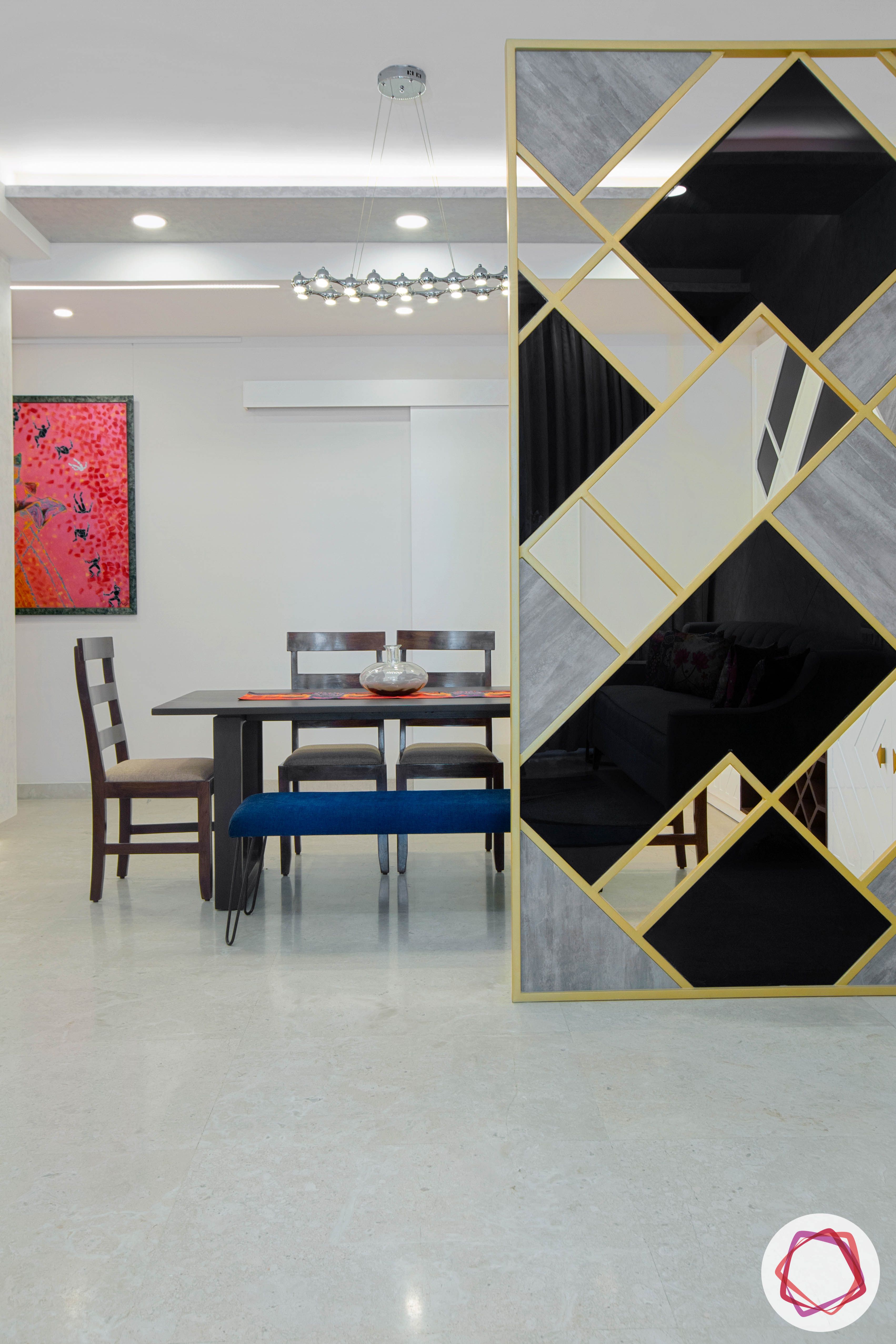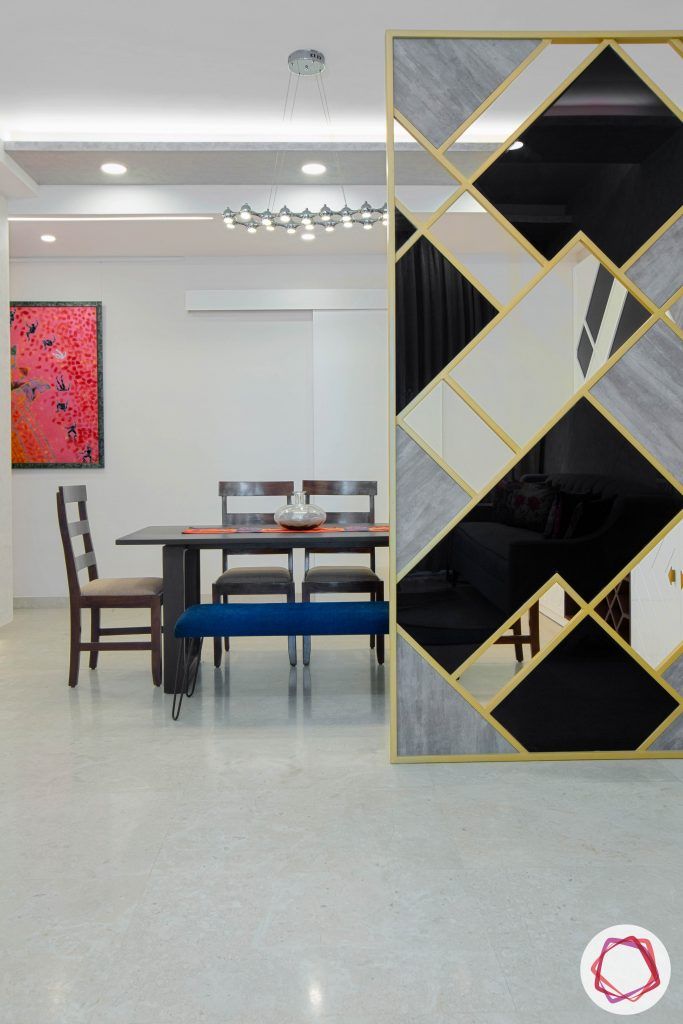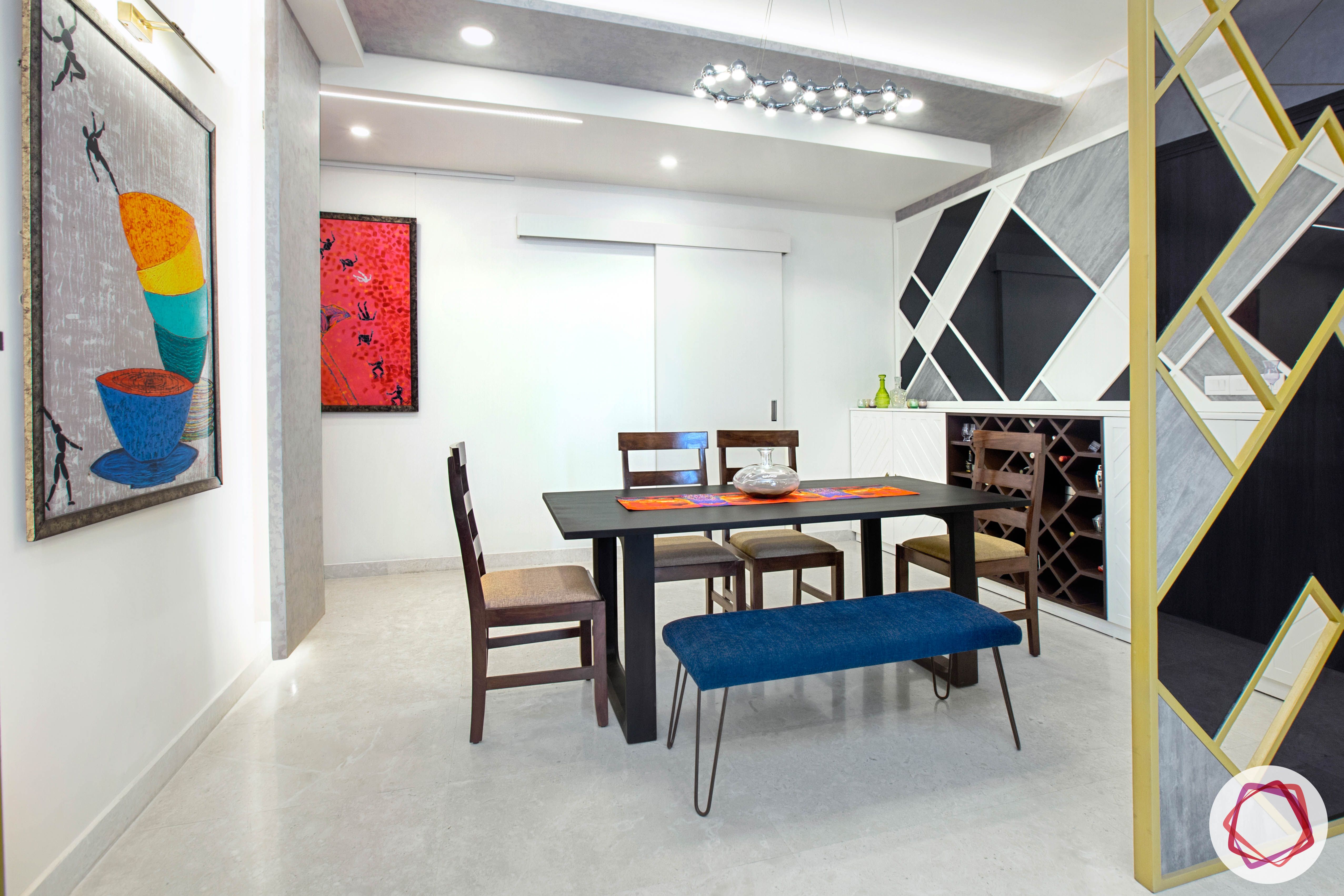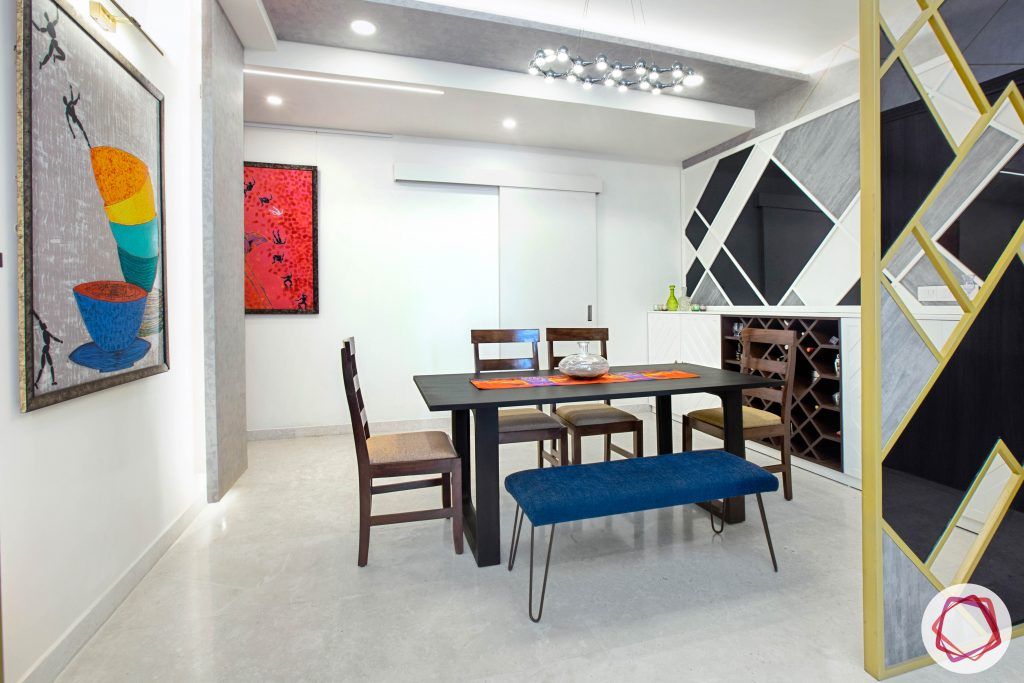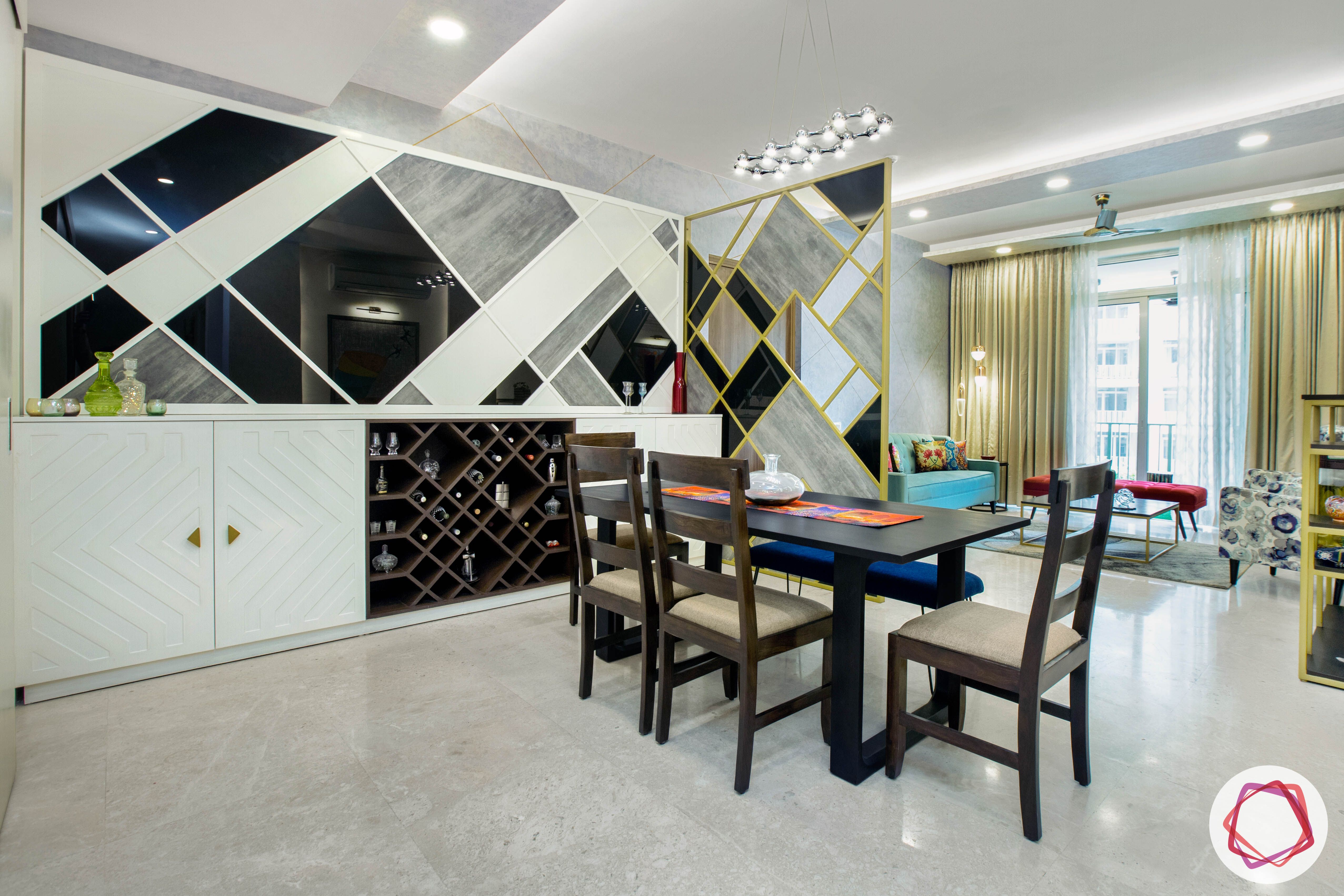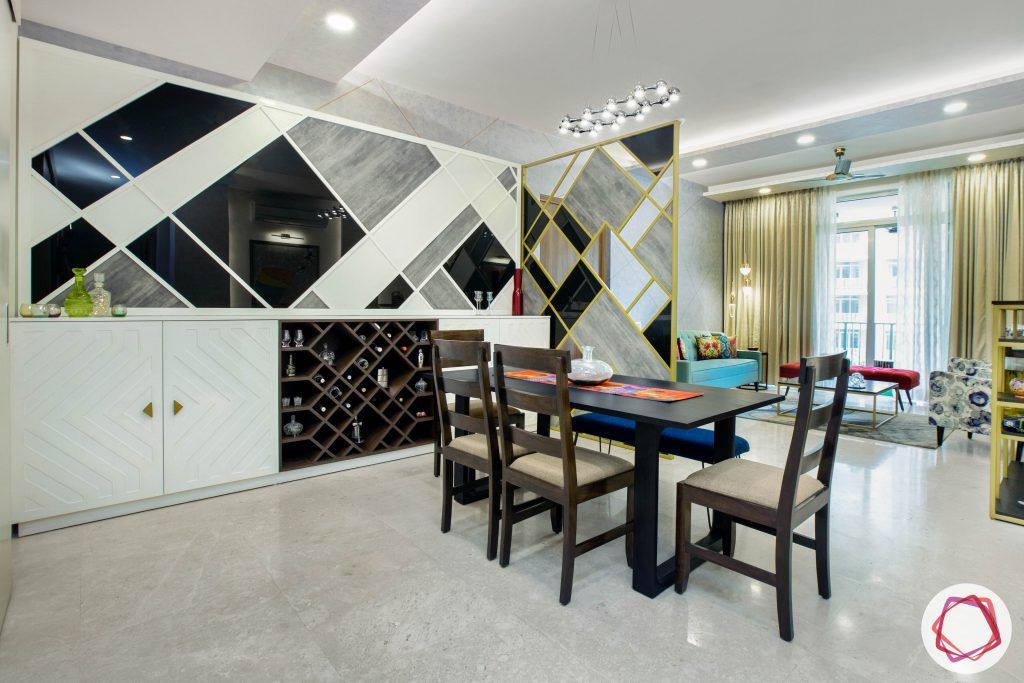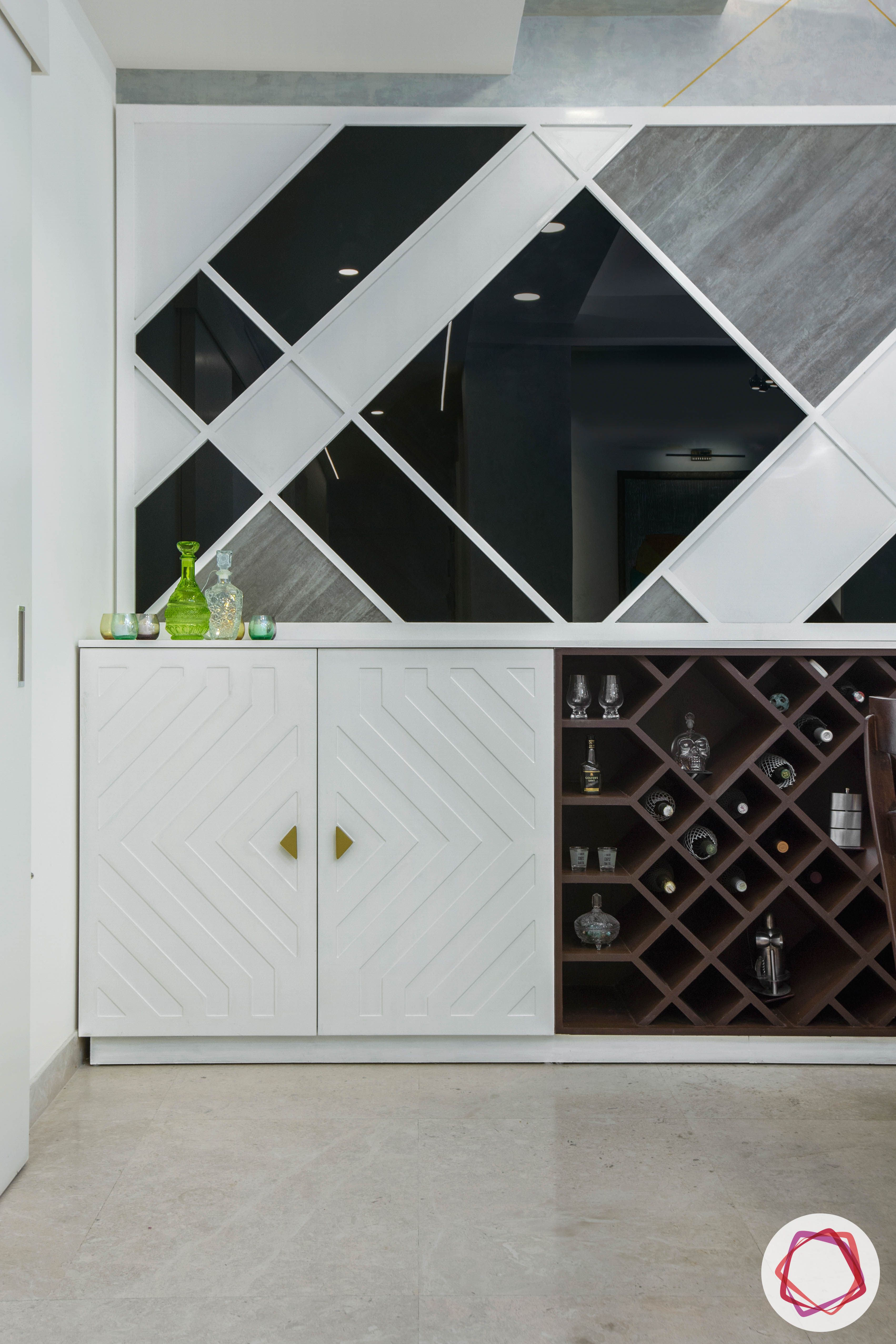 A rather dramatic partition segregates the dining area from the living. This monochromatic partition has a rose gold frame fitted with lacquered glass, duco paint and laminate. The design and colours of this piece have been borrowed from the bar unit in the dining area. The metal frame is an attempt to maintain continuity as it mimics the display unit in the living area. The dining set has four chairs and a bench that were picked from our catalogue.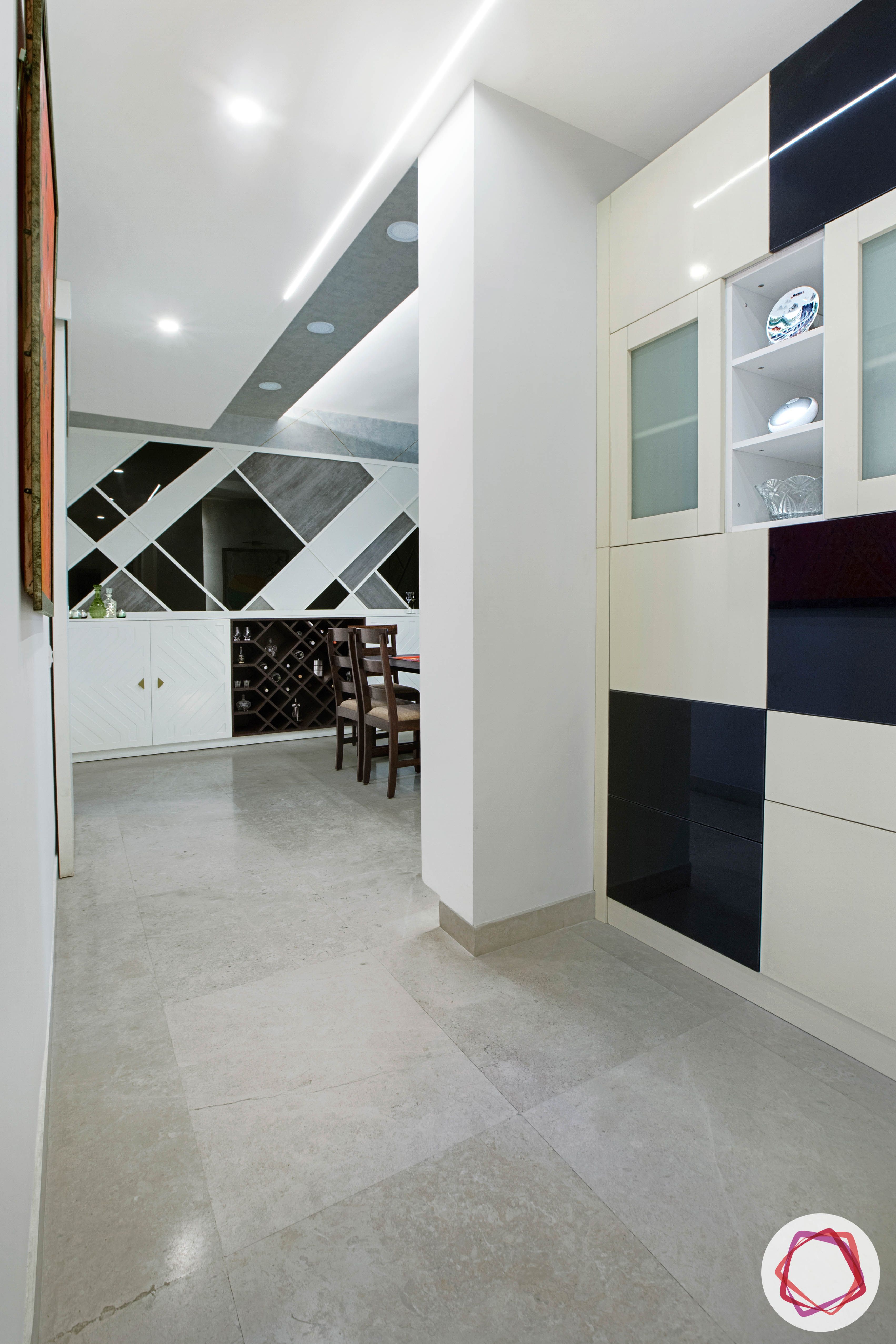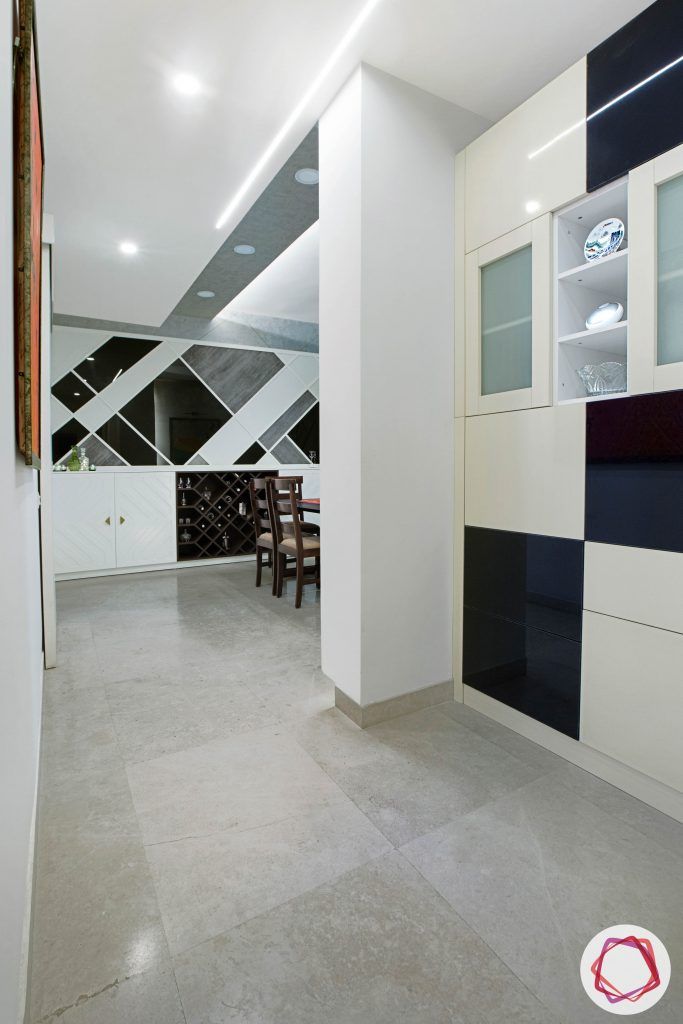 The monochrome magic spills over into the passage adjoining the dining area as well. A crockery cabinet has been cast into a niche here, and it makes use of black and white laminate finish for a checquered look. Profile lighting has added an interesting edge to this corridor.

Best Interior Designers in Gurgaon Design: Breezy Brown Master Bedroom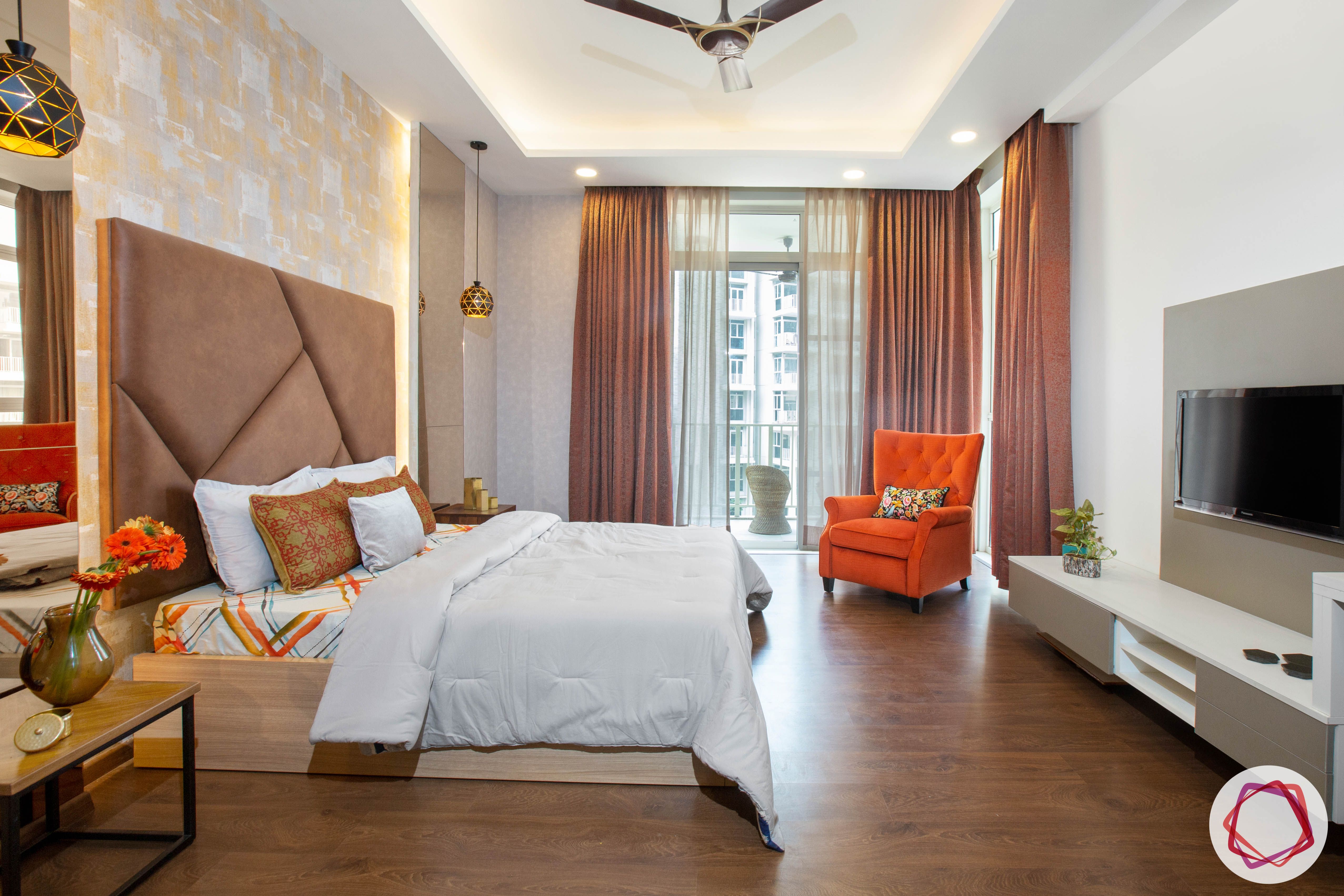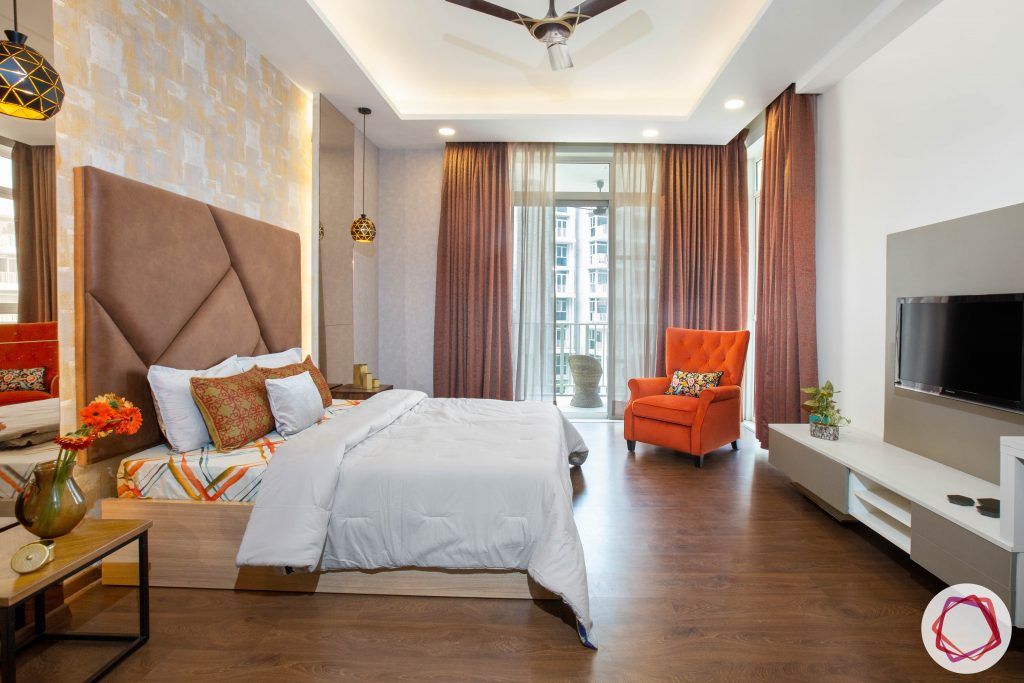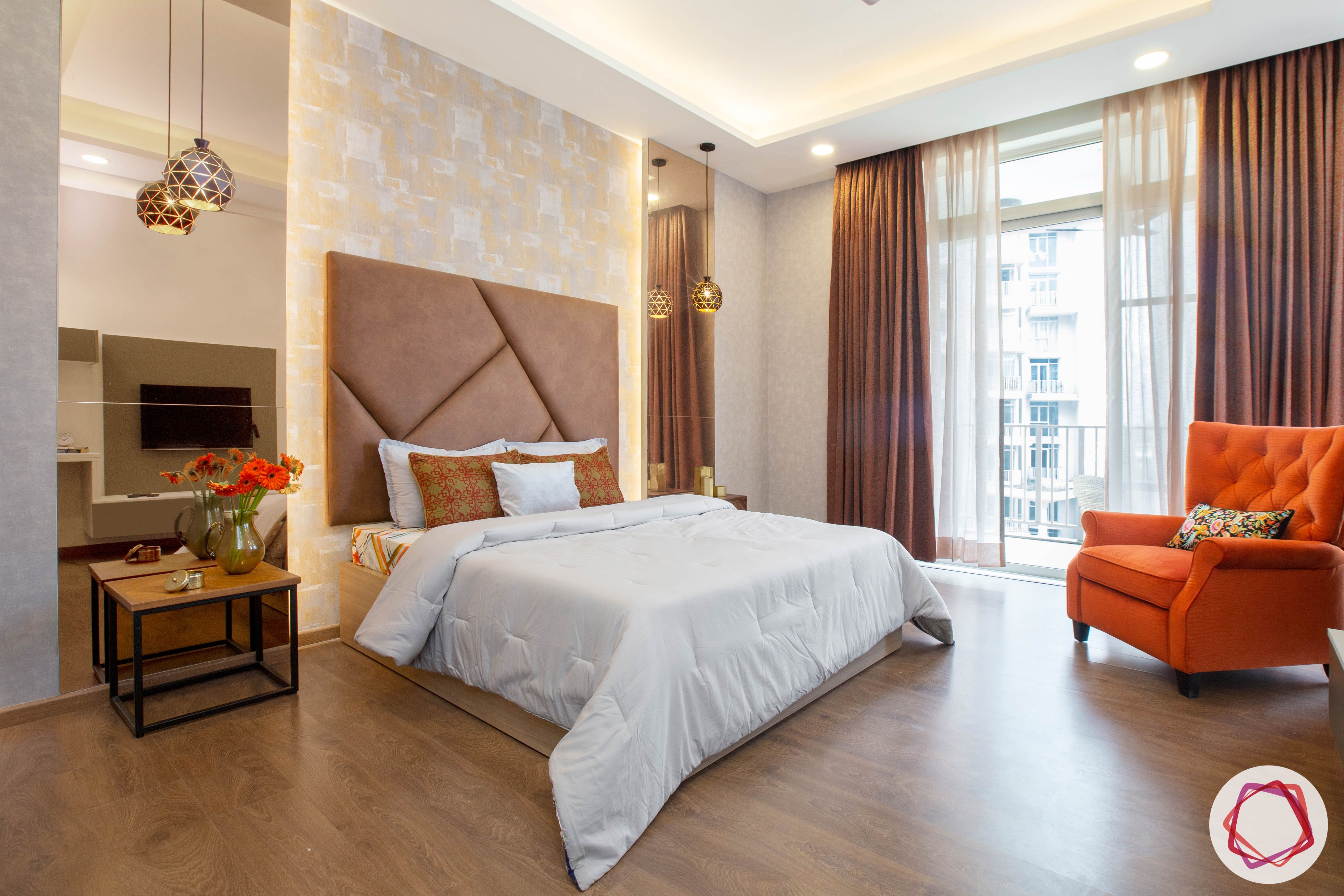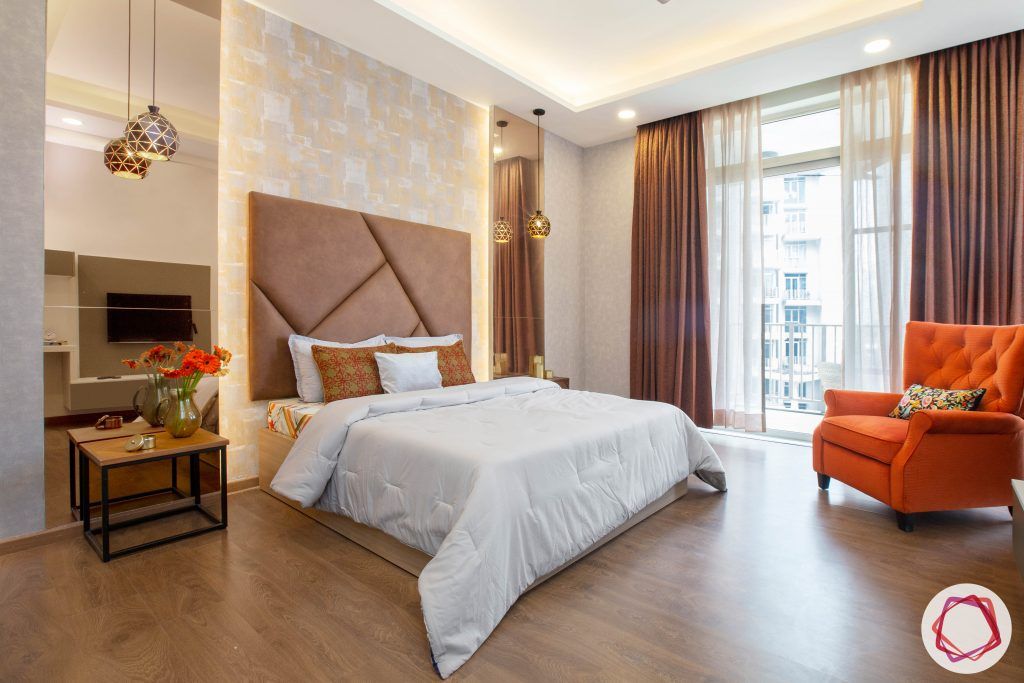 The master bedroom has copious amounts of browns and yet it does not get monotonous because Sushant has added plenty of texture.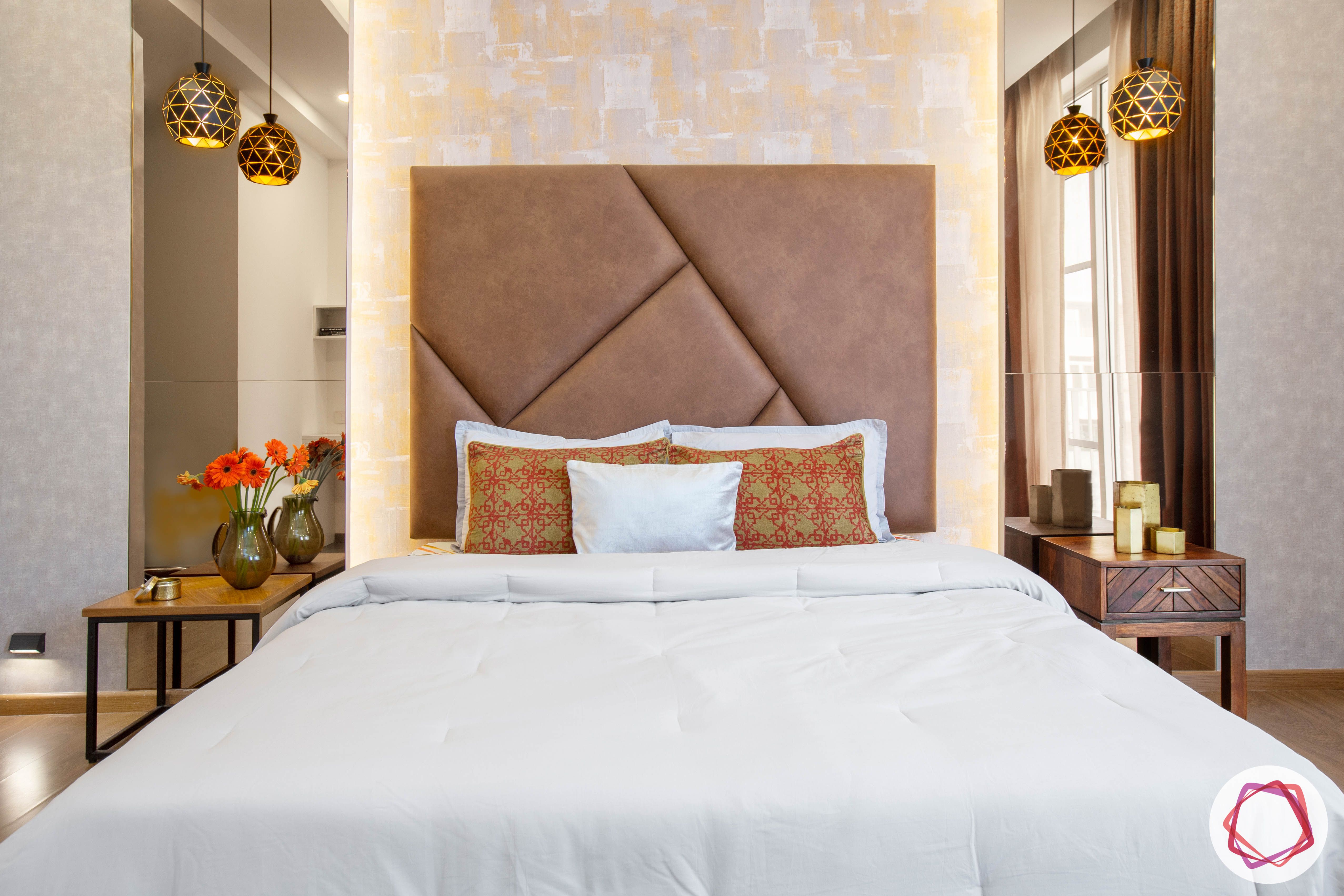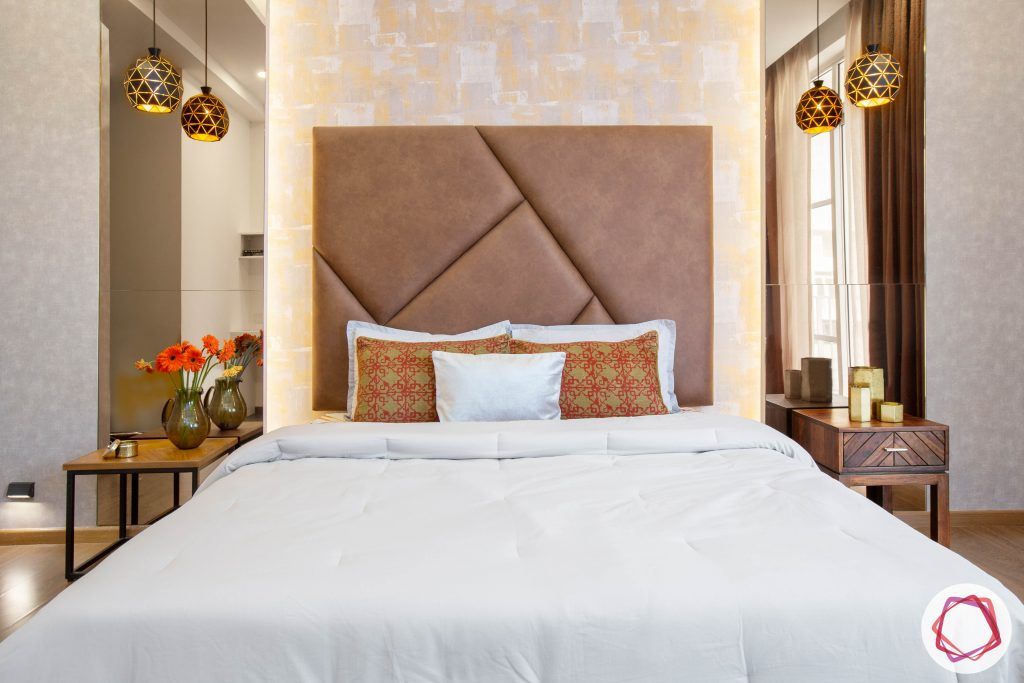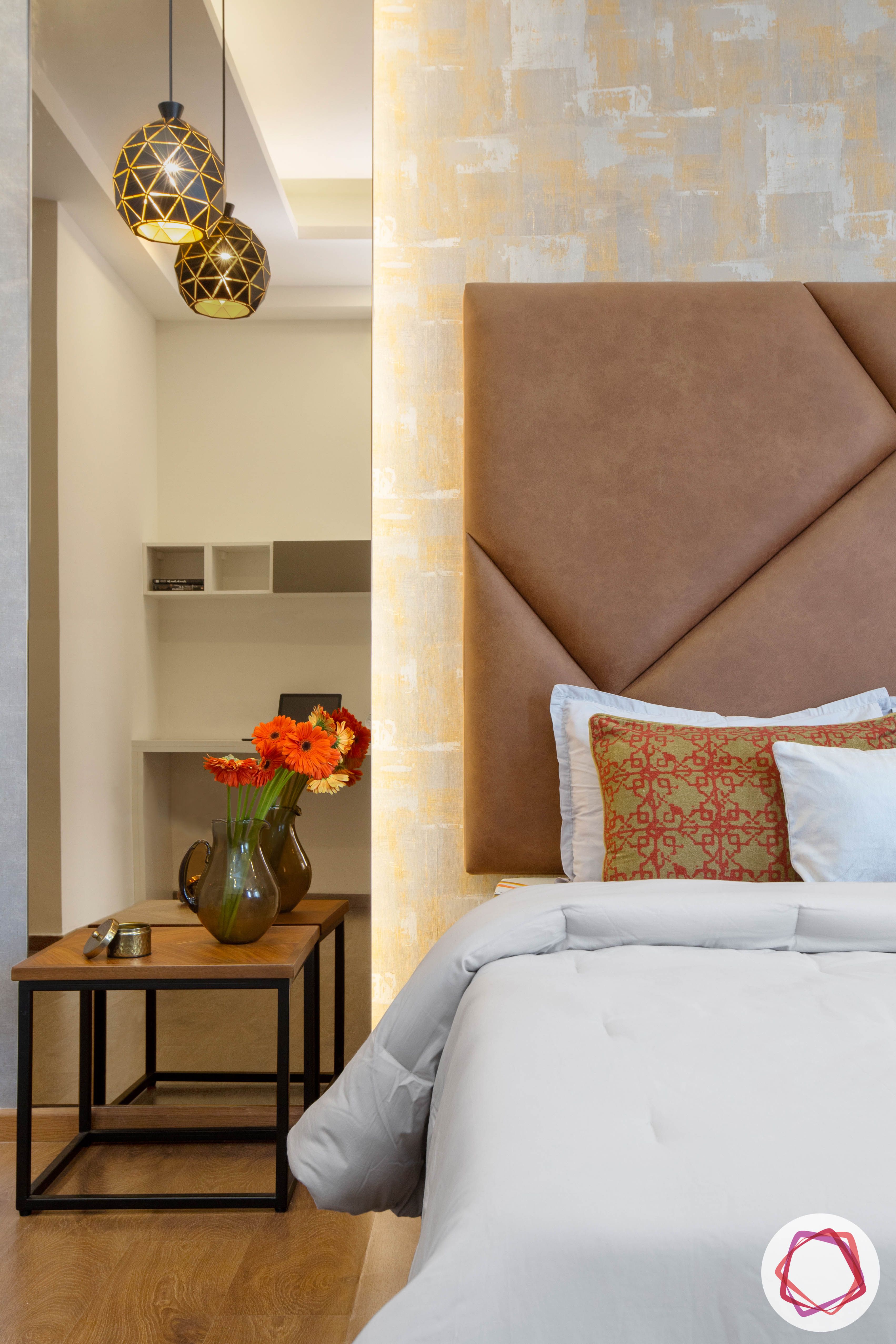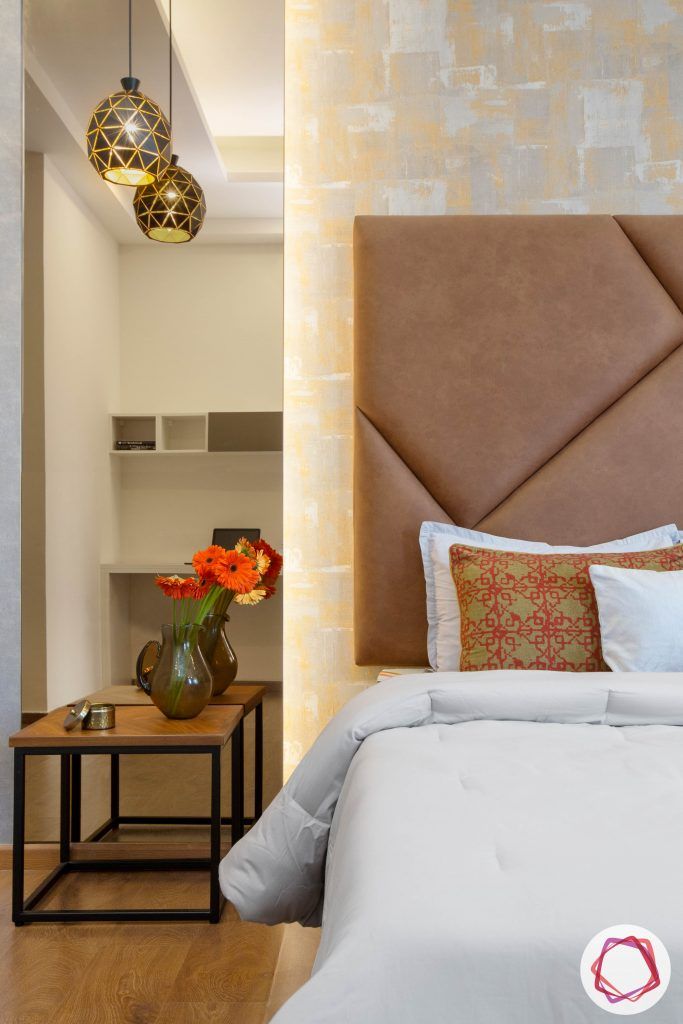 The bed, which is from our catalogue, has a leatherette headboard. Consequently, the same brown has been used as a tint in the mirror panels next to the bed. Moreover, the brown tinted mirror panels are glammed up by rustic pendant lights. The wallpaper behind the bed has abstract patterns using gradients of beige, brown and white.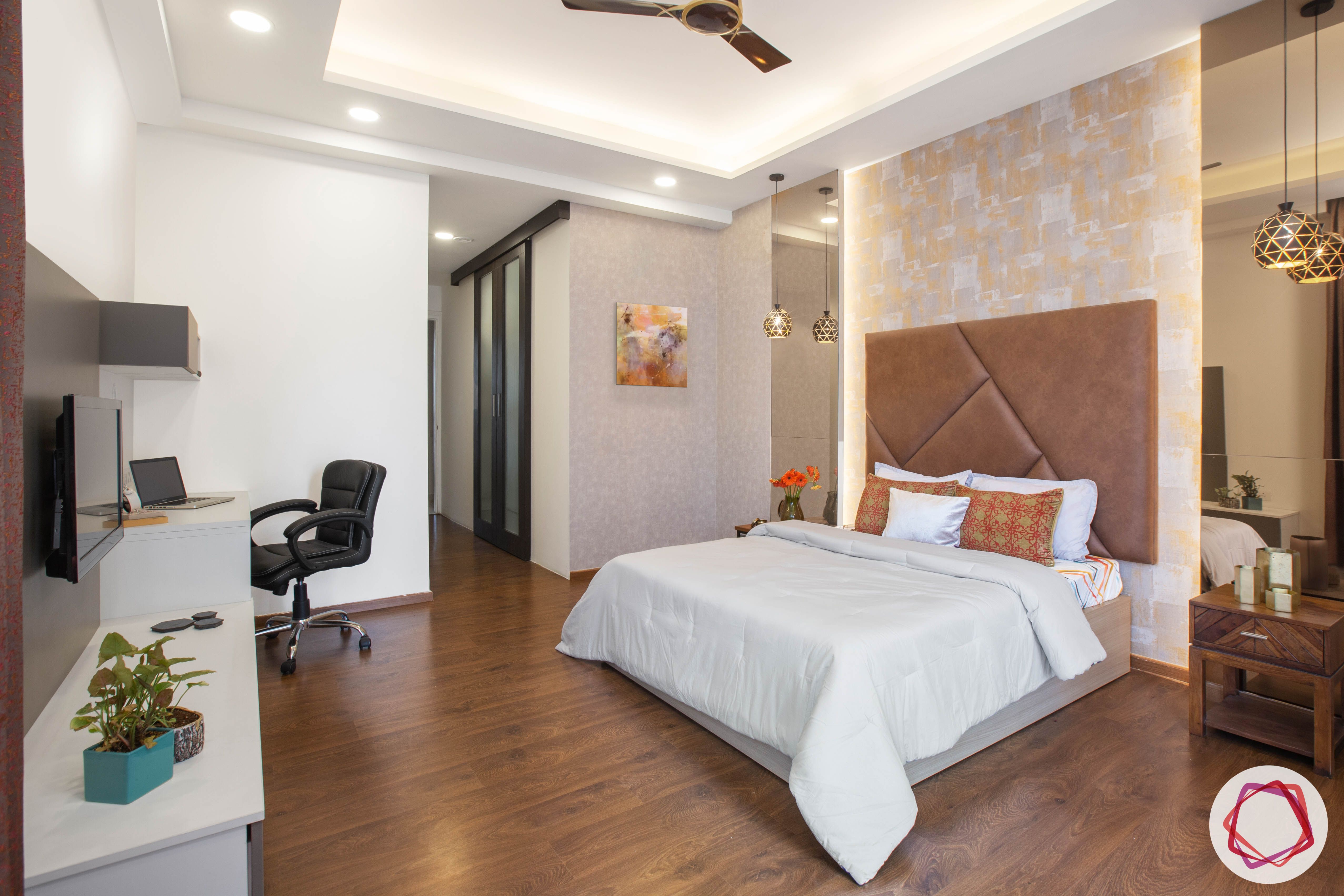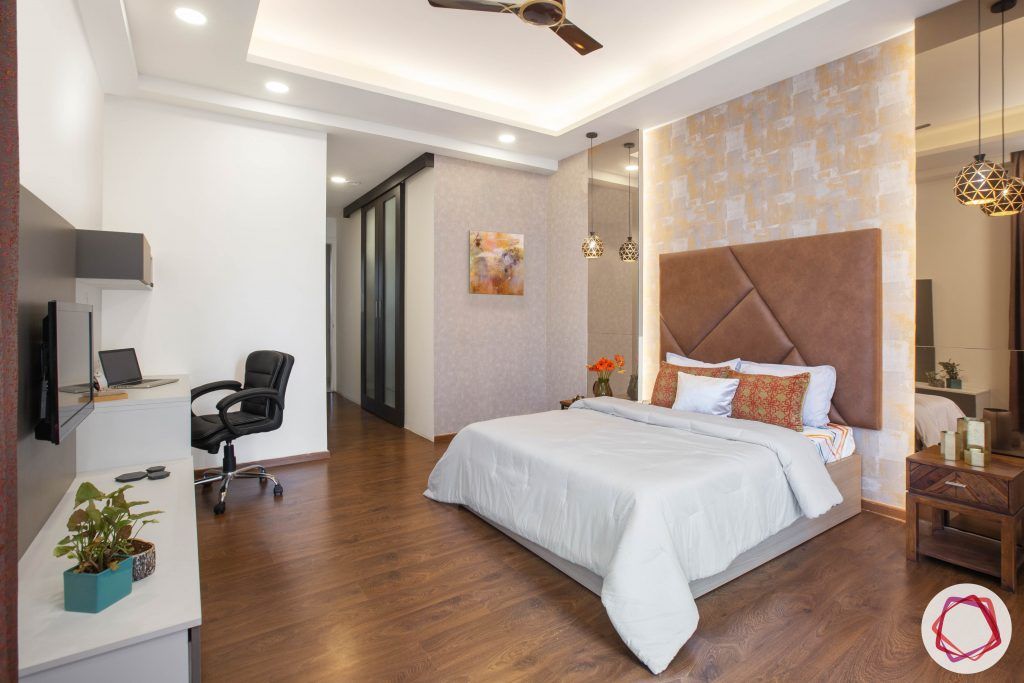 This bedroom has a full-fledged walk-in wardrobe which goes with the swanky vibe of the rest of the home.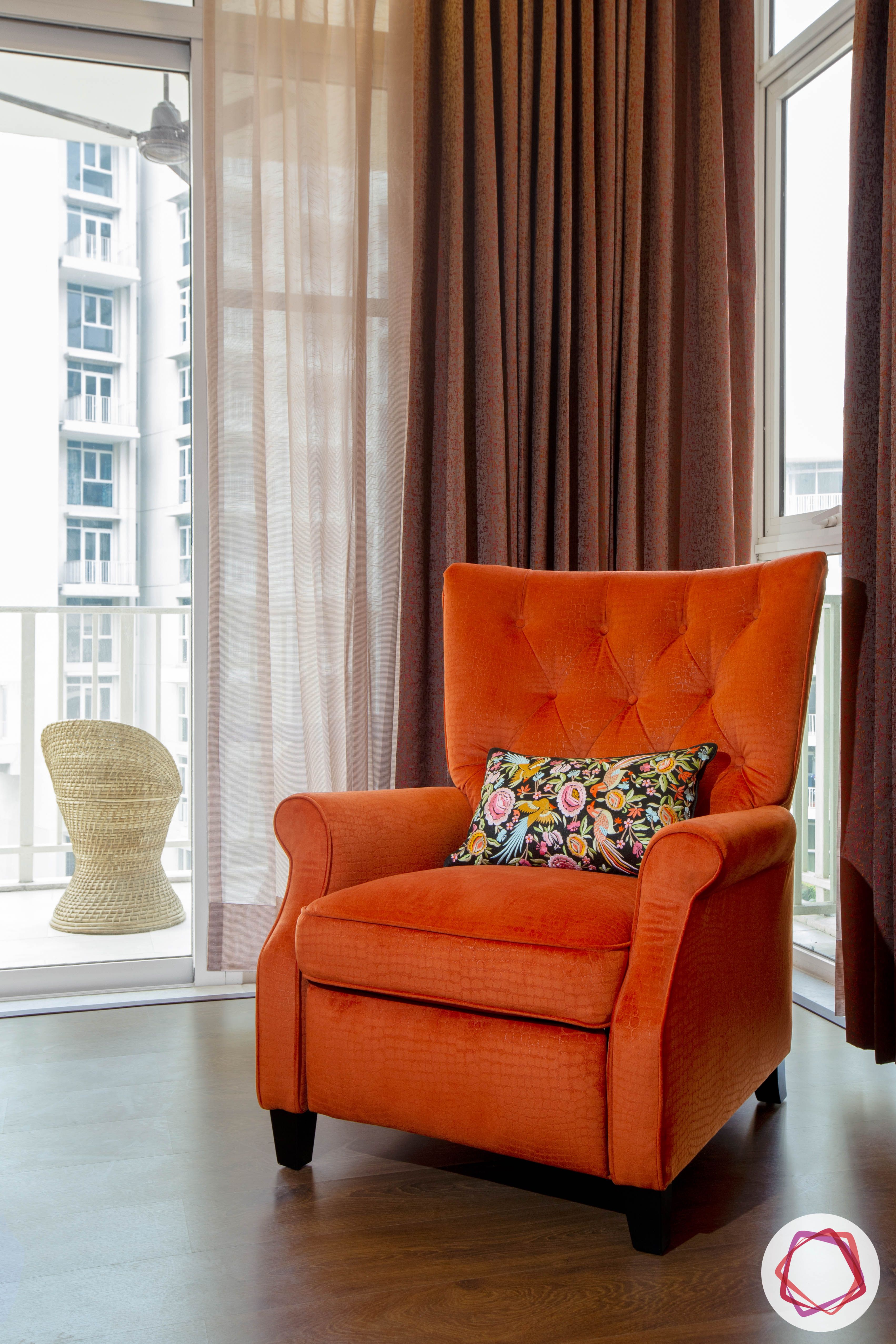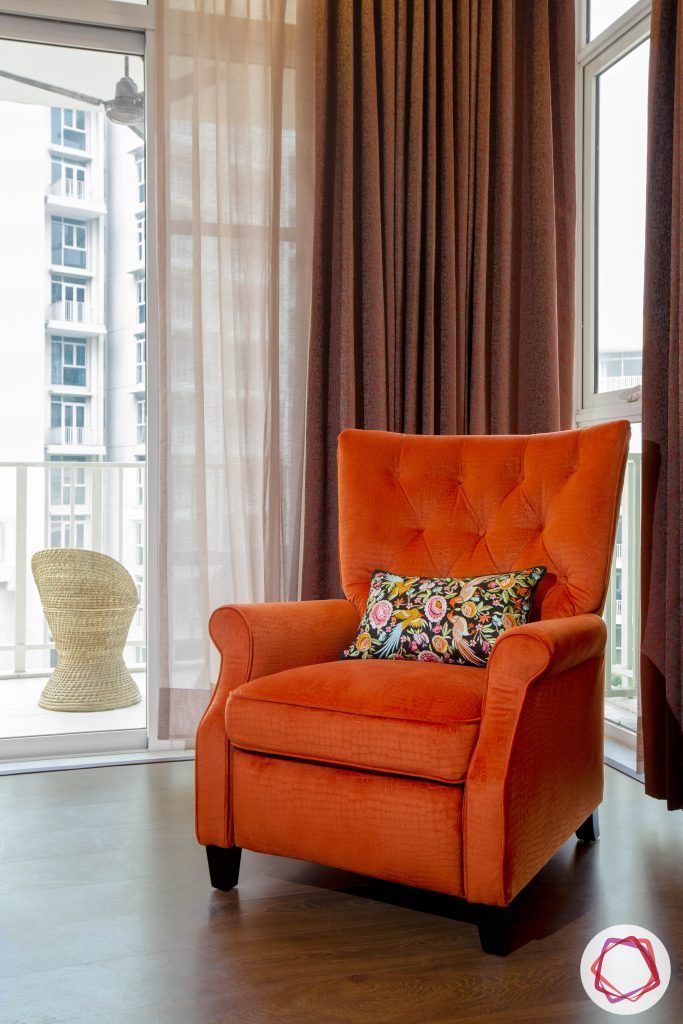 The orange tufted armchair is the only element that pops in this room. The lone chair adds a dash of energy to the otherwise muted shades of this space.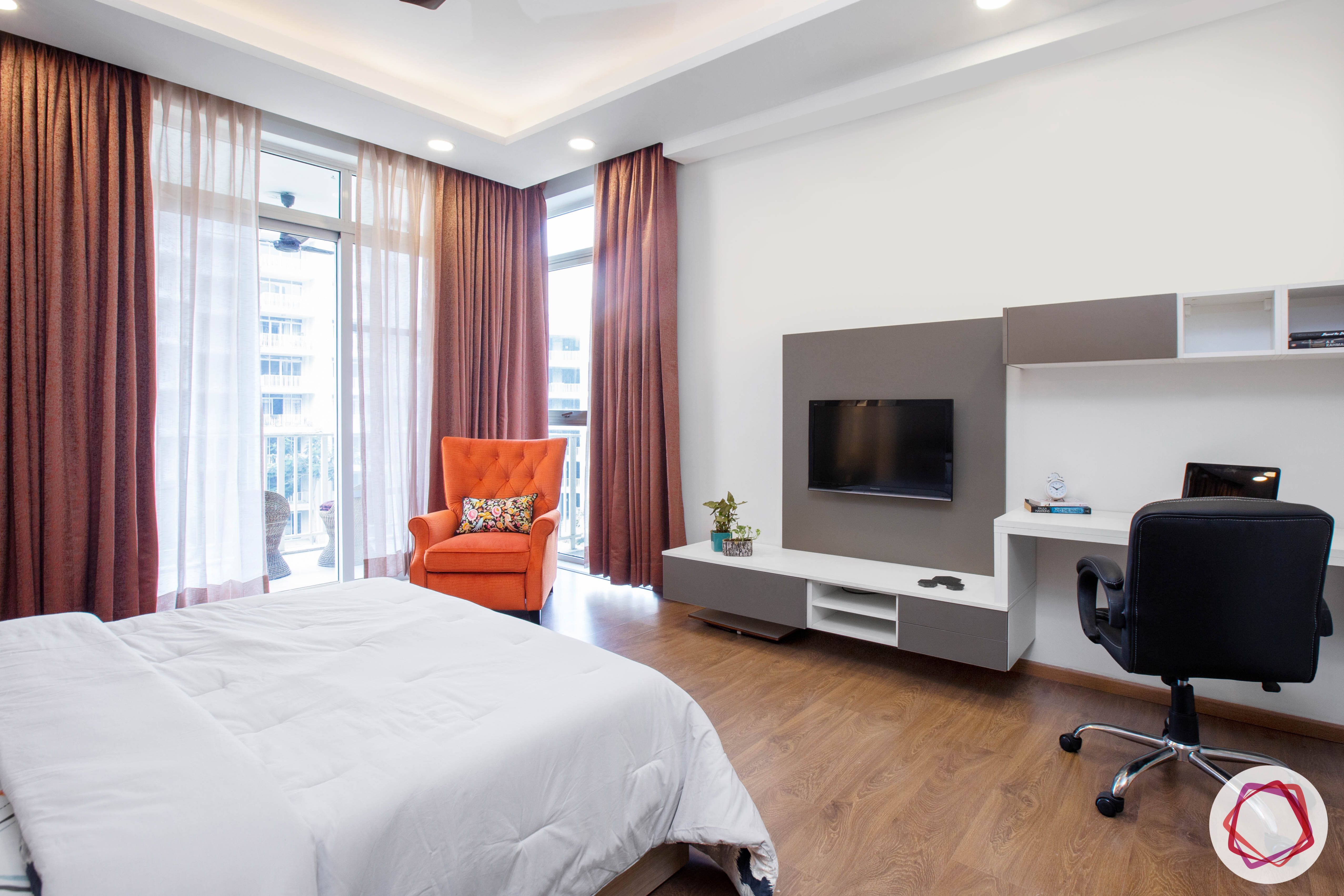 Meanwhile, the media wall in this room is a simple affair with a grey laminate panel. Eventually, it spills over into a small study table that has been furnished with a working chair.
Best Interior Designers in Gurgaon Design: Boisterous Blue Bedroom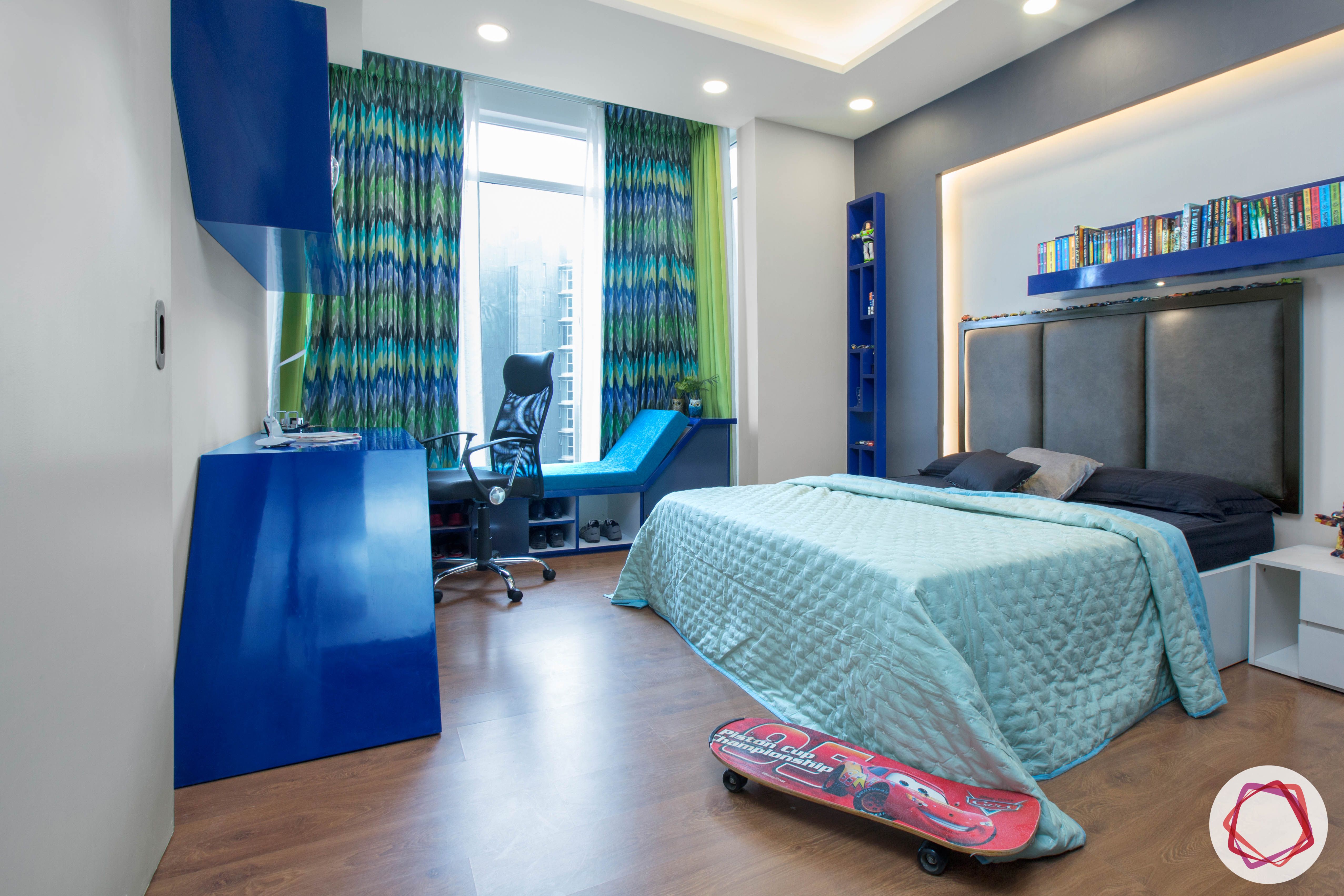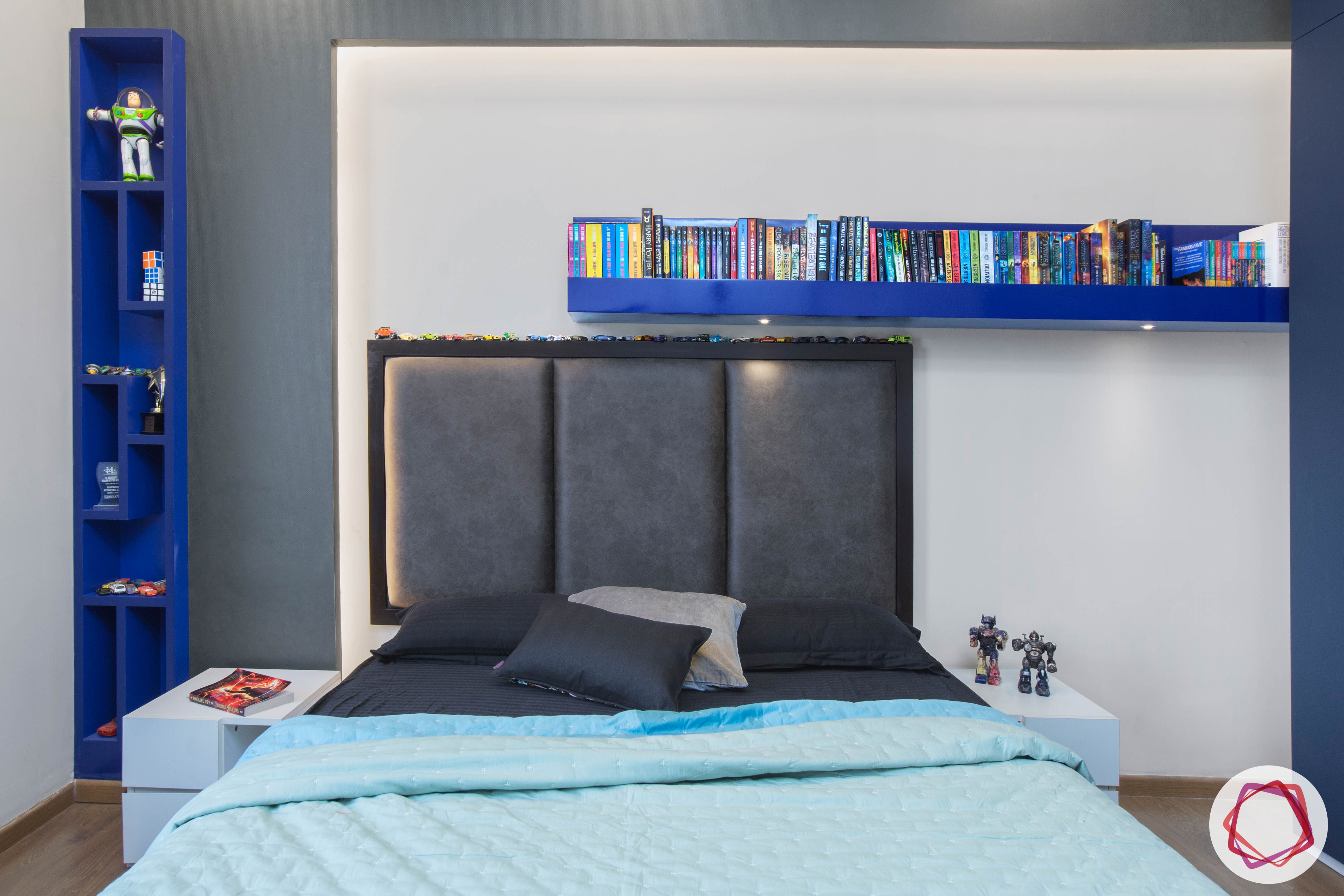 As one of the best interior designers in Gurgaon, Sushant has designed the kid's room with panache. Moreover, the teenage son of the Aroras has one of the best rooms in this home to himself. Thankfully, the boisterous blues in this room are ideal for a spirited young boy. The bed has a symmetrical deep blue headboard. We love the ladder unit in the corner and the shelf just above the bed that is stacked with books.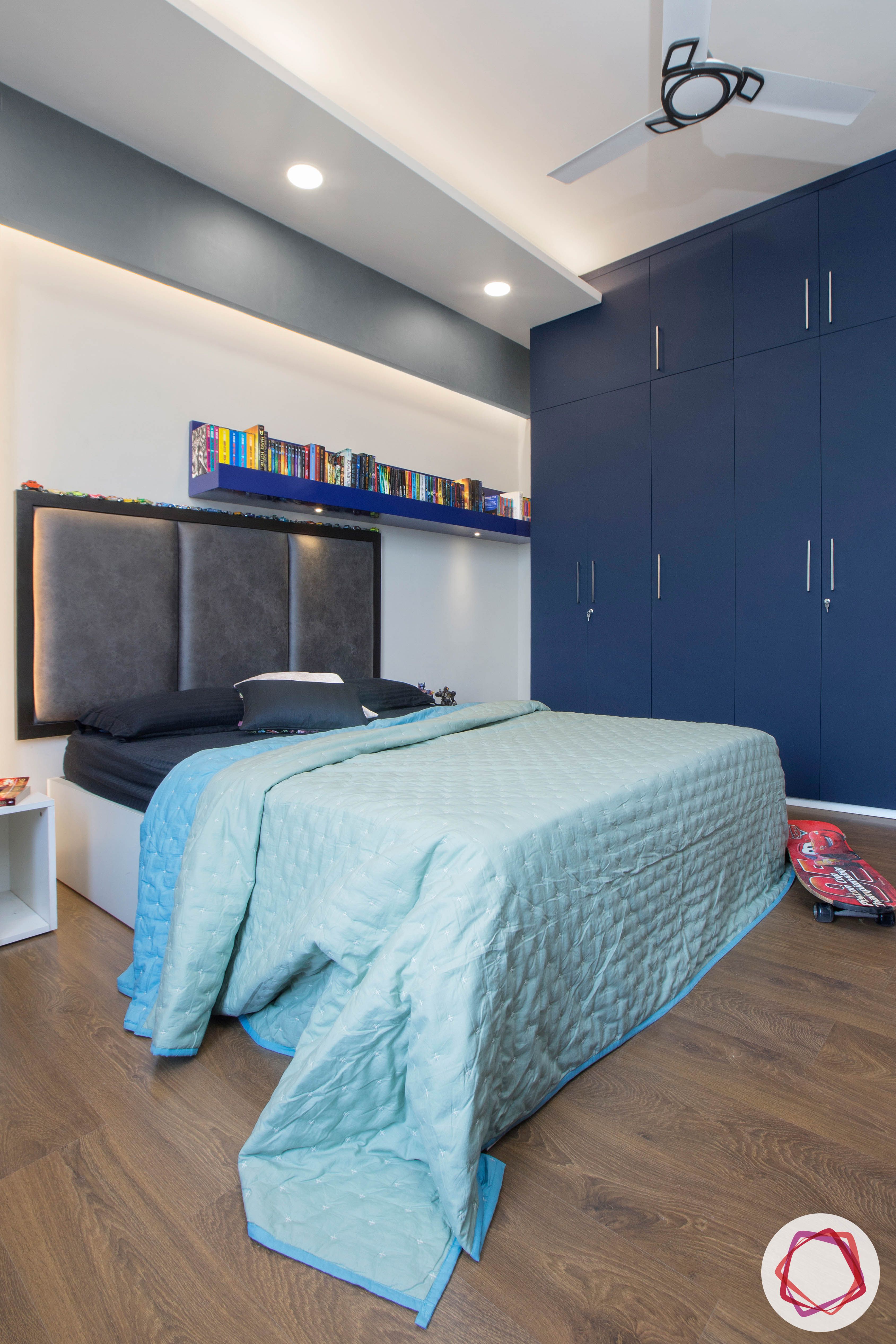 The five-door wardrobe in the room has lofts and usual profile handles. The powder blue membrane finish of this cabinet adds both texture and depth to the colour palate of this room.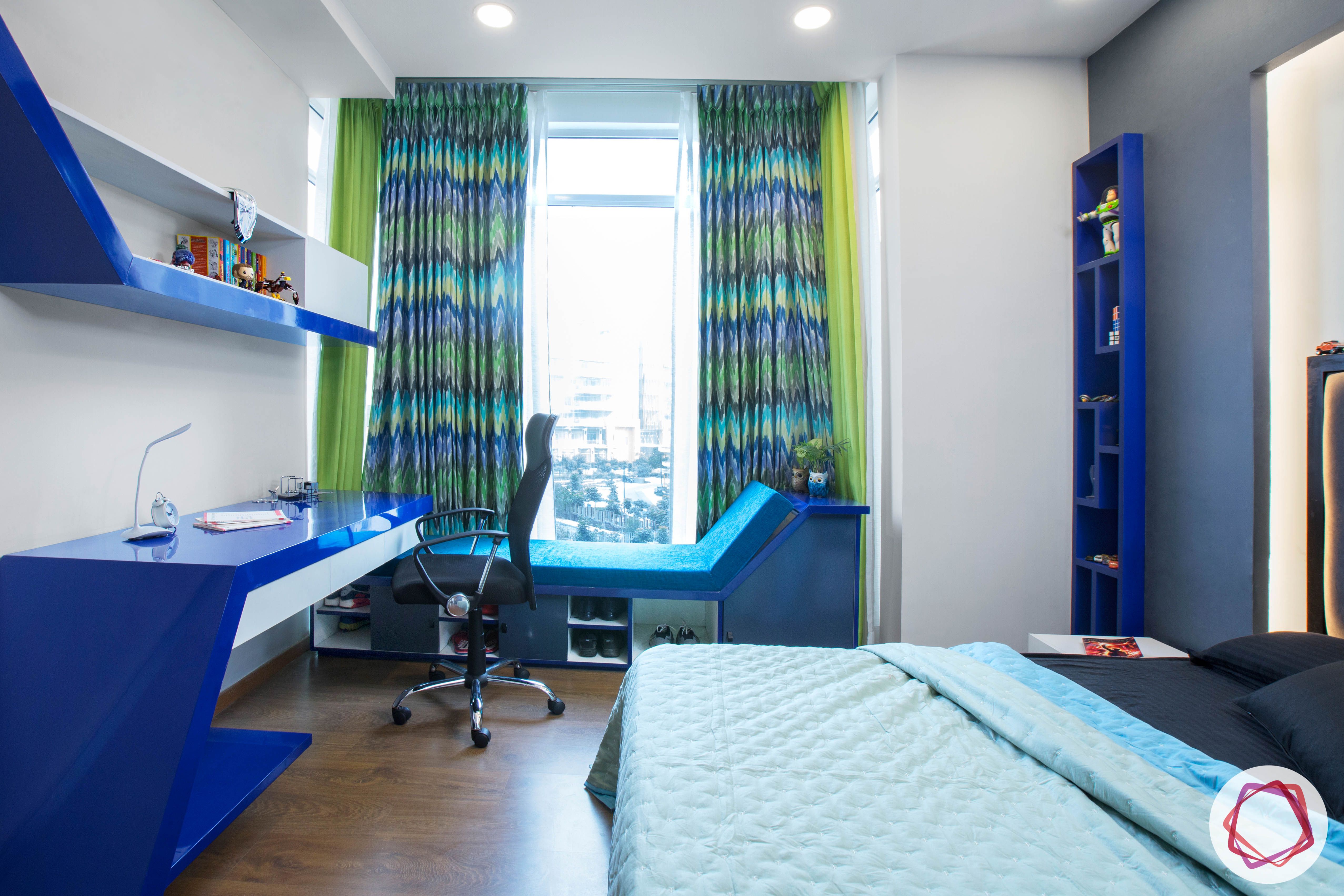 The study table and cushioned bay seating are the edgy elements in this kid's room. Furthermore, the bay seat by the window is actually a cushioned bench that also has storage counters for shoes.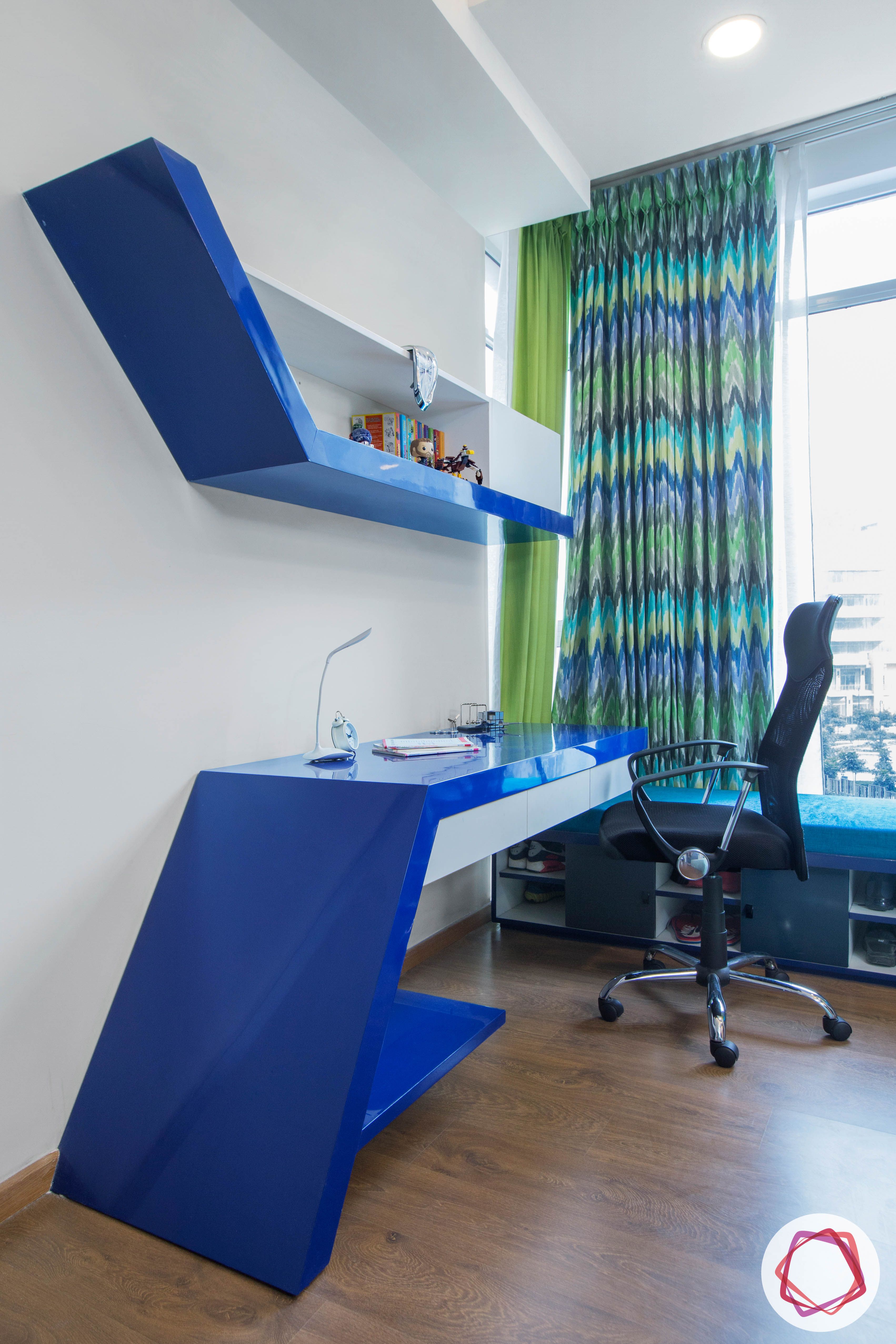 The blue and white study unit has an angular presence due to its slanting ramps. All in all, this room is full of 'oomph' and its quirkiness is endearing.
Best Interior Designers in Gurgaon Design: Bold & Beautiful Entertainment Room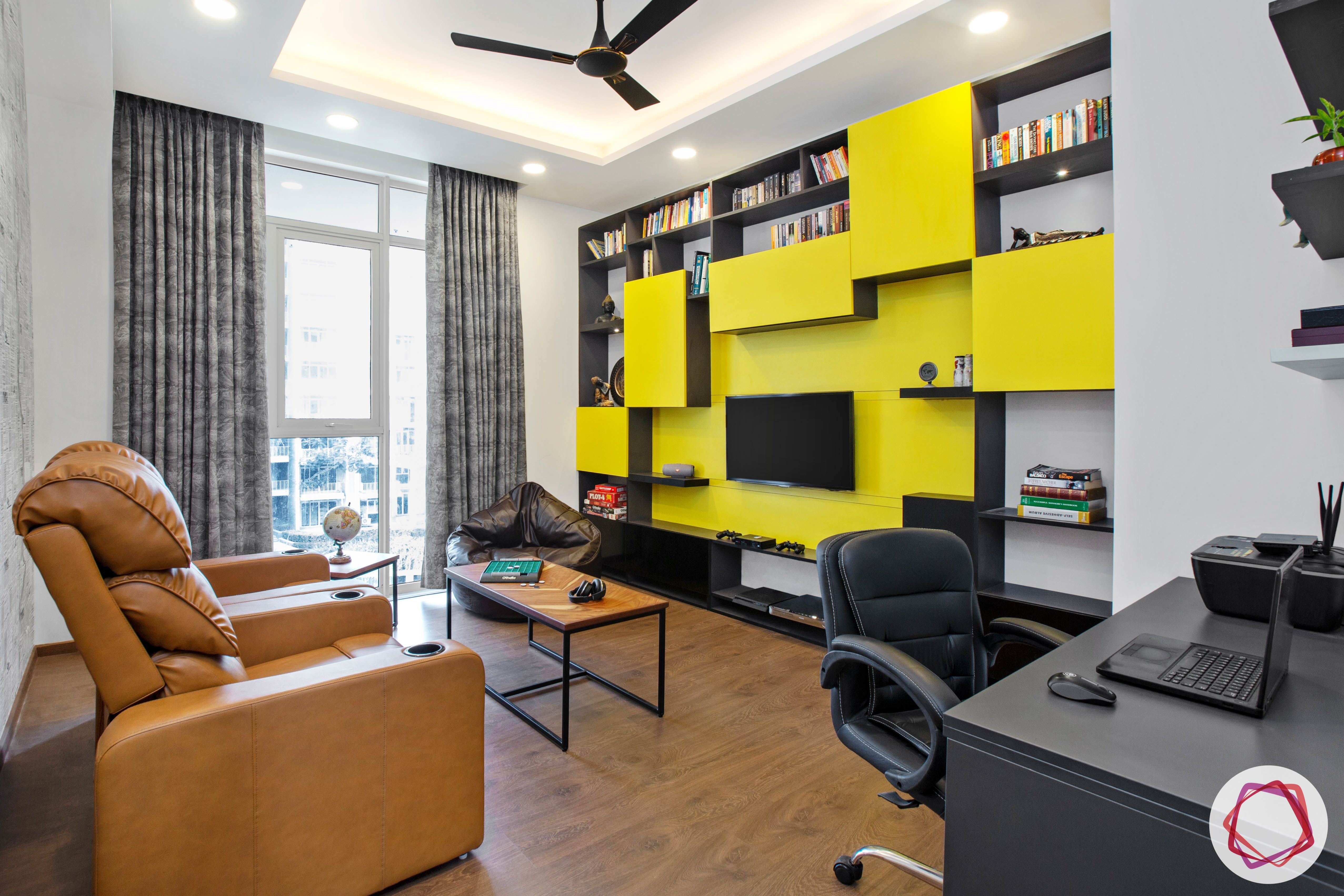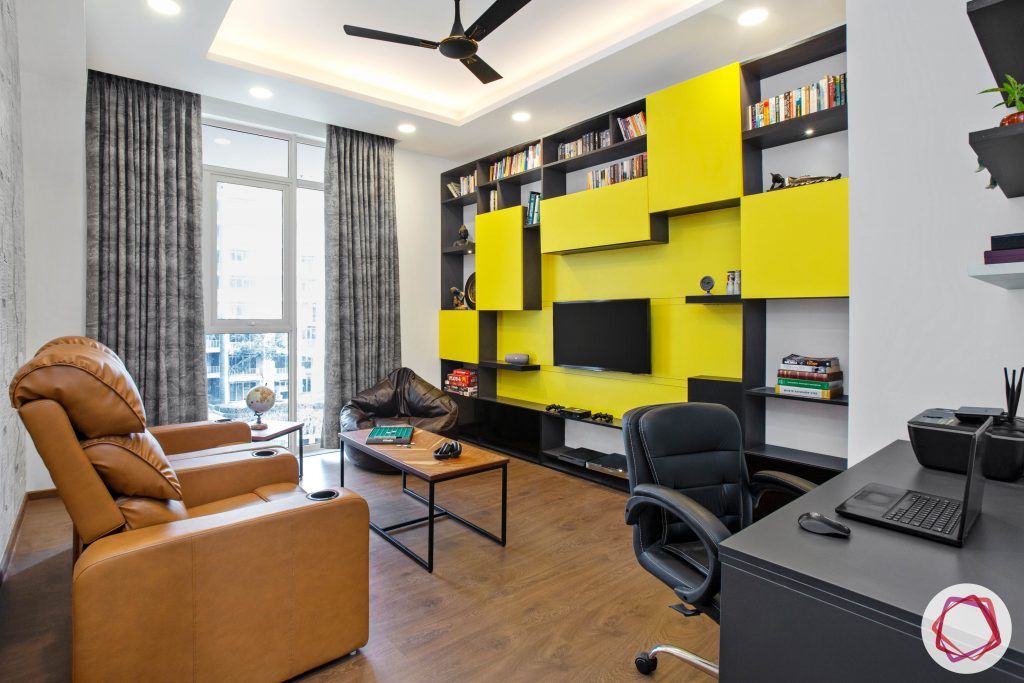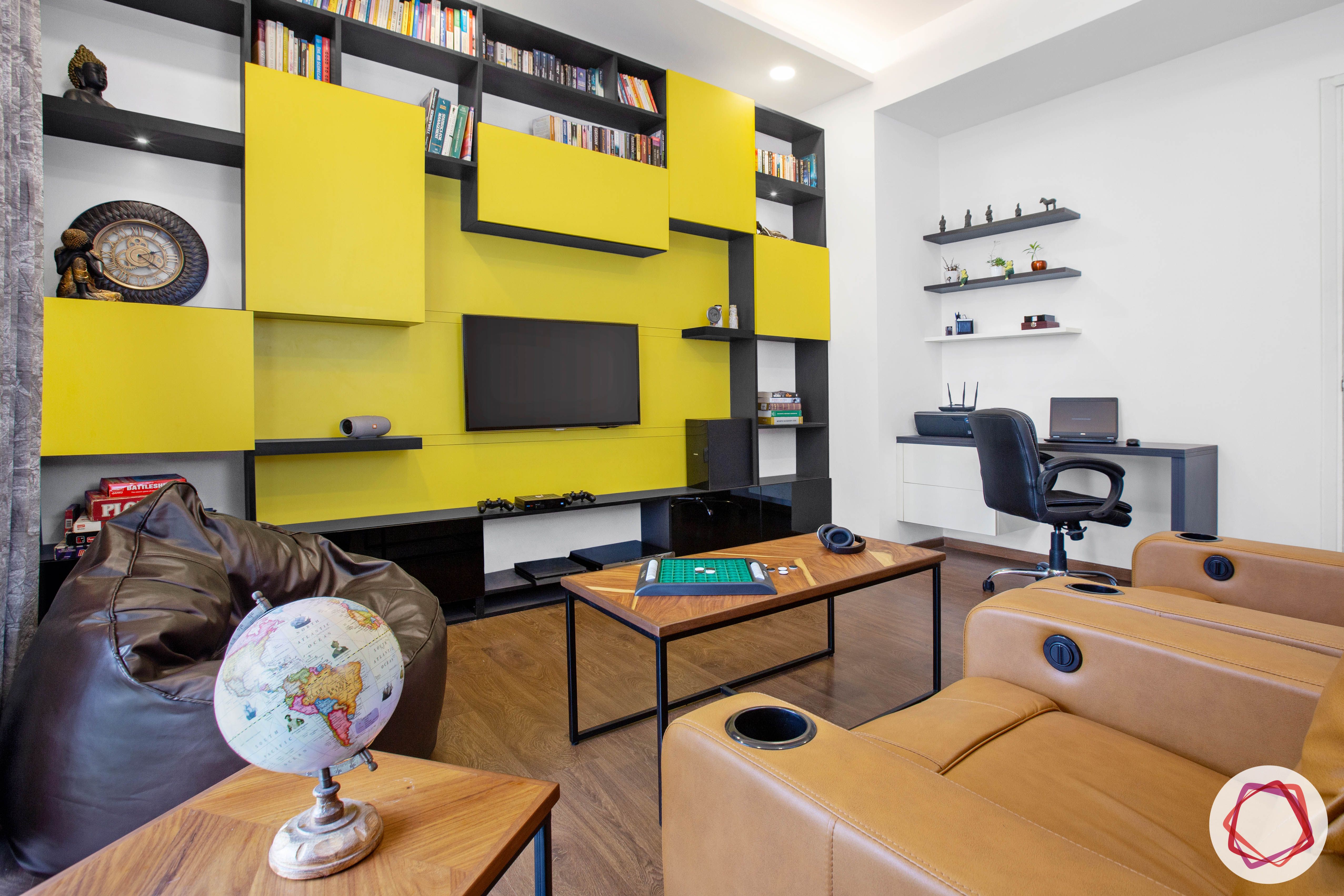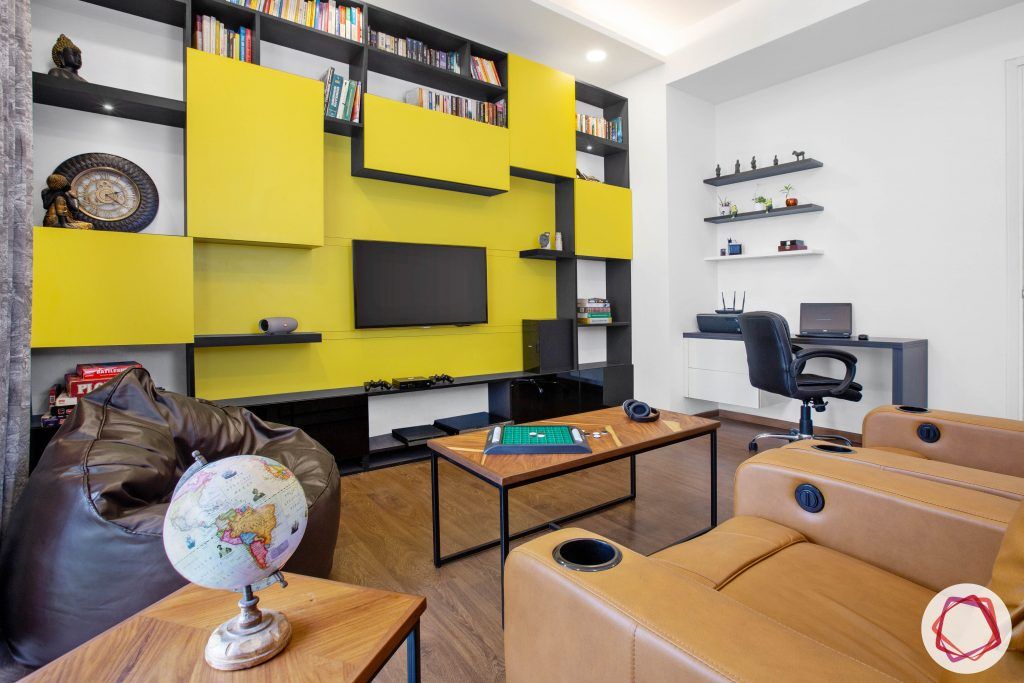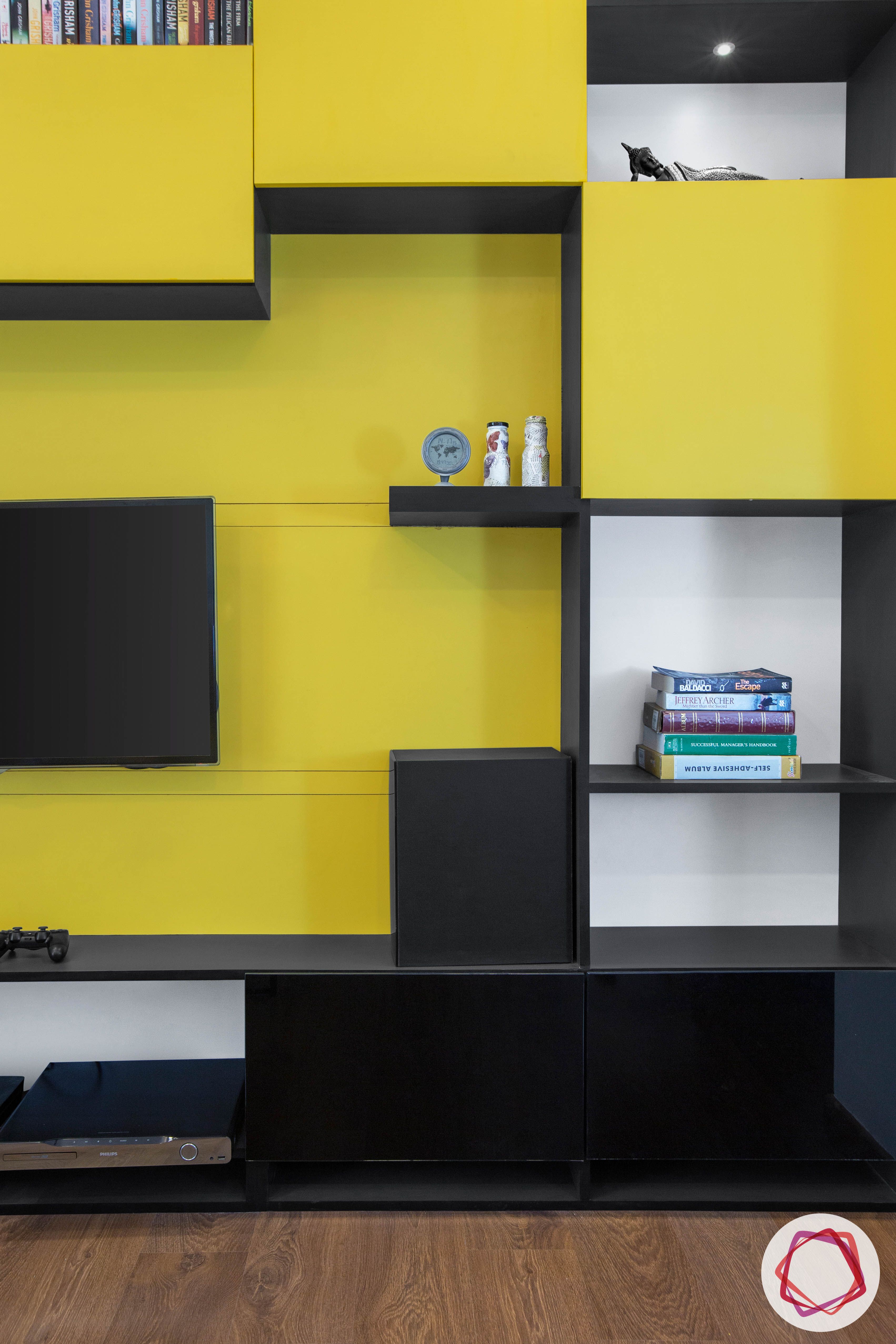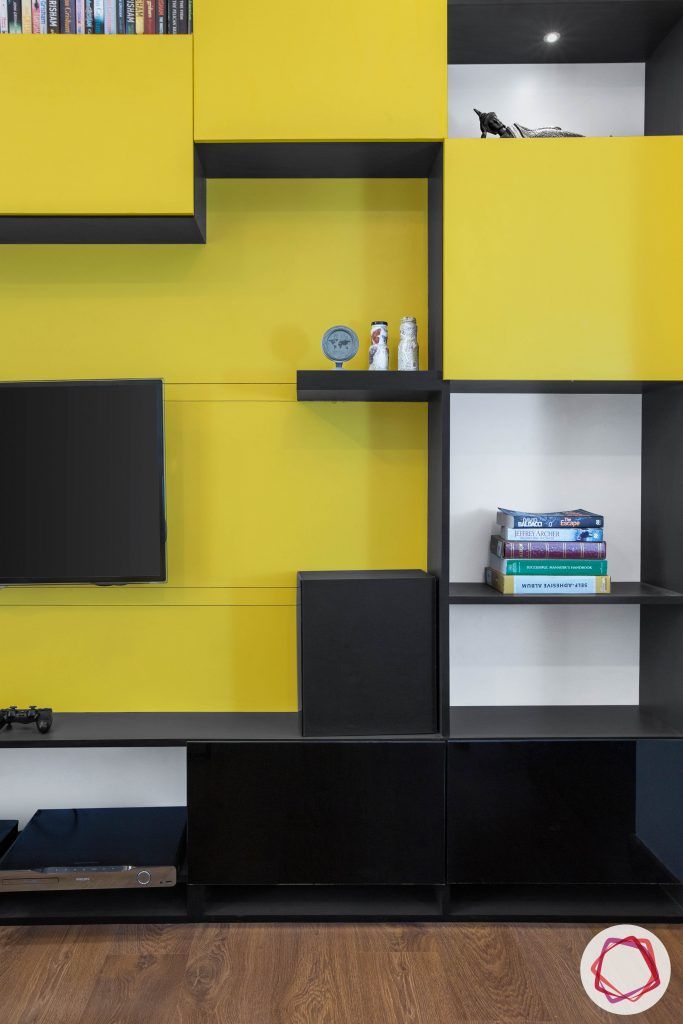 The entertainment room in this home is a plush setup with two super cosy recliners in tan leatherette. But the main feature in this room is the display-cum-entertainment unit, which is a potpourri of materials and finishes. Moreover, the frame is MDF and its joints have been painted with Duco paint to give it a smooth look. Moreover, the bright yellow shutters are laminate and the shutters of the base unit are black lacquered glass.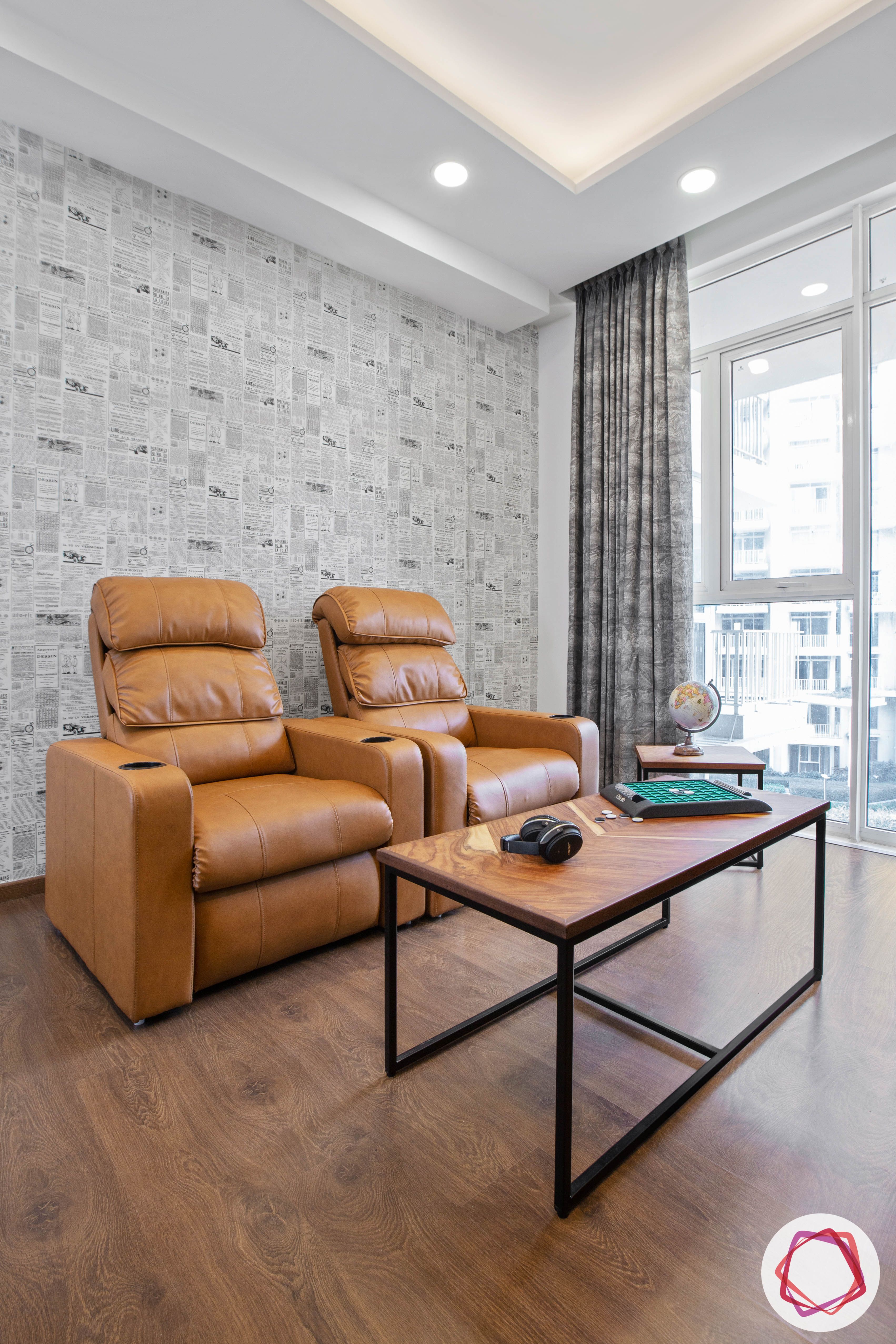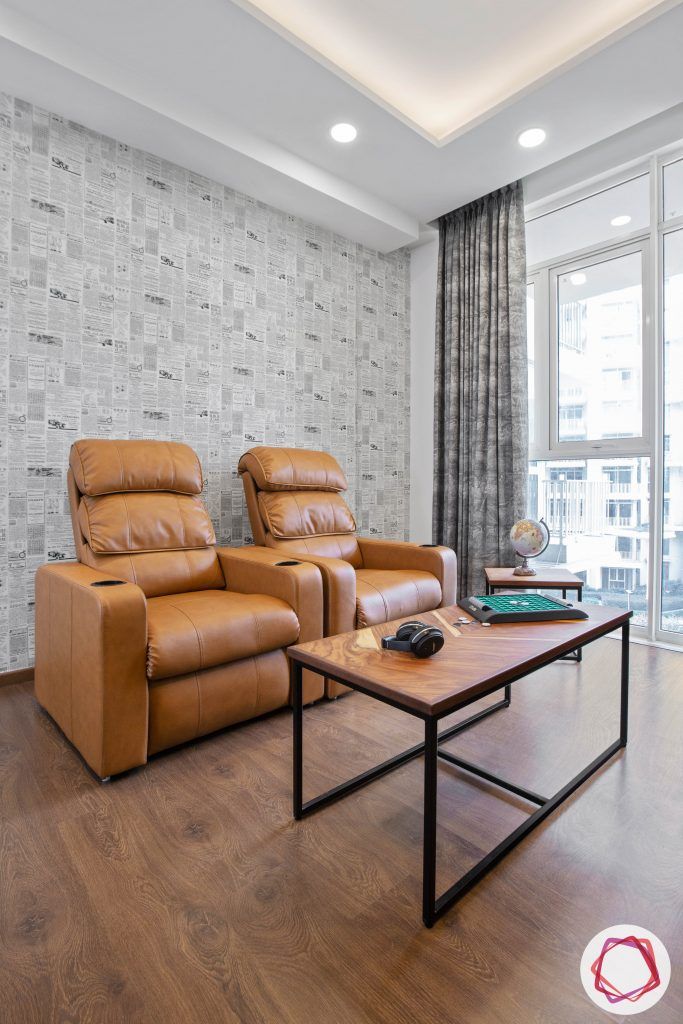 Consequently, the vibrant yellow of the display unit is toned down by the subtle newsprint wallpaper behind the recliners. MDF frame and wooden top was used for the centre table . Besides, this room also has a floating work desk so that family can enjoy quality time together even as they check their mail or finish some work on their laptops.
Best Interior Designers in Gurgaon Design: Ethereal White Pooja Counter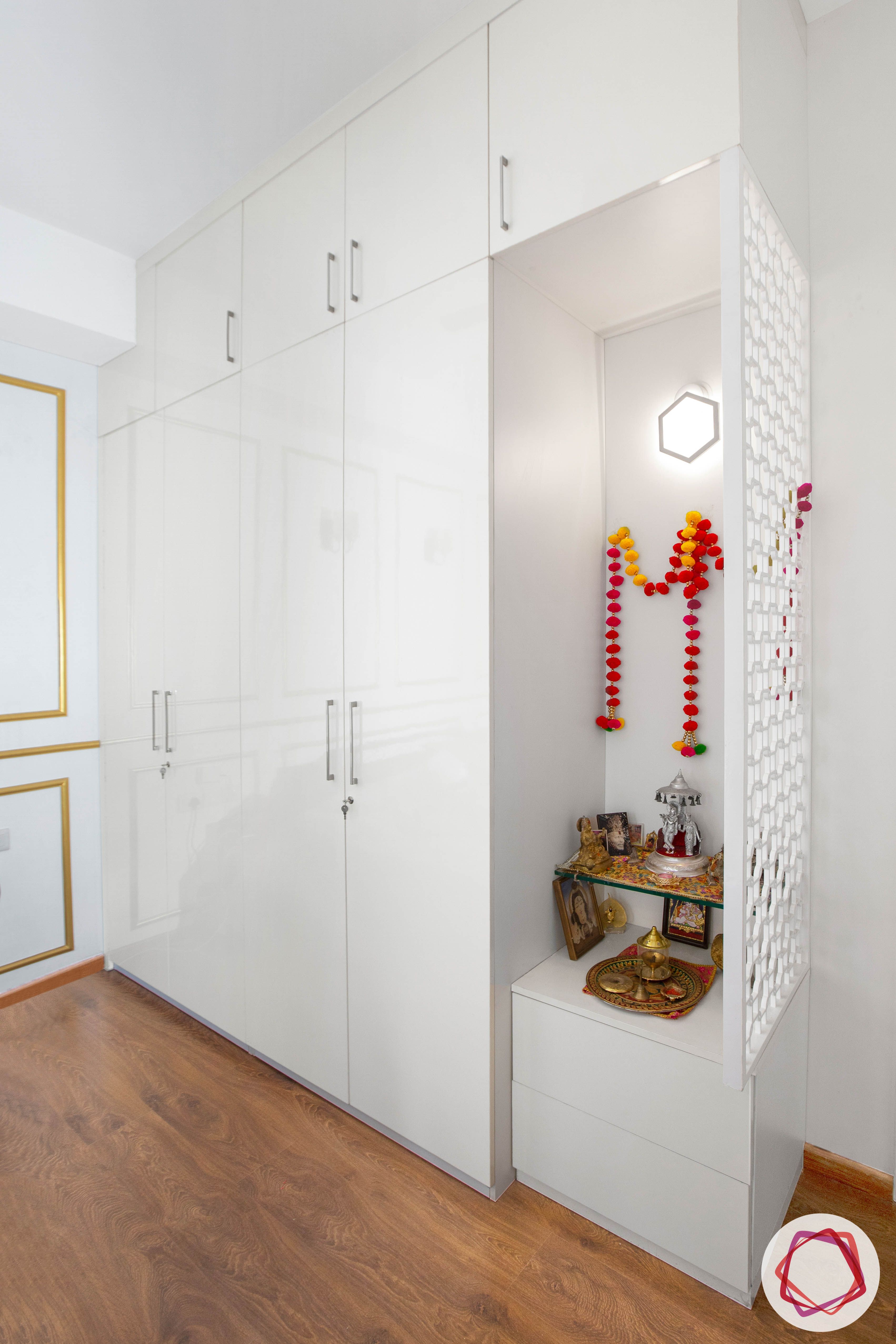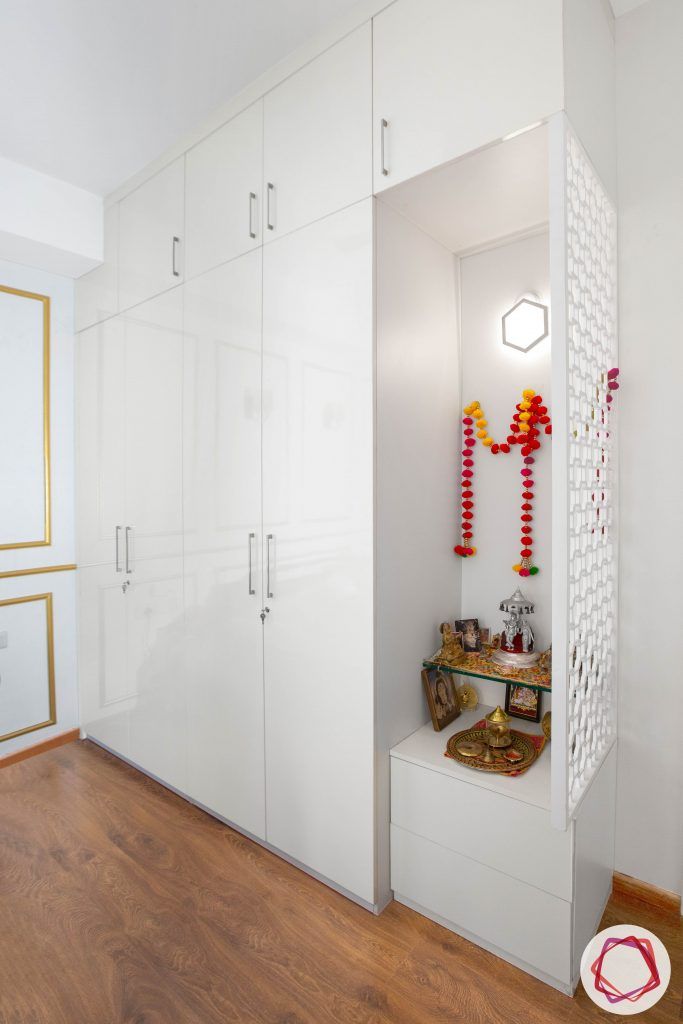 However, the family did not want a very elaborate pooja unit, so Sushant installed a compact one in the guest bedroom. This is a typical Indian pooja unit with a latticed jaali. Moreover, it has an interesting back-lit light source and drawers for storage. This room also flaunts a fancy moulded wall with gold trimmings.
"The family was very friendly and open to suggestions, making it very easy to work with them. They did not have mind blocks about using any type of colours or designs, so I could experiment with a variety of colour schemes, materials and finishes. In the end, I could deliver a vibrant home just as they wanted it to be."
– Sushant Madan, Interior Designer, Livspace
If you liked this contemporary home in Gurgaon, also check out Cosy on a Budget at Mahagun Mywoods
Send in your comments and suggestions.