This Mahagun Mywoods home is stylish & full of colours!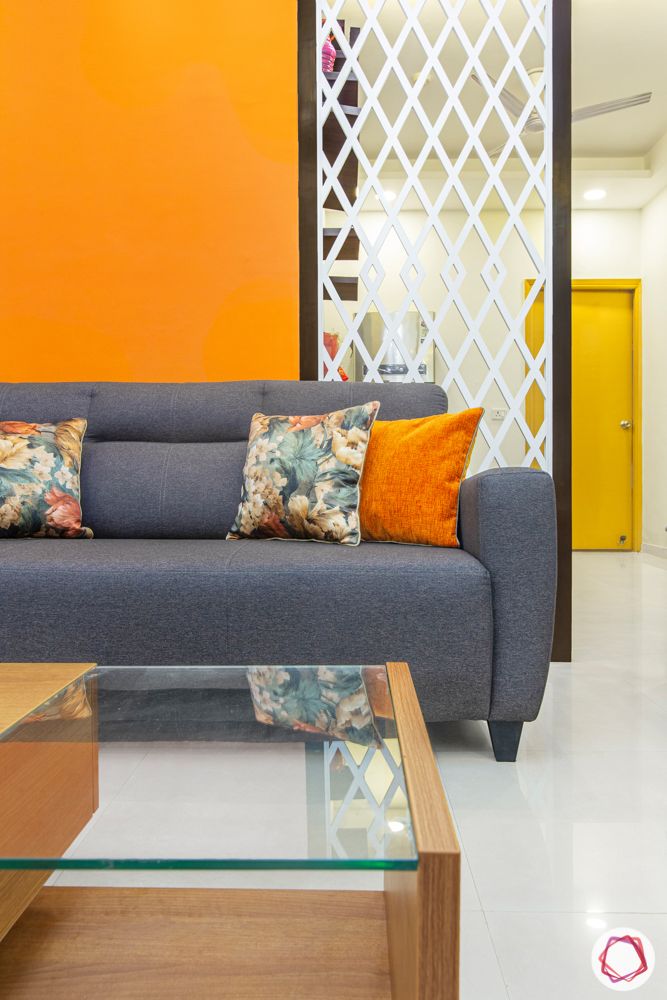 ---
Who livs here: Mr. & Mrs. Srivastava and their son
Location: Magnolia, Mahagun Mywoods, Noida
Size of home: A 3BHK spanning 1,545 sq ft approx.
Design team: Interior Designer Mridul Jain and Project Manager Sandeep Jain
Livspace service: Full home design
Budget: ₹₹₹₹₹
---
Sometimes our fast-paced life gets so busy that we fall short of time to work on certain things that we really want. Mr. & Mrs. Srivastava are a working couple in Noida, who wanted to design their dream home. They knew that they do not have a lot of time in their daily lives, thus, their home had to be high on functionality and low on maintenance.
This couple, who were previously residing in Malviya Nagar, bought their own home at Mahagun Mywoods in Noida. When they came to our Livspace Noida Experience Center, they immediately built a rapport with our designer Manpreet Kaur and later on with Mridul Jain as well. The brief was simple – functional interiors that suit their lifestyle and does not burn a hole in their pockets. Mrs. Srivastava loves bright colours and she got to take most of the decisions, but the home looks like a perfect combination of colour, design and aesthetics. Read on to find out how it all took shape.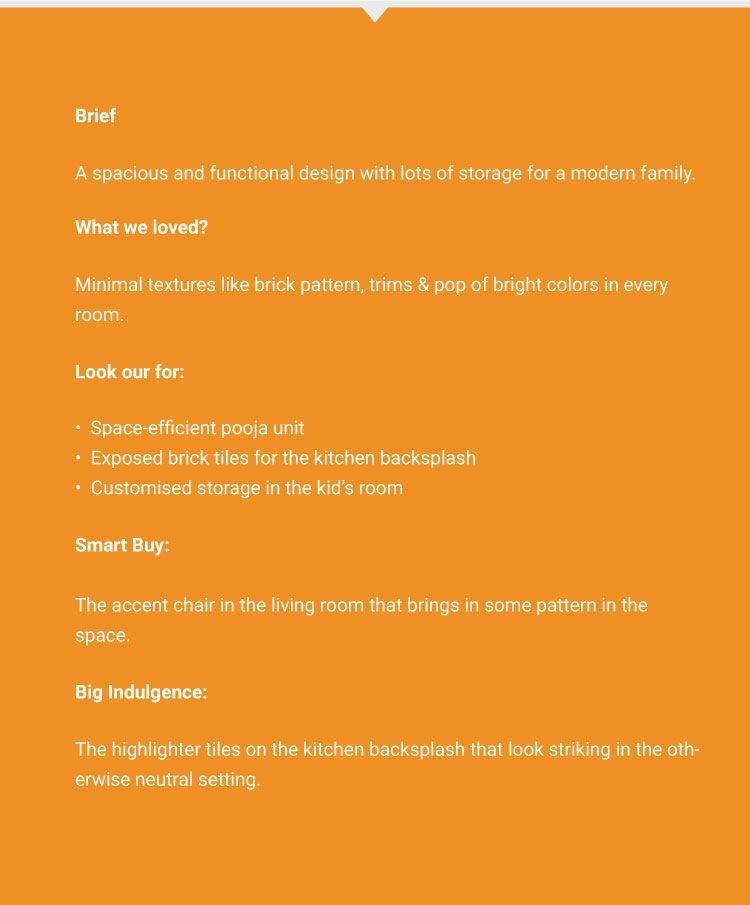 Mahagun Mywoods: A Bright Welcome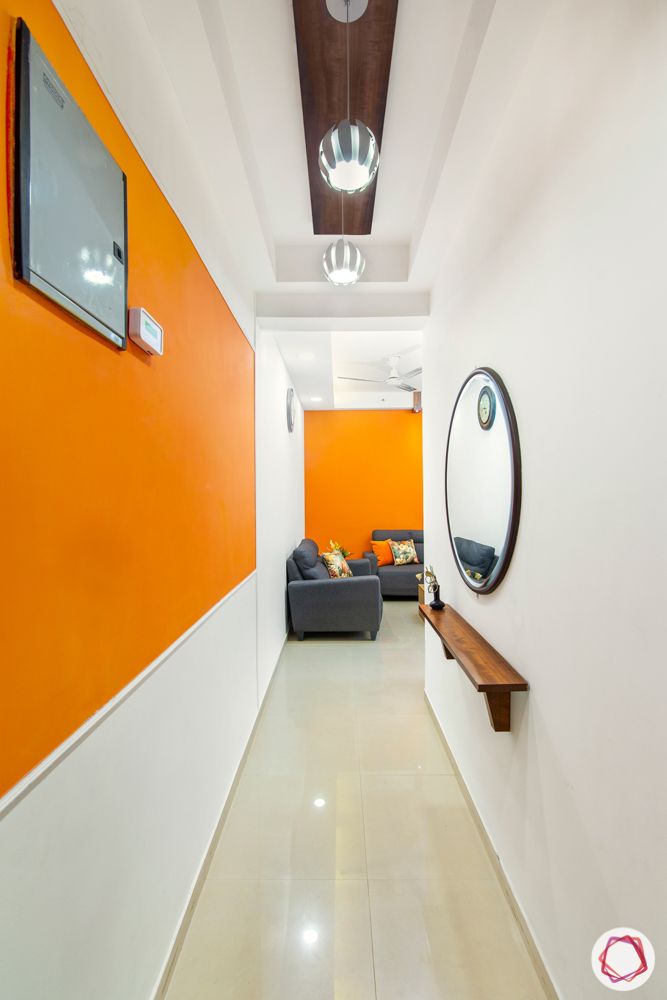 It's always a great idea to walk into a home that welcomes you with a splash of colour. The foyer at this 3BHK in Mahagun Mywoods has a simple yet striking design. On one side you can see a simple round-shaped mirror sitting pretty atop a minimal wall ledge. While the opposite wall sports a nice shade of orange that is going to be filled with family photographs.
Mahagun Mywoods: Cosy Spaces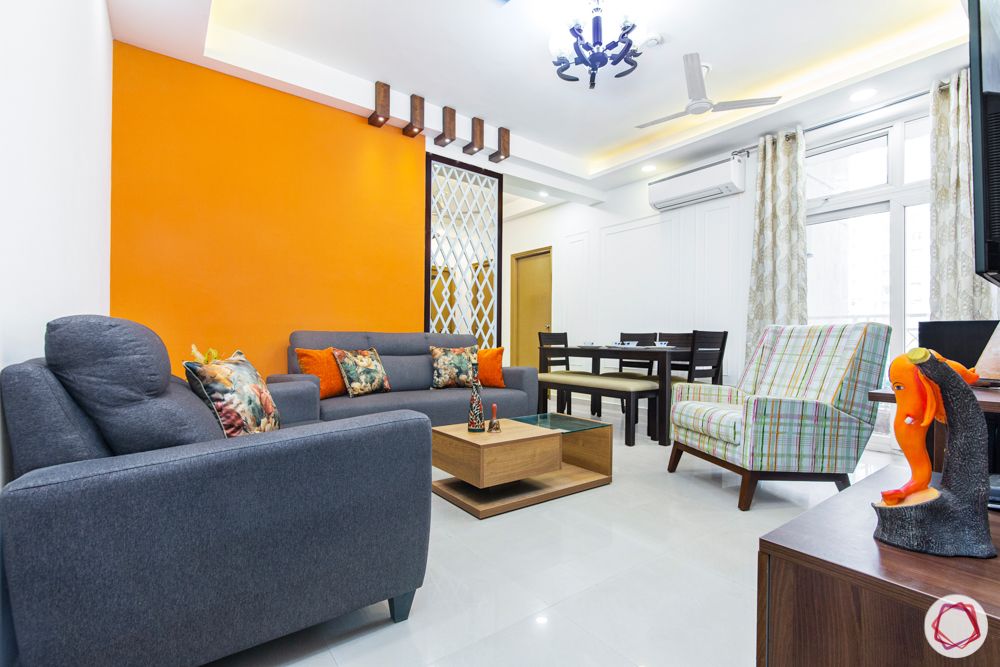 Living rooms – the space that is the centre of all the action in most get-togethers. This home has been designed with a striking concept. Mridul has painted one wall in a blazing orange colour and that is the only colour in this room. Complementing the wall are sofas in grey and an accent chair upholstered in a printed fabric. You can also spot wooden rafters on the false ceiling and an exposed brick wallpaper on the TV unit wall, an idea that the couple picked up from our Experience Center. Also, the TV unit is made of laminate and has storage space for essentials.
Mahagun Mywoods: Effortless Style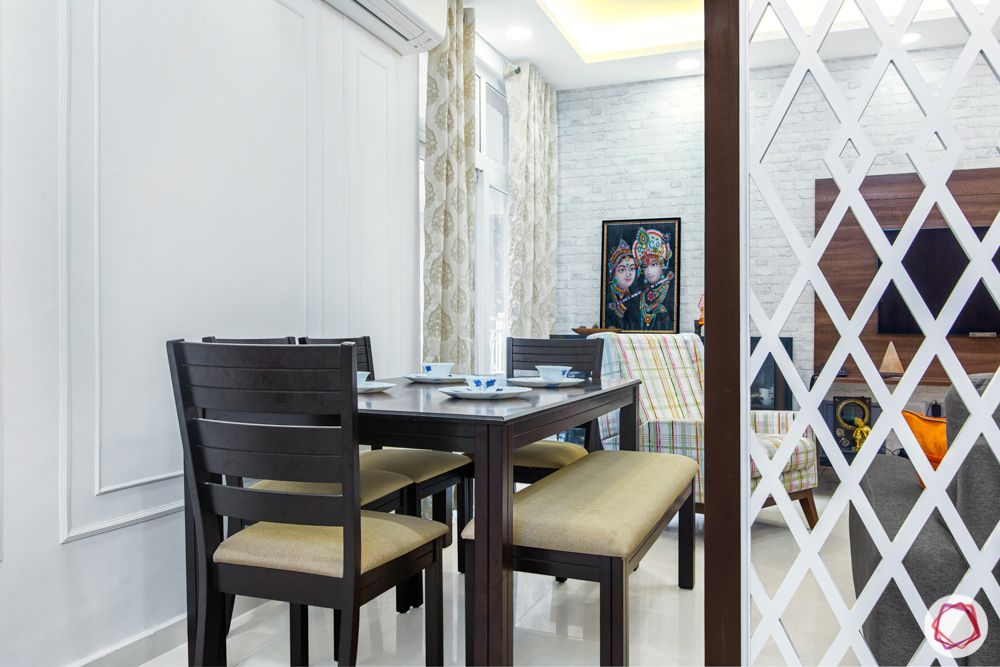 The dining space at this 3BHK is not a separate room. It is accommodated in the living room and the only highlight are the trims on the white walls next to it. The seating consists of a mix of chairs and a bench that makes space for extra people.
Mahagun Mywoods: Wall-mounted Pooja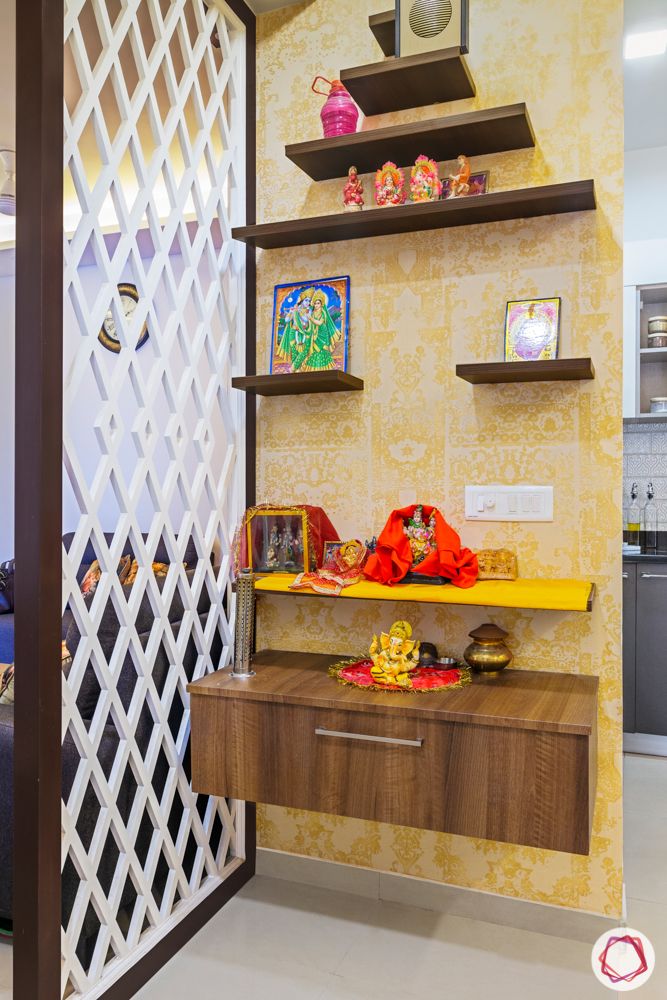 The pooja corner in this 3BHK is not just space efficient, but also vastu compliant. A jaali divider separates this laminate unit from the rest of the living room. To save floor space and obstruction, Mridul has designed given them a wall mounted drawer and wooden ledges. If you look carefully, you will notice that it takes the shape of mandir.
---
"We had numerous interactive sessions with Manpreet Kaur and Mridul Jain, our designers, who were extremely helpful. I personally love the modular kitchen that has been designed with great quality materials. I am completely satisfied with the quality of products and service provided by Livspace. It is a very well executed project and my home was delivered to me on time. We would definitely recommend Livspace to our friends and family for their interiors."

-Mrs. Srivastava, Livspace Homeowner
---
Mahagun Mywoods: Subtle in Grey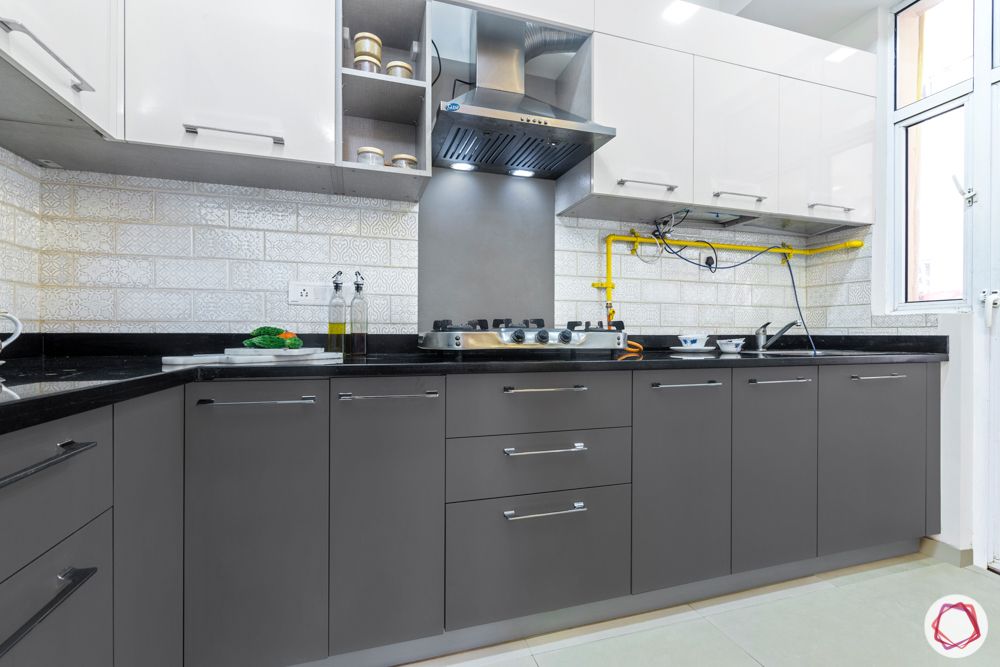 What is the first thing that you notice about this laminate kitchen? Is it the subtle colour combination? Or is it the abundant storage? For us, it is the designer tiles that adorn the backsplash. This is something that the couple has splurged on, since they wanted that one 'wow' factor in their kitchen. The rest of the kitchen wears a simple look, with grey and white cabinets that have sleek steel handles. This kitchen is mostly used by Mrs. Srivastava and she wanted it to be as functional and low maintenance as possible. Therefore, Mridul has given her a granite countertop that can be swiped clean with a washcloth.
Mahagun Mywoods: Simplicity Defined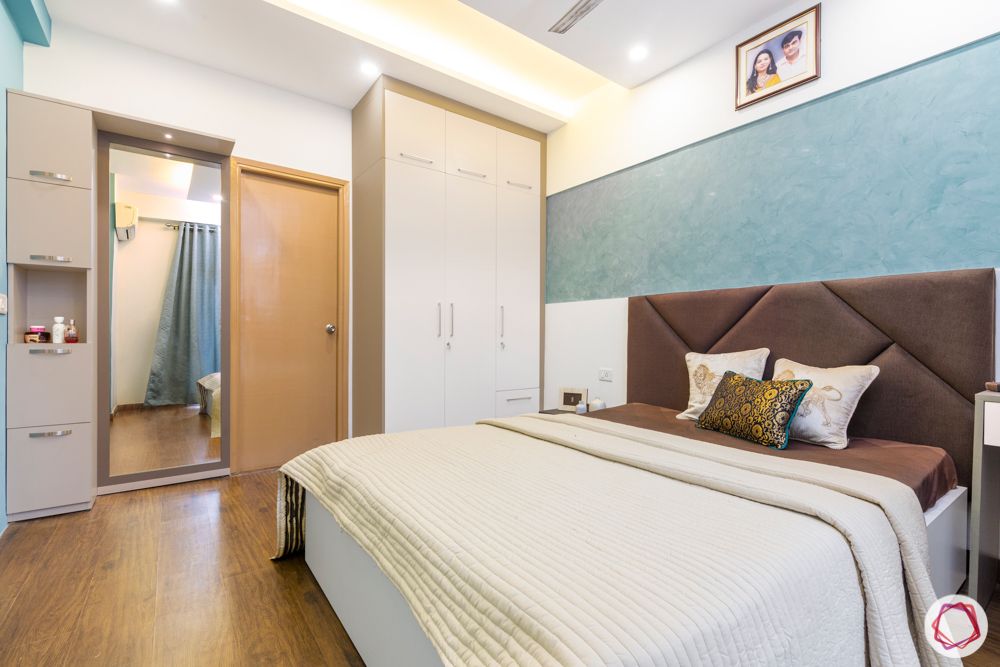 Although Mrs. Srivastava loves bright colours, their master bedroom at this Mahagun Mywoods apartment is as soothing as it can get. The headboard wall sports POP panels with blue texture paint in the centre. This compact space accommodates a study table, side table, wardrobe, dresser and so much more. Mrs. Srivastava wanted a full length mirror in the bedroom and Mridul gave her cabinets and shelves next to it to make it more convenient. Simple swing door laminate wardrobes with lofts take care of storage worries.
Mahagun Mywoods: Bright and cute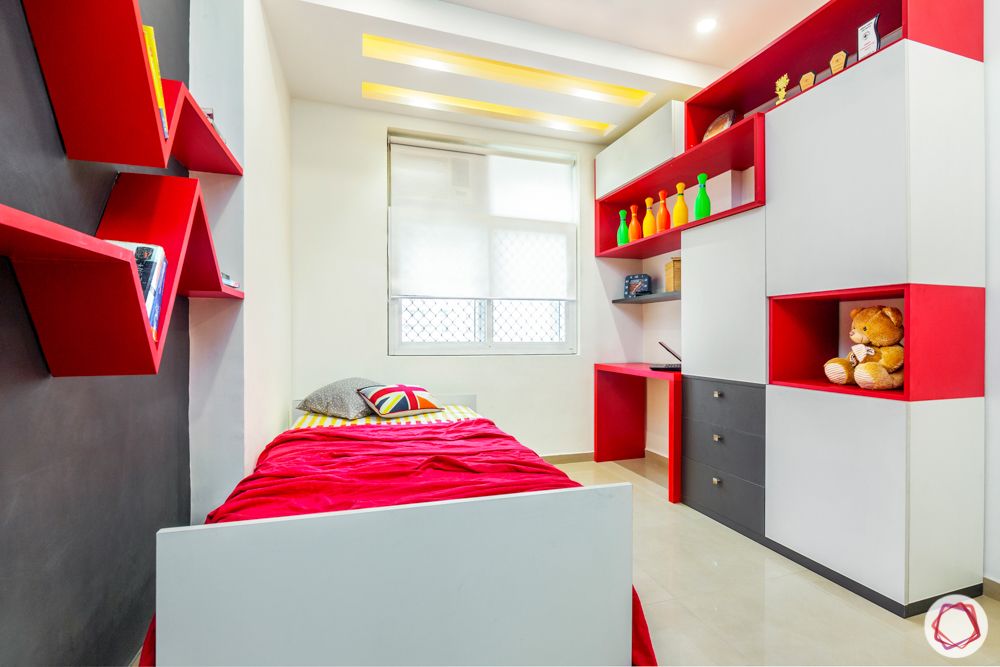 The naughty kid at home owns the brightest room. And obviously we are not complaining. A red and white colour scheme is used for this room and Mridul has also given a customised bed to the kid. An elaborate study unit complete with cabinets, shelves and drawers is appropriate for a growing kid. One wall also looks like a chalkboard, with heartbeat-like shelves in bright red that acts as a bookshelf.
---
"I really enjoyed working on this project since the clients are a young couple and they gave me complete freedom to design and experiment. The decision-making was very quick and efficient because of limited back and forth. It is always amazing to work with such clients!"

-Mridul Jain, Interior Designer, Livspace
---
Want to look at another home like this? Take a look at this one: 10-yr-old Home Gets Spacious After Revamp.
Send in your comments and suggestions.