Imagine this: cane and wicker furniture, embroidered cotton bedsheets and pillow cases, and showpieces that all have a story to tell. Nostalgia can take us places. In this case, right to the doorsteps of our grandparents' houses, dotted with little trinkets, fragrances and colours that have held a place in our hearts for years!
Inspired by this nostalgia and glimpses of south Indian culture in life, painting or motifs, many of us have attempted to recapture the vibe through Indian elements in decor.
As home decor in India takes a traditional turn, we need the right blend of modernity and Indian notes to bring traditional decor back. So this calls for furnishings that fit effortlessly into contemporary homes. And where can we find this?
Enter Freedom Tree Design!
Defined by fresh colours and bold graphic prints bordering on abstraction, Freedom Tree takes inspiration from all things traditional. This home decor and modern furniture store works towards reinventing the past and presenting to us the charm of a bygone era through their new collection. For Freedom Tree, the focus has always been on recreating ethnic elements to fit seamlessly into the present. Originating in Bombay, this store has just opened its latest outlet in Bangalore! Check out their collection!
Freedom Tree's latest collection, Under the Southern Sun, is their love letter to south India! Making a conscious decision to delve into India's southern kingdoms, Freedom Tree has designed its latest collection to reinvent spaces in tandem with Indian festivities.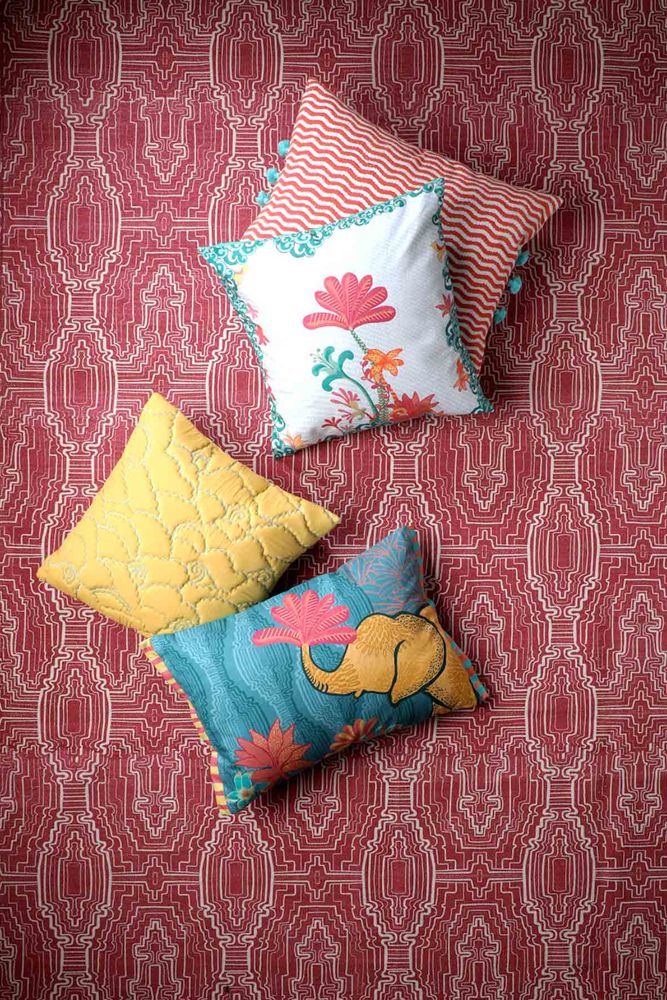 Drawing from the historical and geographical expanse of the kingdoms of the south, Freedom Tree has woven stories into its latest collection. Freedom Tree's fabrics exhibit bold colours in traditional weaves and experimental scales. The brand also showcases hand-painted ceramics that kindle reverence from the smallest bowl to the largest platter. Together, these products create little nooks of southern sunshine. Let's take a quick look!
Freedom Tree Design #1: Cushions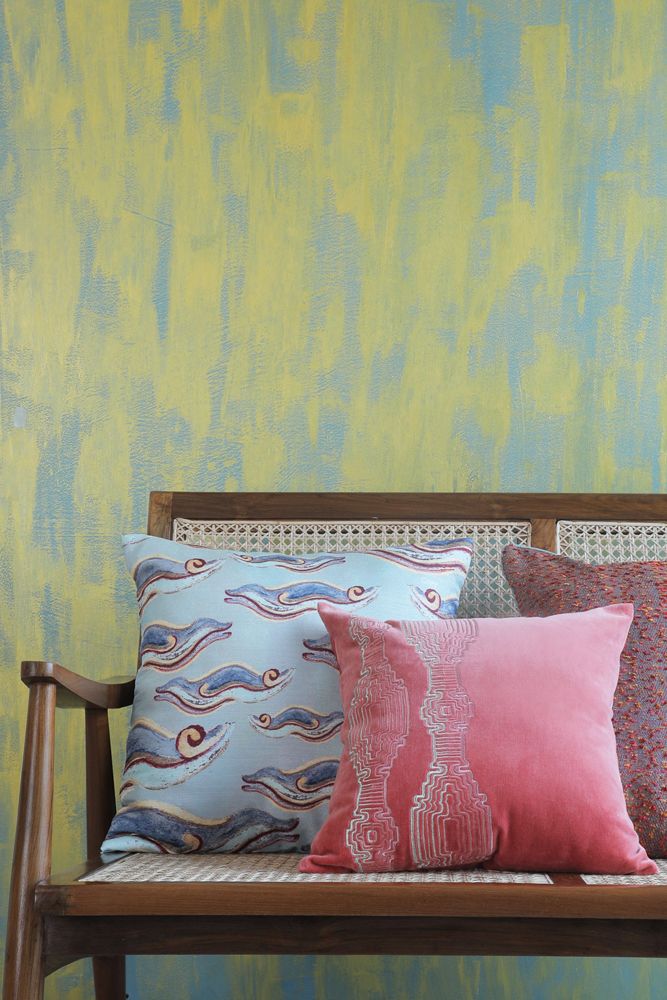 From plain to embroidered, printed and everything in between, the cushions that form a part of Freedom Tree's latest collection uphold different aspects of Southern India. Multilayered pillars in Chettinad houses have inspired cushions with zigzag patterns and contrasting tassels. On the other hand, the rippling of stone sculptures on temples have made way for embroidered cushion covers that capture the exquisite stone carvings.
Similarly, the store offers hand-painted cushion covers. These designs may be drawn from nature, or present geometric abstraction at its finest. And how can we leave out the printed cushions? These speak of stories from myths and folklore, presenting a rich tapestry of everyday life as well as common beliefs.
Price range: ₹580 onwards
"For our latest collection, we have borrowed much from the walkabout small southern towns – local markets, the colours of food and vegetables, temple offerings, and even nature. The crimson of sindoor and teal of temple ponds come together to evoke senses other than just colour! The flora and fauna of the South have inspired designs that fit effortlessly into today's homes, and we are thrilled with the response it has received from across India, especially first and second tier cities."
– Mrs Latika Khosla, founder, Freedom Tree Design
Freedom Tree Design #2: Metal Accessories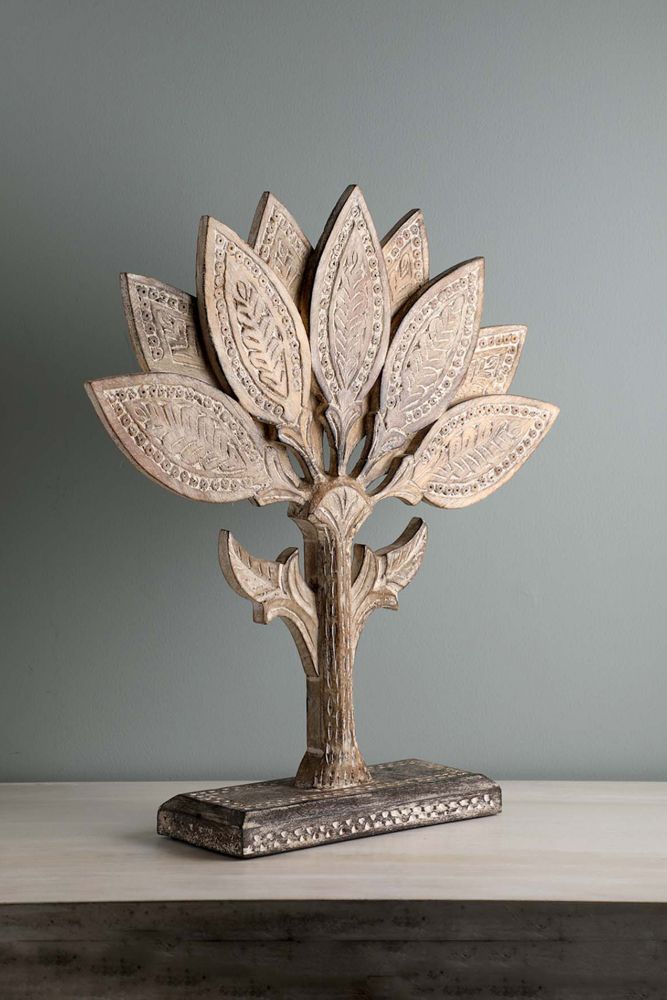 The flora and fauna of the South have inspired the designs of the decor accents. Featured above is a beautiful Kadamba tree that fans its branches in symmetry as a tabletop accent. Similarly, the brand offers other pieces, such as Garuda wings that offer flights of fancy as a winged bookend. The brand also offers papier-mâché cow heads that take pride of place on walls and countertops.
Price range: ₹880 onwards

Freedom Tree Design #3: Wicker Furniture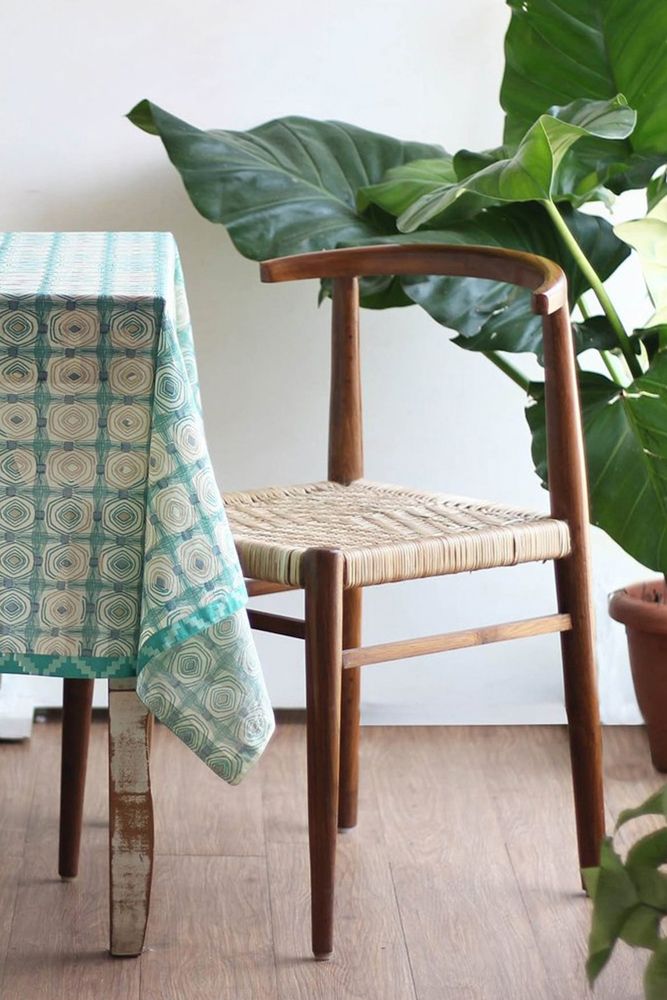 Think of wicker, and you will inevitably take a trip down the memory lane. Moreover, you can use these open and flexible pieces easily in today's homes and fit them into any space. So check out Freedom Tree's wicker furniture crafted with the modern lifestyle and comfort in mind to make your home feel open, airy and rustic!
Price range: ₹14,600 onwards
Freedom Tree Design #4: Tapestry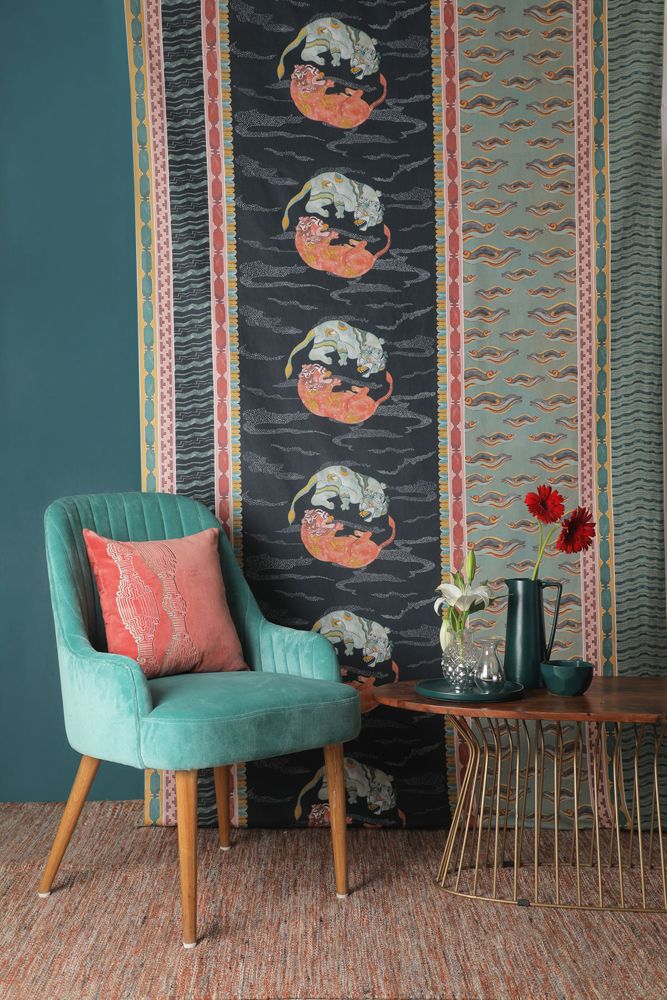 If you want to create a simple yet effective statement, all you need is powerful tapestry! Drawing upon the oriental textile traditions, tapestries also present myths with a festive twist. Moreover, with circling yalis looking ready to jump out of the fabric, your room will look elegant effortlessly!
Price range: ₹1,180 onwards
Editor's Choice
#1: Wicker Sideboard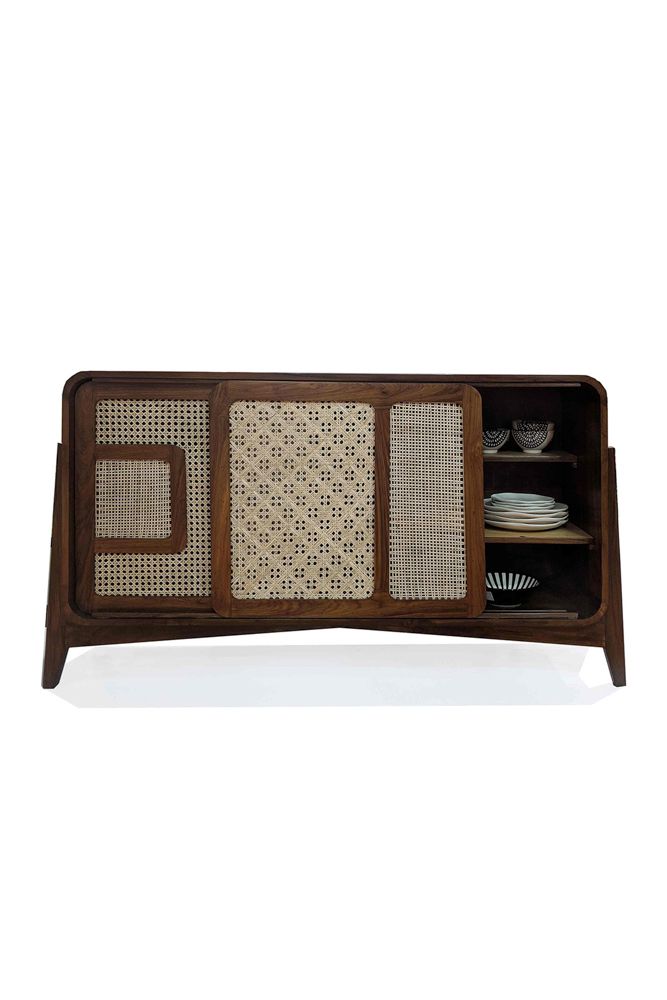 This sideboard evokes nostalgia in more ways than one. So we can safely say that this wicker sideboard will remind you of furniture seen in your grandparents' home. Moreover, its transistor radio shape brings back memories! The past is carefully woven into this piece, layer by layer. In this case, how can you not fall in love?
#2: Ceramics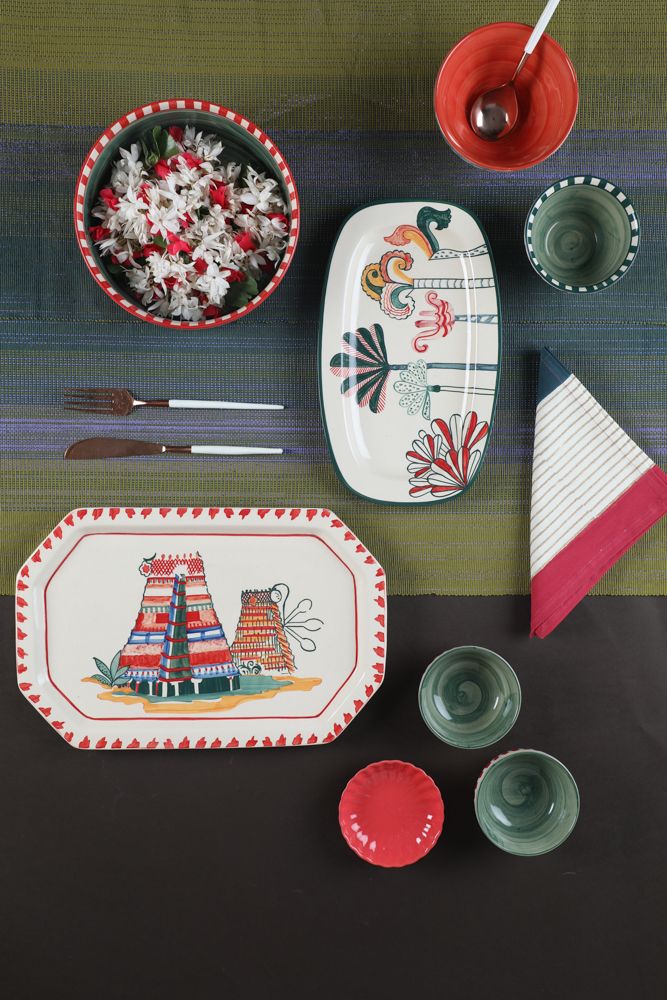 Ceramics from their Kongu collection stand apart with their extensive illustrations. So these pieces effortlessly usher traditional charm into your home while staying rooted in mysticism, monumental architecture and ancient traditions. In addition, this handcrafted and hand-painted collection fits seamlessly into modern life with its microwave, oven, and dishwasher-safe nature.
#3: Upholstered Chair and Cow Head Accessories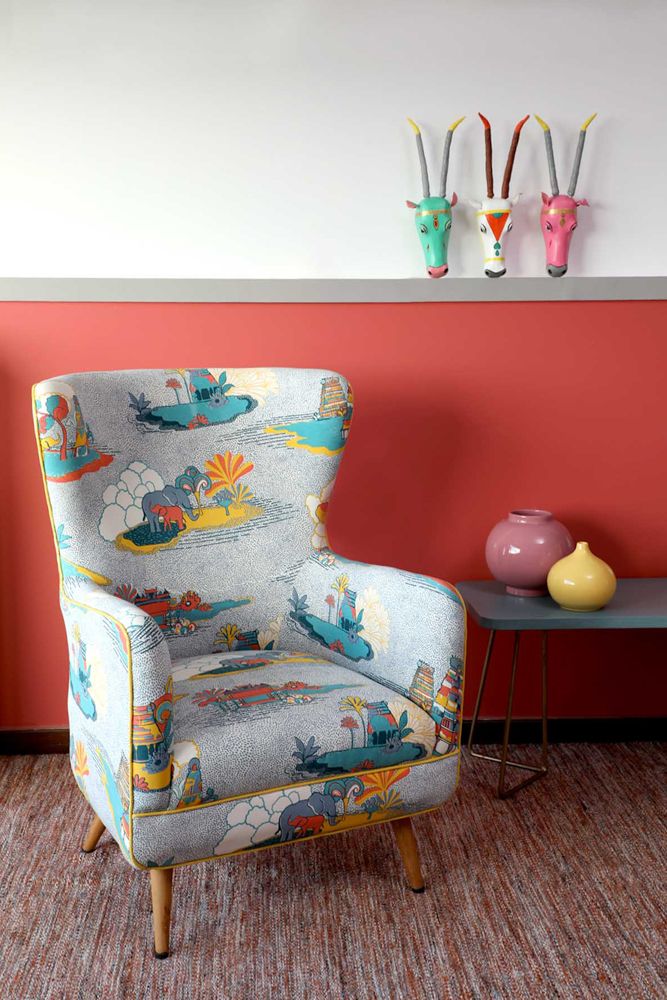 Inspired by the monumental architecture and traditions of Madurai, this upholstered chair from the Temple Town collection features prints that bring the town to life. The chair also showcases traditional elements from this temple town, like gopurams, processional elements, kadamba trees, and temple tanks. We love this addition!
If you liked this collection, we can tell you how to Decorate Your Home with a Desi Touch.
Send us your comments and feedback.