When it comes to home interiors and design styles, contemporary means 'here and now.' However, it's considered more of a trend than a style because it channels trends that are popular at a given time or decade. A contemporary house design has informal techniques and unpolished finishes, like concrete and distressed wooden elements. This is what makes it stand out from other permanent design styles. Come, let's dive into the details and see what makes a design contemporary.
What is Contemporary House Design?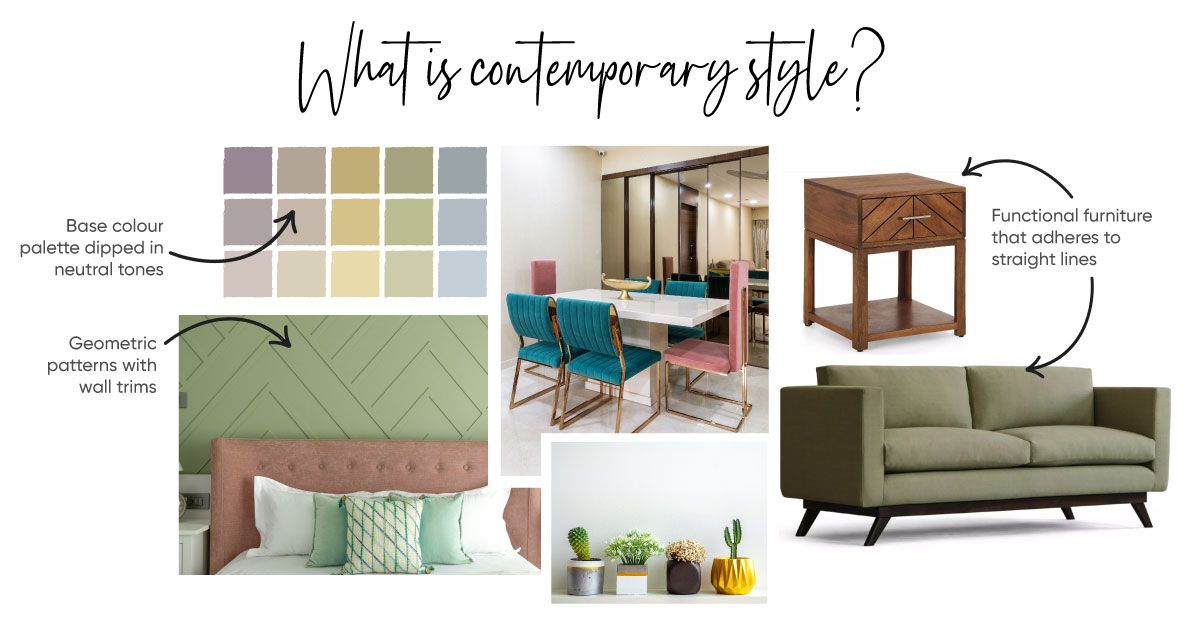 Contemporary interior design gets its look from modern and cutting-edge ideas. These include clean lines, an emphasis on comfort and effortless furnishing. While there are easy ways to add these elements, minimalism is key.
Read on to learn more about contemporary interior design and how to spot it yourself!
Also Read: Modern vs Contemporary Interior Design: What's the Difference and Which One is Better?
Key Elements of a Contemporary Home Design
| | |
| --- | --- |
| Use of Colour | Muted colours with bold pops |
| Line and Space | Simple shapes with strong and crisp lines |
| Furniture Design | Minimalist furniture with emphasis on functionality |
| Flooring | Tiles, hardwood, laminate or vinyl |
| Lighting | Smooth profile lights, no ornamentation |
How to Spot a Contemporary Style Interior Design?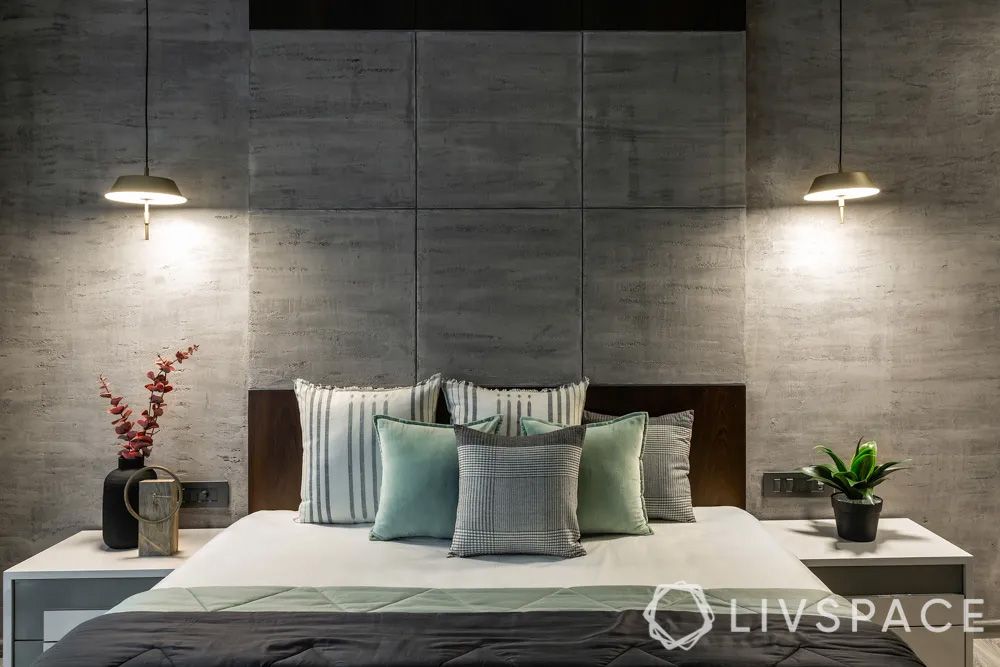 One of the first things you'll notice about a contemporary house interior design is its clean shapes and lines. Not only are they seen on wall treatments, but also on clean-lined upholstery and geometric pieces of furniture. Every element of a contemporary house design is understated and uncomplicated, featuring only one dominant material.
Colour palette: When you think of a contemporary house interior, think neutrals. Greys, blacks, browns and whites with occasional pops of pastel colours are trending.
Materials: Materials in a modern contemporary house are inspired by cutting-edge designs with a luxe twist. Popular flooring options are durable wood, tiles and vinyl. You can also find metal, stone and glass for an industrial mix. However, comfort and luxury in a contemporary house design come from materials like silk linen and cotton.
Furniture: A modern contemporary house design does not have any embellishments or carvings. Moreover, furniture sports smooth surfaces and sleek lines and clean lines. Saying that, while everything is kept minimal, there is often one statement piece in a bold colour or form in a contemporary style interior design.

Lighting: In a contemporary house design, lighting is mainly reserved for functional use. Therefore, accent lighting features a raw look. Additionally, track lighting is used to draw attention to art and accessories. Ornamental lighting is a rare sight in a contemporary house interior.
Top 5 Livspace Homes With Contemporary Style Interior Design Room by Room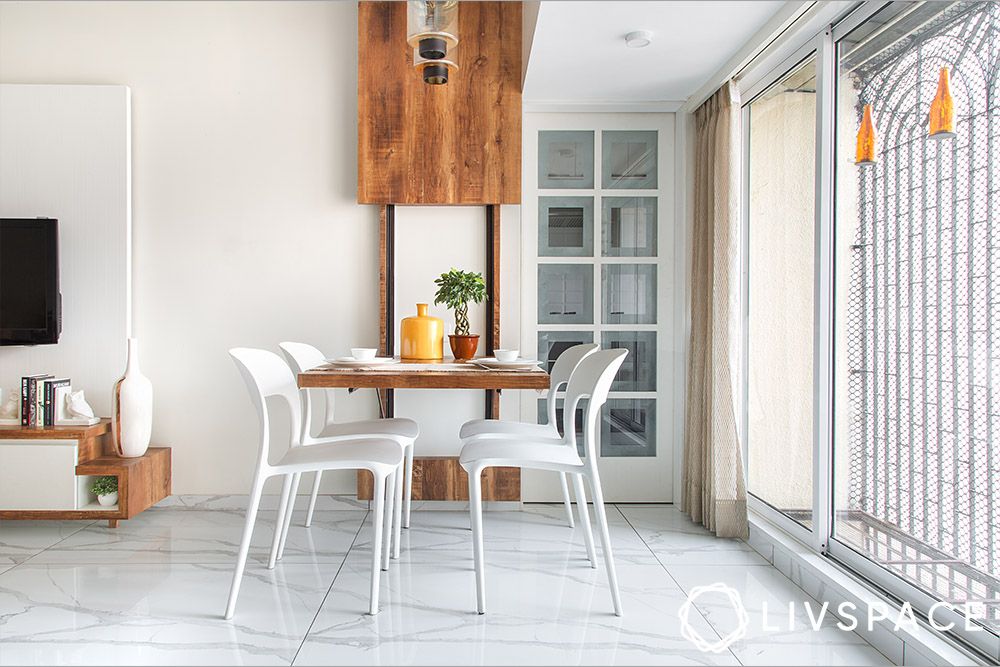 A few features that stand out in the dining room of this contemporary house design include neutral colours and wood finishes. White on wood is one combination you can't go wrong with. Moreover, the furniture is clean and simple. Also, the finishes are rustic and luxurious in this modern contemporary house.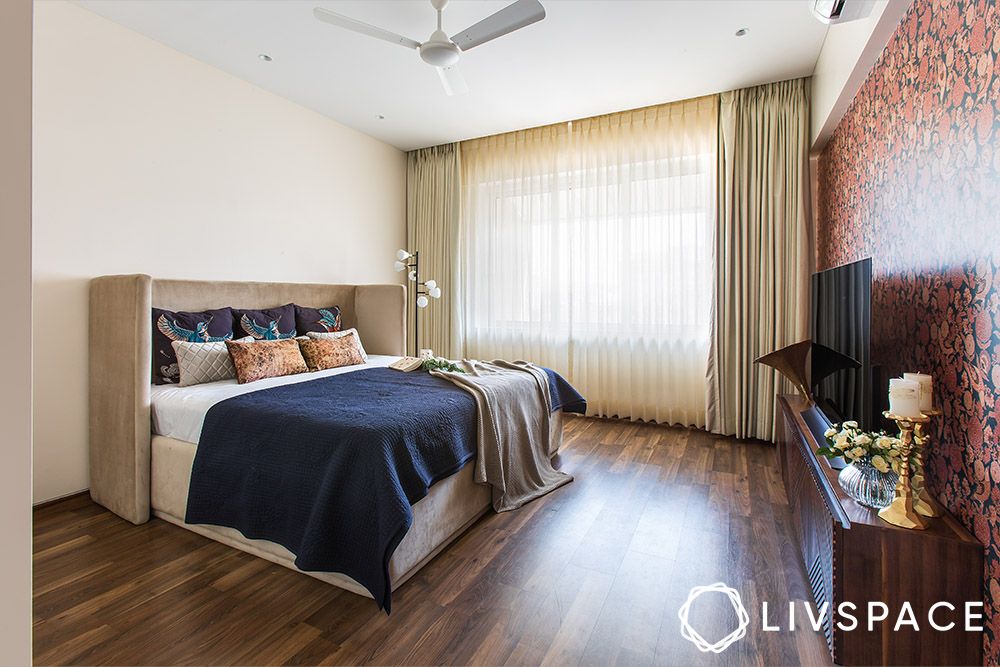 Very rarely do you find a contemporary home design that features all the characteristics of the style. But we've got one for you! The bedroom in this 4BHK in Mumbai has a neutral colour scheme with pops of colour. It also has plenty of natural sunlight, luxurious materials like marble and metal and fine finishing touches with wall trims.
Moreover, a noteworthy mention goes to the lighting in the home. Consequently, the fixtures in this modern contemporary house design focus on functionality and design. They feature floor lamps, pendant lights and geometric chandeliers.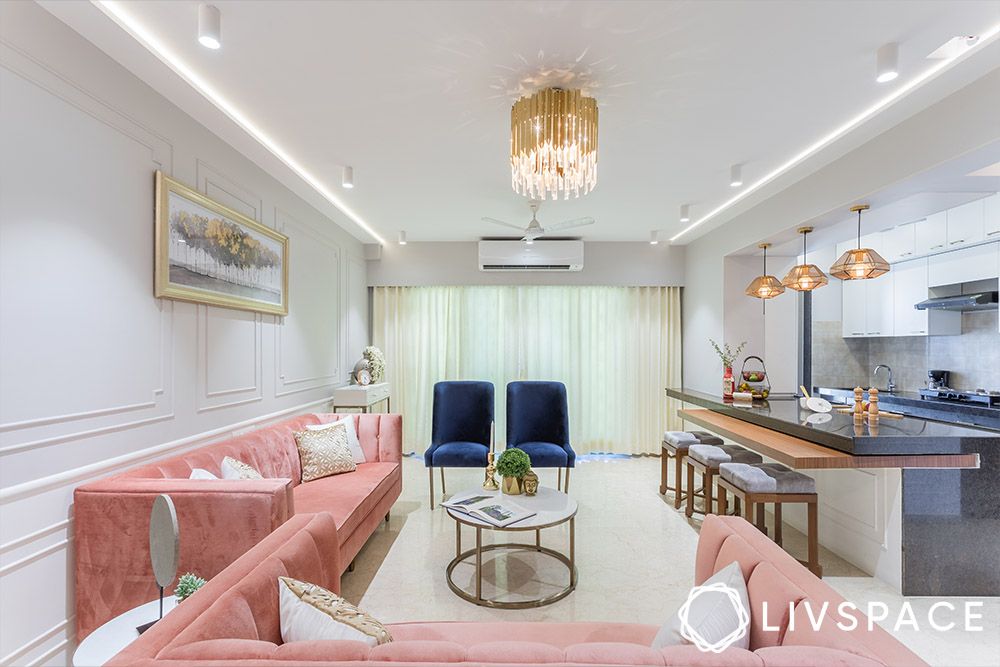 While contemporary focuses on minimal colours, the living room in this contemporary home design incorporates the aesthetic in the form of luxurious materials and patterns.
Therefore, materials like silk, velvet and chenilles used in upholstery can add plenty of character to a design.
Moreover, each furniture set has a distinctly luxurious yet clear-cut feature to it. The room has furniture that is perfect for its size and doesn't look bulky. Moreover, tying the whole look together is the subtle geometric touch of the rectangular wall trims.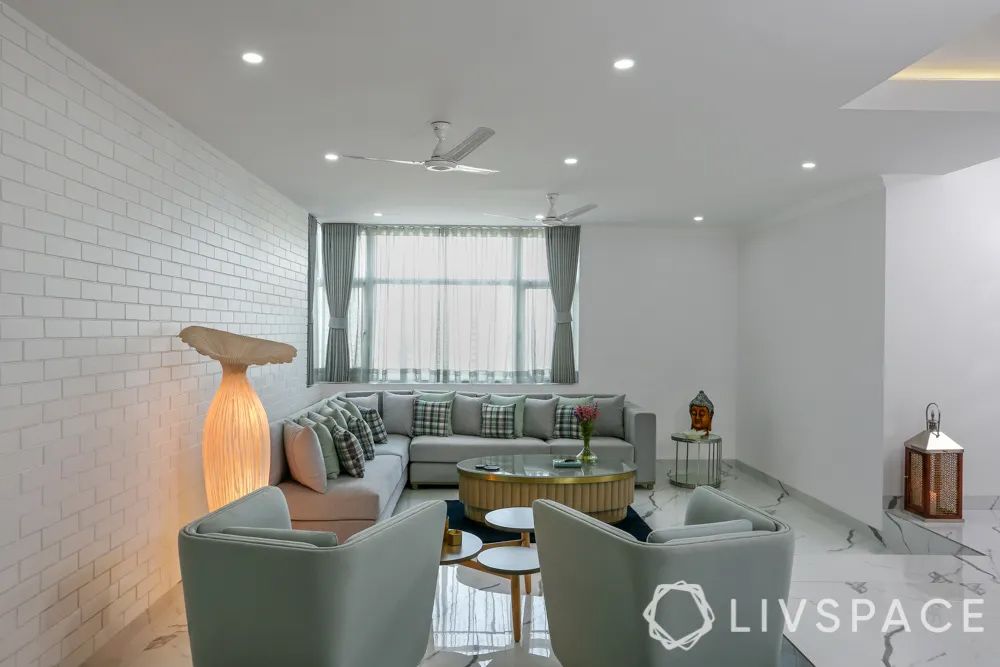 Speaking of materials, this 4BHK in Gurgaon has a myriad of them. From marble flooring to subway tiles, this contemporary house design has a noteworthy material in every room.
The living and dining rooms have classy white and black vein marble. In addition, the kitchen has ceramic tiles in a diamond pattern and the bedrooms have light wood flooring. Wait, there's more!
Consequently, a touch of symmetry and lines come from the brick wall tiles in the living room and kitchen backsplash.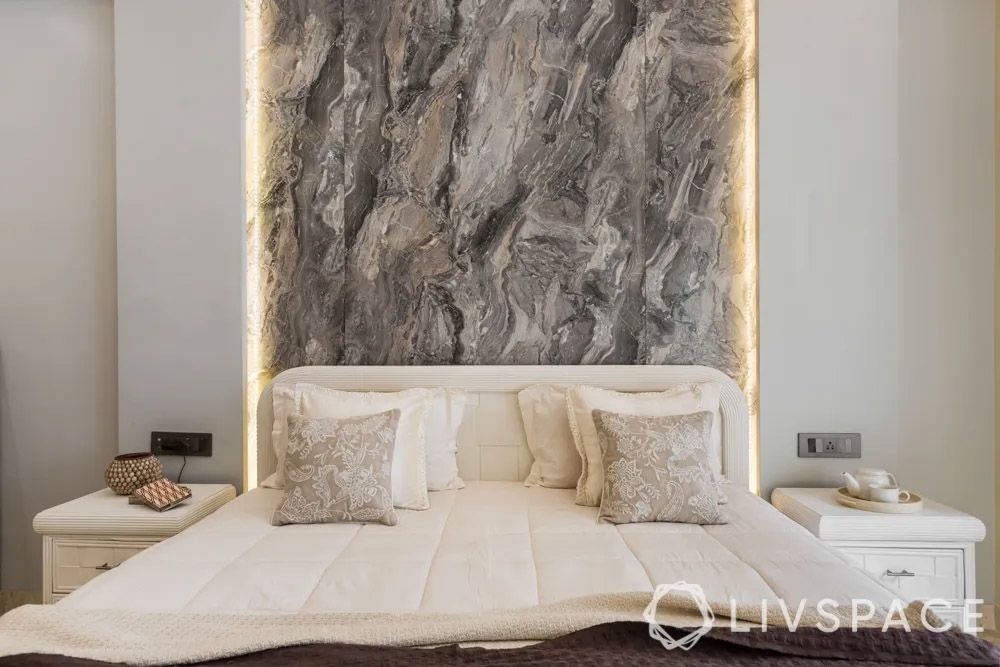 Located in Noida, this stunning contemporary house design has stunning patterns and finishes in every room.
However, the master bedroom definitely steals the spotlight. The refurbished bed has a soft French colour and matching side tables. Additionally, the accent wall with a grey-toned marble textured wallpaper gives this room the ideal aesthetic.
Also Read: How to Create a Modern Home in Bangalore While Staying True to Your Indian Roots?
How Can Livspace Help You?
We hope you found our ideas useful! If you want your home to be just as beautiful, then look no further. Book an online consultation with Livspace today.