Livspace interior designers in Gurgaon, have given this home an unmatched elegance.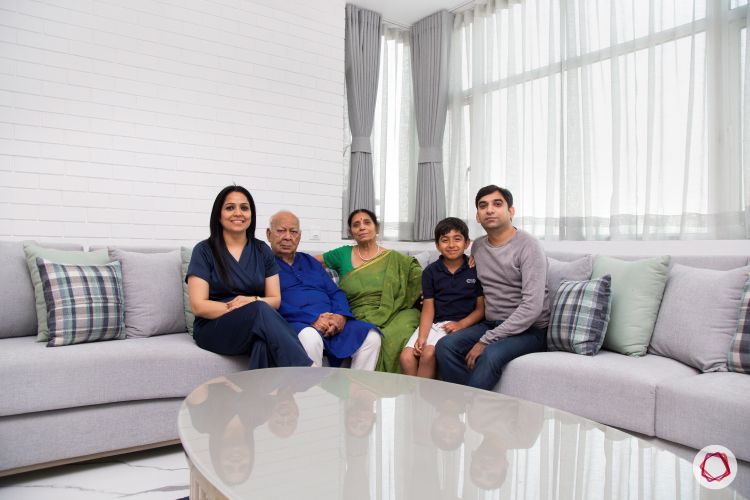 ---
Who livs here: Pooja Malhotra with her husband Deepak, son Aryan and parents-in-law
Location: Raheja Atlantis, Gurgaon
Size of home: A 4BHK spanning 3,000 sq ft approx.
Design team: Interior Designer Shruti Modi and Quality Manager Harshika Allawadhi
Livspace service: Full home design
Budget: ₹₹₹₹₹
---
We completely understand the sentiment attached to first homes. When Pooja and family decided to buy their first family home, they had a dream to make it special. For Pooja, a doctor, and Deepak, an investment banker, dedicating time to run after carpenters was not a feasible option. That's where we come in. Shruti Modi, interior designer at Livspace, fuelled their passion and love for designing their beautiful home.
When Pooja and Deepak came to meet Shruti at the Livspace Experience Centre, they knew what they were getting into. They also borrowed a design or two from the centre and used it for their home. Time-crunches, hasty decisions, a little bit of chaos, a lot of good interactions, major civil work and some superb design execution later, this marvel in white took shape. Don't miss taking a tour of this one!
A Class Act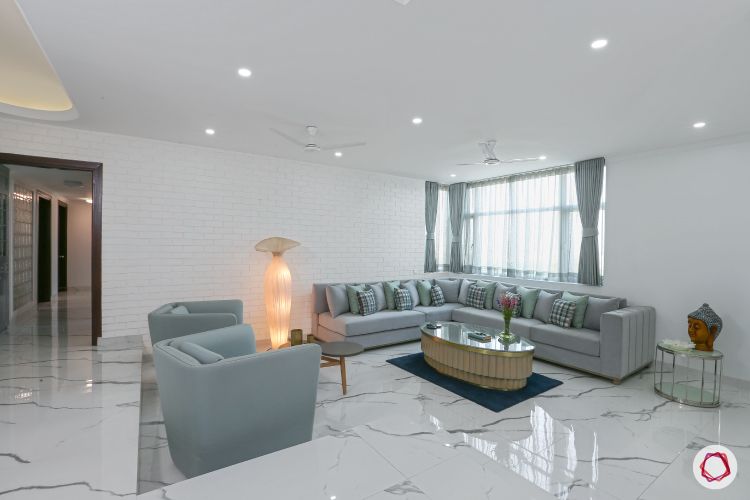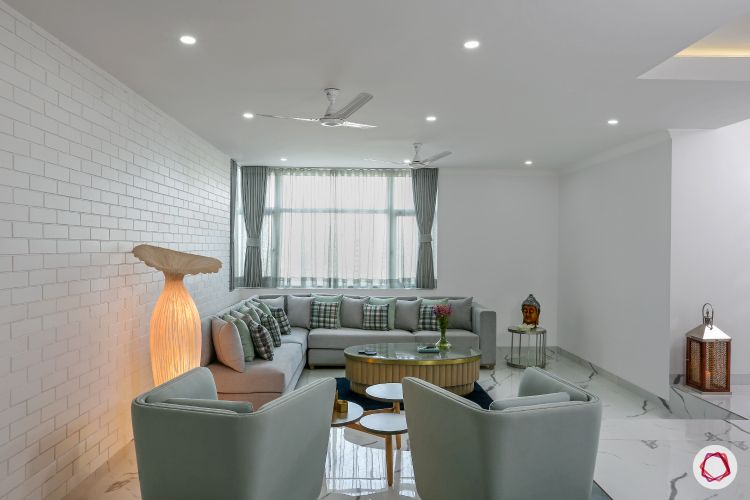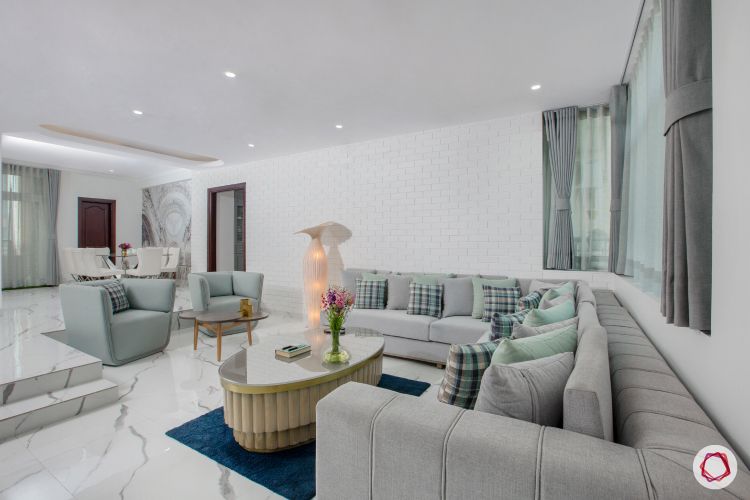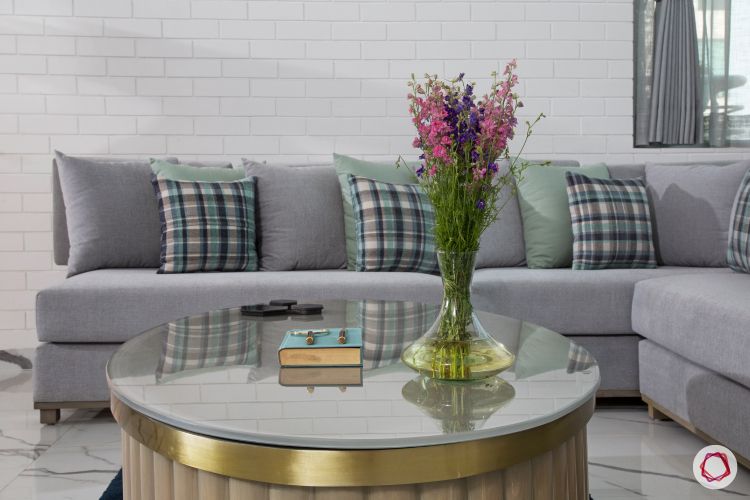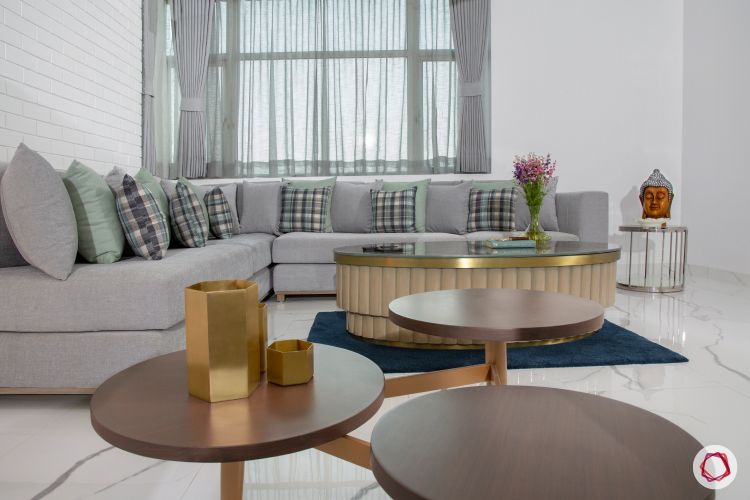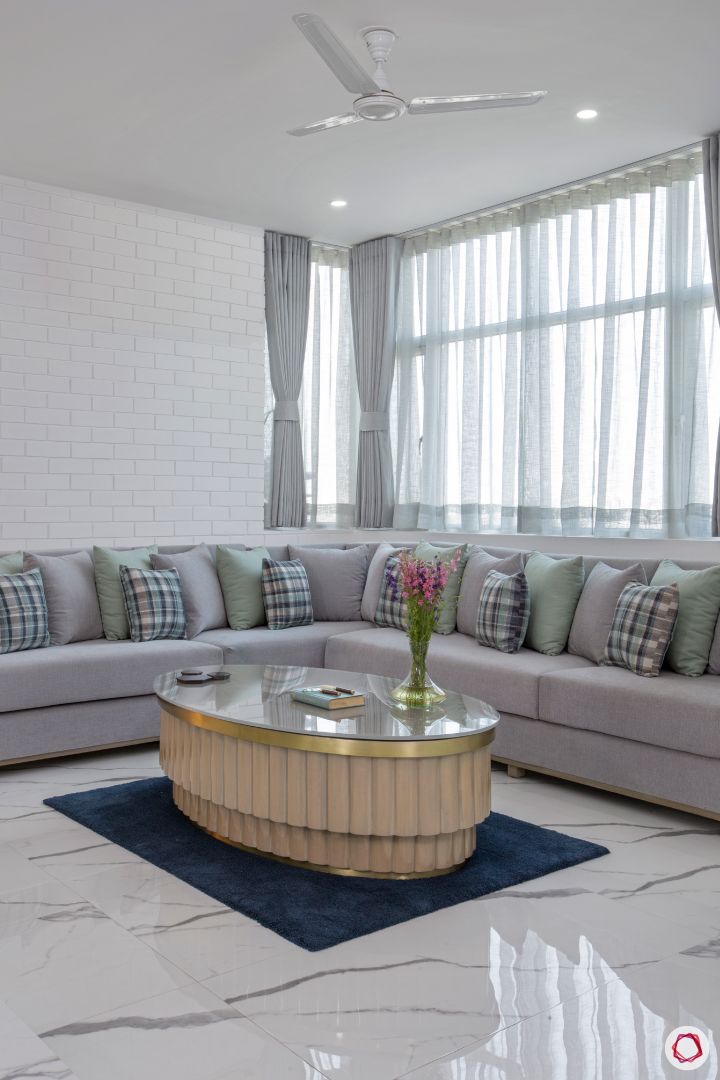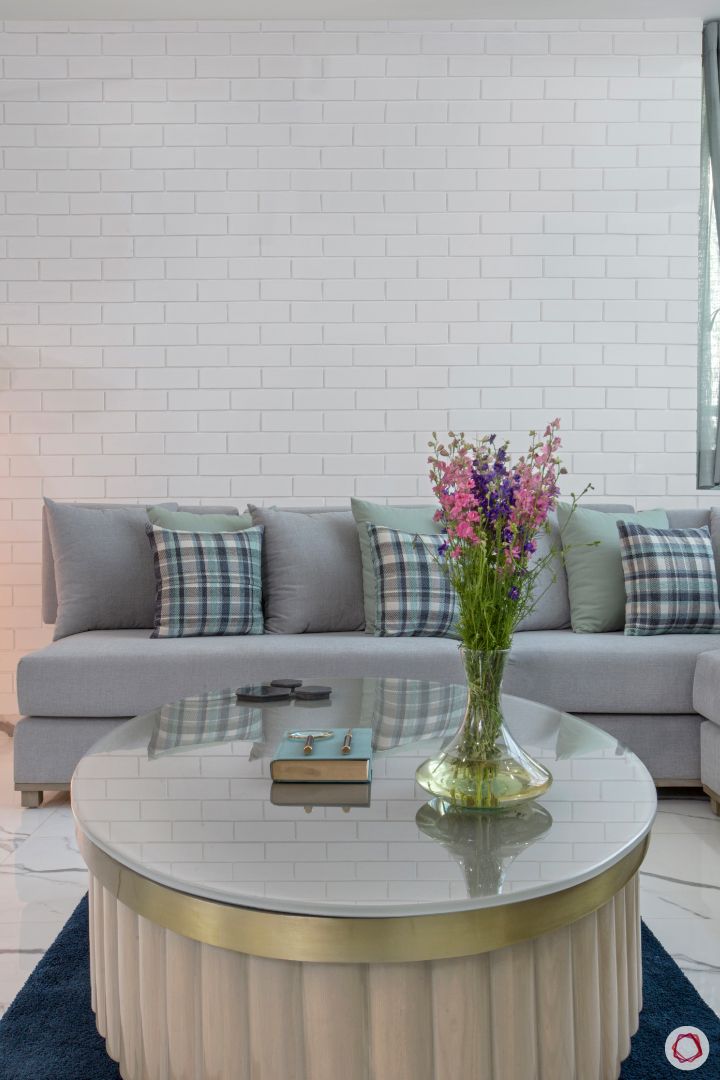 For people who love entertaining friends and family in their free time, a spacious living room with ample seating is essential. The layout of this 3,000 sq foot home, allowed the couple to place a huge L-shaped sofa in the living room, paired with accent chairs. Since, Pooja loves all things glossy, Shruti suggested marble flooring and glossy exposed brick wall tiles, instead of the rustic version. Metal pairs up with wood to create the centre table, while the rest of the look is kept minimal.
Let's head to the bar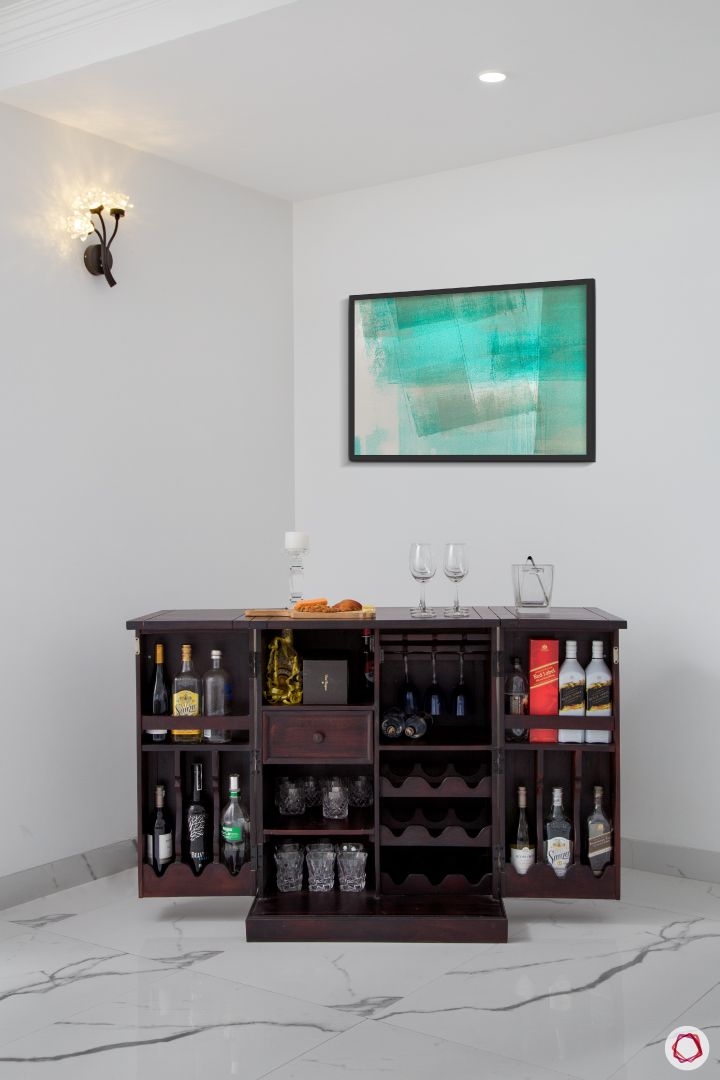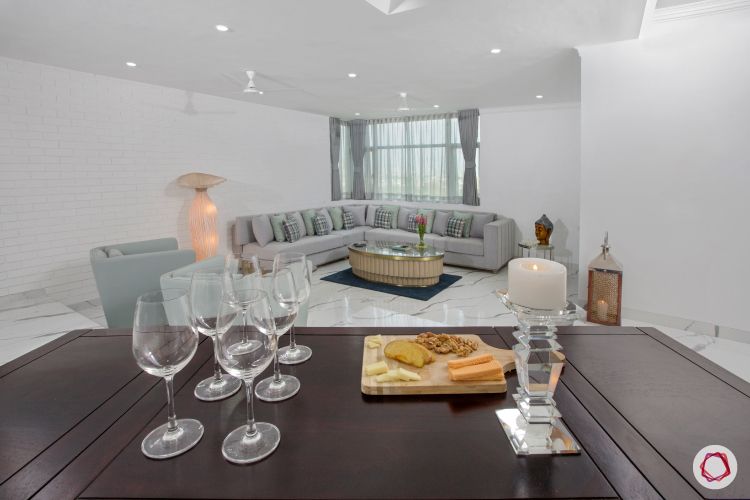 The couple loves to entertain. So Shruti found the perfect spot to place the couple's bar unit, that they carried from their previous abode. Sitting right next to the dining and the living area, this becomes the talking point when they have guests over!
Royal dining experience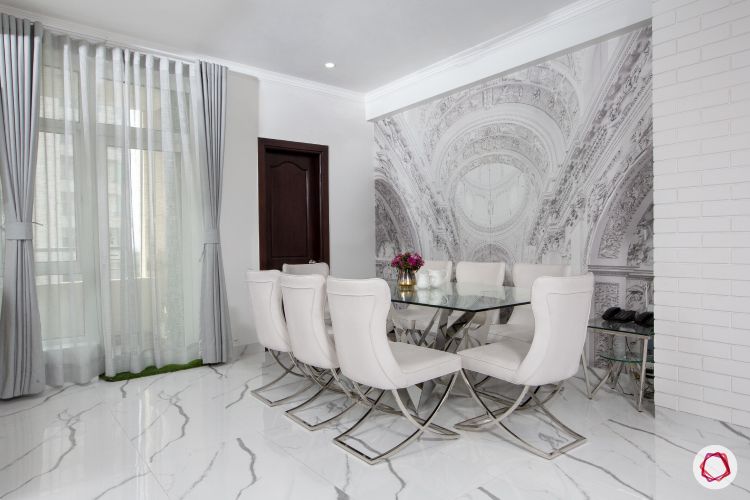 You can see wonderful use of Pooja's favourite colour, white, in almost every corner of this minimalist home. Since the couple do not like to clutter their homes with a lot of things or decor per say, they opted for this palace-style wallpaper for the dining room. A glass-top dining table with silver-finish legs and white dining chairs are completely in sync with the theme of the home.
Pistachio and milky whites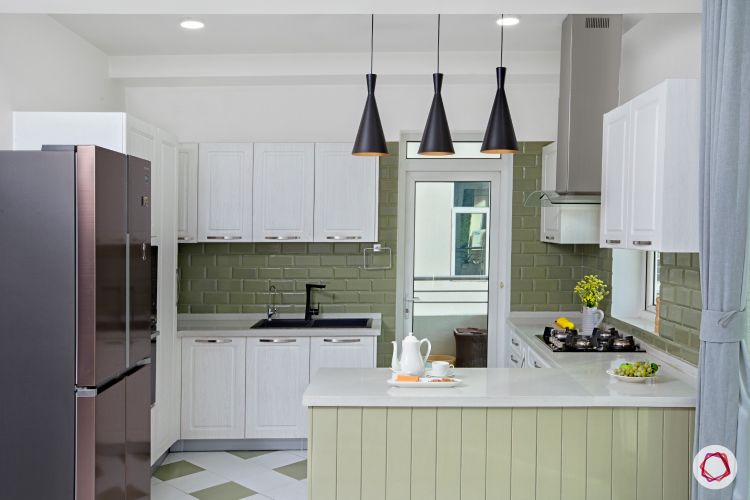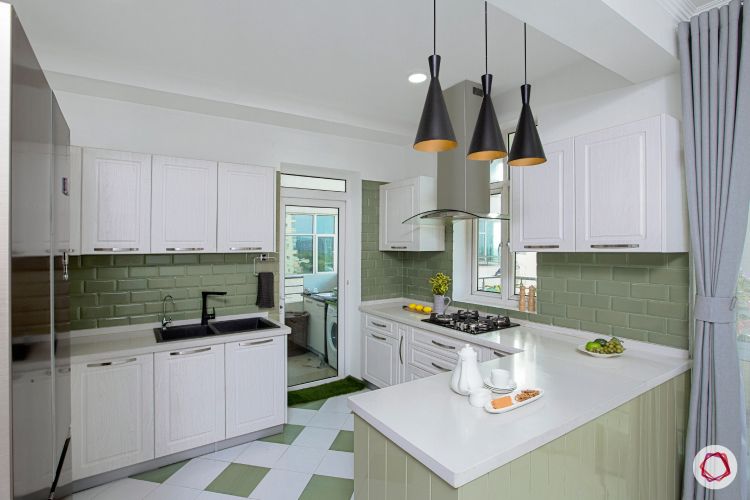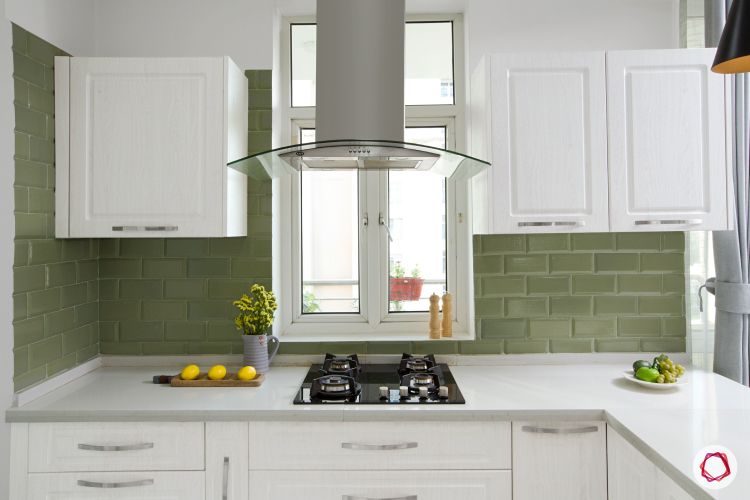 Taking inspiration from various design magazines, Pooja chose a pista green colour for her kitchen and Shruti was more than glad to give her that. A welcome change from bright kitchens, this one proudly wears a subtle shade of green on the backsplash and floor. Shruti gave them handmade ceramic tiles for the backsplash and a combination of white and green tiles for the floor. Milky white profile cabinets with drawers, tandem boxes, LeMans corner trays, pull-outs and more, this is one fully loaded modular kitchen, complete with a breakfast corner.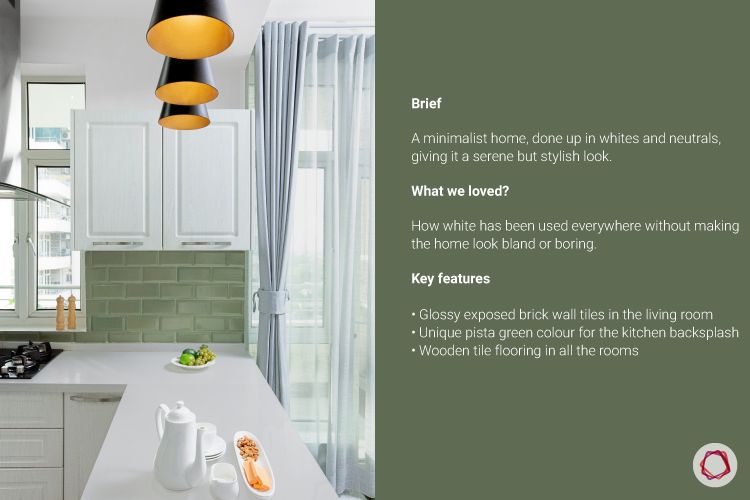 Elaborate pooja room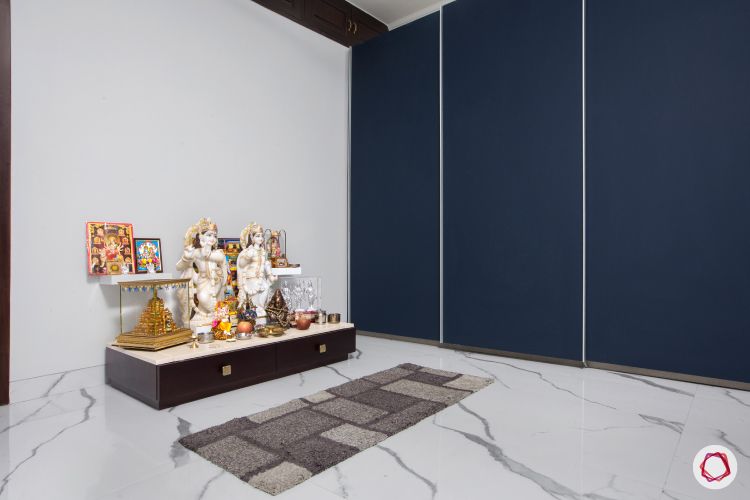 Since, this is a huge 4BHK and the couple did not want a separate guest bedroom, they converted one of the rooms into a pooja room. This is one room which Deepak's parents love spending time in. With pristine white walls and a compact pooja unit, this room looks and feels peaceful. On one side, you can see navy blue sliding wardrobes, that belong to the couple, since they do not have wardrobes in their bedroom.
A relaxing kids room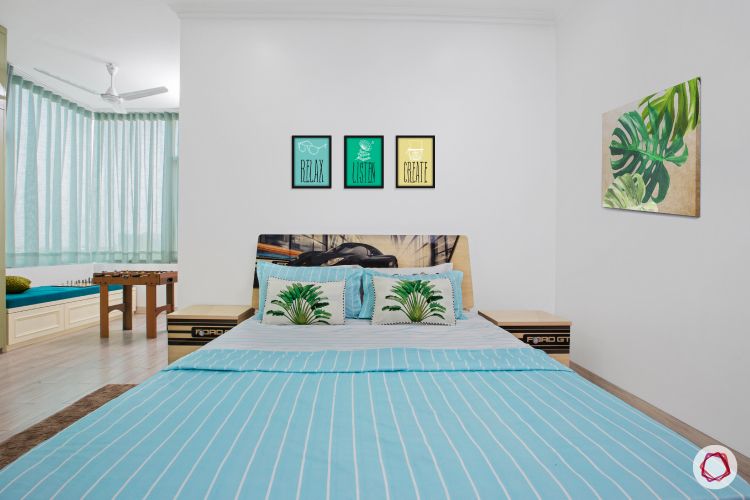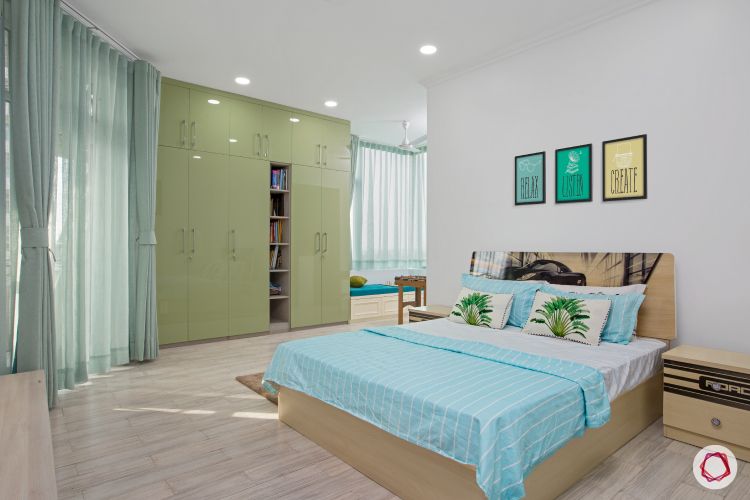 Aryan, the couple's only son, owns this lovely room that has been designed, keeping in mind a growing kid's requirements. While the wardrobes borrow colours from the pista green kitchen, the walls are bare so that it acts as a canvas later. Aryan's love for cars resonates in the bed, with the car-themed headboard and side tables. The wooden tiled floor plays match with the bed and creates a harmonious design.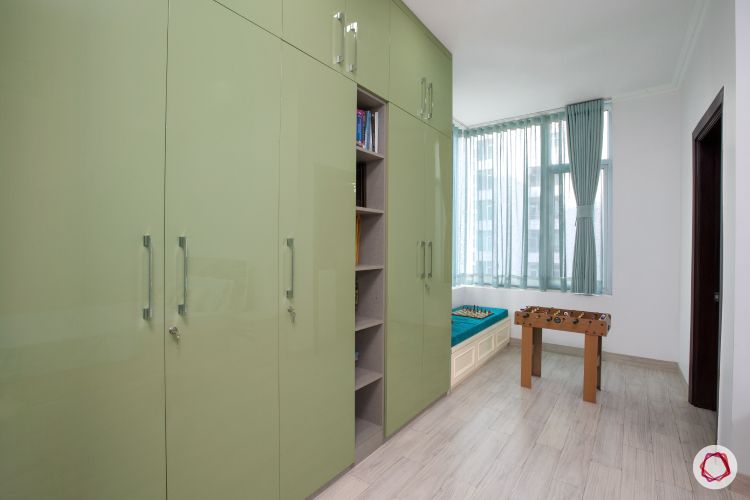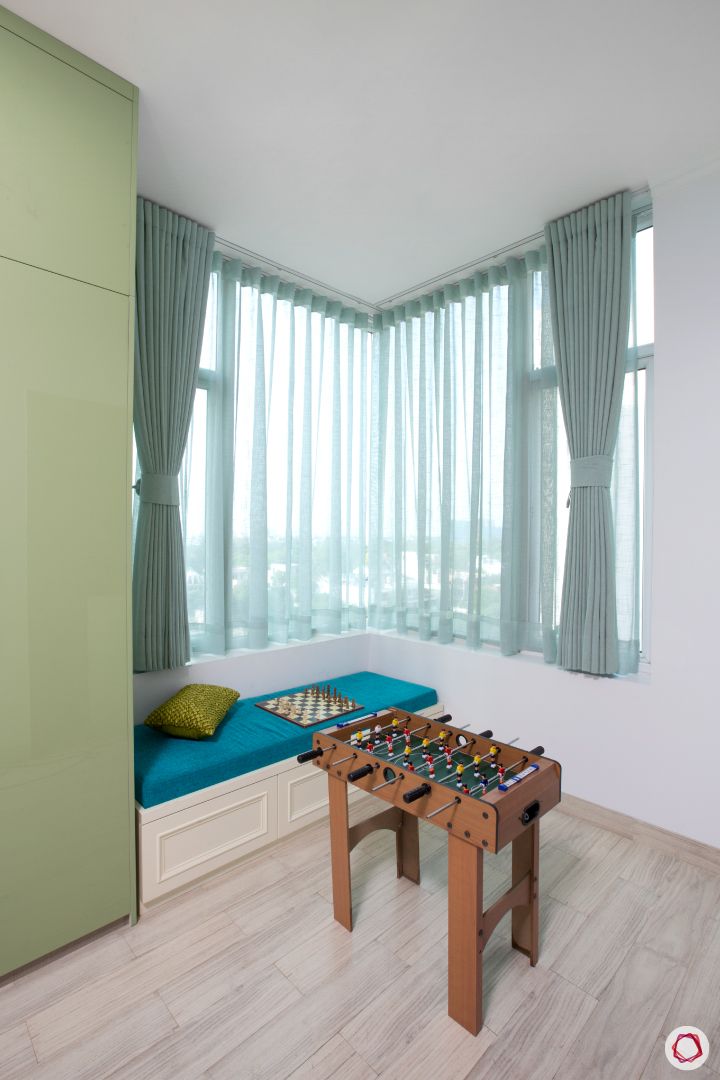 Children love playing, don't they? But, Aryan loves enjoying the view outside while playing foosball with his friends and parents. Therefore, this cozy seating corner finds space in his room, where he can relax with a book and gaze at the sky. One corner in the room remains empty, so that a study table can find place, when he grows up a little. For the time being, Aryan can store his books and toys in the open shelves in the wardrobe to access them easily!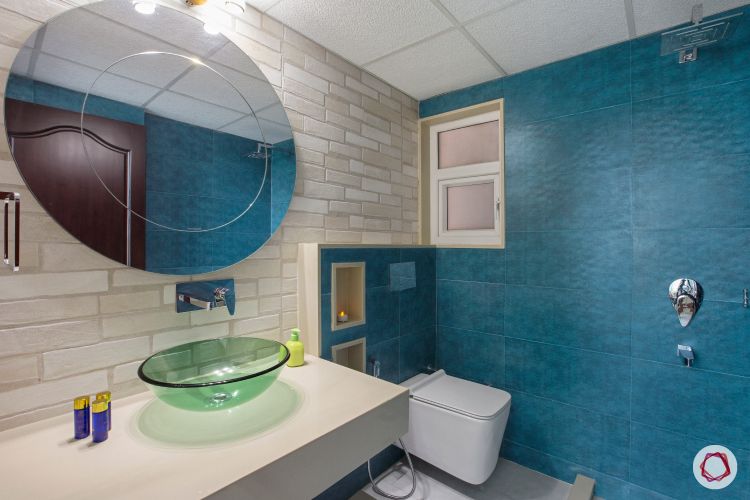 Aryan's bathroom is just how a kid's bathroom should look. Stealing its colour from the cushion on the corner seat in the room, this bathroom feels bright and chirpy. Brick-finish tiles and a stylish round mirror complete the look.
Floral room for the parents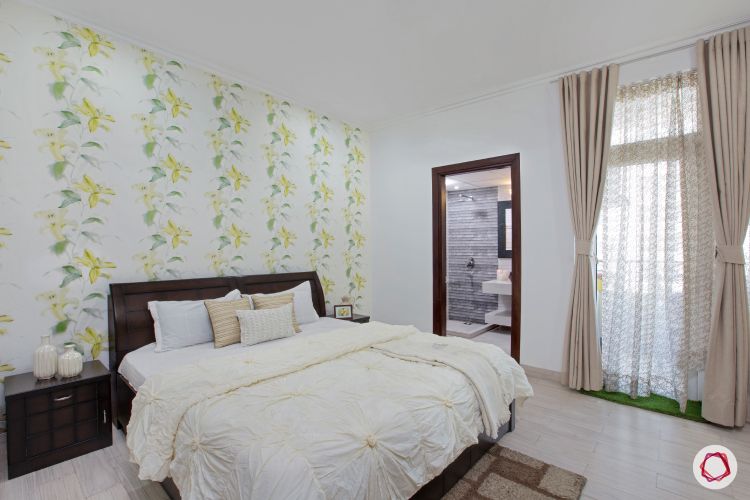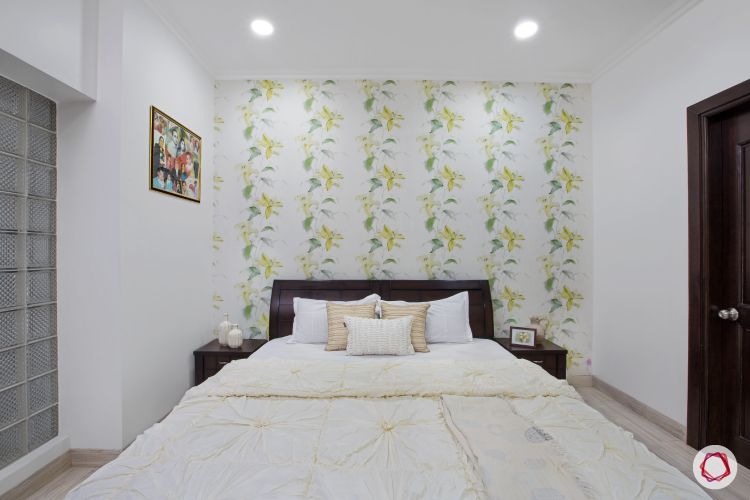 The parent's room is a serene and lovely zone at home. With a bright floral wallpaper on one wall and the rest of the walls kept white, this room becomes the resting spot for Deepak's parents. A dark wooden finish bed with side tables offset the light wood flooring, while an elaborate wardrobes, solves all their storage woes. This is one of the most simple and functional room designs we've seen.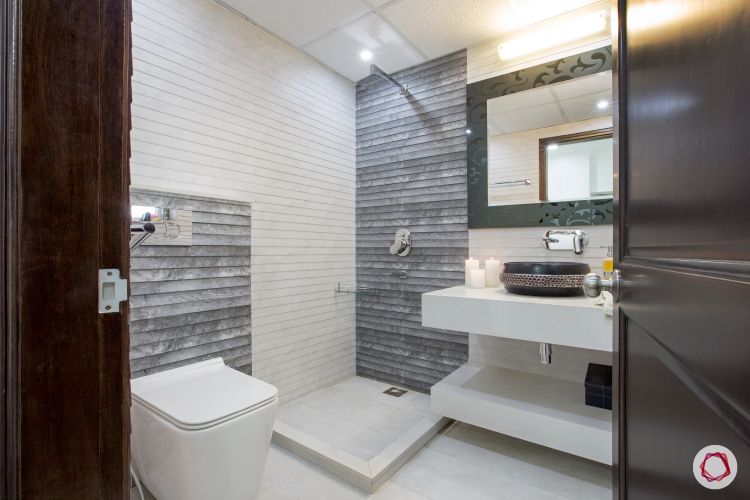 The bathroom in this room does not feature storage, since the parents were not keen on it. Rather, it sports a rich white and grey colour scheme, perfect for creating a soothing atmosphere. The granite countertop is sturdy and long-lasting, while the horizontal tiles look unique and stylish.
A drool worthy master bedroom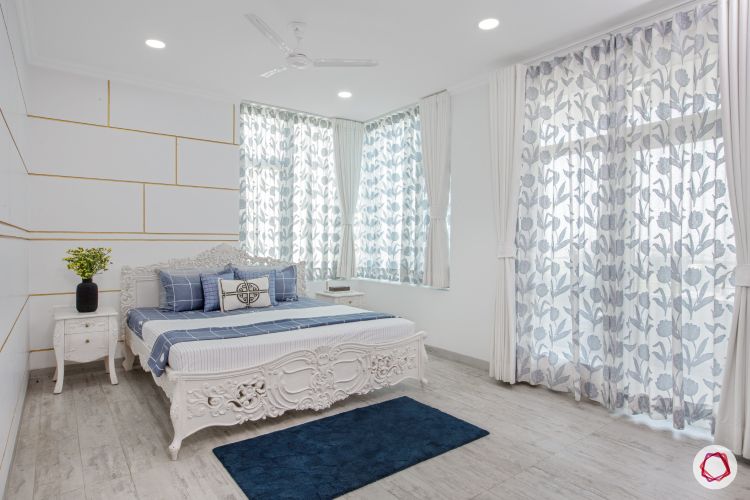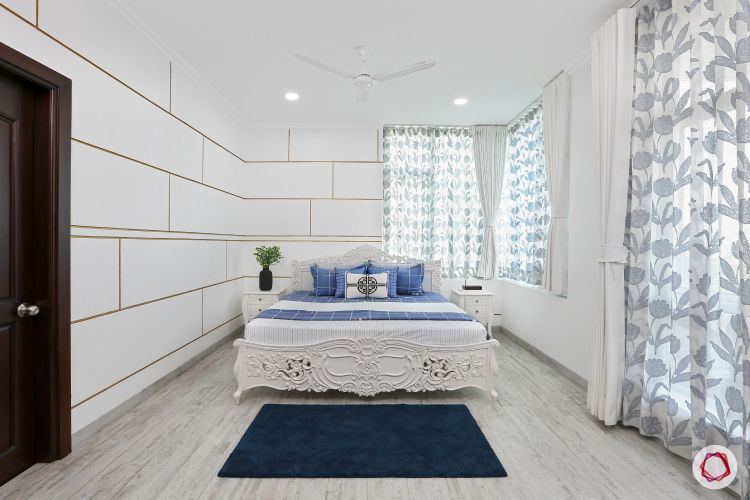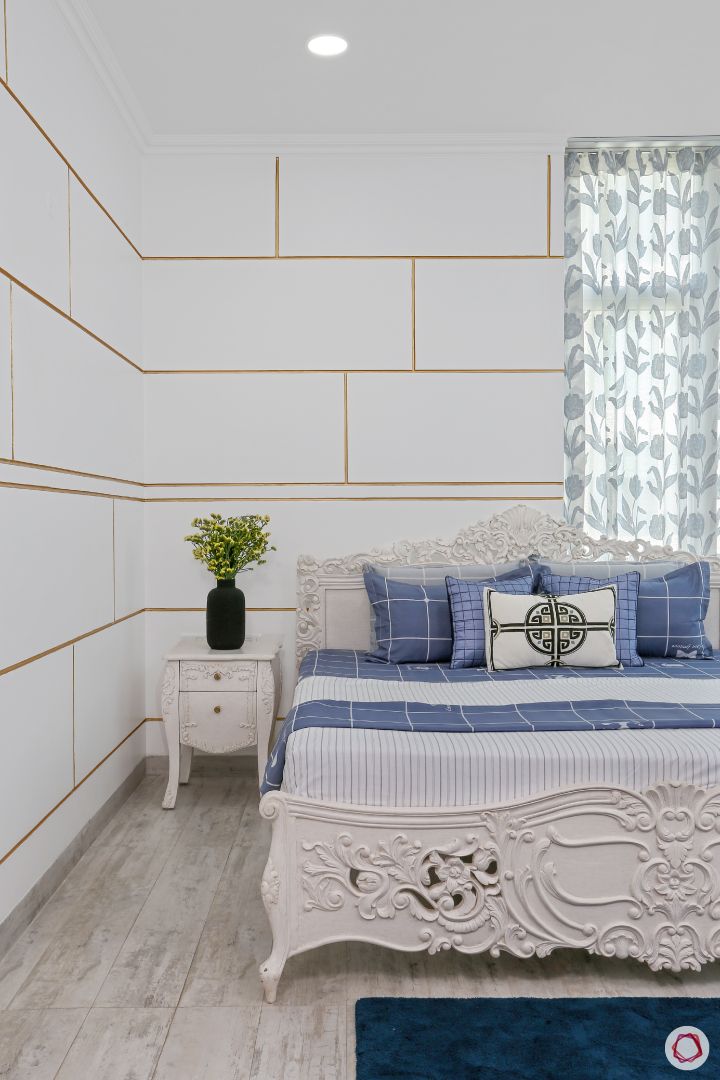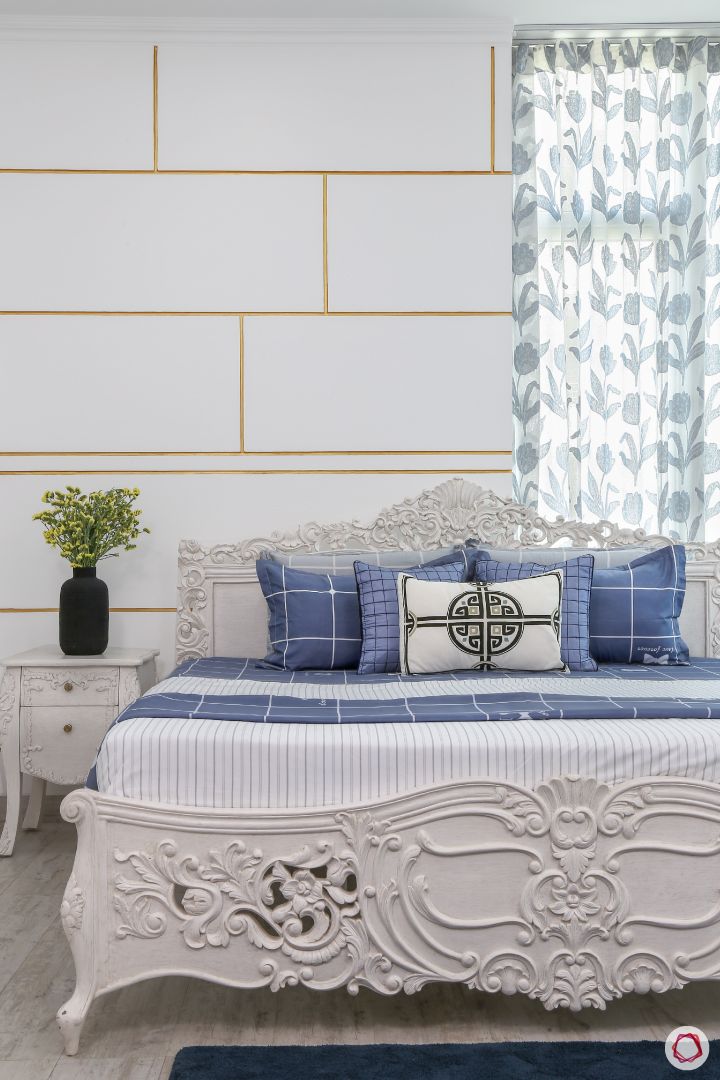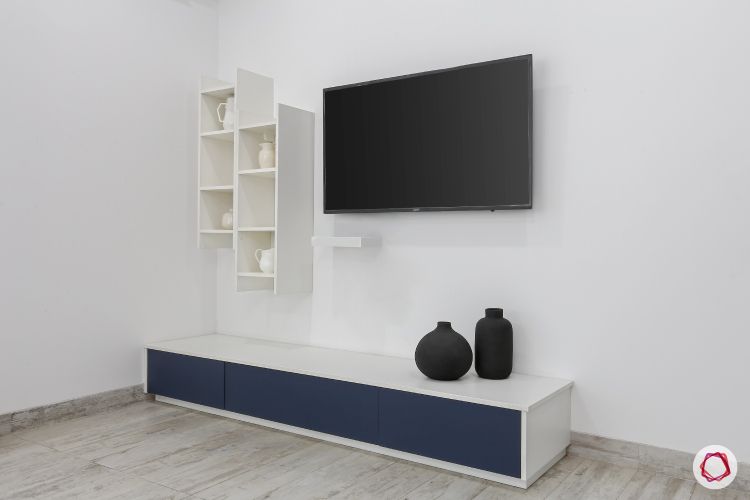 What is the most striking feature of the master bedroom? It is undoubtedly the beautifully carved, snow white bed with matching side tables. Since Pooja was adamant about not having any loud colour or wallpapers on the walls, Shruti decided to give the couple metallic painted stripes on the walls, to add some character to it. The TV unit is minimal, with navy blue PU finish and a ladder-style storage unit to amplify aesthetics.
The bathroom in the master bedroom is an elaborate one, since it features storage. A fuss-free granite countertop with soap case sets in Pooja's favourite rose gold finish, placed on it, looks stylish in this space. The floor sports navy blue tiles, that it borrows from the TV unit, and open and close storage units take care of toiletries and essentials.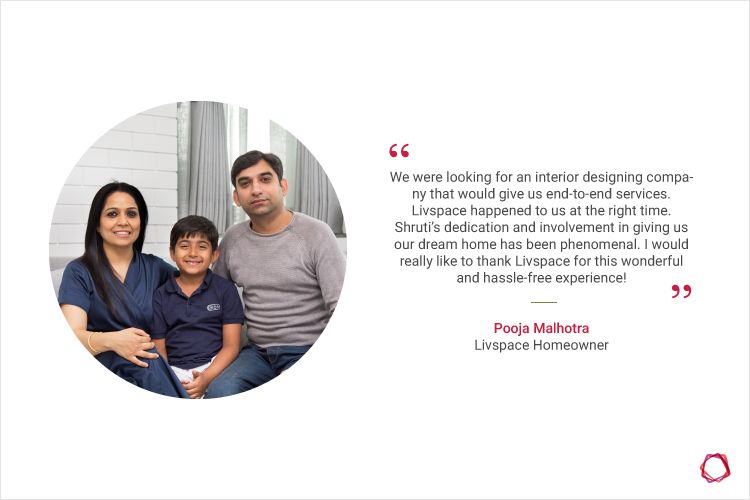 ---
"Since Pooja wanted only white everywhere in the home, I really had to work the colour into the design. But once things started falling in place, the designing bit was fairly smooth. With clients like them, who have a lot of design sense, it's always a breeze! I enjoyed working for the Malhotras."

– Shruti Modi, Interior designer, Livspace

---
Take a look at this design and see how European Elegance Comes to Gurgaon!
Send in your comments and suggestions.