Livspace did Sruthi Swarna and Vamsi Krishna's interior design for their 3BHK in Rohan Upavan, Bengaluru, to set it apart from other warm, bright and cosy homes. The idea was simple – use prints, patterns and see-through partition walls to make the opted simplicity look like fun!
When Sruthi and Vamsi met Saanvi S P, our Livspace Designer, they expressed their love for neutral colours, simple designs and bright, airy interiors. Saanvi considered all of that and added in some fun using subtle wallpapers, tiles and partition walls, that the end result is just stunning!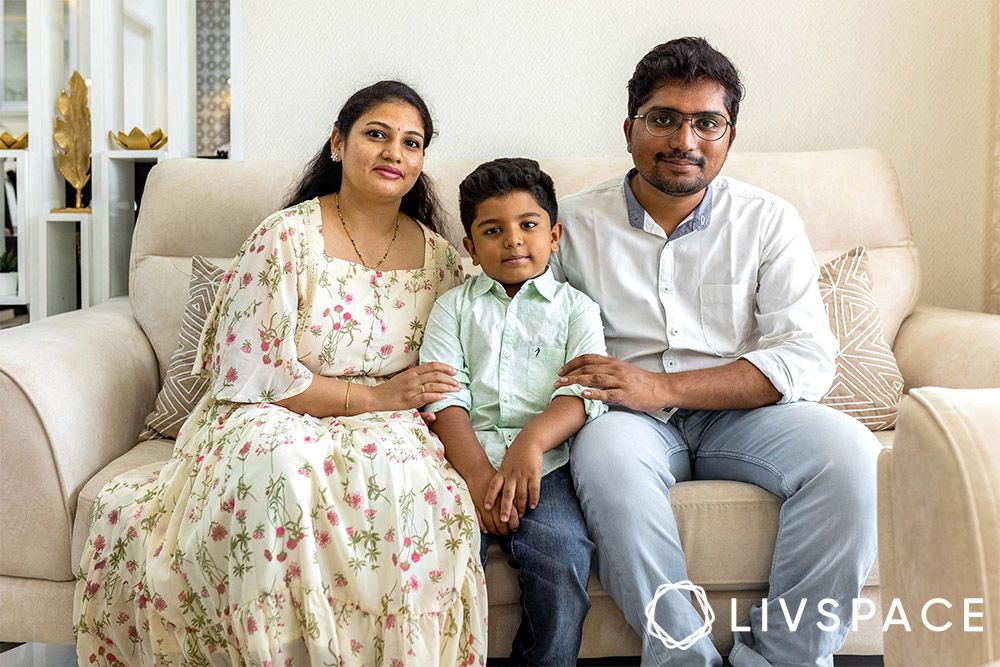 ---
Who Livs here: Sruthi Swarna, Vamsi Krishna and their son Diyan
Location: Rohan Upavan, Off Hennur Road, Bengaluru
Size of home: A 3BHK spanning 1050 sq. ft. approx.
Design team: Interior Designer Saanvi S P and Project Manager Pooja Sathypal
Livspace service: Full home design
Budget: ₹₹₹
---
IN A NUTSHELL


Brief
A warm and bright interior design with neutral colours

What We Loved
The flexible design of the pooja room

Look Out For
Wallpapers that supplement the theme of each room

Biggest Indulgence
The white and beige U-shaped modular kitchen with marble-like backsplash tiles

Smart Buy
Partition walls to induce partial privacy in common rooms



Here's how elements like printed wallpapers, patterned tiles and partition walls are making the rooms in this warm interior design for Rohan Upavan, Bengaluru, unique.
The Layered Living Room Design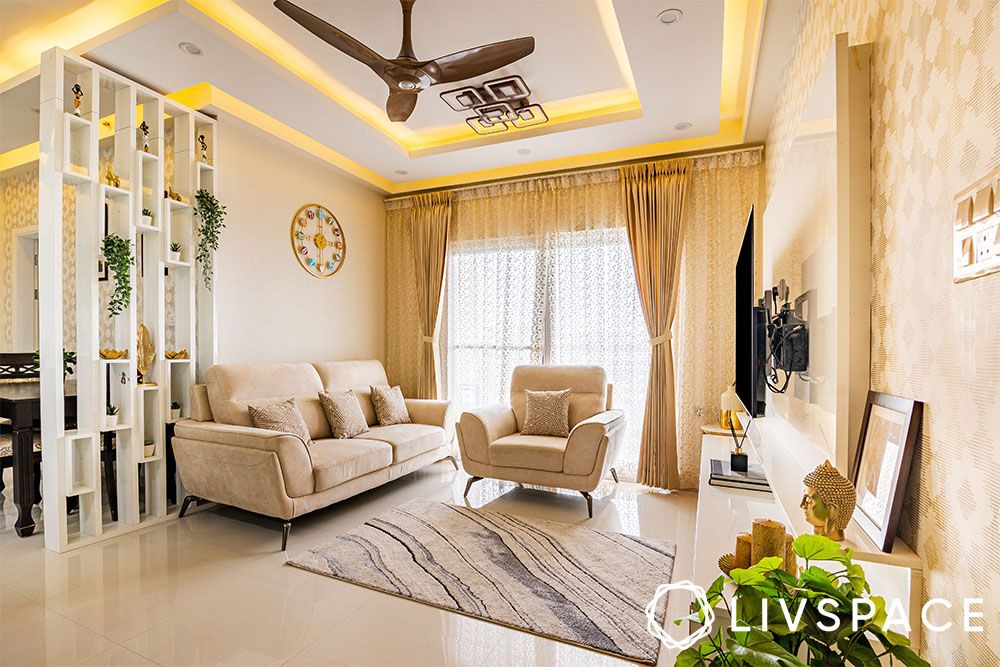 Apart from the obvious, that is, separating the living and dining areas, this partition wall also acts as storage. Hence, you can store show pieces and plants here to make it look more interesting. Its random pattern directly adds to its appeal and provides a partial privacy so that the rooms don't start to look compact altogether.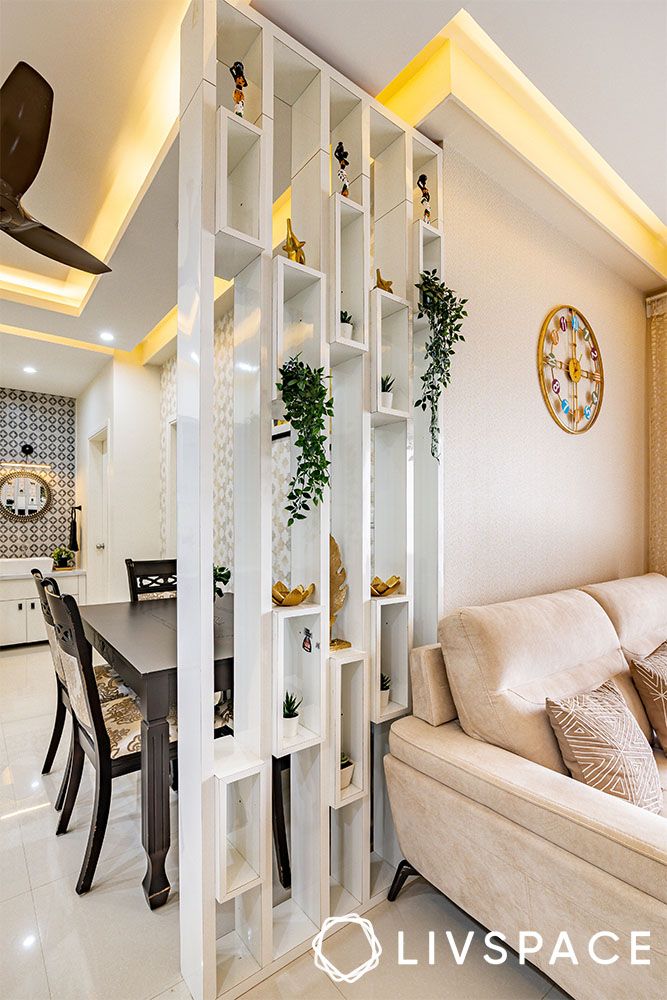 Additionally, it helps in visually allotting more area for the living room. Without it, the living room wall will seem limited and fitting your furniture in front of it would become a challenge. But this way, the living room is clearly defined and can fit large sofa sets easily.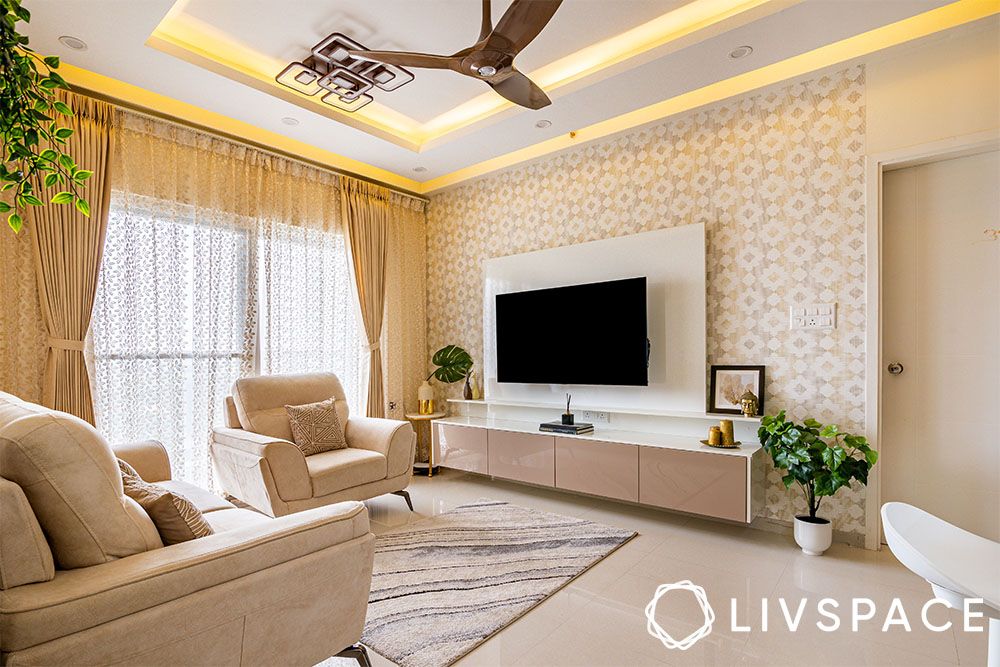 Take a look at this printed wallpaper design behind the TV unit! It has all the colours that are in the living room – a perfect match! But also notice what is adding in the design – it is offering texture to rather plain TV accent wall.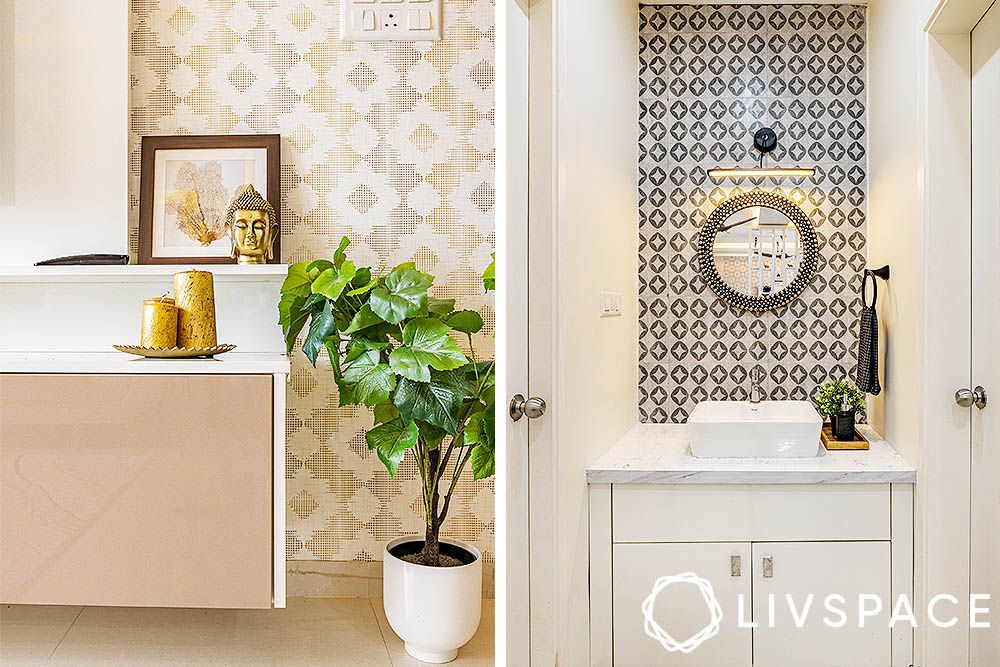 The Natural-Textured Modular Kitchen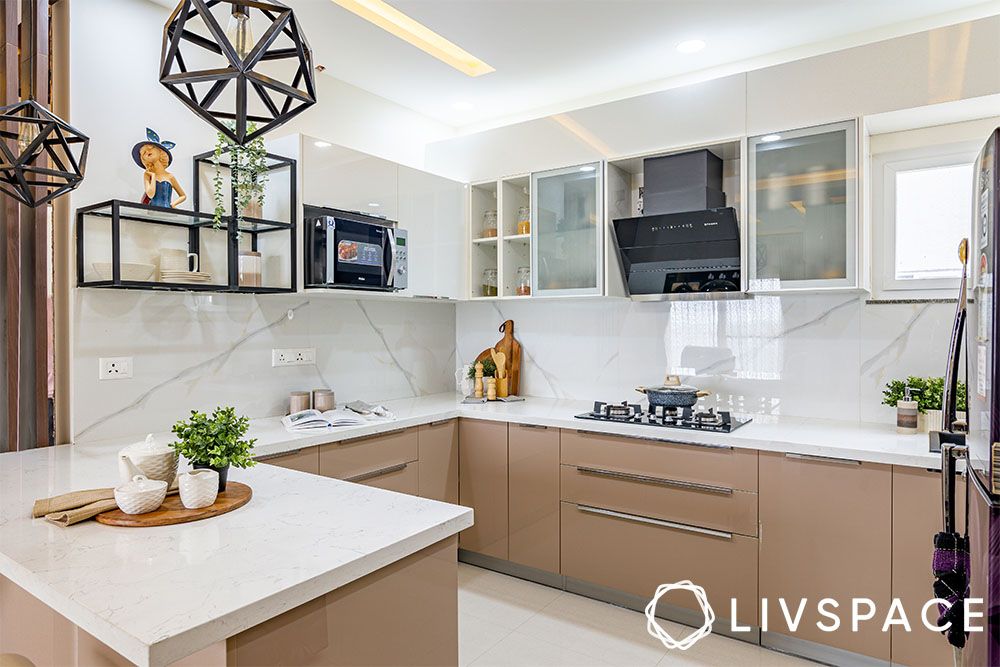 How inclusive does the peninsula breakfast counter look with the wooden partition wall? And since there was no need to completely obstruct the visibility with the partition wall, Saanvi used a louvered design to extend the kitchen wall here.
Also, she used a darker wooden laminate to finish the design so that the colours in the kitchen looked balanced. To elaborate: the black appliances and fittings were standing out in the kitchen due to colour contrast, but the wooden partition wall acts as a buffer and ends this colour imbalance.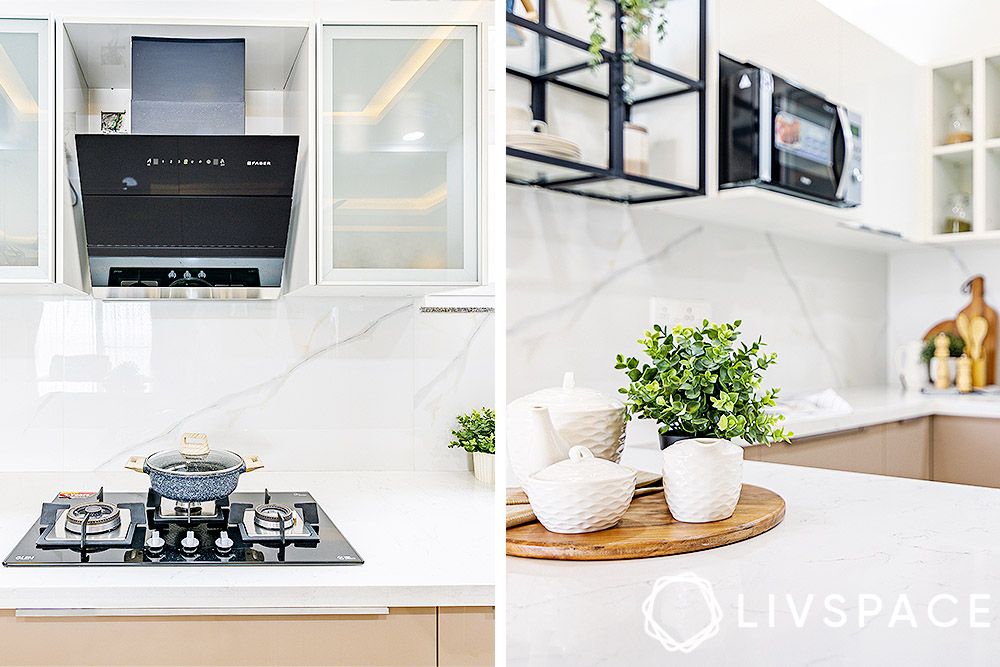 The Artistic Bedroom Designs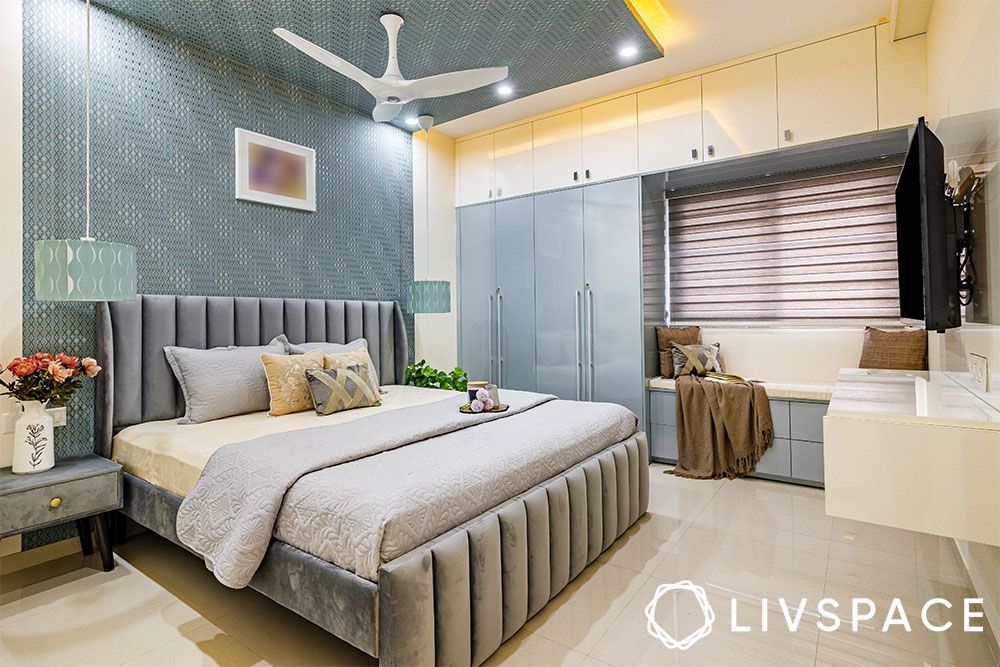 All the furniture in the master bedroom is part of one colour scheme that unites the whole design. Additionally, the textures used are plush and glamorous to lift the vibe of the room.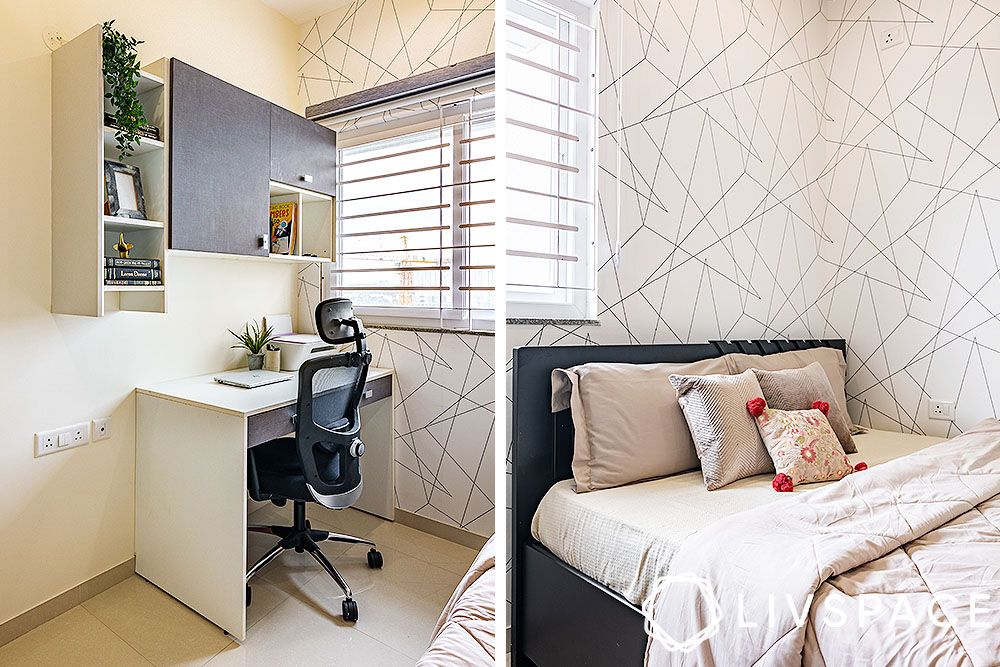 The kid's bedroom on the other hand is abstract and has a contrasting colour scheme. Saanvi also chose to use the wallpaper on two adjacent walls together to make the room appear larger than it is.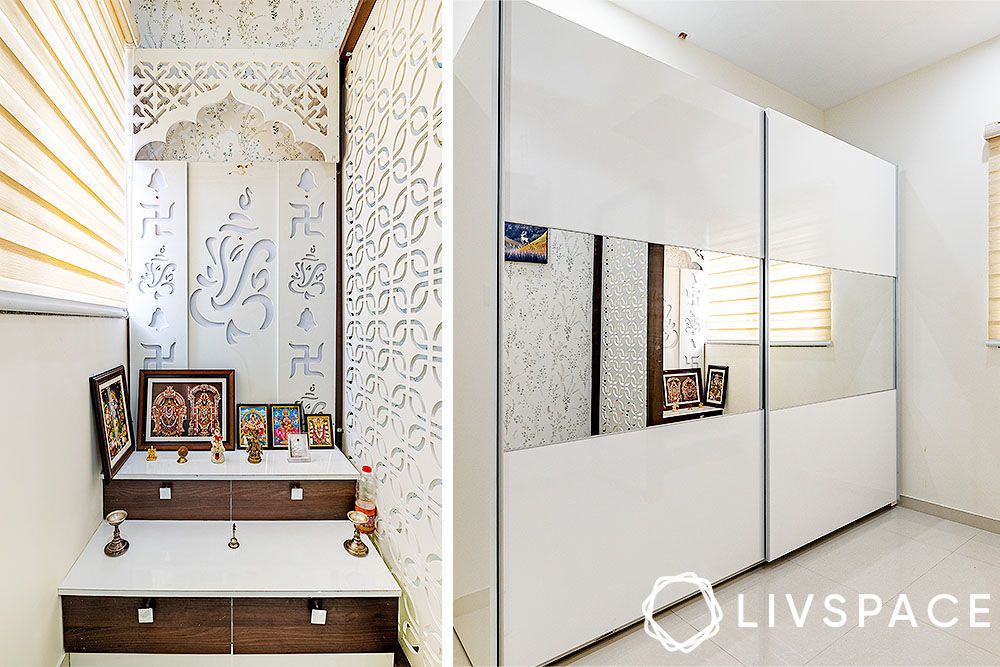 Their spare bedroom is primarily a pooja room that also has lot of storage. The pooja region is given privacy by adding a jaali partition wall, which not only matches the rest of the furniture, it also completes the room. Apart from this, the most attractive feature in here is the CNC-cut custom pooja panel mounted on the wall. The layered base drawers are an added advantage when you are decorating the pooja room in a festival. The second (lower) drawer acts as a platform to keep your diyas and other offerings.
Needless to say, Sruthi and Vamsi love what Livspace did for their 3BHK interior design in Rohan Upavan, Bengaluru. They also appreciated the responsiveness of our team, and the quality of our products installed in their house.
If you like this simple design with a beautiful, layered twist, then you'll also like this other Bengaluru home: Why Did Mohan Krishna Choose Livspace to Finish his 3BHK in Eiffel Tower Candeur Landmark, Bengaluru? We were highly recommended to these homeowners by their relatives, and you'll see why.
How Can Livspace Help You?
If you want your home to be just as beautiful, then look no further. Book an online consultation with Livspace today.
We love hearing from you! Write to us with your comments and suggestions at editor@livspace.com
Disclaimer: All contents of the story are specific to the time of publication. Mentions of costs, budget, materials, finishes, and products from the Livspace catalogue can vary with reference to current rates. Talk to our designer for more details on pricing and availability.